The chart below shows The Number of Monthly Active Users on Facebook Worldwide 2008-2017 (in Millions).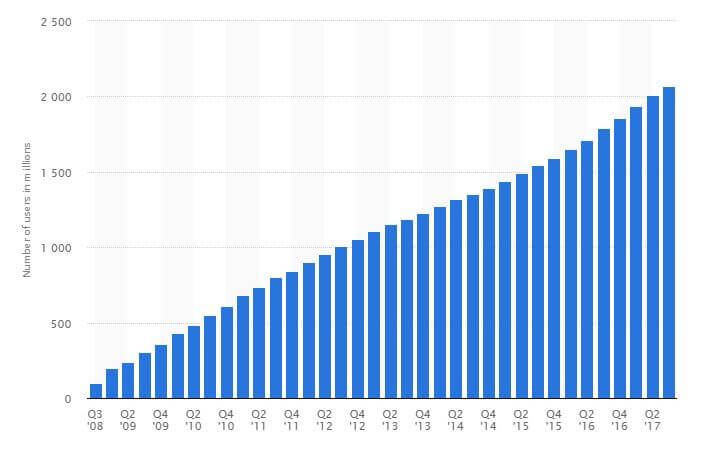 (Source: Statista)
That's some impressive-looking growth, isn't it?
The number of worldwide Facebook users is growing steadily each year, making the popular social platform a source of very prime real estate for targeted marketing. Looking at the data, it makes a lot of sense: this is where your customers like to hang out – and not only your customers. (Let's face it, we all spend a lot more time on Facebook than we should).
You'e probably noticed many of your Facebook friends and communities actively using Facebook Recommendations to get peer recommendations for products and services – before making both large and small purchase decisions.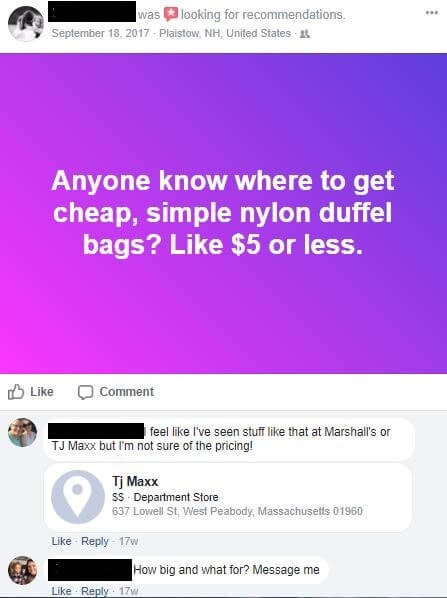 The fact is, the market is so just saturated with so many different options for the same products and services (for nearly every kind of product or service), that choosing one can be a little… overwhelming.
Which is why people often resort to asking their peers – or people they trust – for recommendations.
But Facebook isn't just for getting recommendations. At its core, it's still a social platform where you can connect with friends, see what's going on in their lives, as well as follow your favorite brands and celebrities.
According to a study by Syncapse:
49% of survey respondents say that when they 'follow' or 'like' a brand on Facebook, it's simply because they want to support the brand they like.
42% will follow a brand to get access to a coupon or discount.
41% follow brands to get updates about their latest products, services, and other news.
49% is no small amount. And these customers want to see Facebook content from your brand. They want to know more about your products and services, they want to hear about special deals that might be perfect for them, and because they like you, you can start to build loyal customer relationships with your fans and followers by showing them what goes on behind the scenes.
Sounds pretty good. So how do you get more likes and followers on Facebook?
With a little help from Facebook influencers.
Who are Facebook influencers?
Facebook influencers are marketing experts who have amassed large and engaged followings through their Facebook profiles. They've built powerful relationships with their audience through the content they produce, which is why their readers trust their expertise and value their opinions. Their readers follow and respond to their Facebook posts instead of just scrolling through in a blur.
Working with Facebook influencers increases brand awareness for your business by introducing your brand to a totally new audience. Sure, you could do this yourself, but then you risk having your message fall on deaf ears. Getting an endorsement from someone you're familiar with – whose content you trust – simply carries more weight than if it were to come from someone you don't know.
I mean, I could blast-off posts about Instant Pots on Facebook, but I'm pretty sure most people would prefer to read about food-related topics from seasoned food blogger Chocolate Covered Katie instead.
Plus, since this is their audience, Facebook influencers will have a much better grasp on the kind of language and communication that's proven effective. Helping you take your Facebook marketing strategy to a whole new level.
What's the most important thing to remember when choosing Facebook influencers to work with?
Not all popular Facebook influencers will automatically be a perfect choice for your brand.
It's not just about having a large following and getting lots of likes. These factors should also be considered:
Is the brand personality for this Facebook influencer a good match for you?
Are the members of their target audience your potential customers?
How to find the right Facebook influencers to take your Facebook marketing strategy to the next level
The most thorough and quickest way to find potential Facebook influencers that are a good fit for your brand is through social listening.
What is social listening?
Social listening is about using media monitoring tools to find public online conversations containing select keywords and phrases – and then listening to and analyzing them for key insights.
The keywords can be about anything. I suggest choosing keywords that are related to your business, like your brand, your product, your marketing campaigns, and your competitors.
Powerful media monitoring tools like Brand24 will automatically generate detailed Analysis Reports to help you understand the data. Various filters – like Sentiment Analysis – let you zoom in on specific aspects so you can view: things that happened on a particular date, activities related to a spike or dip in traffic, and squash a potential PR crisis-in-the-making, etc.

Create your own media monitoring project and find out how much social media reach your brand has, track your volume of mentions across the web, and measure your brand sentiment among your customers. You can use this data to find new leads, protect your brand reputation, create buyer personae, provide customer service, for research & development, and more…
Now, let's find some Facebook influencers that are a good match for your brand!
Find the right Facebook influencers with social listening
The key to any healthy and lasting professional relationship is mutual respect and appreciation. This means, finding Facebook influencers who are already familiar with your brand and who genuinely like it.
How do you find them?
By monitoring mentions of your brand, products, and industry keywords. I'll show you what monitoring a brand can look like, below.
Step 1. Monitor keywords to find the right Facebook influencers
Create a media monitoring project to monitor mentions of your brand. Remember to monitor all the possible ways that your audience could be refering to you.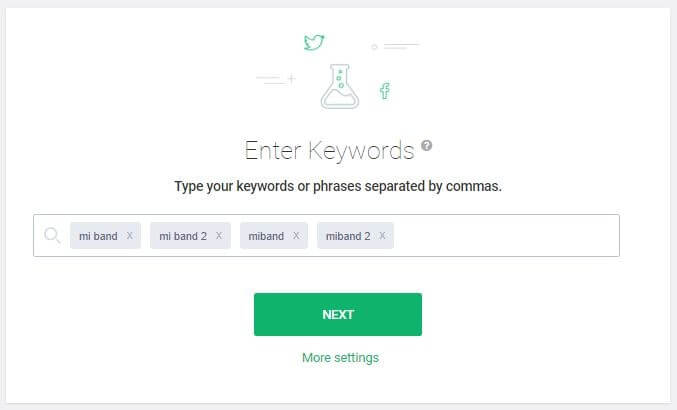 After you click on NEXT and select your language, the tool will take you to your dashboard, where you can find all your mentions. I started monitoring Mi Band a few days in advance, so I already have 2,120 results in my project.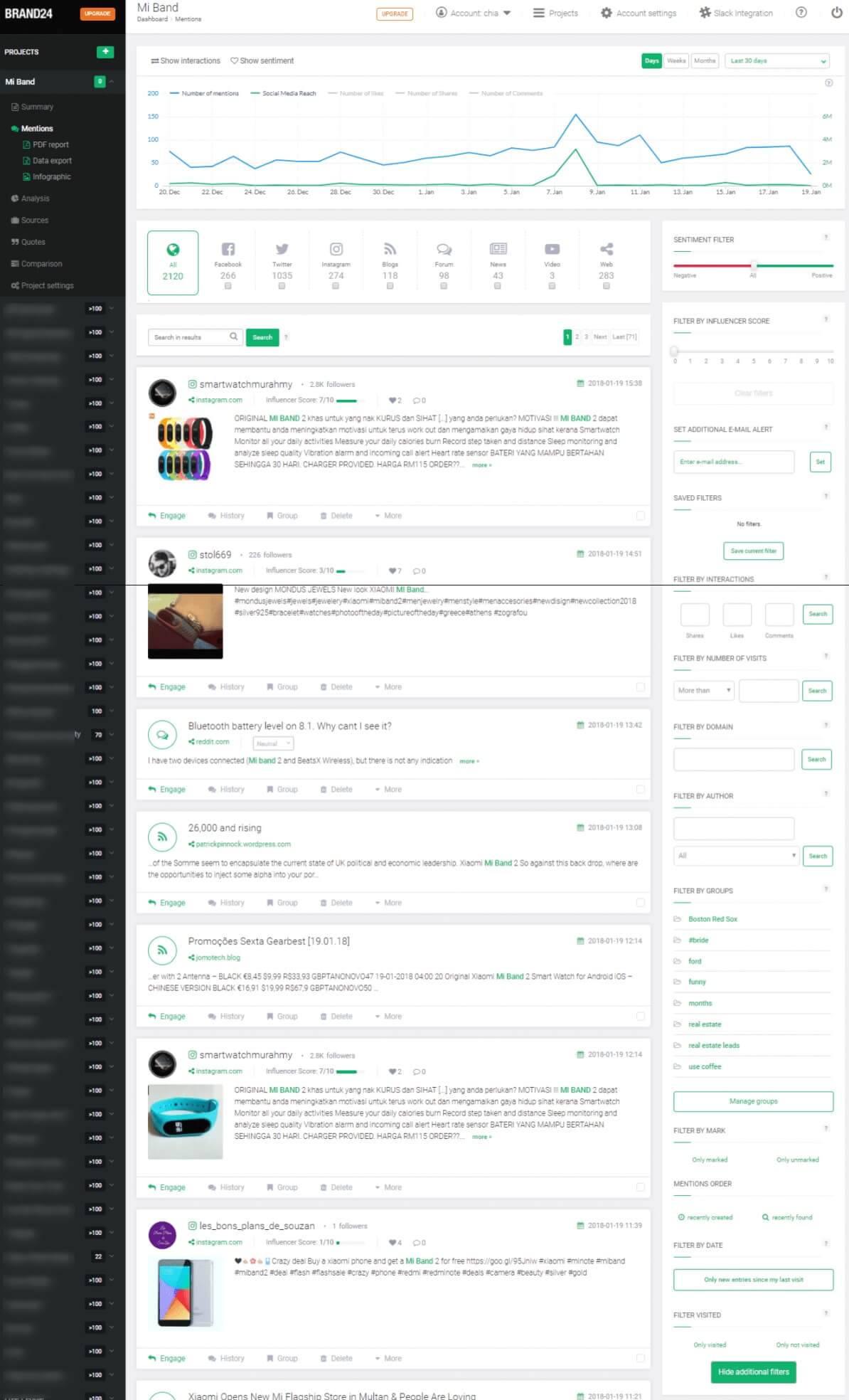 You don't necessarily need to have 2,000+ mentions to find the right Facebook influencers for your brand, but the more complete your data is, the better choices you'll be able to make.
Step 2. Find the right Facebook influencers in the Analysis Tab
Now, how do you narrow down the top Facebook influencers for your brand from these 2,120 results? You can certainly go through them manually (I usually explore a few mentions each day), but a much faster way to find your most important mentions is by going to your Analysis Tab, on the left hand side.

This takes you directly to your most important keywords. Brand24 goes through all your results to automatically generate lists of your top mentions, according to:
the most popular mentions
the most popular authors
the influence of social media authors
the most active social media authors
the most active sites
the most influential sites
and more…
Step 3. Find the right Facebook influencers with the Facebook filter
The data you see now considers all your results across the web. To find the top Facebook influencers for your brand, you'll want to focus on mentions from Facebook. Apply the Facebook filter to exclude mentions from other sources.
Just click on Filter Mentions from the upper right corner of the Analysis Tab.

A Filter Data window will pop-up. Scroll down until you reach Categories. Select Facebook, click on CLOSE, and then your Analysis Tab will only display the most important mentions from Facebook.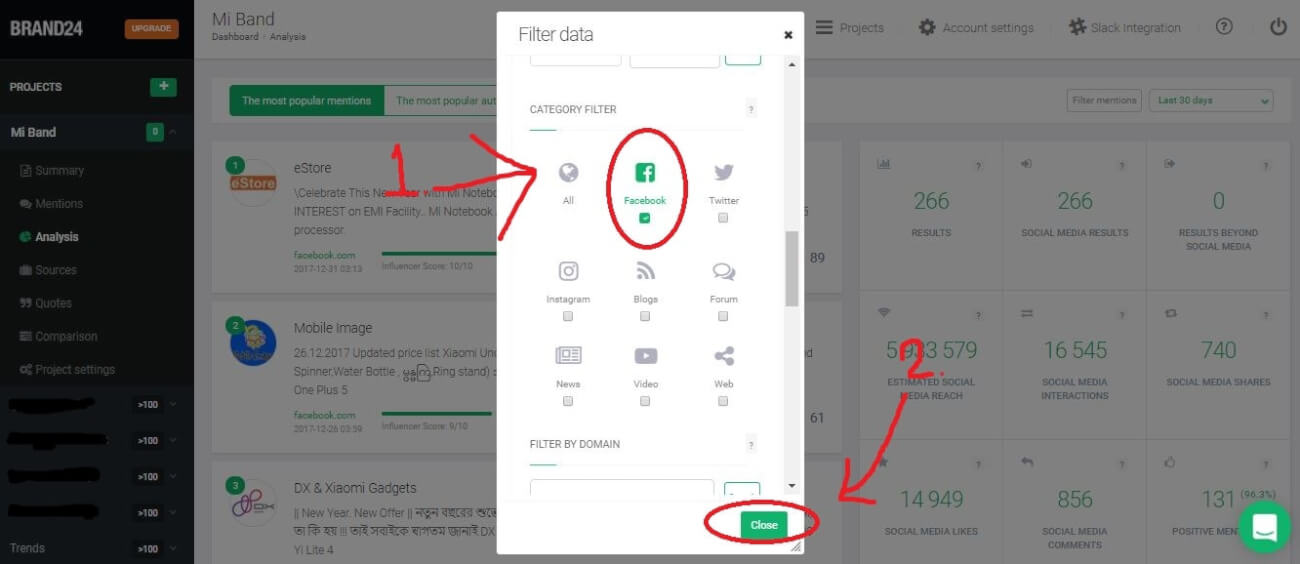 This narrows it down to 266 results. Still a considerable amount of mentions to go through, but we have another shortcut to finding potential Facebook influencers, also in the Analysis Tab.
Step 4. Find the right Facebook influencers by influencer score
From the Analysis Tab, scroll down to the section called Influence of Social Media Authors. This is where you'll find the top 10 Facebook influencers for your brand, listed by their scores for influence. Here's what that looks like for Mi Band.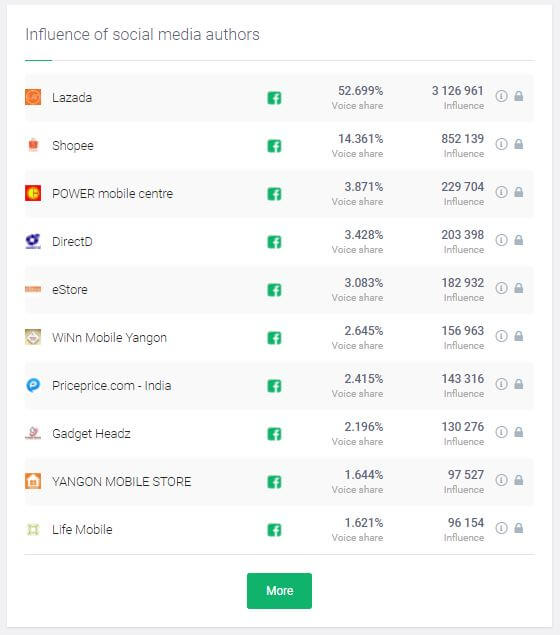 This is the short list of potential Facebook influencers for your brand. And you can click on MORE to see options beyond the top 10.
Look into these Facebook accounts and see what kind of content they produce and how their audiences respond. This is where you'll find the right Facebook influencer to work with your brand.
Don't forget to consider these factors while you're comparing different accounts:
Does this Facebook influencer's image match your brand? Or if rebranding, does it align with your rebrand?
Are your customers in their target audience?
Do your customers enjoy their content?
Is this Facebook influencer's audience engaged?
Is their content generating buzz?
If you want to be extra certain that you've chosen the right Facebook influencers, monitor the influencers that you're interested in and analyze their results for sentiment.
Step 5. Monitor Facebook influencers to find the right one
From the short list of Facebook influencers you found above, select the ones that you're interested in working with. Create media monitoring projects to monitor their mentions across the web. This will look just like the project you created to track your brand, only this time, you'll be tracking Facebook influencers.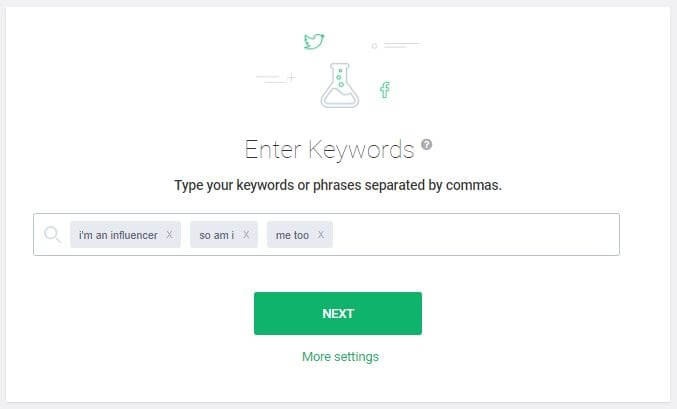 Step 6. Find the right Facebook influencers using sentiment analysis
Once you've clicked on NEXT and selected your language, you'll be taken to your dashboard for your new project. As you go through mentions about each Facebook influencer, get deeper insight into how much influence they have over their audience, by using the sentiment analysis filter.
From your dashboard, you'll find the sentiment filter on your right hand side. Move the bar all the way to the left to view negative mentions, and to the right to view positive mentions. Leaving it in the middle will show you all mentions.

Analyzing the sentiment of mentions about your potential Facebook influencers will show you which Facebook influencers have the most positive reputation among their audiences, making your short list suddenly much shorter.
That's it! These 6 steps will help you find the ideal Facebook influencer to work with your brand!
Key tips to finding the right Facebook influencers to work with your brand
Monitor online mentions of your brand to find the best potential Facebook influencers to work with.
Once you have a list of potential Facebook influencers, create individual media monitoring projects for them so you can analyze their results for sentiment.
There are a lot of media monitoring tools out there. Each one varies slightly, so I recommend you try a few of them to find the one you feel most comfortable using. Brand24 has a 2-week free trial that lets you explore all of its features – including those described above.
If you haven't already, start monitoring your brand, product or industry to find the right Facebook influencer that will take your Facebook marketing strategy to the next level!
---
---