How to Follow Hashtags on Instagram
July 21, 2017 ・ 5 min read
As awesome as Instagram is, it doesn't give users the opportunity to track hashtags. You can only see how often hashtags are used. If you're looking for a more in-depth Instagram hashtags analytics, you've come to the right place. Below you can find a guide how to follow hashtags on Instagram.
Technically, you could follow Instagram hashtags manually to a very limited extent. This, however, would be an inhuman task. Can you imagine browsing hashtags, posts and managing all the spreadsheets containing data? Who would do this?
There are more effective ways to do it.
How to Follow Hashtags on Instagram
With the help of social media monitoring, you can learn a bunch of things about any hashtag.
To be more specific, here's a list of insights you can learn about a hashtag:
The number of mentions over specific time.
The number of mentions over specific time.
The social media reach of posts containing a hashtag.
The number of interactions a post including the hashtag generated.
Who are the most influential authors mentioning a hashtag.
The most active Instagram authors.
The context of the discussion.
All these pieces of data can be used in business, marketing, research, analyses and more. The sky is the limit here.
One of the tools that specialize in tracking Instagram hashtags is Brand24. It's a social media monitoring tool that collects real-time mentions of predefined keywords from all publicly available sources online.
You can use it to follow hashtags on Instagram.
First Steps
If you feel like tracking Instagram hashtags is something you need, you can try it out for free. Brand24 offers a 14-day trial period (no need to provide card info).
Once you have your account, create your first project.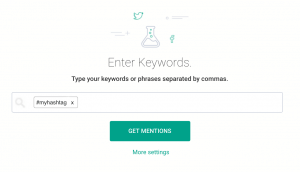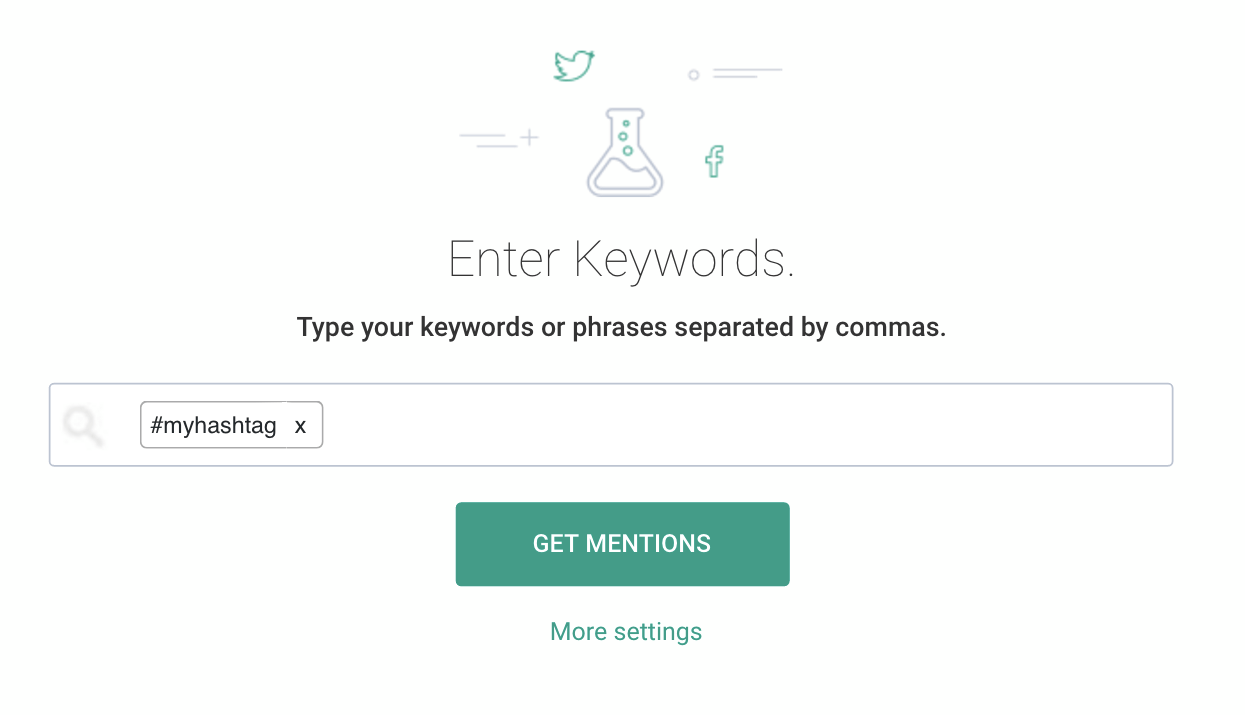 Remember to include the hash sign!
After clicking More settings you get the access to more options, including language, notifications options and more.
It's important to remember that social media monitoring tools don't collect historical data. You won't be able to follow posts from the past.
The Number of Mentions
You can follow Instagram posts containing your hashtags in real time in a couple of places within Brand24:
In the dashboard.
This is the center of the tool. The tool collects data from numerous sources, including websites, blogs, discussion forums, social media platforms and more. To see only Instagram mentions, you need to click Instagram. Here you can see the number of mentions.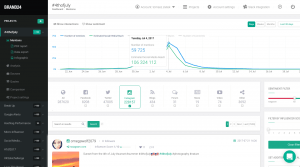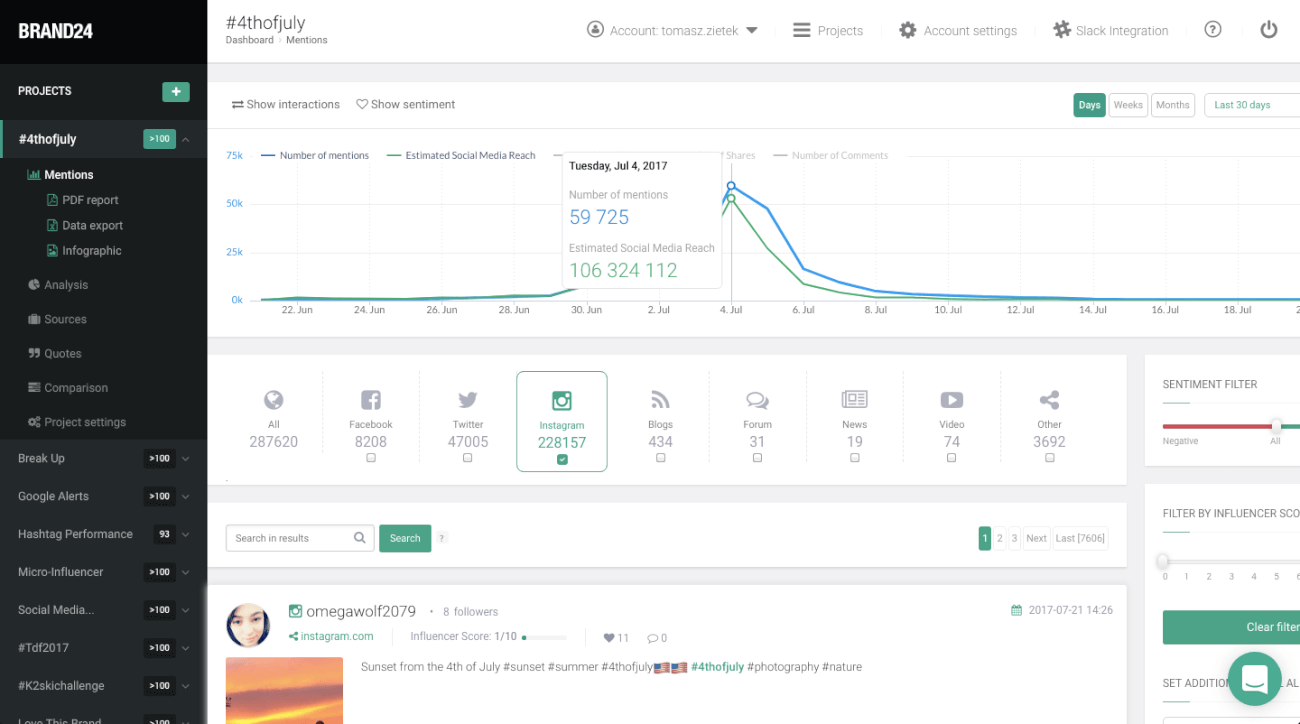 You can now see mentions from the newest to the oldest ones. The graph shows the number of mentions and their social media reach over a specific period of time. You can freely choose the time span.
After clicking, the line in a given point of time, the tool displays post only from that day.
In the Mobile App
You can also follow Instagram hashtags inside Brand24 mobile app. You can get the app both on Andriod and iOS.
The good thing about the mobile app is that it sends push notifications so you know about all new mentions.
In a Slack Channel
If you work for a company and use Slack as an internal communicator, you can connect it to Brand24. Then, you can follow your Instagram hashtags in a Slack channel where they arrive in real time.
Track Instagram hashtags with a dedicated tool
In Your Inbox
You can follow hashtags on Instagram also in your inbox. By default, the tool sends email notifications every 24 hours. The notifications contain the number of new mentions, interactions, their social media reach and a couple of key mentions.
You can adjust notification settings to change the frequency.
Social Media Reach of Instagram Hashtags
Social media reach is an estimated number of people who might have come across an Instagram post containing your hashtag.
The reach is represented by the green line on the graph. It shows a combined social media reach for all hashtag mentions from a given day.
Also, the tool assesses social media reach for each mention separately.
Analyze the performance of hashtags
The Number of Interactions
It includes the number of likes and comments under an Instagram post containing your hashtag. This option, however, is available for Premium and Max pricing plans.
The Most Influential Social Media Authors
It's a list of Instagram profiles with the highest social media reach.
The Most Active Instagram Authors
This is the list of social media authors that mention your hashtag most frequently. You want to look for Instagram authors.
How To Use This Data?
As I mentioned earlier, this data can be used in a number of ways. Let's have a look at some of them.
Event Marketing
If you're running an event, a dedicated event hashtag is a must. Also, you need to be able to follow this hashtag on Instagram.
Why is it so important?
You can measure the social media impact of your event. See how many people talk about your event and that the social media reach of these posts is.
You can engage people using your hashtag before, during and after the event. It's a good way to boost customer engagement.
You can reach and reply to customers asking questions using your hashtag.
+ more!
Company Hashtag
Creating a company hashtag works well for your social media presence and awareness. Having such a hashtag allows you also to find out how often it's used, who uses it, what its social media reach is.
Hashtag Campaign
Just as in the case of the company hashtag, hashtag analytics can help you estimate the effectiveness of hashtag campaigns.
Monitor the effectiveness of your hashtag campaigns
Conclusion
Make sure you check other articles about how to follow hashtags in other social media platforms:
How to See the Number of Tweets for a Specific Hashtag
How to follow a hashtag on TikTok
Here you can take Brand24 for a spin. It's absolutely free.