How to Increase Engagement on TikTok? 23 Tips for 2023
April 26, 2023 ・ 15 min read
Not long ago, TikTok marketing gained tremendous popularity as it emerged as a valuable repository of brand ambassadors and customers. But to get noticed on the platform, you need an outstanding engagement rate on your TikTok account. Here's how to achieve it.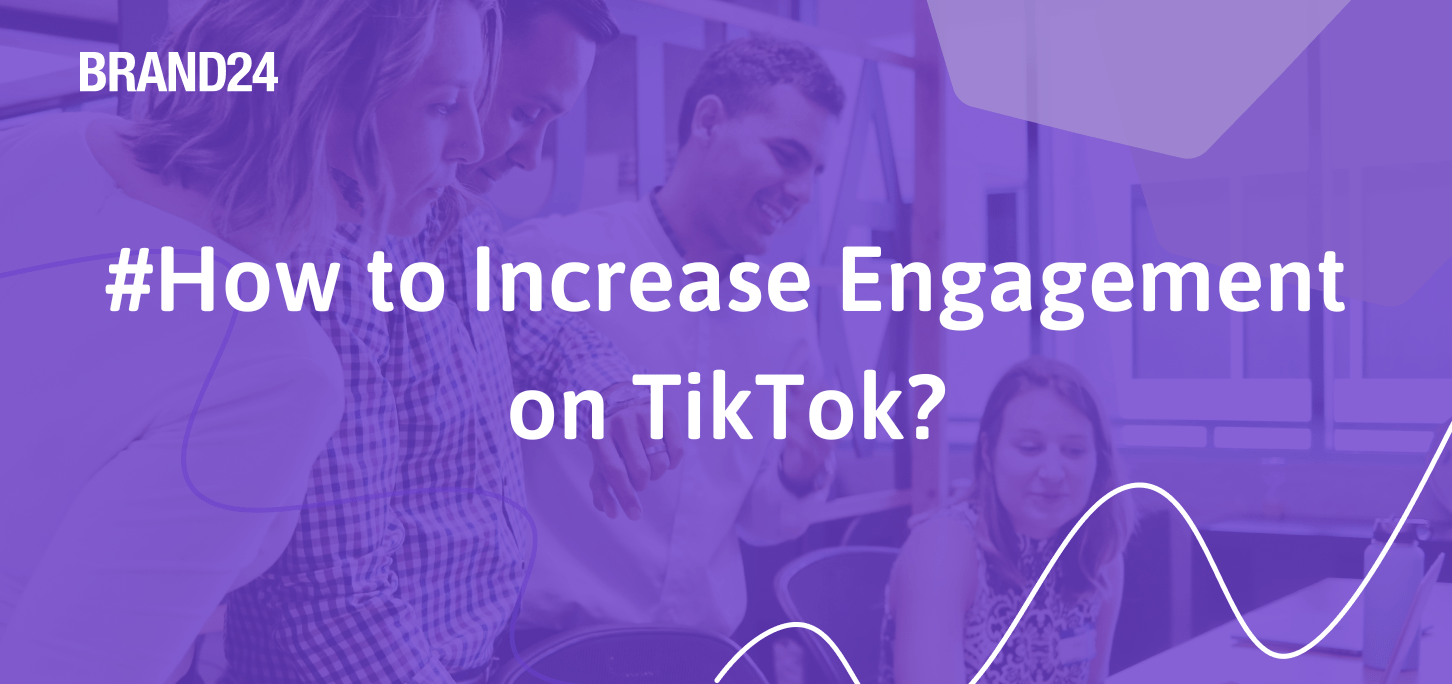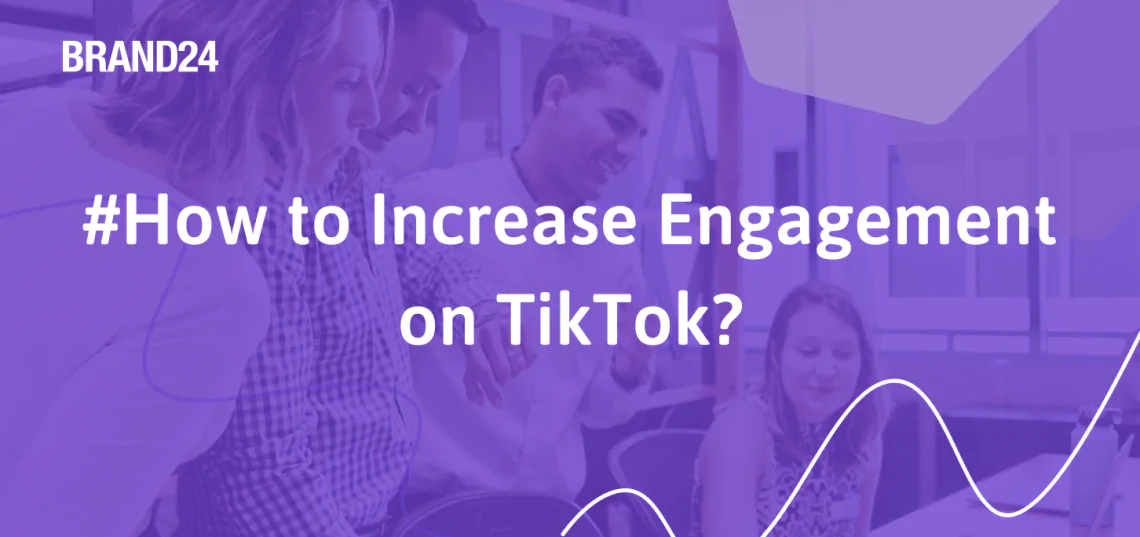 Of course, creating captivating content is the key to your TikTok engagement success, but what else can you do to improve your performance?
Let's review 23 practical tips for 2023 and make your TikTok engagement skyrocket this year!
1 Get to know your audience
First of all, if you want people to engage with your content, you need to know who you are addressing. It would be quite complicated to come up with gripping ideas if you didn't know who was on the other side of the screen.
That is why you should start improving your TikTok engagement rate by making an extensive audience analysis. Check who already is your follower, and think of people who can potentially be interested in what you create. Having indicated your target audience, you will be able to think of various methods to reach them with your content.
This step may seem complicated, especially if you already have many followers, but Brand24 is ready to support you.
Setting up a TikTok monitoring project lets you track all the online chats about yourself or your brand. It's very simple, as you only need to choose a keyword, and Brand24 will gather all the results for you.
For instance, here's a media monitoring project for Charli D'amelio – a famous American TikToker.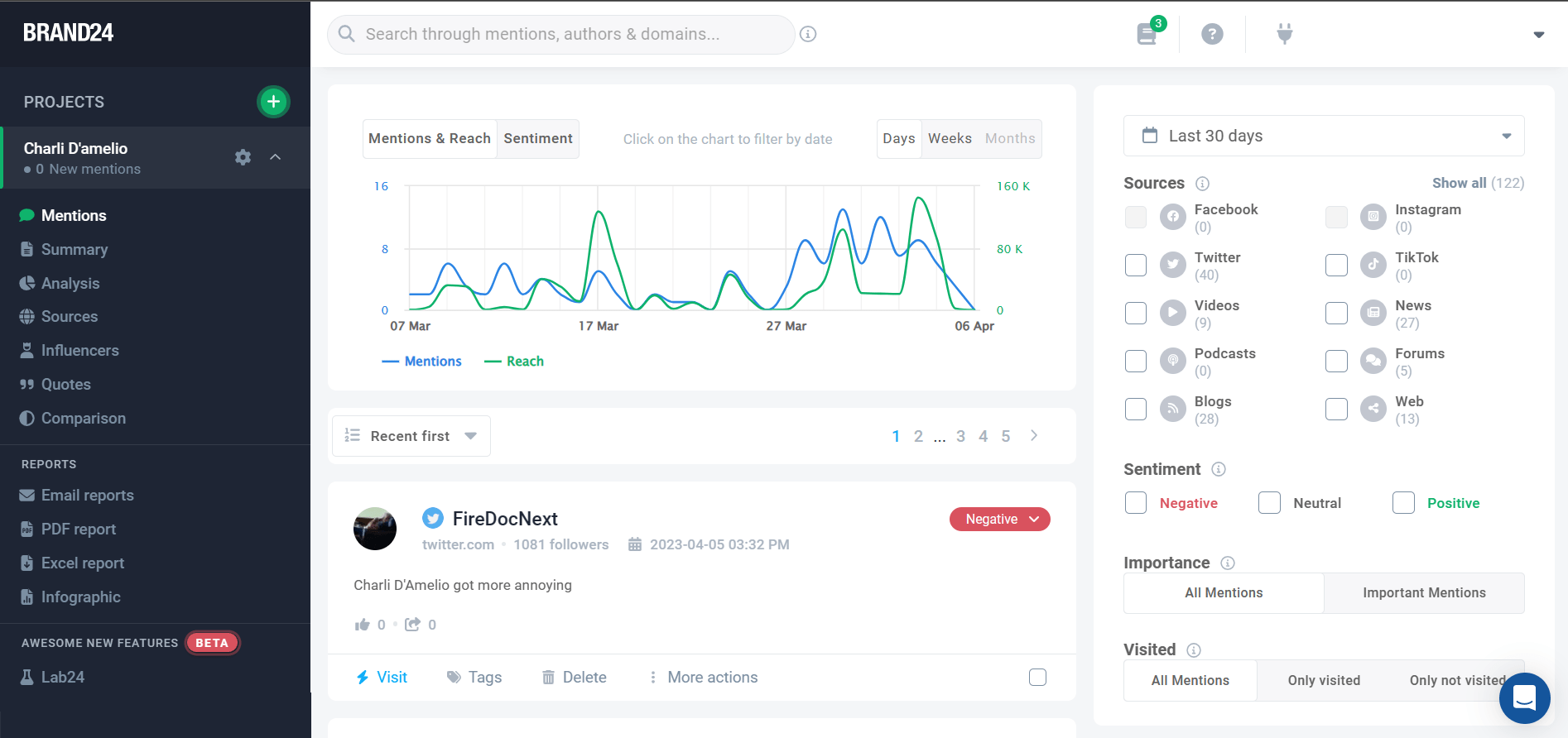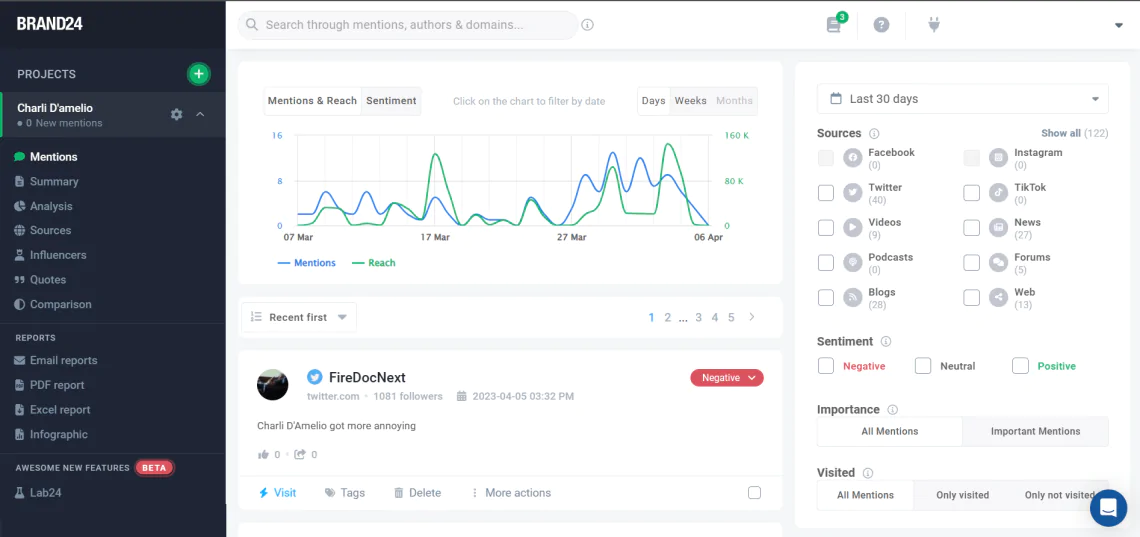 Start your TikTok analytics with Brand24!
Thanks to such a project Charli could see what people say about her on the Internet and meet her most devoted fans by entering the Analysis tab and exploring Top public profiles and Most active public profiles mentioning her.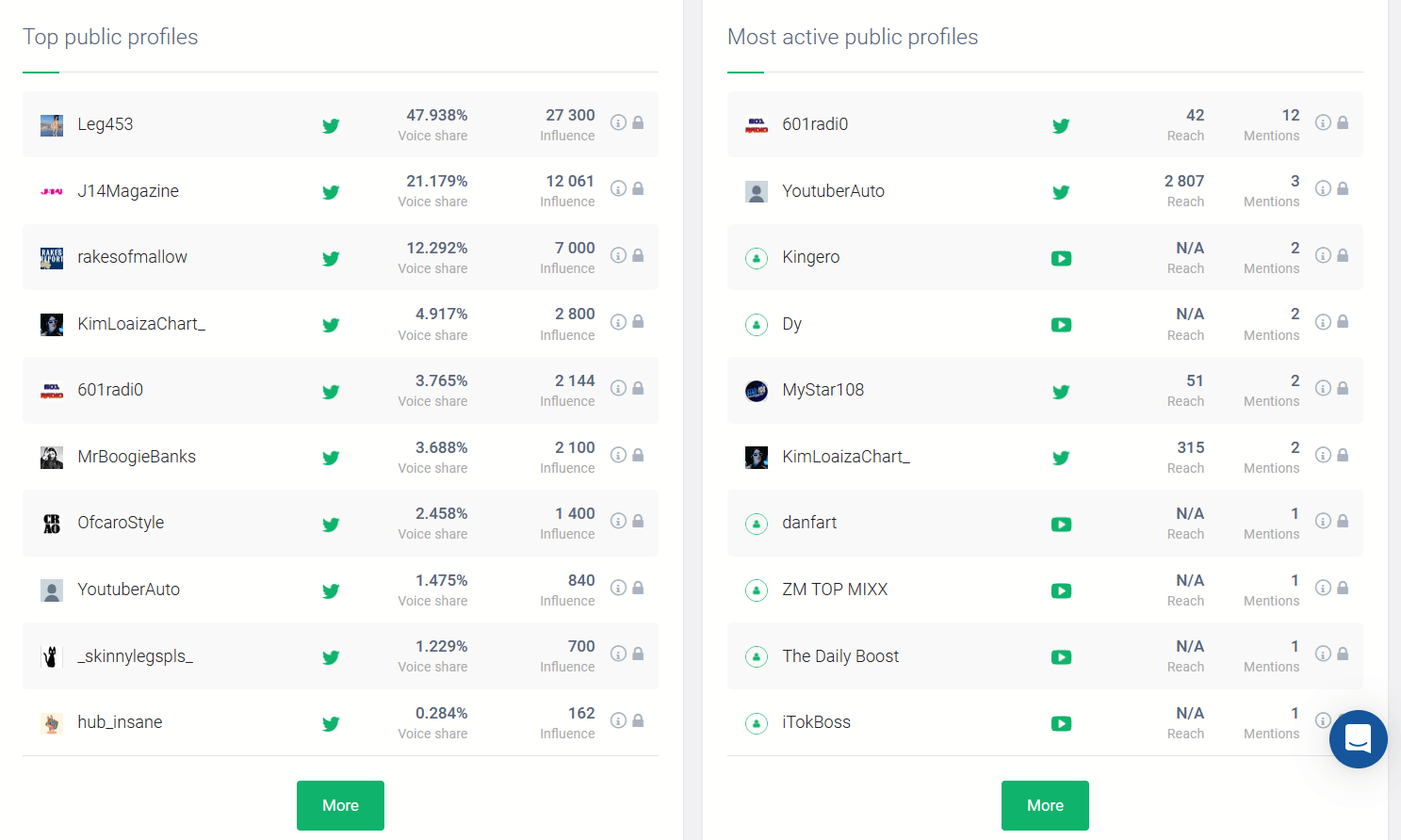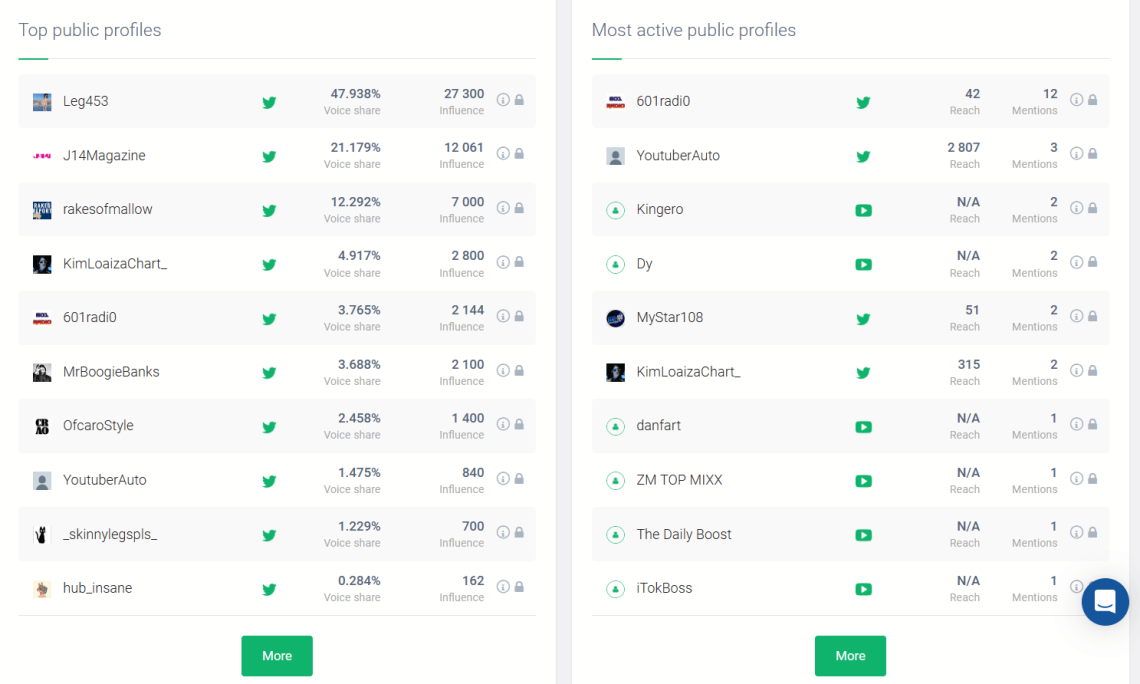 Another way of getting to know your audience is by browsing through mentions. This way, you can learn many personal opinions of both your followers and haters. You can also sort the mentions according to their sentiment (positive, neutral, or negative).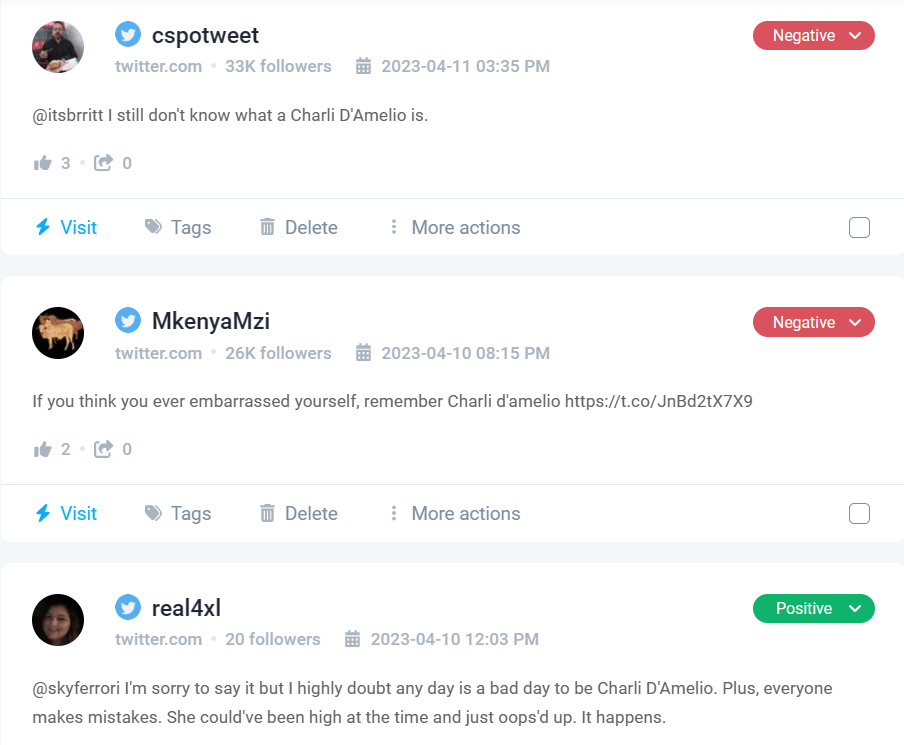 Start your TikTok analytics with Brand24!
2 Engage with your audience
That's the most crucial part of a successful TikTok strategy. You cannot leave your followers with no answer to their comments and questions if you want to create a real relationship with them.
Pro tip: Reply to comments with videos to make your answers more appealing. See below how to do this.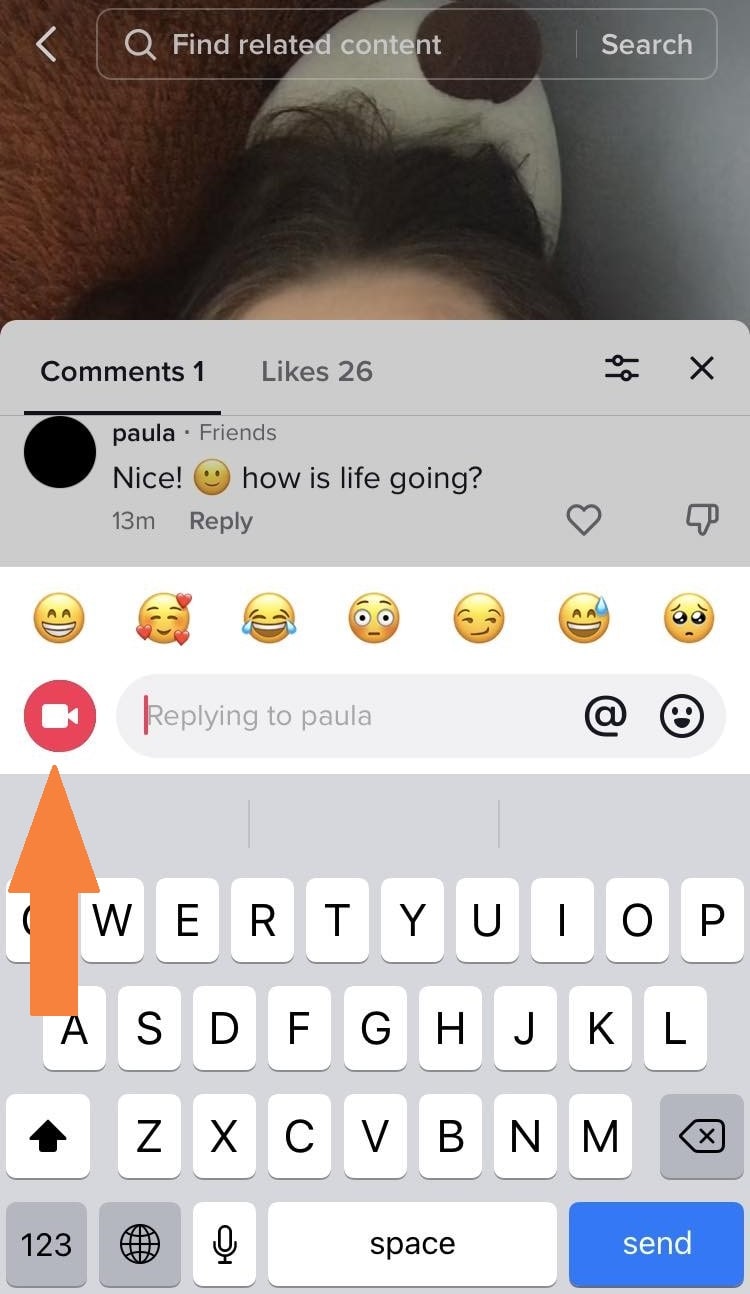 However, besides comments and questions under your posts, you can get other types of social mentions and not necessarily be aware of them. For example, when somebody doesn't tag you in their post, you may never discover its existence.
That's where Brand24 comes in handy! The tool collects all the mentions in your dashboard, even if you are not tagged, and facilitates communication and image-building on social media.
For instance, here's a Twitter mention of an American TikToker, Cale Brown.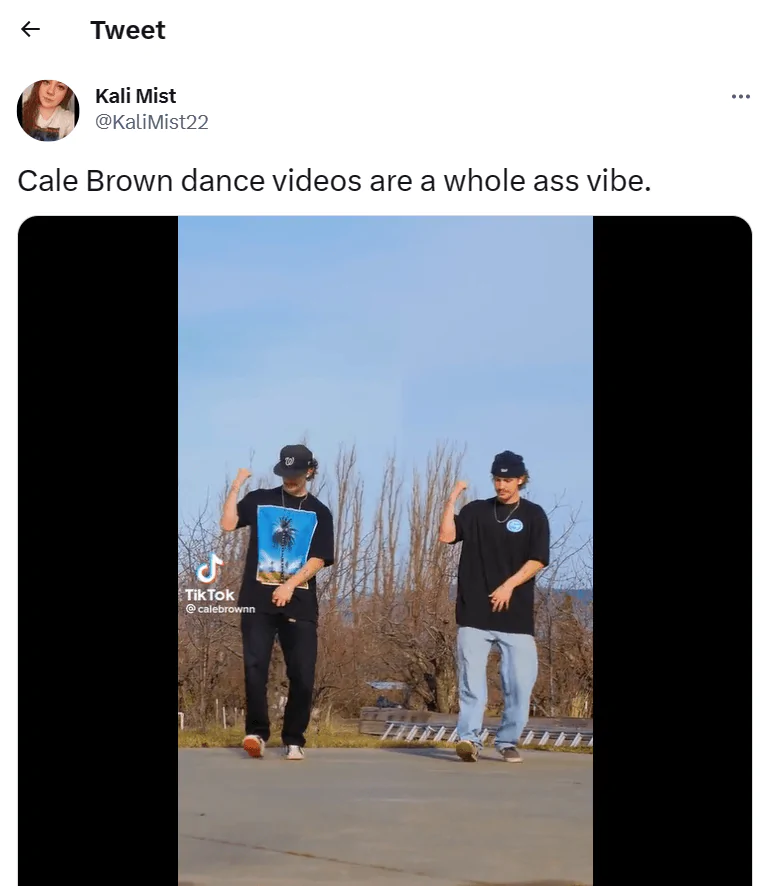 As you see, he is not tagged in the mention, so he will never see it nor will he reply to it.
But using Brand24, you can identify the mentions even if you are not tagged in them! That's how I found the above one.

To increase TikTok engagement rates, you should track your mentions across various social media platforms to show your audience that their posts and comments matter to you.
Be up-to-date with all your social mentions!
3 Leverage user-generated content
User-generated content (UGC) refers to posts created and shared by private users rather than a brand or company. Encouraging your followers to develop content related to your brand or products can increase TikTok engagement rates. It not only showcases your brand in a positive light but also creates a sense of community and connection with your followers.
To leverage UGC, you can create a branded hashtag and encourage users to share their content using it.
Moreover, featuring user-generated content on your profile provides social proof and shows your followers that you appreciate and value their support.
Use Brand24 and monitor everything said about you and your brand online.
4 Keep an eye on your competitors
The market and trends are ever-changing. That's why it's good to be up-to-date with what is happening on other TikTokers' accounts. Seeing what works for them, you can adjust your strategy and ensure you don't miss anything relevant to your niche.
For instance, let's say you are in the beauty industry. You could set up a social media monitoring project with keywords for beauty, makeup, and cosmetics.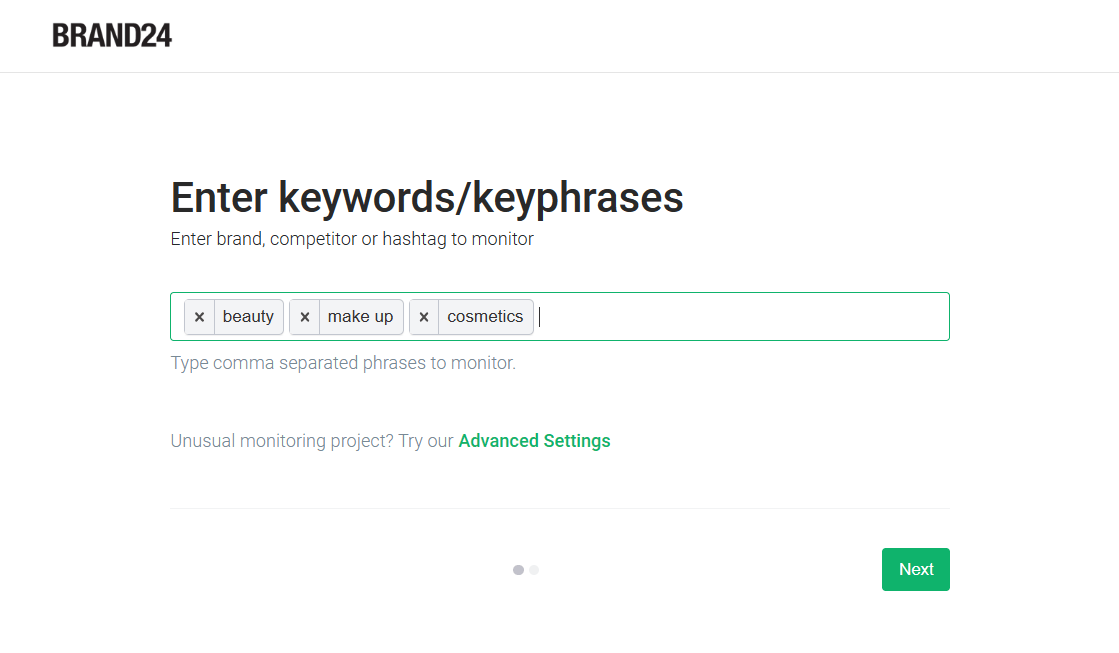 This way, you will be able to identify new trends in your industry and won't miss out on new product releases.
To narrow your results to TikTok, choose the app icon on the right-hand side panel. You can also enter the Influencers tab and check out your competitors.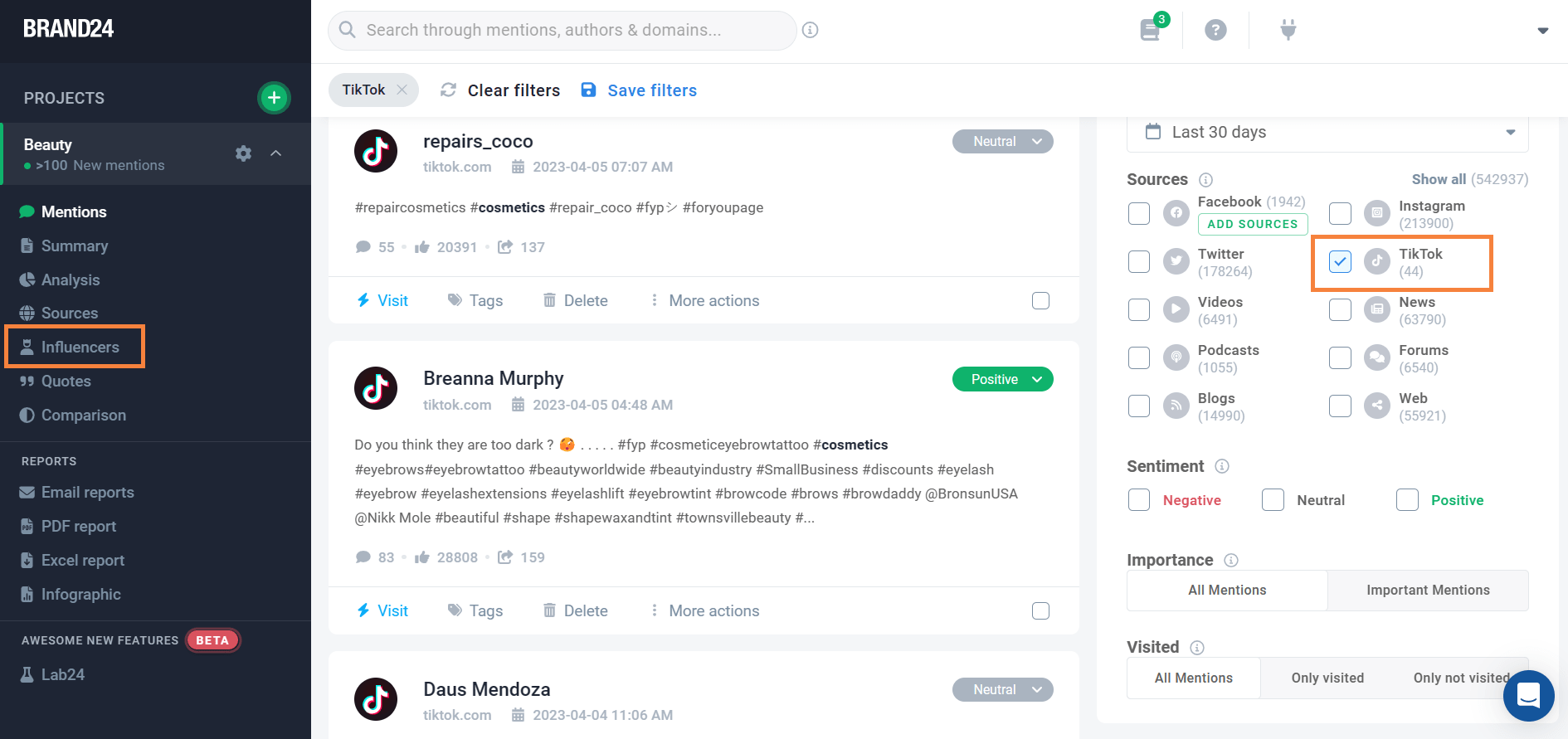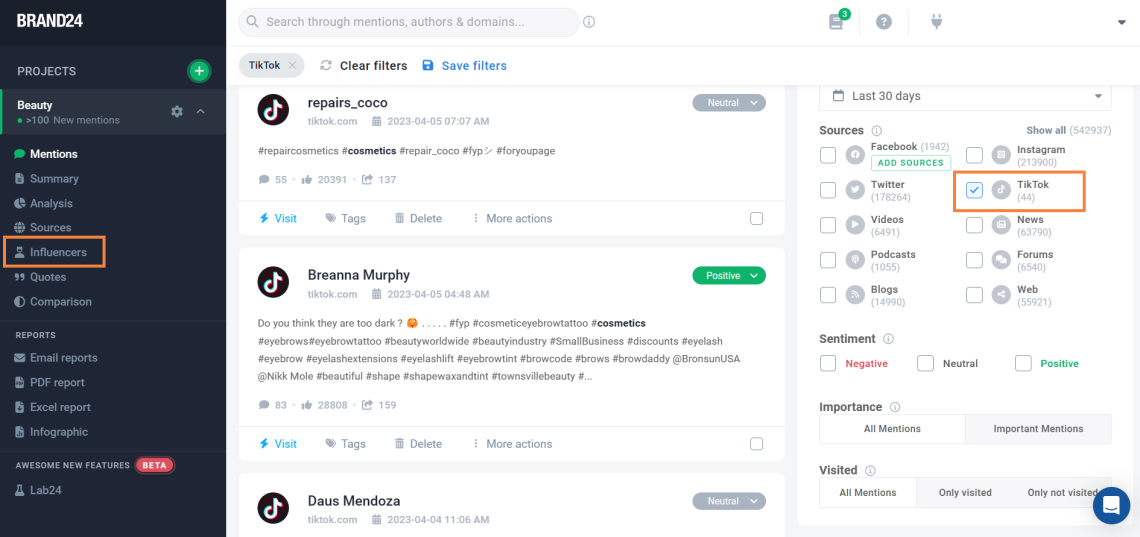 Start monitoring your TikTok competitors now!
5 Engage with other people's content
Engaging with other people's content on TikTok is a great way to increase your engagement rate. By creating duets or stitches, you can tap into other creators' audiences and boost the visibility of your content.
Duets allow you to create a split-screen video with another user's content, while stitches enable you to use another user's video and add your own content to it.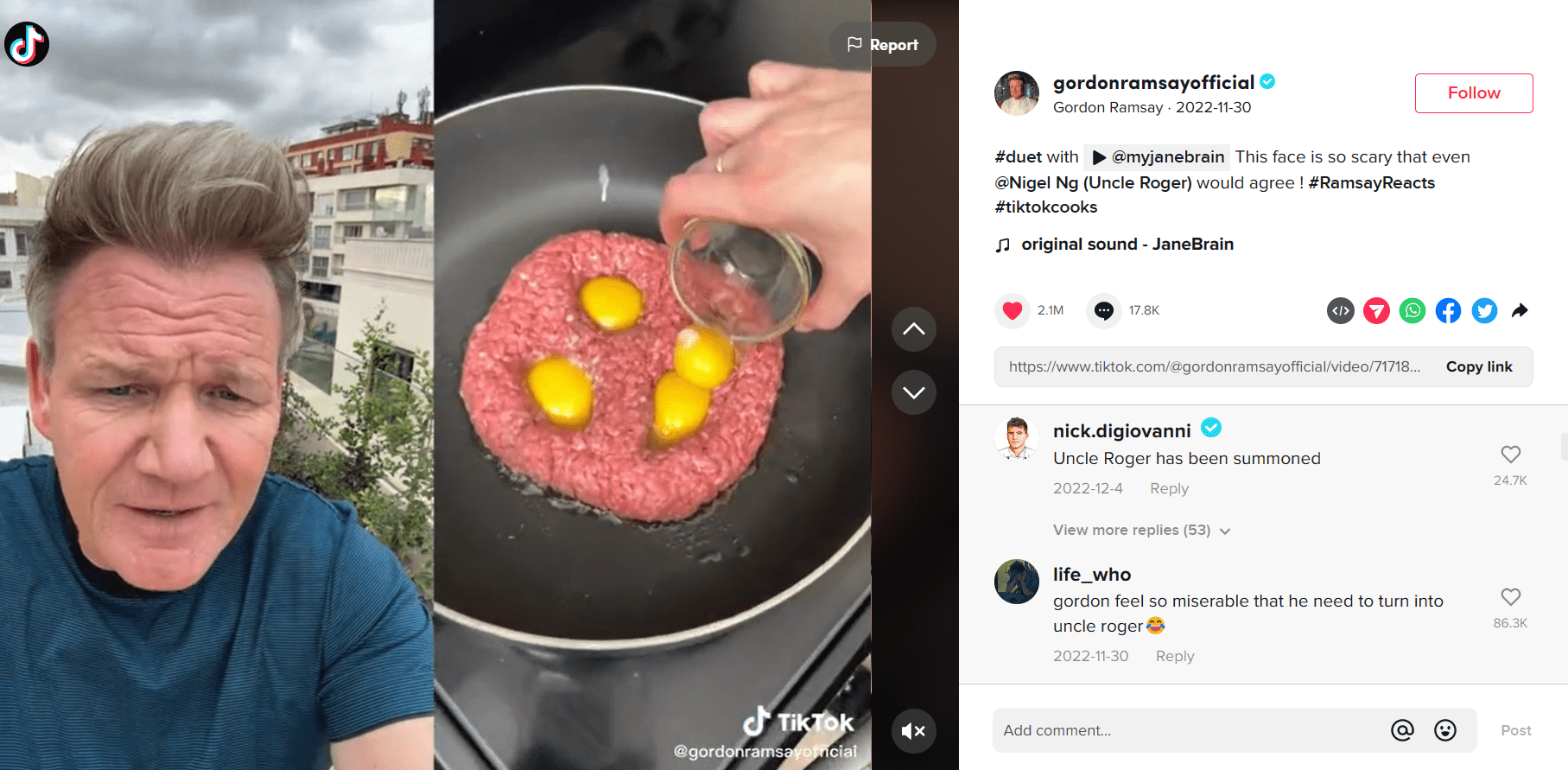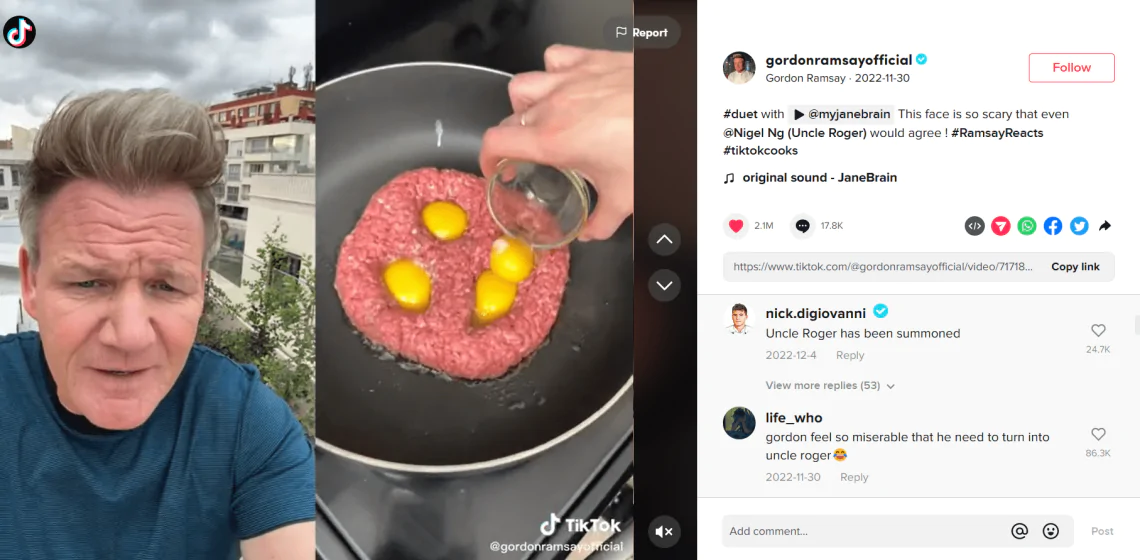 Both duets and stitches can help you create unique and engaging content while giving credit to the original creator. This leads to an increased engagement rate on TikTok and is a great way to build relationships within the TikTok users community.
6 Collaborate with influencers
Influencers have already established a following on the platform and can help expose your posts to a wider audience.
Work together to create relevant content that highlights both of your strengths. This can increase your reach and engagement rates as your content will be exposed to the other influencer's audience as well as your own.
Additionally, influencer marketing can help establish your brand as a credible source in your industry, leading to a higher engagement rate in the long run.
When choosing influencers to collaborate with, make sure they align with your brand and target audience.
Brand24 provides you with an Influencers tab for your keywords which can greatly facilitate this choice.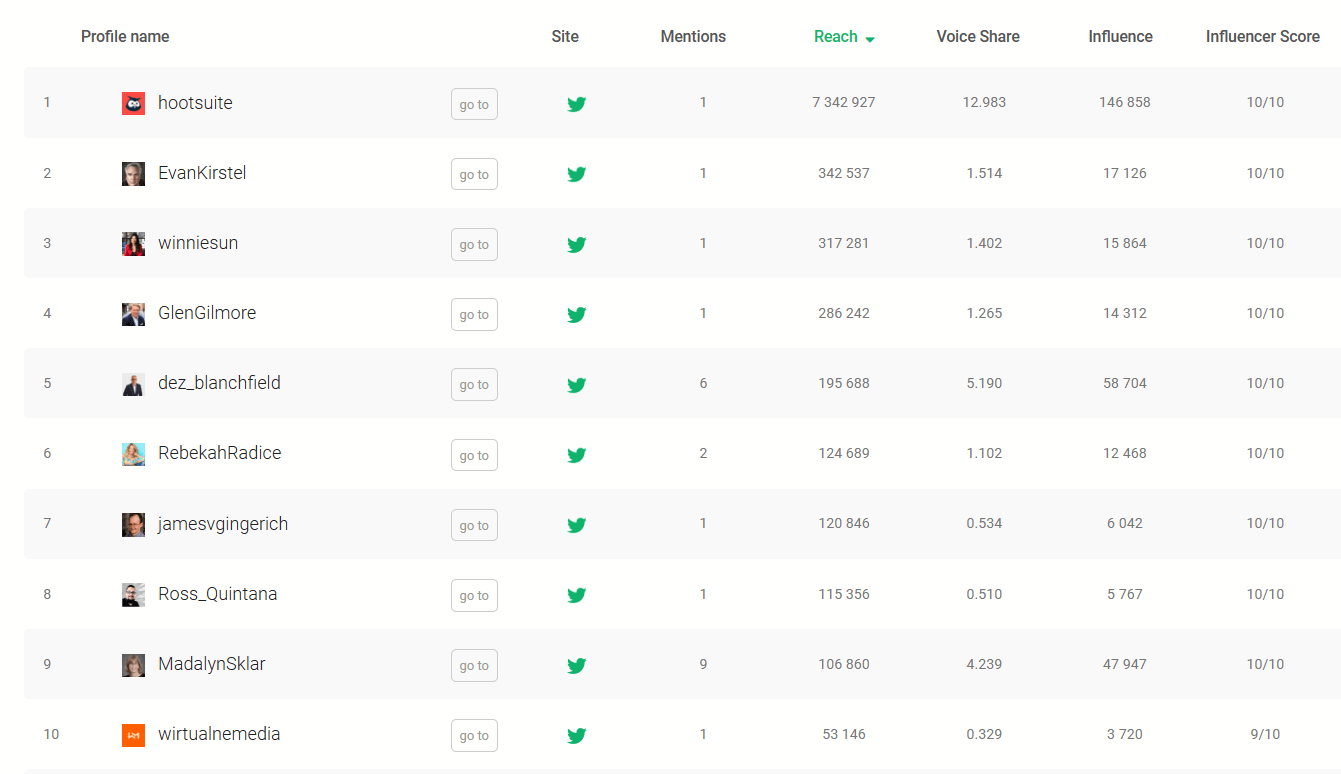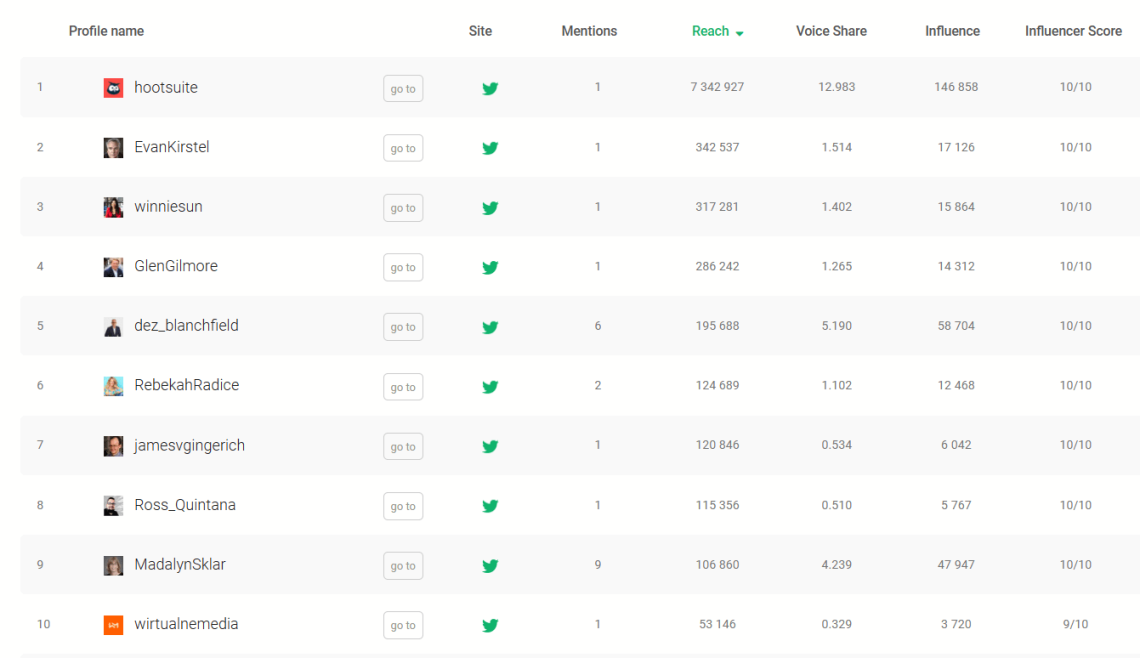 Read more about finding influencers for your TikTok marketing here: How to Find TikTok Influencers in 2023? +Benchmarks| Brand24
7 Use trending hashtags
By incorporating popular hashtags in your content you can expand your reach and get your videos in front of a larger audience.
When choosing hashtags, it's vital to ensure they're relevant to your content, as using irrelevant hashtags can decrease your TikTok engagement.
To keep an eye on the most popular hashtags in your niche, you can use Brand24 Trending hashtags rank.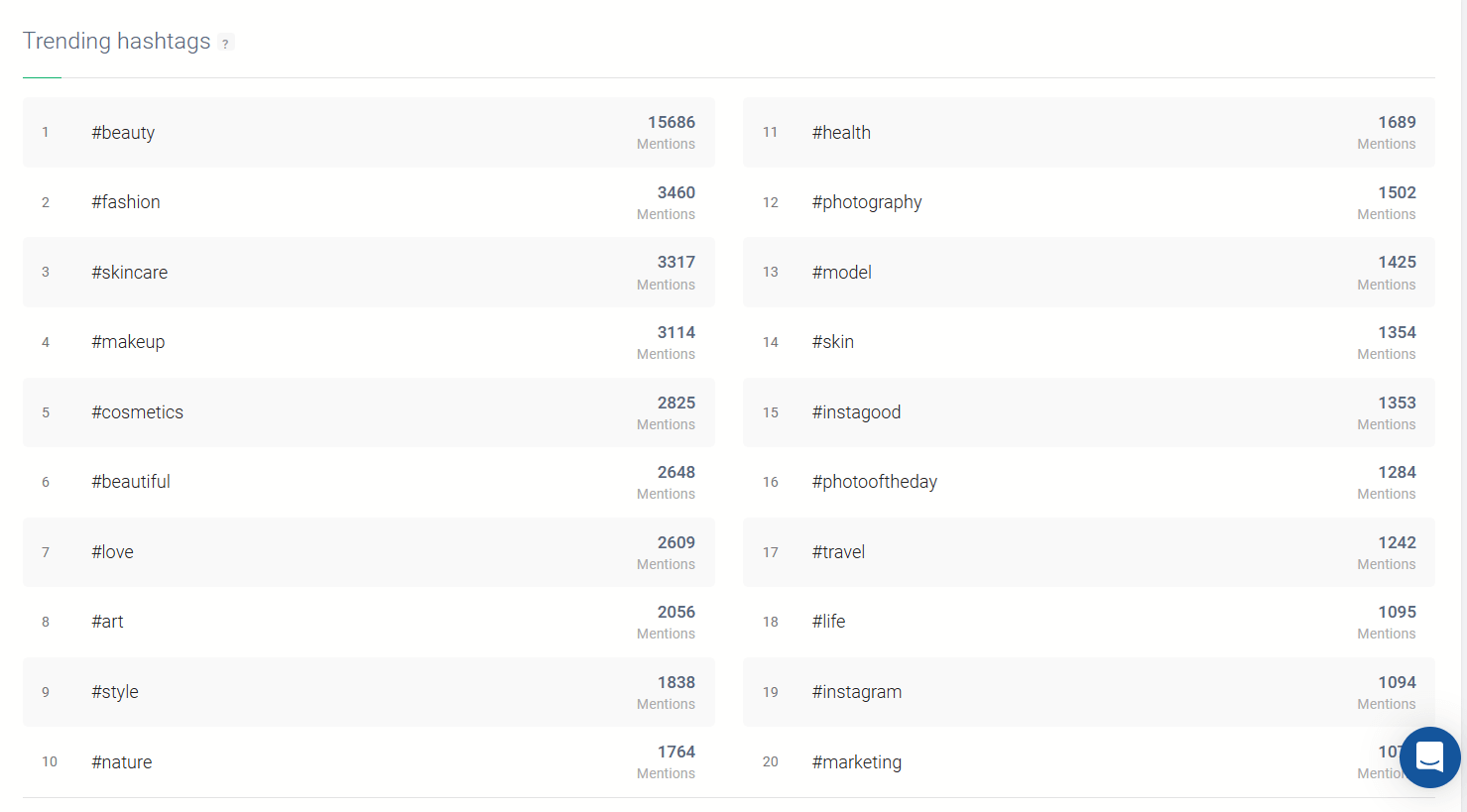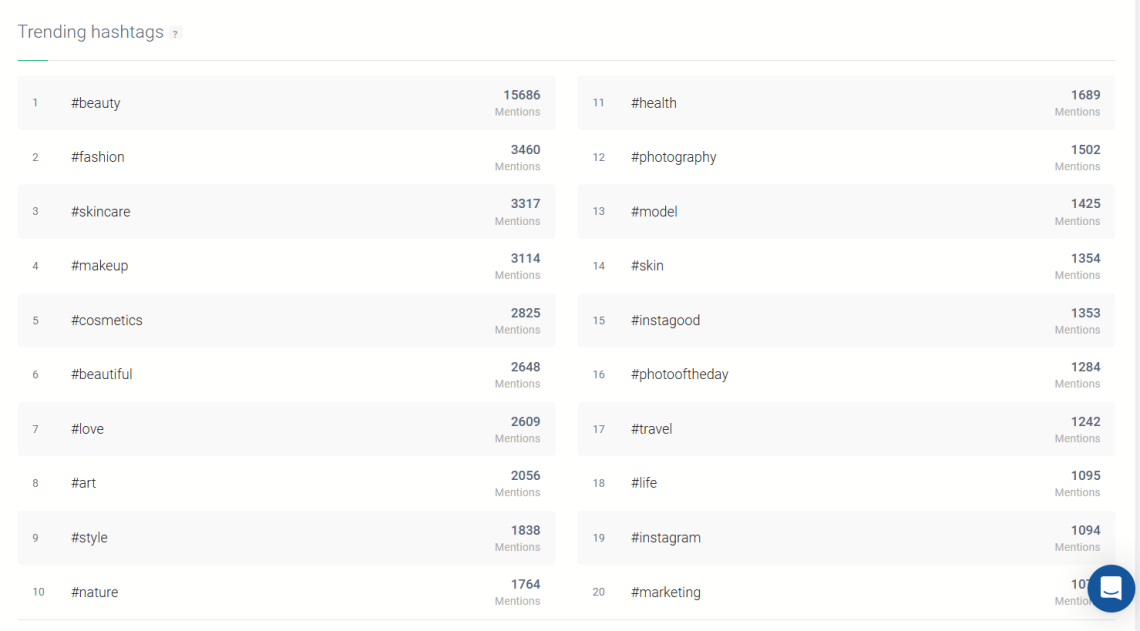 Try Brand24 for free for 14 days!
8 Follow relevant people and get inspired
Another great way to increase your TikTok engagement is to check out other people's accounts and get inspired by their content. This can help you come up with new and creative ideas for your TikToks. It's also a great way to see what's working well on the platform and discover the latest trends.
Don't limit yourself to following people in your industry either, as you might find inspiration from creators in other niches or even just everyday people sharing their experiences.
Remember to always put your unique spin on any ideas you borrow to keep your content fresh and original.
9 Embrace Now
If you're looking to improve your engagement rates on TikTok, consider using the Now feature. It is all about sharing unedited pictures and videos.
After accepting the Now feature policy, you will receive daily notifications saying you have 3 minutes left to share a photo or video.
Using Now, you can give your TikTok followers a glimpse into your daily life and create a more personal connection with them, leading to higher engagement rates.
Start your TikTok analytics with Brand24 today.
10 Hop on trends
It's crucial to stay updated with the latest trends on the TikTok app. Creating engaging videos incorporating principal challenges and memes increases your chances of being featured on the coveted For You page. This means increased video visibility and potential for more likes, comments, and shares. By tapping into the pulse of TikTok trends, you can stay relevant and appeal to a broader audience, ultimately leading to higher engagement rates.
11 Use eye-catching thumbnails
Thumbnails serve as the first impression of your video and can make a huge difference in whether or not someone clicks to watch.
Use an image or frame from your video that represents the content well and is visually appealing. Add text or emojis to make the thumbnail stand out even more.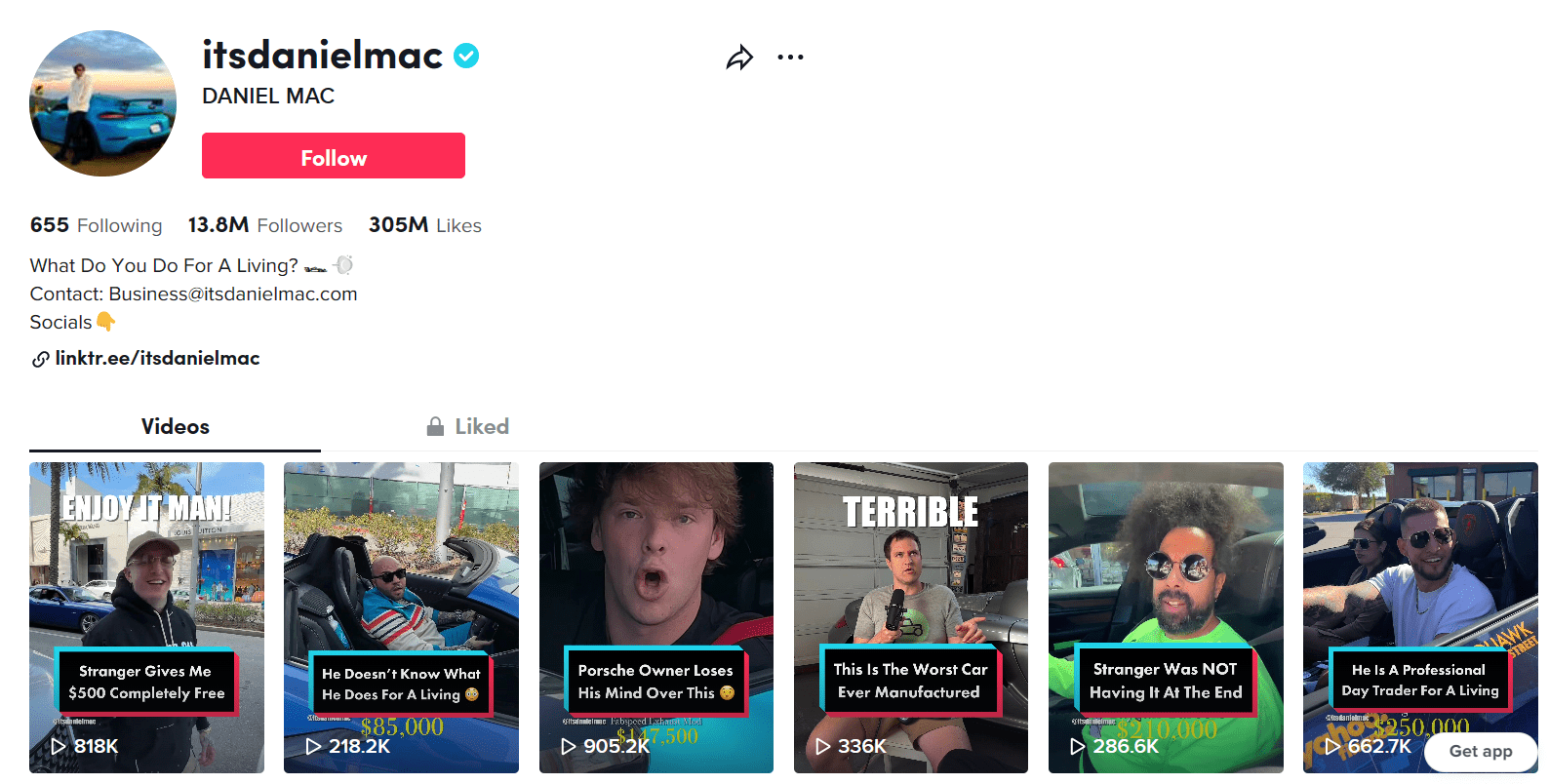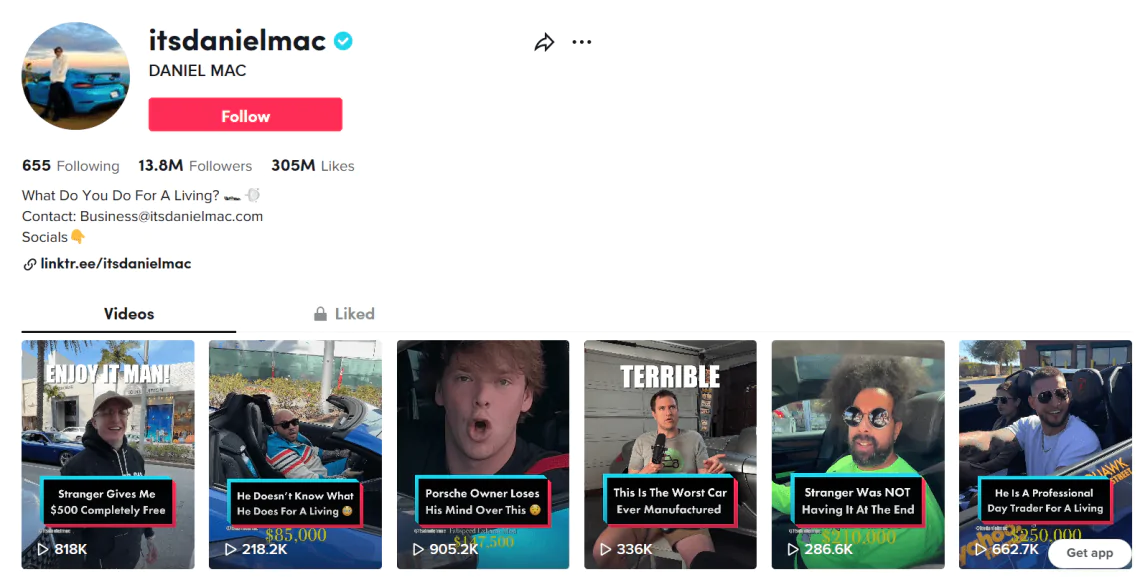 So, take the time to create attractive thumbnails for your TikTok videos and watch your engagement soar!
Check out Brand24 TikTok analytics options.
12 Use various editing options
Creative and appealing content is one of the keys to your TikTok engagement. You can easily achieve that using various editing options.
From adding music and filters to using effects and transitions, there are many ways to make your content stand out on the platform.
Using these features creatively and effectively allows you to capture viewers' attention and keep them involved throughout the entire video. This can increase likes, comments, shares, and followers, ultimately helping grow your TikTok engagement rate.
So don't be afraid to experiment with different editing options and find a style your audience will love.
PS. Remember that you need high-quality videos to compete with the most popular TikTokers!
13 Find your unique style and stick to it
Finding your unique style and sticking to it is crucial to building a successful presence on TikTok. Your style should reflect your personality and values and resonate with your target audience.
Consistent branding is essential in helping viewers identify and remember your content. It also sets you apart from the competition and helps build a loyal fan base.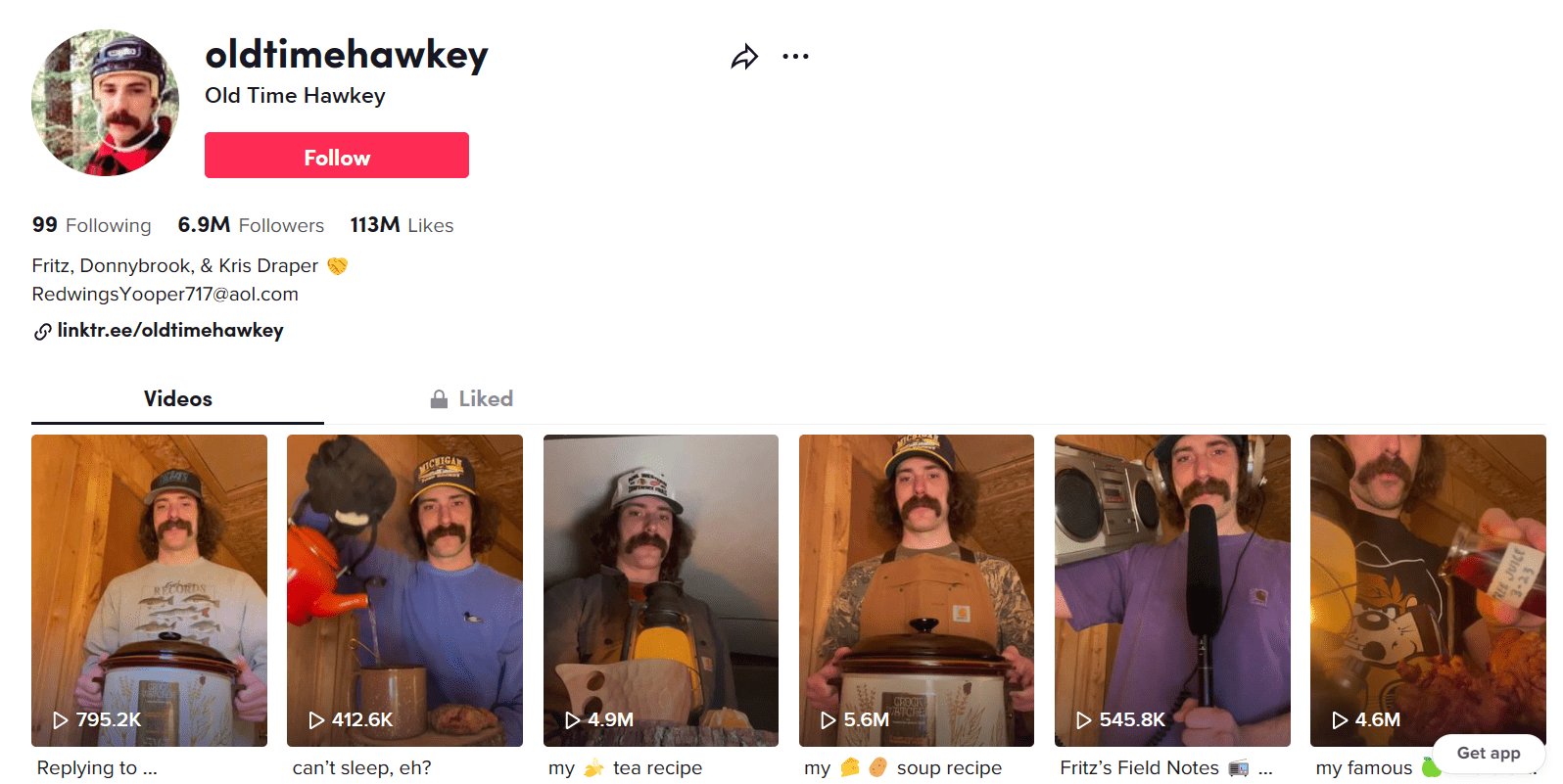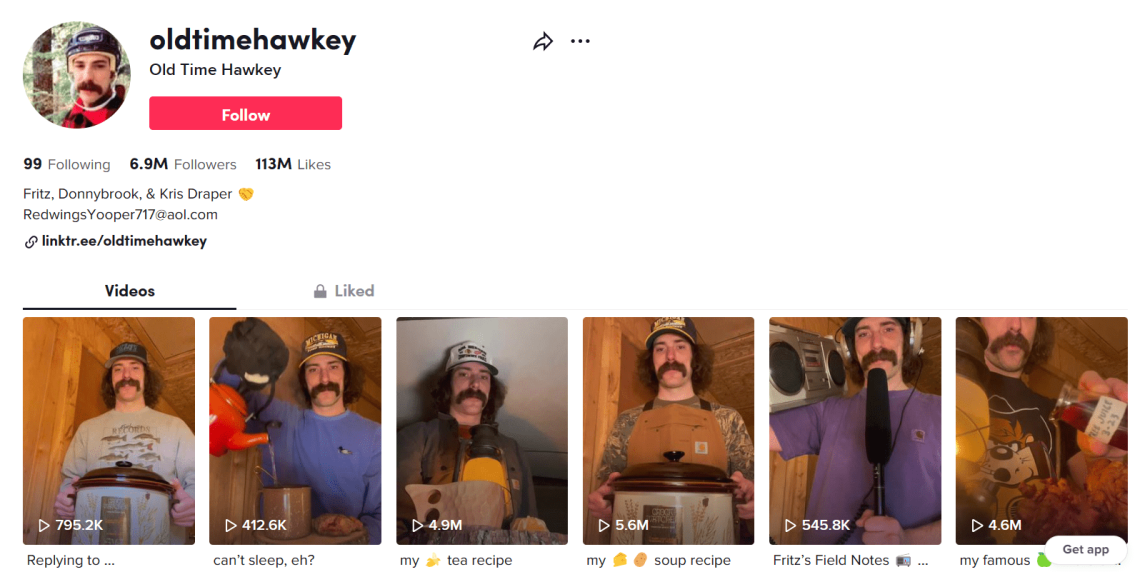 Once you have established your style, make sure to maintain it throughout your content. Consistency in branding and style helps build trust with your audience and results in higher engagement rates.
So take the time to find your unique style – your TikTok account will thank you for it.
14 Use creator tools
TikTok's creator tools provide advanced features that give you insights into your content's performance and help you develop a strategy. With their help, you can quickly get more engagement on your TikTok videos. The available features include:
Analytics – allowing you to track your video's performance, including views, followers, and more
Creator Portal – providing you with helpful tips on growing your audience and improving your content
Promote – an advertising tool that can help you gain more followers and direct traffic to your website
TikTok Creator Next – a monetization program that rewards you for growing your TikTok community
Q&A feature – this one deserves more attention and a separate paragraph
To access these features, go to your profile, tap on the Menu button, and select Creator tools. From there, you can choose the function you want to use.
15 Use the Q&A feature
The Q&A feature on TikTok is an excellent tool for increasing engagement with your followers. It allows them to ask you questions directly through your profile or in the comments section of your videos.
What's particular about this feature is that you can answer inquiries with a video. This way, you can use the Q&A feature to create new and exciting content based on the questions you receive, ensuring your content stays fresh, relevant, and engaging.
The feature also provides valuable feedback on your content and insights into your audience's interests.
Discover all the online chats about yourself and your brand online!
16 Post regularly
Posting regularly on TikTok is essential to maintain a strong connection with your followers and increase engagement on the platform.
In addition, the TikTok algorithm favors accounts that post frequently and consistently, which means that your content is more likely to be recommended to a wider audience and land on the for you page.
However, it's essential to maintain a balance and refrain from posting too frequently, as this can lead to follower fatigue and lower engagement rates.
Therefore, finding a regular posting schedule that works for you and your audience is key to maximizing your TikTok engagement.
17 Go live
TikTok live streams can be a great way to get a high engagement rate and connect with your audience in real time.
While other types of videos can be pre-recorded and edited, Tiktok live streams provide a sense of authenticity and immediacy that appeal to viewers. When you go live, your followers receive a notification, giving them a reason to open the app and tune in.
You can use TikTok live stream feature to answer audience questions, share behind-the-scenes content, or even collaborate with other creators.
By doing TikTok lives, you can build a stronger connection with your followers, which can also translate to higher engagement on your other videos.
18 Find the best time to post
By analyzing your audience's behavior, you can determine when they are most active on the app and schedule your posts accordingly.
Posting during peak hours can increase the visibility of your content and give it a better chance of reaching a wider audience.
On the other hand, posting during off-peak hours can also be beneficial as there may be less competition for attention.
By consistently posting at different times, you will finally discover the perfect timing for your content to be released and get high TikTok engagement rates.
Get to know your audience with Brand24.
19 Use trending music
Using trending music is an effective strategy to get high engagement on TikTok. Popular songs can add an extra layer of entertainment to your videos and attract users searching for content featuring those tunes.
TikTok offers a library of currently trending songs, making it easy to find the right track for your posts. You will find it under TikTok viral after clicking on Add sound while creating a new video.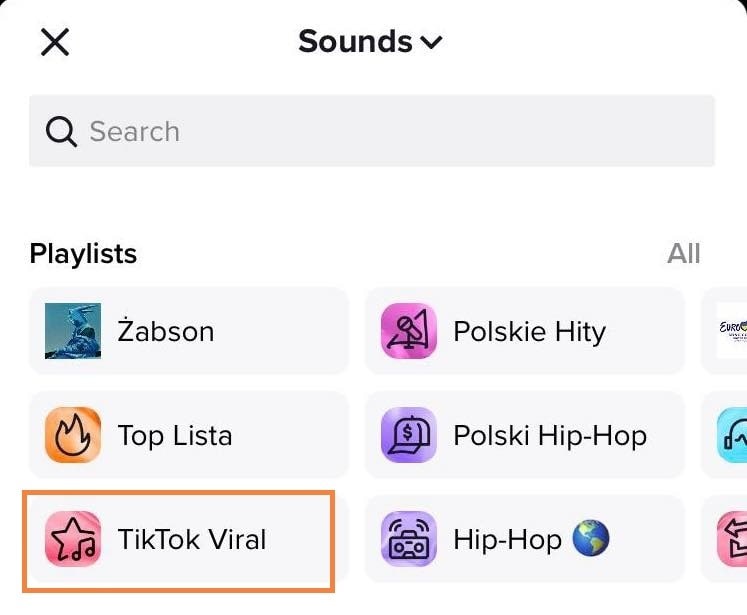 By leveraging popular music, you can increase the chances of your videos appearing in search results or on the For You page and gaining more views and engagement.
20 Promote your account on other social media platforms
Promoting your TikTok account on other social media channels greatly increases exposure and drives traffic to your content. Sharing your TikTok videos on Instagram, Twitter, Facebook, or other platforms can attract a larger audience and get a good TikTok engagement rate.
Moreover, by adding your TikTok handle to your social media bios or sharing a link to your TikTok account, you can encourage your followers on other platforms to check out your video content.
This cross-promotion can be especially effective if you have a strong presence on other social media platforms.
21 Do 'POV' videos
POV, standing for "point of view" videos, is an excellent way to get your audience to interact with your content. These videos place the viewer in a particular situation or experience, making them feel more connected to your content.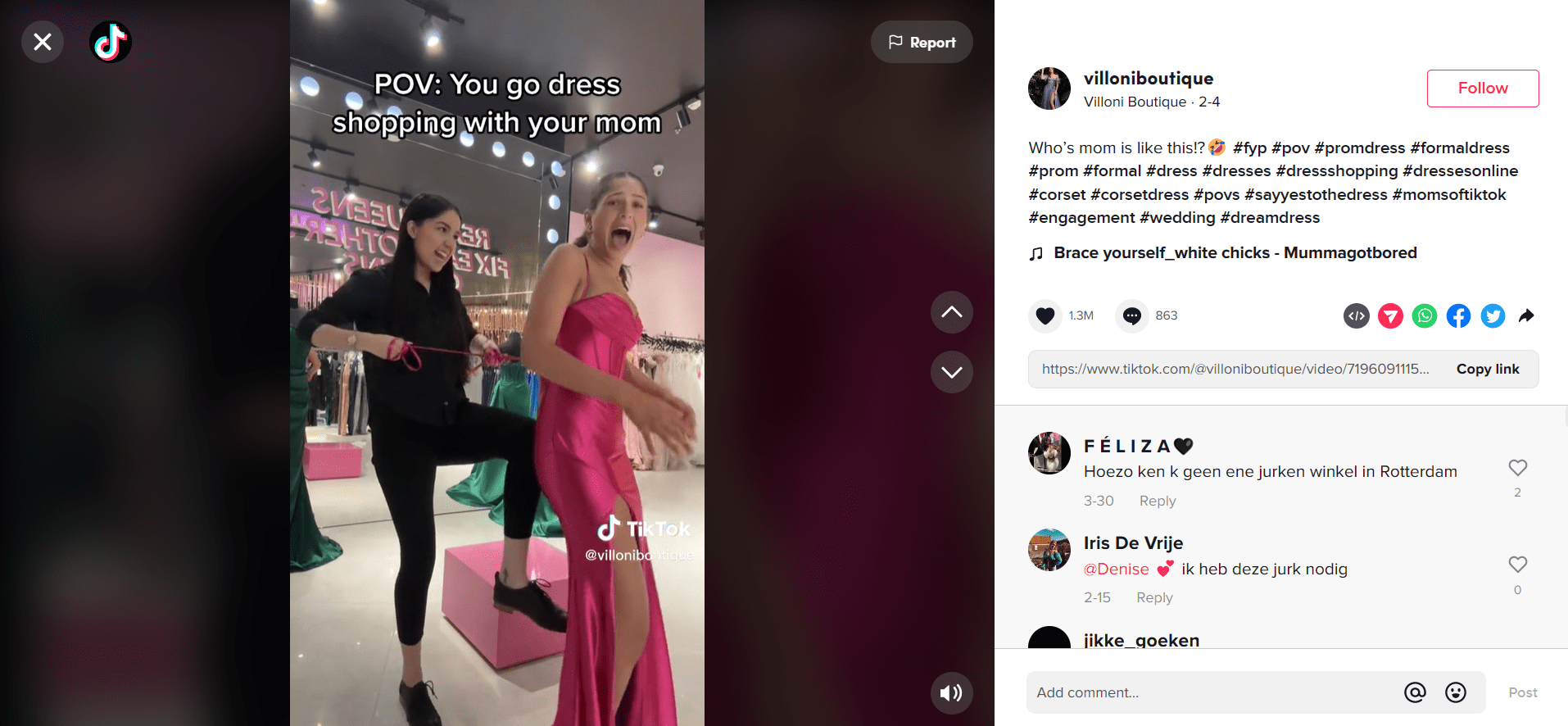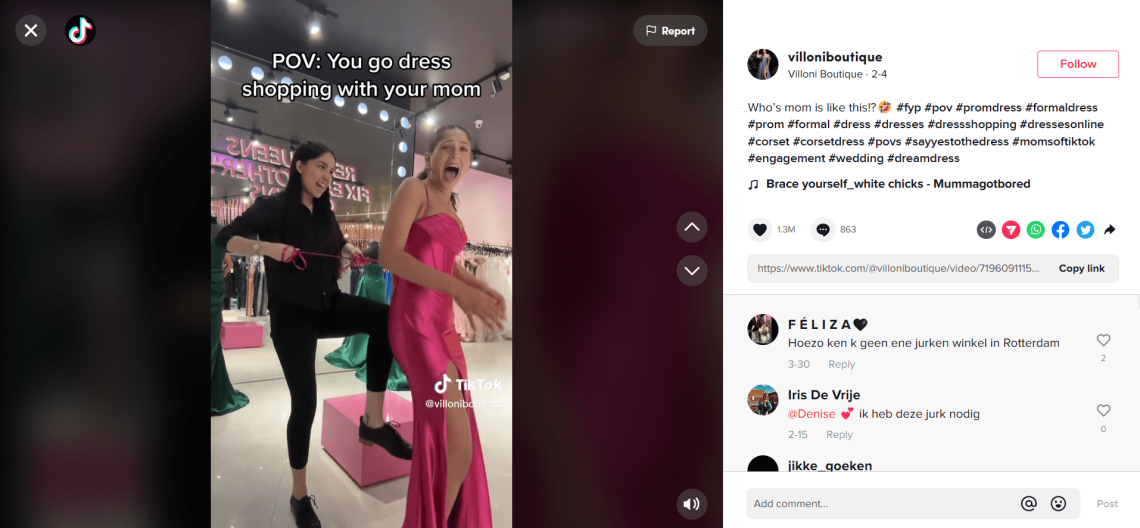 POV videos can be a great way to showcase your creativity and storytelling skills while engaging with your audience.
22 Be creative and innovative
With so many videos and creators on the platform, it's crucial to stand out and offer something unique and eye-catching.
Creating original content that's entertaining, informative, or emotionally resonant is one way to capture viewers' attention and increase engagement.
Incorporating current trends or challenges in a new and creative way can also help to boost engagement.
However, if you come up with your own video format idea and create videos that will go viral, you are even more likely to make your TikTok engagement rate skyrocket.
Start growing your engagement on TikTok now!
23 Make sure your profile is fully personalized
Your TikTok profile is the first thing people see when they come across your content, so it's important to make it unique and memorable. Personalizing your profile can increase engagement by making it more appealing and trustworthy to potential followers.
Choosing a unique nickname and a nice profile photo can make you stand out and give your personal or brand account a more professional and polished image.
A well-crafted bio can also help to introduce yourself and let people know what kind of content to expect from your account.
By taking the time to personalize your profile, you can make a great first impression and increase the likelihood of people engaging with your content.
Conclusion
That was a lot to get through! Thus it's time for a short conclusion.
Increasing engagement on TikTok takes time, effort, and creativity.
Try all the tips and strategies and see what gives you the best outcomes. To do that, you will need to track TikTok analytics and use Brand24 to get some additional metrics. The better and more accurate your analytics, the more easily you'll discover the best ways to make your TikTok engagement rate skyrocket.
So, take these strategies to heart and start creating TikTok content that resonates with your viewers and keeps them coming back for more.
So get out there, be creative, and have fun!
PS. Don't forget to check your TikTok engagement metrics! Try free!