The 7 Best TikTok Monitoring Tools to Use in 2023
February 4, 2023 ・ 8 min read
Guess which app was the most downloaded in 2021? TikTok, of course! It reached 656 million downloads. That's about 100 million more than Instagram. Every single second, 8 new users join the TikTok community. Overall, there are over 1 billion (!) active TikTok users each month.
So many brands have TikTok accounts. They want to capture the platform's massive marketing potential. Yep, with TikTok, you can gain a wide reach. TikTok influencers know that well.
I assume you already have a TikTok marketing strategy. The good news is that you can boost it by using an online monitoring tool that will track all TikTok mentions about your brand, products, services, or any keyword you wish.
Here's how it works.
With the default TikTok app, you can track mentions only if users tag you. But how about a situation where TikTok users present your product in videos without adding a tag?
You won't know about it.
It's a missed opportunity to start a profitable collaboration, gain loyal evangelists, or learn what real people think about your products and how do they use them.
With a social media monitoring tool, you will discover every single TikTok mention, even if it's not linked or tagged. All you have to do is define important keywords you want to track and start monitoring them.
So, let's dive into tools!
7 amazing TikTok monitoring tools
01 Brand24
Free 14-day trial. Individual plan for $79.
It's an advanced online media monitoring tool that tracks the most popular social media, including TikTok. With Brand24, you can monitor hashtags, keywords, brand and product names across online media, such as social media apps, news, blogs, videos, forums, podcasts, reviews, and other sources.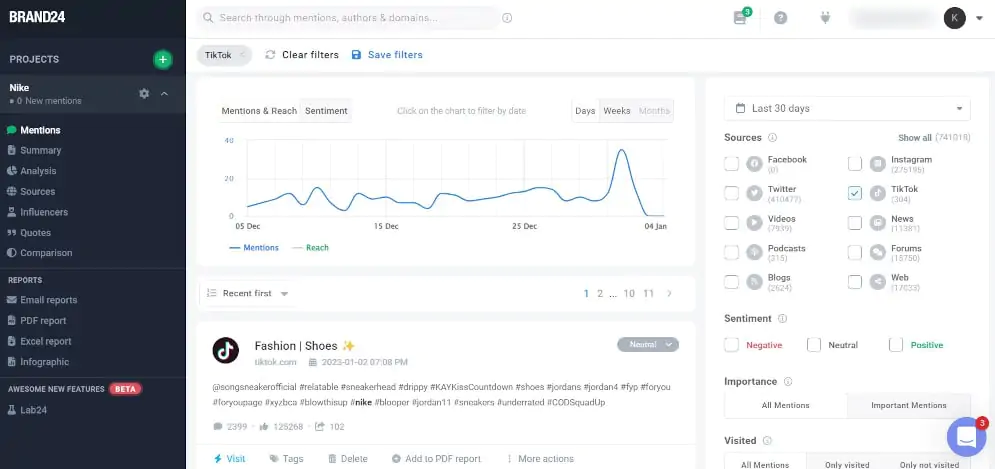 After setting up the project, you'll get access to TikTok analytics, including:
With all that data, you will analyze your TikTok performance. Furthermore, you will detect who is talking about your brand and whether those mentions are positive, negative, or neutral.
Brand24 is great for finding influencers, tracking hashtags, and social media campaign reporting. This is mostly what our clients use our tool for.
To discover TikTok mentions, you need to add a domain filter. Then you'll get such data: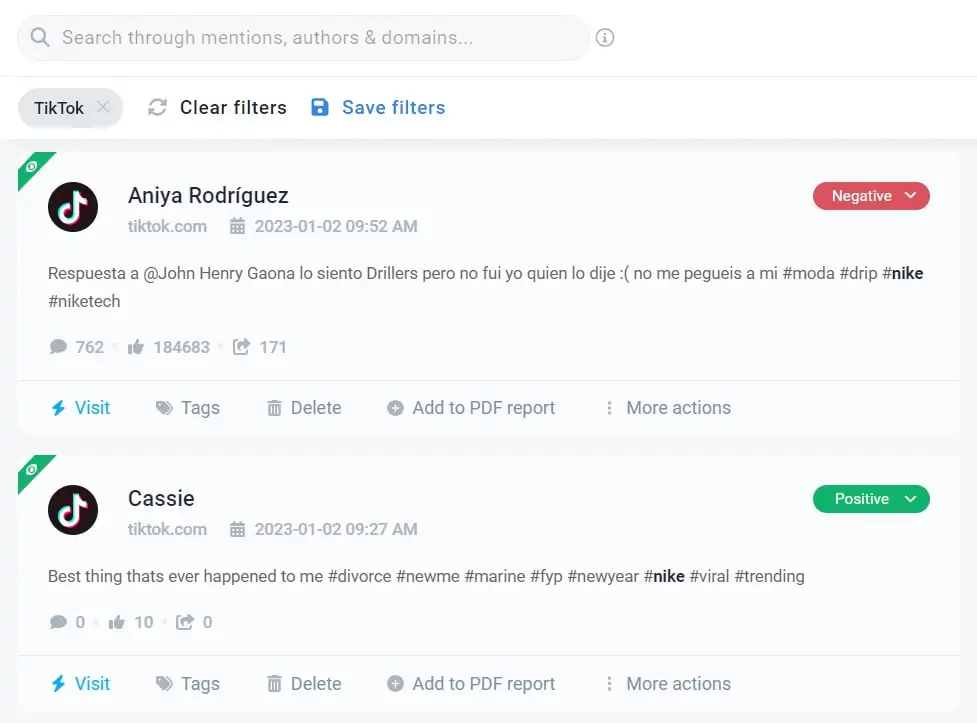 Set up the Brand24 tool and start TikTok monitoring. Start a 14-day free trial!
02 Storyclash
Starting from €3599 /year. Detailed pricing is available upon request.
The tool is especially dedicated to influencer marketing. It will let you discover matching influencers based on their content, track and analyze their work on any social media platform, including TikTok.
Storyclash is a TikTok analytics tool that will help you monitor your activities. Also, you will be able to check TikTok influencers, analyze performance, and transform gathered data into reports.
Three main features might interest you:
Monitoring and reporting on influencer campaigns
Comparing your competitor's strategy to yours
TikTok trends discovery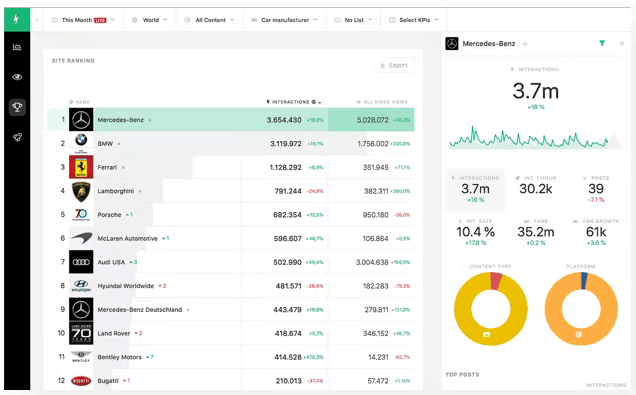 03 Pentos
Free 14-day trial. Trends pro plan for $99.
Pentos is an analytics and monitoring tool dedicated to TikTok. This tool allows monitoring hashtags, influencers, and (what is exciting) music. Thanks to weekly performance reports and email notifications, it will get you up to date with your TikTok profile efforts.
The tool seems interesting, but it gives you access only to TikTok data. Other tools presented in this article by me allow you to also monitor Instagram, Twitter, etc. So, I advise thinking about whether it is a cost-effective choice.
Key features:
Influencer monitoring
Music monitoring
Hashtags monitoring and analytics
Song and video analytics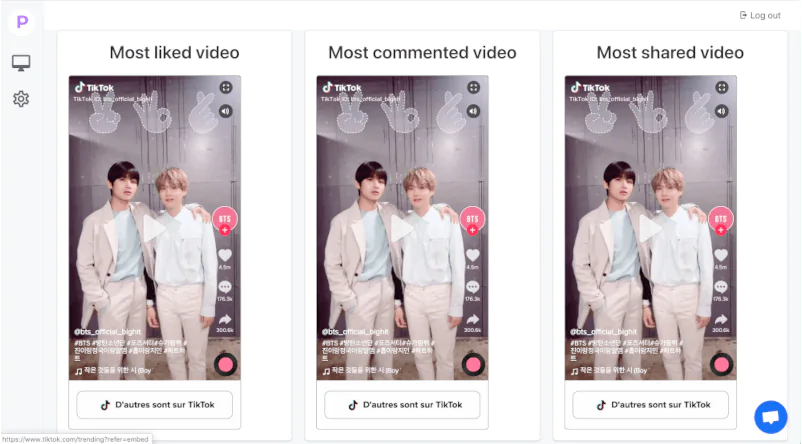 04 YouScan
Detailed pricing is available upon request.
YouScan is a social media intelligence platform powered by AI. Social listening covers social media, forums, blogs, telegram channels, and online media. According to TikTok, it monitors thumbnail content, post descriptions, and trends within a chosen topic.
The feature that caught my attention is visual analysis. YouScan notices logos, things, activities, scenes, and demographic details on images. Furthermore, it describes images, presenting helpful consumer insights.
The tool will help you:
Manage and monitor brand reputation
Conduct market research
Analyze your marketing campaigns
Find the right influencers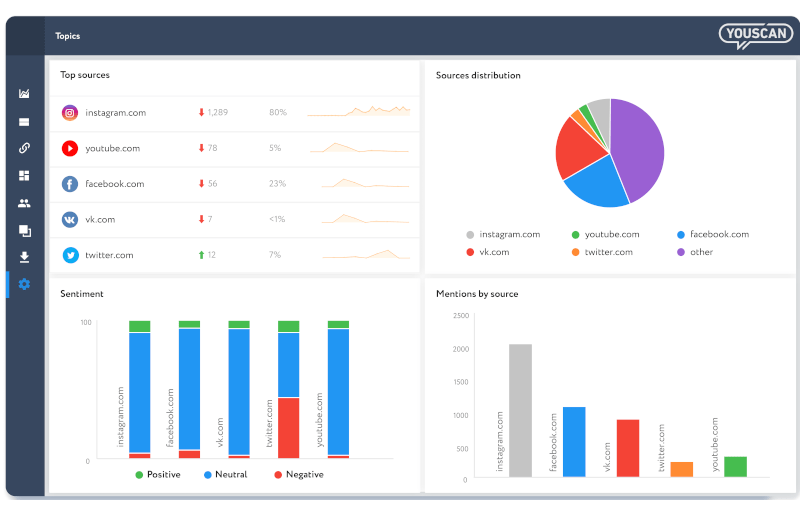 05 Iconosquare
Free 30-day trial. Pro plan for $49.
Iconosquare is one of the TikTok analytics tools that allow brand mentions monitoring. This tool will deliver insights into engagement, comments, likes, and the best time to post content.
Also, you will gain access to video analytics covering metrics such as shares, views, and average views engagement. Thanks to historical data and retrieving past videos, Iconosquare shows analytics of past content.
Apart from TikTok, you can use Iconosquare to monitor and analyze Instagram, Twitter, Facebook, and LinkedIn.
Interesting features:
Mentions monitoring and analytics
Competitor profiles monitoring
Hashtag tracking
Automated social media reports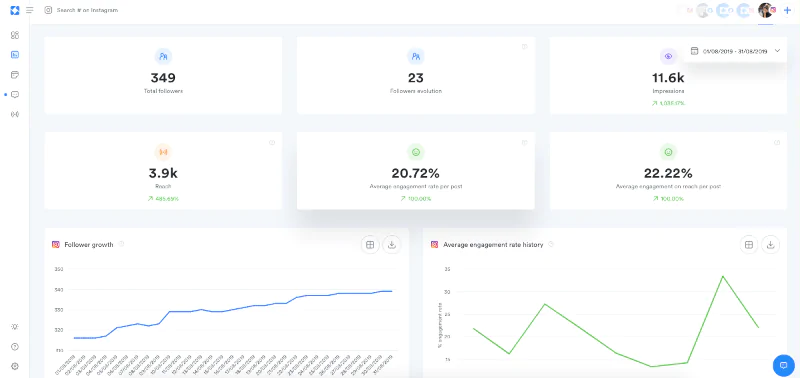 06 Exolyt
Free 30-day trial. Influencer plan for 49€.
Exolyt is an all-in-one TikTok analytics tool. With Exolyt, you can monitor any TikTok profile, from influencers to competitive brands. In addition, the tool presents current analytics and statistical data such as total views, engagement rate, growth of followers, and likes.
Furthermore, the tool detects mentions of other profiles in videos, the best time to publish content, the most popular hashtags per account, number of followers each video obtains. It's quite powerful.
The most interesting features:
Monitoring and analytics of TikTok accounts
Video growth tracking
Hashtag tracking
Trends tracking
Influencer marketing campaign monitoring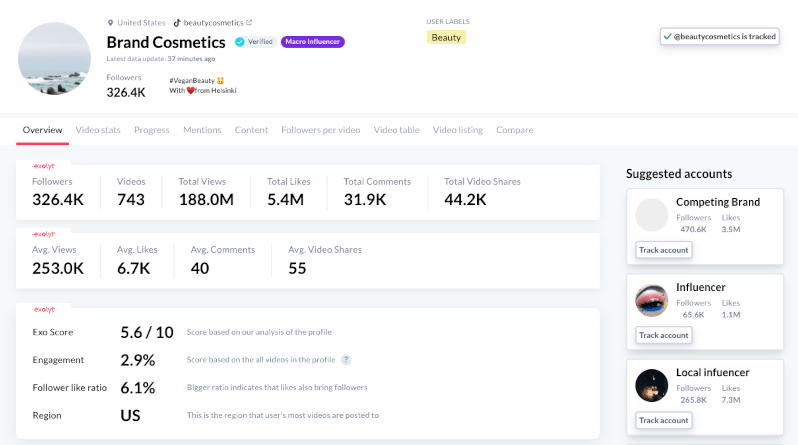 07 Socialinsider
Free 14-day trial. Social Media Manager plan for $83.
Socialinsider is a tool that discovers social media insights dedicated to data-driven agencies and brands. Thanks to Socialinsider, you'll get access to social media analytics, audits, and reports. The tool also covers Instagram, Facebook, Twitter, YouTube and LinkedIn.
With Socialinsider, you'll learn more about your TikTok account performance. The tool analyzes TikTok profile statistics, posts engagement, views, top hashtags, followers growth, and total plays. The tool examines TikTok posts, so you'll be able to optimize your content and reach for a more significant average engagement rate.
You will gain access to:
Insights about the TikTok campaign's results
Influencer analytics
Competitors' campaigns analytics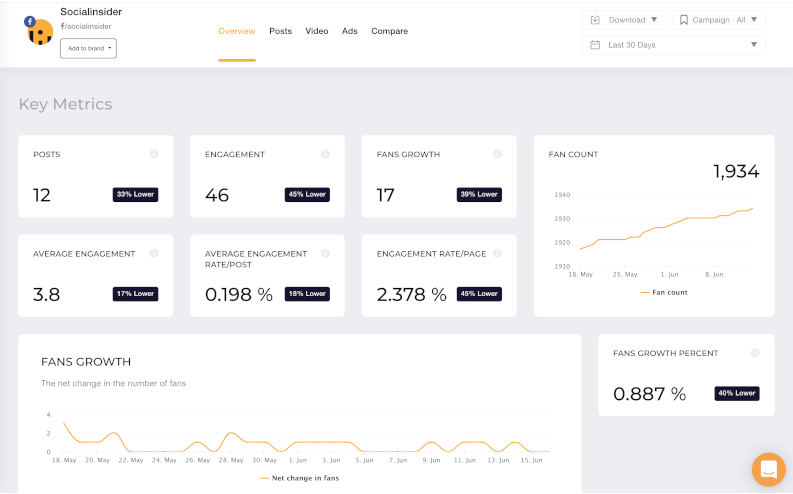 Why should social media managers take care of TikTok?
In my opinion, TikTok revolutionized the social media market by imposing a new style of communication and advertising. Soon, other social media platforms needed to implement features similar to TikTok's. This is why we can use Instagram's Reels.
I dare to say TikTok gives the wider reach possible right now across all social media platforms.
How do I know that?
Before I started writing this article, I did some research using our tool, Brand24. I set up projects for a few highly popular brands, such as Coca-Cola, Pepsi, Adidas, Nike, KitKat, McDonald's, and iPhone.
Then, I checked the most popular mentions tab, and the results (for all those brands) showed TikTok as a source.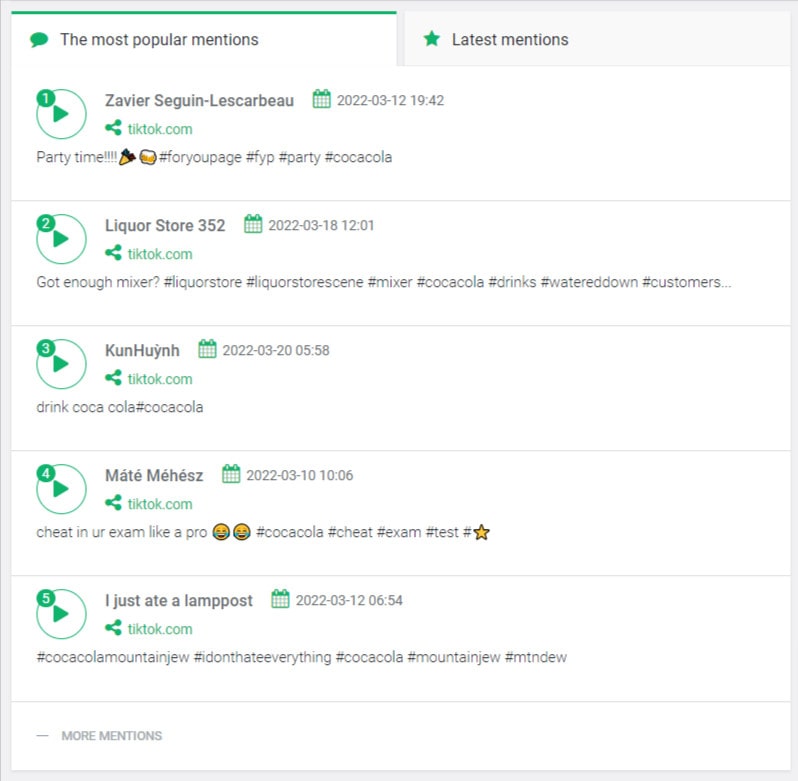 That pretty simple investigation tells me that brands should have TikTok accounts definitely.
Moving forward, I came across Upfluence statistics (presented by Influencer Marketing Hub) showing that TikTok has the highest social media engagement rates per post.
Here's what I found:
Instagram, YouTube, and TikTok accounts with different follower levels have different engagement rates
TikTok has greatly more engagement than the other two platforms at all follower levels.
According to Upfluence data, micro-influencers had engagement rates of 17.96% on TikTok, 3.86% on Instagram, and 1.63% on YouTube. While mega-influencers had engagement rates of 4.96% on TikTok, 1.21% on Instagram, and 0.37% on YouTube.
Set up the Brand24 tool and track mentions across TikTok, Twitter, Facebook, Instagram, Reddit, and more!
Would you like to gain 842k likes, 29.3k comments, and 27.3k shares with one video? With TikTok, it's possible!
I looked into Brand24 data once again to find out the most popular TikTok posts. And guess what? The reach out there is enormous.
My project for the iPhone phrase showed me this mention:

It's a simple post showing someone is switching from an iPhone to a brand new smartphone, Infinix. It attracted great interest!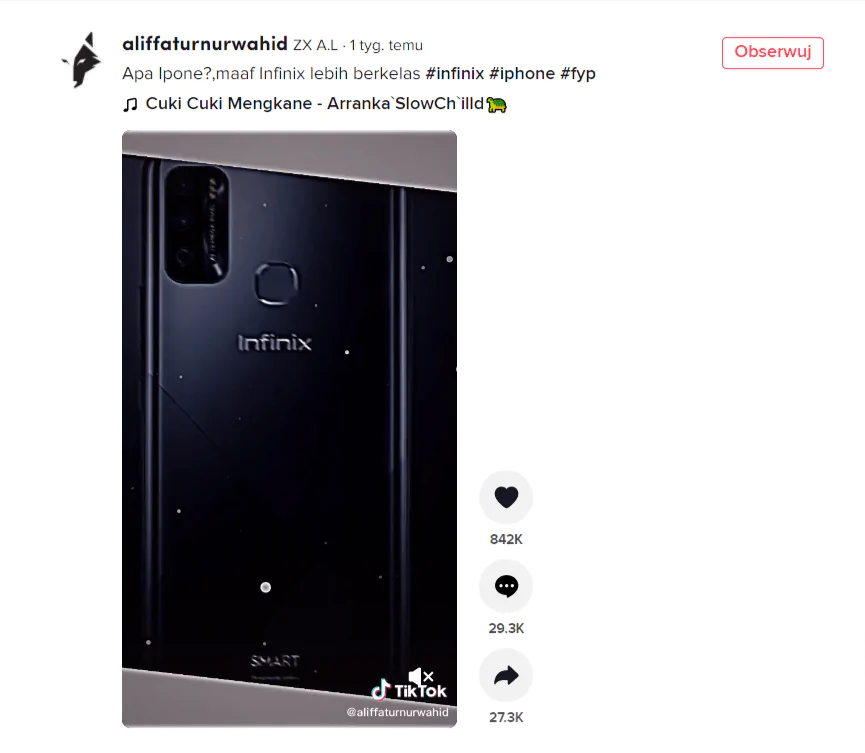 An important note is that private accounts gain a wider reach than brand ones. Nevertheless, in my opinion, it is definitely worth running TikTok campaigns nowadays.
Also check: How to follow hashtags on Tiktok?
Conclusion
So, there are over a billion active TikTok profiles, and the number is growing. It's not easy to find those valuable influencers that match your business niche, especially when you're running multiple influencer campaigns and have other marketing stuff to do.
Social monitoring tools with advanced analytics can help you a lot. First of all, you will be able to choose proper influencers, use trending hashtags, analyze your efforts and, in general, boost the performance of your account. Click here to try it!