How to Find TikTok Influencers in 2023? + Fascinating Influencers Benchmarks
April 3, 2023 ・ 18 min read
With the rise of social media influencer marketing, TikTok has emerged as one of the most popular platforms for brands to collaborate with influencers. In 2022, TikTok was the most downloaded app in the world, generating a mind-blowing 672 million downloads. As a result, businesses are increasingly turning to TikTok influencers to promote their products and services.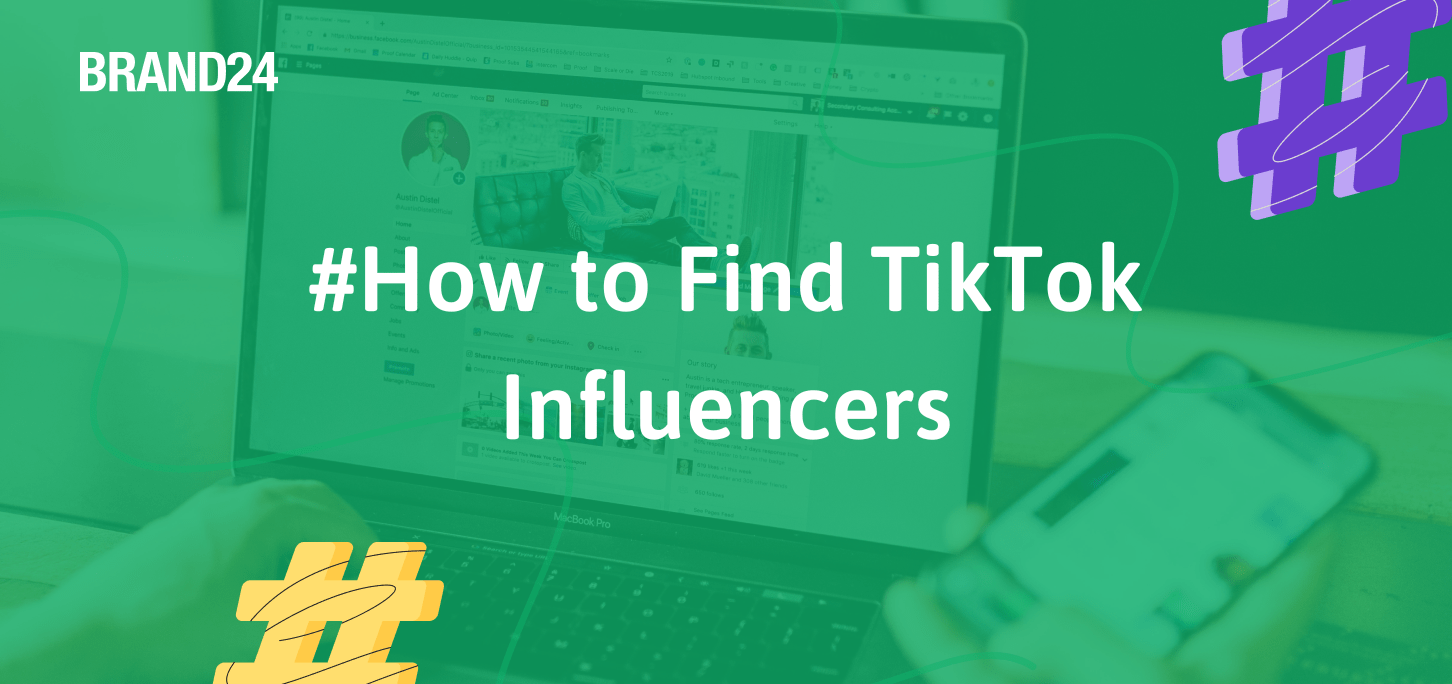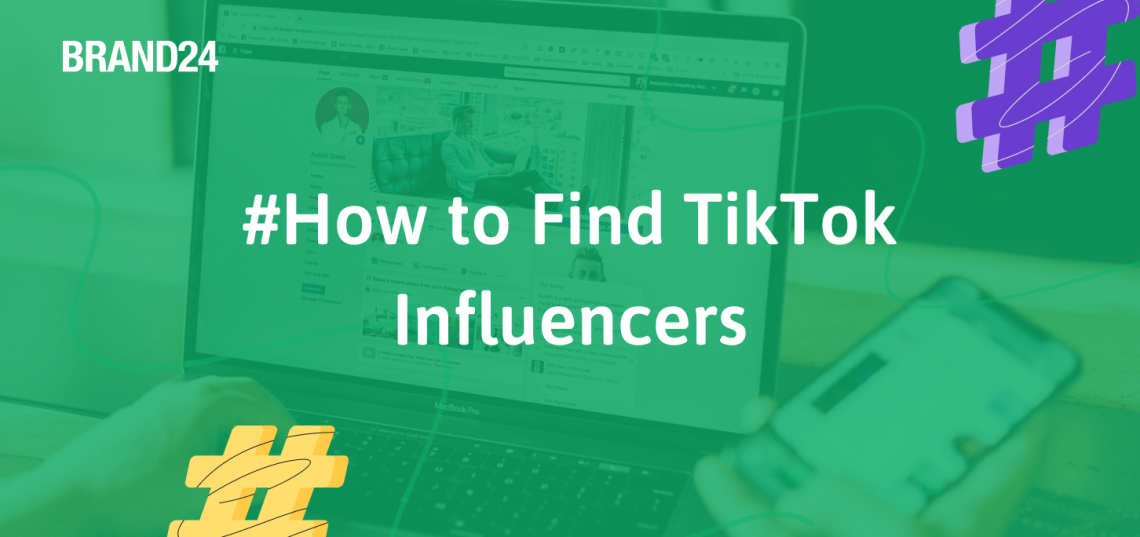 TikTok influencers are a particularly good choice if your business aims for the youngest generations.
As the statistics show, almost 64% of TikTok users are younger than 24 years old, and 25% fit in the age range of 25 – 34.
This basically means that a mind-boggling 92% of the platform users are teenagers and young adults.
But don't give up on TikTok influencers yet, even if your product is not necessarily for the youngest!
Lately, older generations have also started to join TikTok willingly, so that may be an interesting niche.
Let's dive deeper into it!
Here's what I prepared for today:
How to find TikTok influencers?
The process consists of 5 steps that you can do either manually or with the help of a TikTok monitoring tool. The latter is, of course, way easier as the tool does the major part for you.
Let's look at it closely and go through the process together.
No worries, Brand24 has you covered on every step!
01 Identify your target audience
As I mentioned in the introduction, the TikTok community consists mainly of people under 34 years old.
That's why it's good to start with conducting your audience analysis to determine if they are on the platform.
But remember, even if your product is not dedicated to the youngest, your customers may be on TikTok. Adults and the elderly are a minority on the platform, but they are still there!
Moreover, they are represented by watchers and creators!
Here are some delightful examples: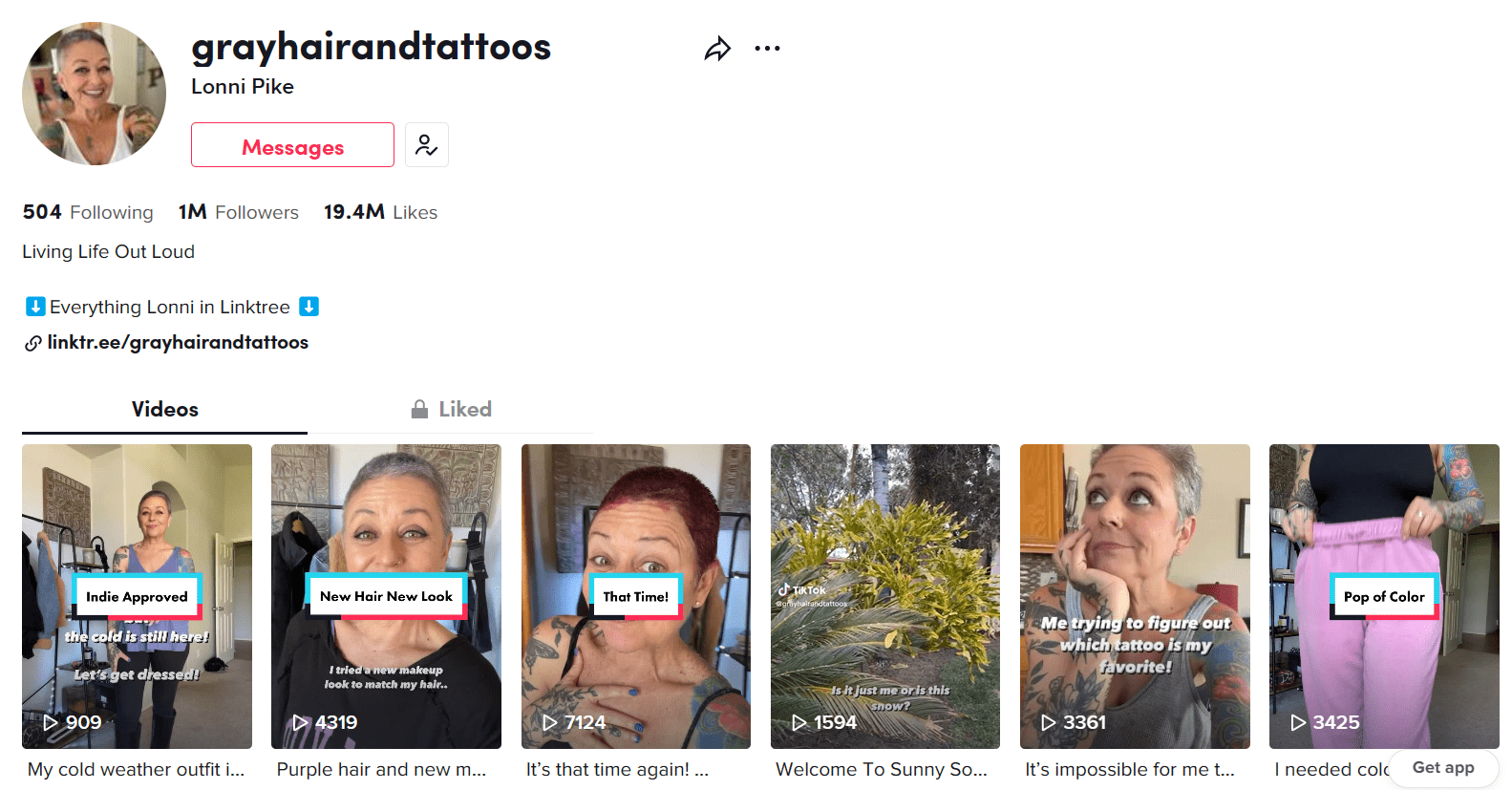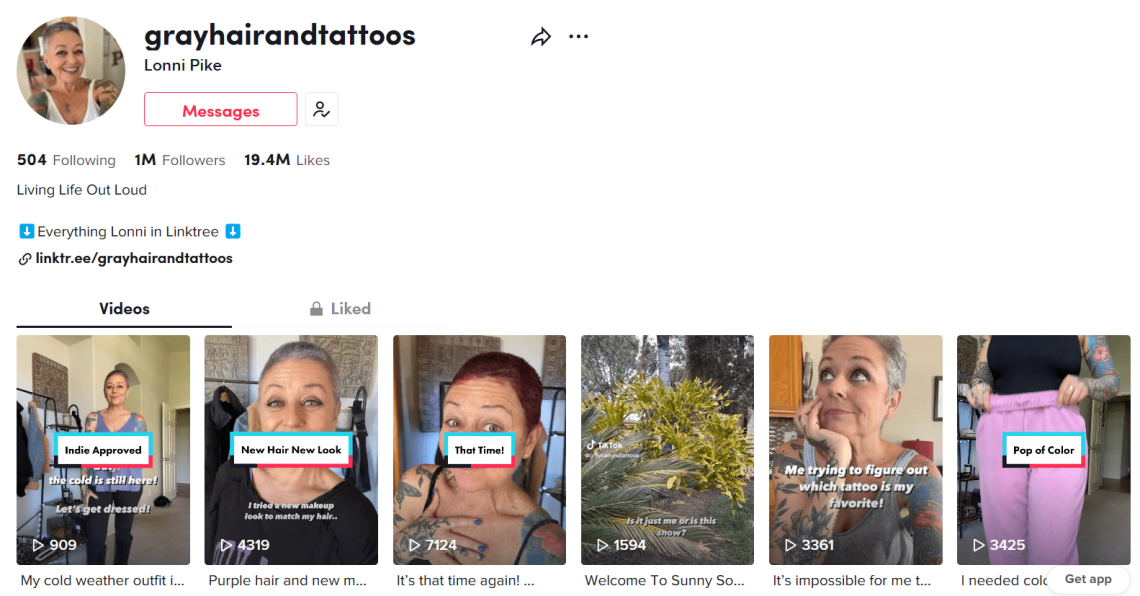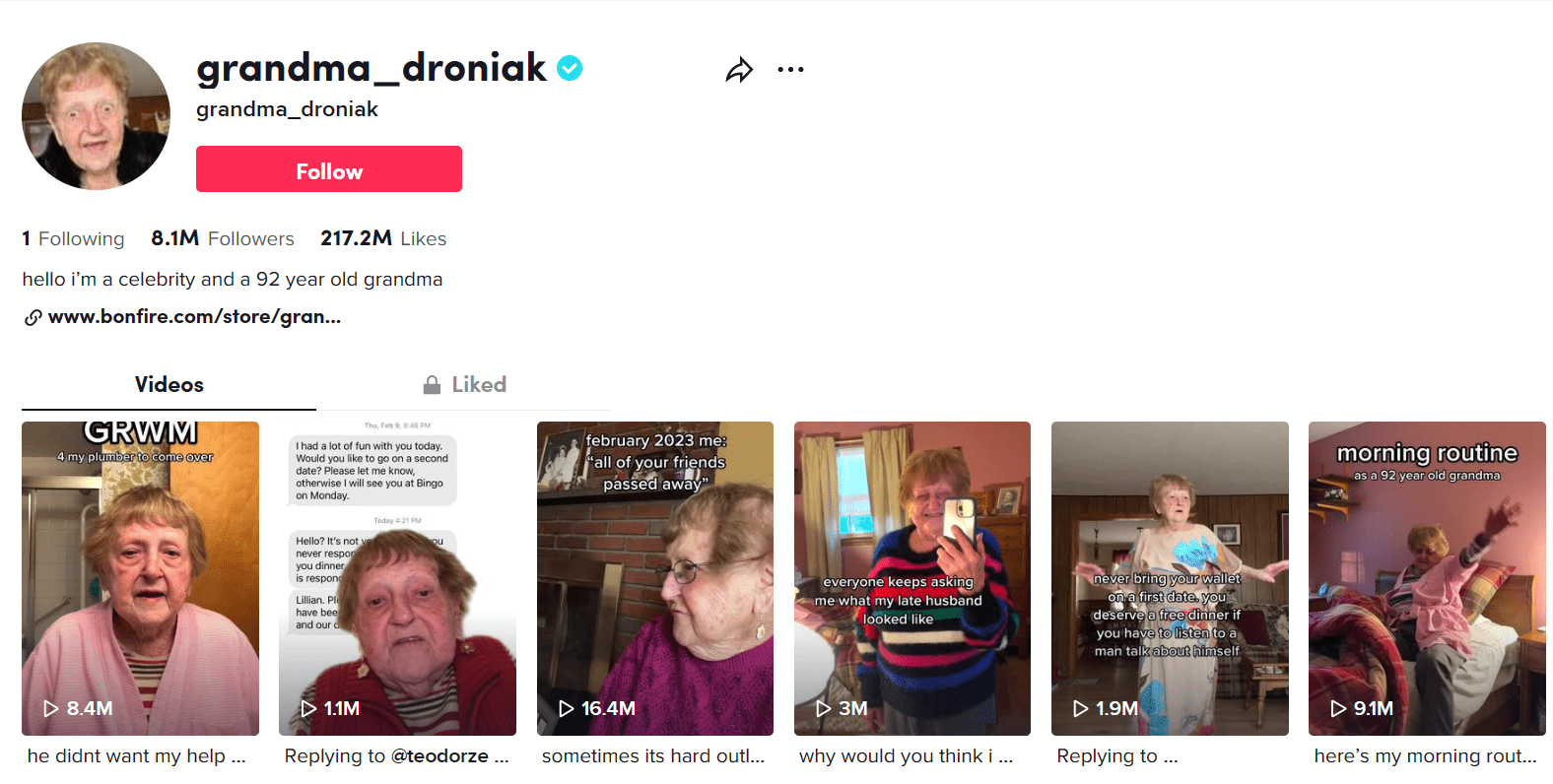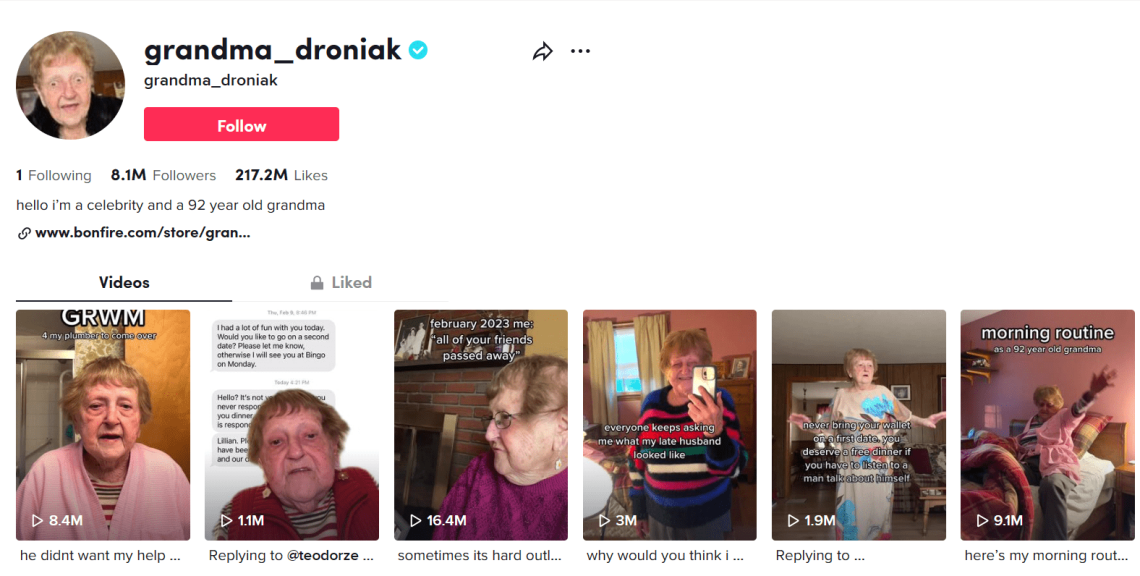 What's more, advertising targeted at people over 40 rarely happens on TikTok, as brands underestimate their presence there, so by a good chance, you may reach a forgotten niche.
To sum up, age is not necessarily determinant; more detailed information is!
And how to learn more about your target audience?
You can use the Brand24 social media monitoring tool to monitor who is talking about your brand online and, based on that, create buyer personas.
Find TikTok influencers for your brand!
02 Set influencer search criteria
When you already have your audience analysis, you can decide what kind of TikTok influencers will best promote your product or service to them.
By setting specific criteria for your influencer search, you can effectively reach your desired audience by carefully selecting individuals who meet your requirements. Think about:
Age
Field of interests
Country and language
Tone of voice
Based on these criteria, you can easily select potential people for collaboration.
03 Use hashtags
At this point, there are two paths you can follow.
Let's start with the manual method, which is more time-consuming and may be less efficient at the same time.
You can just go to the platform and use TikTok search to find influencers talking about your niche.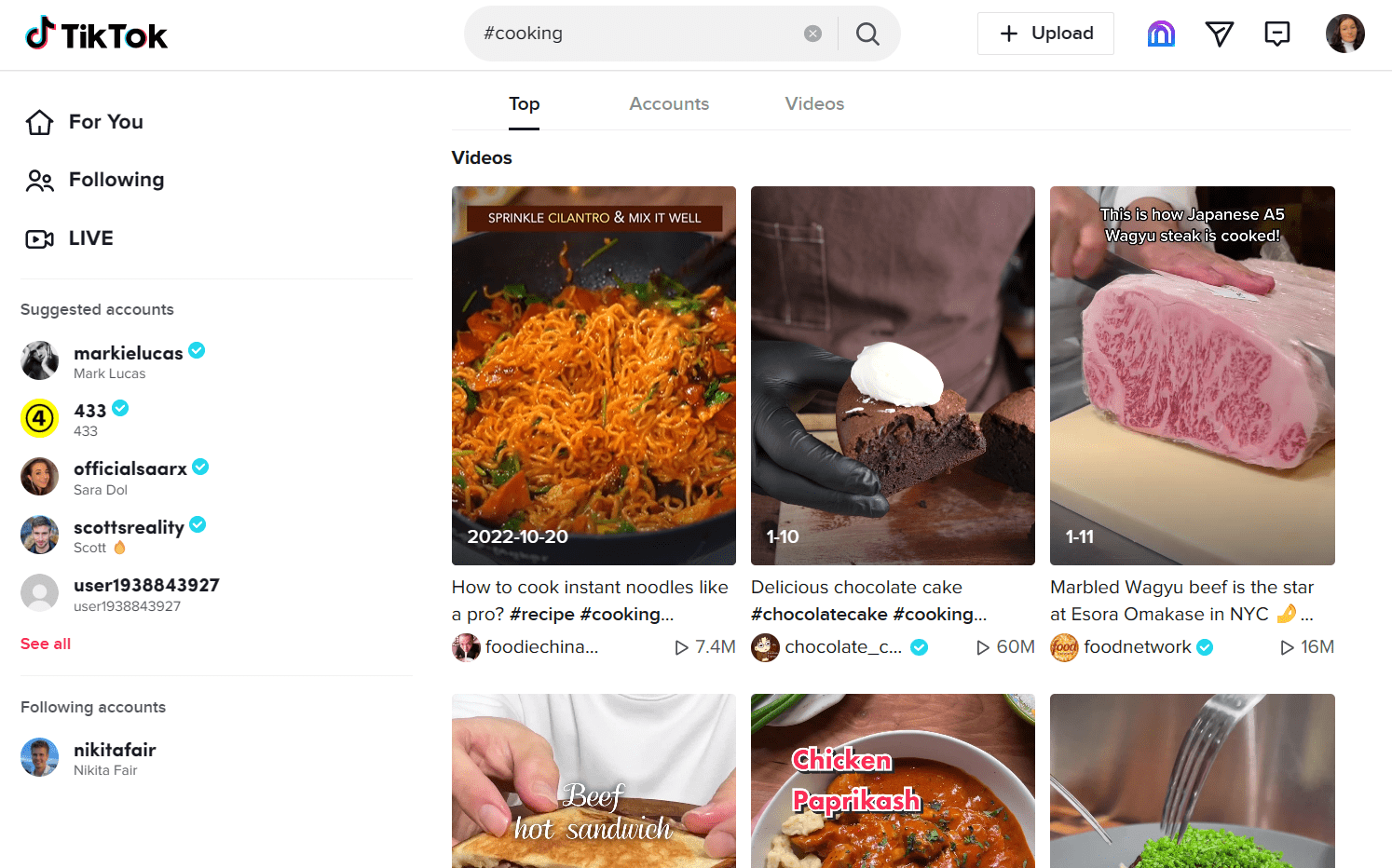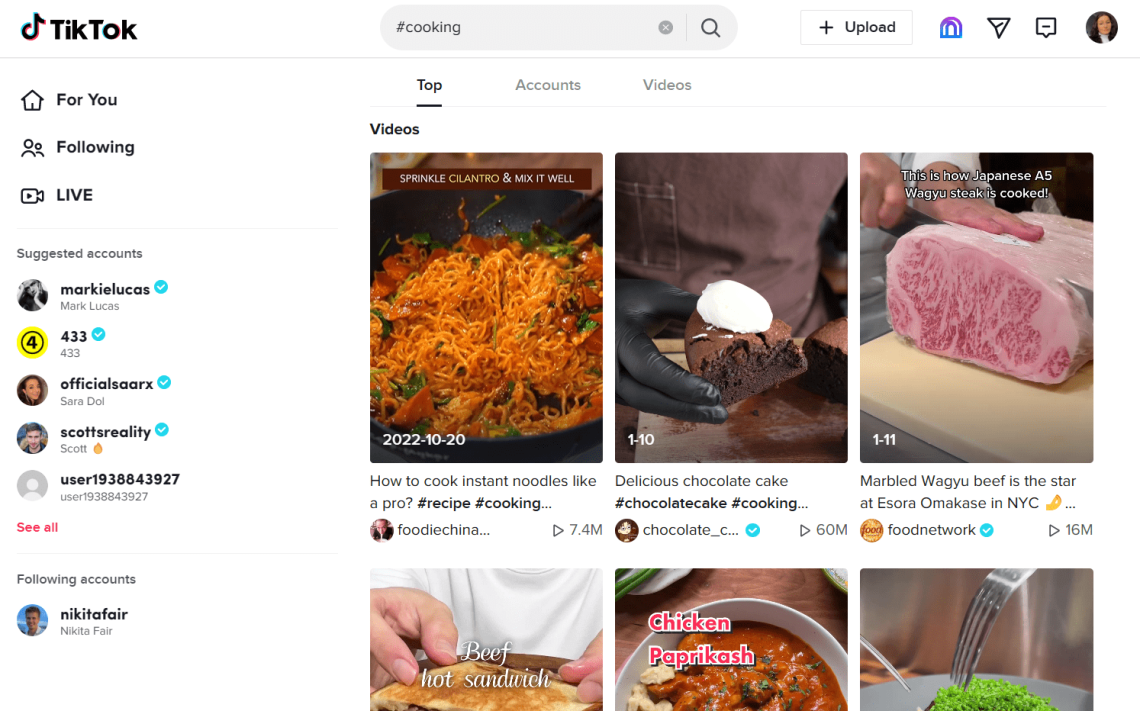 As I mentioned, this might be a complicated process as the number of TikTok influencers is just overwhelming.
Because of this choosing one of them by simply looking at different TikTok influencers' accounts may take ages, and you still can't be sure if you're making the right decision choosing one of them.
Moreover, when using TikTok search, the platform suggests the most popular influencers or the latest posted content related to your chosen hashtag. These features make looking for nano and micro-influencers a big challenge.
What's good to know is that you don't have to work with the most popular TikTok influencers to have a successful influencer marketing campaign!
Find relevant TikTok influencers based on your niche!
04 Use a social media monitoring tool
Another way of finding TikTok influencers is using the Brand24 media monitoring tool. What you need to do is set up a project tracking a keyword connected to your niche.
For instance, these can be food, cooking, and recipe.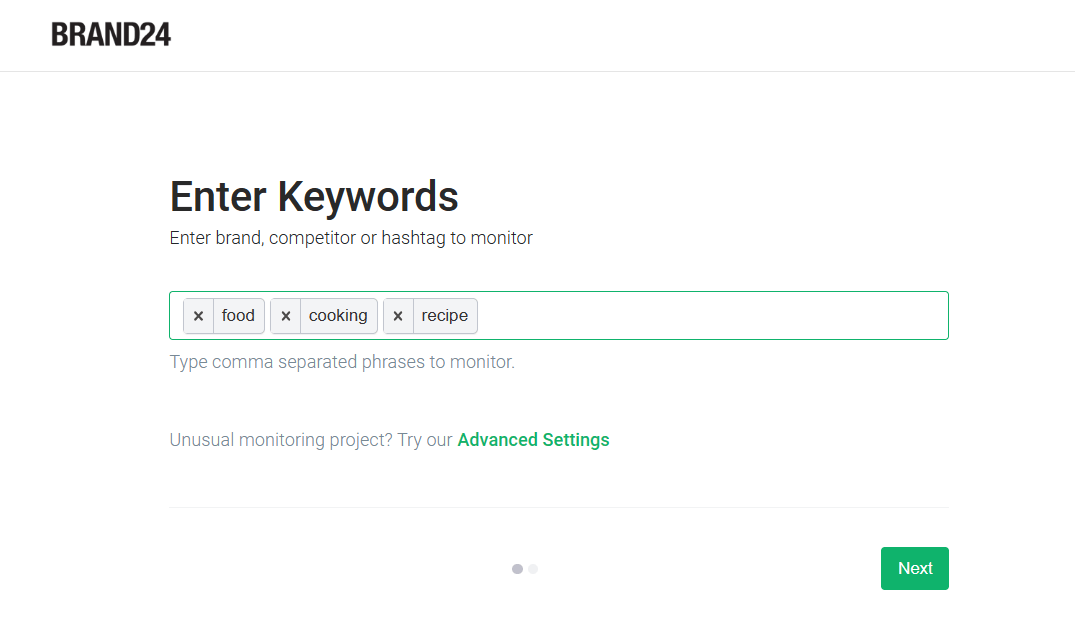 That's a huge advantage over TikTok search, as you can browse several keywords at a time.
Using TikTok search, you need to choose whether you will use the keyword food, cooking, or recipe, so you risk missing out on some accounts.
When you type in your keywords, Brand24 will find all the publicly available mentions and gather them in one place – your dashboard.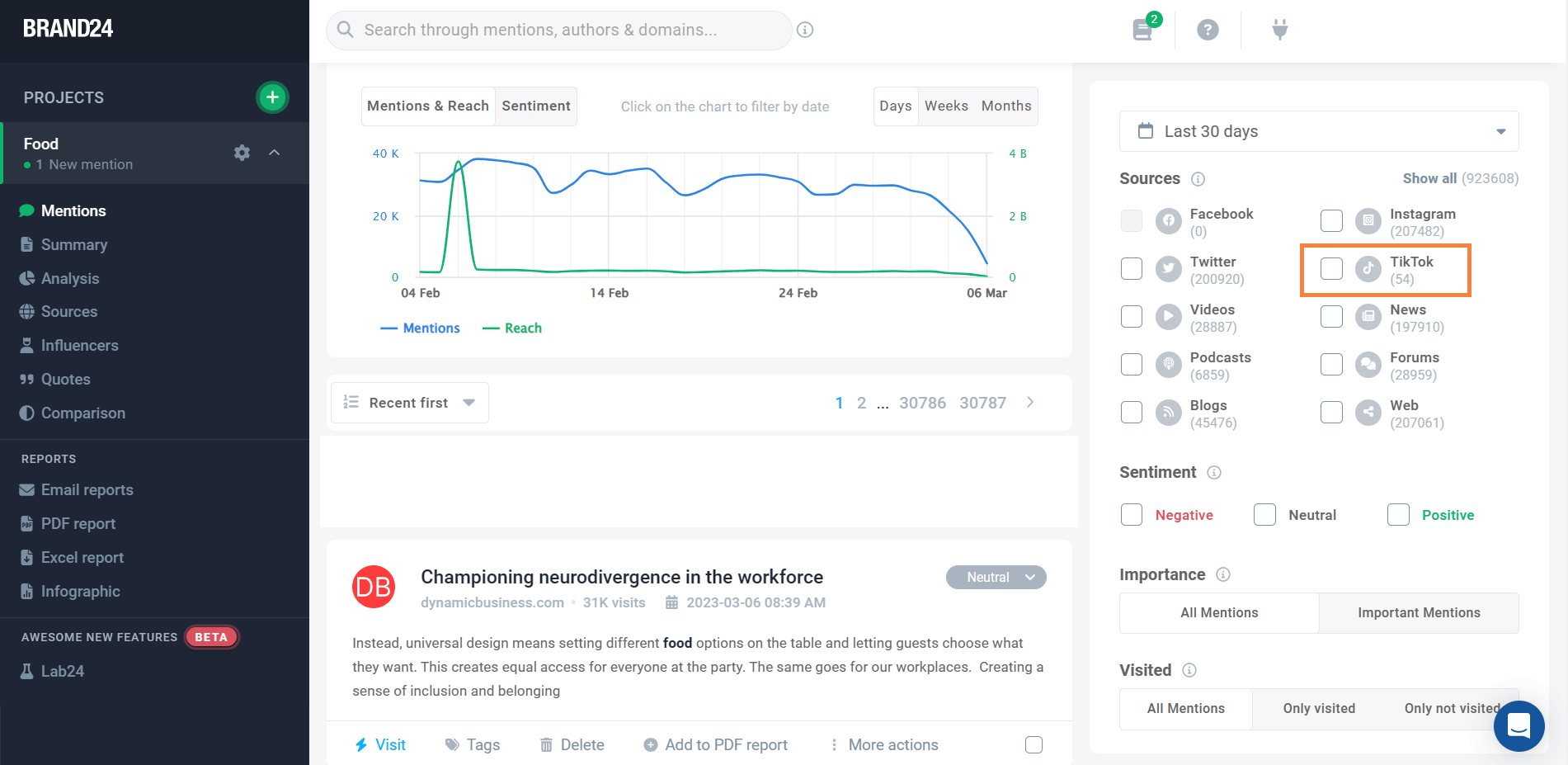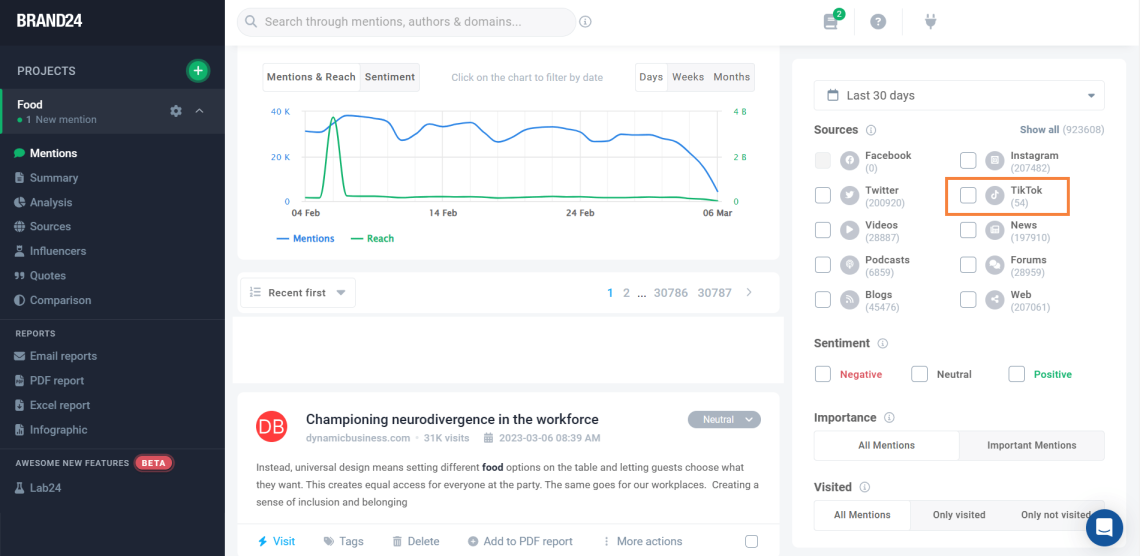 On the right-hand side, there is a menu where you can select the source of mentions.
Choosing TikTok, you will see all the results from the platform. Among them, you will find influencers of different sizes and reaches.
Finding TikTok influencers has never been easier!
Here are some mentions of the above keywords. You can click on each of them and be redirected to the TikTok app or website to see the video and influencers' profiles.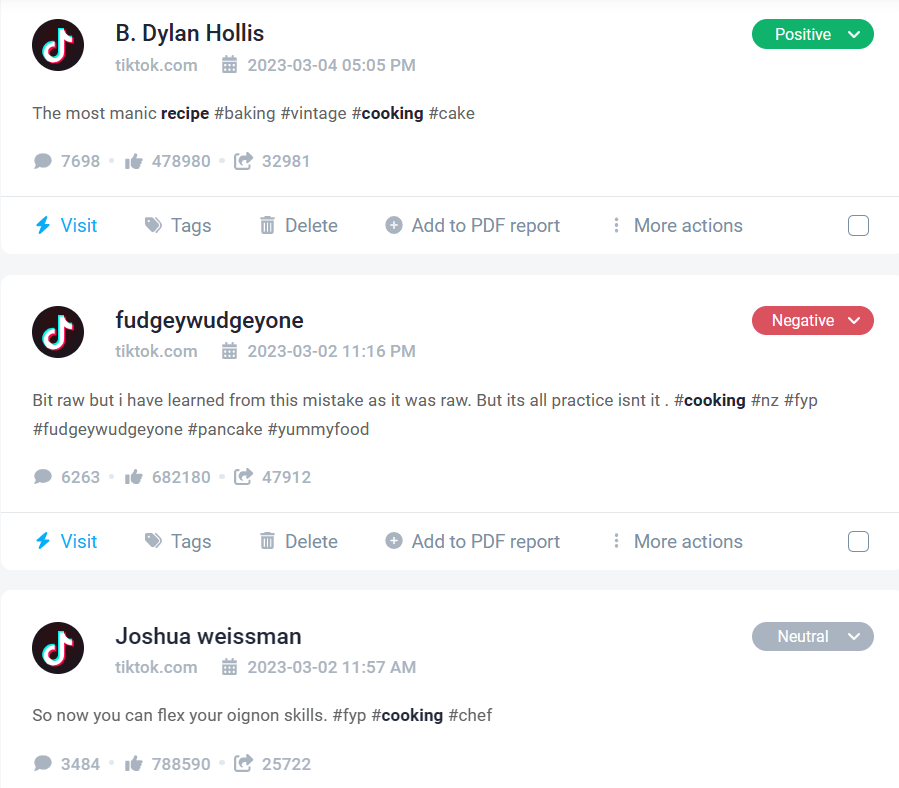 I checked a bunch of the links, and all of them led to interesting TikTok creators.
Here's an example: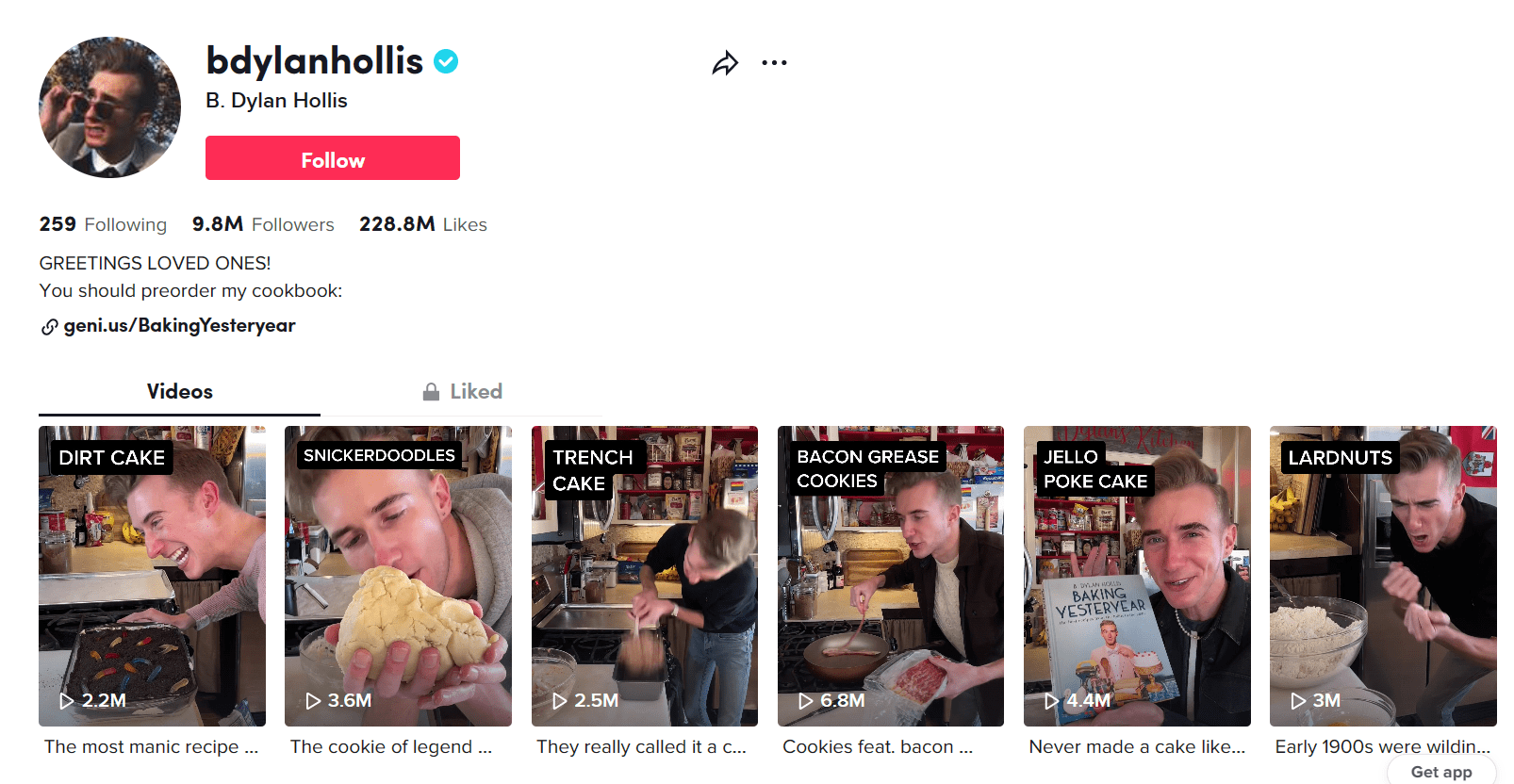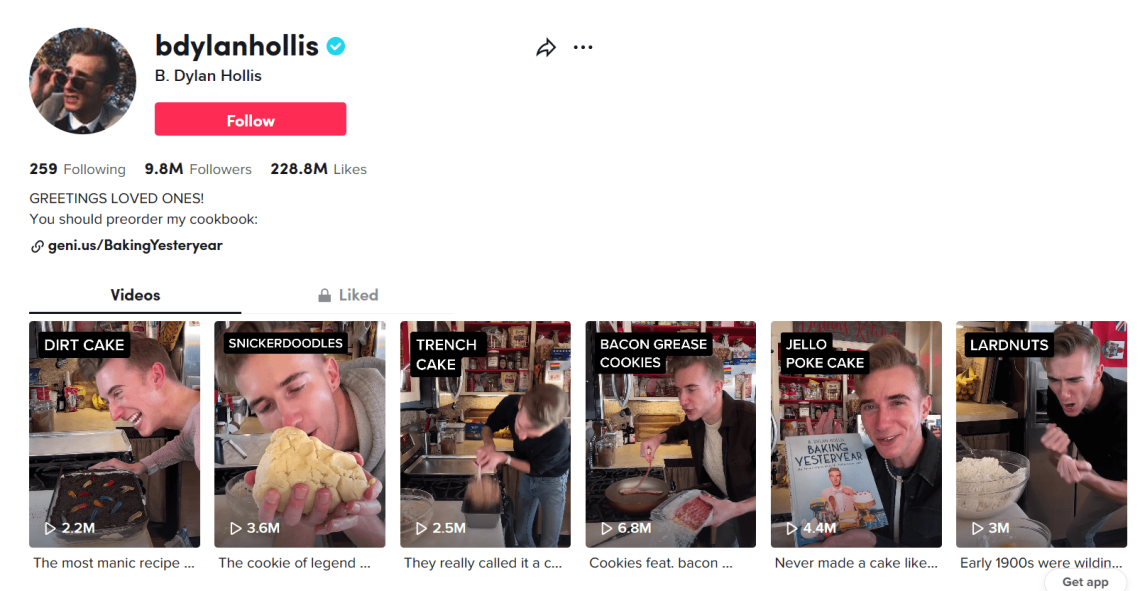 Dylan Hollis is for sure an outstanding TikTok influencer, as he is trying out various recipes from the 20th century. To my mind, that's really unique content!
When you pre-select some relevant influencers, you can create an influencer database with all the potential candidates.
But how to choose the best influencers from dozens of potential candidates?
Let's move to the next step!
05 Check detailed analytics about your potential influencers
Brand24 not only identifies people talking about certain topics on TikTok but also allows to check vast analytics about any given keyword.
When you end up with a TikTok influencer database, you can set up a media monitoring project for each of them to check their online reputation.
Let's check what people say on the internet about Dylan Hollis – the influencer I introduced to you above.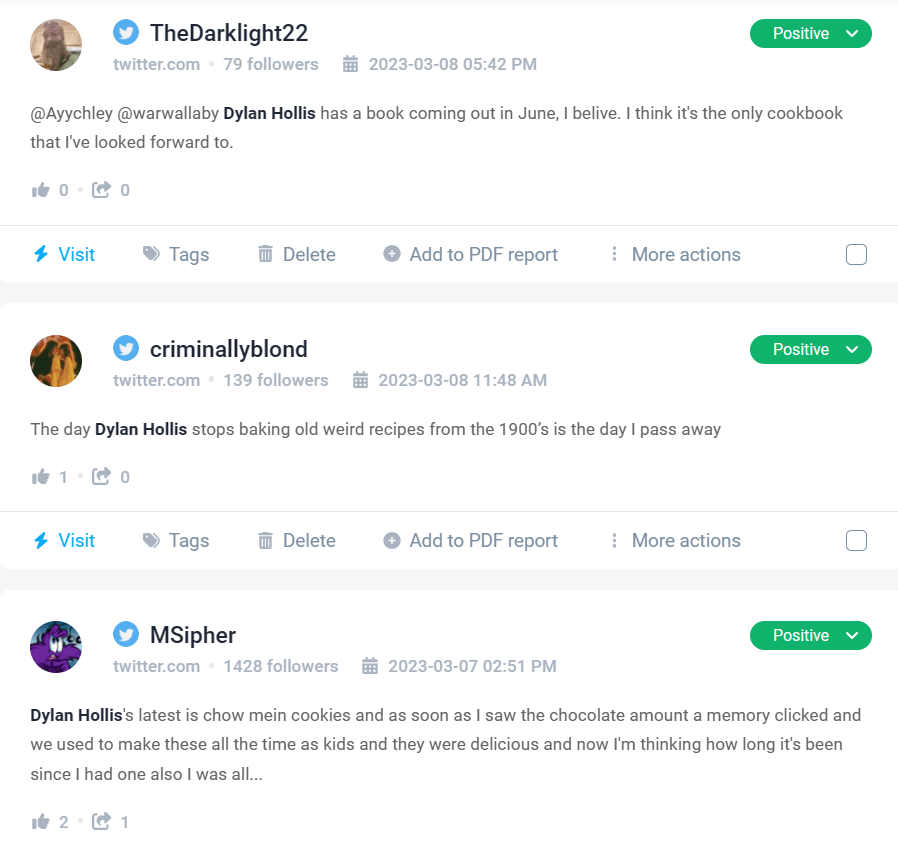 You can check other metrics, like:
Number of mentions
Sources of mentions (if somebody gets more mentions on Instagram than TikTok, maybe they are better Instagram influencers)
Influence score
Find TikTok influencers for your brand!
But that's not the end!
You can also compare the sentiment of two or more projects.
Let's compare Dylan Hollis and Joshua Weissman – another TikTok food influencer detected by Brand24.




What's also quite informative here is the source of mentions. This is a key aspect as well. As you can see, many of Joshua's mentions come from Twitter and websites, which tells us a lot about his audience.
Are you ready to embrace influencer marketing in your strategy?
Uncover fascinating influencers in various TikTok niches
Let's now take look a at various personalities you can find on TikTok.
You can treat the TikTok creators I will present as benchmarks and overviews of specific niches.
I will also explain how to choose potential candidates by looking at their profiles in their example.
Let's get to it!
01 Fitness
Some fitness influencers focus on motivating TikTok users to exercise with them. Others boast about their achievements, and others promote sportswear by posting sponsored content.
This niche is characterized by a significant variability of TikTok influencers. No matter in which fitness sector your company is present, you should be able to find suitable representatives.
@annabel.lucinda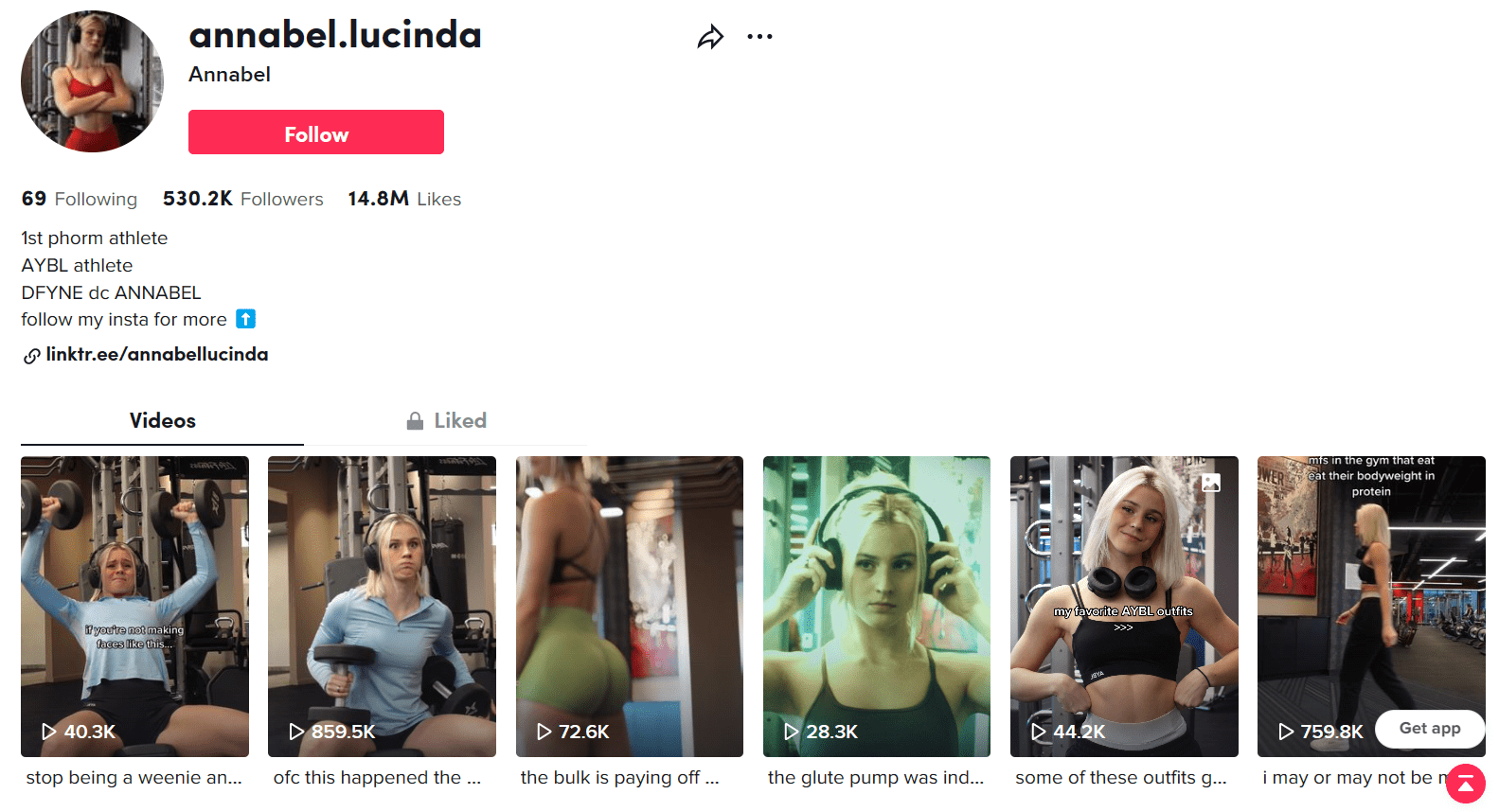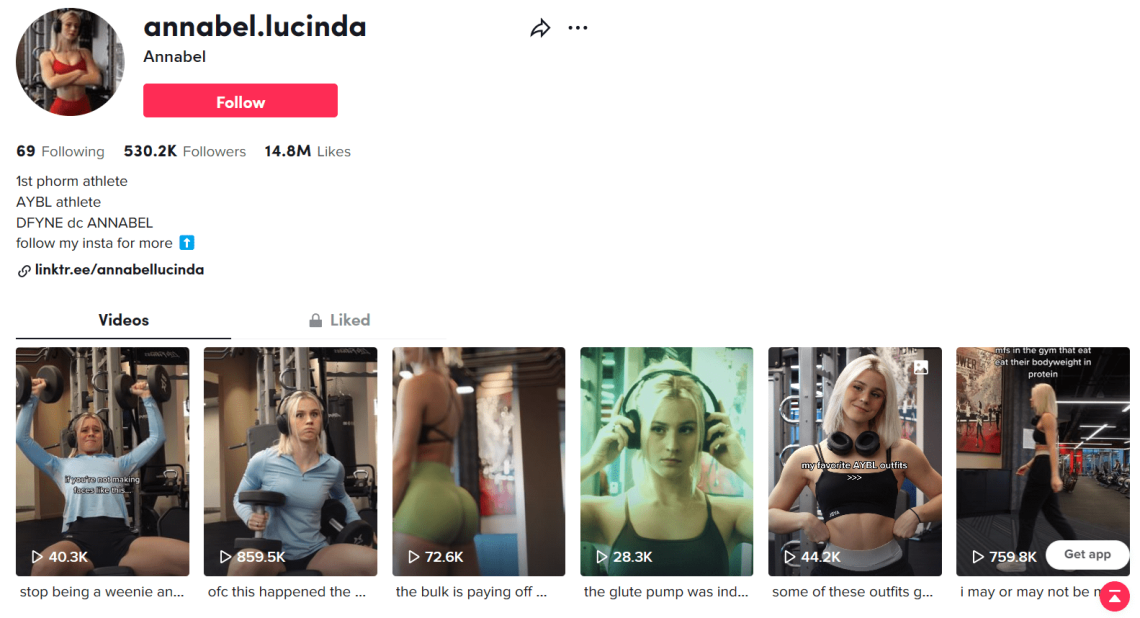 Annabel is a professional athlete and an ambassador for DFYNE – a gym wear brand.
On her account, you can find nice shots from the gym, where she shows the struggle of lifting weights and the spectacular effects of workouts on her body.
Moreover, she shares her training journey, some fun videos, and lots of her gym outfits.
@heatherfloda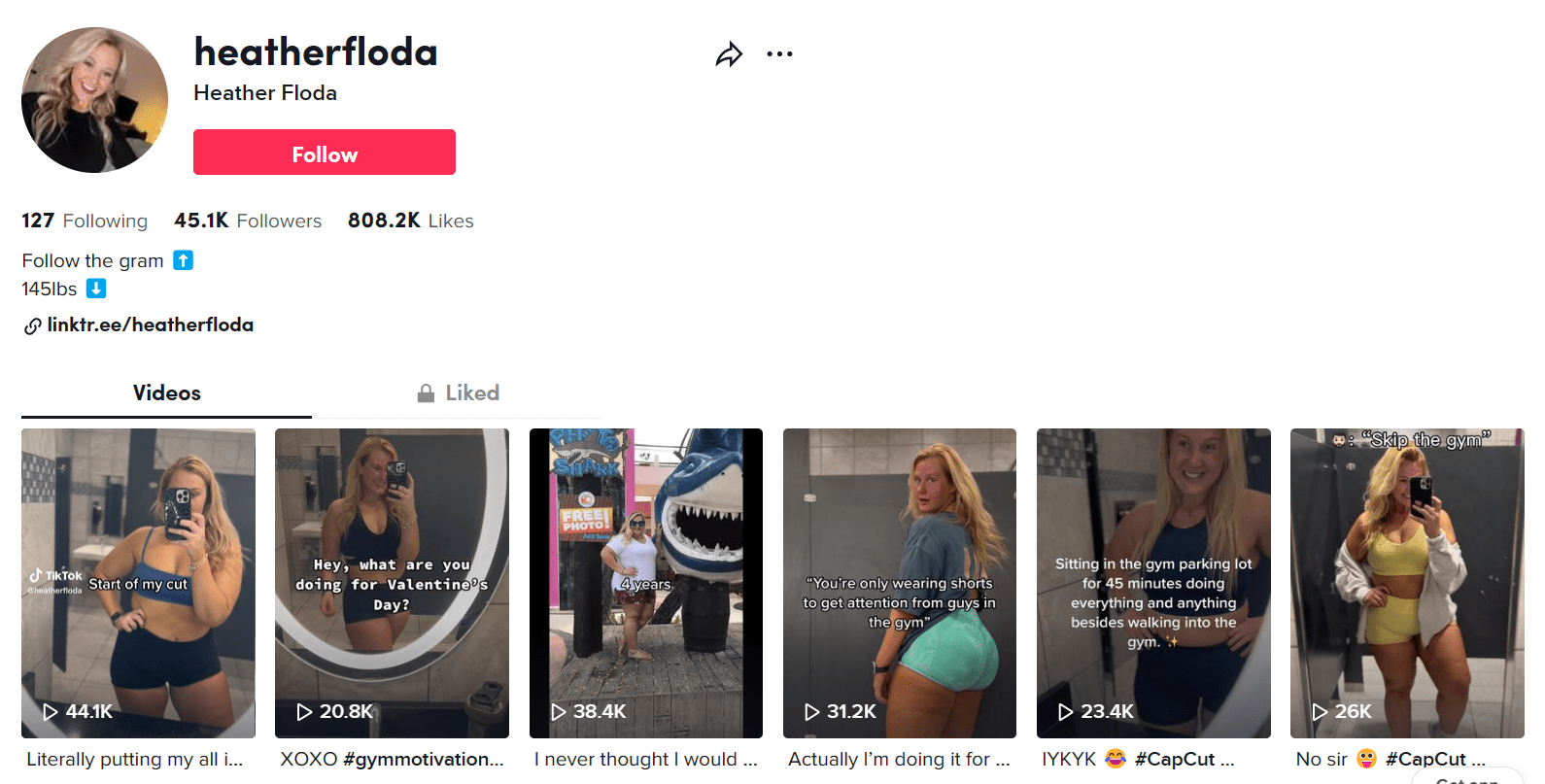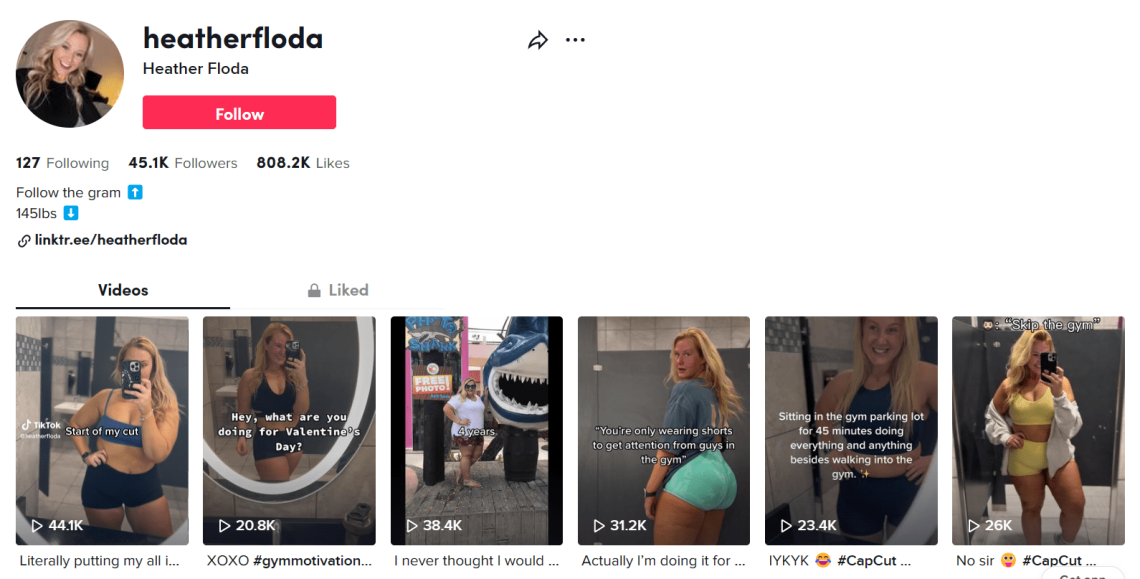 On Heather's TikTok, you will find her inspirational fitness journey and get a lot of motivation to start working out. She shares a lot of content about losing weight and believing in yourself.
Heather joined TikTok at the end of 2021, but in a short span of last two years gained a good deal of followers, and her reach skyrocketed as her enthusiasm and charisma attract people.
@_creatingandre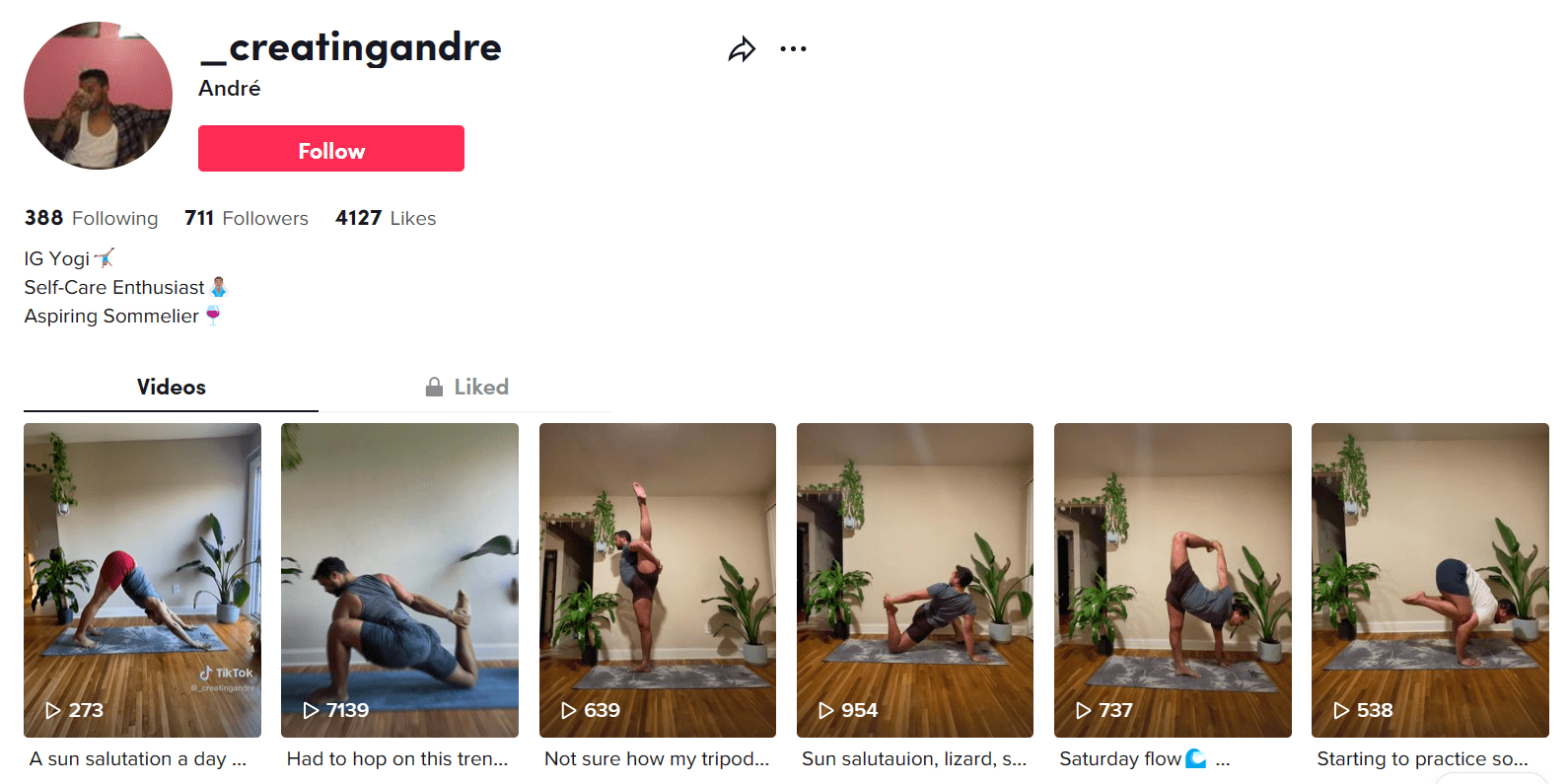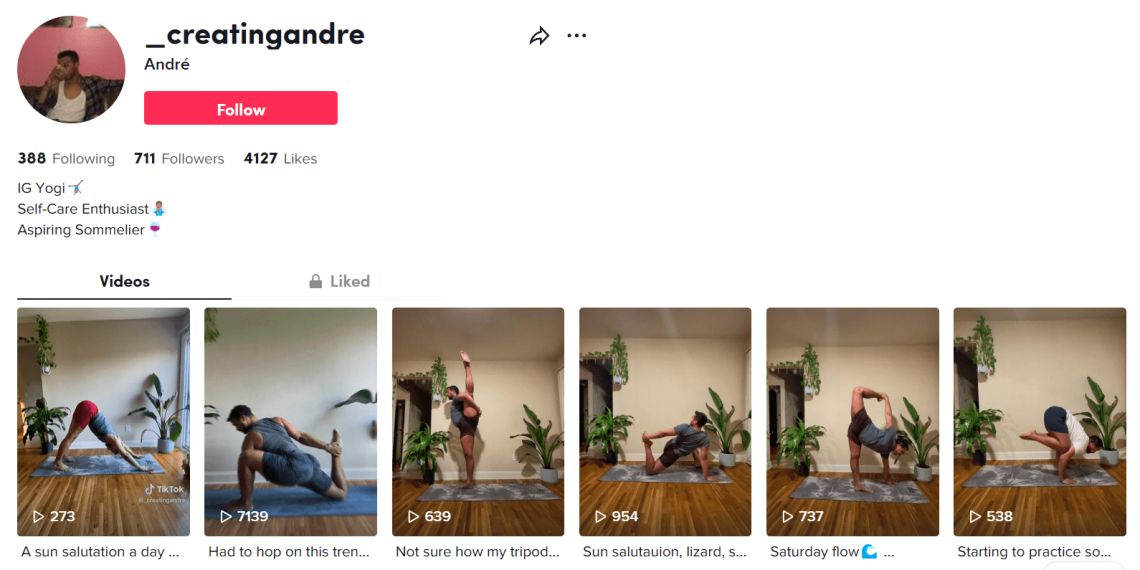 Andre calls himself a self-care enthusiast and aspiring sommelier. His activity on TikTok started in 2021, and since then, his audience has been gradually growing.
He is a nano influencer, sharing his yoga practice and showing off complicated figures he can perform.
On Andre's TikTok profile, you'll also find a few clothing hauls from Alo Yoga, a sportswear brand dedicated to people appreciating the combination of modernity and mindfulness.
02 Beauty
These TikTok influencers show their beauty routines and the products they use daily. They can partake in influencer campaigns for beauty products, from makeup to face care.
@darceyangel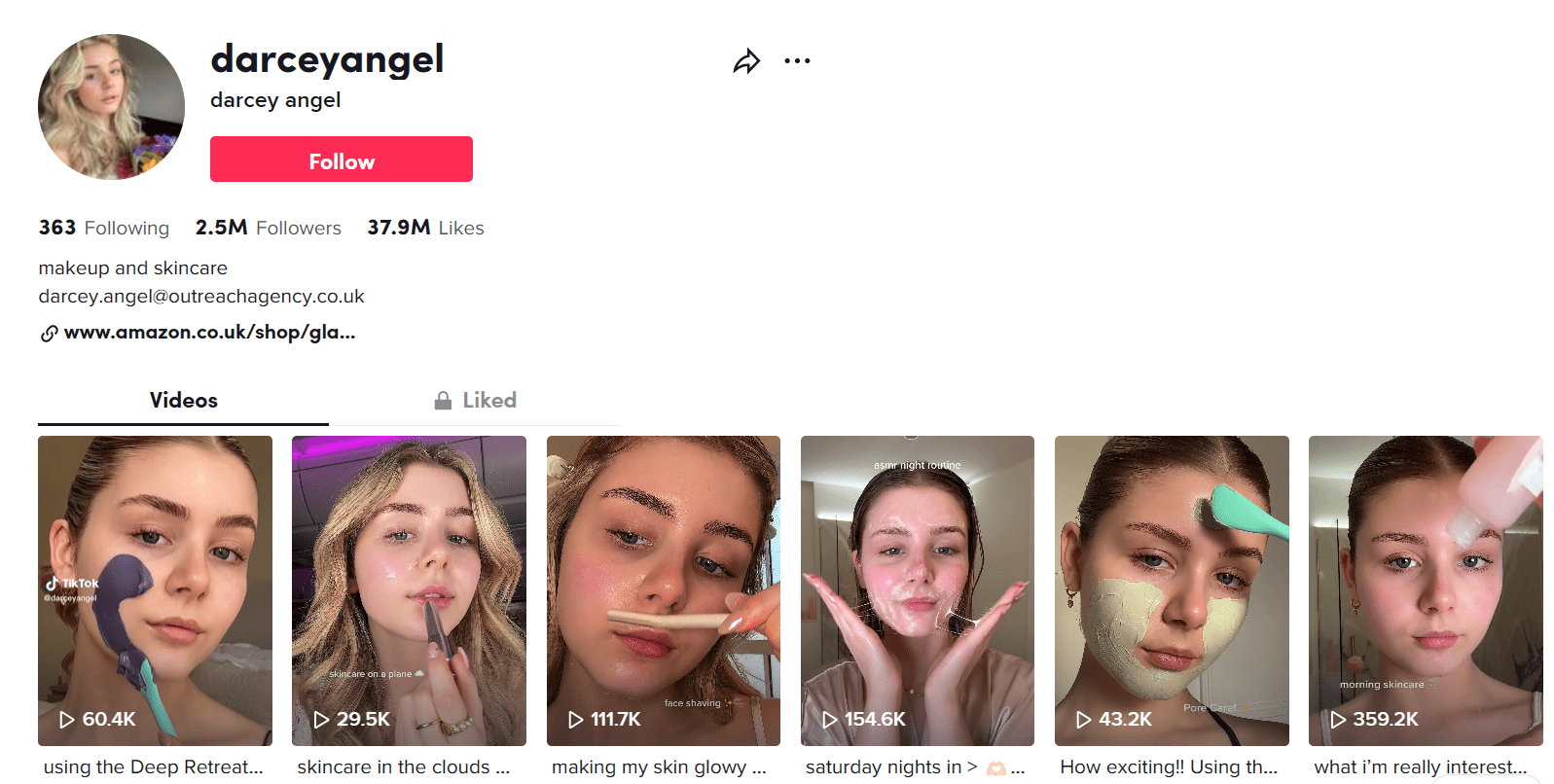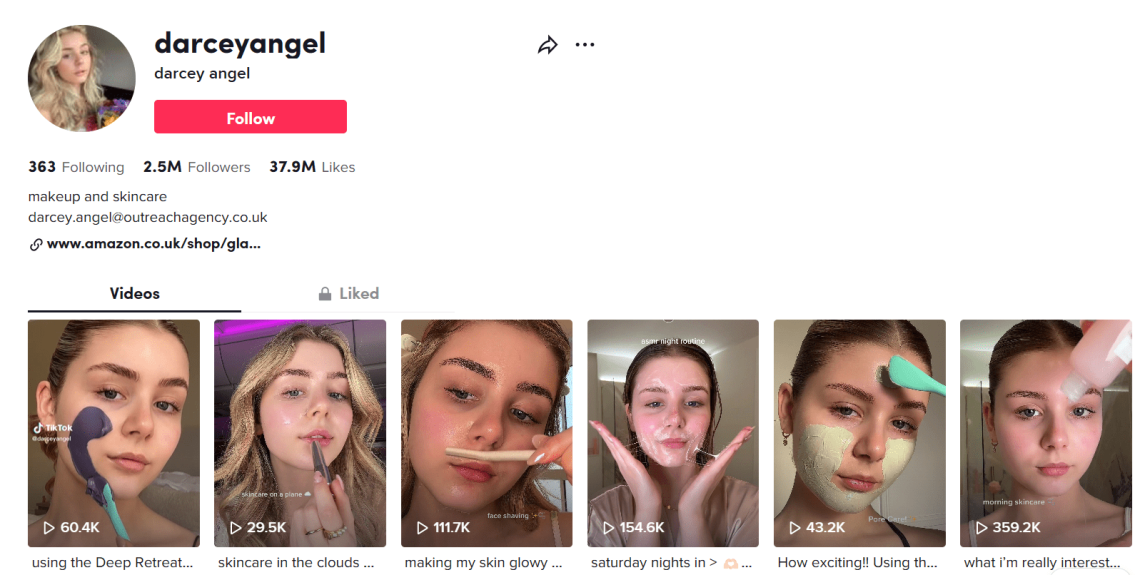 Darcey is best known for her ASMR beauty videos. She includes a lot of branded content on her profile, promoting various beauty products. She is mainly concentrated on skin care.
Much of her content includes get ready with me (#grwm) and skincare routine videos. As all her posts are aesthetic and pleasing, she has a lot of avid fans and followers.
Darcey is a brand ambassador for e.l.f., a cosmetics brand available in Sephora, for example.
Find TikTok influencers for your specific niche!
@d1na_th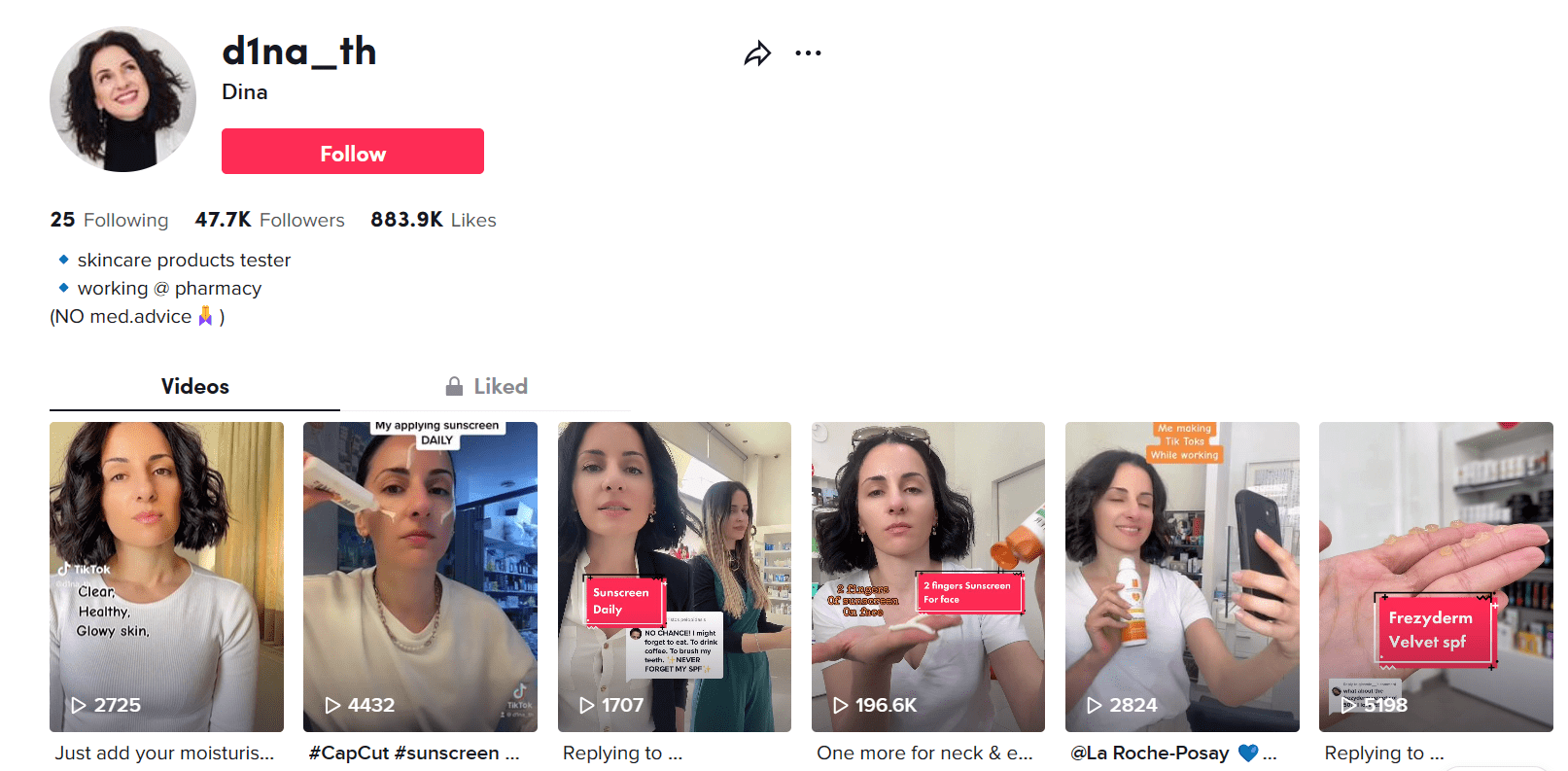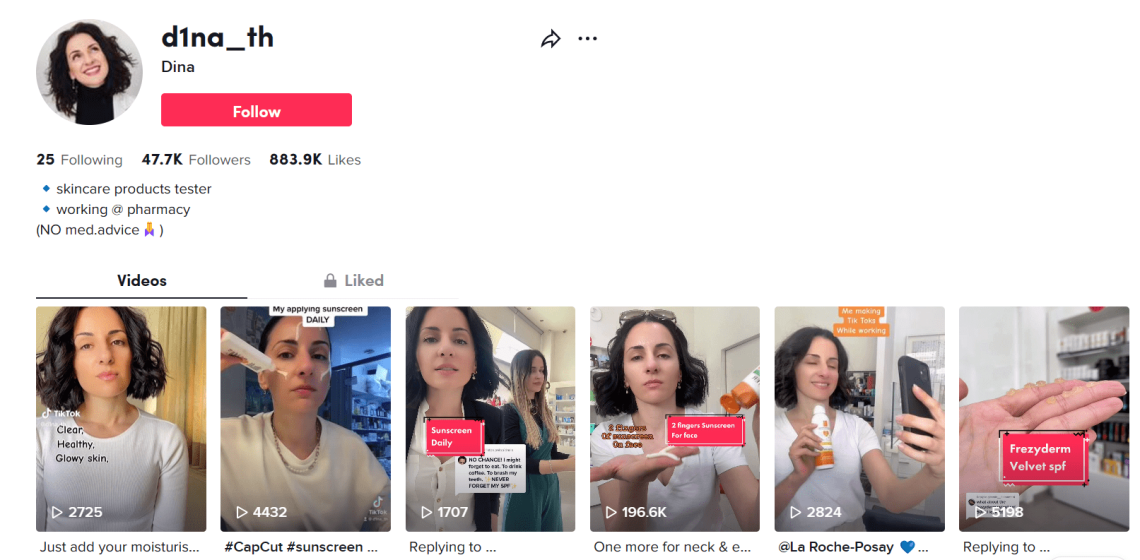 Dina is a skincare product tester working at a pharmacy. What is special about her is her professional expertise and knowledge of various beauty products. She also shares tips and product recommendations for different types of skin.
Most often, she mentions concerns like CeraVe and La Roche Posay, but she is not confined to them and finds space for other brands as well.
Dina also publishes fun content and insights from a pharmacist's life, which is compelling.
@mariaslifestyle2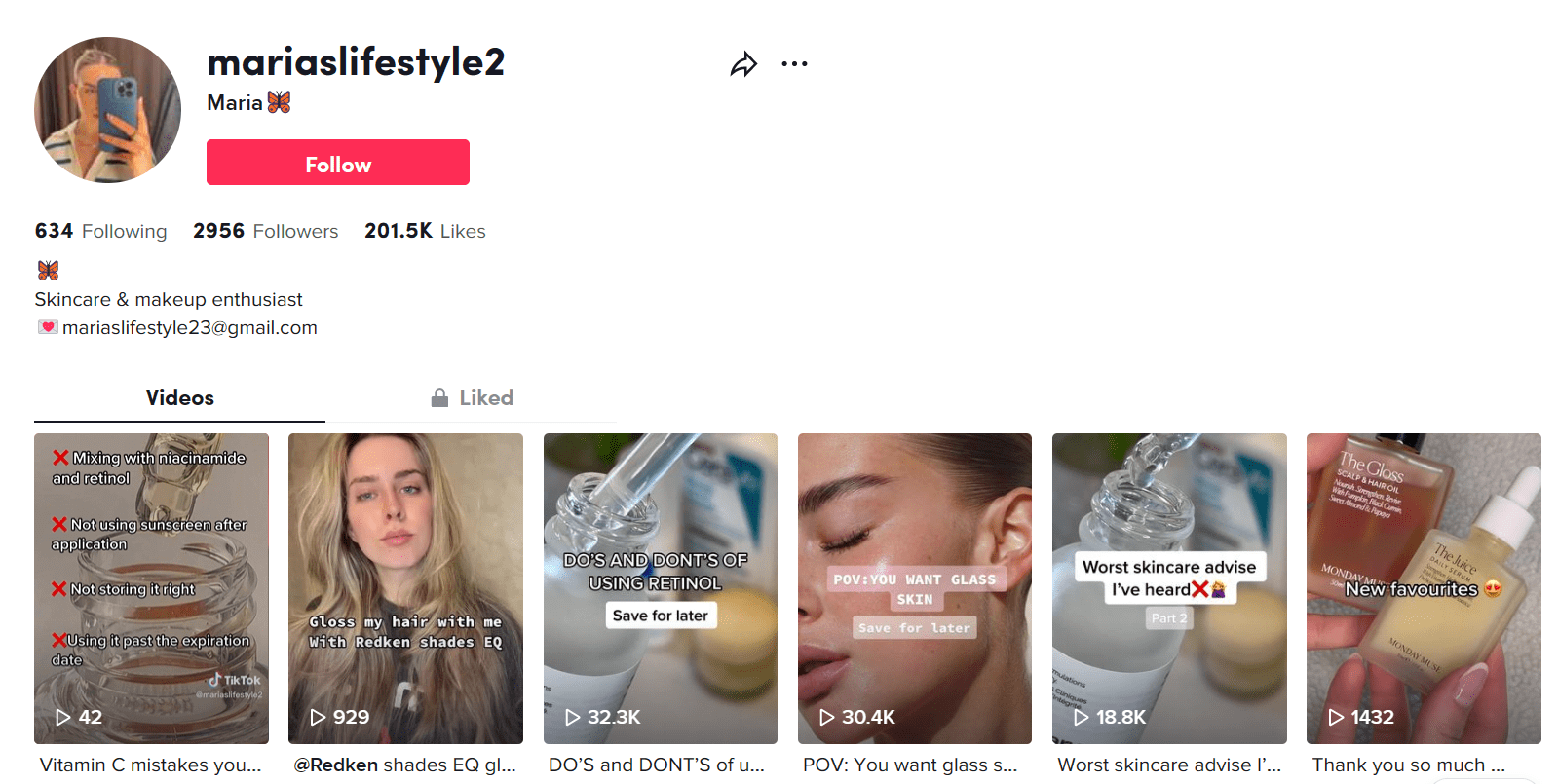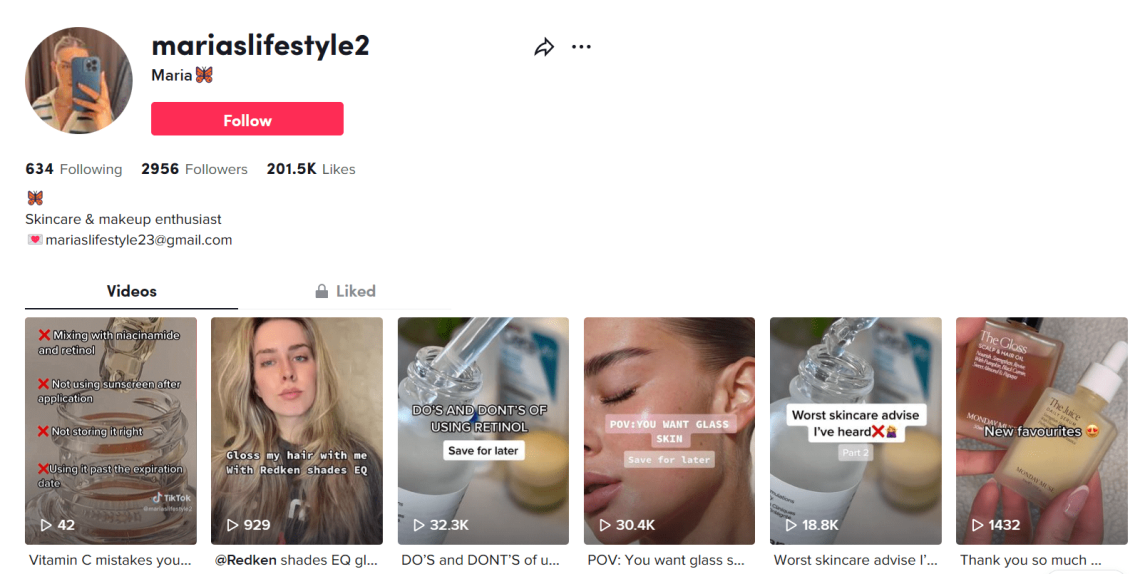 Maria is enthusiastic about makeup and skincare. On her account, she shows her beauty routines and products alongside with instructions on how to use them safely.
She also posts get ready with me videos (#grwm), beauty products recommendations, and warnings about harmful practices and cosmetics.
Maria is a good example that it doesn't matter how many followers you have. While she is classified as a micro-influencer (based on her follower count), she gets many interactions on her content, which is way more important.
When a TikTok influencer has an impressive number of followers but gets bearly any views, likes, and comments, you can clearly see that their audience is not genuinely interested in their content. Organizing influencer campaigns with this kind of people would make no sense, as nobody would care about your branded content there.
03 Food & cooking
Cooking TikTok influencers can uncover a whole new world for you. Some of them can come up with a mind-boggling variety of recipes.
These TikTok influencers can promote your food or spice brand, kitchen utensils, or cooking wear.
@nikitafair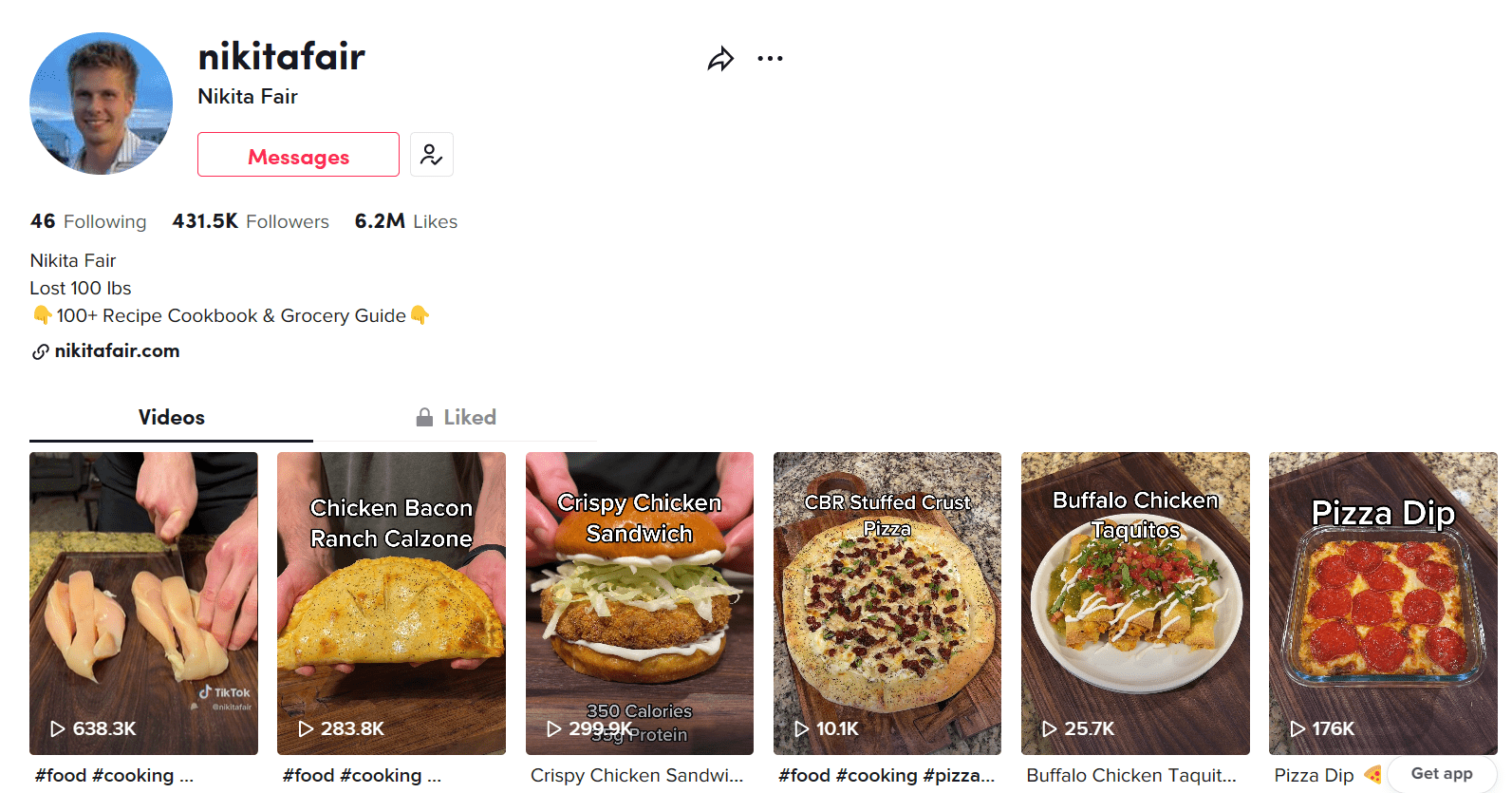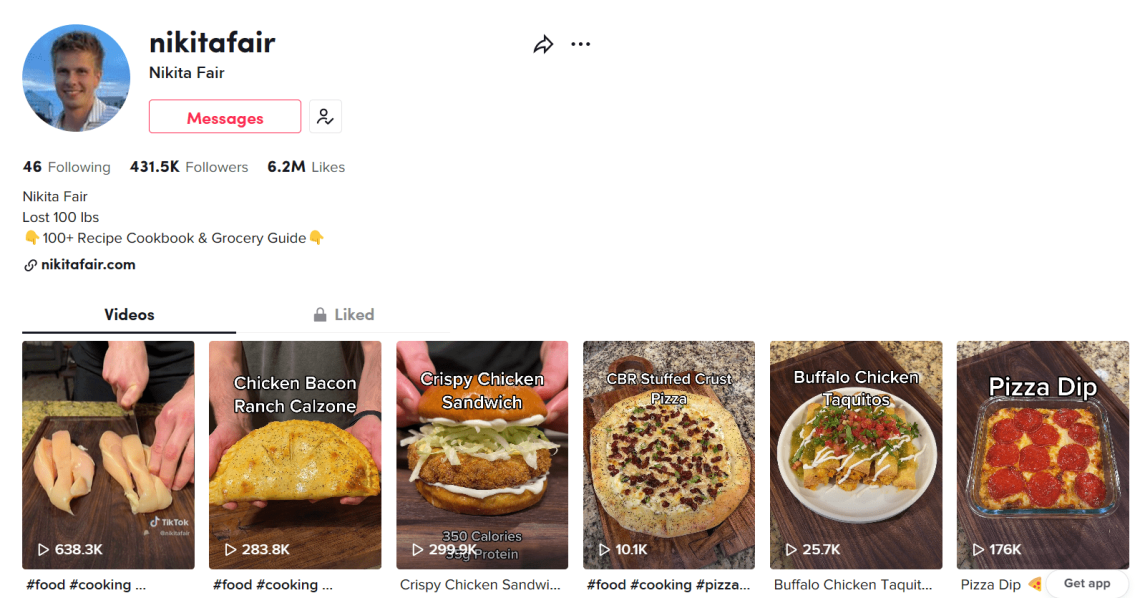 On his TikTok, Nikita presents incredible recipes for weight loss. Most of his dishes are meat-based and are healthy variations of fast foods.
What I really like about his recipes is that he always includes information about the number of calories and proteins in the food.
He's a must-follow to all the meat and fast-food lovers who need to lose weight and don't want to struggle to eat bland and tasteless foods.
Looking for suitable influencers on TikTok?
@abigailfmarquez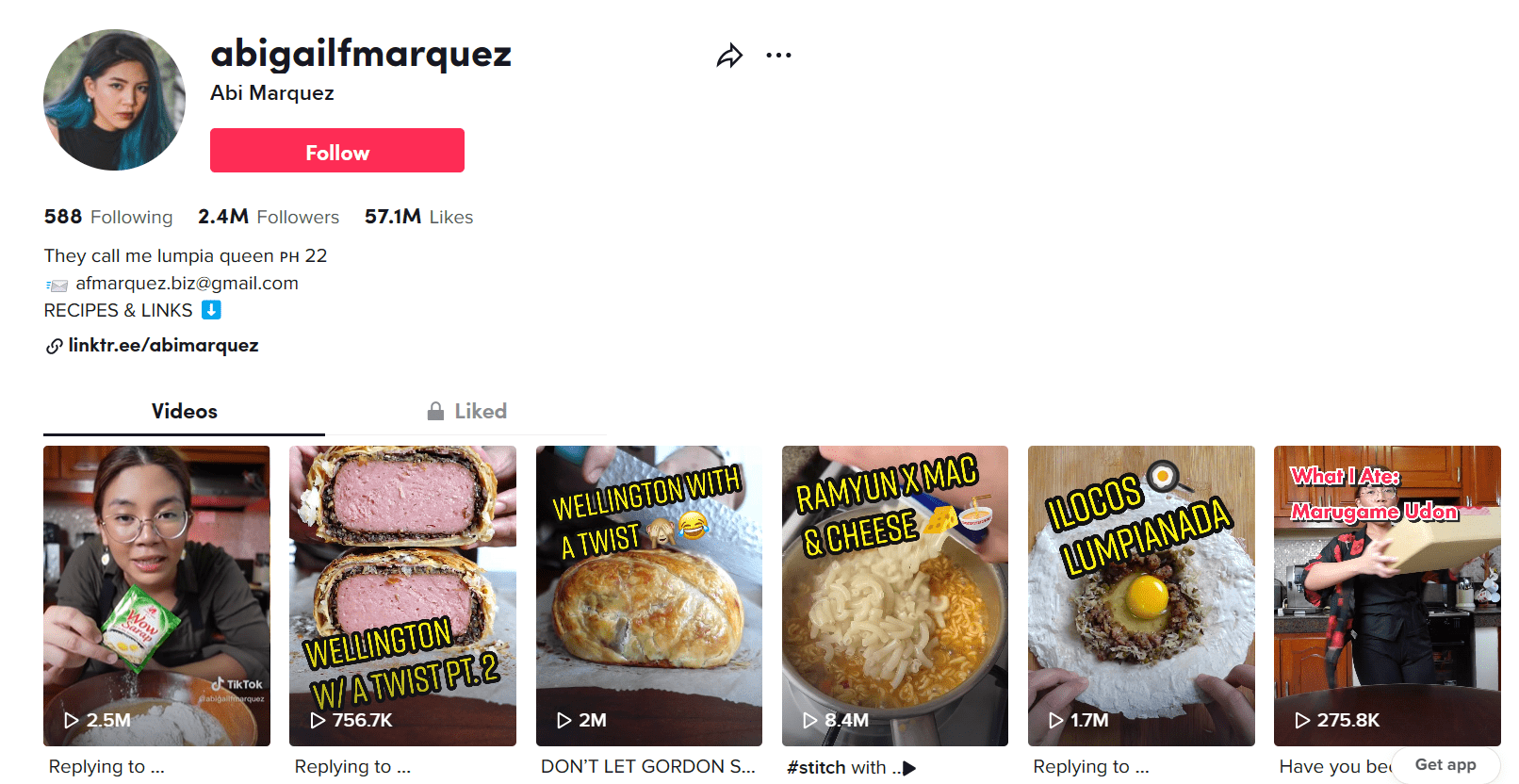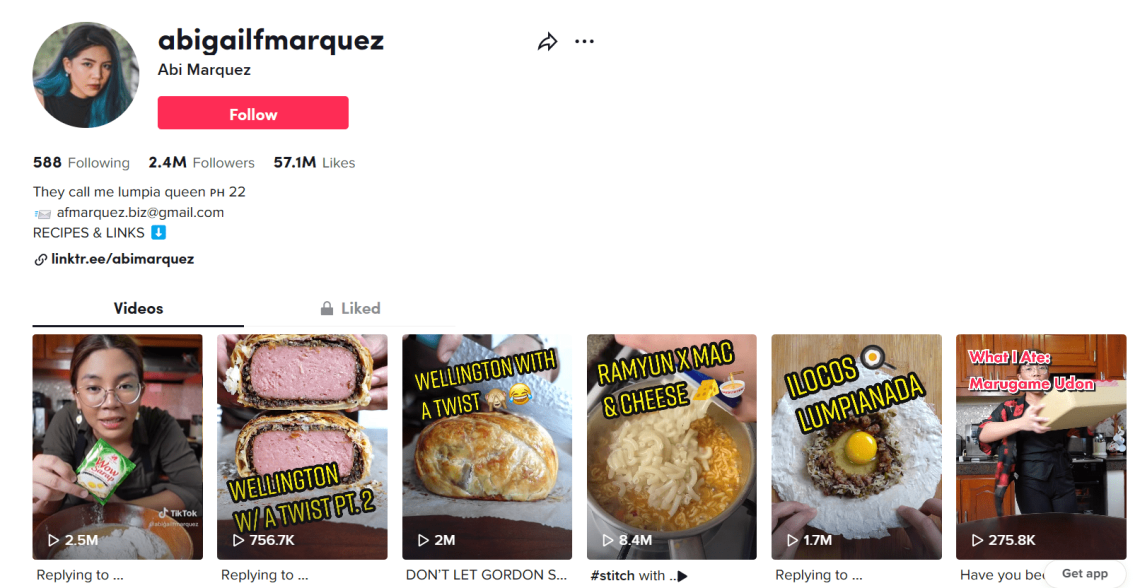 Abigail is a Philipinian professional chef showing amazing exotic dishes and sharing traditional Philipinian recipes.
The variety of foods she cooks is impressive, so everybody should be able to find a recipe for themselves. You can discover a whole new range of tastes and get inspired in the kitchen by watching her videos.
Moreover, Abigail studied restaurant management, so she is keen on visiting and reviewing various restaurants.
@simplefood4you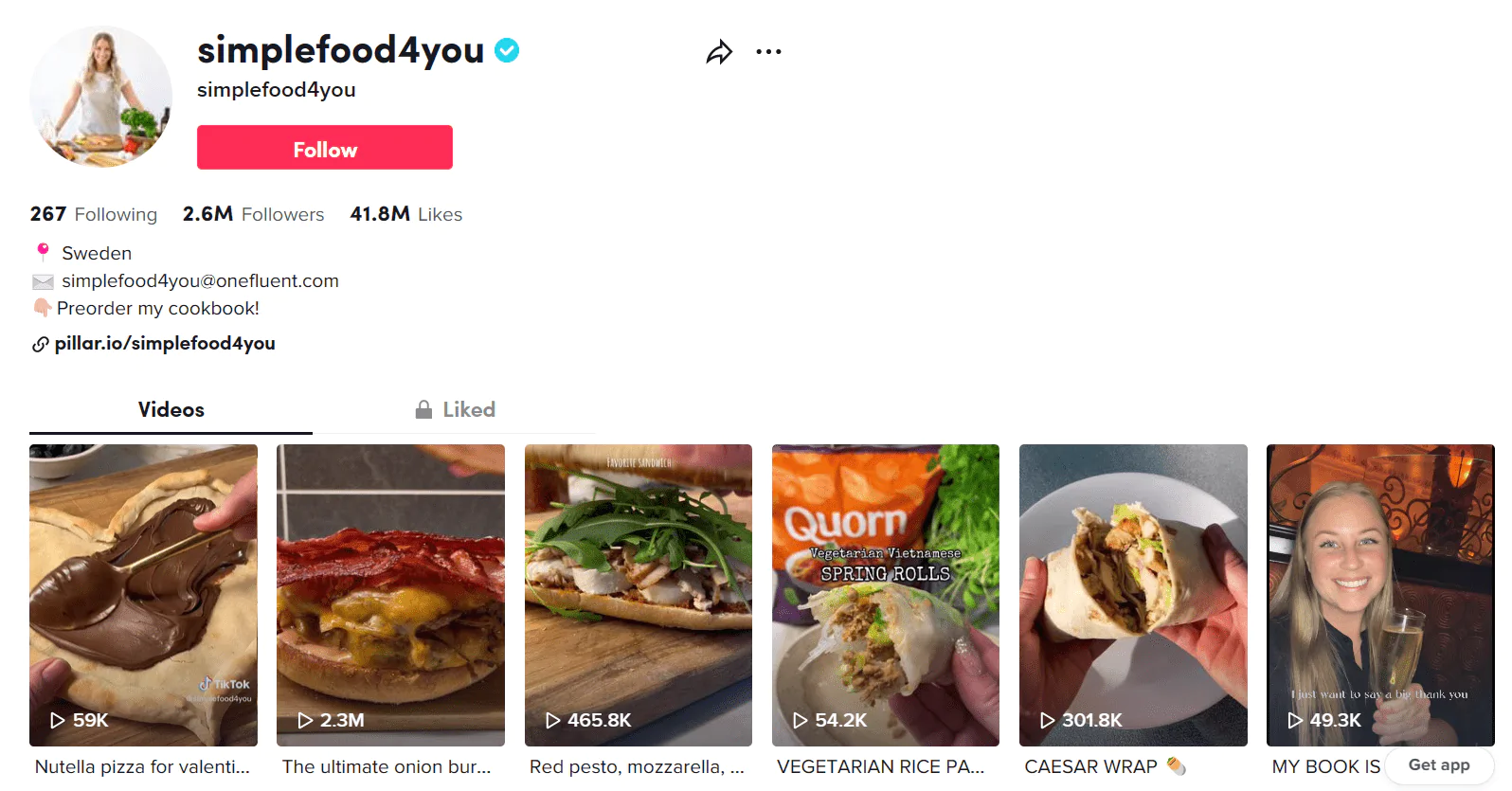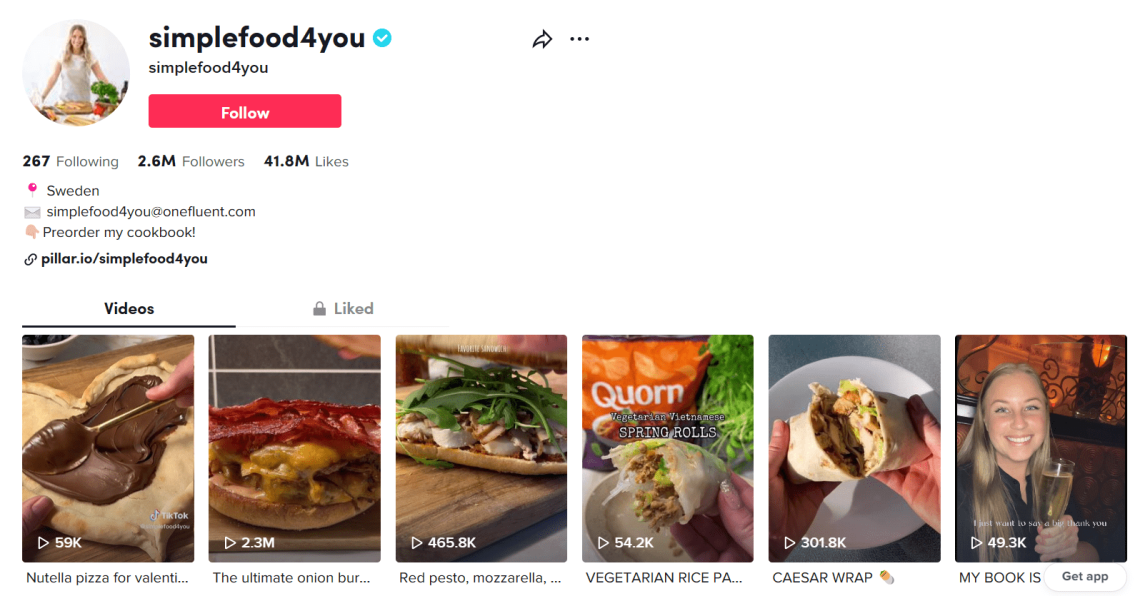 As the name indicates, Alexandra, on her TikTok profile, focuses on simple food recipes that anyone can prepare. You can make many of her dishes in less than 30 minutes, which is a huge advantage to many.
Alexandra's first cookbook has been released lately. You can find it under the same name as her TikTok account.
04 Crypto
Crypto has been a hot topic for the last few years, so no surprise that the number of existing influencers is constantly growing. In the niche, you will find astute experts who teach how to invest and explain market trends.
@corey.trades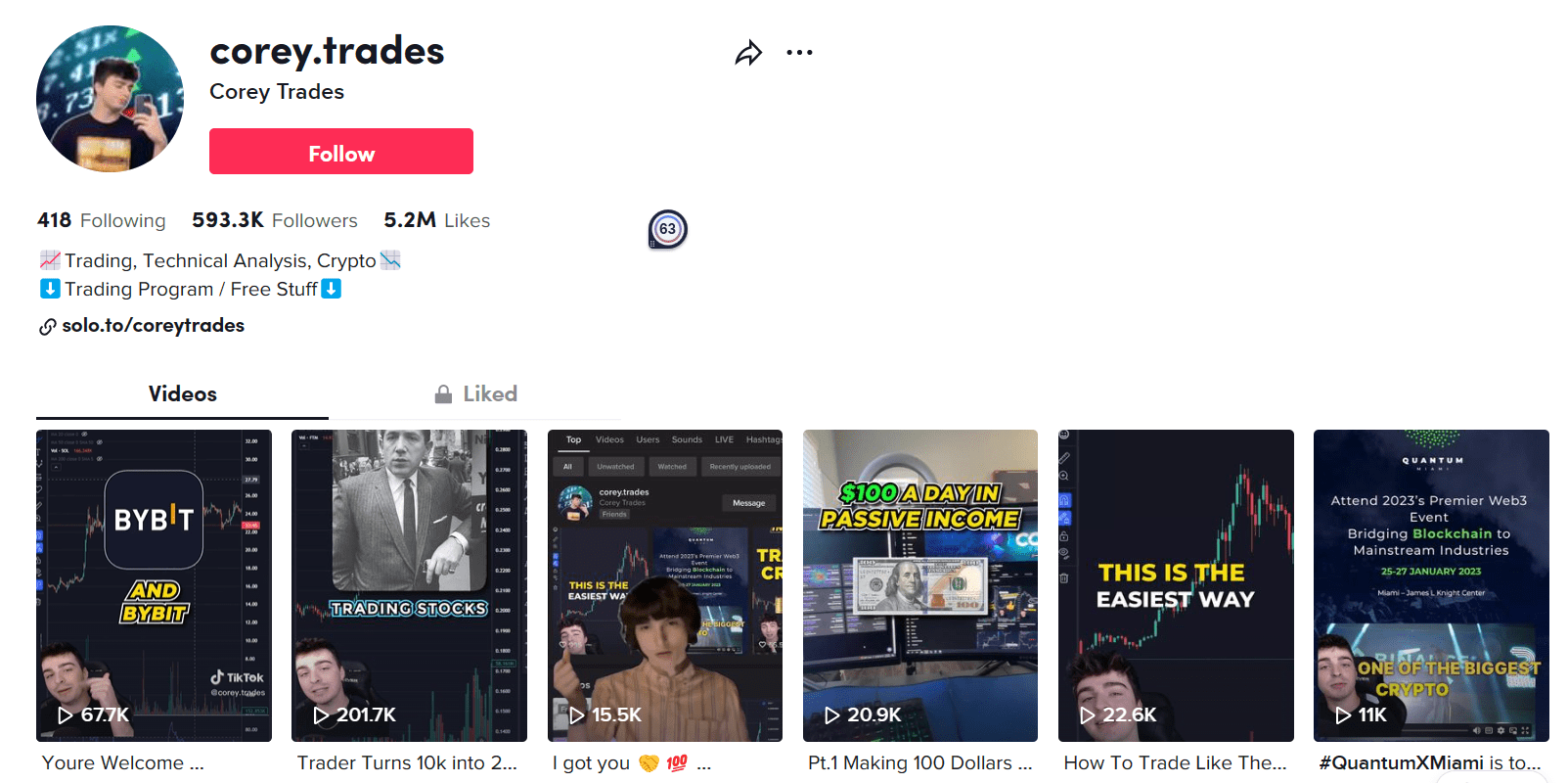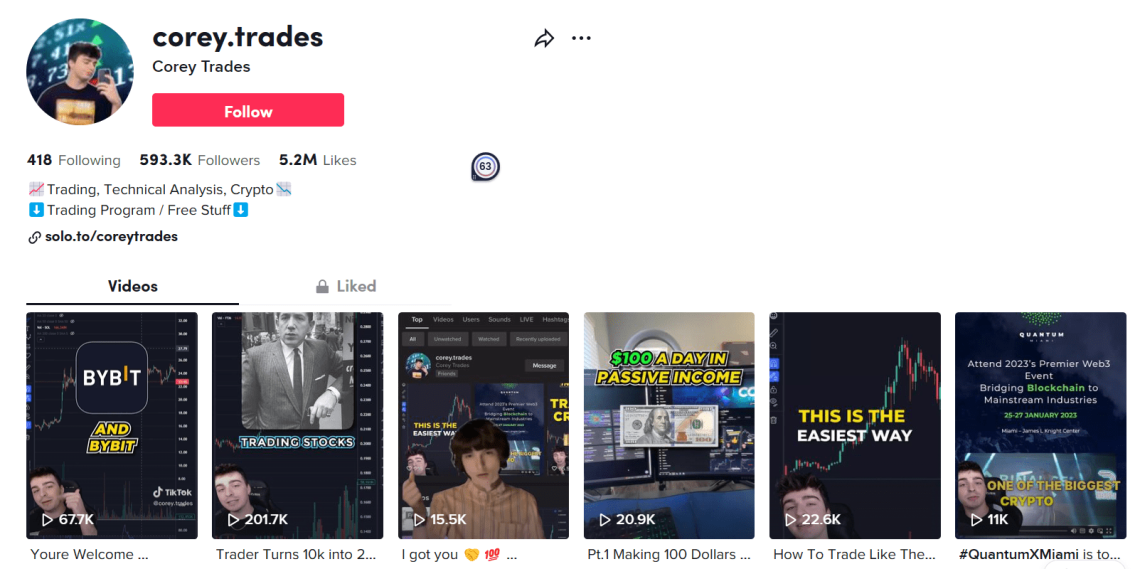 Corey is trading and crypto savvy who shares his knowledge on TikTok. He has been trading for the last 10 years, giving him a lot of experience and expertise.
Corey willingly shares valuable crypto insights and investing advice for beginners. He presents easy investing methods and reasonable approaches to help you earn money on crypto without going bankrupt.
@crypto.smith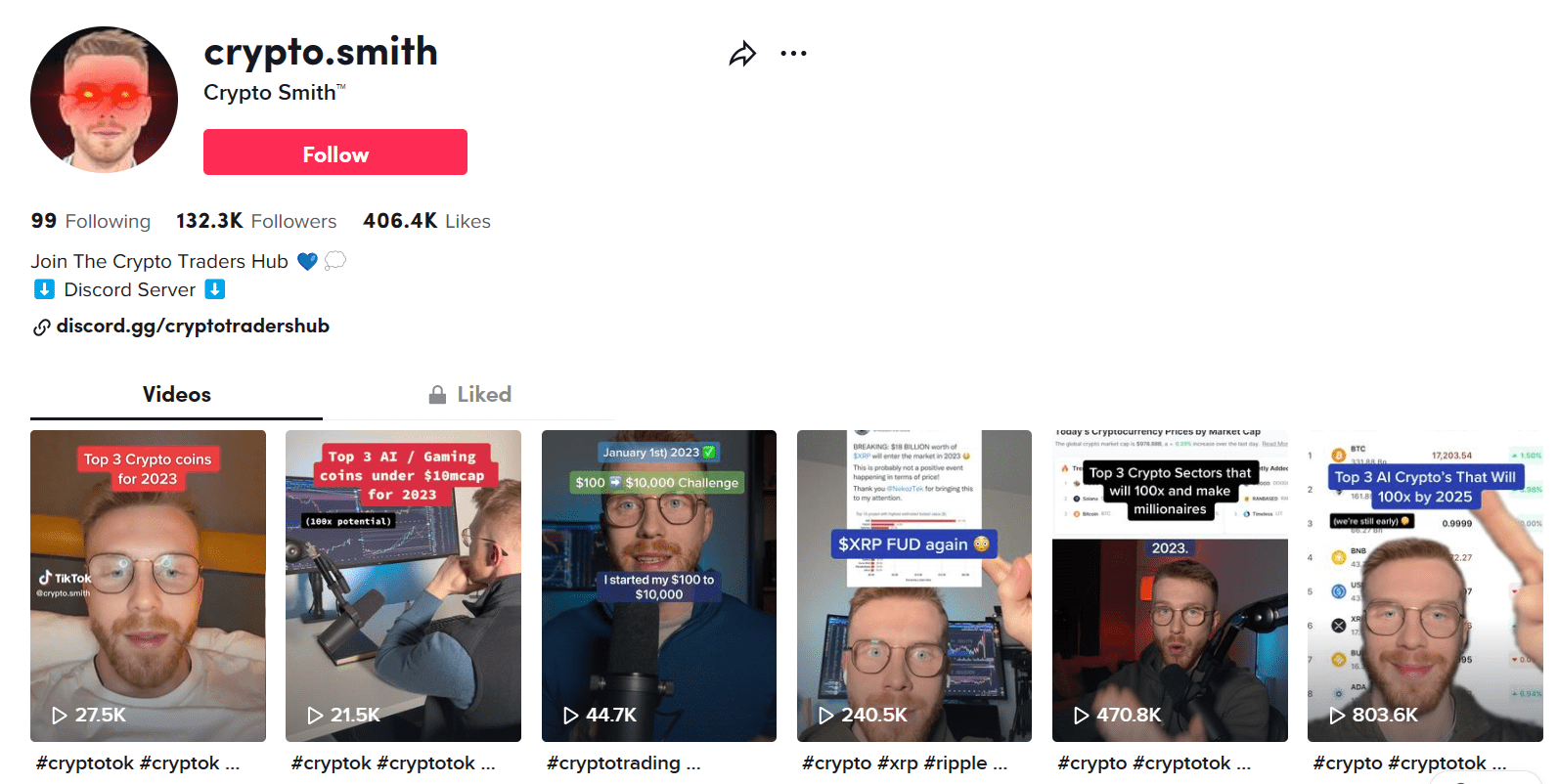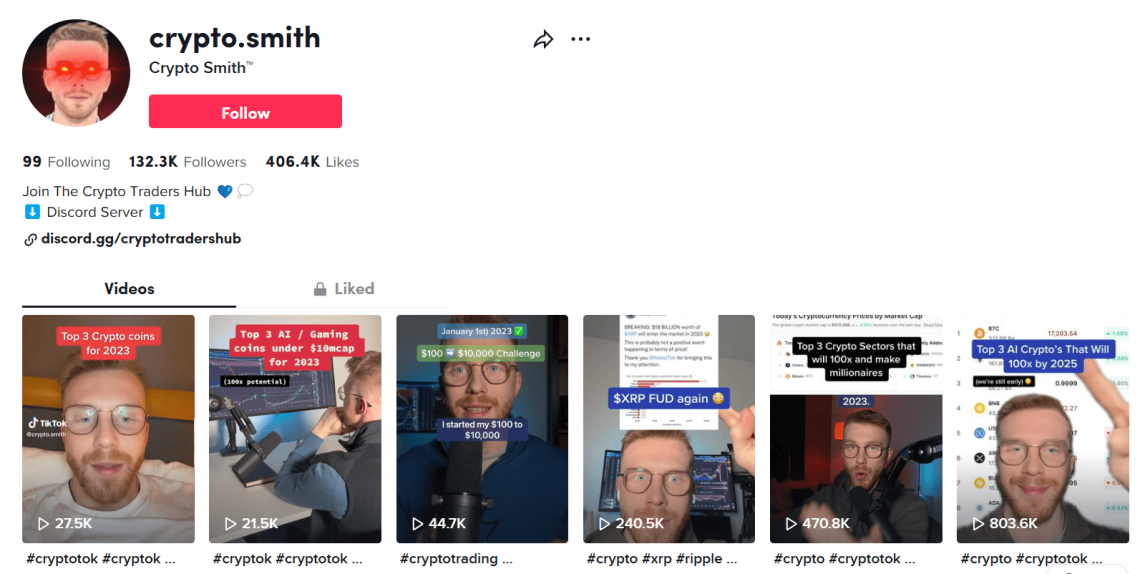 Crypto Smith is the founder of TradeSmart, a community bringing together traders and teaching about trading. He has been investing in Bitcoin since 2016, so his followers can rely on his professionalism and expertise.
You can also join Crypto Smith's Discord channel to be up-to-date with all the most recent information and become a part of the community.
TikTok marketing campaigns are a thing. Find tiktok influencers!
@miles.deutscher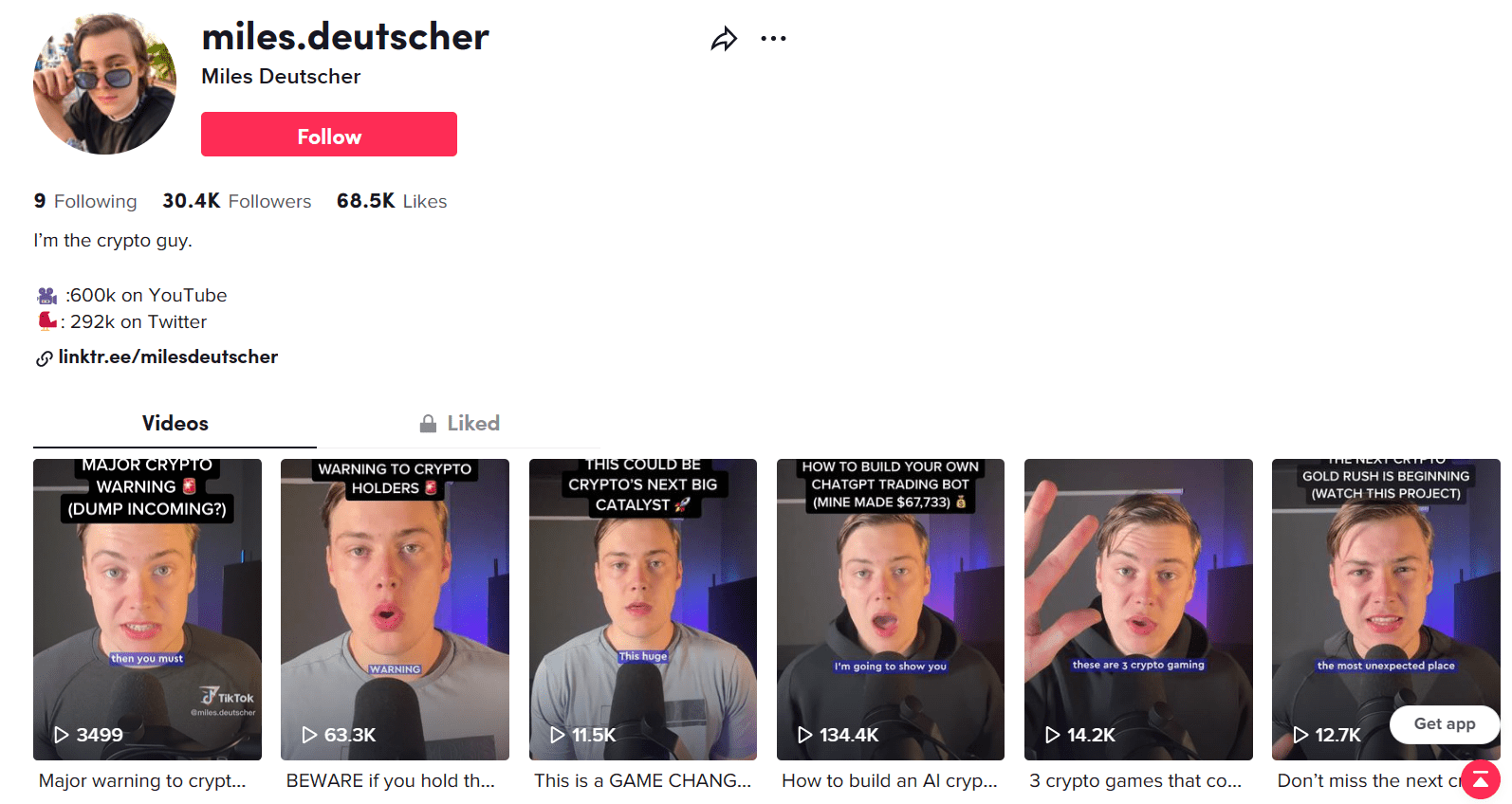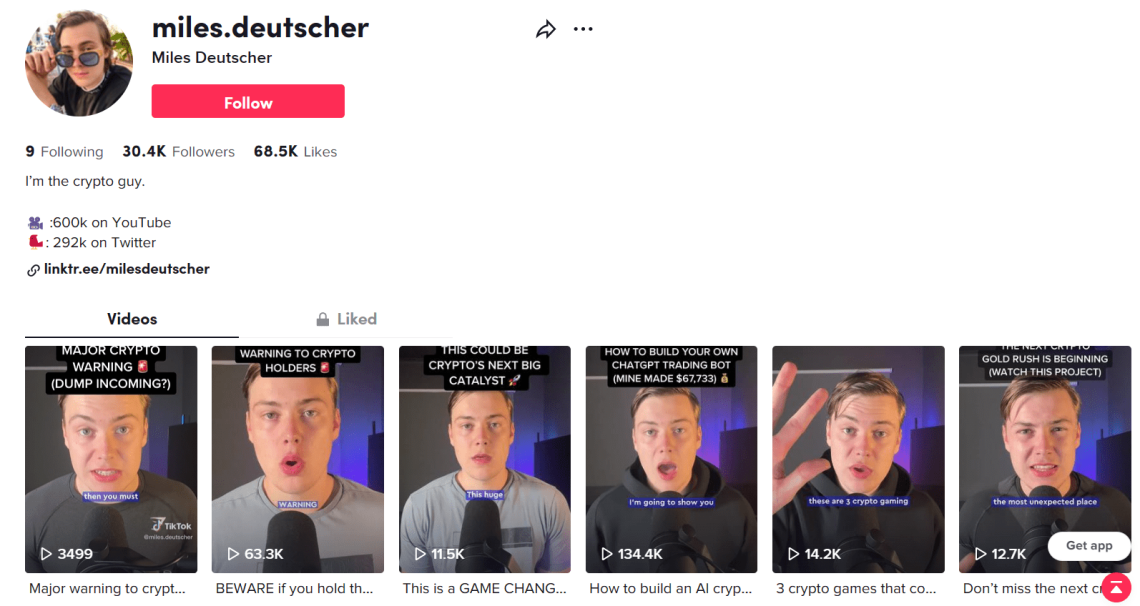 Miles is a crypto investor, trading analyst, and one of the Crypto Banter Group YouTube channel hosts. He also runs a personal YouTube channel and a successful Twitter profile with over 300k followers and a high engagement rate.
On his TikTok profile, Miles keeps his audience updated about the most significant recent changes in the markets, warns when a cryptocurrency is about to drop low and informs about once-in-a-lifetime opportunities that loom up in the market.
05 Fashion
This industry will surprise you with very creative people! In the field of fashion, you'll find professionals participating in influencer collaborations with the biggest brands, amateurs keen on the newest trends, and people more into showing their lifestyle concentrated around clothing.
@tayhage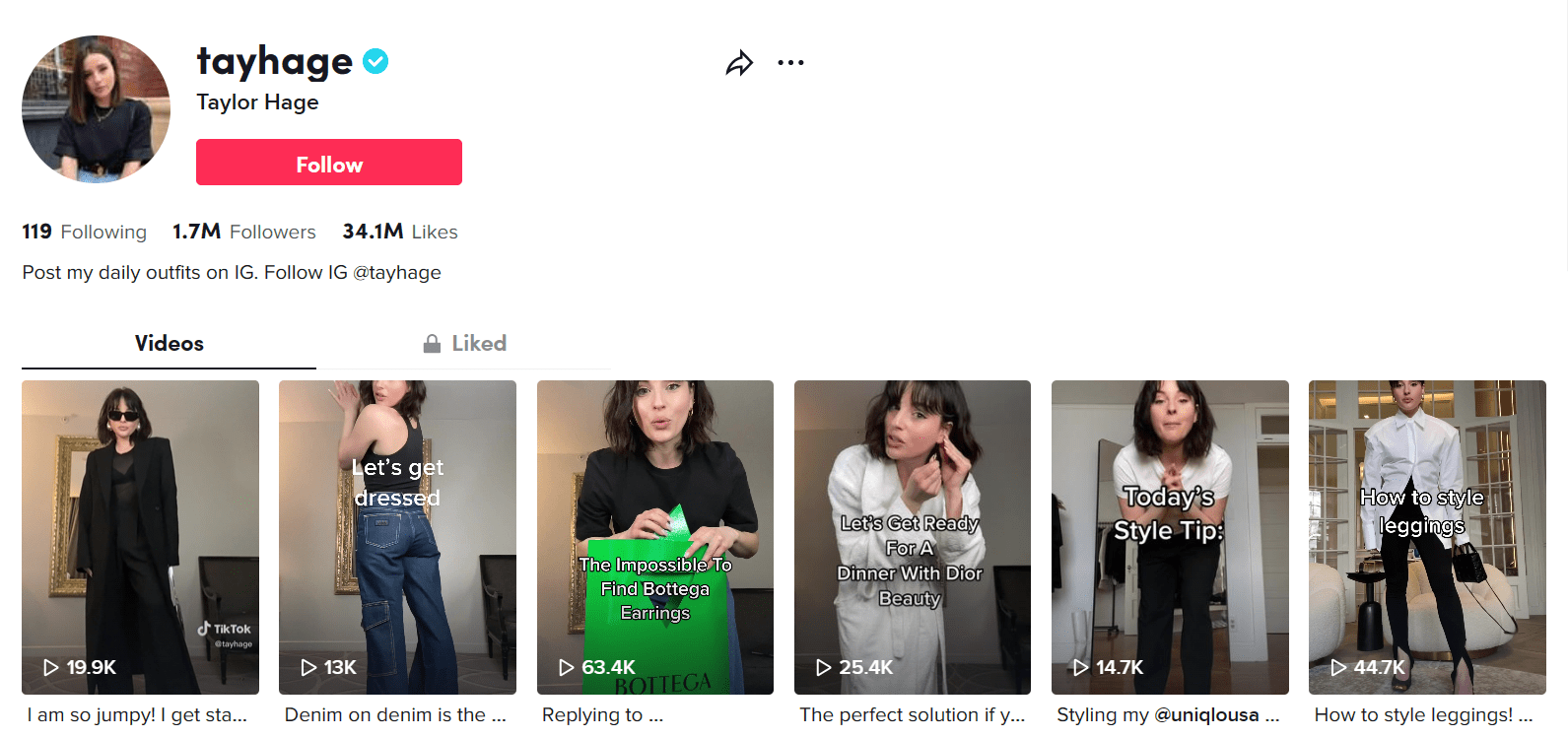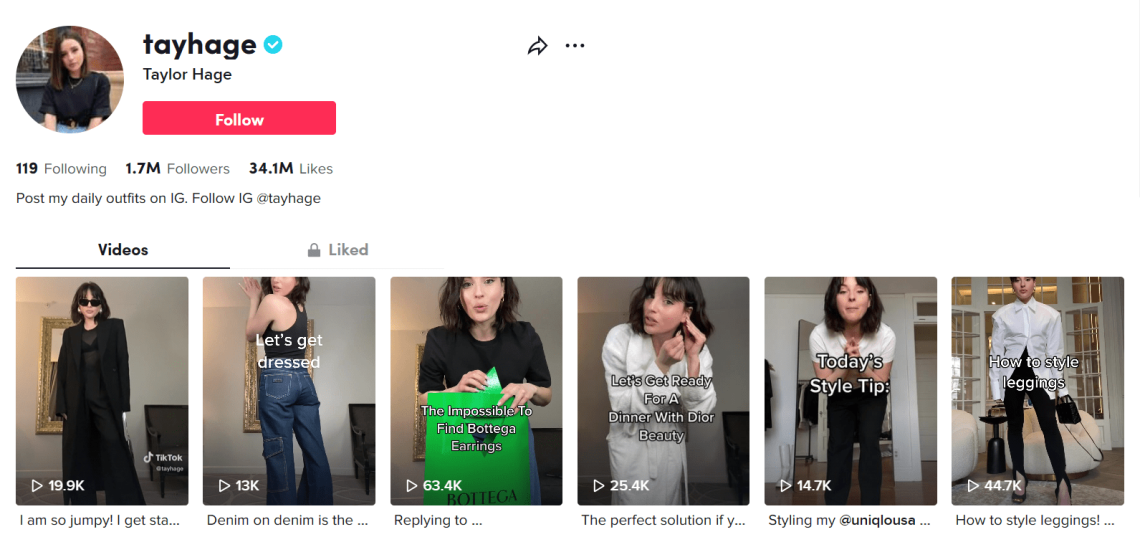 Taylor is a professional model and stylist. Her elegance and class are her distinguishing features. This invariably attracts followers interested in high fashion and a sublime sense of style.
Taylor attends many fashion shows of the most prominent fashion designers and reports on her TikTok the course of events she took part in.
She collaborates with the biggest brands like Dior.
@justincheung16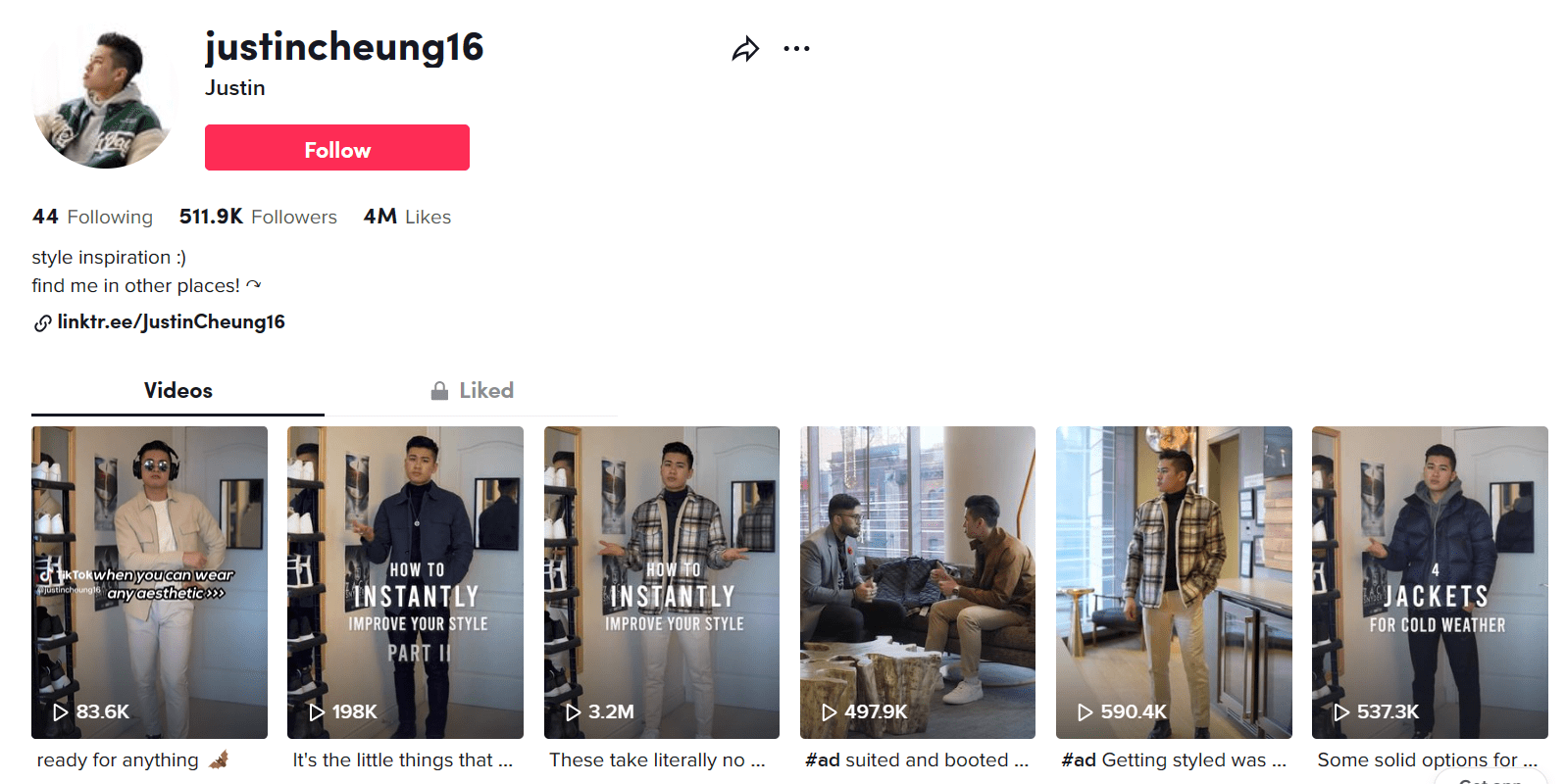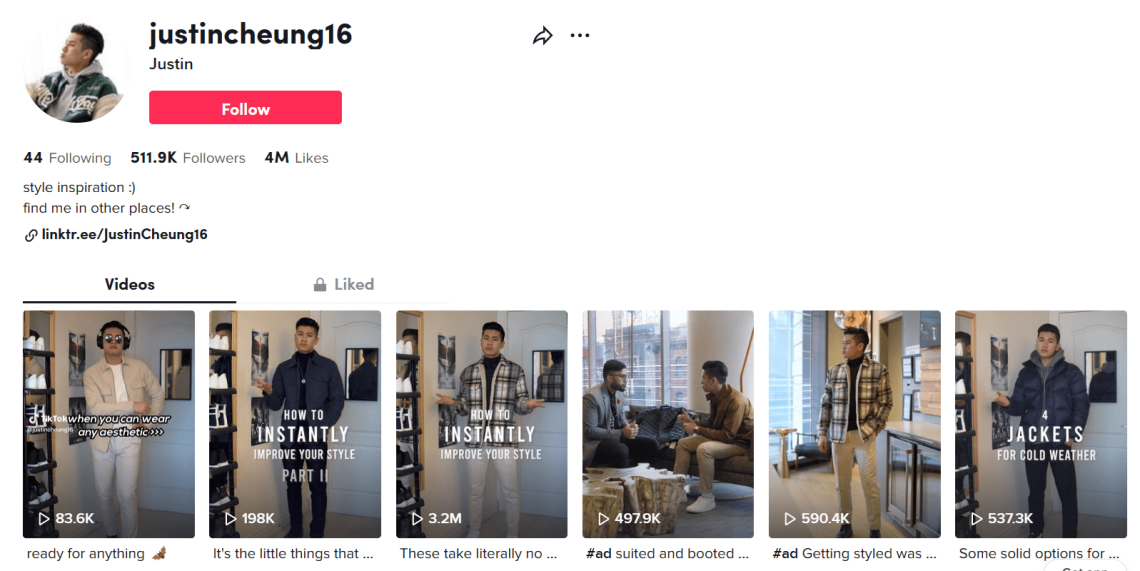 Justin is a fashion icon and style advisor for men. He shares his outfits as inspirations and explains how to match pieces of clothing together. Following his tips, you'll be able to create an endless number of outfits with just several basics.
You can also shop his closet, which is a colossal facilitation if you are really into his pieces.
Justin has already collaborated with brands. Lately, it was Nordstrom – a luxurious American fashion brand, and another clothing brand, Dockers.
@glowupu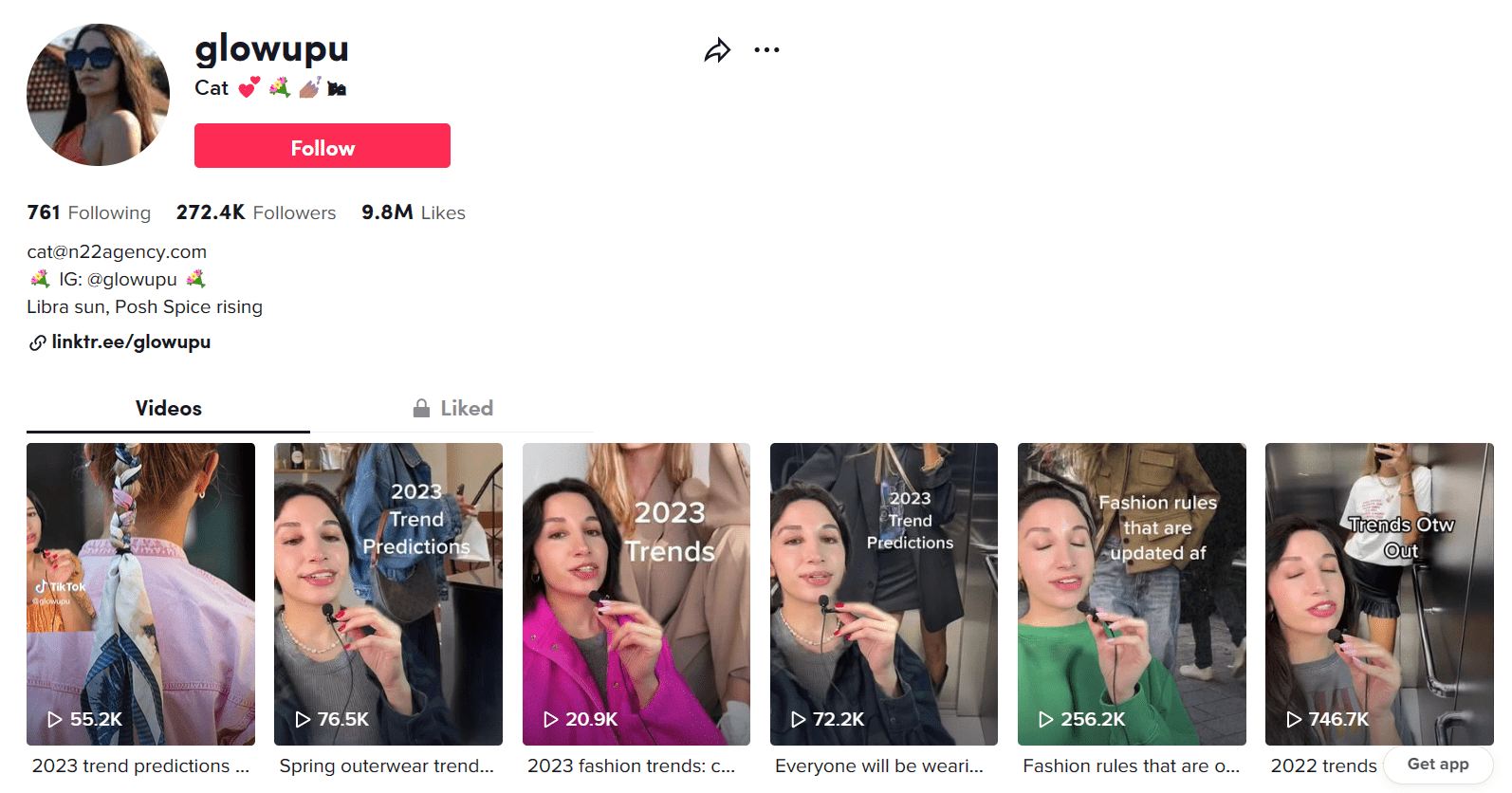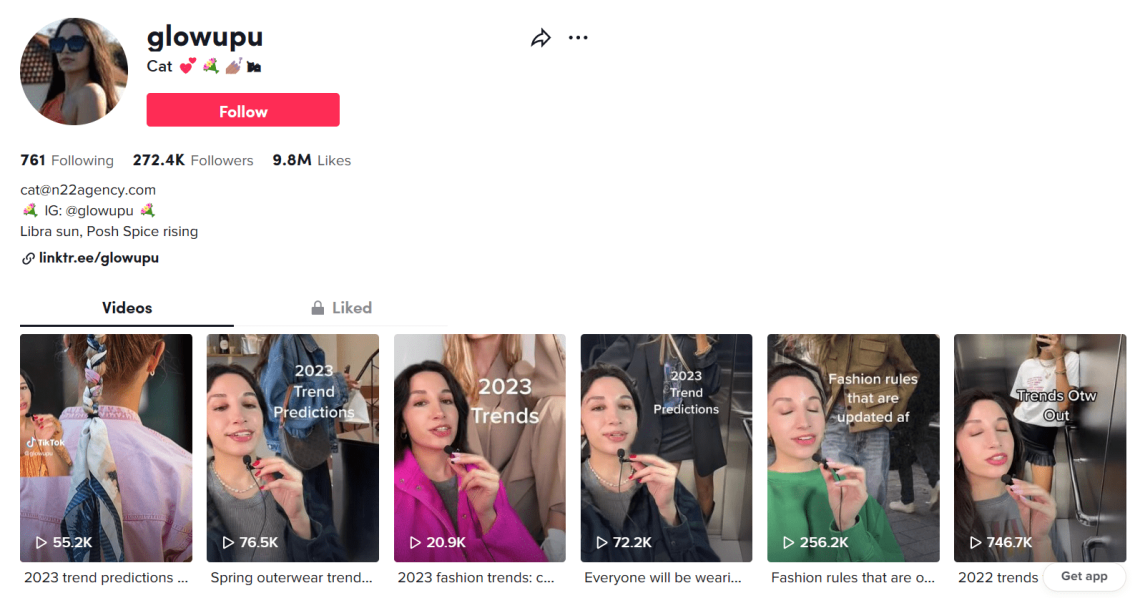 On Cat's profile, you will find endless advice and information about upcoming trends. Not only does Cat say what will be in style next season, but she also explains how to combine different pieces together and what kind of sets to avoid.
Her account is one enormous guide on how to be fashionable. It's definitely one of the TikTok creators you need to follow to be up-to-date with trends.
@jewliebuggg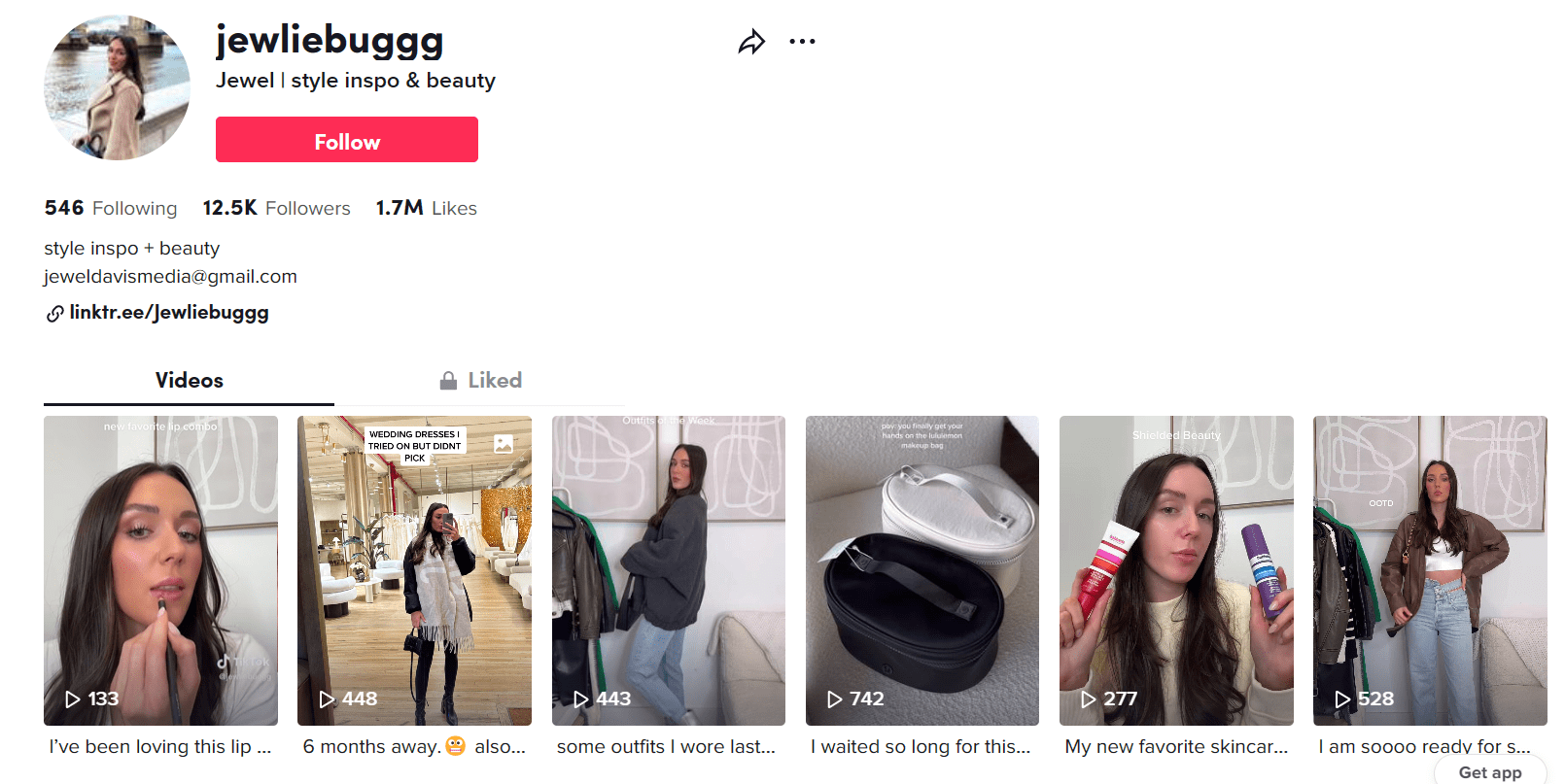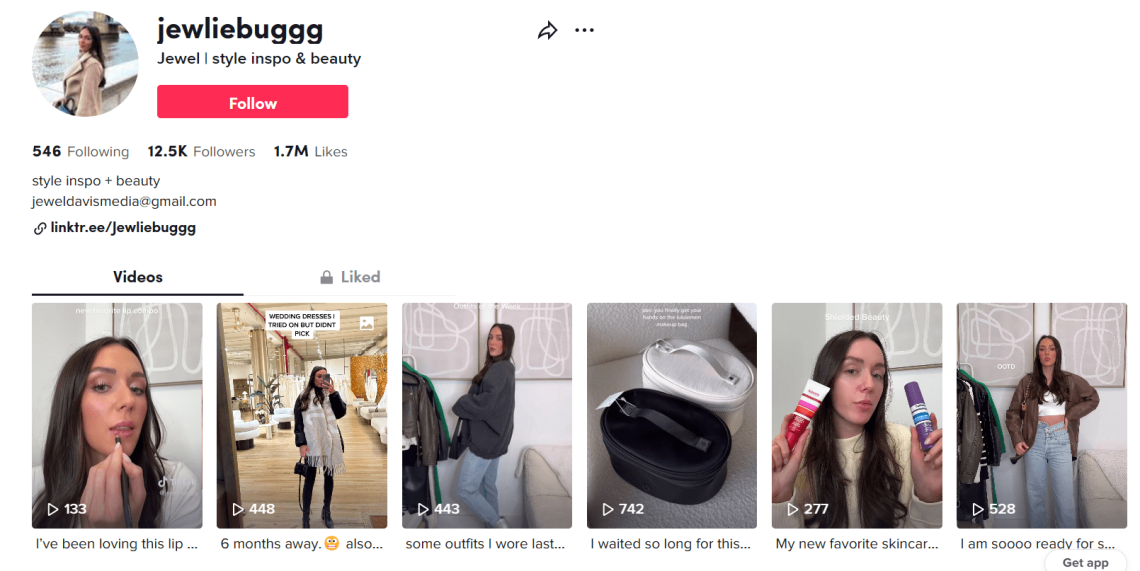 Jewel is a multidisciplinary TikTok influencer concentrated mainly on fashion and beauty. She shows her lifestyle by sharing get ready with me videos (#grwm), shopping hauls, and cosmetics recommendations.
Jewel's TikTok account is just one extensive repository of fashion knowledge, thanks to which you can find nice fashion and beauty products effortlessly.
She represents the micro-influencers on TikTok, making her a fine person for influencer marketing collaborations with smaller brands.
Motivated to find TikTok influencers?
06 Gaming
TikTok influencers show their hardware, share gamer tips, and transmit their gameplay in the gaming sector. There is a wide variety of accounts you can choose from in this niche.
Whether a hardware producer or a new game releaser, you will undoubtedly find suitable people for your TikTok marketing campaign.
@oxydoxytv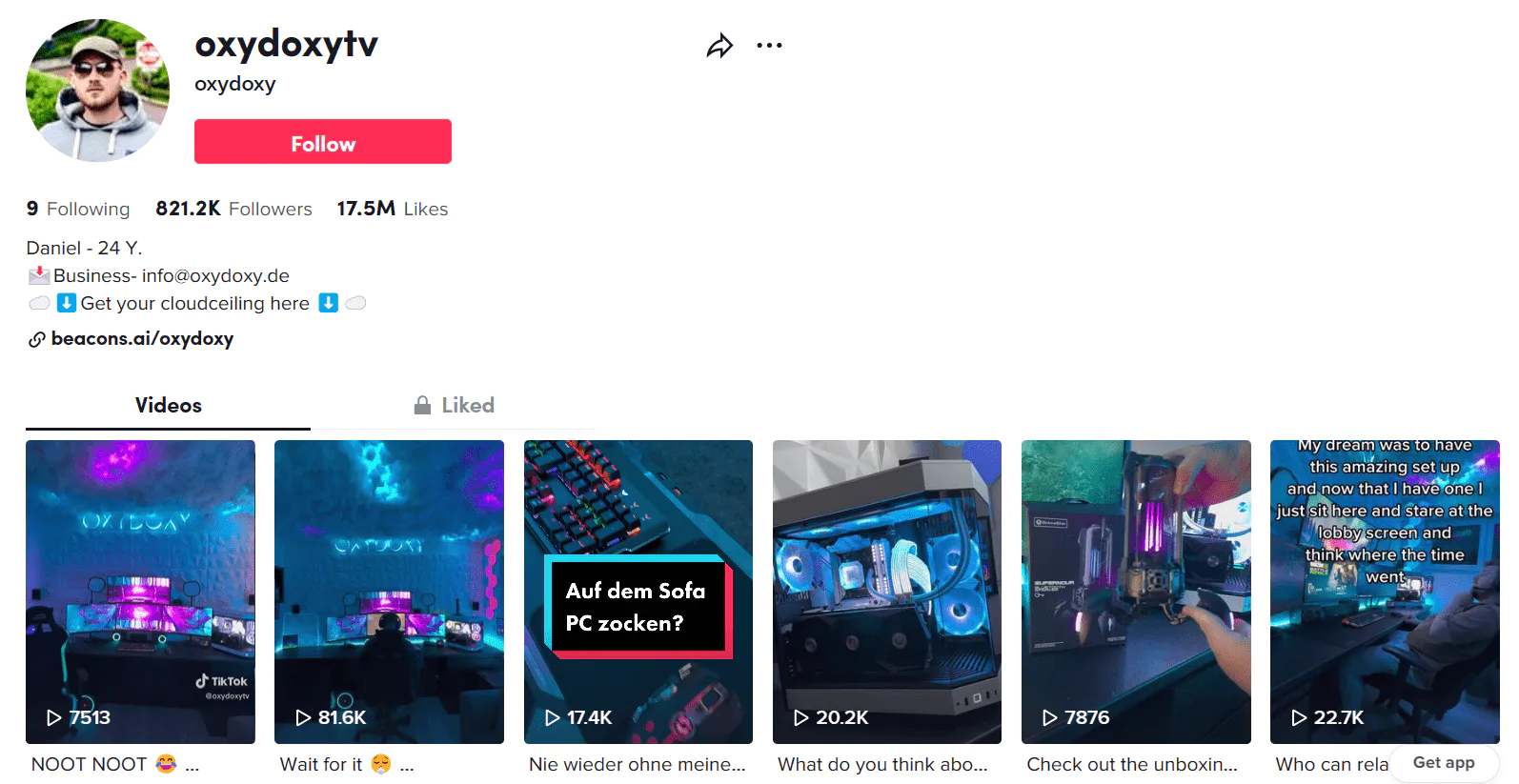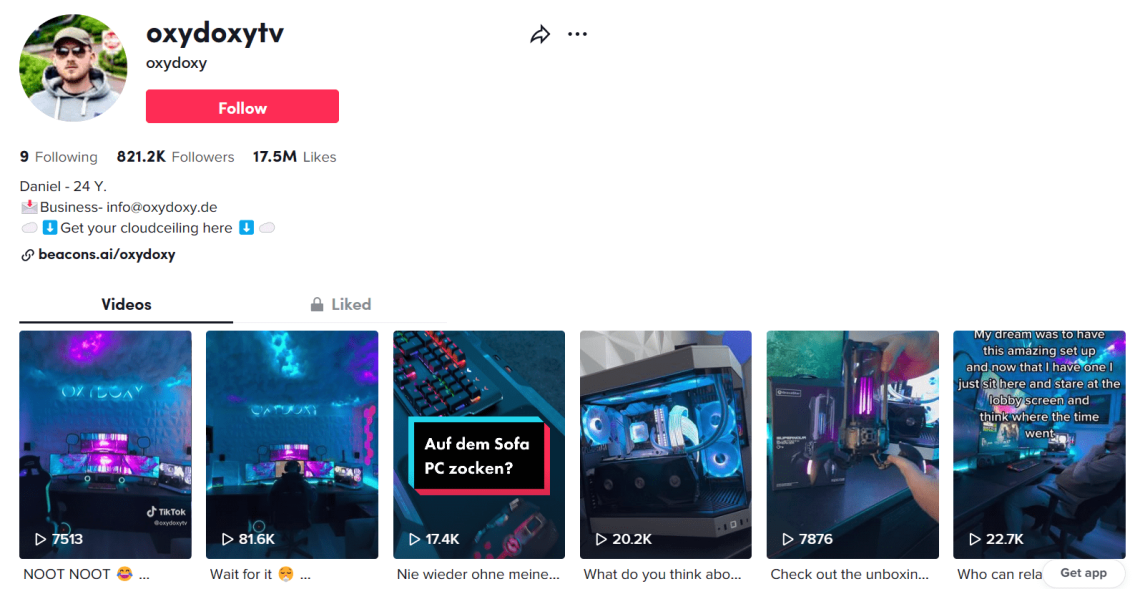 Daniel is a 24-year-old gamer from Germany who is very much into design. This influencer's content is about creating and organizing a nice IT setup. On his TikTok profile, you will find electronic bells and whistles as well as creative, captivating decor ideas. His hallmark is the sky-like ceiling with colorful LEDs.
As for the fact that his TikTok presence dates back to the middle of 2021, he very quickly gained an enthusiastic and avid audience.
He is open to new collaborations, as he claims on his Instagram account. So if Daniel seems one of the right TikTok influencers for your brand, feel free to contact him!
@imaeternal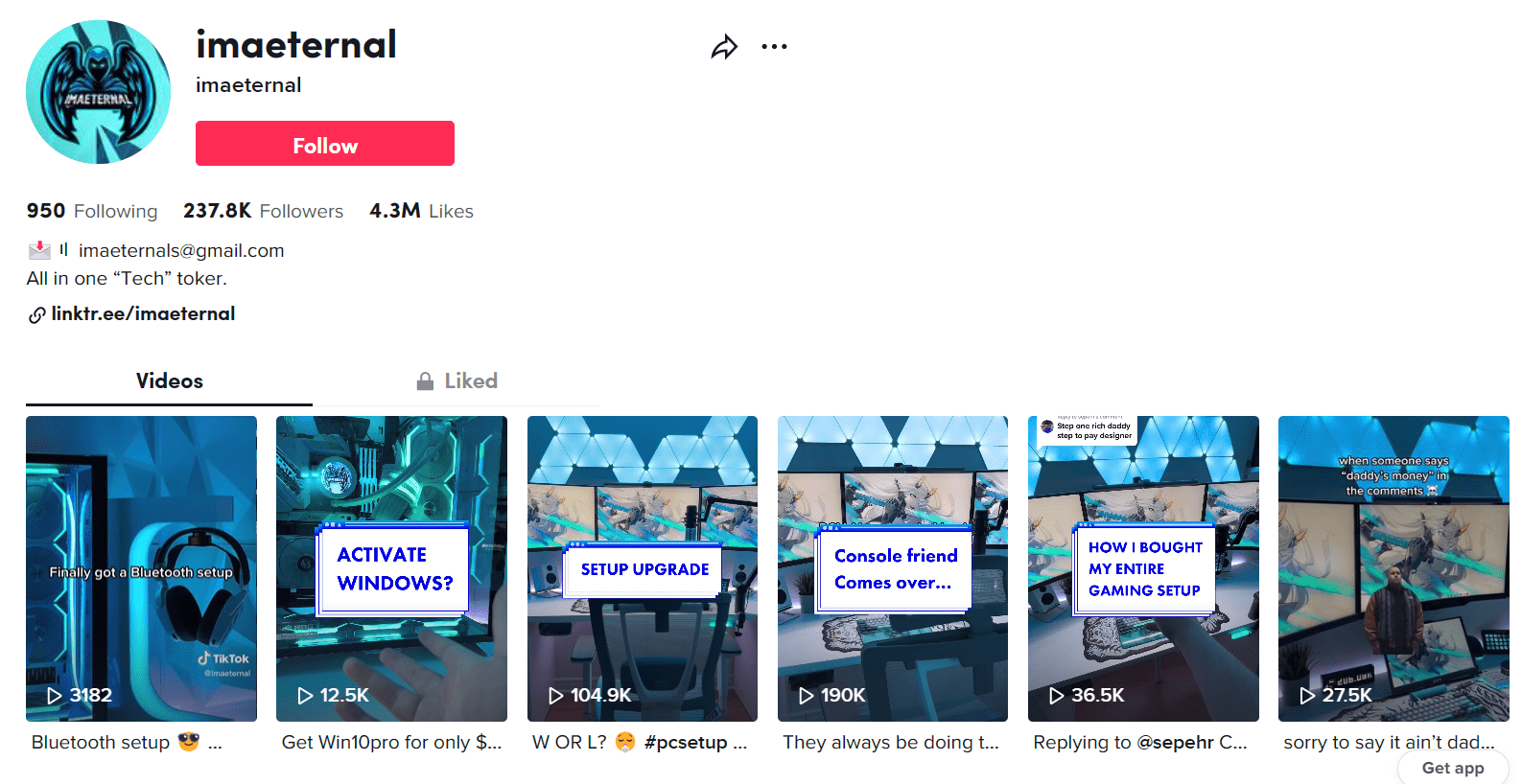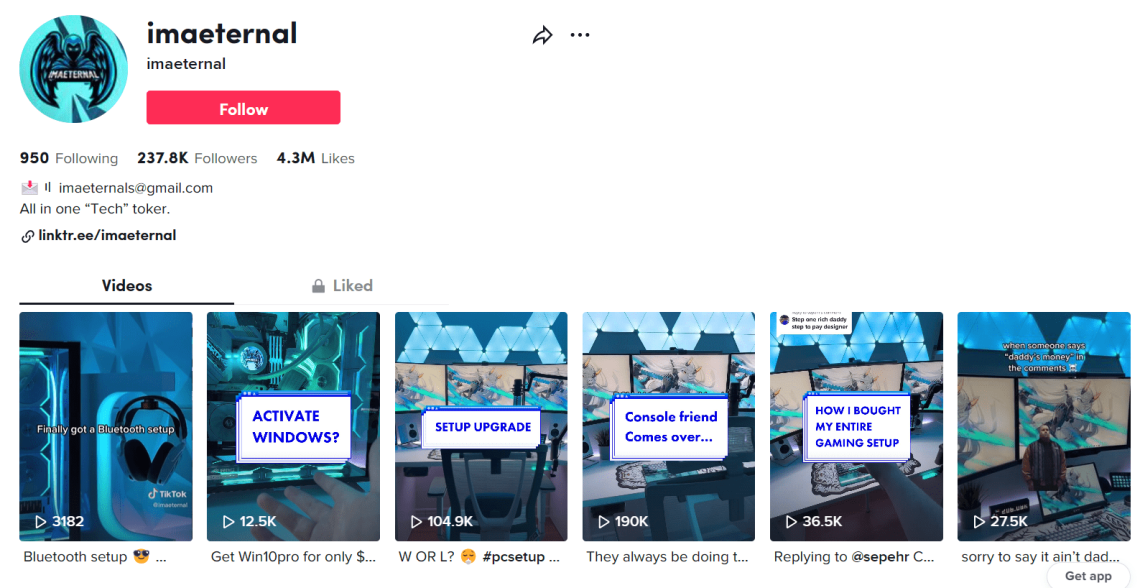 ImaEternal is a Canadian TikTok influencer, gamer, and graphic designer. As you will see on his social media platforms, he's also a design enthusiast.
On his TikTok, ImaEternal presents various hardware he uses on a daily basis. All the technological innovations and gadgets he has can make you feel dizzy!
Fortunately, ImaEternal also shares tips on creating a tremendous computer setup so his followers can try to recreate it.
What's also interesting about this TikTok influencer is that he joined the platform in the beginning of 2021 and, in the last 2 years, gained a vast and engaged public.
@nanomir20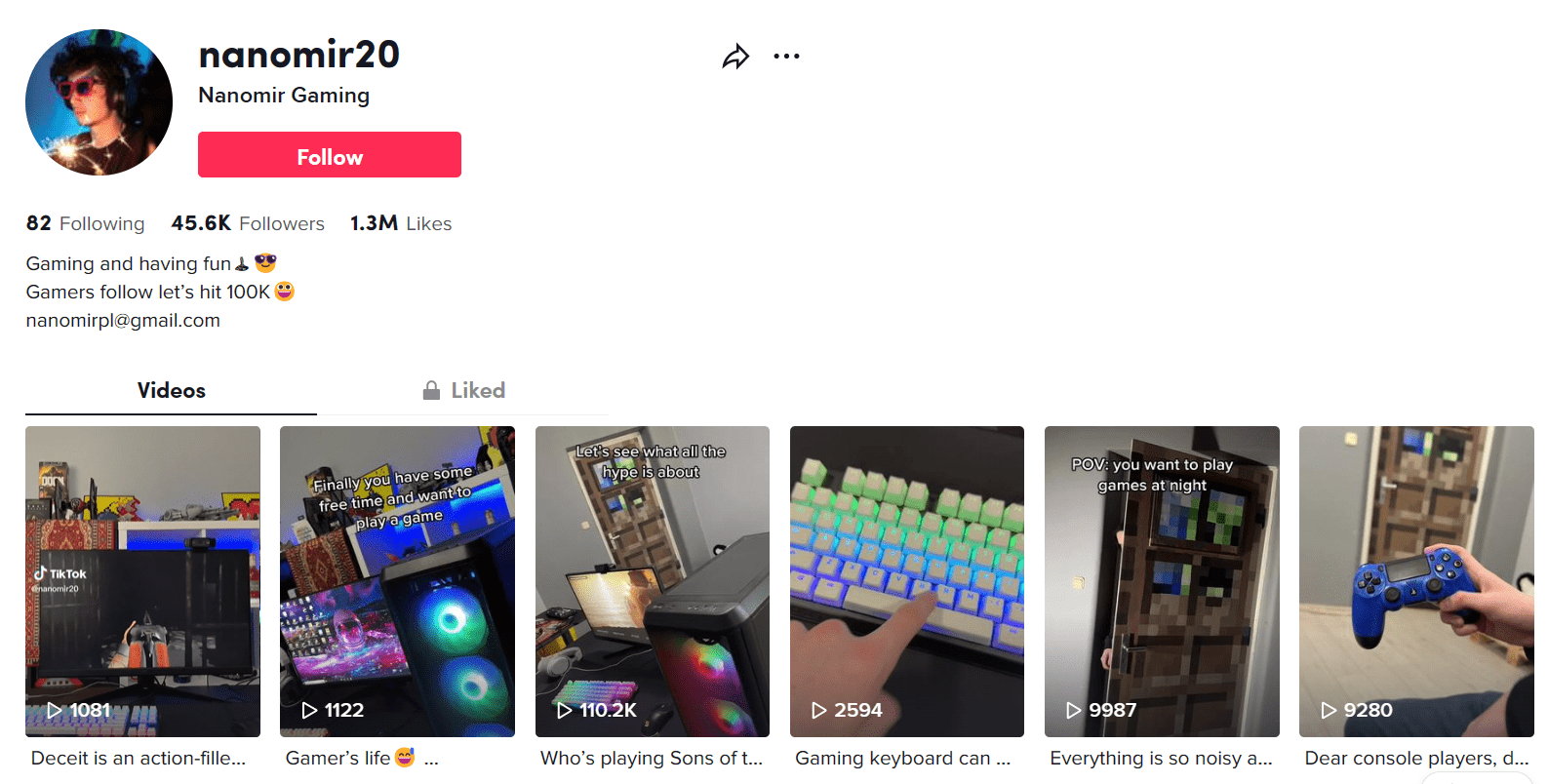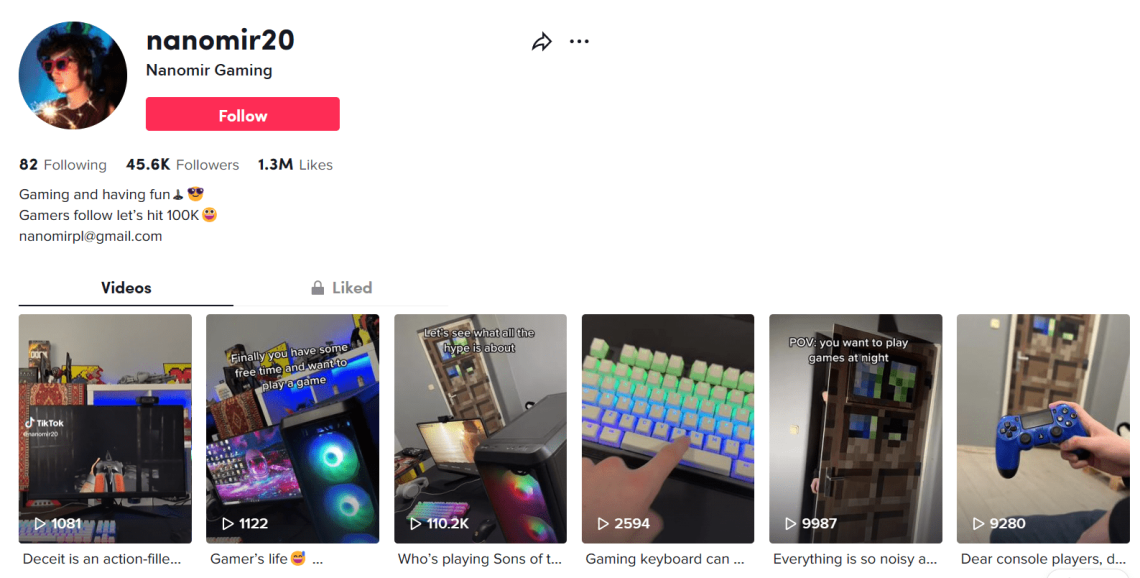 Nanomir is a keen Polish gamer and hardware enthusiast. His setup is less fancy than the two above ones but he is still worth attention.
Besides the components, Nanomir shows various games he considers worth playing, which his gamer followers truly appreciate.
Moreover, he has a unique sense of humor that I personally adore, and even if gaming topics are not my cup of tea, I still enjoy Nanomir's content. His fans also seem to appreciate that, as he started his TikTok influencer career just in 2022 and already has a devoted engaged audience.
Why should you embrace TikTok influencer marketing?
TikTok, since its release in 2016, has constantly been growing. Every day new creators join the platform, and new trends go viral.
Especially in the last few years, the popularity of the platform skyrocketed. No surprise, then, that more and more brands recognize the potential of TikTok influencers.
Find TikTok influencers for your branded content!
TikTok influencer marketing can help you reach new audiences and generate buzz around your products and services.
TikTok influencers are known for their ability to create engaging and shareable content that resonates with their followers. This can translate into increased brand visibility, higher engagement rates, and, eventually, increased sales.
By leveraging the power of TikTok influencer marketing, your business can tap into a vast network of potential customers and take your marketing efforts to the next level.
What's more, it helps you reach the young generations, as they prefer this type of advertisement and are above-average active on TikTok.
Discover the power of TikTok influencers!
To sum up, you already know how to find TikTok influencers based on your business needs. You also had a chance to meet some influencers, so now you know what your TikTok campaign may look like.
Don't forget about your audience analysis while deciding your influencer marketing strategy and choosing people for TikTok marketing collaboration.
Start your influencer marketing today!
Remember all the mentioned steps, and your TikTok influencer marketing efforts will surely pay off!