Social mentions are more than just a feed of online content mentioning your company, product, website, or hashtag in social media. In e-commerce, tracking social media mentions is a door to a whole new world of useful data: customer insights, positive and negative feedback, suggestions of improvement, user generated content, potential brand ambassadors or influencers and more. Let's discover what is social mention.
Social media platforms evolved over the years and their role increased – from social networking sites designed to connect with family and friends over the Internet, they turned into a multibillion-dollar industry that's still growing.
These days, people use social media not only to connect, share holiday photos and memes, but also to consume content, sign up for events, watch videos, ask, recommend, discuss, sell, buy, and, what's crucial here, interact with brands.
Disney|ABC Television, Omnicom Media Group & Insight Strategy Group says that research shows that consumers across all generations want and expect the same things from brands as they do of their friends and family – reliability, authenticity, and the feeling like the brands 'get' them and what's important to them at this point in their lives.
As consumers spend in social media more and more time, companies of all sizes realize that they have to be there, too. It's another market to get into, another way get a bit closer to the customer.
It's one big marketplace where consumers talk about companies, products and services.
And here comes social mention:
What is a mention on social media?
A mention on social media happens when a social media profile makes a reference to a brand on social media.
In other words, in the context of online presence of a business, a social mention happens when a social media user mentions a certain keyword connected to a business.
What can it be?
Brand name
Product name
Service name
Branded hashtag
The name of a marketing campaign
A social mention can transmit business intelligence that can be turned into actions shaping the performance of your business.
Web and social media monitoring tools like Brand24 not only track social media mentions, but also analyze them on numerous levels.

Apart from collecting social media mentions, sites and tools like Social Mention or Brand24 offer analytics to help you make some sense out of the performance of your social media mentions. It can, for example help you measure brand awareness.
Why would you monitor social mentions?
A social mention can carry important information about: 
Customer service: Tracking social media mentions of your business, product or service lets you find your customers who seek assistance and don't use official handle, and don't contact via direct message.
Negative feedback: A bad news travels fast and bad news in social media travels even faster. Trolls and haters at good at making a mountain out of a molehill, and sometimes one negative review can start a snowball effect, and cause a PR crisis. Do you remember United Airlines in 2017? On the other hand, a critical piece of feedback is often valuable in information as it indicates pain points of the product or service, and showcases customer needs. 
Customer feedback: Tracking social media mentions lets you discover customers who share their experiences with a product or service. Apart from reflecting on their customer satisfaction, some customers share also constructive suggestions of improvements.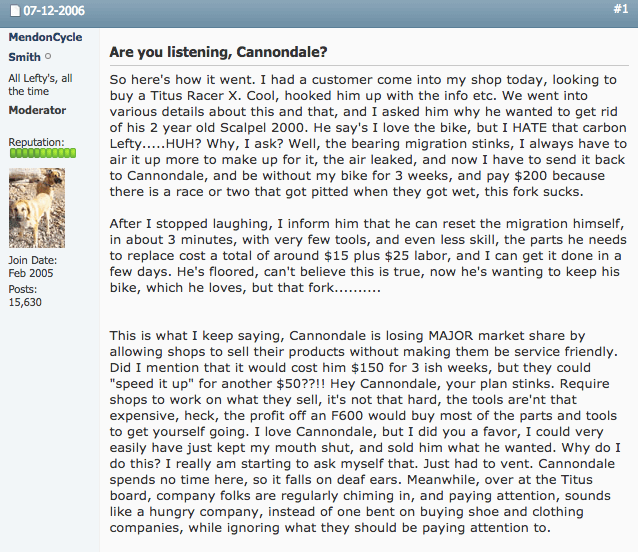 Customer engagement: With the ability to track social mention in real time, you get mentions the moment they appear online. It means you can quickly respond to people talking about your business and show that you're there for them. Consumers on the web expect brands to react almost immediately. Fast reaction time is always highly regarded by the customer.
Sales: Social selling is a sales technique which uses social media to generate leads. To find leads in social media, one has to track social mention connected to one's product or service. Using this technique, sales people directly reach out to people asking for product and service recommendations in social media.
Influencer marketing: By tracking social mentions, you can detect profiles and authors that often talk about your business, product, or industry. This is how you discover people who might become your brand advocates and supporters. Here's more about who are micro influencers and how to find them.
Key performance indicators: Social mentions can be put into numbers. With the right tools, you can keep track of the online presence of your brand. You can track, for example, volume of mentions, number of interactions, social media reach, or sentiment analysis of your social mentions.
Hashtag analytics: You can also count the number of tweets mentioning your hashtags, count their social media reach, and number of interactions.
Is tracking social media mentions for you?
Tracking social mentions is for companies of all sizes. What makes a difference is the volume of social media buzz companies get.
A bigger company, say UBER, probably generates more buzz in social media than a smaller company.
Still, this doesn't mean tracking social media mentions is pointless.
In the case of small companies, it's particularly important to track what people say about them online in the early phase of business development – customer feedback at this stage is extremely valuable, and can shape the business.
At Brand24, we ask our dear customers why they monitor social mention. To keep track of what brings them to us, we have a Global Sales spreadsheet where we put what they want to do with Brand24. Here's what they say:
They are launching their new product soon, and wanted to see how competition handles the marketing online.

They want to monitor tele-com brands in Korea, it's their client's wish – social mention monitoring for agencies
Monitoring the performance of their campaigns
Investigating their market, measuring event effectiveness
Looking for mentions round their new game
There's more. 
How to monitor social media mentions?
First, create a free Brand24 account.
Then, enter keywords connected to your business, for example:
Company name
Product name
Service name
Hashtag
Website address 
CEO's name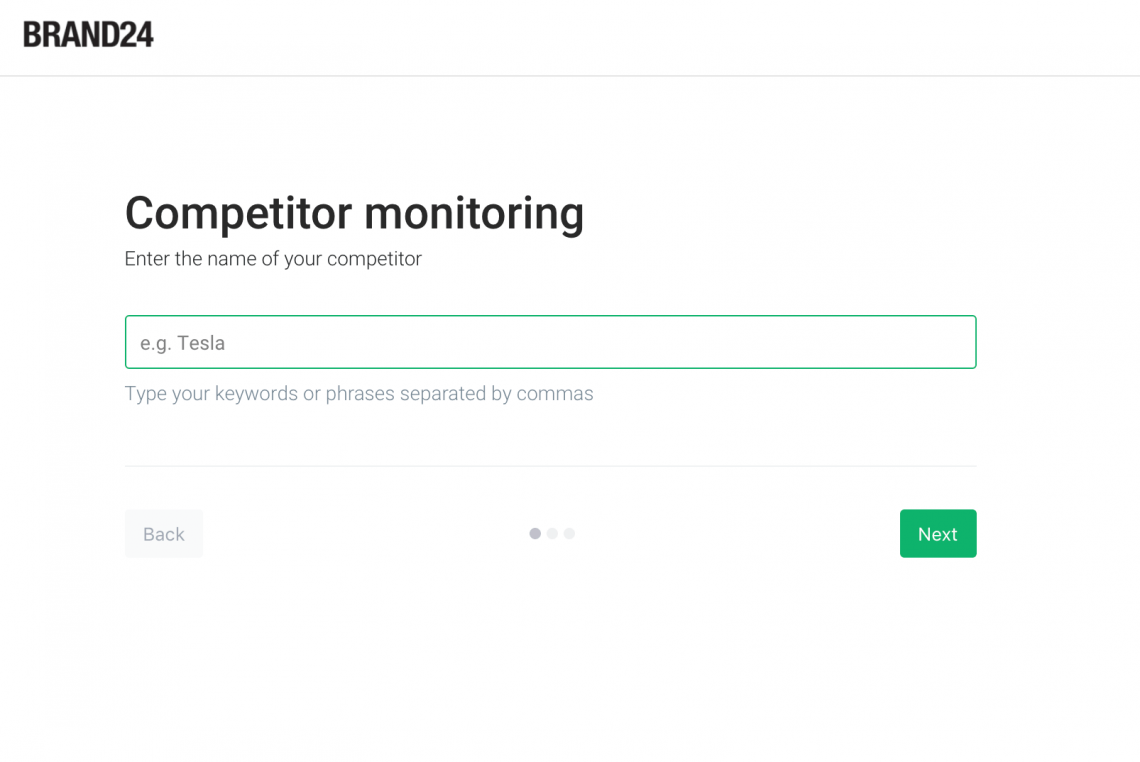 The tool now starts collecting your social mentions. 
Apart from mentions, you get access to various metrics and analyses, that will help you understand the performance of your mentions.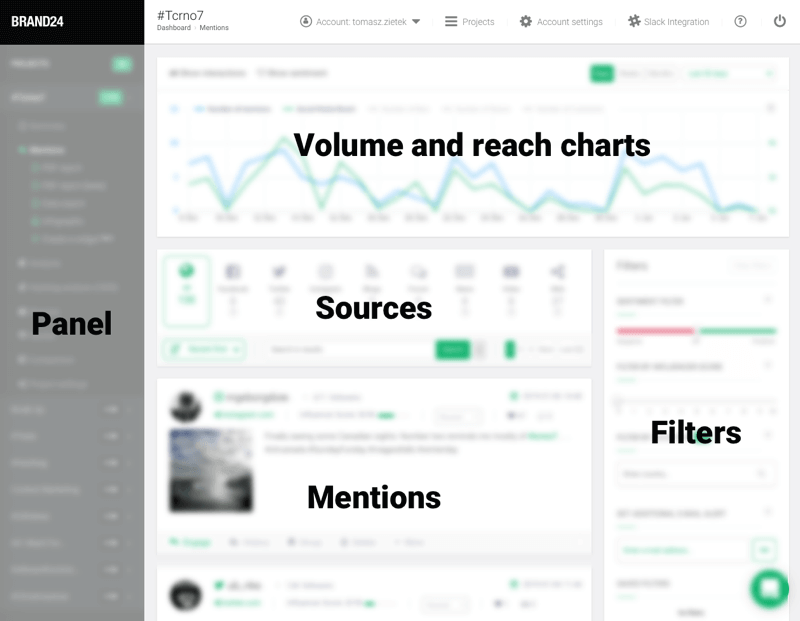 Important! Media monitoring tools don't collect 100% accurate historical data.
And this is how a social mention looks like in Brand24:

In the picture we can see:
Author's name
Number of followers (in case of social media profile)
Source
Influencer score
The number of interactions
Date.
Content of the social media mention
Options
The most important bits of data are gathered in the Analysis tab. Analysis tab is the heart of your project. It contains information about:
The most popular authors
The most popular mentions
Numerical summary of your project
Influence of social media authors
Mentions by category
+ more!
---
---