Table of contents:
---
Tracking social mentions gives much, much more than a feed of pieces of content mentioning your company, website, blog or whatnot. If used knowingly, insights and analytics from social mentions open a door to a whole new world of benefits in e-commerce, digital marketing and social media.
Sadly, according to Altimeter's study, 39% of companies with digital and social media presence don't use social media analytics.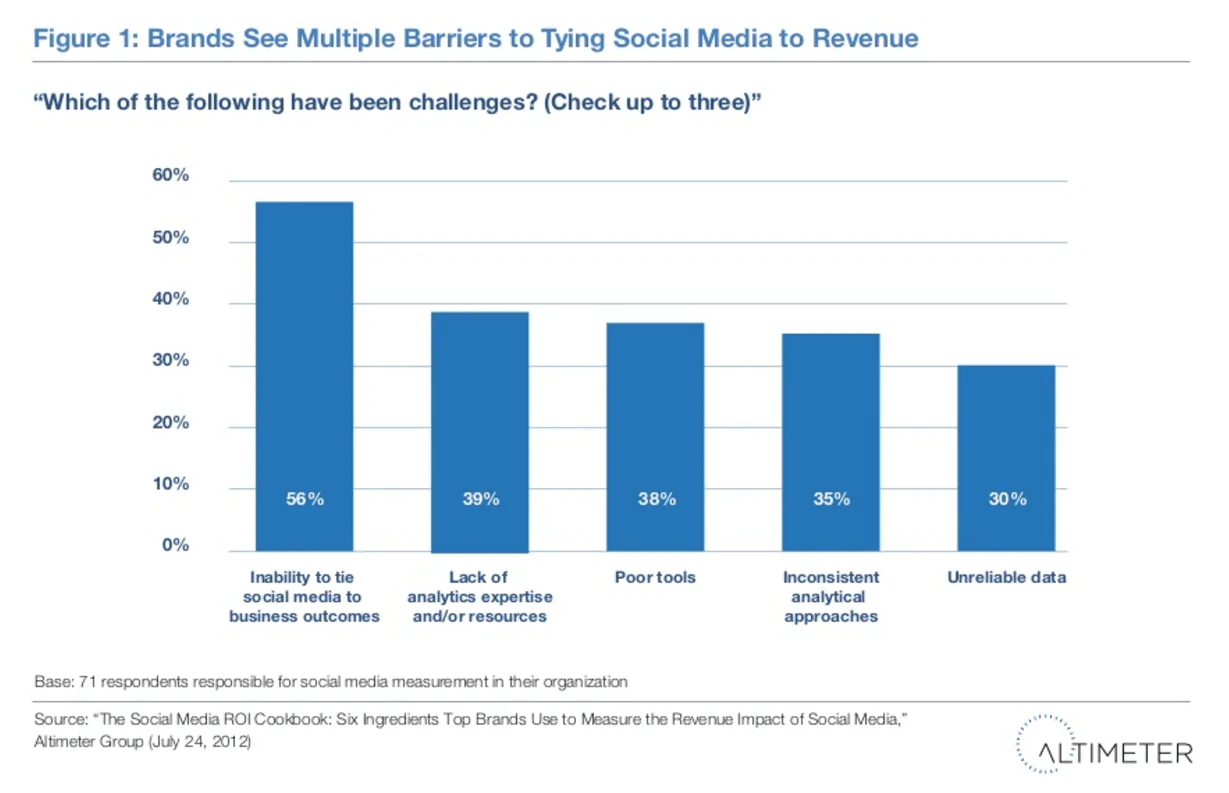 Here are the conclusions from the study:
56% of companies are unaware of ROIs from tracking social media performance.
39% of companies don't monitor social media performance due to lack of analytics expertise or resources.
38% of companies use ineffective tools.
35% of companies struggle to maintain a consistent analytical approach. 
30% of companies work on unreliable data.
Please, share this meme to spread the message.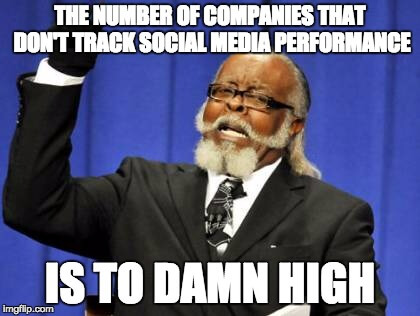 Having this in mind, I'll discuss the benefits of tracking social mentions. As I mentioned before, it's much more than a feed of sources mentioning your keywords.
What is Social Mention?
First of all, let's establish what a social mention is.
Social mention happens when a social media or a web source mentions a certain keyword or phrase. One can monitor social mentions using a plethora of tools starting with Social Mention, Google Alerts, ending with Brand24 and others.
Such tools are categorized as social media monitoring or social listening tools.
They monitor websites, blogs, discussion forums and social media in the search of sources mentioning predefined keywords. Such social mentions are collected in a feed in real time.
Apart from the feed, social media monitoring tools offer analytics that help you make some sense out of your social mentions.
Why Would You Monitor Social Mentions?
At the first glance, social mentions is just a feed of online pieces of content mentioning keywords of some relevance to your online activity.
However, if put in certain context, social mentions get a completely new value and application for an online presence.
In most cases, tracking social mentions is used in following ares of business:
Customer service: tracking social mentions of your company, product or service name helps you find your customers seeking assistance or expressing dissatisfaction online.
Customer feedback: tracking social mentions of your company, product or service name spots customers describing their customer experience: satisfaction, pain points, or improvement suggestions.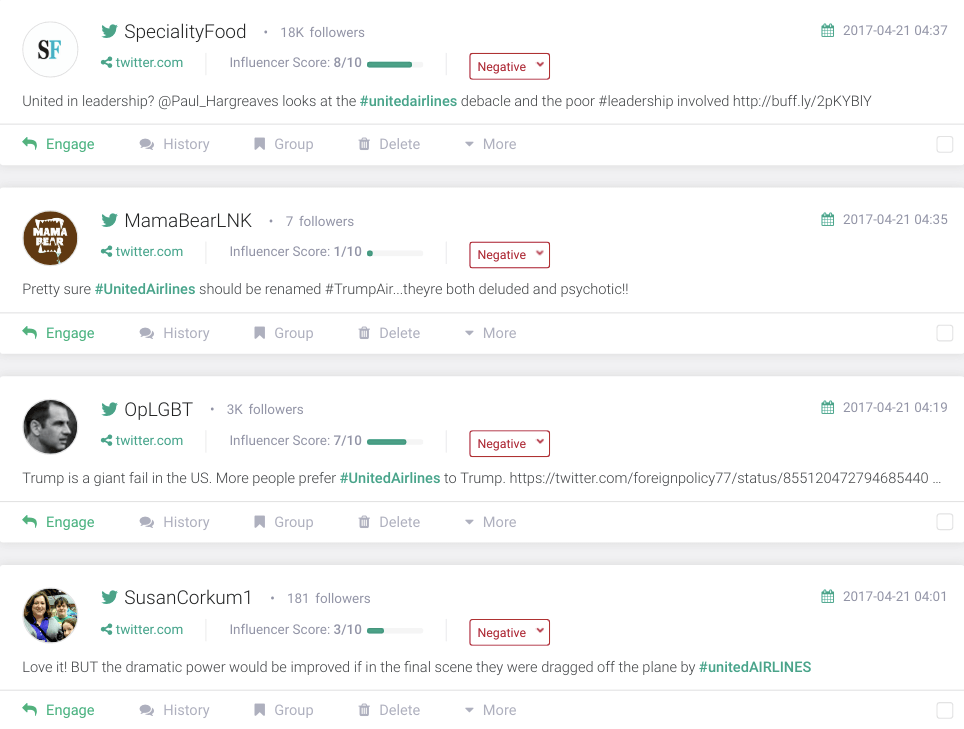 Reputation management: following the feed of relevant social mentions gives your the picture of what your customers think about you.
Customer engagement: companies collecting social mentions respond to them and interact with customers which improves customer experience.
And a response:
Sales: tracking social mentions relevant to what you do allows detecting sales opportunities.
Finding the right websites for paid ad campaigns: social media monitoring tools detect sources that most often mention keywords, have the most engaging users, or are influential in terms of monthly views. This is how you can find places to run ad campaigns that are perfect match for what you do.

Influencer marketing: tools tracking social mentions detect social media authors that most often mention your keywords and engage pieces of content mentioning your keywords. This is how you discover people to cooperate with. Here's more about influencer marketing.
Research: you can collect social mentions of any keyword or phrase, for example, content promotion strategy, wedding gift ideas, cat videos, or trending instagram hashtags. Companies use social media monitoring tools to monitor their industries to stay on top of novelties.
The above-mentioned applications translate into considerable ROI from using social media monitoring. It's like a couple of tools in one.
Tracking social mentions using, for example, Brand24 provides also additional insights into the analytical side of social mentions.
Instagram, Twitter and Facebook hashtag analytics: Social media monitoring tools allow not only tracking social mentions but also analyzing their performance. It means you can use your company, business or event hashtag as a keyword. In Brand24, you can count the number of tweets and mentions including your hashtags, count their social media reach and number of interactions. What's more, you can identify social media authors who mention your hashtag most often and have considerable online influence.
Uncovering direct / (not set) traffic in Google Analytics: Direct traffic makes a huge part of overall website traffic. The problem is that its sources are undetectable by Google Analytics. Following social mentions of your, for example, company name lets you find websites that mentioned your company at the same time exposing your company to wide audience. Here's more about detecting direct / (not set) traffic using social media monitoring.
Measuring the results of marketing campaigns: Similarly to hashtag analytics, tracking social mentions of your campaigns name lets you discover their social media impact: number of mentions, engagement, social media reach and more.
Are Social Mentions of Interest to Your Business?
Tracking social mentions is for companies of all sizes. What may differ is the capacity to manage a social media monitoring tool.
A company like UBER certainly has more resources to spare for tracking social mentions and making use of them. Big companies can have a separate department that takes care of their social media monitoring.
For small companies, tracking social mentions help find customers, monitor the number of mentions, social media reach, monitor company hashtag and more.
At Brand24, we ask our customers why they want to monitor social mentions and use Brand24 analytics tool for it. Here are some of their reasons:
They are launching their new product soon, and wanted to see how competition handles the marketing online.

They want to monitor tele-com brands in Korea, it's their client's wish.

Monitoring the performance of their campaigns

His own brand, looking for instagram mentions about his products

investigating their market, measuring event effectiveness

His own brand, looking for instagram mentions about his products

Looking for mentions round thier new game
This is just a small fraction of reasons.
How to Monitor Social Mentions?
If you feel like want to give it a try, create a free Brand24 account. No credit card required.
Here you enter your keywords.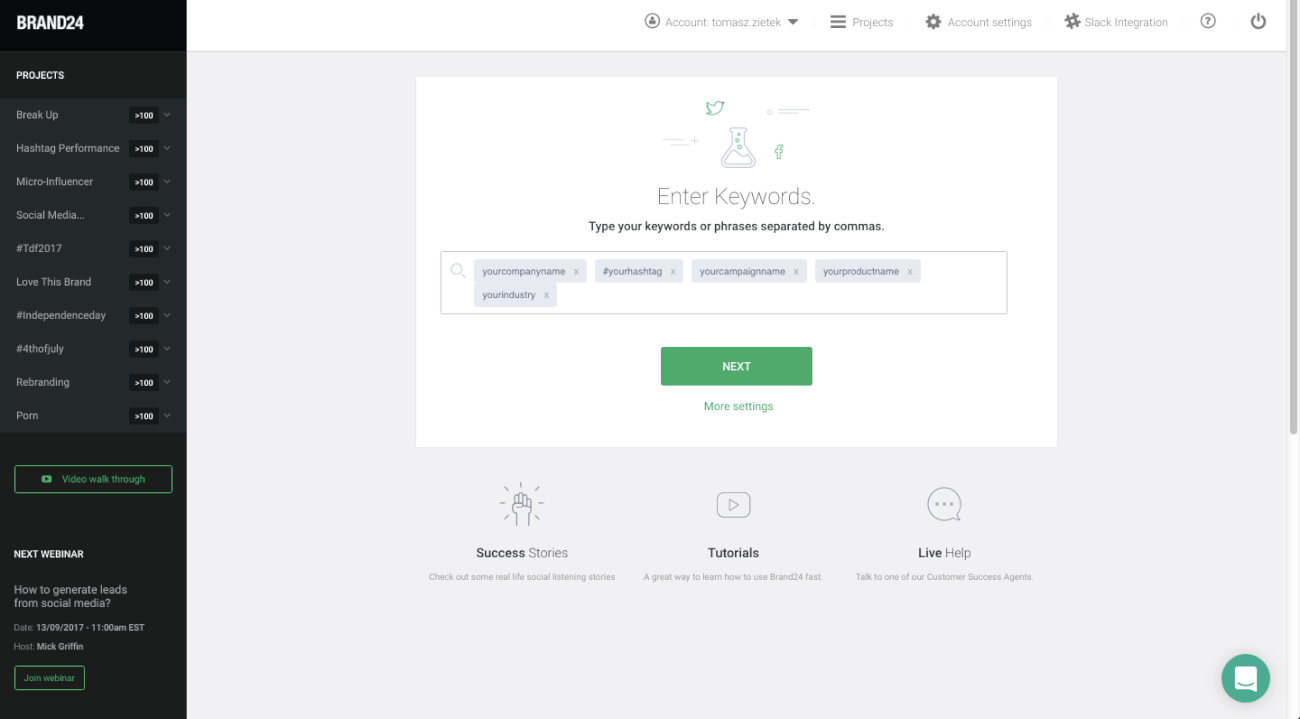 Have a closer look at the panel.
Important! Social media monitoring tools in general don't collect 100% accurate historical data.
Once you create your first project, Brand24 welcomes you in the summary tab. This is where you can see your project's most important KPIs.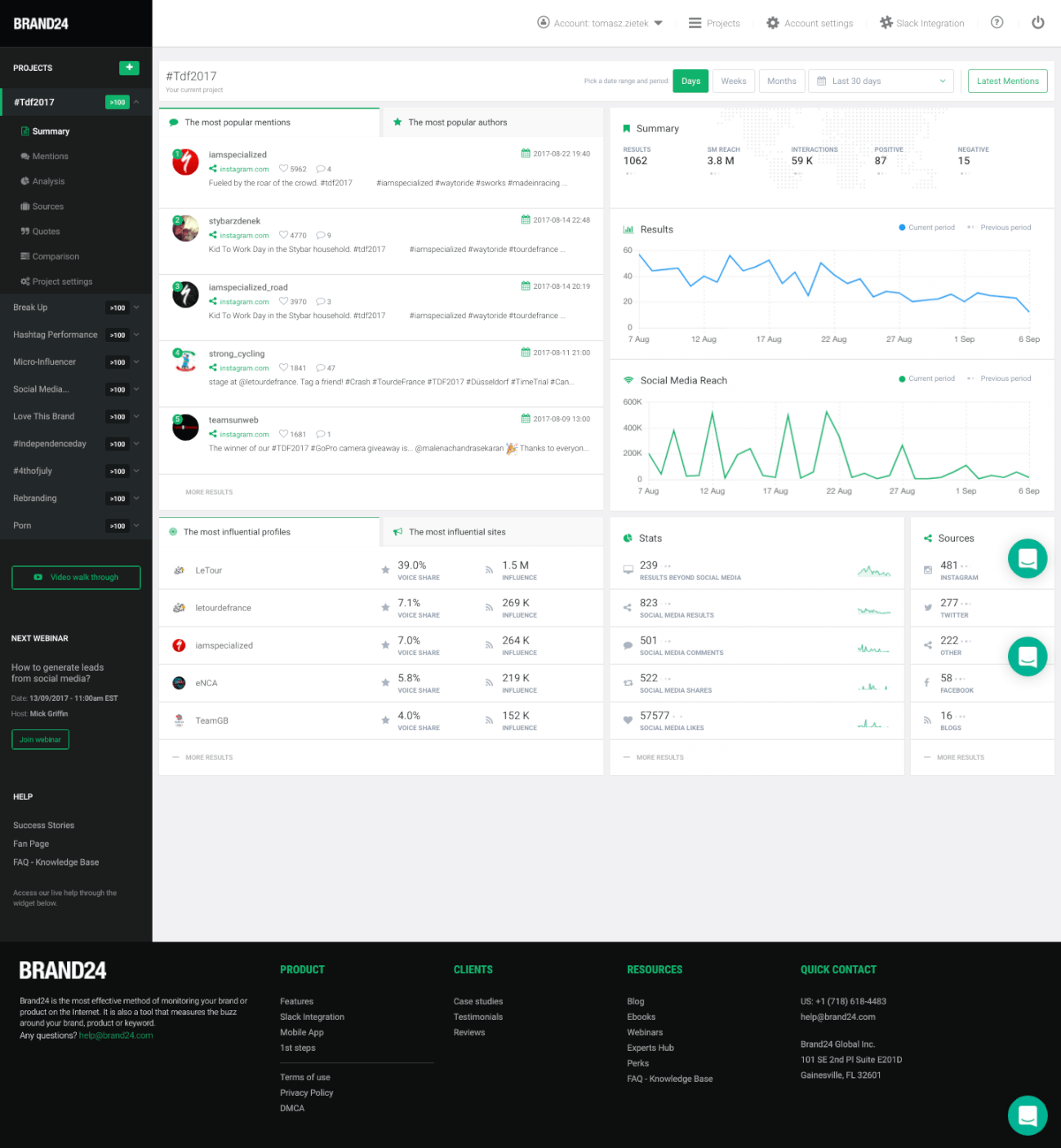 Have a closer look at the panel.
To see all newly arriving mentions, sources, graphs, filters, go to the mentions tab which looks like this: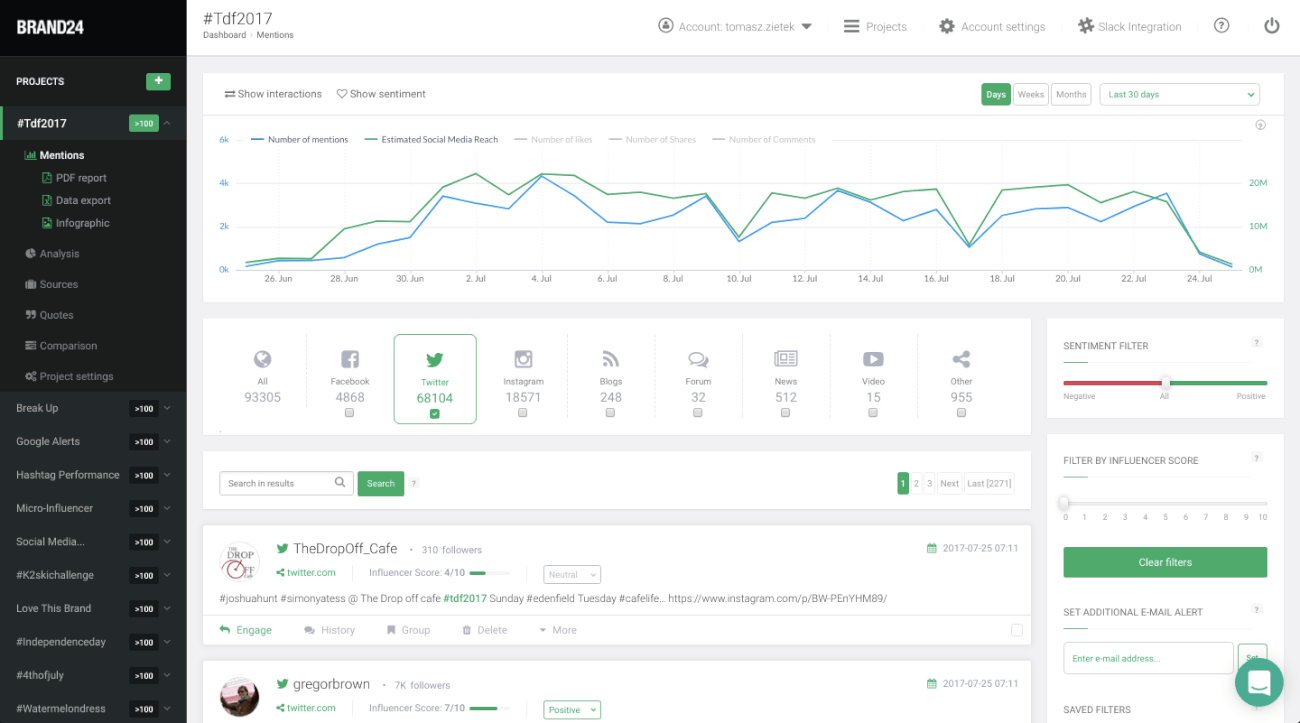 Have a closer look at the panel.
This is where all social mentions arrive. You can also receive them in one of your Slack channels or via mobile app.
And this is how a social mention looks like in Brand24:

Have a closer look at the panel.
In the picture we can see:
Author's name.
Number of followers (in case of social media profile).
Source.
Influencer score.
The number of interactions.
Date.
Content of the social media mention.
Options.
The most important bits of data are gathered in the analysis tab.

Have a closer look at the panel.
Analysis tab is the heart of your project. It contains information about:
The most popular authors.
The most popular mentions.
Numerical summary of your project.
Influence of social media authors.
Mentions by category.
+ more!
---
---