What's the best influencer marketing platform?
November 6, 2020 ・ 6 min read
Influencer marketing has been consequently growing in popularity in recent years and it's proven to be very effective, as long as it's conducted wisely. Research shows that there are still many challenges that marketers need to face while creating influencer campaigns. That's why, for those who want to start or master collaborating with influencers, an influencer marketing platform should become one of the first tools to log in every morning.
Influencer marketing platforms come in handy in many different scenarios, and most of them offer various functions. New solutions are constantly being created and most of them serve for multiple purposes and they differ when it comes to their features.
One of the solutions that works as an influencer marketing platform is Brand24. In this article, you will find out which features serve for influencer marketing and how to use them in order to master this form of digital marketing. 
Influencer marketing: What, when, and why?
Influencer marketing is a form of digital marketing that bases on collaboration between brands and influencers in order to promote specific products or services.
When influencer marketing?
Influencer marketing can be beneficial for many types of businesses, but definitely not all of them. First and foremost, there are a couple of important conditions that are essential to meet if you want it to be successful.
A lot depends on the target group your company caters to, thus make sure to discover consumer insights to find out if influencer marketing is suitable for your brand and worth your investment.
Next, set a couple of goals and reasons why you want to do influencer marketing. As I said, it's not for everyone so you shouldn't do it just because it's trendy.
Consider influencer marketing if only it will help your specific type of business reach your existing target group or communicate with a new audience that you are planning on targeting.
Remember to collaborate with influencers whose audience corresponds with your clients and potential customers. Consider collaborating with micro-influencers as well, if you don't have enough budget to work with the most popular people. Mico-influencers are effective as well. Their relationship with their followers is very strong.
Why influencer marketing?
There are both positives and negatives effects of influencer marketing possible. Sometimes the results may not overlap with a company's goals or objectives. As I mentioned earlier – as soon as this type of digital marketing is conducted wisely, there are few things that can go wrong. Here is also where influencer marketing platforms come in handy. They can help out a lot to make the whole process a lot more effective both when it comes to costs and results.
Recommendations coming from influencers are valuable because what actually leads people's shopping decisions are other customers' opinions or reviews.
93% of consumers say online reviews impact their purchasing decisions.
Reviews are even more powerful when coming from influencers, who often are considered to be role models for many. As we know, they are people who have an extreme power of forming opinions and inspiring others, so most of their loyal followers, trust them when making purchasing decisions.
Influencers' recommendations of brands or products become a reference point for the followers who are potential buyers. In this way, influencer marketing helps to reach a wider audience, grow brand awareness or increase sales and traffic.
Brand24: Influencer marketing platform
Brand24 is a social media monitoring tool that can equally be used as an influencer marketing platform. The solution can help in different stages of planning, executing and measuring influencer marketing campaigns. 
Identify and collaborate with influencers.
Influencer marketing platforms allow you to find top influencers in your niche and collaborate with them. Brand24 simply helps you make conscious decisions about who you should be collaborating with.
Find micro-influencers.
If you don't have a big budget to spend on influencer marketing, Brand24 works perfectly for identifying

micro-influencers

, that may not have a huge following, but their audience is definitely more loyal and engaged. It makes them very valuable for your business.
Research.
As I said earlier, research is an important part of every influencer marketing campaign. Brand24 as a social media monitoring tool makes it easier to discover insights about your target audience and how to target the campaign.
Track campaigns.
Influencer marketing platform like Brand24 helps you with monitoring campaigns, tracking hashtags, and influencers that you are collaborating with. Moreover, it measures the sentiment around your campaign, helps you find feedback, and keep up with real-time results.
Measure the effectiveness of campaigns.
Measuring results in an important part of every influencer marketing campaign. It helps you draw conclusions and find out if there are any improvements that need to be done in the future. Brand24 as an influencer marketing platform does a lot of analysis and valuable measures including Brand Reach or Brand Reputation.
How to start using an influencer marketing platform?
Create your monitoring project and enter keywords that you want to track.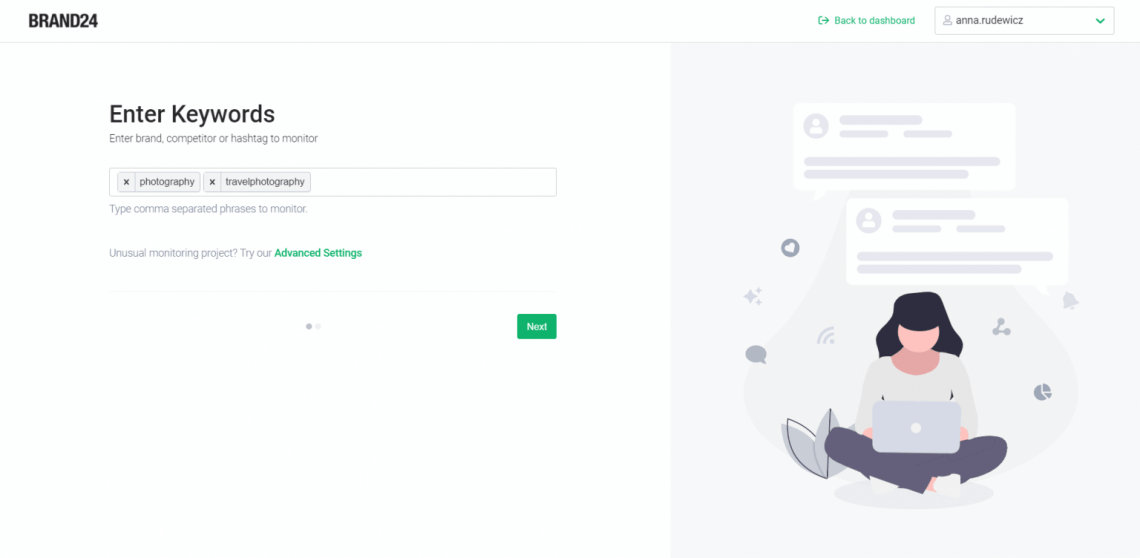 Depending if you want to find influencers, track influencer marketing campaigns, or measure the effectiveness of it, the keywords may be different. They can relate to:
The name of your company;
Your branded hashtag;
A term specific to your industry;
Your campaign-specific hashtag;
@Influencer's profile.
Start using the game-changing influencer marketing platform!
Influence score – identify influencers with Brand24
If you are planning an influencer marketing campaign, you need to choose wisely who exactly do you want to collaborate with. Research shows that 61% of marketers still find it difficult to identify relevant influencers to collaborate with. Influencer marketing platform like Brand24, fortunately, makes it easier to identify the right influencers and reach out to them.
Brand24 offers a metric called Influence score that calculates the impact and authority of influencers in your niche.
Inside the platform, you will see mentions that include your monitored keywords. You will be able to filter results by their influence score or other metrics, or choose a platform that you want to focus on.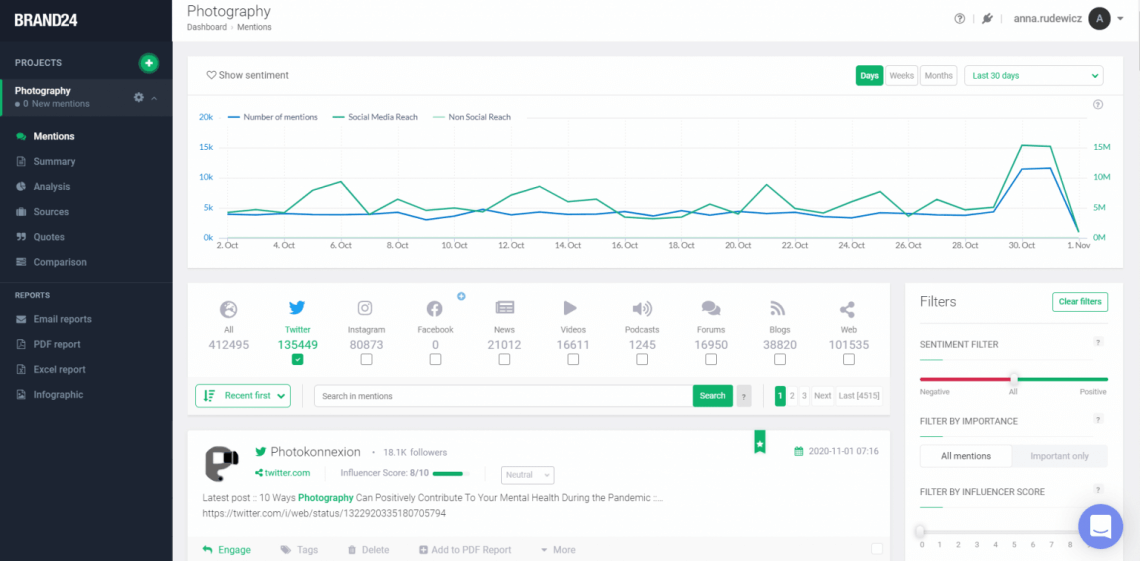 If you want to identify an influencer, focus on the influence score that will be measured for each discussion participant, or metrics like the number of followers, engagement, number of monthly visits on blogs or websites.
Inside the Analysis tab, you'll find additional lists of influencers that are the most popular or most active.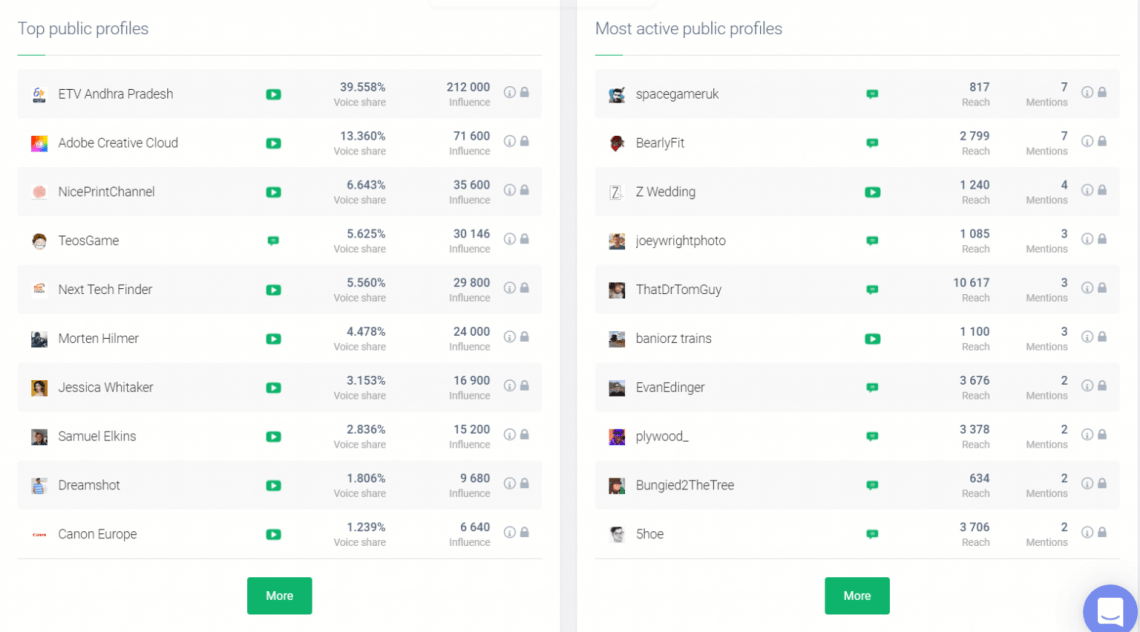 Check out this video, if you want to find more on how to find influencers with influencer marketing platform.
How to measure campaign's effectiveness with an influencer marketing platform?
If you want to track or measure the effectiveness of campaigns, make sure to follow graphs and see if your Brand reach is growing, and check if the sentiment around your campaign is positive. Following your brand will help you keep up with all the mentions that the influencers you are collaborating with are posting.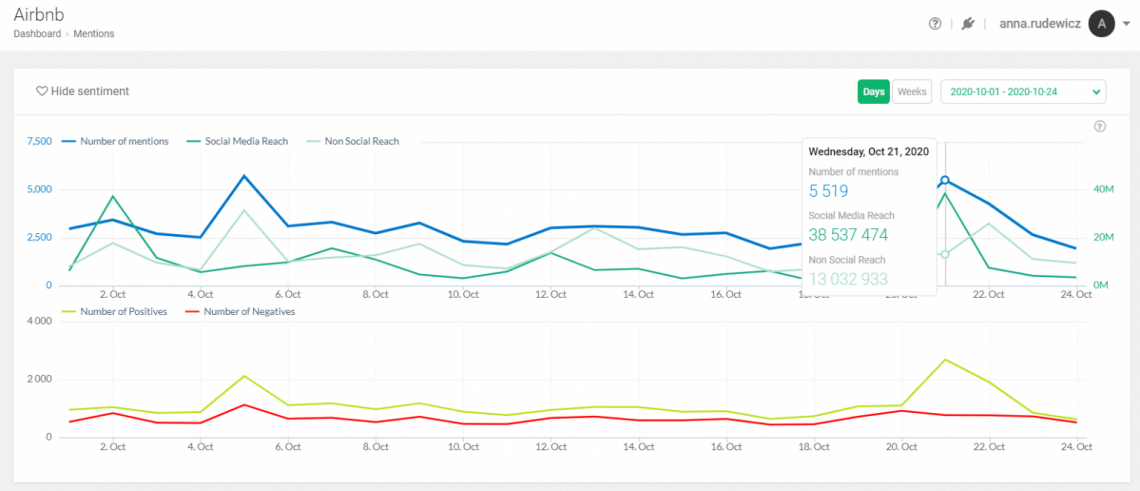 Check how your campaigns are performing with Brand24!
Inside the Analysis tab, you will see even more metrics that will give you the idea of how your influencer marketing campaign is performing.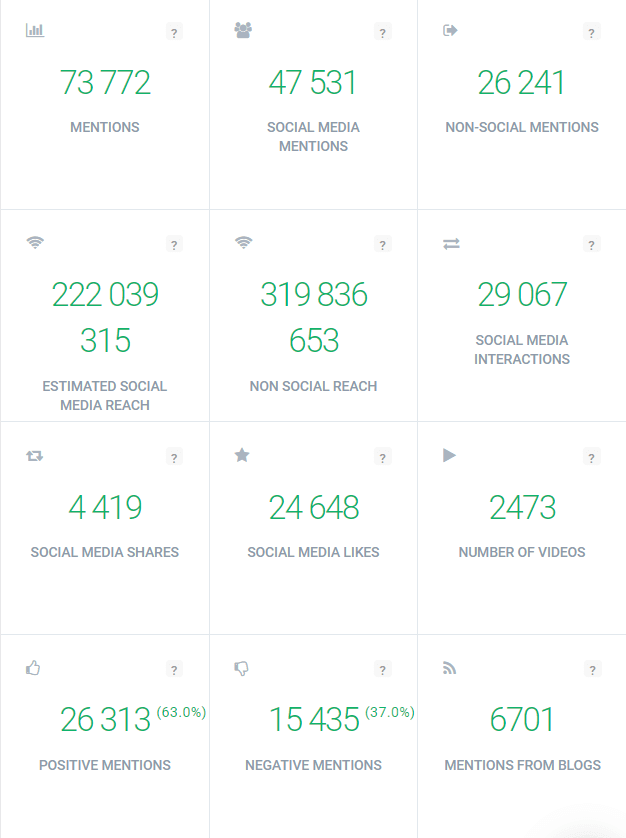 Choosing influencers with an influencer marketing platform
Most importantly, you should choose a person that you feel like would reflect your brand's values and beliefs the best and who genuinely supports you. Your collaboration with social media influencers can be really effective, as soon as you decide to employ the right person. How to find them?
Search for people who:
Use and know your products or services – influencers often tag brands in their posts, photos, or videos. Collaborating with people who already know and support your company can be very effective.
Are trustworthy,
Are in some way connected to your industry,
Create valuable content,
Reflects the values of your company,
Has a decent amount of (real) followers and reach,
Engages with the audience.
How to collaborate with influencers?
As soon as you find valuable influencers to collaborate with, reach out to them and propose cooperation. Run a conversation about the terms and conditions of your collaboration.
Agree on a mutual campaign's idea. You can be the one who has a concept on how the campaign should look like, but I feel like influencers' input and own idea on it is very important as well – they are the ones who know best how to reach and include their audience.
Make sure to also give the influencers guidelines and provide them with your ideas on how the campaign should look like and what kind of tone it should have. As soon as they are sure of what they are doing and they believe in your brand, their message and contribution will be more sincere and genuine.