7 Best PR Monitoring Tools to Help Your Business Stay Ahead + 3 Free Tools!
February 13, 2023 ・ 14 min read
In the age of social media, businesses of all sizes are discovering the importance of monitoring their public relations. From small businesses to large corporations, PR monitoring tools are essential for keeping tabs on how you're perceived in the public eye.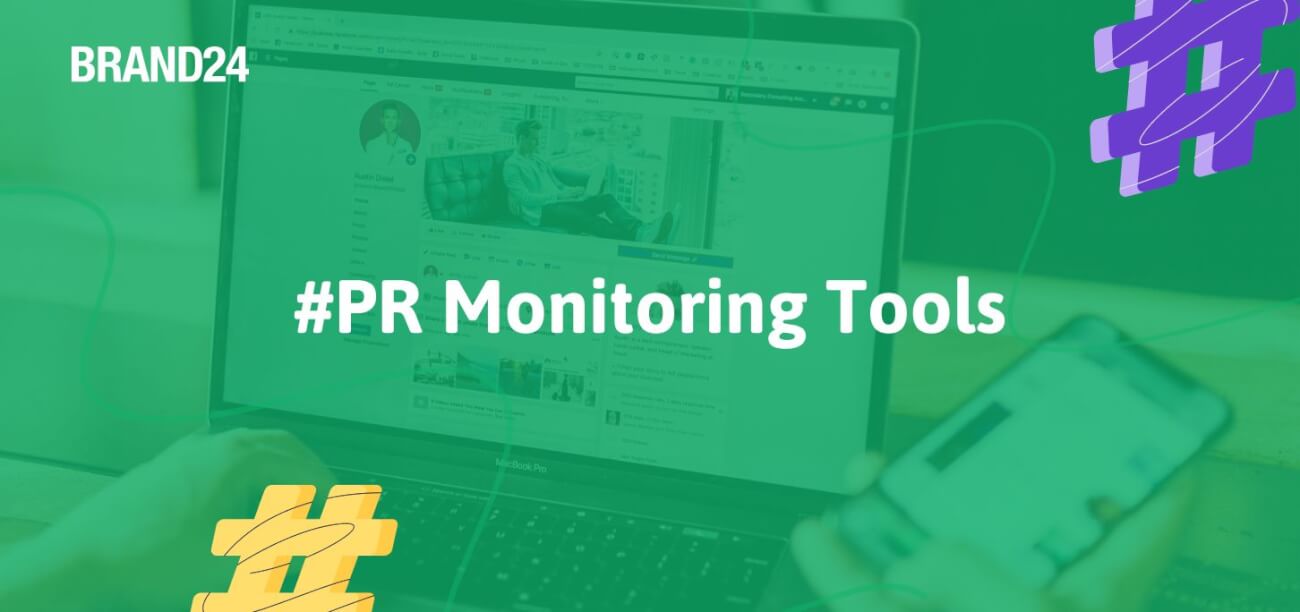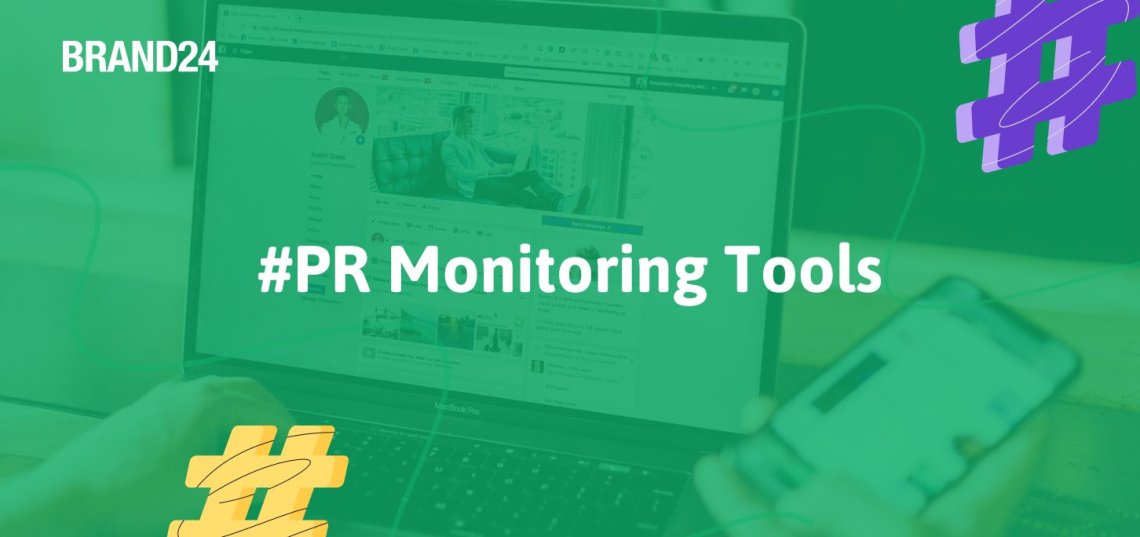 These tools for PR professionals help you track online conversations, measure sentiment, and identify influencers who can help you spread your message. They can also deliver eye-opening insights about your industry.
With so many PR monitoring tools out there, it can be difficult to know which ones are the best. That's why we've created this list of the 10 best PR monitoring tools for businesses looking to keep a close eye on their public relations.
As a quick preface, I would like to explain that all of these tools have similar features. Each is used for media monitoring of various kinds. I'm only going to list each tool's unique features so as not to repeat the same information.
Let's dive right into it!
Best PR monitoring tools:
01 Brand24
Brand24 is a powerful media monitoring tool that allows businesses to track and analyze conversations across the Internet. It provides an efficient way to monitor public opinion, brand sentiment, and competitor activity by searching for the keywords that you provide.
Brand24 can help with PR monitoring by giving businesses an insight into how their brand is being talked about online. It allows you to track media mentions of your brand, analyze sentiment, and measure engagement. This can help you take the necessary steps to improve your public image, as well as better understand the conversations that are happening around your brand.
Rating: 4.6 based on 213 reviews (G2)
Pricing: Free 14-day trial, paid plans start from $79 a month.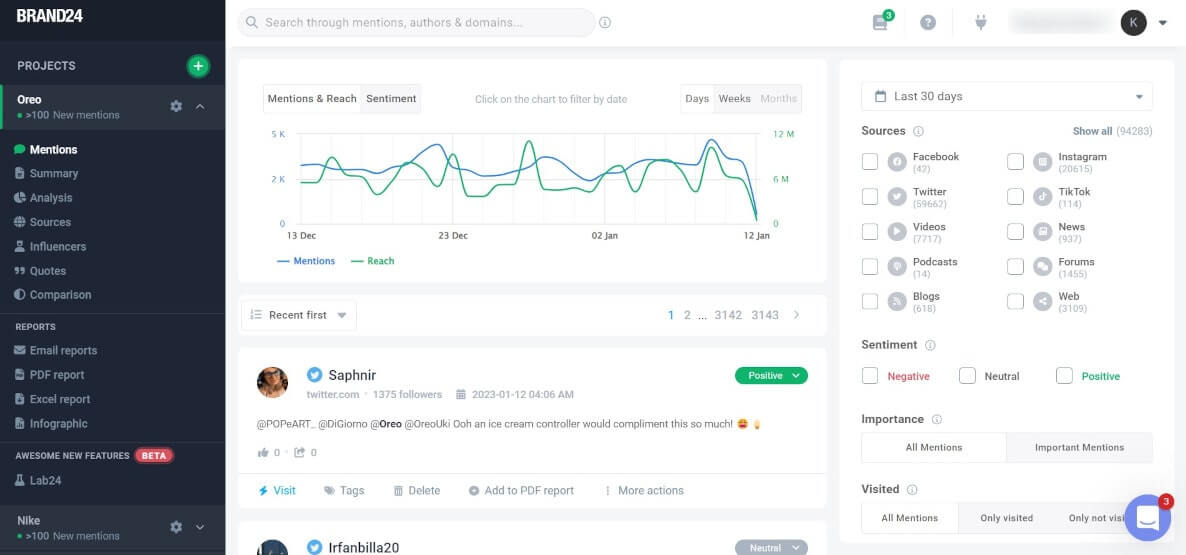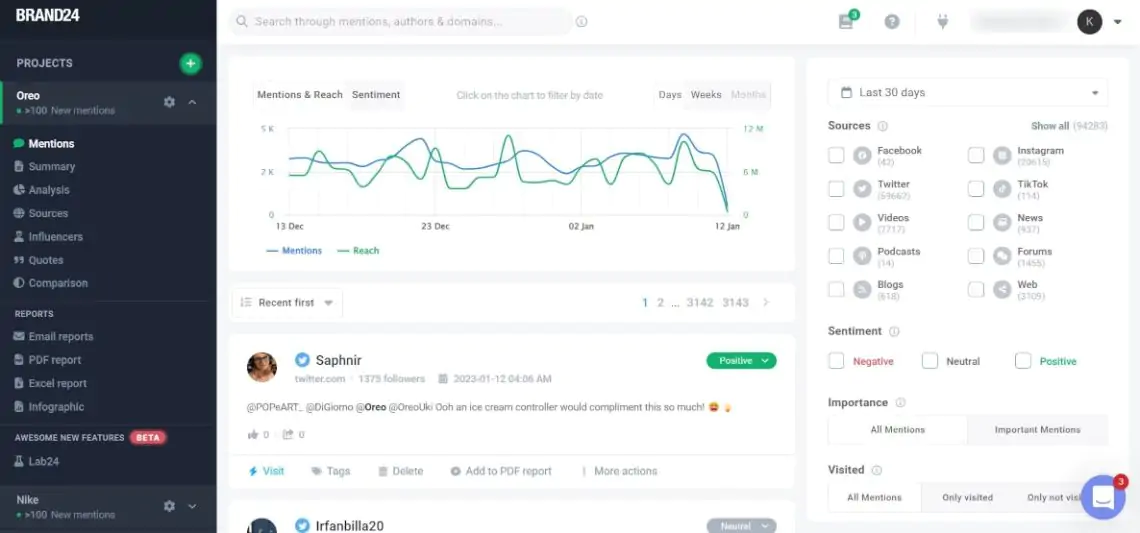 Unique features:
Presence Score – Businesses use the score to monitor the level of online coverage of a particular product, service, or promotion. This metric helps the company identify the most successful campaigns and make adjustments as needed. On top of that, it assists businesses in monitoring changes in public opinion over time and detecting any sudden spikes in interest in certain areas. Presence Score is also used to identify key influencers in a particular space, helping the company target its marketing efforts more effectively. Finally, it's also a great tool for market research.


Reputation Score – Companies use Brand24's Reputation Score to monitor the sentiment of conversations related to their brand, products, and services. By tracking this score, businesses identify any potential negative press and take proactive steps to mitigate any potential damage to their reputation. They also use this score to identify any areas of improvement and capitalize on any positive sentiment regarding their brand.
Sentiment Analysis – Sentiment analysis is a tool used by businesses to measure public opinion about their brand and products. It allows them to understand how people feel about the company, its services, or its competitors. This data helps inform decisions such as product development strategies and marketing campaigns.
Competitor Comparison – Businesses use Brand24's competitor comparison to gain insights into how their competitors are performing in the market. The tool allows them to compare digital media monitoring metrics such as volume of mentions, sentiment analysis, and engagement rate between multiple brands over a given period of time.
Reports – Brand24 can generate reports as PDFs, Emails, Infographics, and Excel files.
Businesses use Brand24's PR monitoring features to gain better visibility of their brand and its products or services. With the help of Brand24, companies monitor how often they are mentioned in online conversations on social media channels like Twitter and Instagram, as well as on podcasts, review sites, news publications, and more.
Recent and historical data helps them understand what people think about their product/service so that they can make necessary changes for improvement if needed.
For example, businesses are able to track mentions related to a specific keyword phrase such as "social media marketing" or "content creation" which give insights into trends within those topics that would be beneficial when creating campaigns aimed at increasing traffic and sales revenue.
Additionally, users analyze sources where the company is being mentioned most frequently. This way, they know exactly who is talking about them online so that targeted engagement with these potential customers becomes possible even outside primary platforms.
What really makes Brand24 stand out is the sheer multitude of sources of data. TripAdvisor, TrustPilot, or any other review site – you name it!
Finally, by using advanced search tools from Brand24, it is much easier for any business segment to explore new markets. All relevant information will become available immediately allowing strategic decisions based on data rather than assumptions made without reliable evidence. This is especially useful for NGO's and special programs looking for funding.
Monitor your PR efforts with Brand24. 14-day free trail available.
02 Meltwater
Meltwater is a social media monitoring tool used by PR and marketing professionals. It helps them to track online news, analyze public opinion on their brand, and evaluate the success of their campaigns. The platform provides insights into how people perceive their brand across multiple channels such as print, broadcast, digital and social media.
With Meltwater, users can measure the impact of press releases, keep up to date with industry trends, monitor competitors' activities, and more. Due to its hefty price and advanced features, this tool is most likely directed at enterprises clients.
Rating: 4.0 based on 83 reviews (GetApp)
Pricing: $4,000 annually, according to one of the reviews. Pricing is available on request.
Unique features:
Consumer Insights – Meltwater's AI-enabled consumer insights platform is a powerful tool that combines cutting-edge technology and human expertise to uncover valuable insights about customer attitudes and behaviors.
Sales Intelligence – Owler Max is a sales intelligence tool designed to automate the process of collecting competitive intelligence. It enables users to gather data and receive real-time alerts on important events such as acquisitions, funding rounds, and more.
Media Database – the Media Database is a powerful tool designed to help PR professionals quickly and easily find their target audience. The database allows users to search through hundreds of thousands of media contacts, providing vital information such as contact details and areas of expertise that can be used to build relationships with relevant influencers and media outreach.
Newsletter and Website Newsfeed – this feature provides media intelligence to help organizations stay informed. It allows them to curate a hand-selected feed of articles from their search results, which can then be shared via branded email newsletters or through the Meltwater platform with a customized look and feel.
Press Release Distribution – Meltwater offers a press release distribution service that enables PR agencies and businesses to easily publish client news on networks. Through this feature, users can access media coverage from over 100 countries, as well as track press releases across all platforms.
03 Talkwalker
Talkwalker is a powerful PR monitoring tool that helps brands measure and track their online presence over extended periods of time. It monitors all major social media networks, blogs, forums, news sites, and more for up to two years worth of data on campaign buzz, engagement metrics, and reach.
Talkwalker's reporting capabilities provide visual insights into the performance of your campaigns by finding patterns in the data and comparing results so you can discover what works best for your brand.
Rating: 4.4 based on 23 reviews (GetApp)
Pricing: $9000 per year – that's the best info I could find. Pricing is available on request.
Unique features:
Unique Data Coverage – with Talkwalker's in-house crawling and content sources from 187 languages, users can keep track of their customers' conversations across all channels – from traditional print media to TV and digital platforms like blogs, forums, social media sites, and more.
Image recognition – Talkwalker's robust image recognition technology helps you stay on top of every mention of your brand, no matter where it appears. With the ability to scan and recognize logos and objects, as well as 30,000+ brands in the Talkwalker database, you can identify potential business opportunities even before they appear.
AI-Powered Sentiment – this AI-powered sentiment technology is a revolutionary tool for understanding customer opinions. Unlike traditional sentiment analysis, Talkwalker goes beyond basic forms of language by recognizing the underlying meaning behind a message and detecting sarcasm and irony.
Virality Map & Trending Score – these allow you to take your PR campaigns to the next level. With the Virality Map, you can track how content is spreading and replicate successful viral campaigns, all in a beautiful visualization. The Trending Score helps you identify trending topics in real time so that you can capitalize on them quickly before they become oversaturated.
Business Impact Metrics – Talkwalker's business impact metrics offer a powerful way to get a comprehensive view of your business performance. By combining data from both inside and outside sources, you can gain insight into how campaigns perform in terms of driving website traffic and goal completions, as well as social engagement levels.
04 BuzzSumo
BuzzSumo is a comprehensive content and engagement monitoring tool that can help businesses stay on top of their PR campaigns. It helps users discover the most popular articles, keywords, trending topics, customer questions, and other related content across social media networks and search engines.
With BuzzSumo's analytics reports, you can get an in-depth look into your brand's performance. Additionally, BuzzSumo offers a wide range of tools, such as Alerts and Reports to give real-time insights into what's happening in the industry – allowing brands to develop strategies for staying ahead of their competitors.
Rating: 4.5 based on 95 reviews (G2)
Pricing: Limited free version, then $79 per month.
Unique features:
Data-powered content – Buzzsumo's Data-powered content feature allows users to access billions of articles and social media engagement data from the past 5 years. It enables them to filter through different types of content and search by domain to compare their own content performance with that of competitors.
Backlinks – Buzzsumo's Backlinks allows you to quickly and easily identify which websites are linking back to key domains as well as competitor sites. This data can then be sorted by social engagement so that you know where your competitors are getting the most love online. The data from Backlinks can also be exported into Excel for further analysis and use.
Trends – Buzzsumo's Trends feature offers users the ability to gain valuable insights into what topics are trending in real time. With Trends, you can access views of viral trends for any topic, domain, or location. You can also sort stories by trending score to spot emerging hits, see performance data for just-released content as well as focus on relevant regions and get meaningful insights with geographic filtering.
Questions – Questions is a feature that helps you uncover the topics and questions your target audience is asking. With Questions, you can easily search millions of forum posts, Amazon reviews, Reddit conversations, Quora threads, and Q&A sites to find out what people are saying about your brand or a particular topic.
Additionally, with the help of Reddit search and Forum search functions on Questions, you can delve into specific subreddits and web forums for more granular insights. Finally, Customer Voice helps capture customer sentiment associated with any query so that you know exactly how people feel about it when crafting content or engaging with customers.
05 Mentionlytics
Mentionlytics is an intelligent and easy-to-use social listening tool designed for startups and small to medium businesses. It provides users with real-time insights into what people are saying about their business or brand on various platforms, including Twitter, Facebook, Instagram, and more. In addition to these features, Mentionlytics also offers a free trial that allows users to explore all the platform's capabilities without any financial commitment. It's most commonly used by small to medium-sized businesses and startups.
Rating: 4.9 based on 25 reviews (GetApp)
Pricing: 14-day free trial, pricing starts from $49 a month
Unique features:
Social Intelligence Advisor (SIA) – this is a unique AI-driven bundle of features that helps businesses improve their web and social presence. It uses intelligent algorithms to analyze the vast amount of data generated from tracking mentions across the web, which it then presents in an easy-to-understand manner with personalized advice and insights. With SIA, you can get visibility into what people are saying about your brand and find out who your key fans and ambassadors are. It also provides suggestions on how to best optimize your social media posts, including hashtags that perform better in your industry as well as when to repost previous great content for maximum reach.
Additionally, SIA can help you stay ahead of competitors by providing insights into popular sites they appear at or influencers they work with. Last but not least, its virality detection feature allows you to quickly spot possible crises or viral events so that you can take appropriate action early on.
Mentionlytics' Review Monitoring & Management – this is a comprehensive tool for businesses to track, analyze and respond to customer reviews across all major review sources. It provides insights into customer feedback helping businesses identify trends in the reviews and understand what people are saying about their brand online. The feature enables businesses to track all major review sources, including TripAdvisor, Booking.com, Google reviews, Facebook reviews, and more – offering an easy way to stay informed of customer sentiment towards their products or services. Plus, the feature alerts users with every new review released so they can respond instantly and engage with any ratings or address issues raised in negative ones.
06 Brandwatch
Brandwatch is one of the largest players that help businesses stay ahead of the competition by giving them access to powerful insights and data. With Brandwatch, users can track mentions of their brand or product across social media platforms, forums, blogs, and news sites in real time.
It also offers advanced analytics capabilities so users can quickly uncover trends and gain a deeper understanding of what people are saying about their business online.
Rating: 4.2 based on 202 reviews (GetApp)
Pricing: free trial, pricing starts at $1,000 per month
Unique features:
Social for Small Business – this feature is a comprehensive social media management platform that helps small businesses to save time and maximize their online presence. It allows users to schedule, publish, engage with followers, track performance, analyze results and manage all of their connected networks and social media accounts from one place. Additionally, it provides insights into competitor activity and trends in the market across channels.
PR Crisis Management – provides real-time signals and alerts to detect potential crises, allowing teams to act quickly on negative mentions before they escalate. It also enables stakeholders to share crucial communications across the organization, understand the sentiment of key audiences, and monitor activity in order to protect brand reputation and image.
Stakeholder Management – supplies real-time insights to inform brand communication strategies, helping businesses build relationships and improve perceptions among customers, shareholders, the media, and employees. It helps refine message targeting, measure narrative effectiveness, optimize media planning, and build employer branding.
Content Marketing – Content Marketing with Brandwatch enables users to create, plan, and optimize content for maximum reach. With advanced workflows for collaboration, previewing, and scheduling campaigns, researching target audiences and trends, repurposing assets from a centralized library, and publishing across channels with authorized approval flows – all in one platform.
07 Critical Mention
Critical Mention is a powerful cloud-based media monitoring service providing solutions to help users find, analyze and share TV and radio content, associated metadata, and historical archives.
With features such as broadcast media tracking, online news monitoring, and social media monitoring, Critical Mention offers an array of tools for custom reporting templates, visualizations on density maps or word clouds, as well as integration with various platforms for managing multiple languages. It also provides mobile-friendly data reporting.
Rating: 4.3 based on 13 reviews (GetApp)
Pricing: Starting at $4,000-$10,000 per year, the exact pricing is tailored to the needs of the customer.
Unique features:
Wordplay – this allows you to quickly refine HD broadcast clips all the way down to the microsecond, then easily share them with others or add them to a report. Plus, you can highlight specific sections of clips and get sentiment analysis, too.
Licensed Content – Licensed Content feature provides access to paywalled content from top international publishers and trade journals. With this offering, you can track stories from the world's most widely read periodicals, gain insight on earned media coverage for your brand, and source premium content from magazines and program transcripts of major news networks. Moreover, thousands of company and industry sources are available through the platform in various languages. Additionally, licensed content allows users to discover print-only stories from hundreds of popular trade publications across different verticals such as finance, law, media, medicine technology, etc.
Podcast Monitoring (Brand24 does that, too!) – Critical Mention's Podcast Monitoring feature allows you to keep track of your mentions on thousands of podcasts across any industry. You can get real-time alerts for podcast mentions, easily access text transcriptions and quickly download and edit clips with the Wordplay tool. With unlimited cloud storage, you can access your clips at any time.
Broadcast Monitoring – this provides a fast and reliable way to track television and radio coverage around the world. With access to more than 2,500 TV and radio stations in the US and Canada, users can easily search for clips from every Nielsen Designated Market Area (DMA). Plus, with unlimited cloud storage, you can quickly access your clips whenever you need them. You also get access to international coverage in Europe and the Middle East. Additionally, Critical Mention offers real-time tracking and analytics, which includes instant alerts sent directly to your inbox plus custom templates for white-label reports with your own logo or branding.
Free PR Monitoring Tools
All of the above tools are paid, but there are some free media monitoring tools as well, albeit rather limited.
Talkwalker Alerts
Talkwalker Alerts is an online monitoring service that assists users in tracking their brand's coverage across the web. Through Talkwalker Alerts, users can set up notifications for their brand name, tagline, competitors, events, and industry keywords to monitor web mentions and receive real-time updates about any new coverage. This comprehensive monitoring system allows businesses to stay informed of their online presence and maximize their web monitoring capabilities.
Google Alerts
Google Alerts is one of the best free media monitoring solutions for marketing leads. It allows users to be instantly notified about changes in the topics that interest them, such as competitor activities or new product launches.
It has its limitations, though. If you have ever used the Google tool in the past, check out the best Google Alerts alternatives.
Social Searcher
Social Searcher is a free social media monitoring tool that helps media analysts and publishing professionals track, analyze and report on content published on major social networks in real time. It provides deep analytics data for Twitter, Google+, Facebook, Youtube, Instagram, Tumblr, Reddit, Flickr, Dailymotion, and Vimeo without requiring users to log in or sign up. Free users can save their searches and set up email alerts for timely updates.
Try Brand24 as your go-to PR monitoring tool. Free trial available!
Wrap-up
The 7 best PR monitoring tools presented in this article can help any business stay ahead of the competition and establish a strong public image.
Brand24 stands apart from the rest because it offers invaluable insights through custom reports and advanced filtering capabilities – all at an unbeatable price.
With Brand24 as your go-to PR monitoring tool, you'll have access to powerful analytics that will help you stay on top of your game and make better decisions for your business.