How to write a PR report?
February 18, 2023 ・ 10 min read
PR professionals need a robust and affordable way to present the results of their work. Did all the press releases bring the desired impact? Did reaching out to influencers bring any substantial value? Did you achieve your PR KPIs?
The bottom line is simple — you must prove the value of your work to your supervisors. Are the numbers growing? Is your work affecting the company bottom line? This information is crucial for your CEO, CMO, and other PR pros you work with.
The solution? A PR report!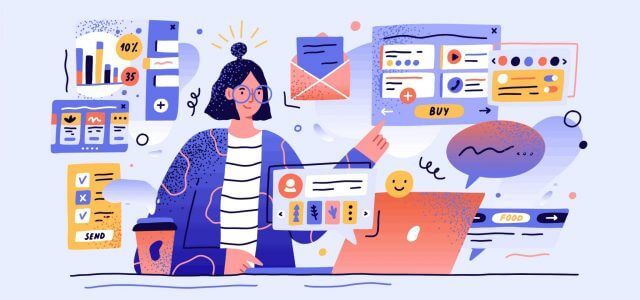 Reporting will help you graphically present the ROI of your work. The business results are important metrics for C-suite, so it's important to show the right numbers in a comprehensive way.
You have to collect the data and analyse it by yourself. Right PR reporting tool will help you succeed.
In this post, we will discuss the most efficient way to create a PR report. Hopefully, at the end of this read, you will be able to prepare an informative PR report that will bring your communications efforts to the next level.
That's what's ahead of us today:
PR report framework
A report is a fundamental part of the PR industry. A well-researched and well-written PR report will help you make more insightful business decisions. It's important to produce PR reports at timely intervals, so you always have an overview of your current situation.
The type of reports depends on the target audience. Managers or clients needs a different type of PR report than the board of directors or investors.
Monthly reports
You should prepare monthly public relations reports for your direct supervisor or manager.
Monthly PR reports will give you a general overview of the current situation of your brand. You can examine the effects of your work on the spot and adjust your activities accordingly. You can also reallocate your resources to the plan that brings the desired results.
Quarterly reports
Quarterly reports are an interesting read for your VP, CMO, or Senior PR professionals.
If the monthly report is a test, then the quarterly PR report is your end score. Quarterly reports will help you defend your results. You will be able to pinpoint the correlation between the dollars spent on your PR campaign and specific business outcomes. Even if you engage in activities that didn't directly link to sales, you can explain the benefits to the brand you manage.
Annual reports
Annual PR reports contain information important for CEOs, the board of directors, or investors.
Annual reports are one of the most important PR reports you have to prepare. Your boss will make budget decisions based on the data you include in the annual report. If you need money for additional tools, new team members, or other resources, you should indicate it in the report. Don't forget to mention the expected outcome of the spending.
Campaign PR reports
You should prepare campaign reports for your direct supervisor or CMO. The audience of the report depends on the size of the campaign.
Before you launch a public relations campaign, you need to define your goals. Your report will state whether you achieved your goal and what you should improve before the next campaign.
Crisis report
Every brand is prone to crisis. Crisis management is an opportunity for PR managers. Thanks to the PR crisis report, you can show how your department helped minimise the damages, changed the narrative and protected your brand reputation.
Public relations software
Before you start any public relations campaign, you need to find the right public relations software.
An ideal tool will collect the data in real-time from various sources, including Web and social media platforms. Moreover, the media monitoring tool should provide insights into your marketing and communications department could use to improve your existing public relations campaigns.
I strongly recommend using a media monitoring tool, for example, Brand24, one of the most robust and affordable tools on the market.
Start media monitoring! Create your free project (no credit card required)
Implementing a social listening tool into your marketing and communications tool stack will have many benefits. Let's take a look!
Alternatively, try one of these PR monitoring tools.
Public relations analytics
Many public relations software will automatically analyse the collected mentions. A robust analysis section will save you a lot of time, make the results of your PR campaigns more manageable, and will bring your public relations efforts to the next level.
What should the perfect PR analysis contain?
the volume of mentions
sentiment
reach, both for social media and Web sources
the context of the discussion
fully customisable PDF reports
comparison of two or more media monitoring projects


Sources
Apart from the analysis part of the results, you need to take a look at the sources of the data.
Some PR tools will focus on social media channels, others will cover only Web sources. In my opinion, you should get data from all the sources, so that your marketing and communication could make the most informed decisions possible.
What results will Brand24 provide?
major social media platforms, including Facebook, Instagram, Twitter, Twitch, TikTok, and YouTube
publicly available Web sources
podcasts
newsletters
news sites
blogs
review sites
forums
Discover automatic PR reports! Start your free trial
As you can see, Brand24 covers all media sources. This set of data will help you make the most informed and insightful decisions for your organization. Moreover, the data is collected in real-time, and email and in-app notifications will help you stay on top of everything.
PR reporting metrics
Once you decide what type of PR report you want to prepare and who is the target reader, you should take a closer look at the PR reporting metrics. Metrics will help you measure the progress of your
These two aspects of writing an informative and insightful PR report are crucial for your success. Which PR metrics should you monitor to determine the success of your PR activities?
The volume of mentions
The volume of mentions shows you how many times the name of your brand, product, or service has been used online. In theory, the higher the volume of mentions, the better recognition your brand has.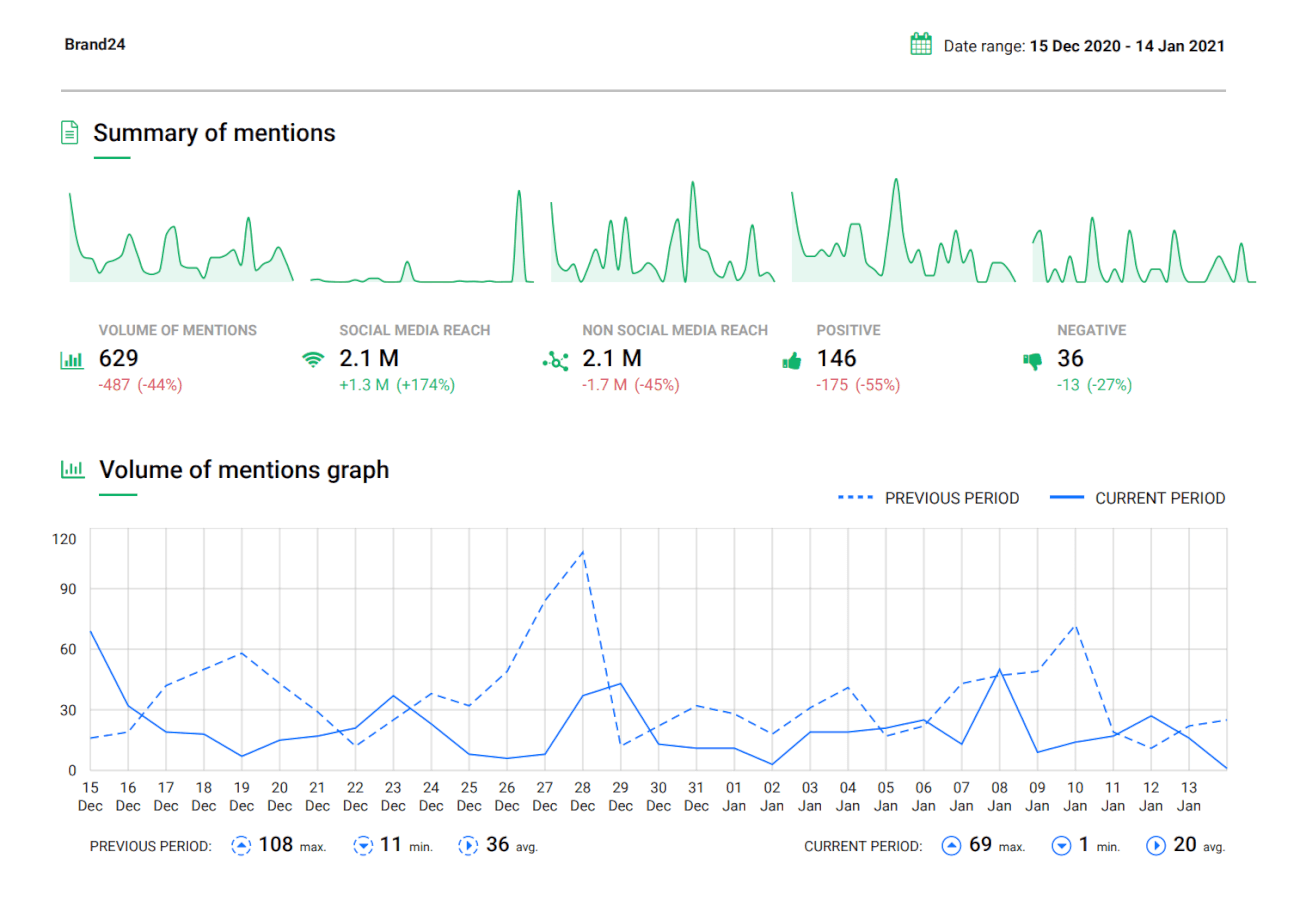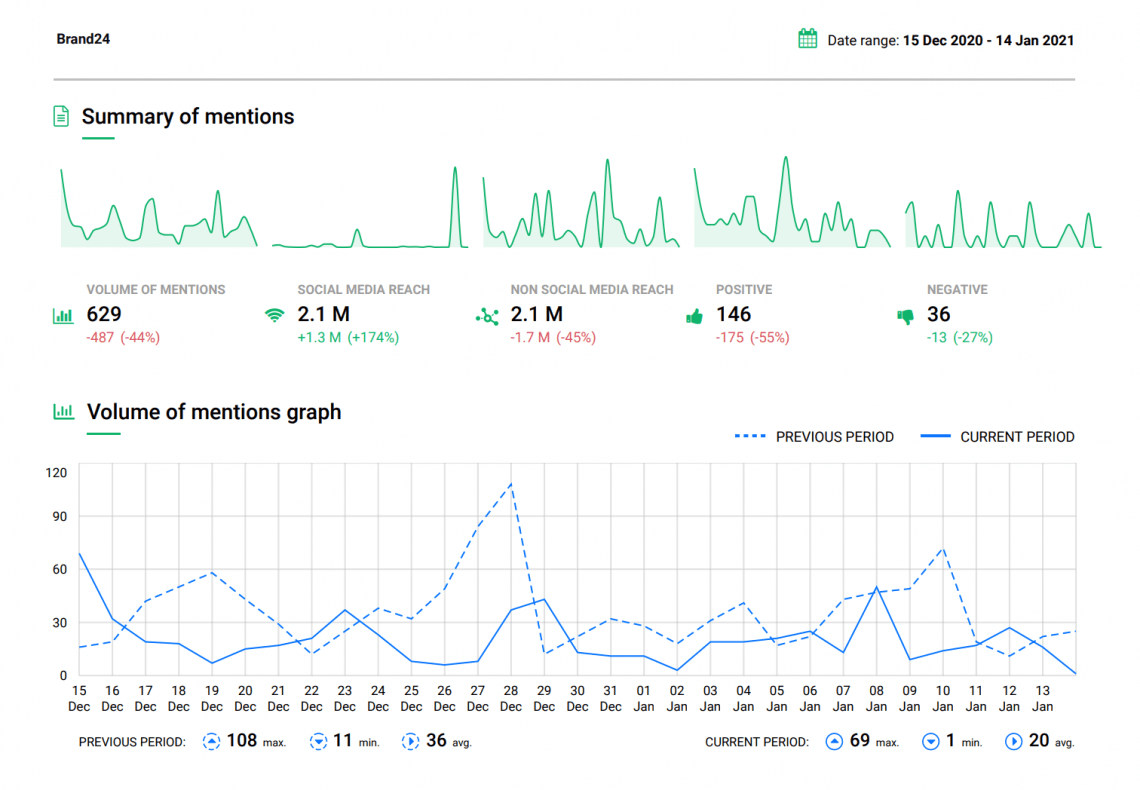 It's important to start your PR analysis with the volume of mentions. A sudden spike in the number will indicate that your PR campaign is working. More and more people have heard about your company, so brand awareness levels are rising.
The sentiment
Sentiment will give the context you need to assess the impact of your public relations communications on your brand.
The sentiment will tell you how people feel about your company. The tool uses NLP and AI-driven algorithms to determine whether the sentiment towards your brand is positive, negative, or neutral.
Sentiment analysis will help you spot any looming crisis and counteract the effects. The process helps determine the most successful content and, ultimately, helps increase reach.
Reach
Reach is the metric that will help you assess the spread of your message across the Internet. It's particularly important for various PR agencies that need to work on media relations.
Media monitoring tools will help you analyse all publicly available mentions containing your keyword. One of the analytics metrics available is reach. Brand24 calculates both social and non-social reach.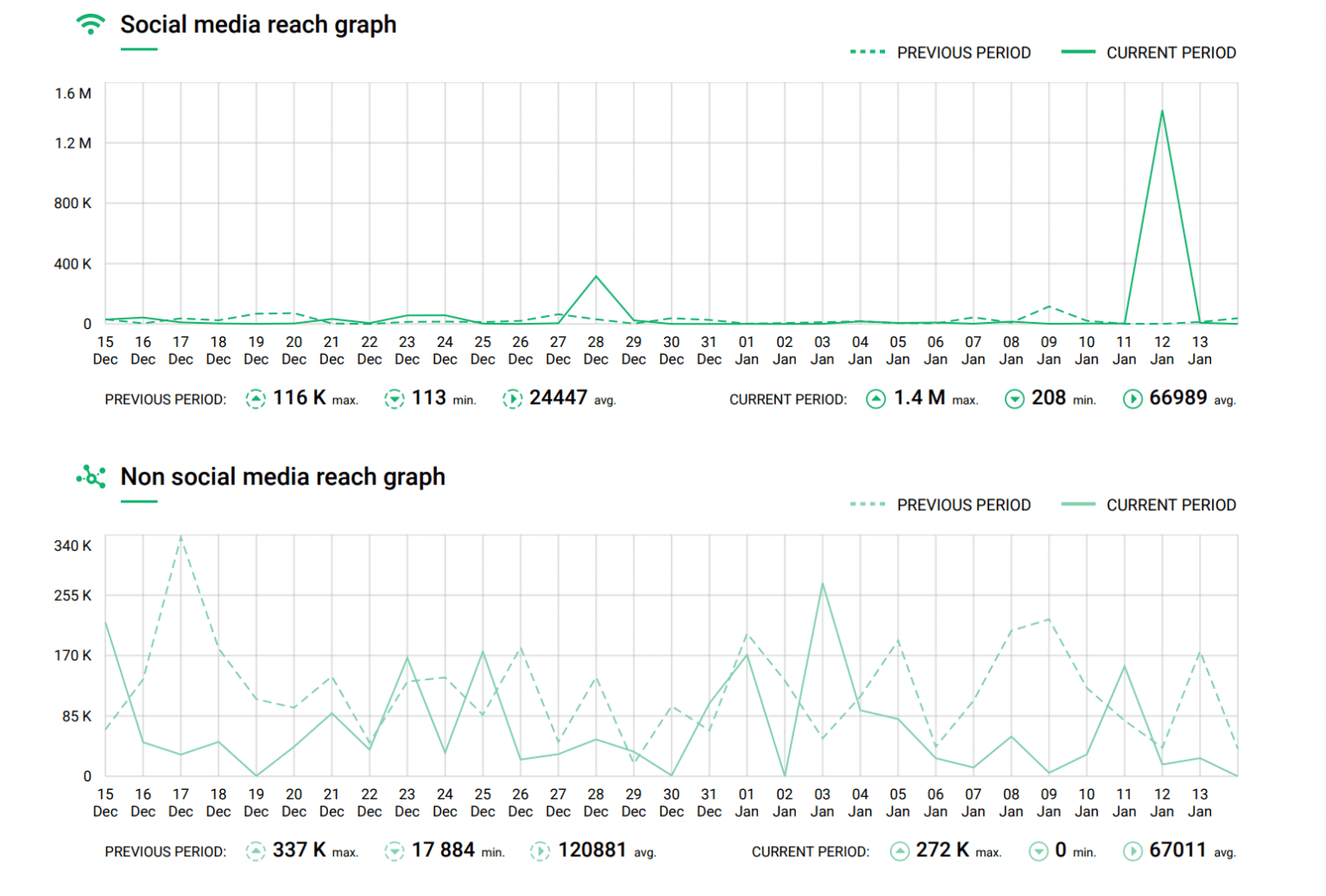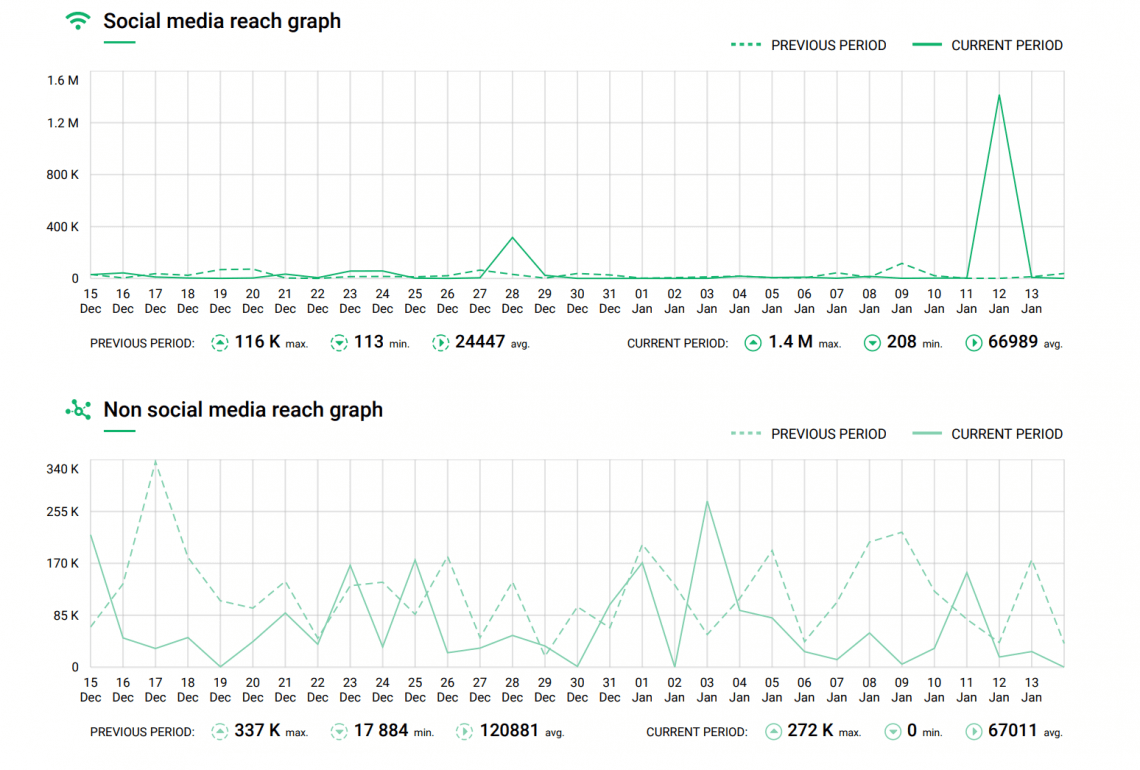 Reach will indicate how many people could have come into contact with your content. From a PR perspective, reaching the right audience with the right message at the right time is a Holy Grail.
Measure reach! Create your PR report
The share of voice
The share of voice is a metric of confidence. The share of voice determines what part of the whole online discussion was generated by your account. The higher the share of voice, the more you are considered to be an industry leader.
The most influential sites
The most influential sites will indicate where your business has been mentioned online. The higher the influence score of the website, the more difficult it is to get mentioned there. It's the tab you check to assess the media relations and spot any opportunities for sending press releases to new sources.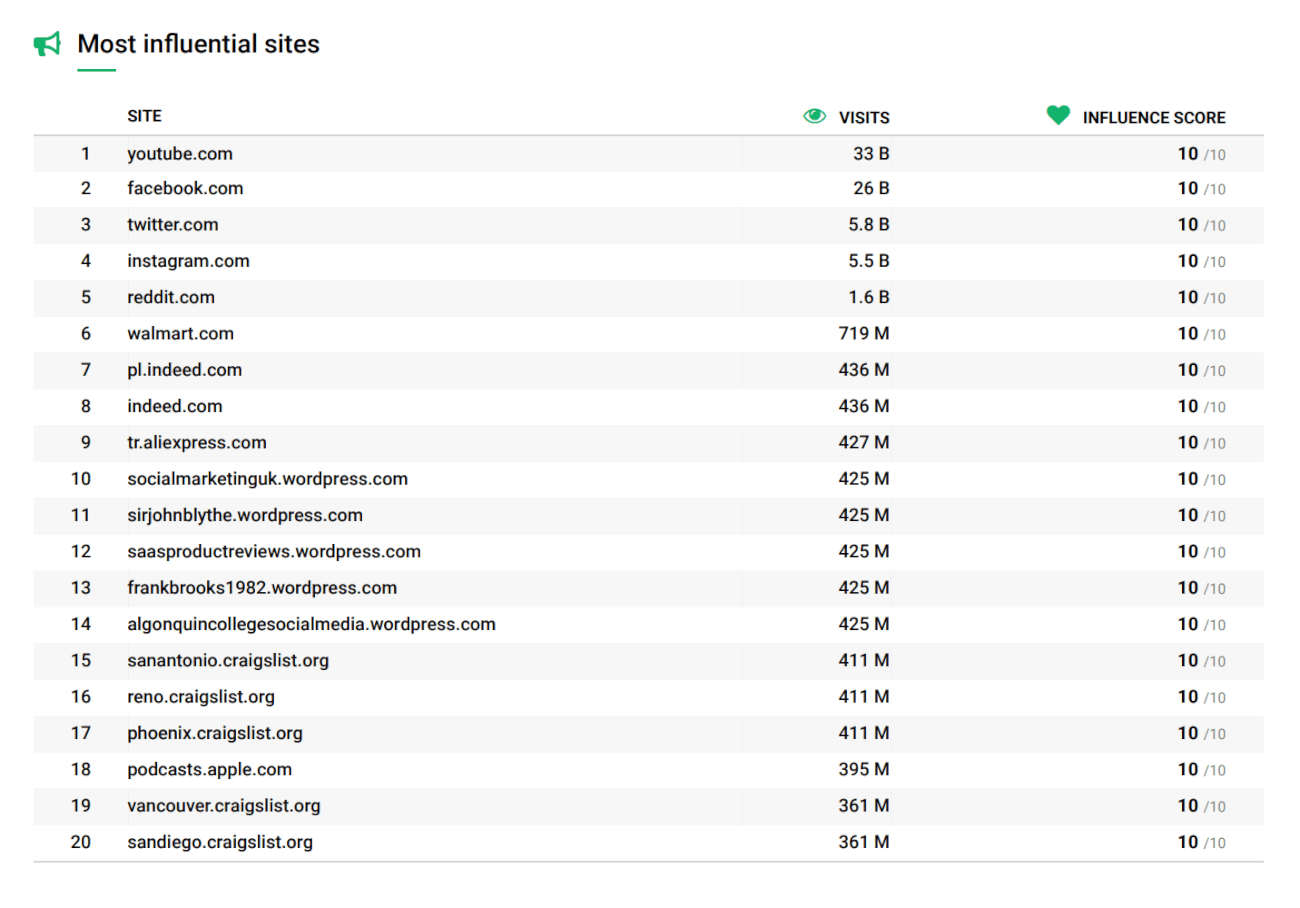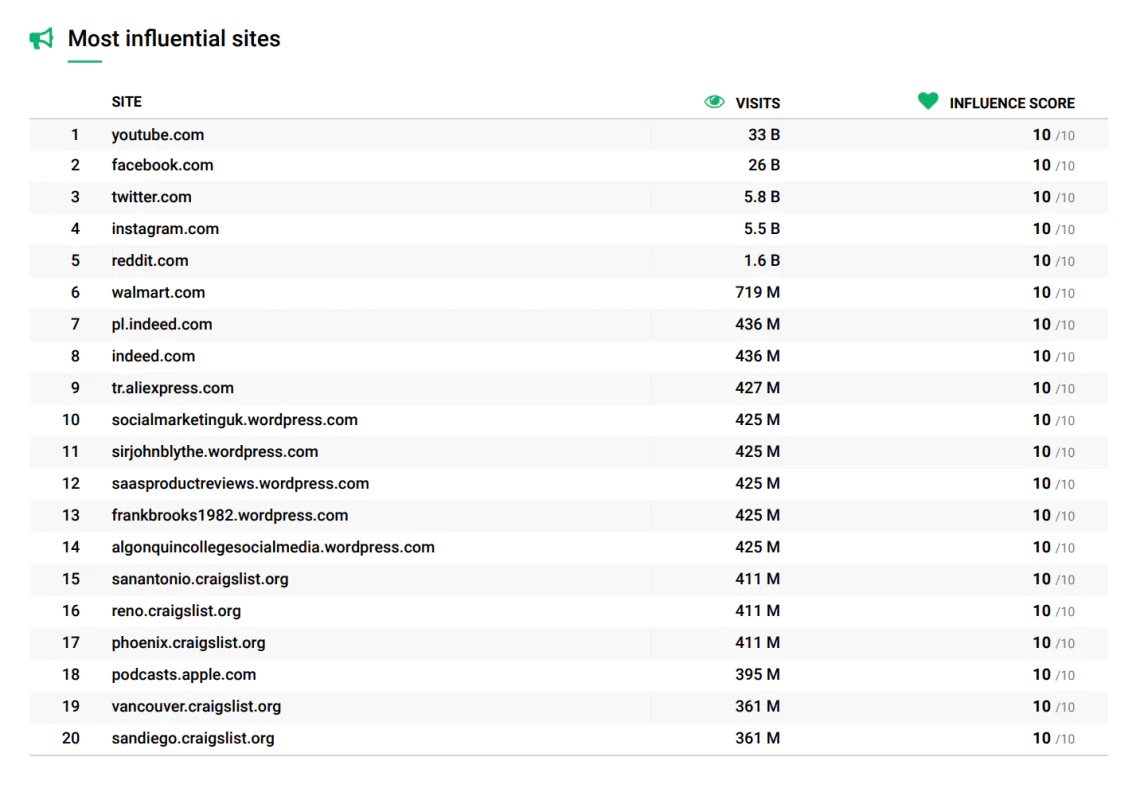 The most influential sites are a strong indicator of the value of your work. You can substantially raise your brand awareness, reach new audiences, and establish your brand as an industry leader.
Discover automatic PR report! Start your free trial (no credit card required)
Remember to track the brand metrics together. If you analyse the metrics holistically, you will be able to correctly assess and report the results of your work.
PR report elements
Apart from PR metrics, your PR report should include other important information.
The good news is, the structure of a report should remain the same for every PR industry. You can match the report and metrics with your PR strategy, to present the most actionable data.
What should a PR manager include in a report?
Summary
You will prepare a different PR report, depending on your audience and organization structure. Whether your CEO, manager, or board of directors is reading the report they need to see the most important insights and results.
That's why you should always include a detailed brand coverage summary.
Benchmarks
For all the data you present in your PR reports, you need context. Choose the right benchmarks, both from your previous campaigns and your competitors' numbers, to correctly interpret your data.
Competitive intelligence
Competitive intelligence is an integral part of an annual PR report. Competitive intelligence will illustrate your overall business presence and sentiment towards your brand. Competitive intelligence is particularly important for investor relations.
PR report best practices
You already know a lot about writing a PR report — you know you need to define an audience, determine the type of a PR report, and have an overview of the metrics you need to track.
There are other PR reporting best practices and tips you should implement to succeed and show the ROI.
Clearly define the goals of the PR campaign
Your PR report will only be as good as your PR campaign. That's why it's crucial the clearly define the goals of the campaign before you start doing anything. In your reports, you need to present proof that your work is bringing substantial value to your clients' businesses.
Public Relations KPIs
We presented PR reporting metrics already, but not every metric will be equally important to every client. That's why, before you start your PR reporting, you need to agree on key performance indicators with your client.
It's important to be on the same page when it comes to KPIs so you can track the right metrics all the time. It's important to start media monitoring before starting your campaign, as collecting historical data is expensive and not always accurate.
Visuals
The target audience of your reports is usually busy. To make your reporting more comprehensible, include some visual elements, for example, charts, graphs, or tables. Visuals will make it easier to prove the business value of public relations to the company.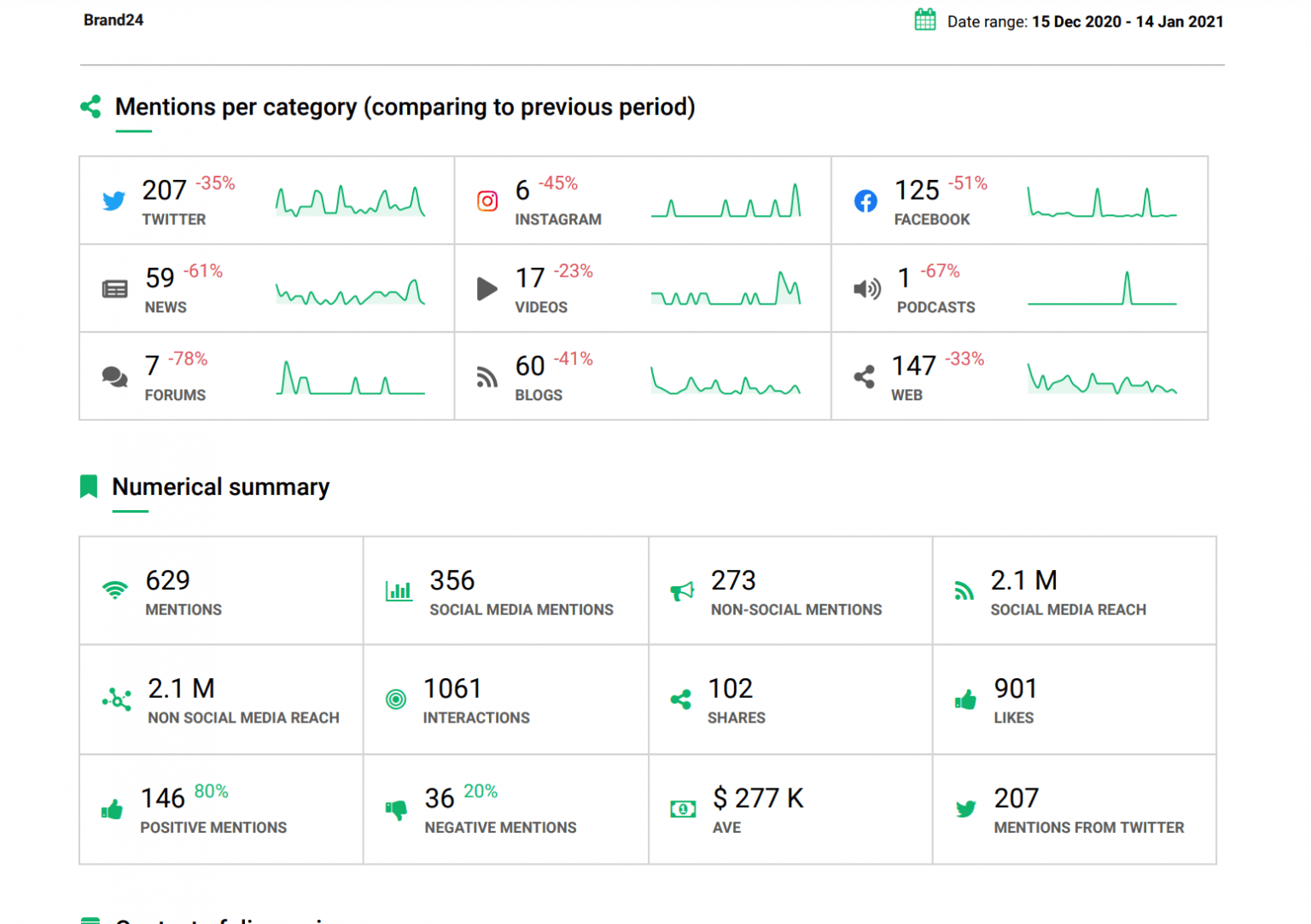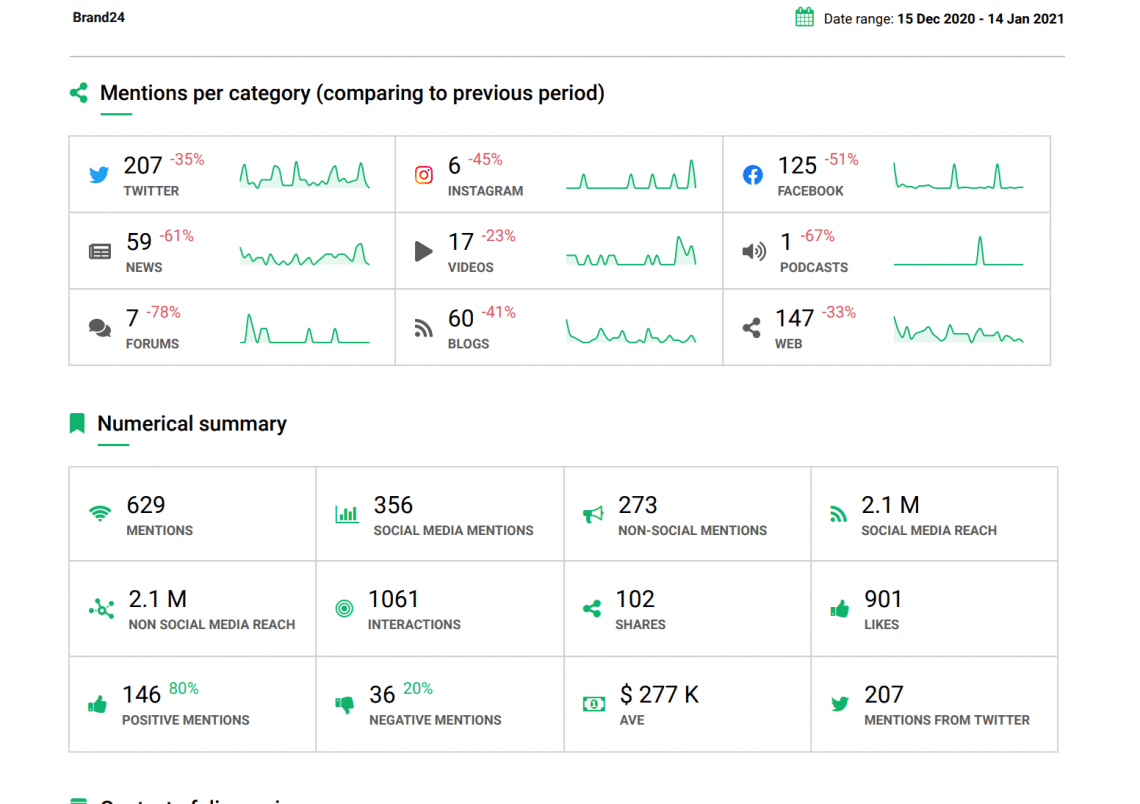 Write your recommendations
Preparing monthly reports gives you a unique competitive advantage. You have an overview of the data you can easily spot trends, identify the best performing content, and provide valuable feedback after special events and product launches.
That's an opportunity to add a bit of investigative journalism to your work.
Spotting the insights allows you to provide valuable recommendations on adjusting your PR efforts to bring even more value to your marketing and communications efforts.
Write your PR report
Hopefully, by now, you have all the information you need to write your public relations report and show the effects of your marketing and communications strategy on your business.
What should you take into account while preparing a report?
Think about your audience. Who is going to read it? Your manager or one of the executives? Depending on what audience you choose, you will have to provide different pieces of information in your work.
Agree on the business metrics and KPIs beforehand. You want to share the top news and show the value of your work. It's hard to do when your executive or client focuses on different metrics.
Choose a media monitoring tool. A well-chosen piece of PR software will help you get the information you need to boost your business and will save you a ton of time on collecting and analysing the results.
Provide your business recommendations. That's one of the most important parts of your PR journey.