How to follow hashtags on Tiktok?
September 20, 2019 ・ 6 min read
TikTok is catching the wave. This combination of Musical.ly, Vine, Instagram and Snapchat is growing like crazy and wins the hearts of generation Z. Numbers you're about to see show that TikTok is on a good track to become the next big thing for people born between mid-1990s and early-2000s. At the same time, it's on a good track to become another market for your business. At the moment, TikTok is great place to gain the advantage of being the first mover. Before your competitors do.
Over one year, TikTok grew by 188 million users which marks a 70% year-to-year increase
In United States, over one year, TikTok increased its user base by 13.2 million which is a 181% year-to-year increase
In Q1 2019, TikTok was the third most downloaded app both in App Store and Google Play
In Q4 2018, TikTok downloads surpassed the downloads of Facebook, Instagram, YouTube and Snapchat
As of April 2019, TikTok has been installed by over 1.1 billion users both on App Store and Google Play
User stats:
500 million monthly active users
Available in 155 countries
Available in 75 languages
41% users are aged between 16 and 24
68% users watched someone else's video
55% users uploaded their own video
What is TikTok?
TikTok is a social media video app which allows creating and editing videos between 3 and 60 seconds in length.
What makes TikTok outstanding and attractive is something other social media platforms lack – it's the number of video editing features: filters, stickers, augmented reality, music and other adjustments.
All of them altogether with the short, Vine-like format of video encourage creativity and involvement from users. TikTok breeds creativity, engagement and comedy like no other social media platform out there.
At the same time, it poses a challenge of creating great videos – videos that will resonate and tickle the mind of communities gathering around particular topics under hashtags.
How to become successful on TikTok?
TikTok poses a challenge for brands. It is a new space they can use to build brand awareness, find new user-generated content, and promote their products. Brand managers could reach new demographics via TikTok, so they need to present new type of content.
Firstly, TikTok posts need solid content strategy. Depending on your industry you can post:
motivational content
educational content
promotional videos
Of course, that's not the sole type of content you can publish on your TikTok account. Your content ideas should centre around your unique selling proposition though.
Follow hashtags on TikTok! Start your free trial (no credit card required)
To become a successful TikToker, you need to use hashtags on TikTok. Your TikTok hashtag strategy can make or break your campaign, so remember to choose them carefully.
What TikTok hashtags should you use?
One of the most popular form of content on TikTok are hashtag challenges. We'll discuss it in more depth later on; or now let's talk some more about TikTok hashtags!
Using hashtags on TikTok has many benefits. It will help you find more interesting content and make your content more discoverable. You can apply different hashtags to your TikTok strategy:
trending TikTok hashtags
branded hashtags
popular hashtags
All of them serve different purpose. Trending TikTok hashtags will help you find new audiences and promote your account. Branded hashtags will build your brand awareness. Solid hashtag strategy will help you achieve maximum exposure and attract new followers. Remember to use different hashtags for different type of content: health related content requires different TikTok hashtags than beauty related content.
Follow hashtags on TikTok! Start your free trial (no credit card required)
Let's learn more about TikTok hashtags!
Trending hashtags on TikTok
Hashtags are essential to TikTok as this is how you can spot emerging trends, reach a particular niche, or enter hashtag contests.
Inside the Discover tab, you can see currently trending hashtags. Once you open a hashtag, you can follow it, watch and engage other videos, or contribute with yours.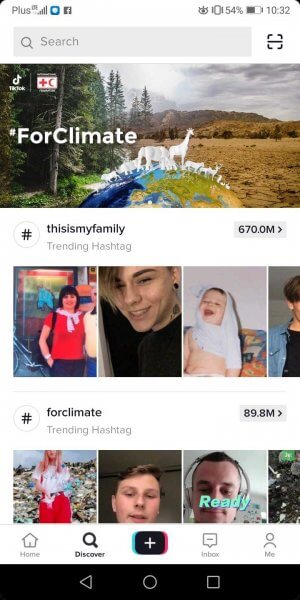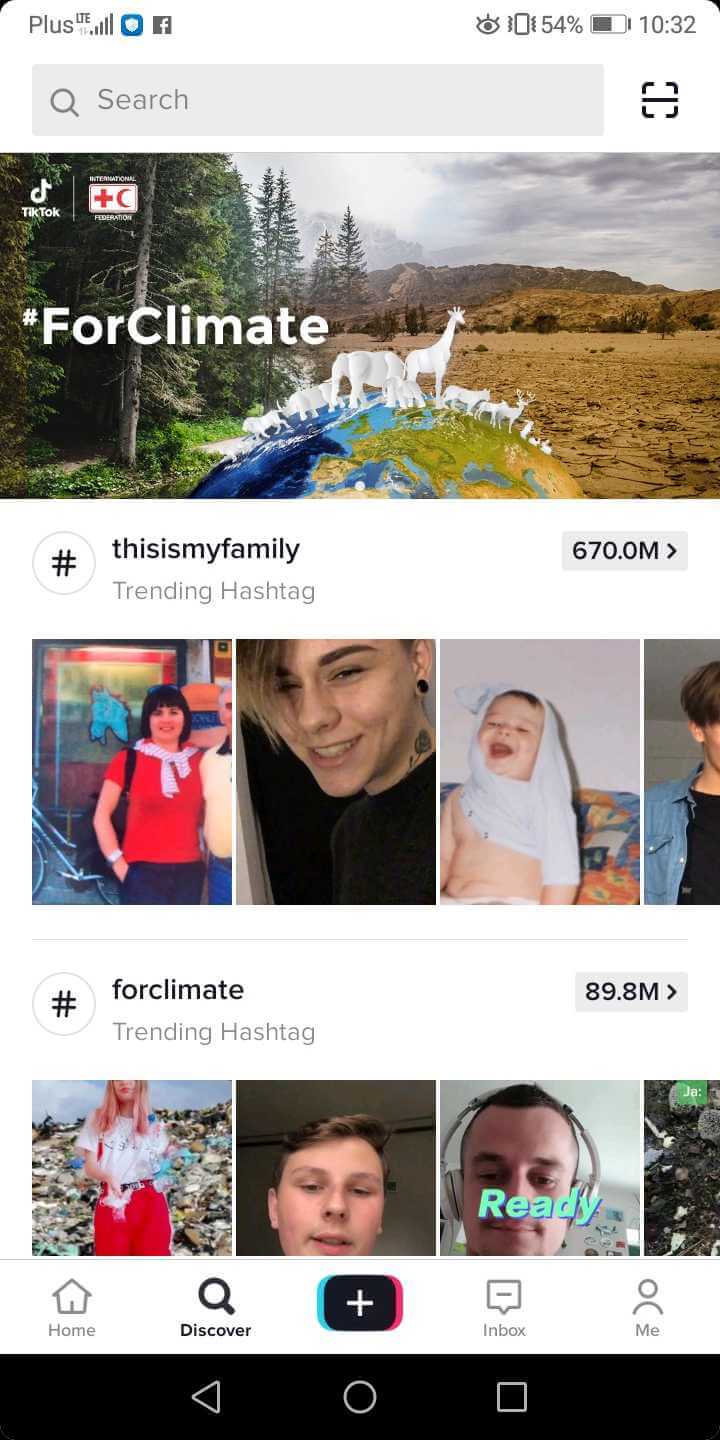 When TikTok came to Jimmy Fallon's attention, he immediately announced the #TumbleWeedChallenge during one of his shows.
Hashtag challenges are what drives TikTok audience the most. They invite users to make videos about the same idea. It results in a plethora of interpretations, ideas and performances. Diversity makes TikTok so entertaining.
Consequently, the production of such videos requires real-world involvement and interaction with environment. Even though TikTok videos last between 3 and 60 seconds, many of them are scripted: creators often write scripts and come up with ideas to act, dance, perform, or tell stories.  It's a creativity race.
Follow hashtags on TikTok! Start your free trial (no credit card required)
There's no as engaging social media platform as TikTok.
Another good thing is that most trending challenges concern valuable and important topics connected to life, for example, #BackToSchoolCheck, #ThisIsMyFamily, or #ForClimate.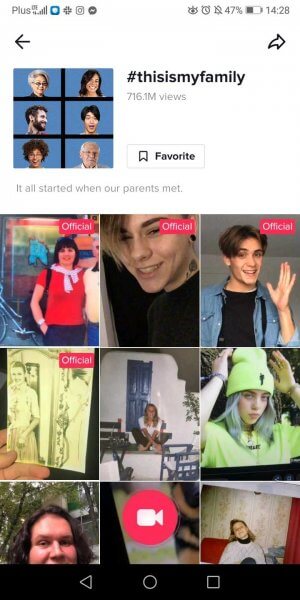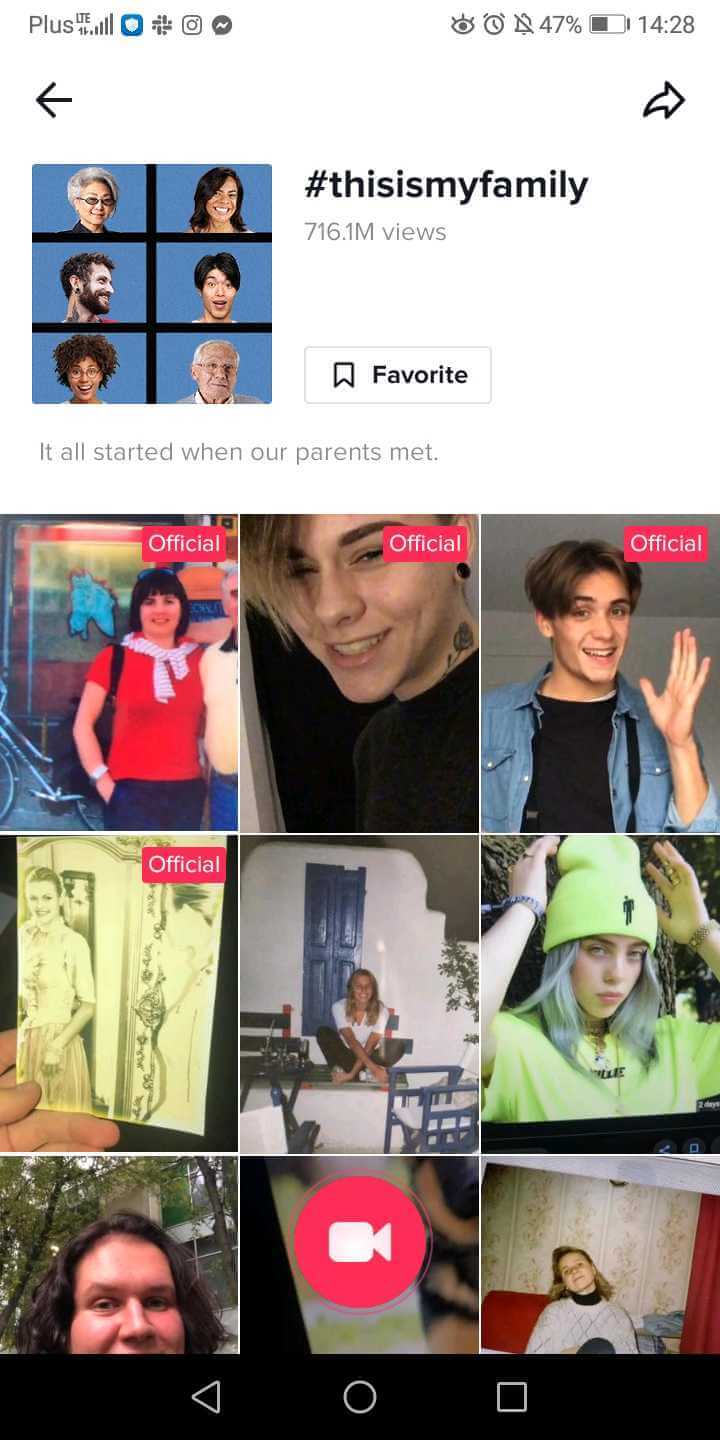 No wonder, as TikTok openly says their mission is to simply do good.
TikTok wants to inspire and encourage a new generation to have a positive impact on the planet and those around them. Check out some organizations that have used TikTok to grow their audience, activate supporters, and raise awareness around specific causes.
Tiktok hashtag strategy
This sort of advertisement shows to a user a banner inviting him or her to join a challenge run by a brand. They pop up on the Discover page and direct users to the challenge's page which explains what to do. Challenge ads can be specifically targeted.
Follow hashtags on TikTok! Start your free trial (no credit card required)
Guess run a viral #InMyDenim campaign targeted at millennials and generation Z which invited them to share videos of them wearing Guess jeans. Also, Guess went for influencer marketing and invited a few prominent creators to collaborate on the project.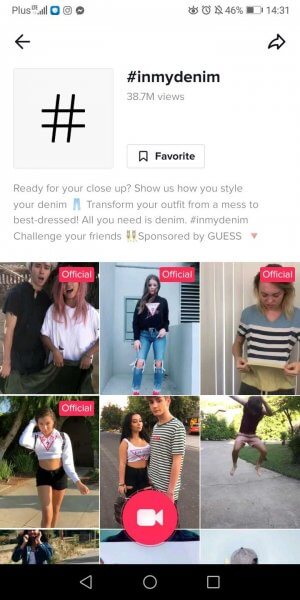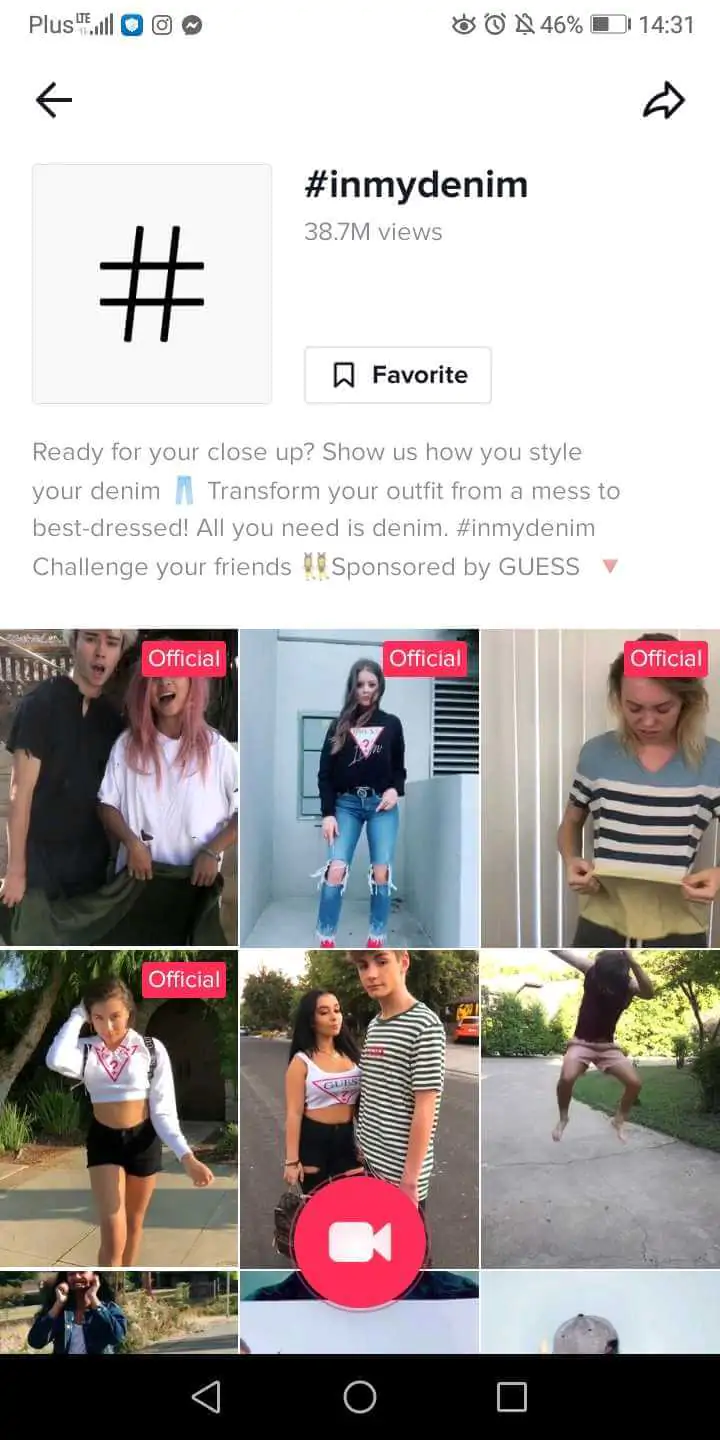 Google launched the #HeyGoogleHelp campaign encouraging TikTok users to create videos in which they use Google Assistant.
Chipotle came up with the #GuacDance hashtag on National Avocado Day. It encouraged guacamole fans to share their dance moves to worship guacamole. As of today, the #GuacDance hashtag has been seen more than 900 million times. The campaign was a terrific success and guacamole servings massively increased.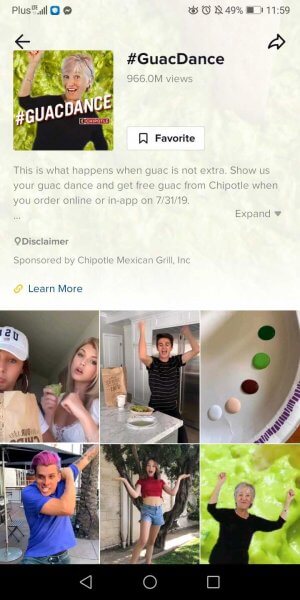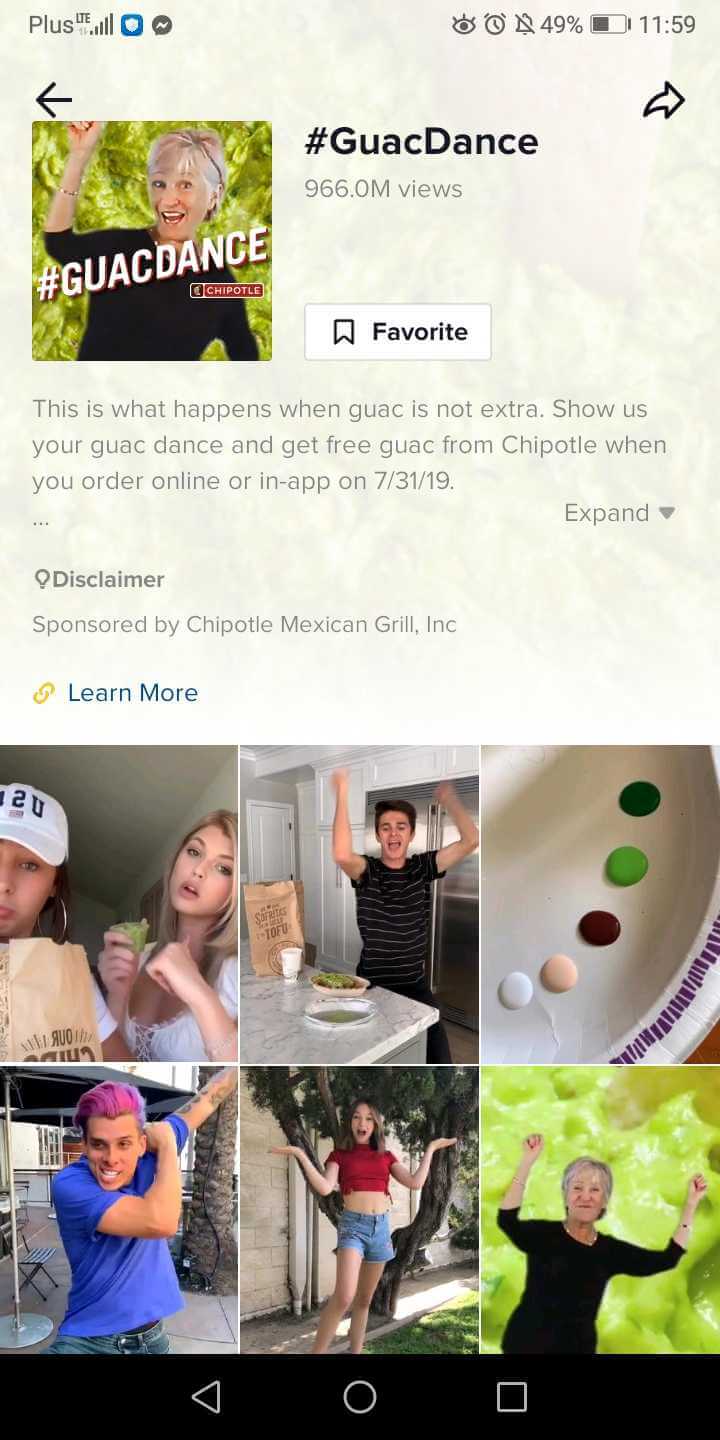 Why follow TikTok hashtags?
TikTok is without a shadow of doubt an emerging market. The first clever brands are already laying their hands on this platform and look for opportunities.
Follow hashtags on TikTok! Start your free trial (no credit card required)
Since TikTok is relatively new and unexplored territory for businesses, following hashtags on TikTok can supply brands with business intelligence.
Consumer insights: By following relevant hashtags you can meet and observe your potential customers in their natural environment: who are they, what their interests, expectations and pain points are. Importantly, there's a new generation about to step into the market and understanding them will be crucial in following years.
Influencer marketing: TikTok will be huge when it comes to influencer marketing. Some brands are already cooperating with the biggest creators. By following relevant hashtags you can discover creators gathering large audience.
Competitor analysis: By tracking TikTok hashtags you can see what other companies from your segment do on TikTok. It can be a valuable source of information about opportunities, threats and other observations that matter for business performance.
How to follow a hashtag on TikTok?
I'm happy to announce that our Brand24 is the first tool that offers TikTok hashtag monitoring.
Brand24 is a media monitoring tool that collects online mentions of predefined keywords from websites, forums, news sites, review sites and Twitter. Now we also follow hashtags on TikTok!
Here's how to follow a hashtag on TikTok:
1. Log into your account.
2. Enter a hashtag you want to monitor.
3. Choose language and Create project.
4. Brand24 now takes you to the Mentions tab where all mentions of your hashtag arrive.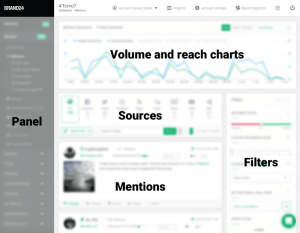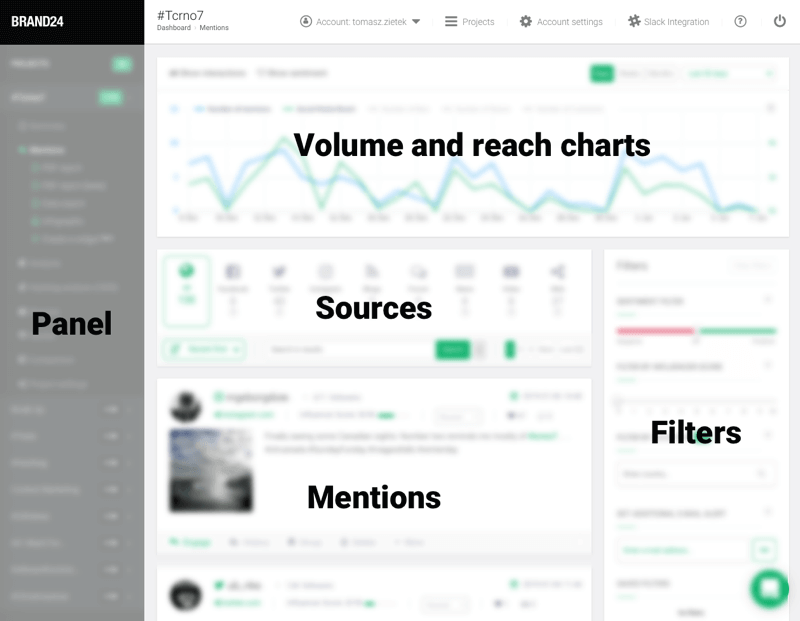 5. To display TikTok hashtag mentions, go to Filters on the right.


Click Show additional filters, go to Filter by domain and enter tiktok.com.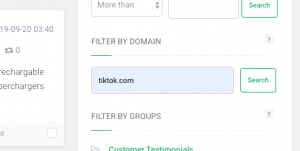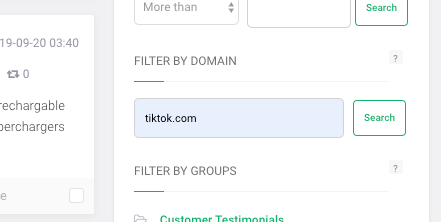 Brand24 will now display TikTok mentions of the hashtag you follow.