How to Follow Hashtags on TikTok? [2023]
January 28, 2023 ・ 9 min read
With over 1 billion active users, TikTok is on a roll. This combination of Musical.ly, Vine, Instagram, and Snapchat is growing like crazy and winning the hearts of generation Z. TikTok was the most downloaded app of 2021. Nothing indicates this trend is going to change.
What makes TikTok attractive is something other social media platforms lack. It's the number of video editing features: filters, stickers, augmented reality, music, and other adjustments.
The short format of the video encourages creativity and involvement from users. TikTok breeds creativity, engagement, and comedy like no other social media platform out there.
At the same time, it poses the challenge of creating great videos that will resonate and tickle the mind of communities gathering around particular topics under hashtags.
Hashtags play a big role on TikTok. They help TikTok users to find relevant content, allowing influencers to target specific audiences. For brands, they make it possible to measure their campaigns.
What are the most popular TikTok hashtags? According to Statista, the most popular content categories on TikTok worldwide by the number of hashtag views are entertainment (535 billion hashtag views), dance (181 billion), and pranks (79 billion).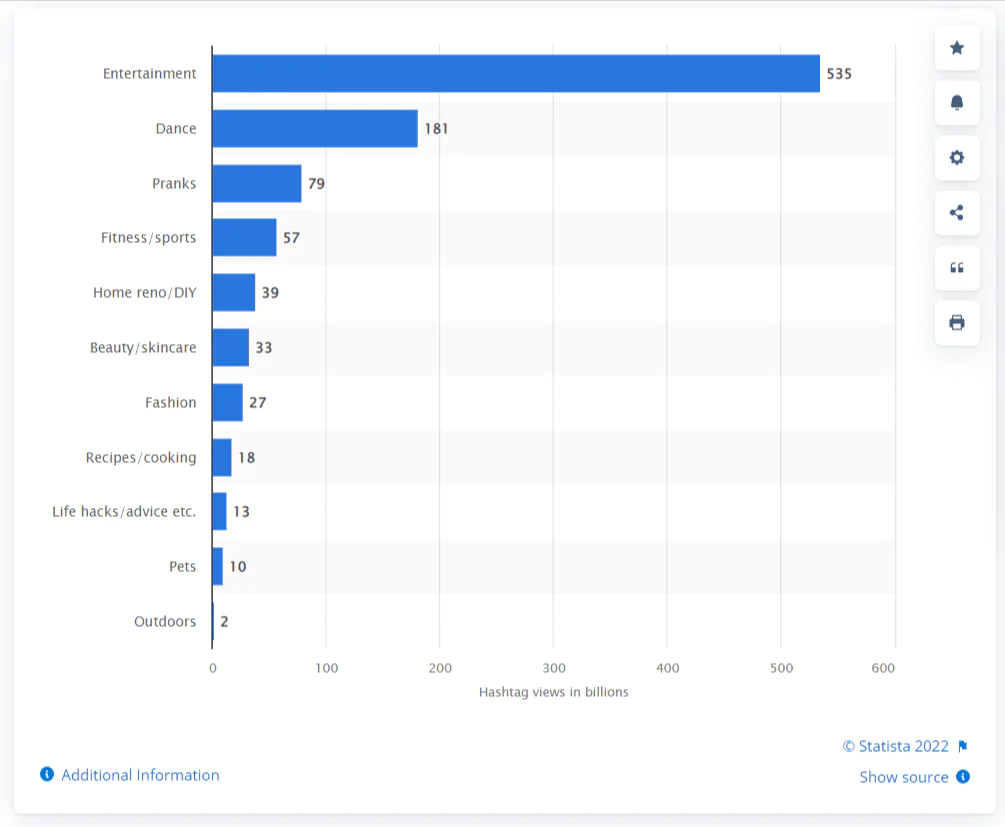 Table of contents:
Why follow TikTok hashtags?
One of the main reasons is that social media users love to use them. Take a look at Instagram, Twitter, or TikTok content. You will find hashtags in almost every post published out there. Hashtags have become a natural part of social media communication.
We simply cannot ignore them.
Fortunately, they have business value. Hashtags are very useful for:
Consumer insights: By following relevant hashtags you can meet and observe your potential customers in their natural environment: who are they, what their interests, expectations, and pain points are. Importantly, there's a new generation about to step into the market, and understanding them will be crucial in the following years.
Influencer marketing: TikTok will be huge when it comes to influencer marketing. Some brands are already cooperating with the biggest creators. By following relevant hashtags you can discover creators gathering large audiences.
Competitor analysis: By tracking TikTok hashtags you can see what other companies from your segment do on TikTok. It can be a valuable source of information about opportunities, threats, and other observations that matter for business performance.
Brand24 is a tool that allows following any hashtag on TikTok in real-time.
How to follow a hashtag on TikTok?
There are 2 main ways you can follow hashtags on TikTok, inside the TikTok app, and through the hashtag tracker.
Without further ado, let's check how to track hashtags across social media!
01 Inside the TikTok app
Similar to Instagram, TikTok allows us to follow hashtags. How to do it? It's pretty simple.
First of all, find the hashtag you want to follow. Then you'll see top content for the hashtag. By clicking "See more" you'll discover other popular TikTok hashtags. It's a great way to find a trending hashtag challenge.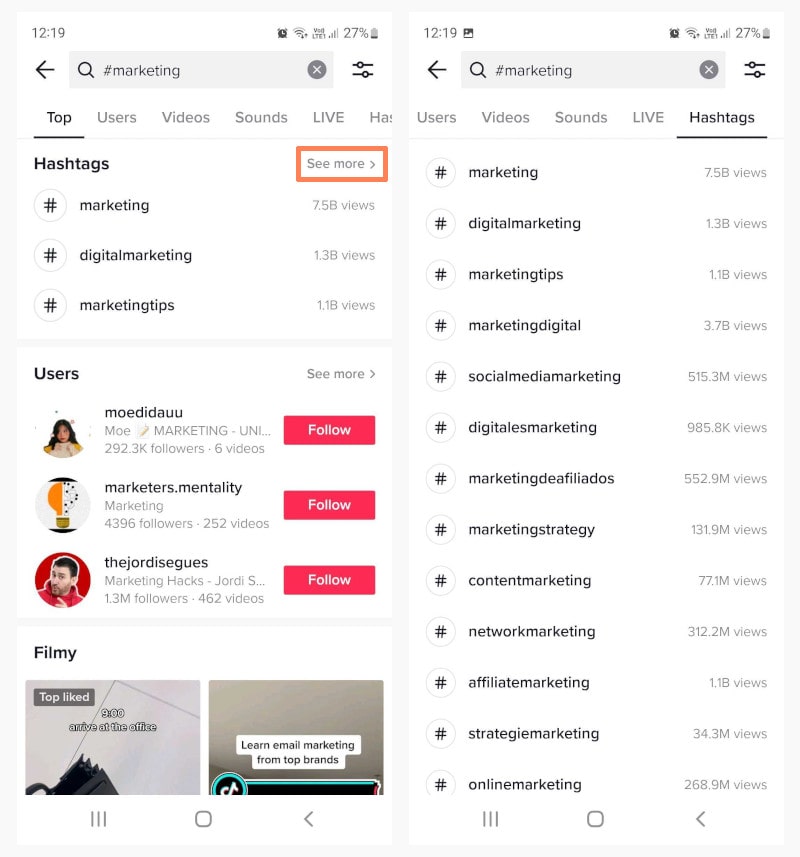 The next step is to add a hashtag to favorites. After that, just go to your profile, click on the bookmark icon, and discover the list of followed hashtags.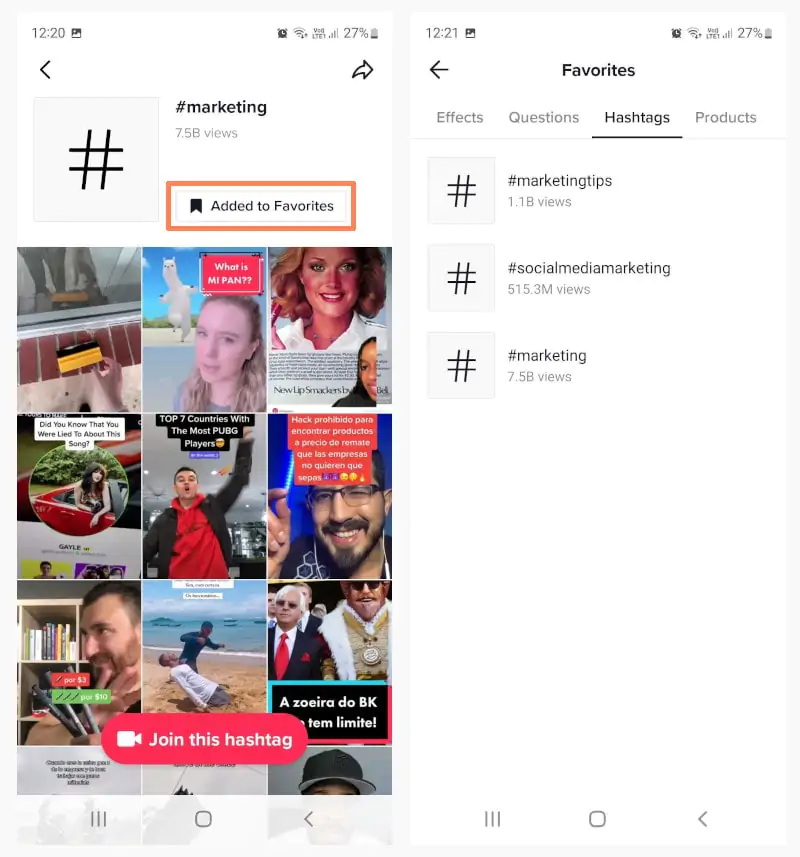 As you can see on the screenshots, the default TikTok app only presents the number of views. Videos are sorted by the number of reactions.
02 Through the hashtag tracker
You can use the power of a hashtag tracker to monitor and track hashtags on TikTok and other social media networks.
Using such a tool has many benefits. You'll be able to:
Detect the number of hashtag mentions
Find the most popular posts that include a hashtag
Discover other trending hashtags
Measure the reach of a hashtag campaign
Detect the sentiment of a hashtag
Measure the presence score of a hashtag
In general, you'll be able to analyze hashtags on social media platforms in detail. With such a tool, you can easily track branded and niche hashtags.
Here you can see the results of Nike's #JustDoIt hashtag campaign: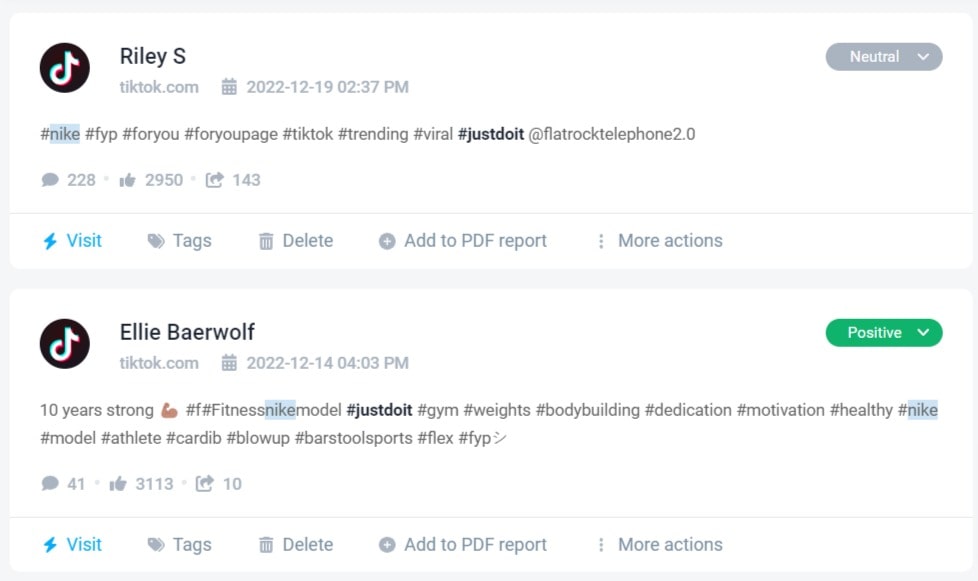 In the last 30 days, there were 32 video mentions on TikTok. Here are the most popular ones: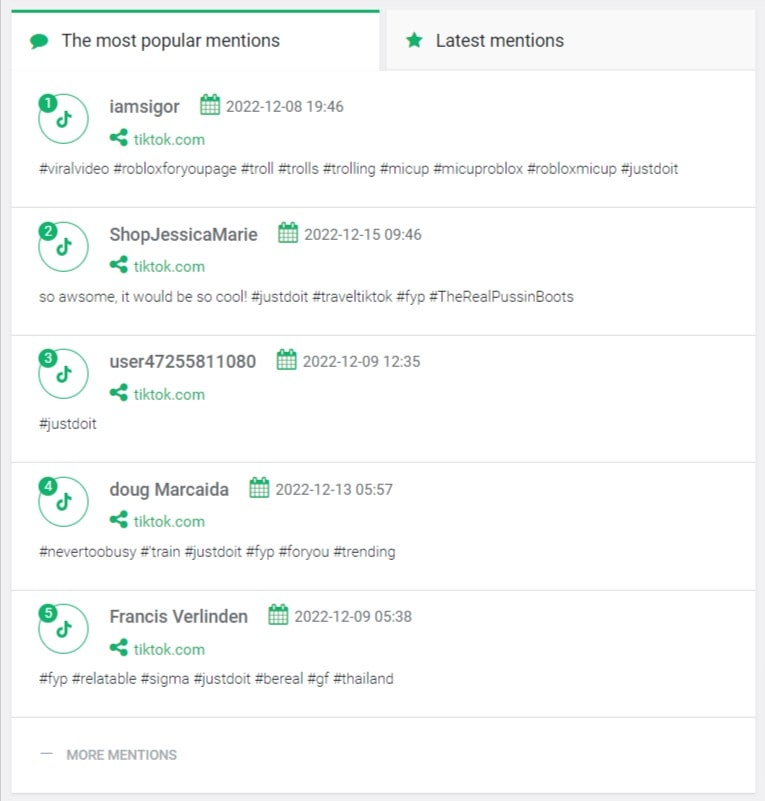 The example of data is based on the Brand24 tool. Here you can read more about the best Tiktok monitoring tools to Use.
Which one is better?
Tracking hashtags through the TikTok app does not deliver any important statistics except the number of views. That means you'll be able to define the popularity of hashtags and… that's it.
Using a hashtag tracker is a great idea when you need more in-depth statistics, such as social media reach, sentiment analysis, the exact number of posts that include a hashtag, or top public profiles using it. It is a perfect solution to create detailed reports about hashtag campaigns.
Measure the effectiveness of your TikTok hashtag campaign with Brand24!
What TikTok hashtags should you use?
Hashtag challenges are one of the most popular forms of content on TikTok. Let's talk some more about TikTok hashtags!
Using hashtags on TikTok has many benefits. It will help you find more interesting content and make your videos more discoverable. You can apply different hashtags to your TikTok strategy:
Trending TikTok hashtags
Branded hashtags
Popular hashtags
Niche hashtags
All of them serve different purposes. Trending TikTok hashtags will help you find new audiences and promote your account. Branded hashtags will build your brand awareness. A solid hashtag strategy will help you achieve maximum exposure and attract new followers. Remember to use different hashtags for a different types of content: health-related content requires different TikTok hashtags than beauty-related content.
Let's learn more about TikTok hashtags!
Trending TikTok hashtags
Hashtags are essential to TikTok as this is how you can spot emerging trends, reach a particular niche, or enter hashtag contests.
Inside the Discover tab, you can see currently trending, effects, sounds, and hashtags. Once you open a hashtag, you can follow it, watch and engage in other videos, or contribute with yours.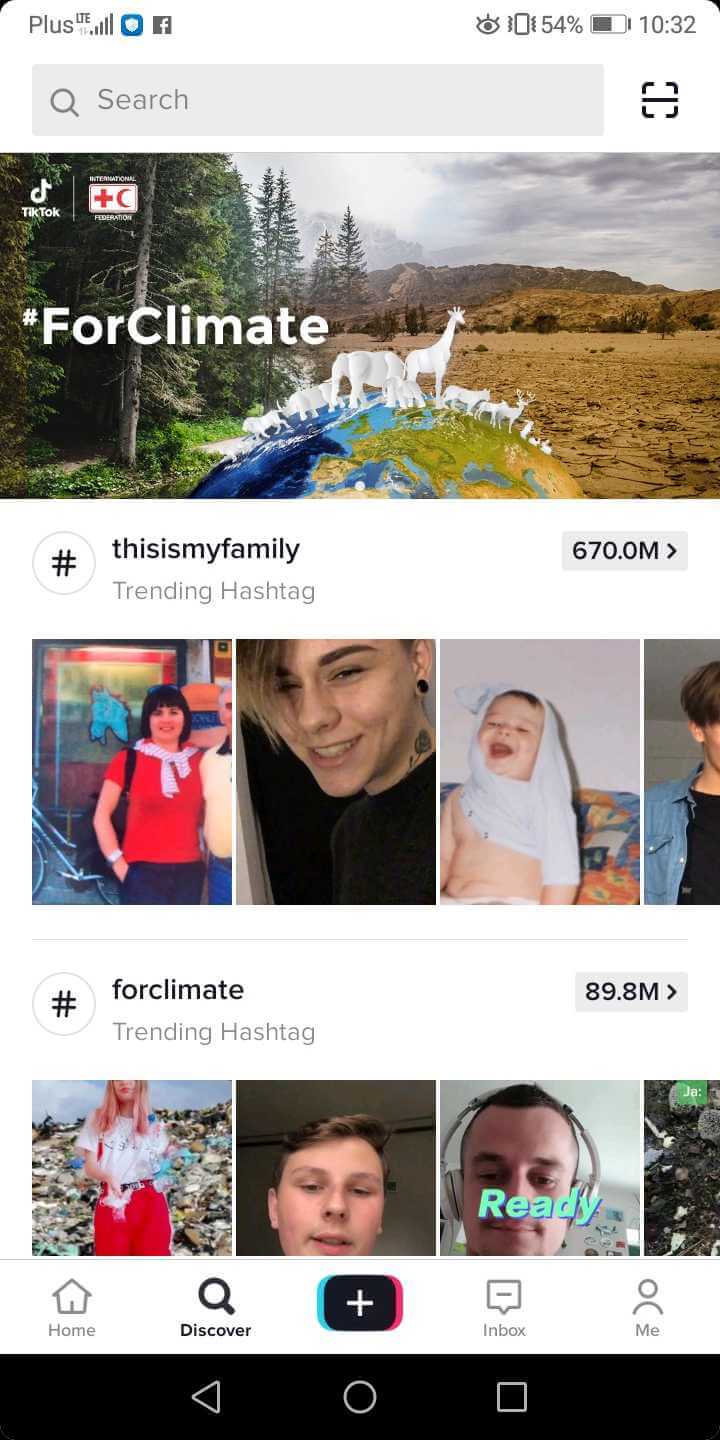 The second way to discover trending hashtags that might suit your TikTok account is to use a hashtag tracker. The tool detects hashtags that gained lots of mentions. Adding them to your social media posts might be a game-changer.
Here you can see trending hashtags dedicated to Nike's #JustDoIt campaign: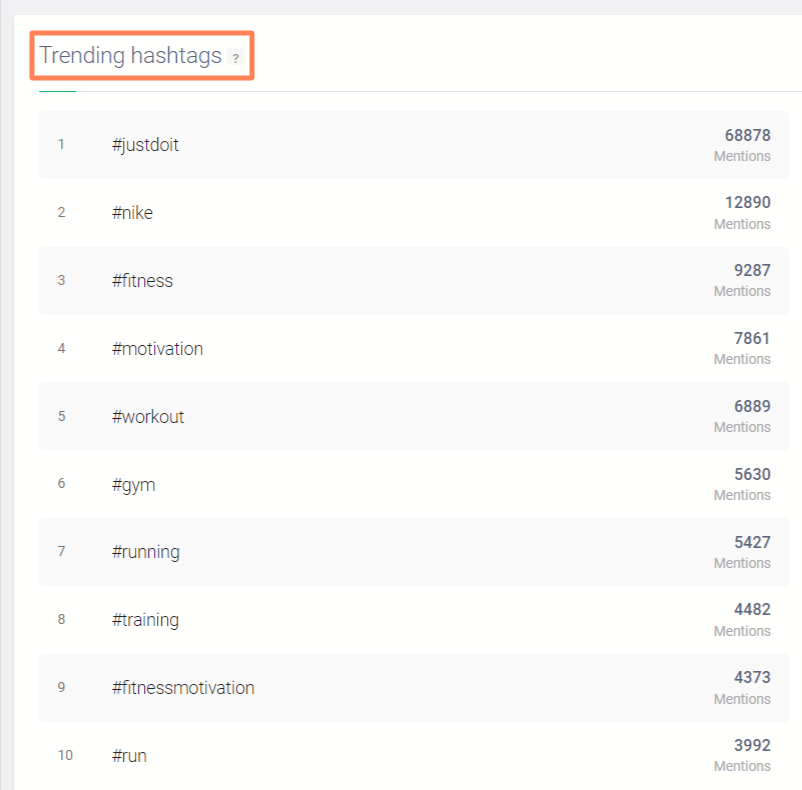 Take a look at how TikTok used a hashtag to promote its new Q&A feature.
They asked TikTokers to look back at the past 2021 year and rewind, commemorate, and celebrate it using a new feature. Users posted an enormous number of question and& answer videos with the #AskOnTikTok hashtag. Overall, the #AskOnTikTok hashtag gained about 4 billion (!) views.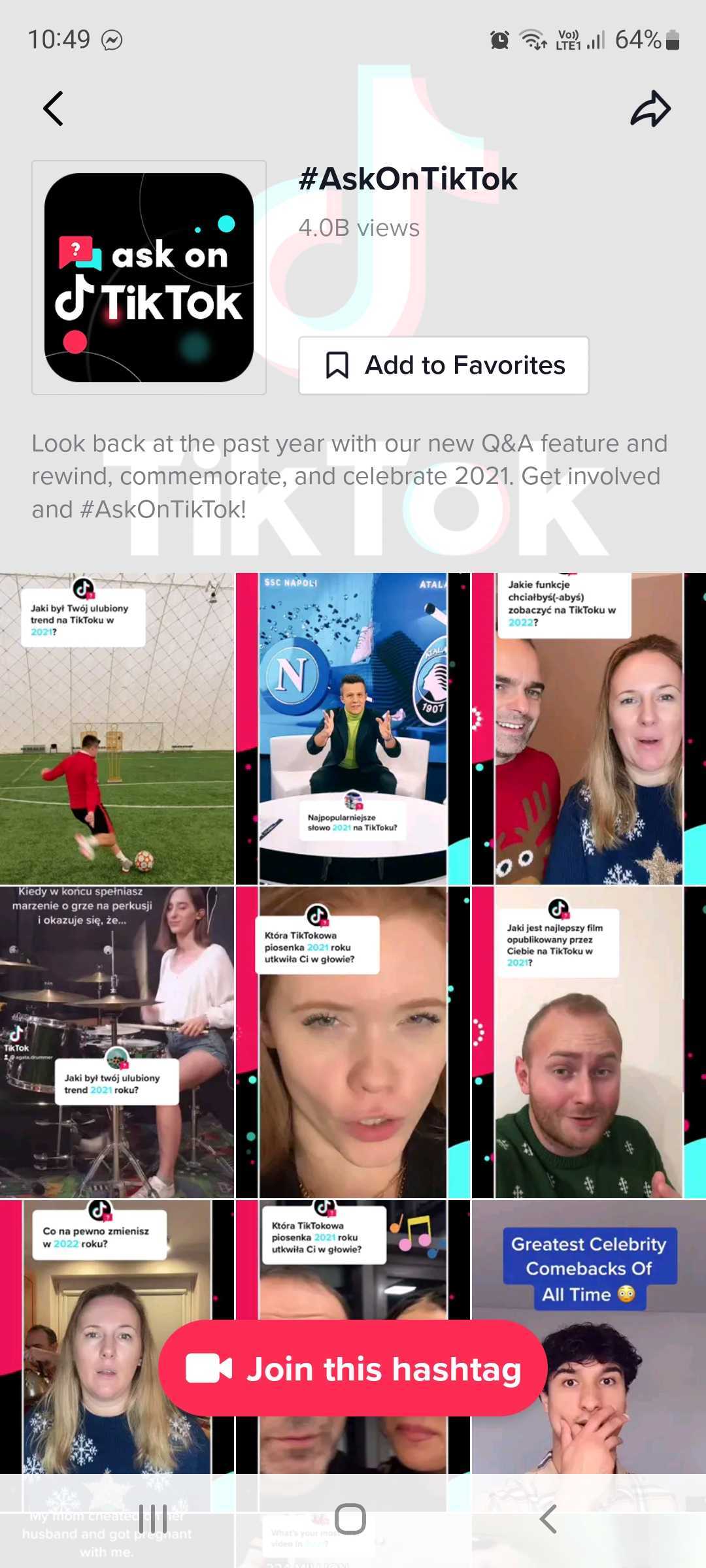 Hashtag challenge
When TikTok came to Jimmy Fallon's attention, he immediately announced the #TumbleWeedChallenge during one of his shows.
Hashtag challenges drive the TikTok audience the most. Challenges invite TikTokers to make videos about the same idea. It results in a plethora of interpretations, ideas, and performances. Diversity makes TikTok so entertaining.
Consequently, the production of such videos requires real-world involvement and interaction with the environment. Even though TikTok videos last between 3 and 60 seconds, many of them are scripted. Creators often write scripts and develop ideas to act, dance, perform, or tell stories.
It's a creativity race. There's no other media platform as engaging social as TikTok.
Another good thing is that most trending challenges concern valuable and important topics connected to life, for example, #BackToSchoolCheck, #ThisIsMyFamily, or #ForClimate.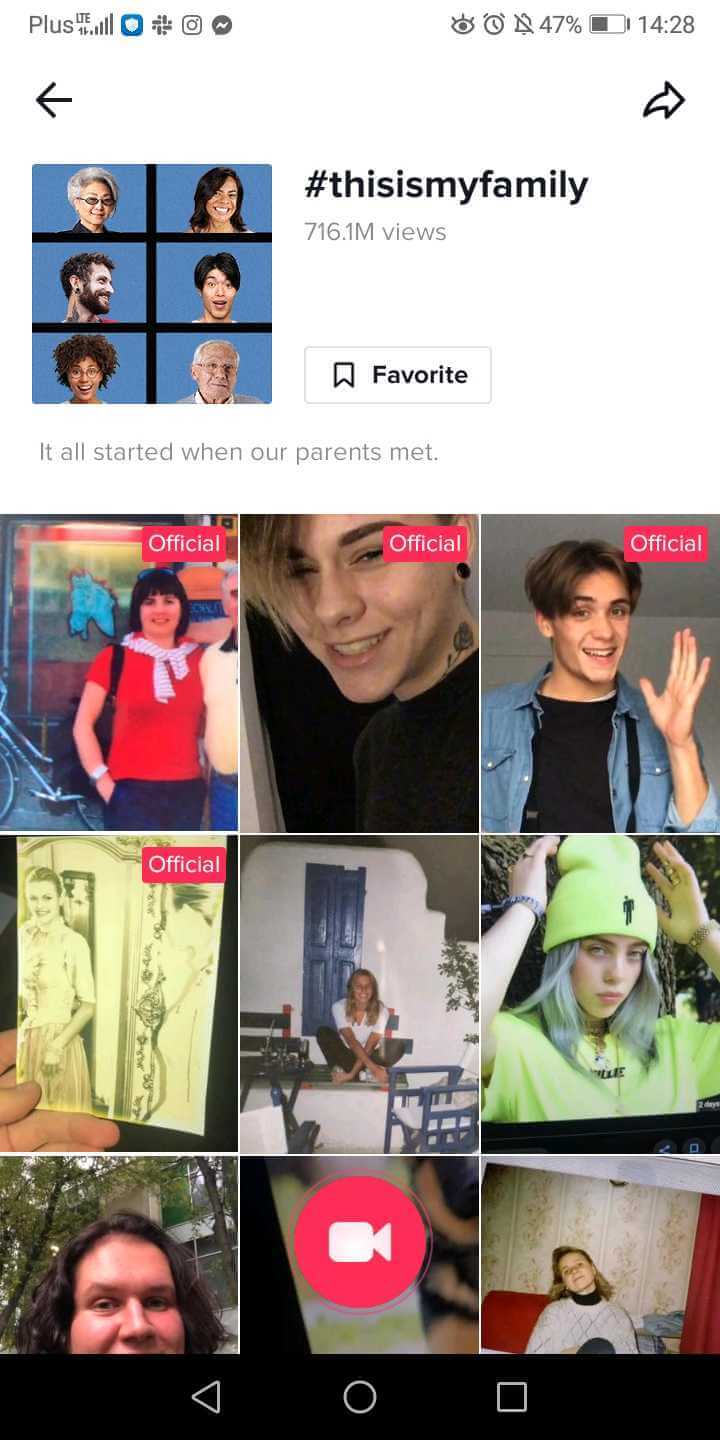 No wonder, as TikTok openly says its mission is to simply do good.
TikTok wants to inspire and encourage a new generation to have a positive impact on the planet and those around them. Check out some organizations that have used TikTok to grow their audience, activate supporters, and raise awareness around specific causes.
Branded hashtag challenges
This sort of advertisement shows users a banner inviting them to join a challenge run by a brand. They pop up on the Discover page and direct users to the challenge's page that explains what to do. Challenge ads can be specifically targeted.
Take a look at the examples.
Guess ran a viral #InMyDenim campaign targeted at millennials and generation Z, which invited them to share videos of them wearing Guess jeans. Also, the brand went for influencer marketing and invited a few prominent creators to collaborate on the project.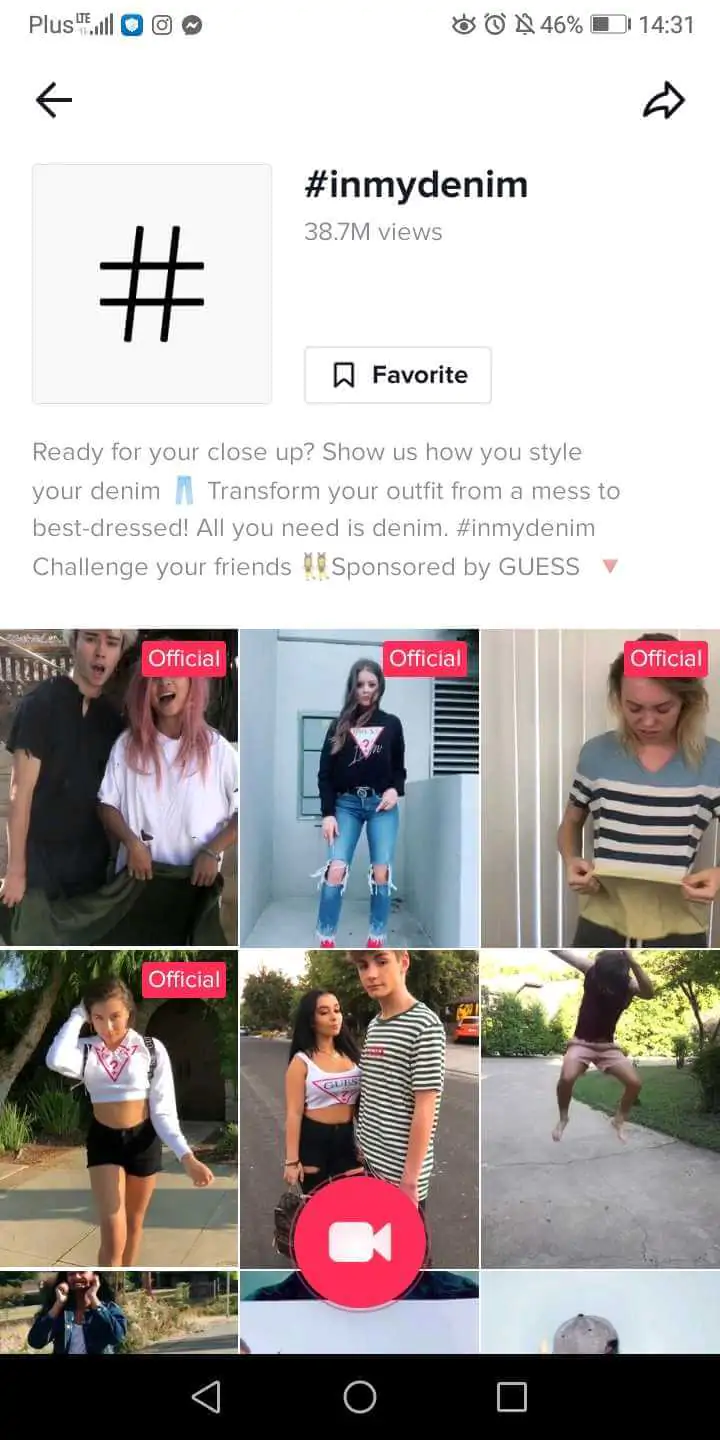 Chipotle came up with the #GuacDance hashtag on National Avocado Day. It encouraged guacamole fans to share their dance moves to worship guacamole. As of today, the #GuacDance hashtag has been seen more than 1 billion times. The campaign was a terrific success, and guacamole servings massively increased.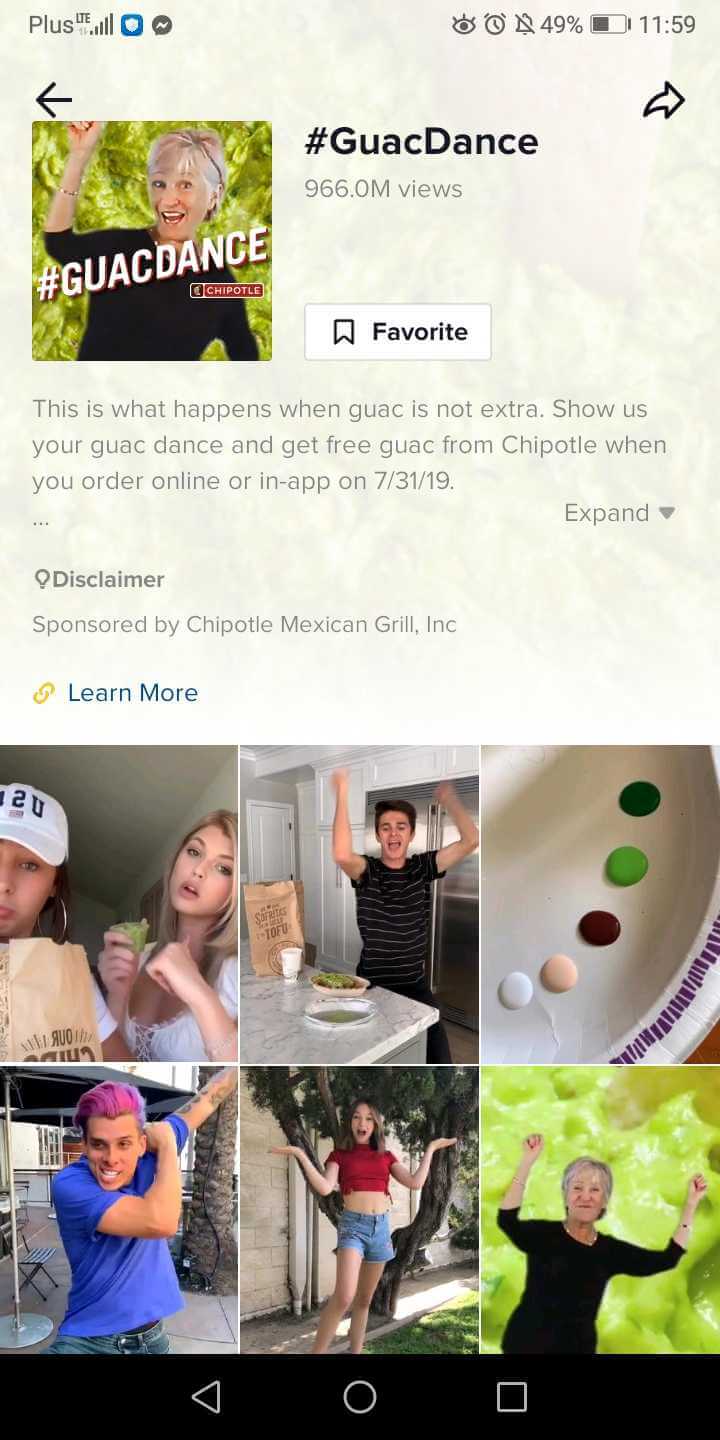 The online bookstore Empik created the #booktokpolska challenge for its Polish fans. TikTok users were tasked to make a video showing why they love books. They could win a 1000 zł gift voucher.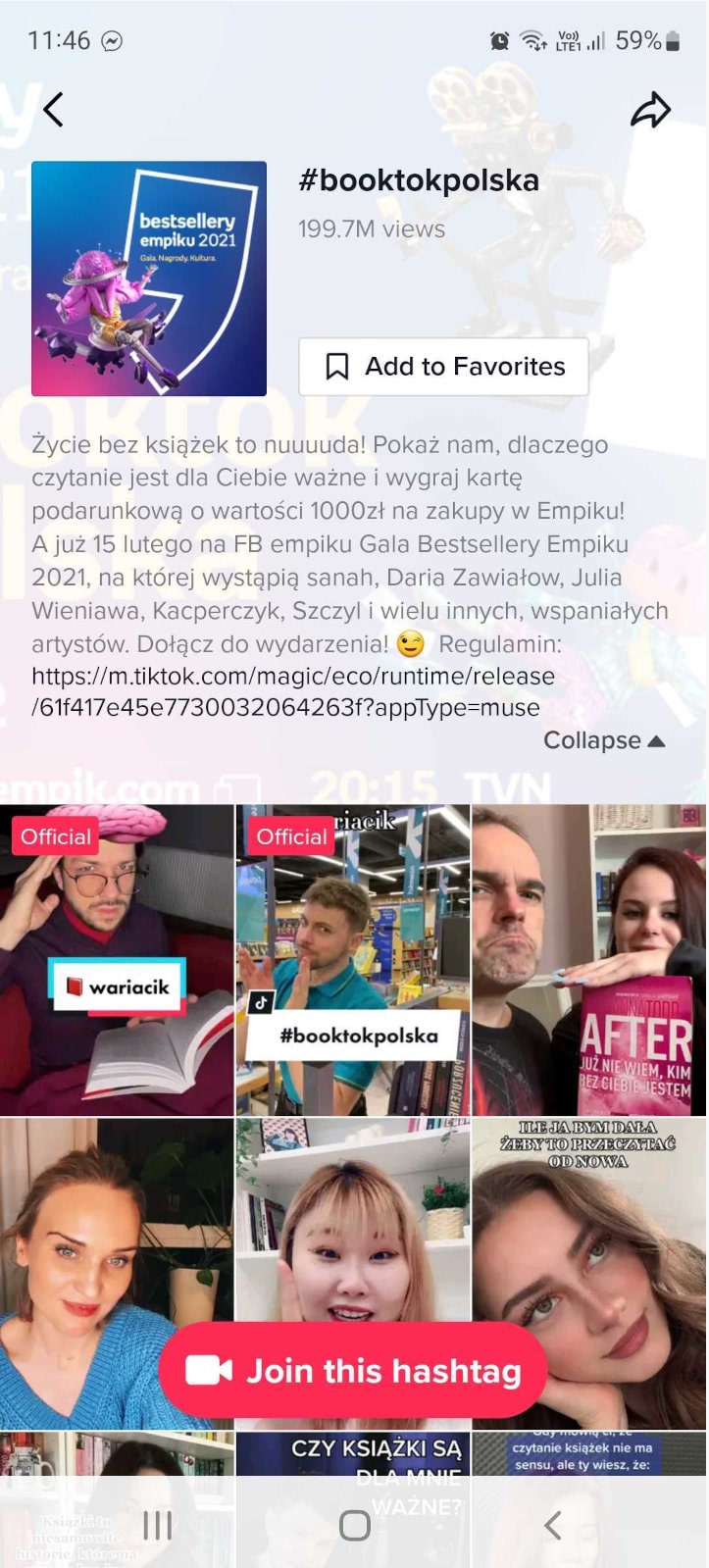 Follow any hashtag on TikTok and get insights into who's talking about your brand!
Conclusion
TikTok poses a challenge for brands. It is a new space they can use to build brand awareness, find new user-generated content, and promote their products. Because brand managers can use TikTok to reach new demographics they need to present a new type of content.
Firstly, TikTok posts need a solid content strategy. Depending on your industry, you can post:
Motivational content
Educational content
Promotional videos
Of course, that's not the only type of content you can publish on your TikTok account. Your content ideas should center around your unique selling proposition, though.
To become a successful TikToker and gain wide reach, you need to use hashtags, sounds, and effects that are trending at the moment. Your TikTok hashtag strategy can make or break your campaign, so remember to choose them carefully.
There are 2 main ways to follow hashtags on TikTok, inside its app or through an external tool like, for example, Brand24. Try it during a 14-day free trial!