X (Twitter) Marketing in 2023: A Complete Guide to Twitter Marketing Strategy
March 7, 2023 ・ 15 min read
Is Twitter the underdog of social media? If you omit marketing on Twitter, I'll show you how to leverage this channel and boost your online presence. There's nothing to be afraid of. Here's what you need to know about the state of Twitter in 2023.
Twitter gained a lot of attention in 2022 when Elon Musk acquired the social media giant. Some people were thrilled; some predicted it would shut down. Eventually, it seems that not much has changed for a regular Joe, and you can still build a strong Twitter strategy for your brand. Let me show you how.
Twitter statistics
Although Twitter is not as big as Facebook and not as trending as TikTok, it's still one of the most popular social media platforms. In January 2023, Twitter had over 500 million monthly active users, as presented in Datareportal statistics.
The US and Japan are leading countries in terms of Twitter users. As a marketer, you should know that these are highly profitable markets, and if you want a global reach, exposure on Twitter will boost your recognition.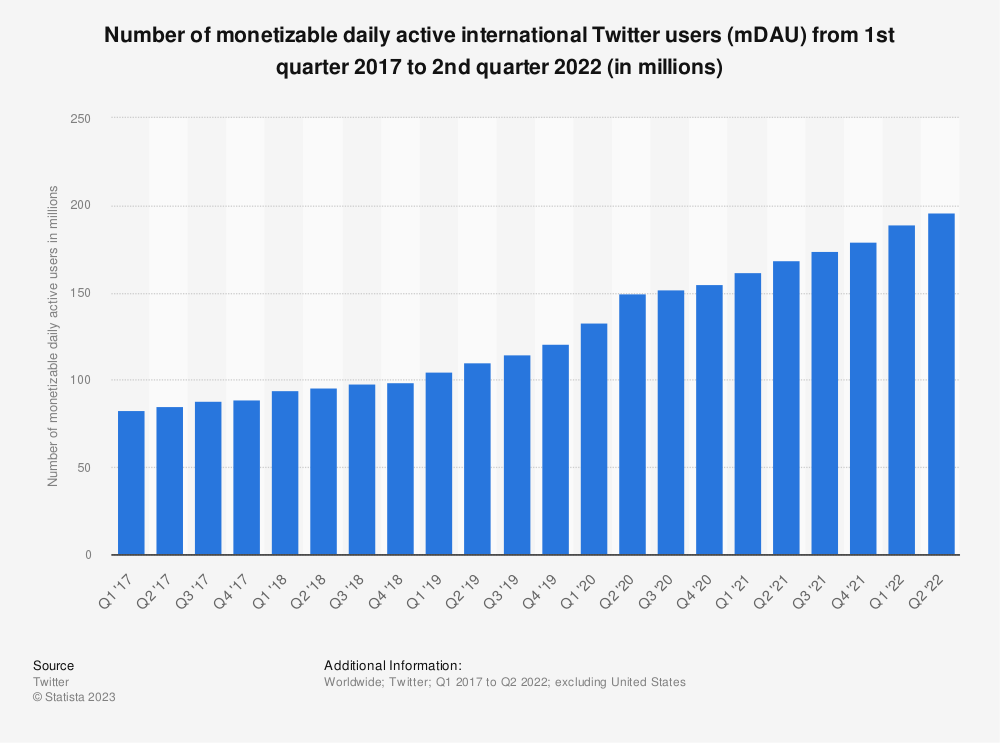 According to Hootsuite, Twitter is the 9th most visited site globally; users send more than 500 tweets each day. Impressive, right?
Let's see how you can use these numbers in your Twitter marketing strategy.
How Twitter marketing benefits your business?
There are several reasons why your brand can benefit from Twitter marketing. Here are some arguments that may convince you to set up a Twitter account.
Increase brand awareness
Twitter allows you to reach a large audience quickly and easily, making it an ideal platform for building brand awareness. Through effective Twitter marketing, you can increase the visibility of your brand and make more people aware of what you offer.
Brand24 is a tool that monitors online mentions of your company.
Improve customer engagement
With Twitter, you can quickly and easily engage with your customers in real time. By responding to tweets, direct messages, and mentions, you can build stronger relationships with your customers and show that you value their opinions.
Use a social listening tool such as Brand24 to find these conversations faster and get email notifications about the spike in mentions.
Increase website traffic
Social media, Twitter included, are a good source of the traffic to your website. You can use it as a distribution channel to share links to your blog posts, product pages, and other content. As a result, you are increasing the likelihood of generating leads and making sales.
Enhance reputation management
As a brand, you can respond to customer complaints and negative feedback. You can demonstrate your commitment to customer service and protect your reputation by addressing issues publicly.
Cost-effective marketing
Compared to other social media platforms or other forms of advertising, Twitter marketing is still a relatively cheap tool. Therefore, you can achieve a high ROI while keeping your marketing budget under control using Twitter ads.
How to optimize your Twitter profile
Optimizing your Twitter profile is extremely easy. You need to prepare a few things: your Twitter handle, profile picture, description, and background photo. Let's look at each section closer.
Twitter handle & name
The Twitter handle defines how your profile will be recognized across the website. It's the name that shows up after "@." Ideally, it should be your brand name. Twitter handles are unique and may be already taken. This sometimes happens, especially if your brand name is generic.
If the handle is already taken, there are two ways of dealing with the problem. You can either contact the person that took your name and politely ask them if they'd like to change (in some cases, they will probably want some money for the handle) or add a prefix/suffix. For example, if you operate only on the domestic market, you can add the country code (e.g. @yourbrandnamePL for Polish companies).
The name doesn't have to be unique. If will show up next to your Twitter handle and on the profile page. And you can use emojis!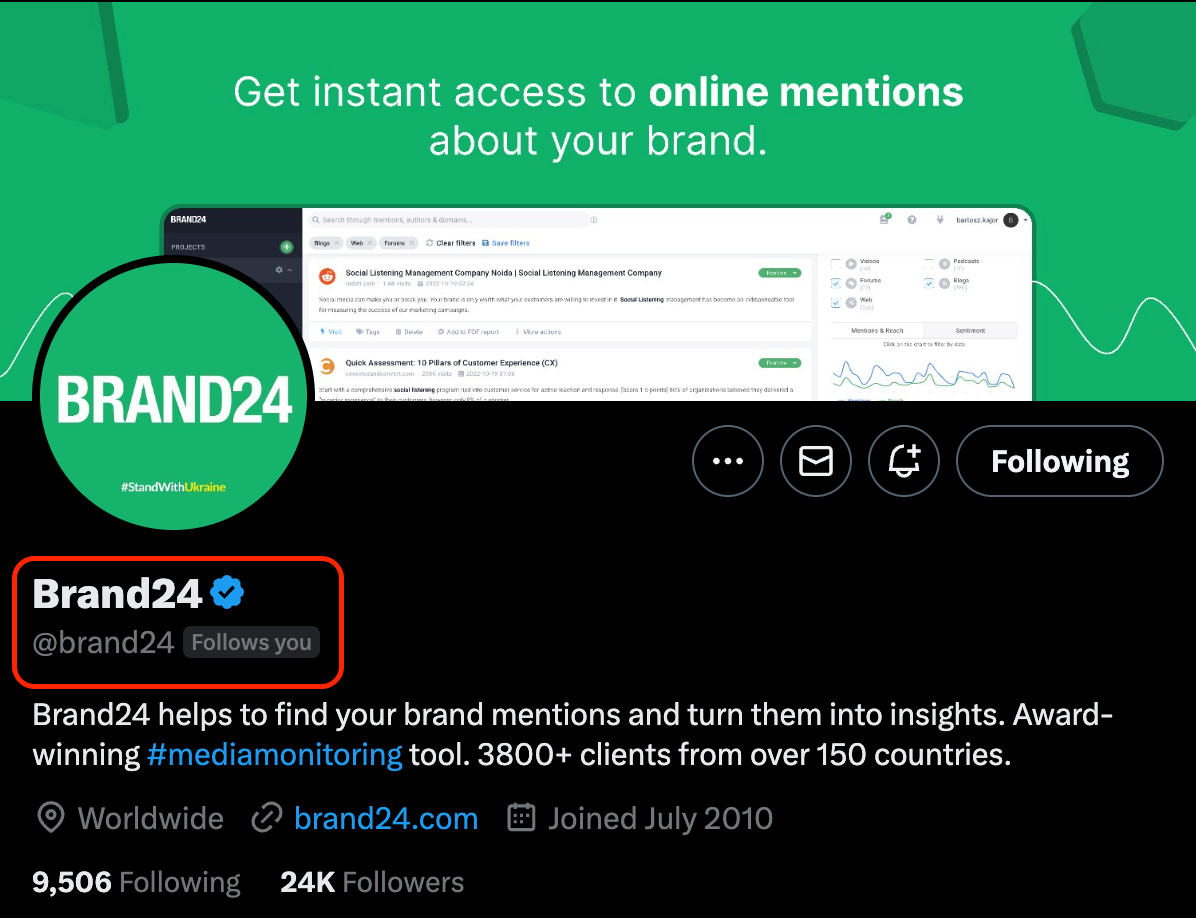 Look at the screenshot above. "Brand24" is our profile name. The smaller, gray text "@brand24" is our handle. Below there's also the description and additional info, such as location and website.
By the way, if you are here, consider following us on Twitter. Thanks!
Profile & header pictures
I recommend using a simple logo for the profile picture. Look at Brand24's profile – we use our logo and brand colors to stay recognizable.
The Twitter profile picture is 400×400 px. Upload anything bigger, and it will be scaled and possibly lose quality.
As an option, you can also upload the header picture. This is the bigger rectangle you see in the screenshot above. The dimensions for the Twitter header are 1500×500 px.
Profile description
Now is your time to shine and describe your brand. The Twitter bio gives you 160 characters to explain to other users who you are. You can include clickable links to other profiles (using the "@" handle) or hashtags. Keep it simple and informative.
Twitter hashtags
Including hashtags in your Twitter marketing strategy is an excellent way to improve your social media visibility. With the right hashtags, your tweets will be seen by more people and, hopefully, get more engagement.
There are a few things you should know about Twitter hashtags. Let's break it down.
How to find trending hashtags on Twitter?
There are 6 ways you can find trending and relevant hashtags.
Check the "Trends for you" section. On desktops, it's on the right side of the website. On the mobile app, you can find it by clicking on the search icon at the bottom.
You can use social listening tools such as Brand24 to find hashtags relevant to your searched keywords.
Explore tab. Apart from trends, Twitter will show you popular posts that may be of interest to you.
Use mobile apps. There are tons of iOS and Android apps that look for trending and relevant hashtags.
By following popular Twitter profiles, you can see which hashtags they use.
Hashtag generators. They work similarly to mobile apps. They generate relevant hashtags based on your search.
Read more: How to find trending hashtags on Twitter?
How to follow hashtags on Twitter?
Although there's no option to follow hashtags on Twitter in the same way as on Instagram, there are workaround alternatives.
For example, you can use social listening tools. You might want to grab our 14-day free trial to test Brand24. Start a new project and enter the hashtag you are interested in. Next, in the panel, you can filter only Twitter mentions and see who's talking using the said hashtag.
Read more: 3 Easy Methods to Follow Hashtags on Twitter.
Use Brand24 to follow hashtags. Try the 14-day free trial – no card required!
How to see how many times a hashtag was used on Twitter?
As your Twitter marketing strategy relies on popular hashtags, you might want to know how many times they were used.
Again, Twitter does not provide such data via their app, but hey, I think you know what I want to say to you right now. Yes, Brand24 can estimate how many times a hashtag was used in a defined time period.
Learn how to check how many times a hashtag was used on Twitter.
Hashtag analytics
A vital part of Twitter marketing is also hashtag analytics. If you want to use them in your marketing campaigns, there are some tools that will help you gather the necessary data.
Although Twitter business profiles have access to simplified data, they are limited to a specific time period. Fortunately, you can use tools like Brand24, Tweetdeck, or Buffer.
Again, we wrote a bigger piece about hashtag analytics, so I'll refer you to another article on our blog.
Read more: Twitter hashtag analytics.
Twitter marketing strategy: Setting goals
When you are taking your first baby steps in Twitter marketing, it's important that your strategy has defined goals.
While the number of clients you got through your Twitter marketing efforts would be the best metric for some businesses, there are also other KPIs you can track. I'm presenting a list of them below and it's up to you to decide which ones are the most important for your first Twitter marketing campaign.
Follower growth
If your goal is to grow your audience on Twitter, then you absolutely need to track the follower growth rate. You can get in-depth details to see if follower growth accelerates or slows down due to your efforts.
Engagement rate
The engagement rate measures the percentage of followers who engage with your content, such as retweets, likes, and replies. A high engagement rate indicates that your content is resonating with your audience.
Impressions
When you want to measure the reach of your Twitter content, you can track Impressions. Impressions represent the number of times your tweets have been viewed
Click-Through Rate (CTR)
The CTR measures the percentage of people who click on a link within your tweet. This metric is important for tracking the effectiveness of your calls to action and how your content resonates with the audience.
Conversion rate
The conversion rate measures the percentage of people who take a desired action after clicking on a link in your tweet. This could be anything from filling out a form to making a purchase.
Mentions and replies
Tracking the number of mentions and replies your brand receives on Twitter is important for monitoring customer engagement and sentiment analysis.
Hashtag performance
Tracking the performance of branded or industry-specific hashtags can help you identify which topics resonate with your audience and adjust your content strategy accordingly.
See also: What is the best hashtag tracker?
Who's your target audience?
Choosing the right type of audience is a vital part of an effective Twitter marketing strategy.
To run an effective Twitter marketing strategy, you need to understand that the audience on Twitter will not always be 100% the same audience as on other social media. Twitter users are specific to this channel and demand another type of content.
Twitter is much smaller than Facebook or Instagram, and its users are accustomed that brands are more likely to respond to the comments that on other social platforms. If you are taking your Twitter marketing seriously, I highly advise you to take your time to respond to Twitter users.
That being said, if you have well-developed buyer personas, they will help you a lot with creating a content calendar for Twitter. Just look at the pain points they may face and offer solutions and expert knowledge, and you will meet your target audience.
What type of content performs best on Twitter?
It all depends on what you do. Different market niches prefer different content. However, you can apply few golden rules in your content calendar if you want your tweets to generate engagement.
Twitter is known for its 280-character limit. Sometimes it's hard to include all the necessary information in your tweet (especially if you want to add links, hashtags or tag other accounts), but at the same time, this can be a great exercise to be more precise and witty.
Note: In 2023, Elon Musk, Twitter CEO, announced that Twitter Blue users can write 4000-character tweets. Twitter Blue subscription plan costs $8/month and gives some extra privileges.
Even if you are a paid Twitter user, remember that people nowadays have a short attention span and prefer matter-of-fact content that cuts straight to the point. Sometimes it will be necessary to write a longer tweet but generally, try to produce short messages.
So what type of content performs best on Twitter?
Text-only tweets: short and snappy text tends to perform well. This includes attention-grabbing headlines, witty one-liners, and thought-provoking questions.
Visual content such as images, GIFs, and videos usually successfully grab attention on Twitter. Try to use high-quality images and short-format videos. Although Twitter has a mobile app, there's still a preference for horizontal videos and photos (vertical content will be cropped in the feed).
User-generated content (UGC), such as customer reviews, photos, and videos, can help to build social proof and credibility for your brand. UGC is also more likely to be shared and engaged with by other users.
Industry news and trends are a great way to establish your brand as an authority in your field. By sharing relevant content, you will attract your target audience and position your brand as a thought leader.
Promotions and contests can help to incentivize engagement and drive traffic to your website. By offering exclusive discounts, free products, or other incentives, you can encourage your followers to take action and engage with your brand.
These are the 5 best tips for Twitter marketing content, but as always, I encourage you to experiment with different tweets to see what keeps your audience engaged the most.
How to grow your Twitter audience?
You can grow the audience either with organic content or using Twitter ads. You can also use external links on other social media channels or via your website, but I'll focus on the first two ways.
Organically
The best way to grow your audience on any social media platform is to post interesting and valuable content. I know it's easy to say, "go viral!" and not give any hints on how to go viral, but unfortunately, there are no rules for viral Twitter marketing.
Focus on what really resonates with your audience. It helps a lot when you have defined buyer personas. Share exciting insights, informative content, and ask questions.
If your content is well-prepared for your target audience, eventually, you will grow your followers count.
Paid ads
Using Twitter ads is an easier and quicker way to grow your audience, but on the other hand, it requires a budget. It's up to you if you are willing to pay for engagement ads or prefer organic tweets. At the end of the day, it all boils down to your KPIs and Twitter marketing budget.
Twitter Ads
Now that I mentioned paid ads on Twitter let's see what else you should know before defining your strategy.
Twitter Ads is a self-serve advertising platform that will allow your business account to create targeted ads on Twitter. Here is everything you should know about Twitter ads:
Format
Twitter offers several ad formats, including promoted tweets, promoted accounts, promoted trends, and video ads. Promoted tweets are the most common type of Twitter ad, and they appear in users' Twitter feeds like regular tweets. There's always a little annotation to differentiate sponsored content from regular posts.
Targeting
Twitter offers a variety of targeting options to help brands reach their target and new audiences. Targeting options include location, gender, interests, behaviors, and more.
Bidding
Twitter uses a bidding system to determine which ads are displayed to users. You can set a maximum bid for your ads, and Twitter will display the ads that have the highest bid and meet the targeting criteria. This option is useful when you have a limited budget.
Budget
The ads system allows businesses to set a daily or total budget for their ads. The platform offers several bidding strategies, including automatic bidding, target cost bidding, and maximum bidding.
Metrics
Twitter provides a variety of metrics that will help you track the performance of the ads. Metrics include impressions, clicks, engagement rate, and cost per engagement. Use this data to optimize your ad campaigns and improve the ROI.
Ad policies
Twitter has strict policies governing the types of ads that are allowed on the platform. Be sure to read the rules before submitting your first promoted tweets.
Twitter influencers
Like on all social media platforms, you can find influencers on Twitter, too.
Using the right influencer marketing strategy, you can boost Twitter engagement and brand awareness. If you do your job right, you might even find yourself some brand ambassadors who will endorse your company in the long run.
If you are interested in using Twitter influencers in your social marketing strategy, I have another article for you: How to find Twitter influencers?
How to measure success of Twitter marketing?
Measuring how successful your Twitter marketing campaigns are is simple if you defined a set of goals based on the KPIs I mentioned earlier in this document.
A successful Twitter marketing strategy can be measured only based on pre-set goals.
Twitter marketing tools
Twitter tools are here to help you manage your work, boost engagement, find opportunities, and more. Below I'm listing my favorite tools that will give you a hand with your Twitter marketing efforts.
Brand24
Brand24 is a social listening tool that will prevent you from missing any mention of your brand that appears in public online spaces. Anytime someone tweets about your company and doesn't link your account, you will know that in the Brand24 dashboard.
Not only will you find unlinked mentions, but also you can use analytics tools with Brand24. The app offers sentiment analysis, finding the most influential profiles and trending hashtags relevant to your brand, and many more. Try out the tool with a 14-day free trial.
Paid plans start at $69/month.
Try Brand24 as your go-to Twitter marketing tool. Free 14-day trial available.
Sprout Social
Sprout Social is a platform for social media marketing. The app includes a management tool that will allow you to talk with your audience within the app, schedule tweets, and analyze your engagement. It also consists of a social listening solution that will help you to jump on trending subjects and join real-time conversations.
If your social media strategy includes more platforms than Twitter, perhaps you should invest in a social manager such as Sprout Social.
Paid plans start at $249/month.
Canva
If you are aiming at visual content but lack graphic skills, Canva has you covered. Even with the free plan, you get access to dozens of pre-made Twitter templates that you can use in your tweets. Create visual aid for your posts, covers for blogposts, infographics, and simple animations. You can't go wrong with Canva in your Twitter content strategy.
Hootsuite
Hootsuite is another powerful marketing platform for social media management. Similarly to Sprout Social, you can manage several social media profiles from within the app. Schedule posts, manage ads, monitor and analyze your feed, and more.
Hootsuite includes integrations with other marketing tools, such as Mailchimp, Hubspot, or Shopify, which is very convenient if you have other apps in your stack.
The cheapest plan costs $99/month and offers a free 30-day trial.
TweetDeck
TweetDeck is a Twitter-specific dashboard that allows you to manage and monitor multiple Twitter accounts in real time. With TweetDeck, you can create custom streams to track mentions, hashtags, and other essential metrics.
TweetDeck is free and officially endorsed by Twitter so you can use it right away, without making a new account, which is a huge plus.
More Twitter-related resources
Now that you know all the basics about Twitter marketing, let me introduce you to some other articles on our blog that may be of interest to you.
I'm looking forward to upcoming amazing Twitter profiles!