When was the last time someone mentioned you on social media?
Was it seconds, minutes, hours, or days ago?
Whether you're a small business that gets little to zero social media interactions, or a brand investing thousands of dollars into its social media presence, you're most likely talked about by other people online. Every time you appear in other people's tweets, Facebook updates, or Instagram comments, it counts as a social mention.
What's a social mention?
Whenever your brand name, hashtag, or pretty much any keyword appears in someone's social media post, it's a social mention.
Social mentions are important to brands on many different levels and we'll outline some of the crucial use cases down below.
Social mentions in reputation management
As I have mentioned above, some businesses are talked about more than the others. That doesn't change the fact that I believe all of them should keep track of their social mentions.
Building your reputation as a business takes years of dedication and hard work. You need to put a strategy in place to thoughtfully create your brand identity and personality and yet it all can go to waste with one bad move.
That's because people won't take a step back when they want to attack you on social media. It's not that bad when they're just trying to troll you, but it could do much harm if there's a genuine reason for them to trash talk you on social.
In such situations, timing is of the essence. If you don't monitor your social mentions closely, one negative comment can quickly escalate to a PR crisis that's going to hit you hard.
On the other hand, these are not just bad people out there only waiting for a chance to put you in a bad light. Unless there's some major fuck up on your side, a majority of social mentions of your brand are probably going to be positive.
Use them to build a stronger relationship with those people. Show them you're out there listening and willing to help them solve their problem. You can only benefit from such an attitude, and the people you reach out to will be a lot more likely to become your brand ambassadors recommending your product whenever they're discussing your industry.
Social mentions in competitor monitoring
If there are people talking about your business, they are also talking about your competitors.
They might say good things and that's totally fine, you're not going to engage such social mentions.
But some social media users are going to say negative things about them. Or ask them for support only to receive no reply in return. That's when you should come on stage.
Don't get me wrong – you're not going to join people attacking your competitors, but if you see your business rivals ignoring people dissatisfied with their service, that's where you step in. Let them acknowledge you're there for them and will happily help them out with their problem, as long as you're capable of doing it, of course.
Not to leave with too many doubts, here's how I handled a similar case quite a while ago: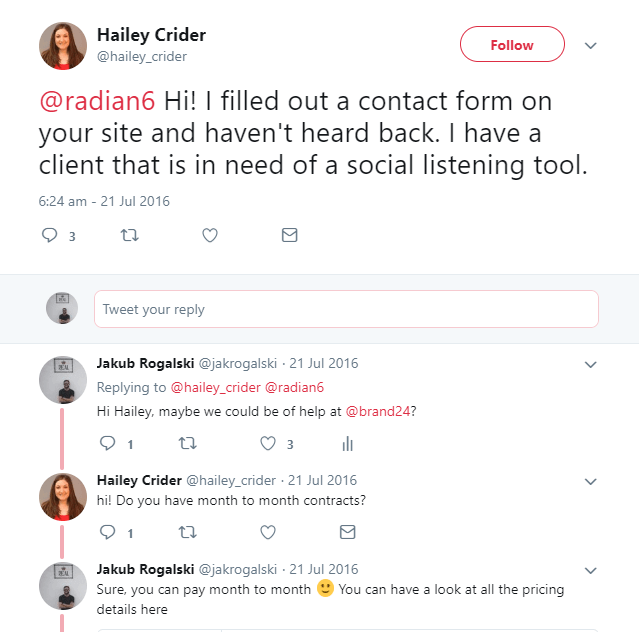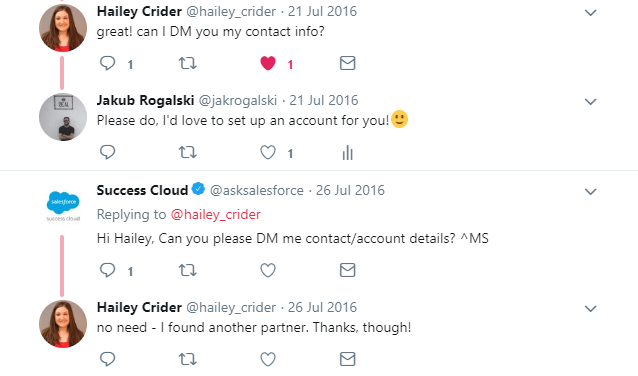 As you can see, it took five days for our competitor to get back to Hailey, and that was way too long. You can't leave a customer waiting so long these days. And we couldn't be happier about the outcome of this situation: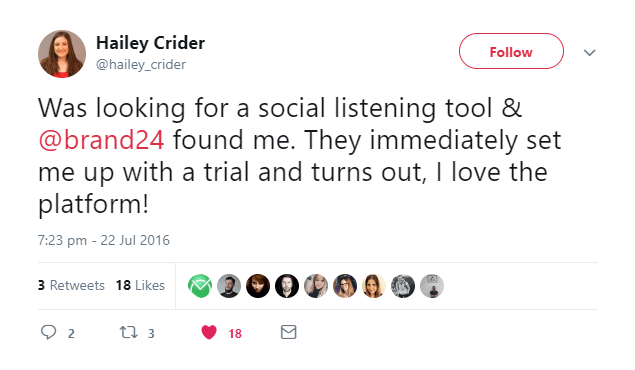 This was all down to monitoring social mentions of our competitors and a prompt reply, obviously, which leads us nicely to customer service.
Social mentions in social media customer service
It's another area where social mentions are of the essence.
32% of users who contact a brand expect a social media customer service response within 30 minutes, and 42% expect a reply within 60 minutes.
You'll be able to google hundreds or maybe thousands of articles on why social media customer service is so important these days and there's a reason for it.
Remember how you'd file a complaint a decade or so ago that hardly anyone but you and the company involved would know about? Well, it's been a different ball game for at least a few years now.
Been to a restaurant and were unsatisfied with the service, food, whatever?
Unfortunately for brands, many people wouldn't hesitate to post lengthy descriptions of their experiences on social. If businesses fail to pick up on such social mentions, they are exposed to things we've already discussed above, like serious damage to their reputation, or a competitor taking advantage of their mishap.
Consumers' behaviour changed drastically over the years and they tend to make their choices based on opinions they find on social media. Many people assume businesses are online at all time and expect replies almost right away.
I summarised one of my previous articles with the following paragraph:
It's no wonder customer satisfaction rises when a brand responds to people on social media. A consumer survey conducted for Sprout Social indicates that when this happens:
70% of people are more likely to use a brand's product or service.

65% of people have more brand loyalty.

25% of people are less likely to go to a competitor

25% of people are less likely to post negative things about the brand, product or service

75% of people are likely to share a good experience on their own profile.
Those stats should be shown to any business that is not taking care of their social media customer service. Ignoring consumers will eventually affect the bottom line of such businesses, and that's something none of the business owners wants.
What are the best ways to monitor social mentions
There are a few ways to go around tracking social mentions, the most effective being social media monitoring. It's our bread and butter at Brand24 and let me tell you how to monitor social mentions using our tool.
If you're totally new to our product, start with creating a Brand24 account: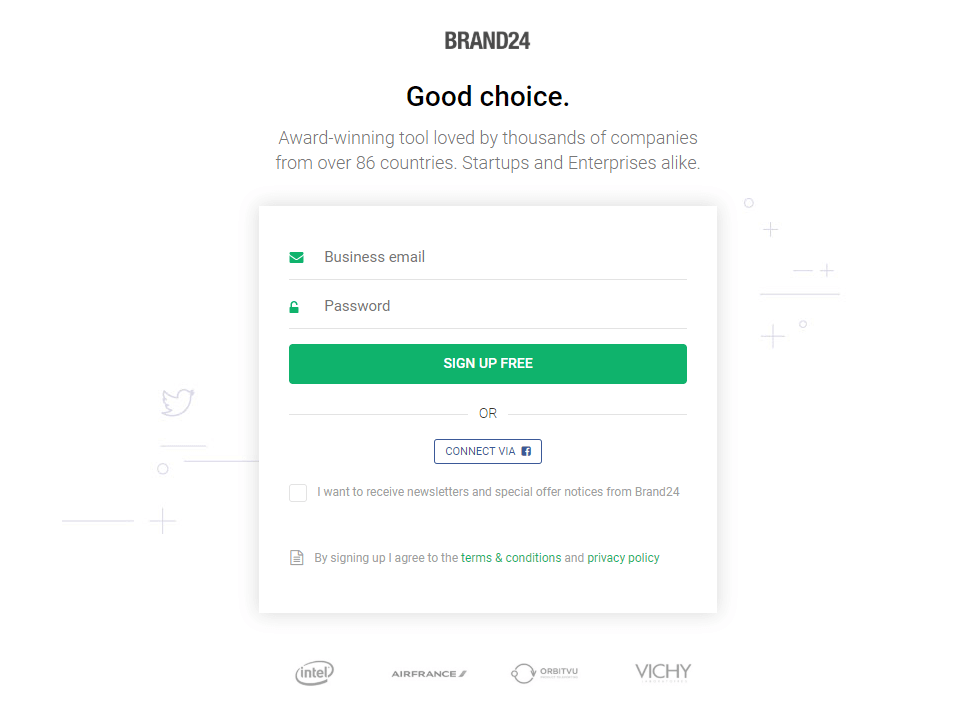 Once you're done with that, the next step would be to create your first project!
You could go with the basic project creation form: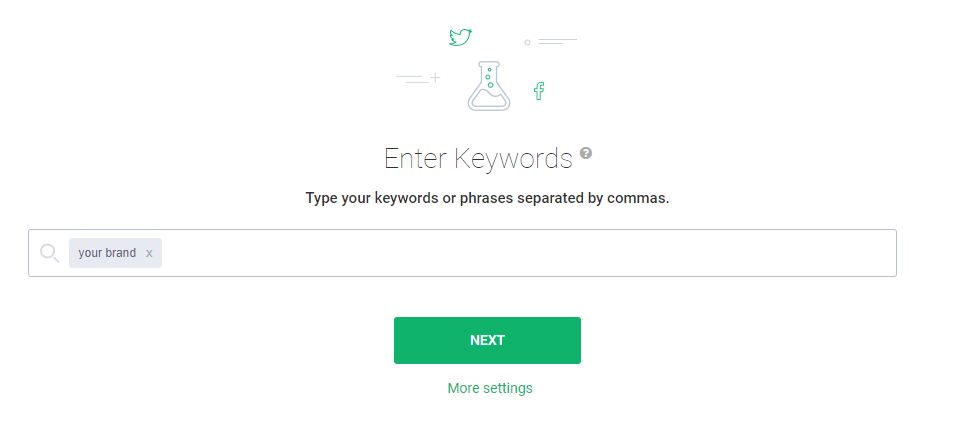 Or click on More settings to get a little bit more into the details: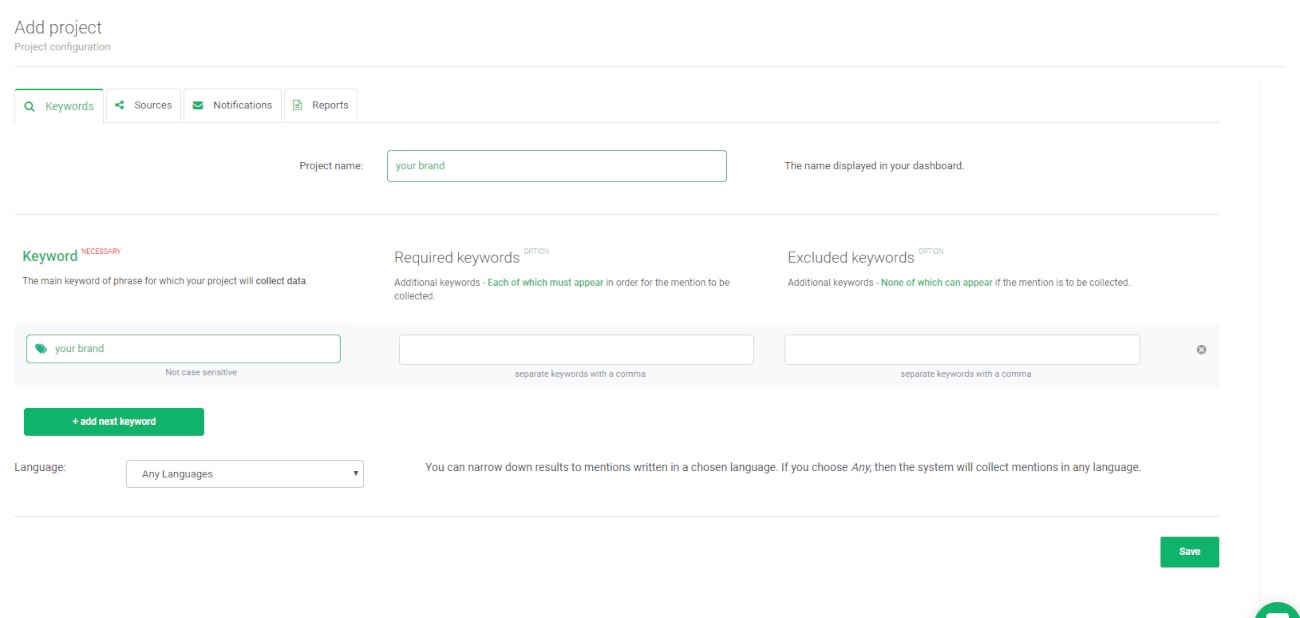 Here, you'll be able to add required and excluded keywords that work as an equivalent of boolean search. Other tabs, like Notifications or Reports, will help you set up your email notifications, as well as Daily and Weekly Reports, and Storm Alerts, that are sent to you in case of sudden changes to the percentage of mentions and social media reach.
If you're interested in collecting social mentions from selected sources only, make your choice by ticking the appropriate boxes in Sources tab:

Pro Tip: Unless you're 100% sure there's no way you'd find a social mention of yourself on a particular platform, I'd stick with all the available sources. At the end of the day, you never know where they're going to talk about you.
Once you click save, the tool starts collecting social mentions for you and loads them into your dashboard. You'll be able to see how many mentions of a given keyword appeared across various sources:

And browse mentions individually:

Apart from mentions themselves, what probably matters, even more, is the graph displaying the engagement and sentiment of your social mentions over time:

A number of mentions, social media reach, interactions, such as likes, shares and comments, as well as positive and negative sentiment, it's all there for you, reflecting how all those things change in relation to your social mentions.
What's a pretty big thing is the ability to filter your social mentions by location! It only works for Twitter and Instagram, though, and it won't go deeper than the country level. It was one of the most requested features by our users and it's only been around for a few months now. Location filter can be found in a right sidebar of your dashboard: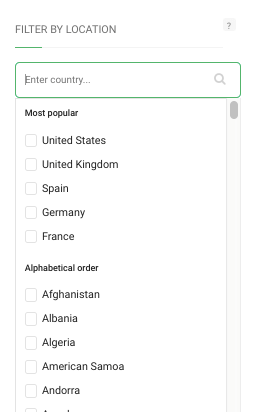 You can find a round-up of the most active locations inside the Summary and Analysis tabs of your dashboard: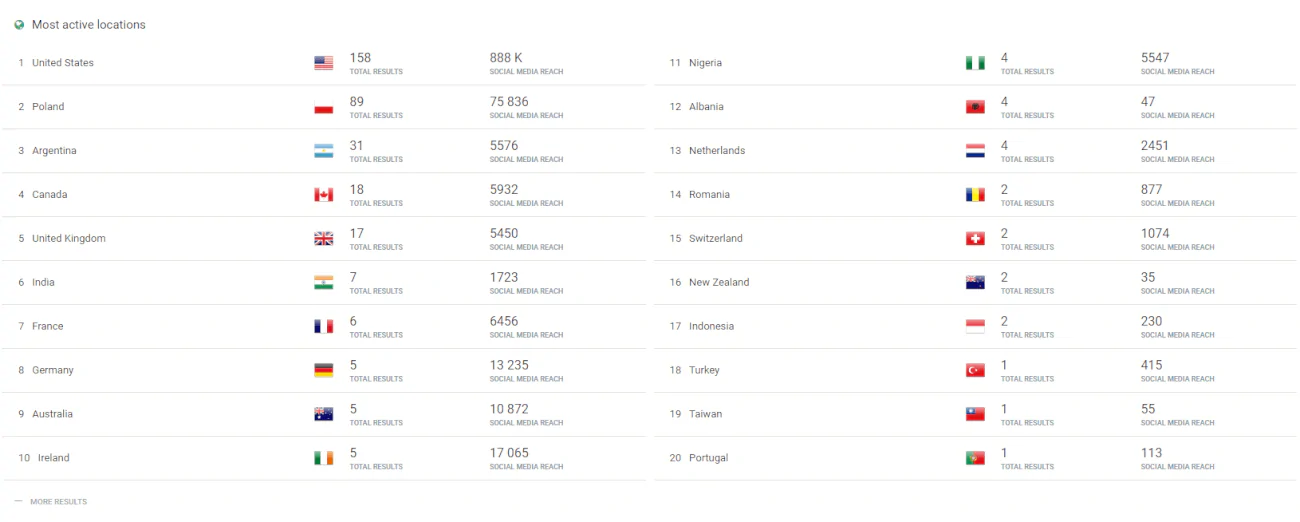 Some other, highly useful filters can be found next to Locations, on the right-hand side of the dashboard: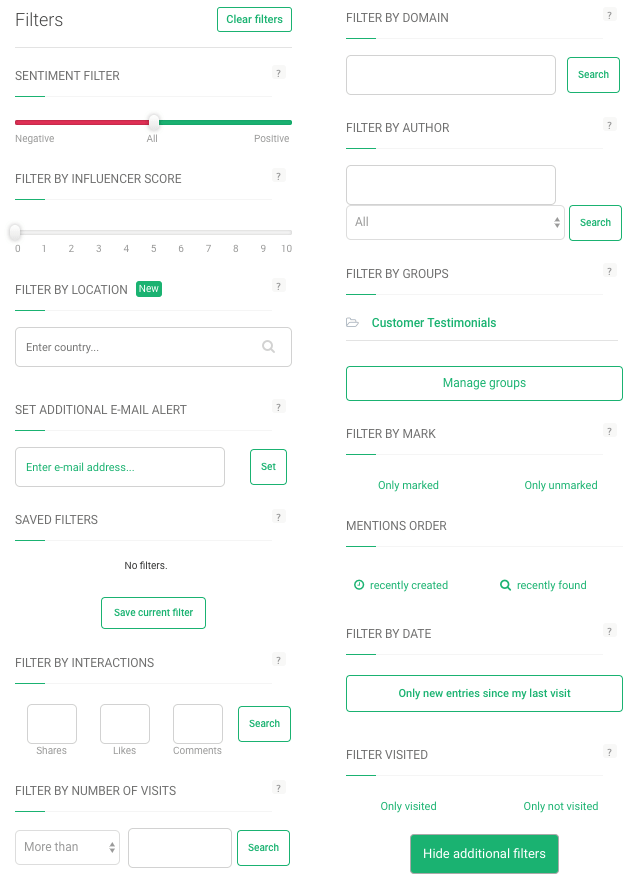 Moving a tiny bit outside of social, you might also want to add tracking Google Reviews to your arsenal.
While having your project open, click on Project Settings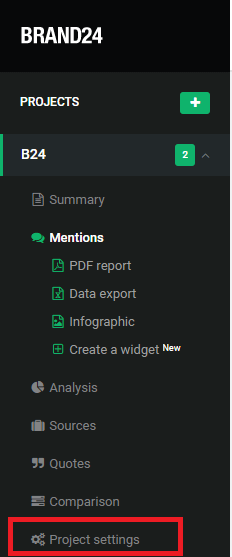 Once you're there, open Additional sources tab and paste your Google Reviews link:

On top of it all, Brand24 helps you find influencers and much, much more!
Social Mention
Another tool you could use for tracking social mentions is… Social Mention.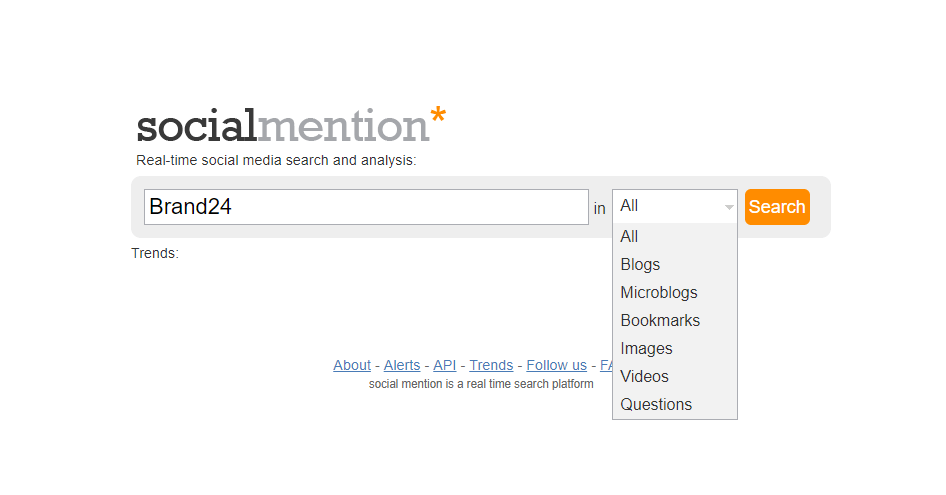 As they state on their homepage, SocialMention is a real-time search engine.
While it's not too visually appealing, it still provides valuable data for your social mentions and you get all that for free. Just type your keyword into the search bar and get the results.
Obviously, it's not as comprehensive as the paid tools but still, as I said, there is definitely something you could benefit from.
Actual mentions of your keywords are right in the middle of this modest tool. You can sort them by date or source, as well as the time frame: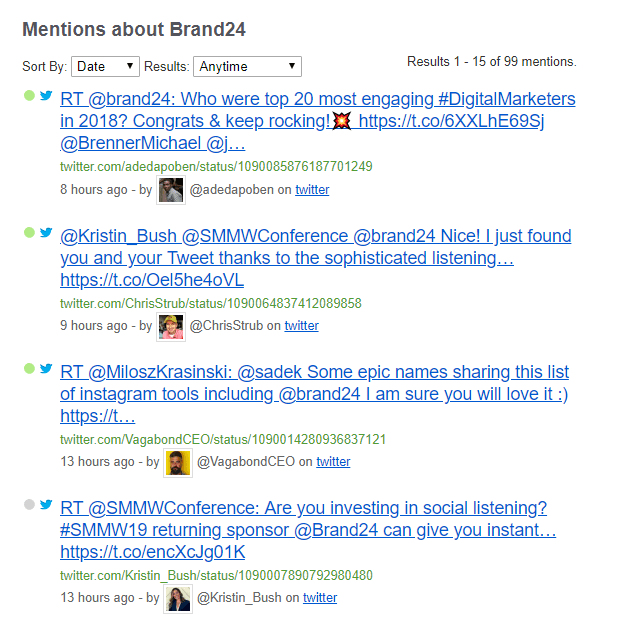 Then, you can find additional information in the panel on your left. That includes Strength, Sentiment, Passion, and Reach of your keyword: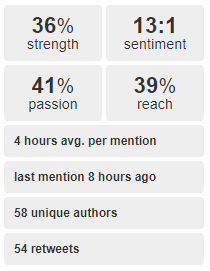 On top of that, you'll find some more stats related to sentiment, top keywords, users, hashtags, and sources:

You can also refine your search with advanced filters: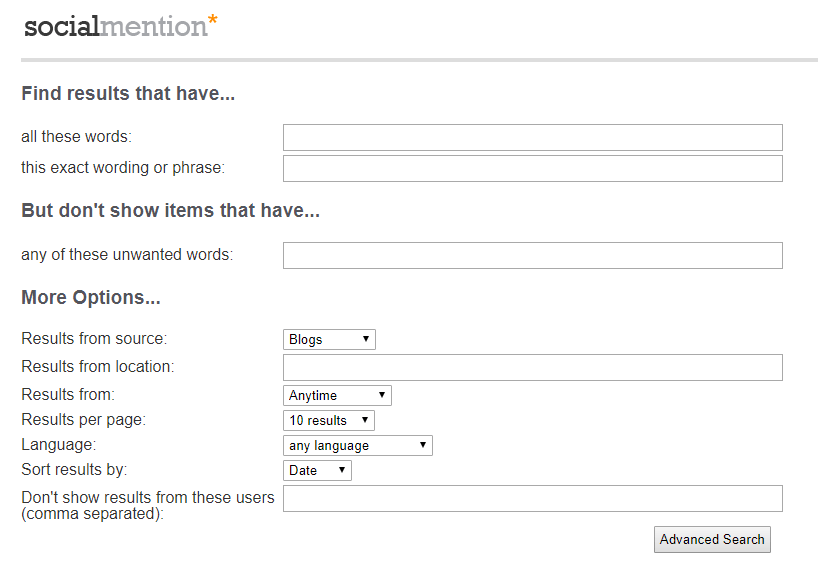 Pretty cool you can get all that for free, right?
Wrapping up
As I have mentioned, there are brands getting thousands of social mentions daily, and there are those that get very few or none.
Even if you think a social media monitoring tool is too much for you and regardless of the size of your business, it wouldn't hurt to check up on your social mentions, even with just a basic, free tool.
Would love to know how many social mentions you guys get! Don't hesitate to tag us with your numbers on Twitter, Facebook, LinkedIn, or Instagram!
---
---