Brand24 and Instagram Analytics
April 6, 2020 ・ 8 min read
Brand24 and Instagram analytics goes together like peanut butter and jelly, bacon and eggs or Aperol spritz and summertime. Brand24 is a social media listening tool. Its main aim is to spot public online mentions containing your predefined keywords. Instagram is one of the fastest growing social media channels with over one billion active users. Why is Brand24 and Instagram analytics a match made in heaven? Let's find out!
Here's what we're going to cover today:
What Does Instagram Analytics Do
The analytics section on Instagram is called Instagram Insights. Since Instagram is refocusing on business clients, Instagram analytics offers a lot of information helpful for your business.
Instagram Insights provides data that help you:
understand your audience,
find your most engaging content,
measure your social media reach,
track the number of followers,
and much more!
As marketers, we love data as they help us develop marketing campaigns tailored to our needs. We would be like babes in the woods without all the metrics, unable to measure the results of our strategies and social media ROI.
That's why Instagram analytics should be an indispensable part of your Instagram marketing strategy.
Is Instagram Analytics Free?
Yes, Instagram analytics is free.
Instagram Insights are available for all business accounts and accounts that are active more than others on Instagram, so mainly big influencers with a massive following.
Why would you need an additional tool if Instagram offers robust and free analytics?
Brand24 a Must-Try Instagram Analytics Tool
To run a successful Instagram marketing campaign, you need a more specific set of data that is not available via Instagram Insights.
Don't get me wrong – Instagram Insights offer a great collection of data you need. But when it comes to Instagram analytics there's so much more you can't miss.
What kind of in-depth Instagram analytics does top social media monitoring tool, Brand24, (at least, according to Buffer) offer?
Brand24 will collect insights on what Instagram users are saying about your brand. The tool will also:
Think about Instagram Insights as the quantitative data giving you all the vital numbers about your audience, impressions, likes and comments.
The data collected by Brand24 will complement your Instagram analytics data.
What exactly can you do with this powerful combination? Let's find out!
How to Set Up a Project in Brand24
First of all, you need to set up a project. In the project creation wizard enter the keywords you'd like to follow. Think about terms like:
the name of your company;
the name of a specific product or service;
keyword related to your industry;
your branded hashtag;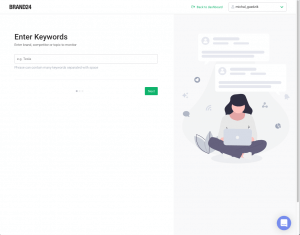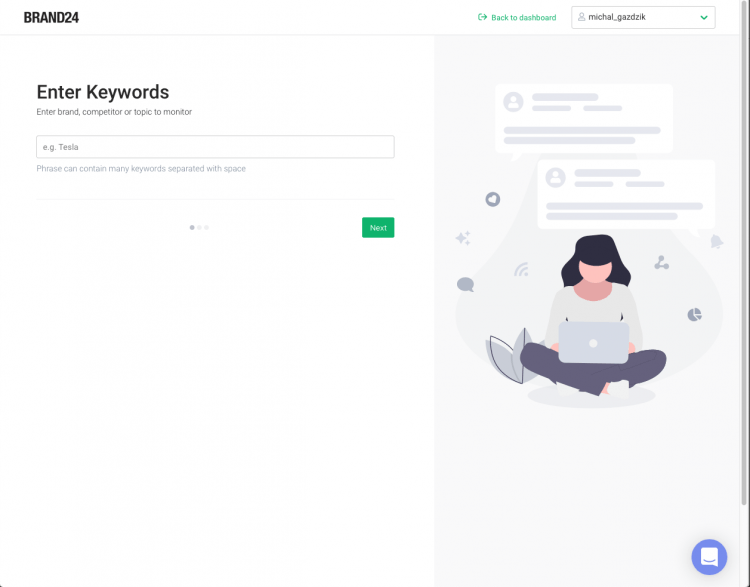 I'll discuss it further in this article, but if you want to measure hashtag performance on Instagram, it's vital that you set up a separate project for each hashtag you use. It will make your life much easier!
Instagram Analytics and Audience Insights
Instagram Insights offers demographic information about your audience. Brand24 offers complimentary data that will help you target your message even more precisely.
Instagram Insights will provide you with information like:
gender;
age;
location;
followers activity by hours.
What can Brand24 add to Instagram Analytics?
First of all, look at the sentiment analysis. According to Brandwatch, sentiment analysis is:
the process of analyzing online pieces of writing to determine the emotional tone they carry.
In layman's terms, sentiment analysis determines the author's attitude towards a product or service. Brand24 distinguishes negative, positive, and neutral sentiment.
Why is sentiment analysis so critical when it comes to Instagram analytics?
Native Instagram Insights will give you information about who your audience is – their age, gender, profession, education and much more.
Brand24 will provide information on how your followers feel about your product or service.
Wonder when it can be useful? There are some cases where sentiment analysis for Instagram proved to be valuable, and they include:
reputation management
customer feedback
crises prevention
When it comes specifically to Instagram, sentiment analysis will give you information on how your content resonates with your audience. If the reaction is positive, you can reiterate the message and reinforce your position as an Instagram leader.
If the return message from your followers is negative or neutral, it means that your content is not exactly what they've been looking for. That's a sign you should restructure your strategy. The result should be a boost in engagement metrics.
Use Trending Hashtags
Hashtags have been popularised by Instagram, and now it's hard to imagine a successful Instagram marketing campaign without a dedicated hashtag.
The question remains – which hashtags to choose to reach the widest audience? Instagram Insights won't give you this information. You can manually search for them in the Instagram's Explore section, but, let's be honest, who has time to do that?
This video shares some good tips on how to quickly find the best (trending) hashtags to grow your Instagram profile:
This also happens to be where Brand24 comes in handy.
When you log in to the panel, on the left side, you'll find an Analysis tab. Apart from many fantastic Instagram analytics metrics, which I'll discuss later on, you'll find there a Trending hashtags section.
Let's see what's there for you.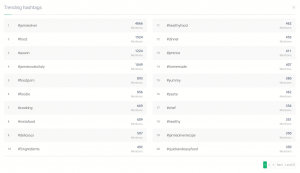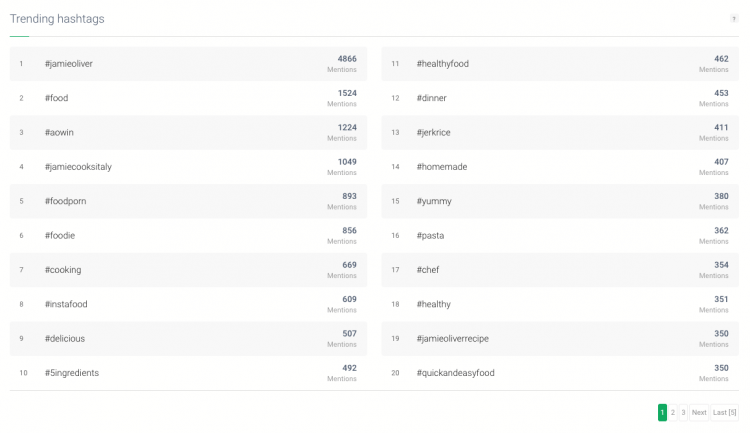 Brand24 generates a list of 100 trending hashtags based on your predefined keywords. You can use the hashtags to boost your brand awareness and increase reach. Getting your photo on the Instagram Explore page can be a huge boost for your profile.
Measure Hashtag Performance
When we're at trending hashtags, let's take a look at monitoring hashtag performance. Measuring hashtag efficiency will tell you:
whether your campaign was successful,
how the hashtag spread across social media.
Brand24 measures hashtag performance and delivers a lot of useful metrics to help you understand your data even better.
1. Volume of mentions
The dashboard in Brand24 will show you the number of mentions containing your keyword.
The volume of mentions indicates how many users have seen your hashtag. It will tell you how popular your hashtag, event, campaign or brand is.


If you keep track of it for an extended period, you'll be able to spot seasonal increases and decreases in social media reach and prepare more targeted content for a specific time of year.
2. Engagement
Many marketers claim that engagement is the most important metric you can track across social media. I don't know whether it's crucial for your social media activity, but engagement rates will tell you how popular your content is among your audience.
Engagement metric will tell you how many people reacted to your Instagram posts – either by liking the photo or by leaving a comment. The more comments and likes your posts have, the more your audience identifies with your messaging.
Monitor Multiple Hashtags
You can easily search for one hashtag on Instagram. But if you want to browse through posts that include two or more hashtags, Instagram analytics is of no help.
In the Brand24 panel, you can use the Boolean search to include or exclude specific hashtag. It's especially useful when you're running a campaign and want to promote the second hashtag among your existing audience. Or if you want to differentiate one specific hashtag campaign associated with the Instagram influencer marketing campaign.
Simply type the hashtag in the box in the left upper corner in the Mentions tab and let Brand24 do the magic.
Analyse the Instagram Analytics of Your Competitors
This point is the real catch. With all the benefits Instagram Insights bring, you can't take a peek into your competitors' social media metrics.
You can do it with Brand24, and it's completely legal and ethical.
Remember when in the beginning you created a project and entered all the keywords related to your company? Now it's time to create a separate project for your competitor.
Knowing what your rivals are up to is an important part of your business strategy. You can stay ahead of the competition and reach and convert your targeted audience before them.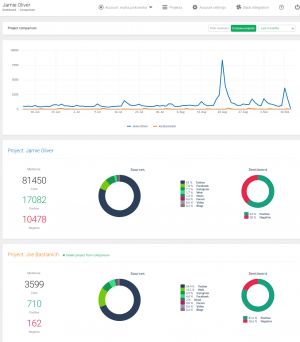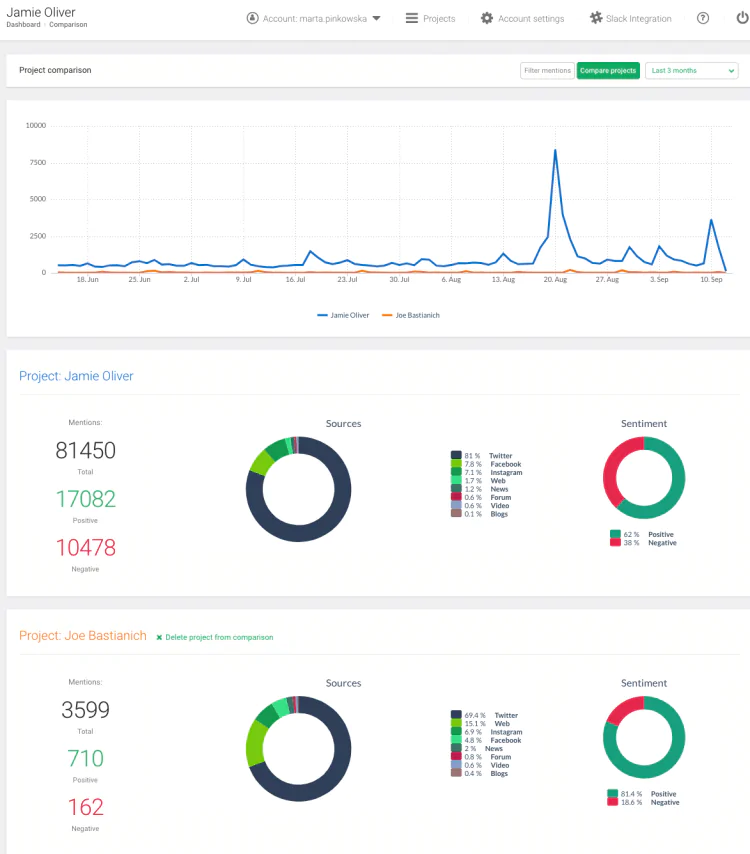 Inside Brand24 you can compare two projects and spot the difference right away. You can compare multiple projects and immediately see which one generated the most social media buzz, the sentiment around the mentions and social media platforms where most of the mentions come from.
The great news is that you can filter the mentions according to your needs. The filters include:
sentiment
number of interactions
source
domain
date
Compare Different Social Media Channels
I've been talking about Instagram analytics in this post, but the truth is that with Brand24 you can measure the social media reach from other platforms, for instance, Twitter, YouTube, or TikTok.
Preparing separate marketing campaigns and measuring the results of these activities is quite an overwhelming task, especially if you don't have the resources to hire an experienced social media manager.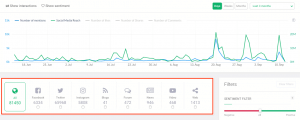 By comparing your performance across different social media channels, you can choose the one that best suits your brand.
It's not necessarily Instagram, but you won't know it if you don't compare your performance across many different channels. In Brand24 you get all the data in one dashboard.
Brand24 and Instagram Analytics – a Match Made in Heaven
By having all your social media metrics in one place, you get a clear overview of all your social media channels performance. That way you can asses all your marketing and PR activities and steer your strategies to maximise the benefits.
Brand24 gives you more detailed and accurate data to drive traffic, increase social media and, ultimately, drive sales from social media.
Would you like to add anything to the list? Leave us a note on Facebook, Twitter or Instagram!
HANDPICKED RELEVANT CONTENT
Brand monitoring tips and tools [2020 update]
How to increase your reach on Instagram?