How to Find Influencers on Instagram in 2023?
January 24, 2023 ・ 16 min read
Influencer marketing is an innovative way of promoting various products and services. Because of its effectiveness, more and more companies embrace influencer campaigns in their marketing strategies. The industry was worth as much as $16.4B in 2022 and is still growing. This explosive trend is mainly attributed to the popularity of Instagram influencers.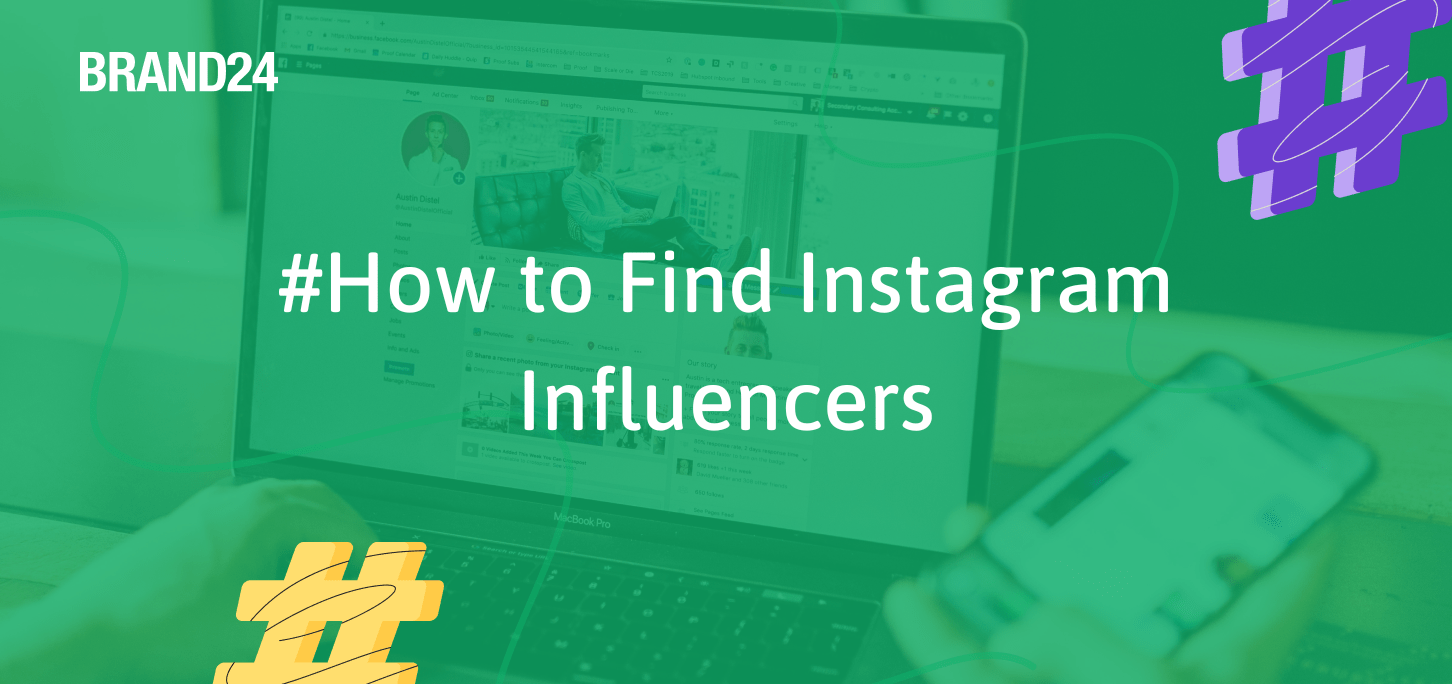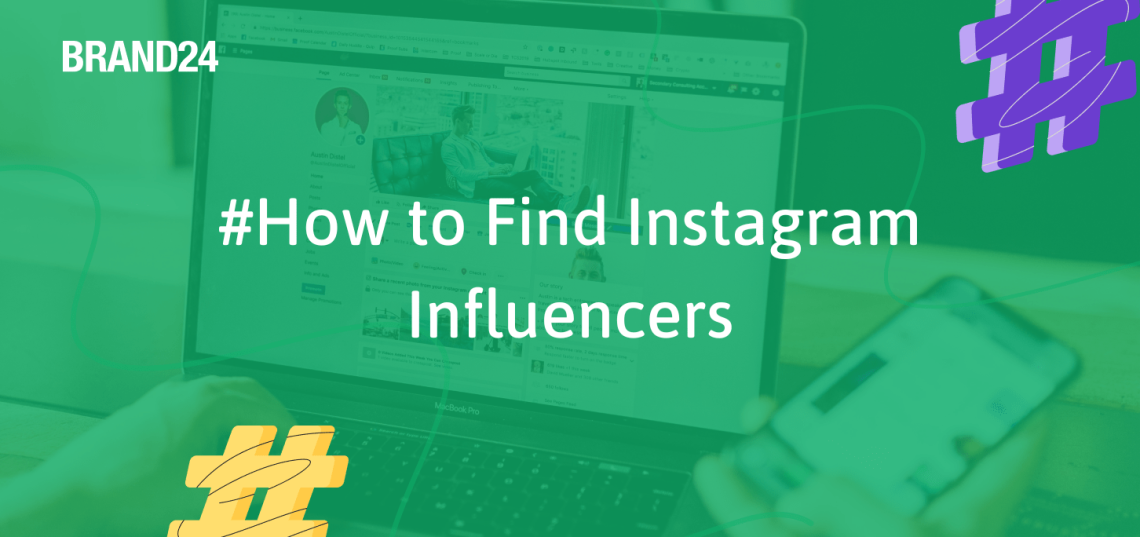 According to Ahrefs, on average, there are 20k Google searches for Instagram influencers monthly.

People probably want to find the right influencers on Instagram to collaborate with or are simply interested in the lives of popular online celebrities.
So, why is influencer marketing so popular?
Social media influencers gain much credibility and bring multiple perks. Did you know that 61% of consumers trust influencers' recommendations?
That's quite a lot and explains companies' increasing confidence in influencer marketing.
But first things first. Here's what's ahead of us today:
1. What are the benefits of influencer marketing campaigns?
As I already mentioned, people tend to trust influencers more than any other type of advertising.
This results in boosting sales as more people get convinced to purchase certain products or services.
Here are some other benefits:
Influencer marketing supports building a loyal audience. Customers tend to remember past collaborations and are faithful to the product once recommended by their favorite Instagram influencer.
You can increase brand awareness to a considerable extent thanks to influencer marketing – as the name indicates, influencers have persuasive skills and can reach various audiences.
By including influencer marketing campaigns in your marketing strategy, you can promote your business to a new audience. That's why it's worth choosing Instagram influencers with a broad reach.
Influencers create content for you that you can repost on your social media accounts as testimonials.
If you manage campaigns right, you can reap a real benefit from collaborating with Instagram influencers.
That was a lot of advantages, so I bet I don't need to convince you any longer that it's worth undertaking influencer marketing activities.
Do you want to find influencers?
2. How to find Instagram influencers for your niche in 3 steps?
Well, of course, you could use Google search to find social media influencers on Instagram, but as you can imagine, that would be a complicated and time-consuming task.
You would have to get through dozens of profiles, making sure you don't choose a fake influencer – someone with fake followers and fake engagement.
Collaborating with the right Instagram influencers is the key to your success.
That's why I recommend you use a dedicated tool to help you with this challenging task.
Here's how you can find Instagram influencers in 3 easy steps using the Brand24 media monitoring tool.
With the tool, you'll identify influencers on Instagram and compare the most relevant influencers for your brand.
01 Monitor brand mentions
The first step is monitoring brand mentions.
These are all the online utterances, including your brand or product name.
Thanks to media monitoring, you can easily find all the online discussions about your product and company on different social media platforms.
You only need to type in your brand name and create a media monitoring project.
Even if the tool is not an influencer marketing platform, it supports the process of finding Instagram influencers.
In your dashboard, you'll find all the online chats about your brand, and, as you can imagine, some of the people talking about you online may be your future brand ambassadors on Instagram.
Here you can see a media monitoring project of the sportswear Adidas. I narrowed down the results to Instagram mentions, and here's what it looks like: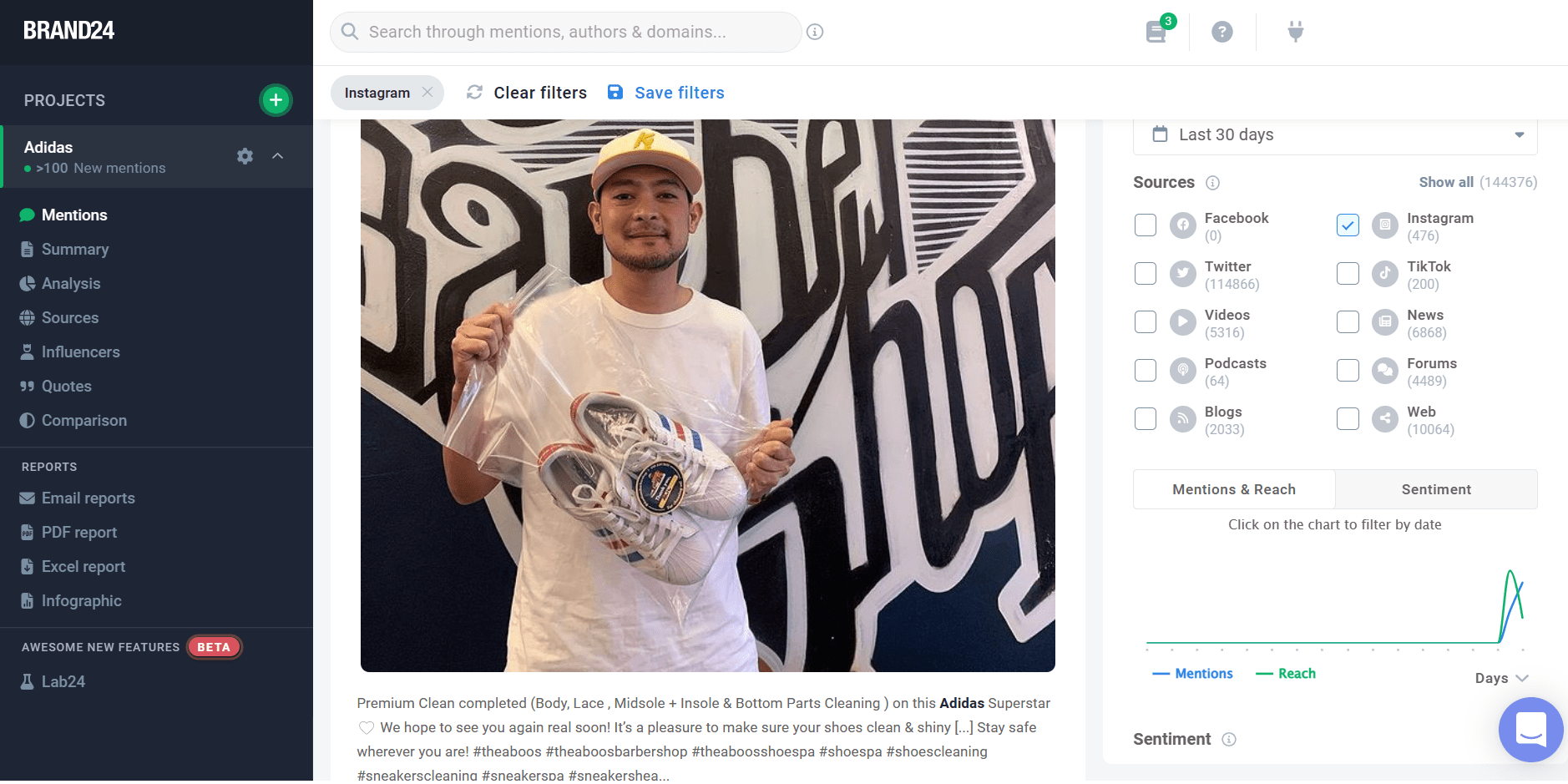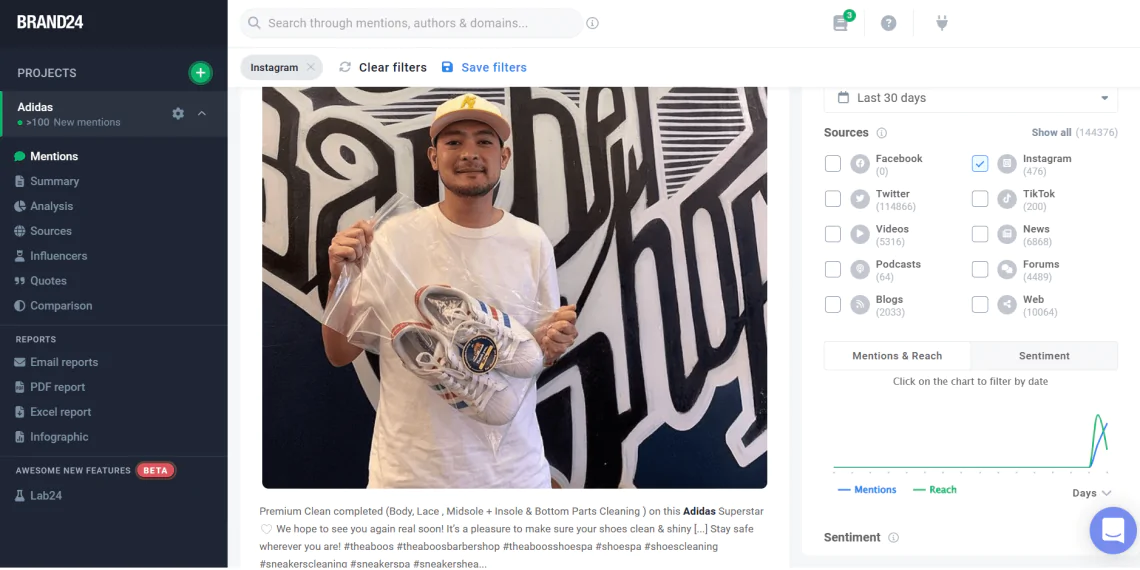 But it's also worth checking out the mentions from other platforms. Here you can see some insightful Twitter mentions: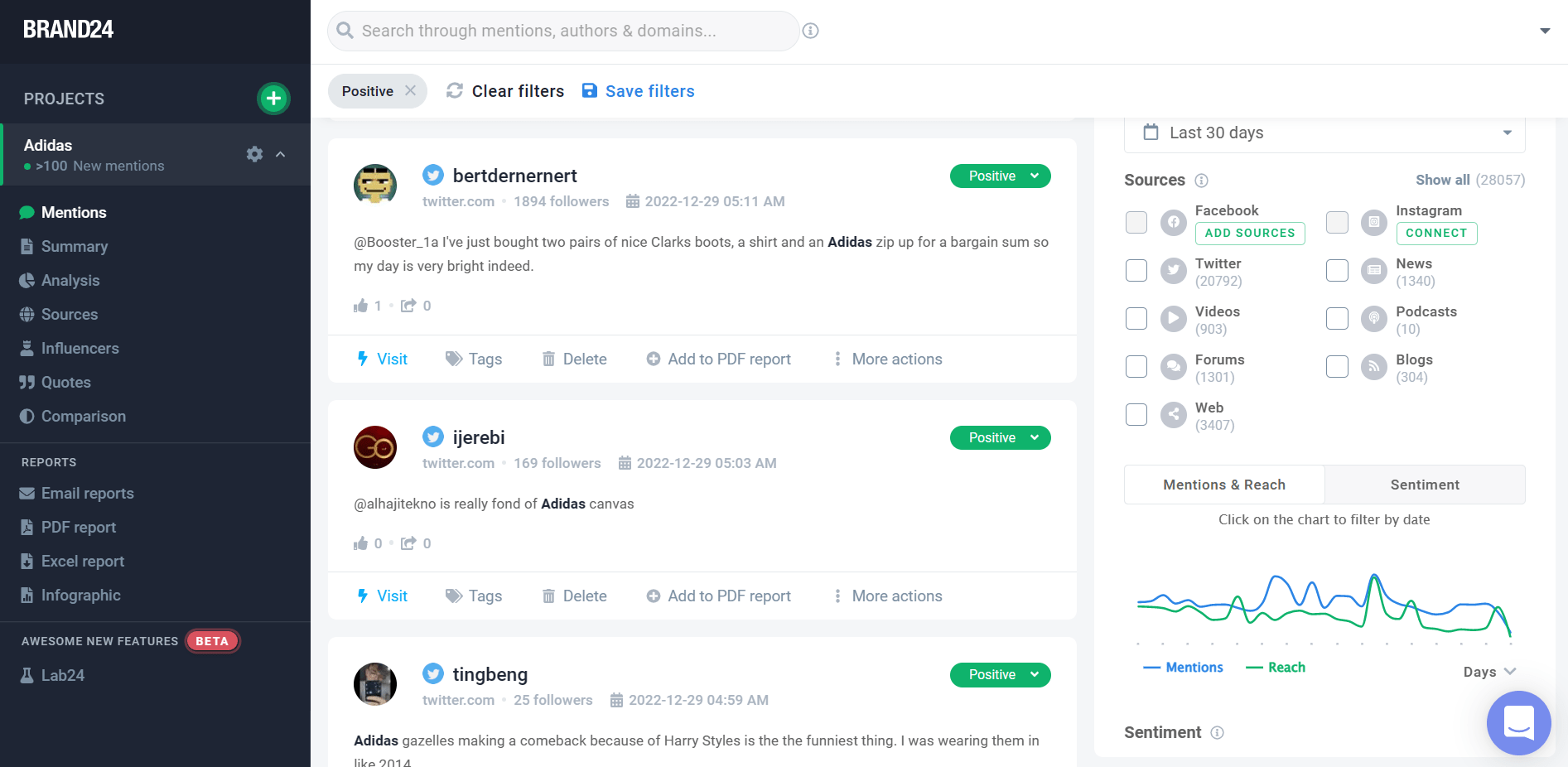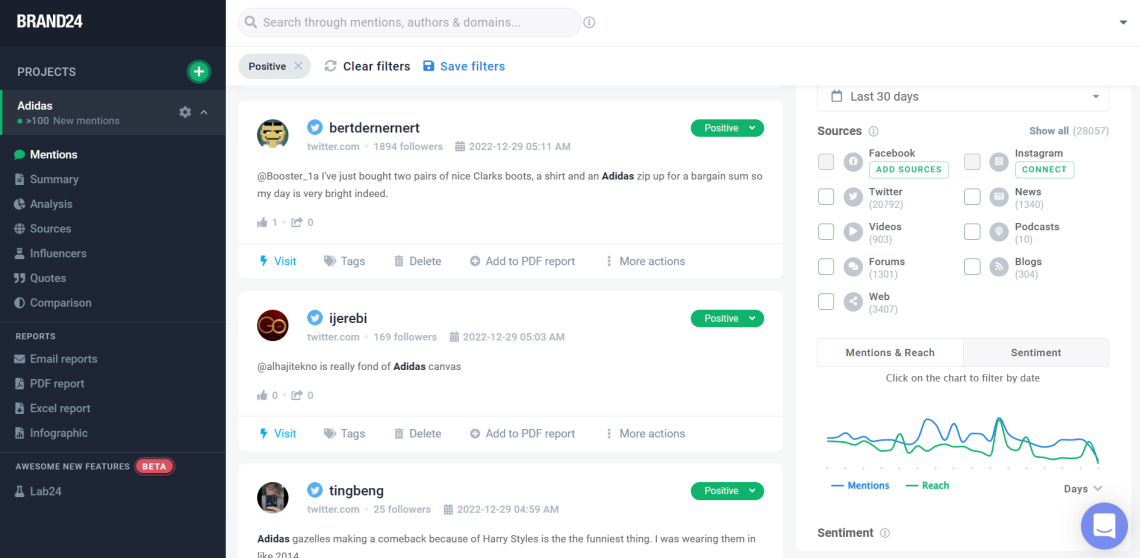 Now look closer at the last mention.
As you can see, the person mentions Harry Styles wearing Adidas shoes. The singer is very famous and has 47,9M followers on Instagram, so maybe it would be a good idea for the brand to collaborate with him.
You see how informative the mentions are?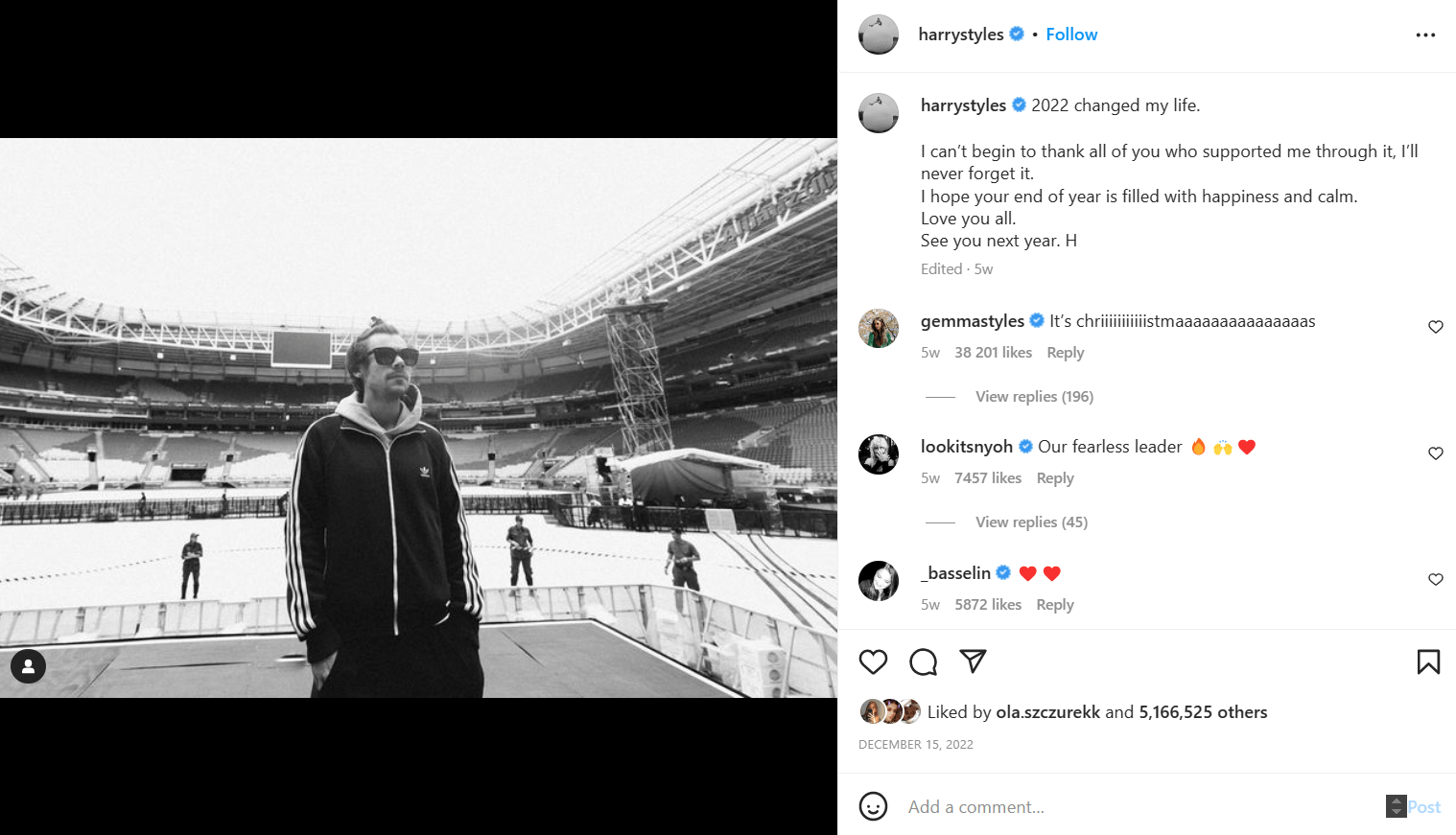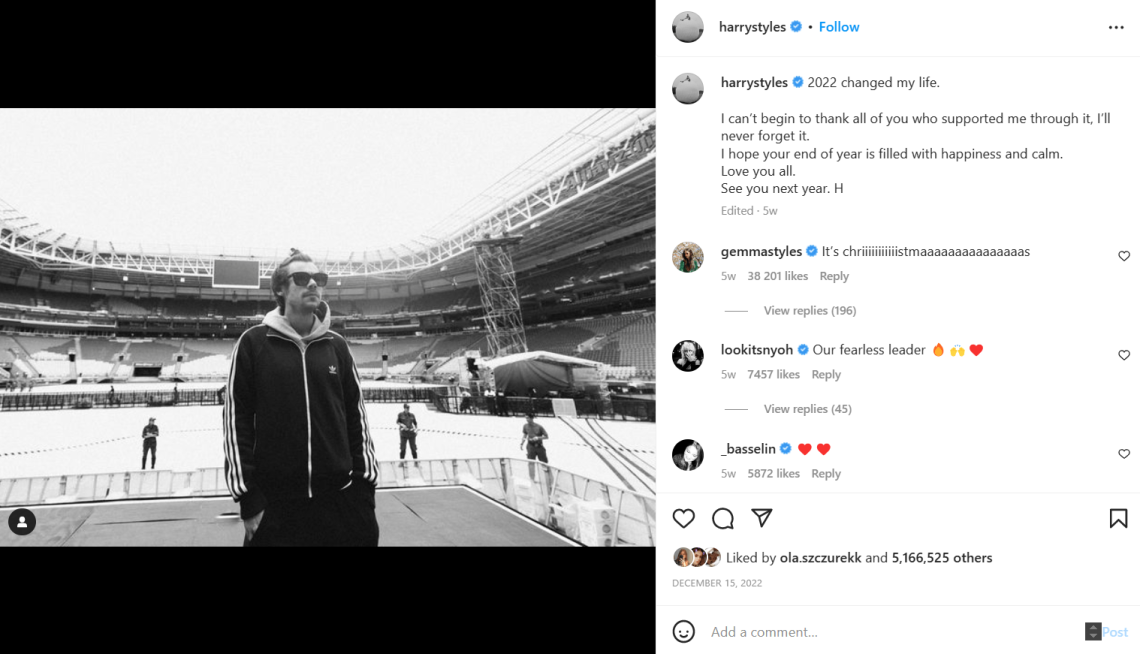 But if Adidas decided they would prefer to collaborate with a smaller influencer instead, there's also no problem. Anyone can identify lots of them using Brand24.
Here you can see Saskiacouleur in an Adidas tracksuit. Saskia is a beginner Instagram influencer with 1.7k followers.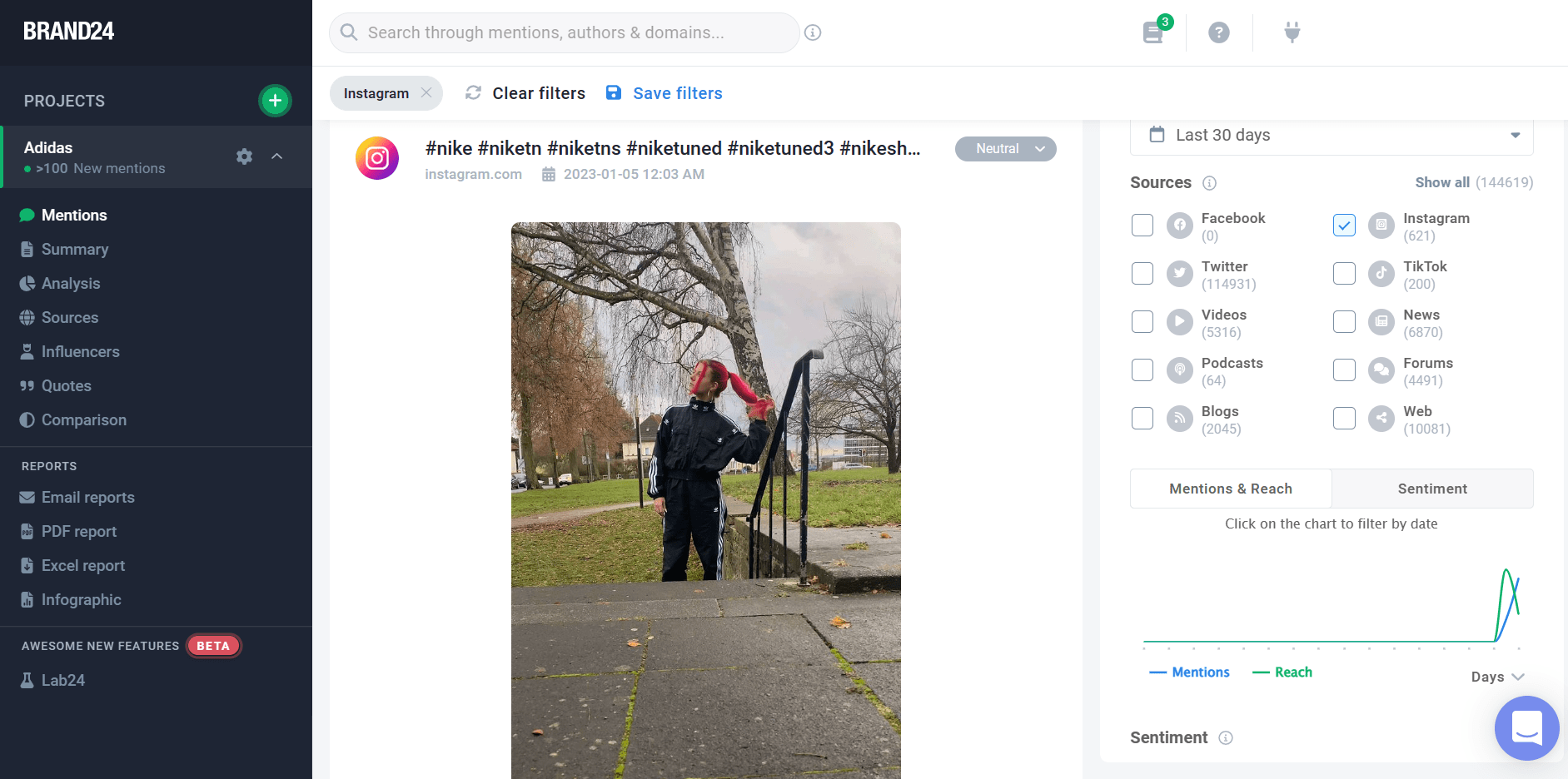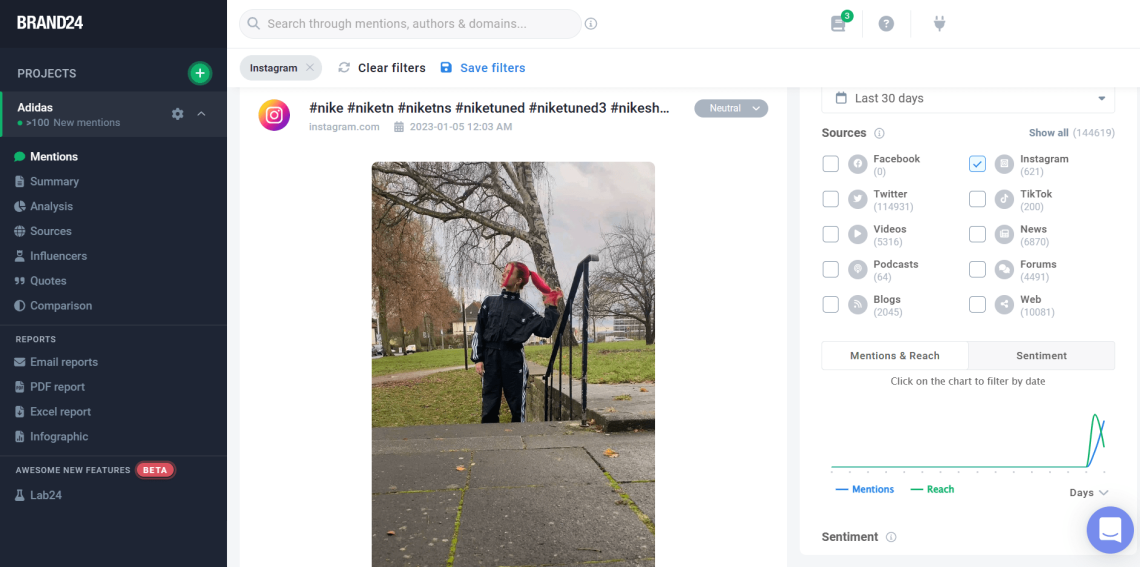 There are many options. You just need to select suitable influencers based on their performance and collected mentions.
Pro tip: Besides your brand name, monitor relevant keywords for your particular niche. This will allow you to find a broader range of influencers on Instagram.
02 Check the rank of people already talking about your niche or product
But you don't have to go through all the mentions to find influencers.
On the left-hand side, you will find the Influencers tab, which ranks the most influential people talking about your chosen keyword.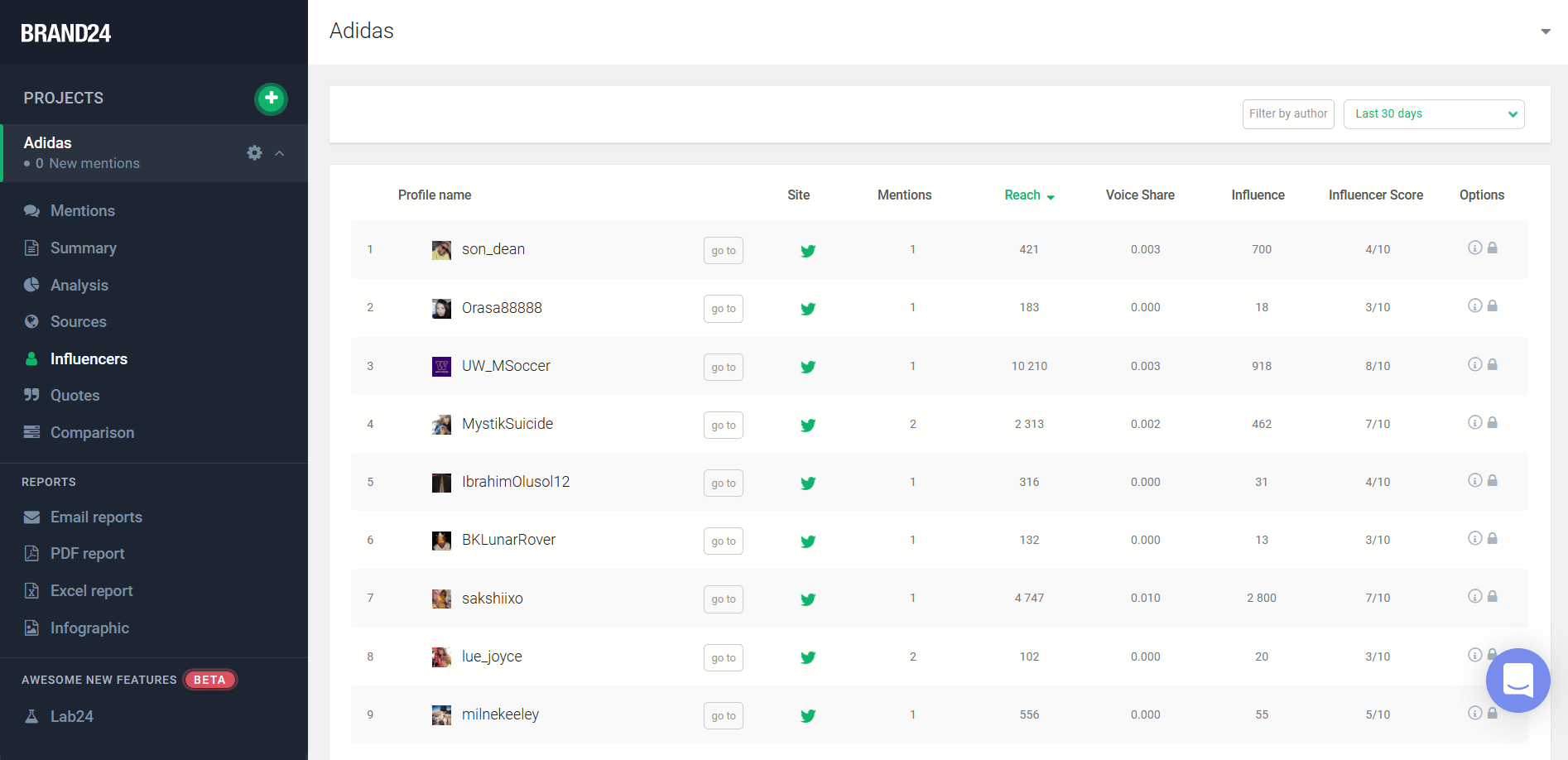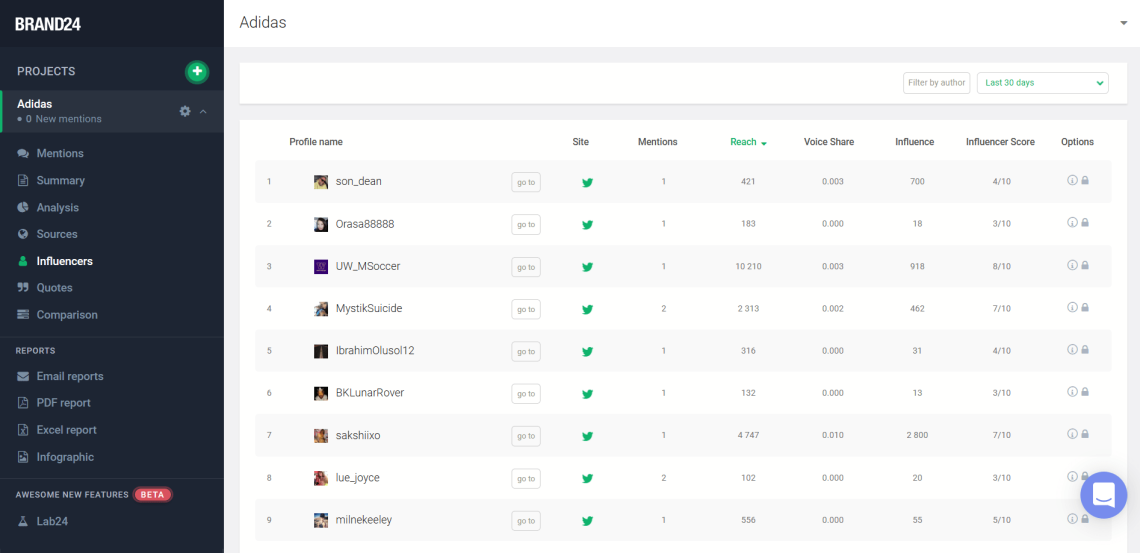 There are two more ranks. You can find them in the Analysis tab. These are the rank of Top public profiles and Most active public profiles.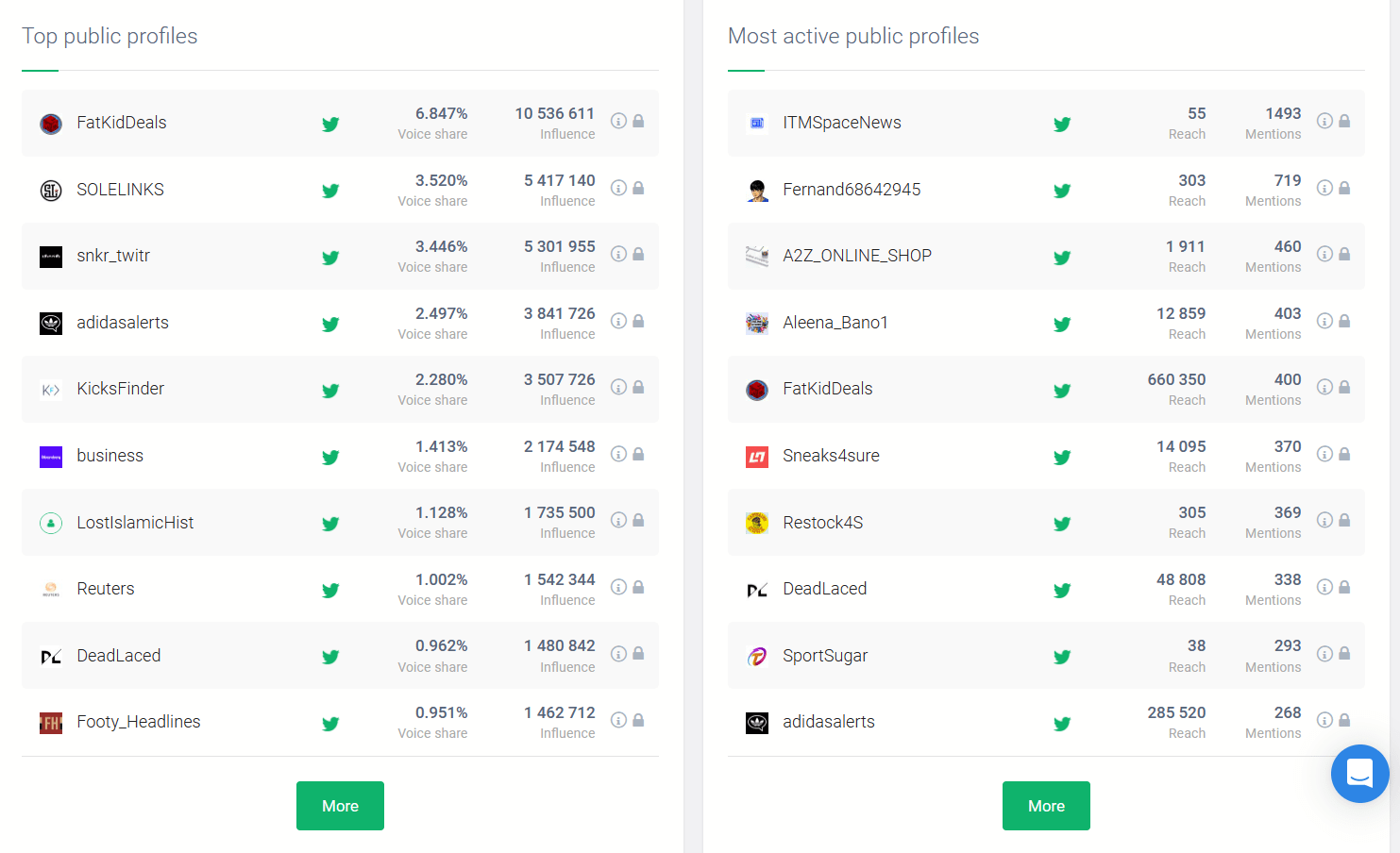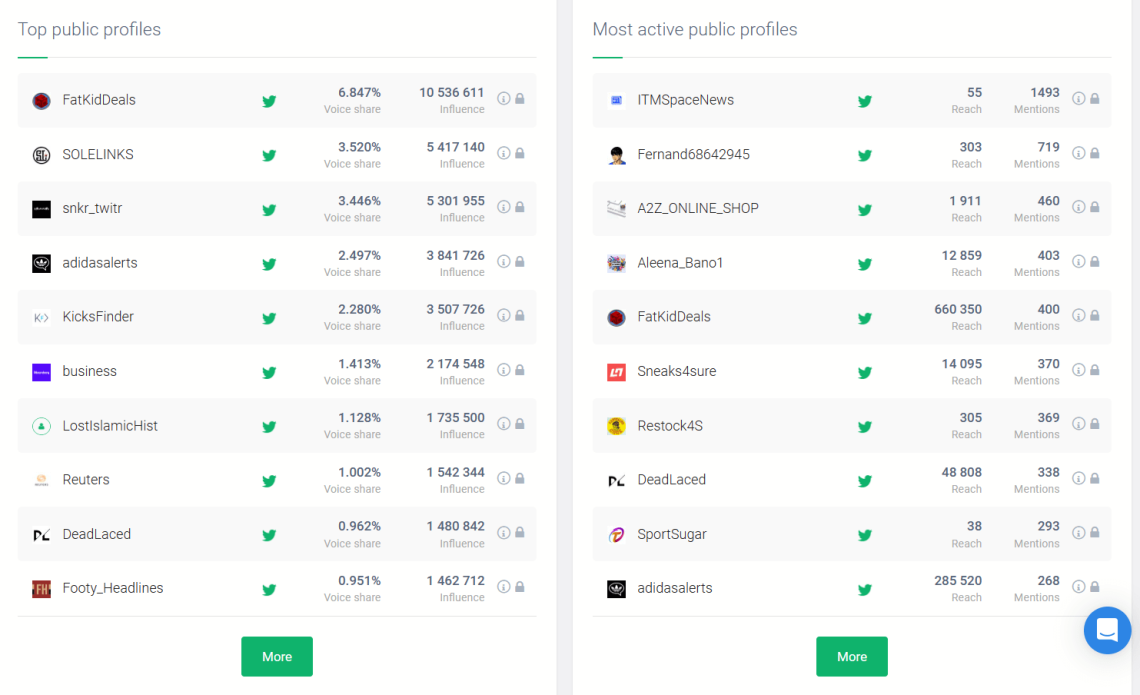 That's the preliminary selection of the most relevant influencers you could include in your next marketing campaign.
Of course, you could choose to collaborate with the first person suggested by the tool, but if you want to be more precise and sure that you make the right choice, read the next step.
03 Compare potential influencers
This is the most crucial part. You need to compare all the potential representatives and choose the ideal influencer for your next campaign.
How to do that?
You should simply create a media monitoring project for each of the people you selected and compare the most important metrics, such as:
Engagement rate
Number of mentions
Social media and non-social reach
Number of mentions
It's also good to browse a little bit through the mentions. This way, you can get a bunch of interesting insights about every person and better understand what their target audience thinks about them.
Here is a great example of that.
I set up a media monitoring project for James Charles and checked what is being said about him on Twitter. This platform is very often a source of valuable information, so it's worth checking.
Reviewing James's mentions, I found several, including the word 'controversial' or 'scandal'.
Look at this example:

Meanwhile, other people are still avid fans of James.

You see now why looking through the mentions is so informative and crucial to finding Instagram influencers that will align with your audience.
In the case of controversial Instagram influencers, you need to be very careful.
For instance, if you are sure that your target audience likes James Charles, you can start a collaboration with him without any worries. However, if you are unsure about their attitude towards the influencer, it may be wise to rethink your choice.
To see a complete picture of the online talk about a specific Instagram influencer, you can also check the context of the discussion, which includes all the relevant hashtags and keywords used in the context of an influencer.
Here you can see how the context of the discussion looks for Selena Gomez:

Find social media influencers. The right Instagram influencer is waiting for you! Try free.
Going back to the metrics, you may be surprised I didn't include the number of followers in the important metrics to compare. Actually, this is not the most crucial information about your future influencer.
Why?
You'll find the answer in the next paragraph.
3. Instagram influencers in the most popular industries
Finally, the thing you were all waiting for – the selection of various Instagram influencers from different niches.
As you will see in a second, I included both world-renowned celebrities and smaller influencers who are at the beginning of their careers.
What's the reason?
As I mentioned before, the number of followers is rarely an important metric.
Firstly, there are endless possibilities behind buying followers on any platform. Unfortunately, not all social media influencers are fair. Some of them get fake engagement. Sometimes, it is difficult to identify fake influencers on Instagram, and that's why the number of followers is not that important.
Pro tip: you can also ask the influencer to show you a screenshot of their Instagram analytics to learn about their target audience.
Secondly, even if the followers are real but do not engage with the influencer's posts, then it's useless to collaborate with them. Apparently, their audience is not interested in the content they create.
Finally, we should not forget about nano influencers and micro-influencers, who, despite their narrow group of fans, gain a considerable number of interactions and have a great engagement rate.
You do not need to target celebrity influencers on Instagram to succeed with your influencer marketing.
Having said that, I've prepared a rundown of Instagram influencers for you.
01 Sport & Fitness
Kino MacGregor| over 1.1M followers
Kino Mac Gregor is a professional yoga instructor and founder of Omstars Official, a platform for online yoga classes.
Kino also represents the brand Lululemon as its ambassador. The company offers sportswear and has broad experience with influencer marketing.
Besides Instagram, Kino runs a YouTube channel and a blog. She has also written several books about yoga practice and its benefits.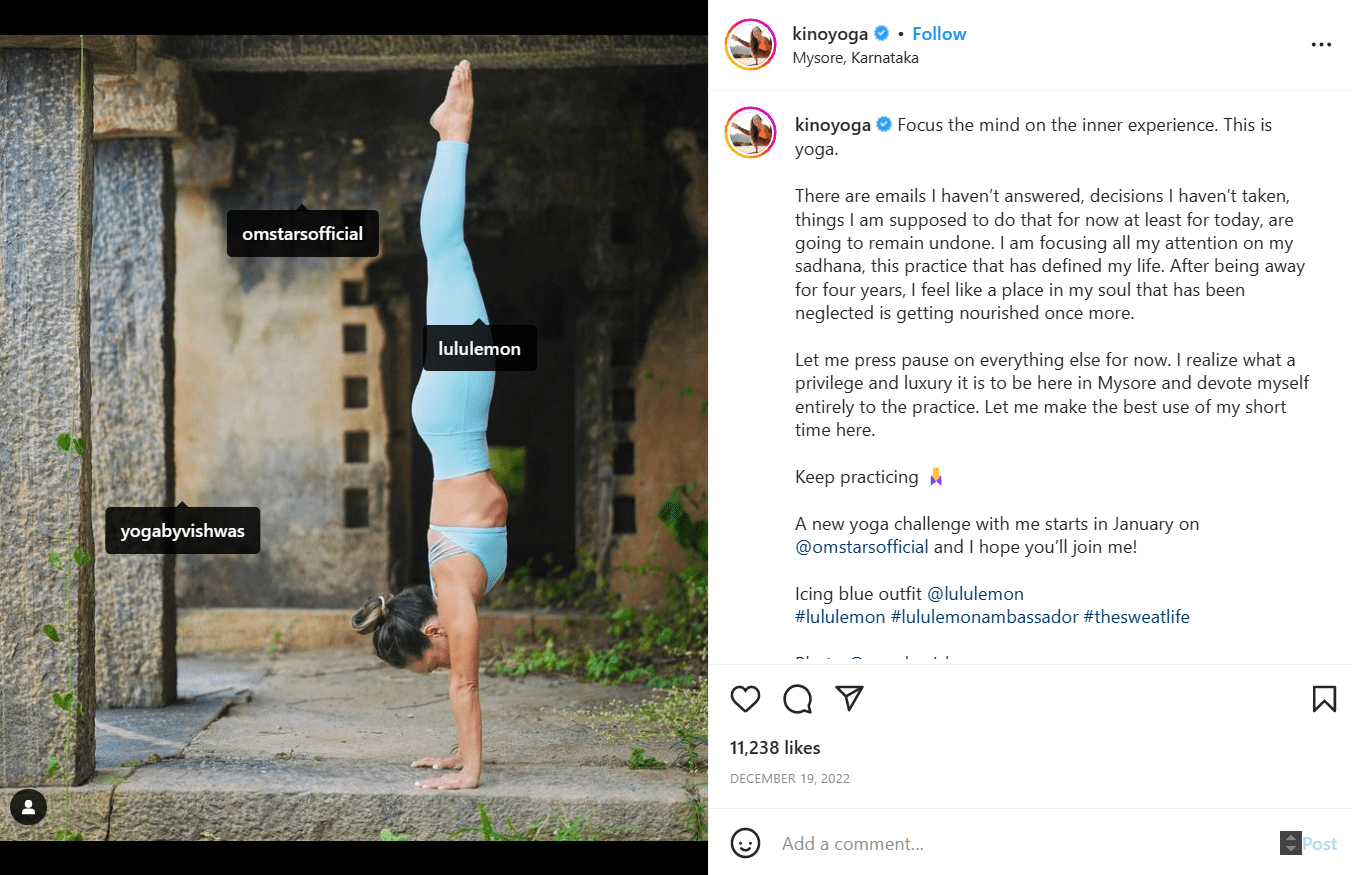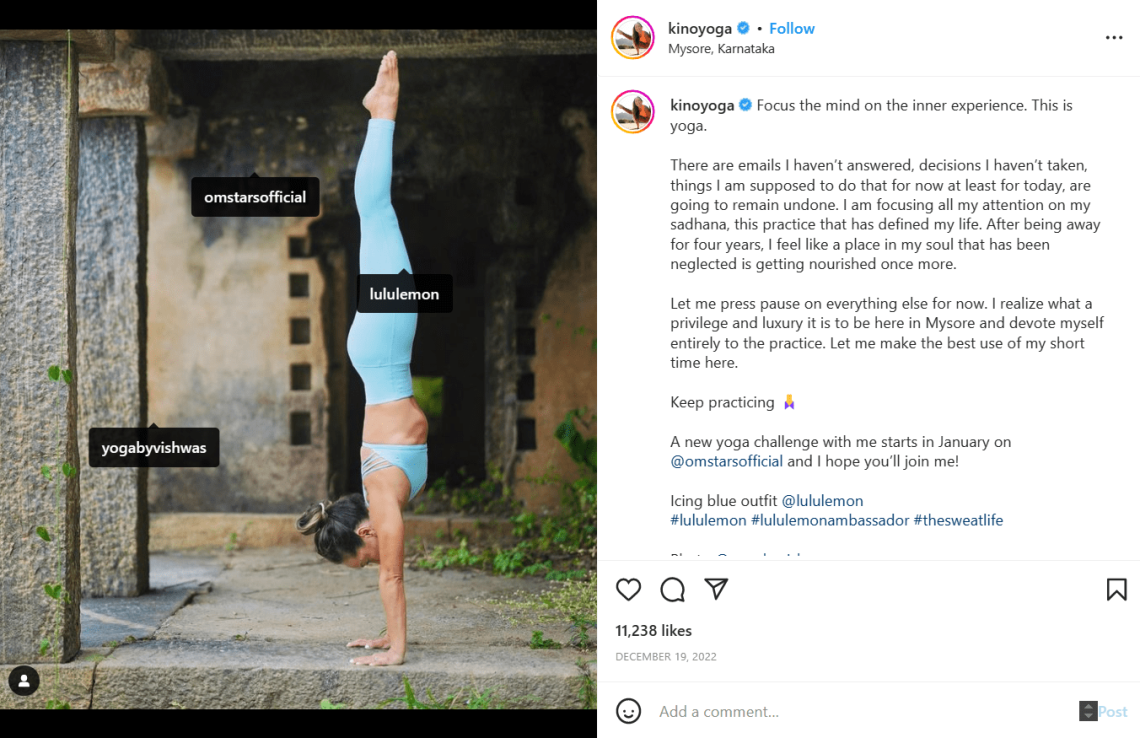 Do you feel like finding influencers instantly?
Olga Noskov| over 141K followers
Olga is a fitness trainer targeting women over 40 who struggle to lose weight and change their lifestyle for healthier.
She runs the website Noskov fitness and regularly posts fun content on her Instagram.
Instagram users can also find Olga on her private Facebook group dedicated to mature women willing to change their lives.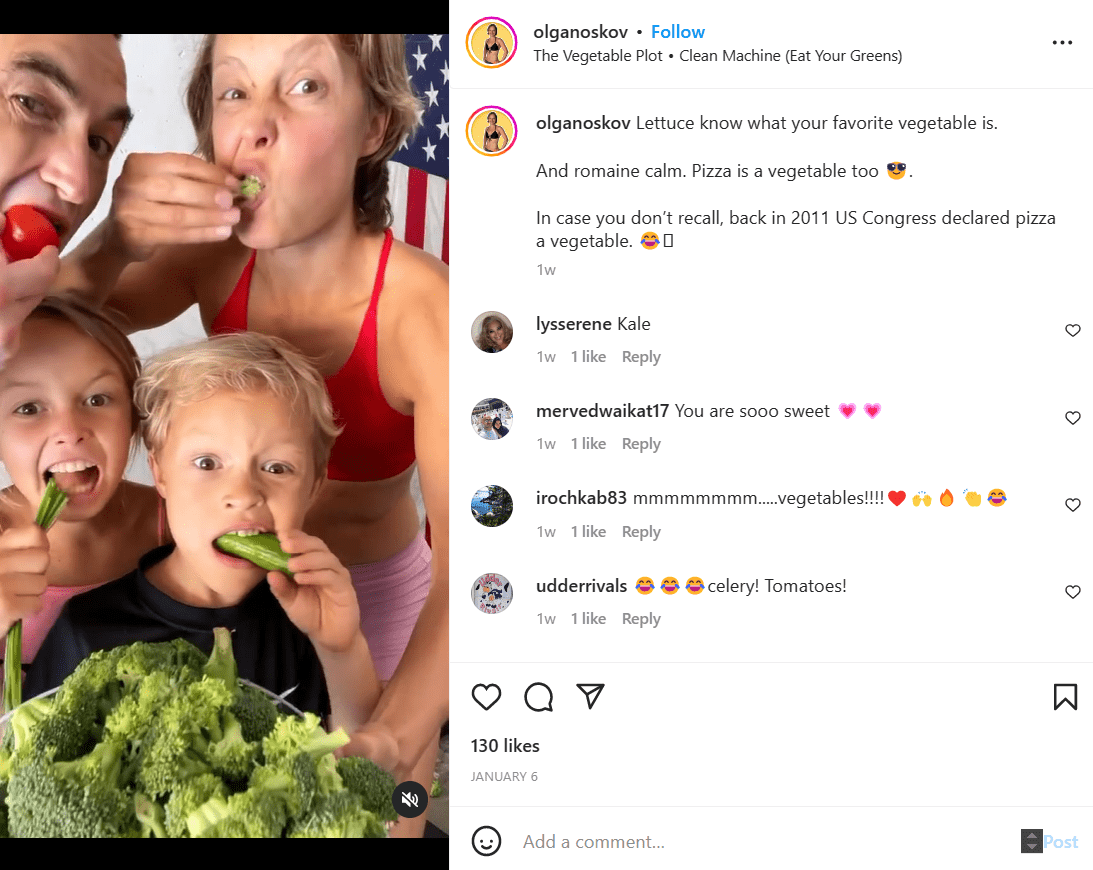 Tanya Leta| over 54.6K followers
Tanya is a certified Ukrainian fitness trainer, nutritionist, and model. She is a successful Instagram influencer with an engaged and avid audience.
You will also find Tanya on TikTok, where she has collected even more followers.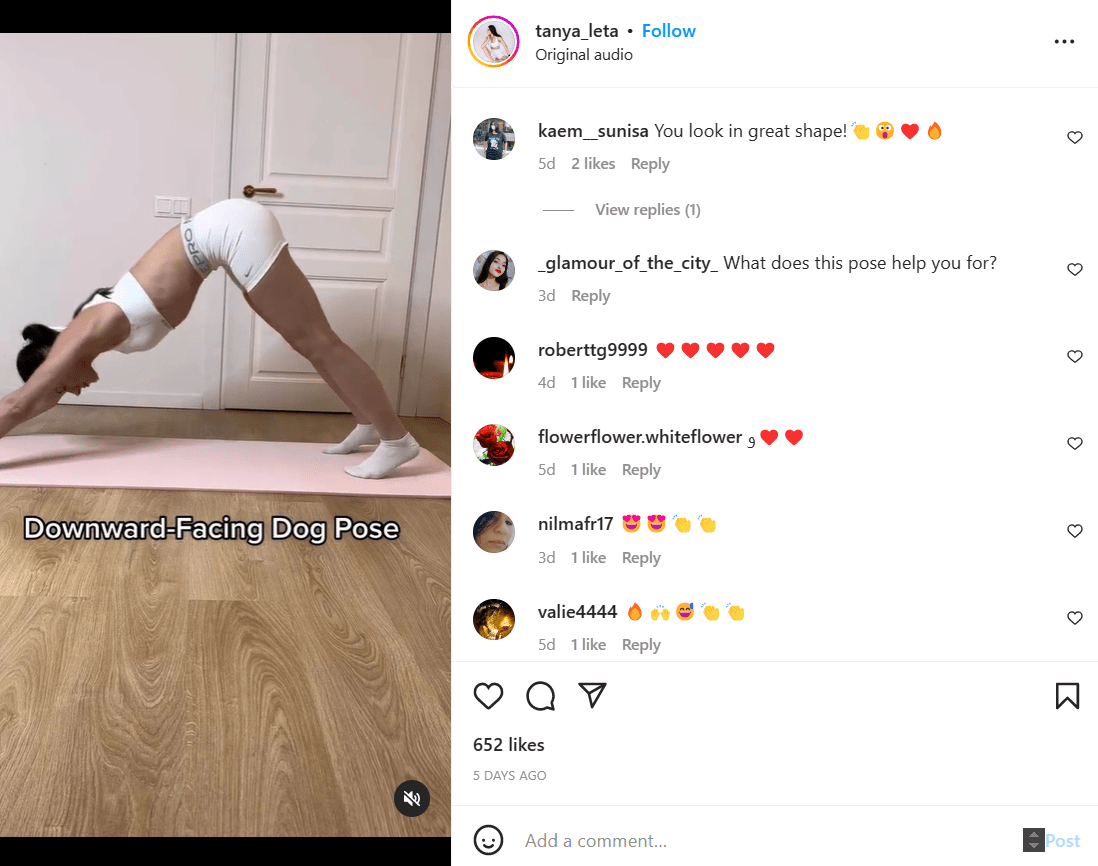 02 Fashion
Niomi Smart| over 1.3M followers
Niomi is a model and founder of Smart Skin – a cruelty-free, vegan cosmetics brand. The brand values are sustainability and eco-friendliness.
Niomi also represents Women for Women UK as its ambassador.
In her career, she has already collaborated with a few brands, ensuring her experience in influencer marketing.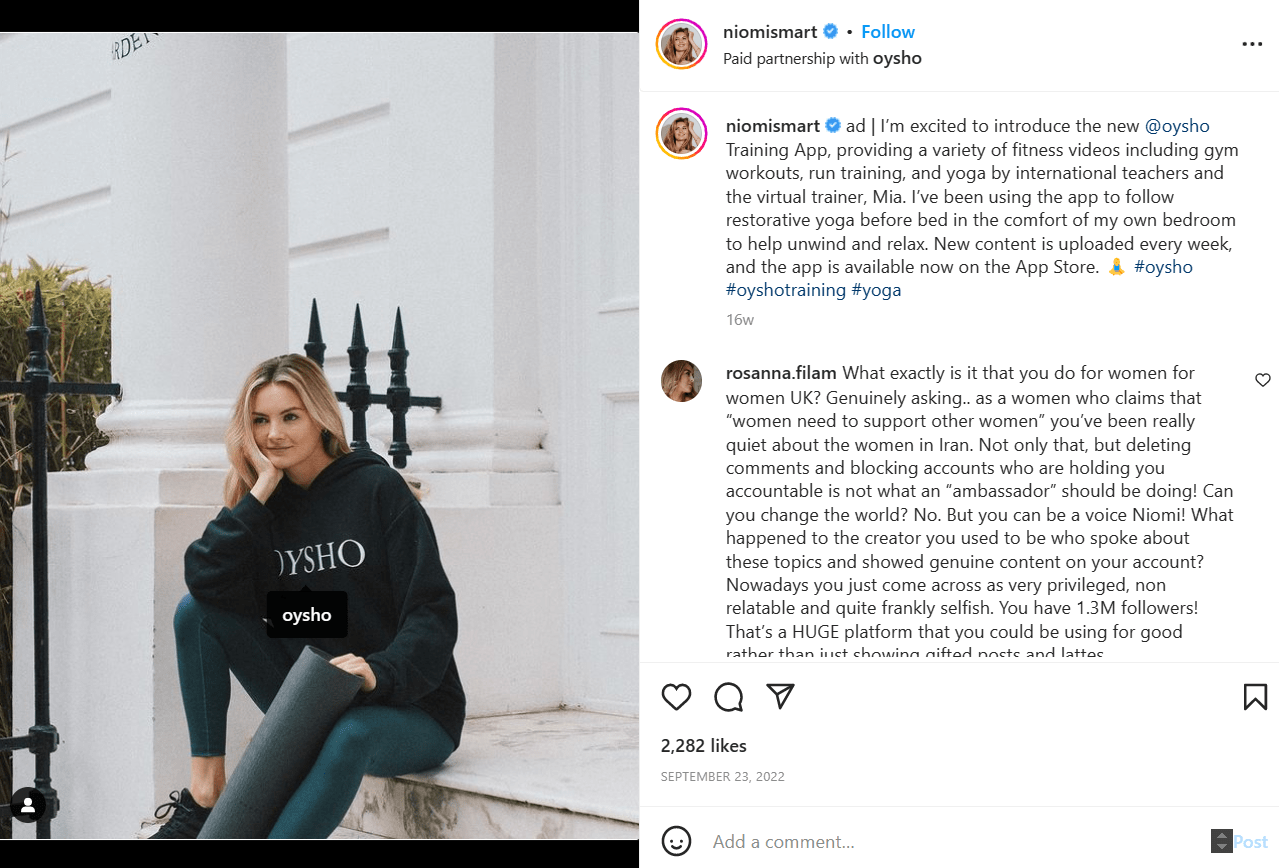 Whitney Graham| over 206K followers
Whitney Graham, also known as whitswhims, is passionate about fashion, travel, and fitness.
She is known in the Instagram influencer marketing world as she collaborated with fashion brands like Abercrombie, Revolve, Express, and many more.
You can find Whitney on TikTok as well.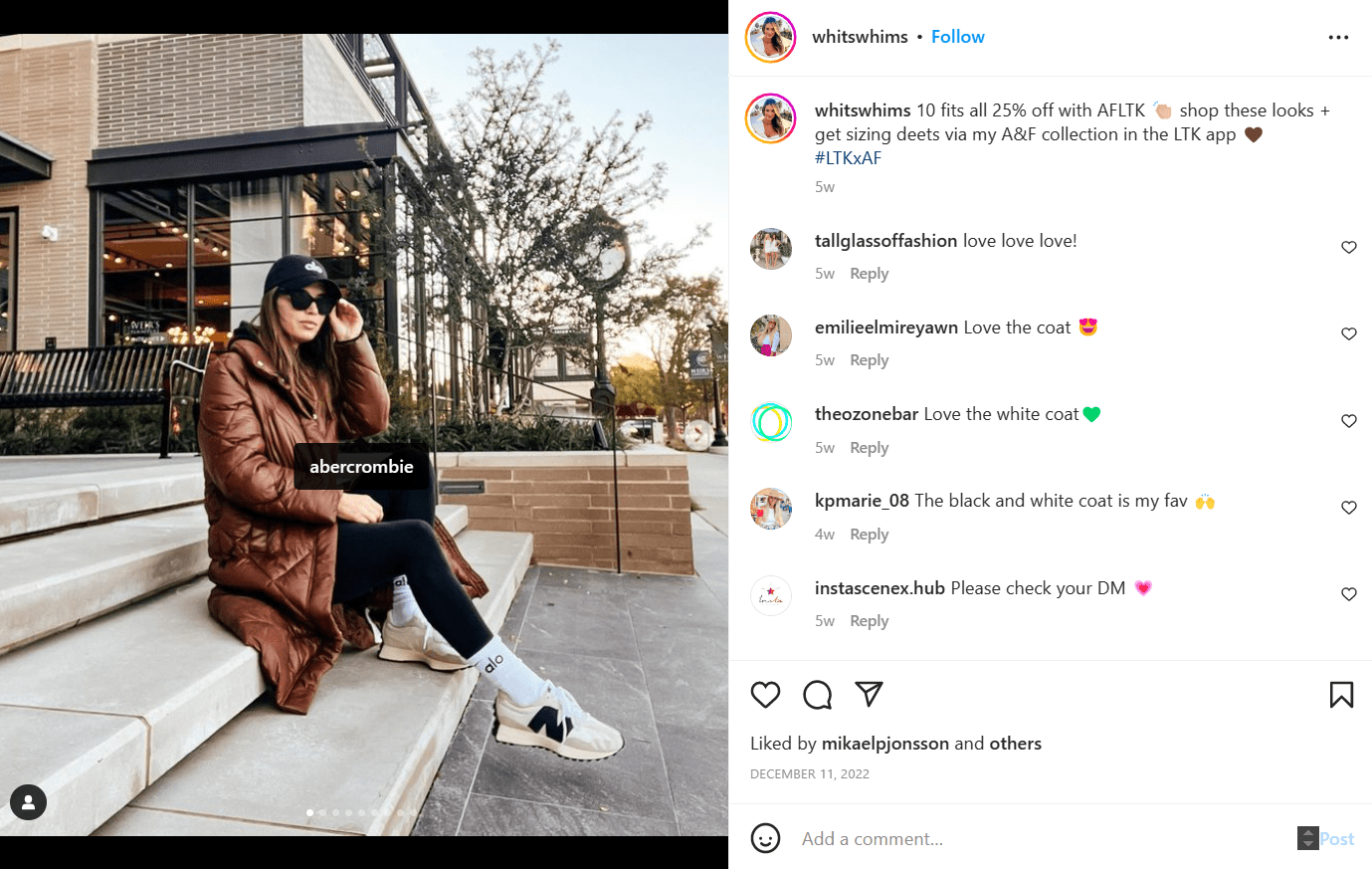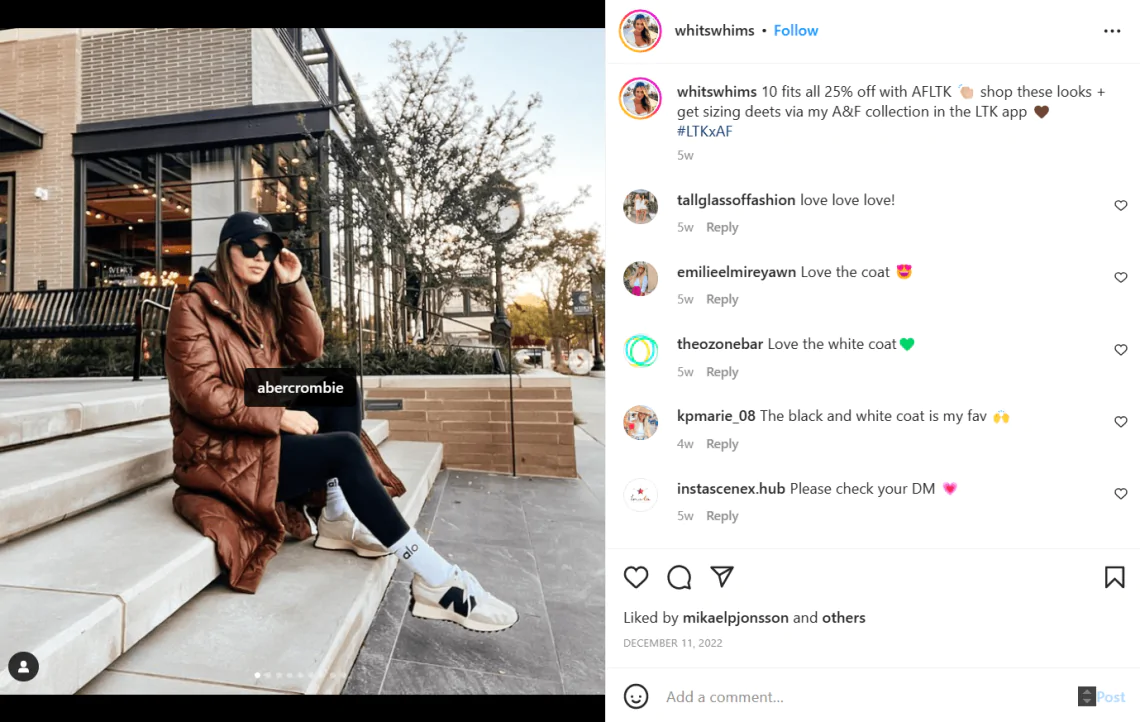 Joanna| over 15K followers
Joanna is one of the micro-influencers I would like to present.
Her target audience is mums looking for inspirational outfits.
Joanna is a mother herself to two boys, and sometimes posts content about her family.
Joanna invented the hashtag #mumdresscode, which is enthusiastically used by her fans.
Joanna is one of the niche influencers, but contrary to popular belief, that's a huge advantage of hers. Influencer campaigns, including niche influencers, get more credibility and can evoke a surprisingly high engagement rate.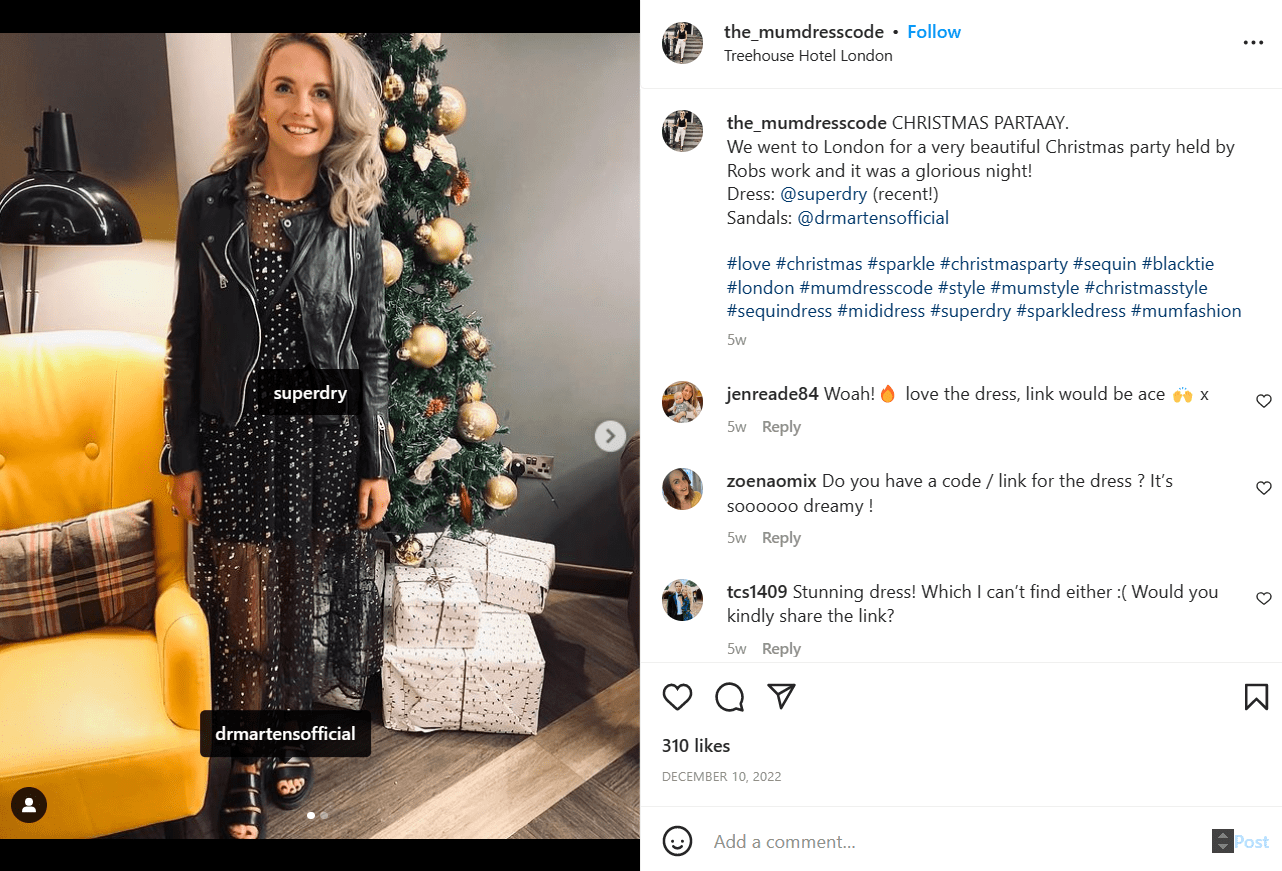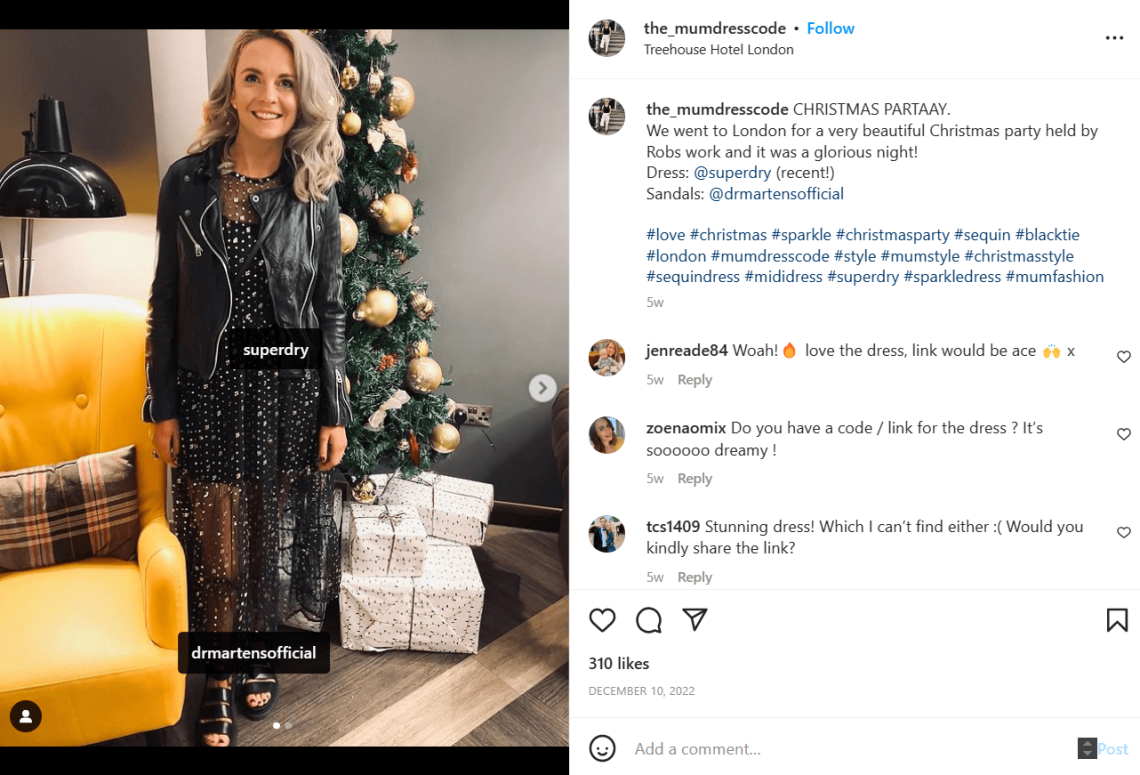 Find niche influencers with a high engagement rate for your brand!
03 Gaming
Tyler "Ninja" Blevins| over 12.6M followers
Tyler Blevins, known in the gaming world as Ninja, is a Fortnite player, professional Battle Royale Player, and Streamer.
On his Instagram, Tyler posts the best snippets from his games.
You can find Tyler on many other social media platforms, such as YouTube, Twitter, and TikTok.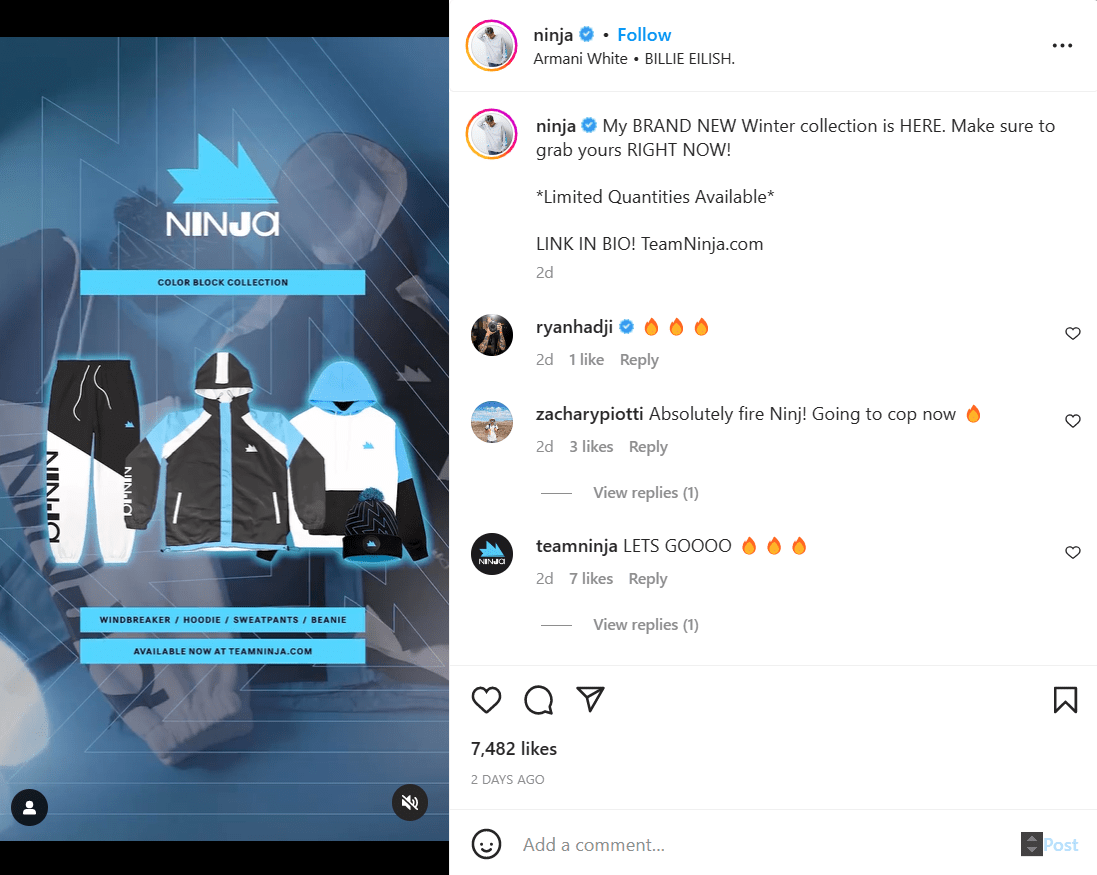 Dr. Lupo| over 3.9M followers
Dr. Lupo describes himself as a father, husband, and gamer from the Midwest. He usually plays FPS games, but his Instagram profile also contains various snippets from his life and videos.
Extended versions of the content are also available on his YouTube channel.
He is also about to open his shop. You can find the link to it in his Instagram bio.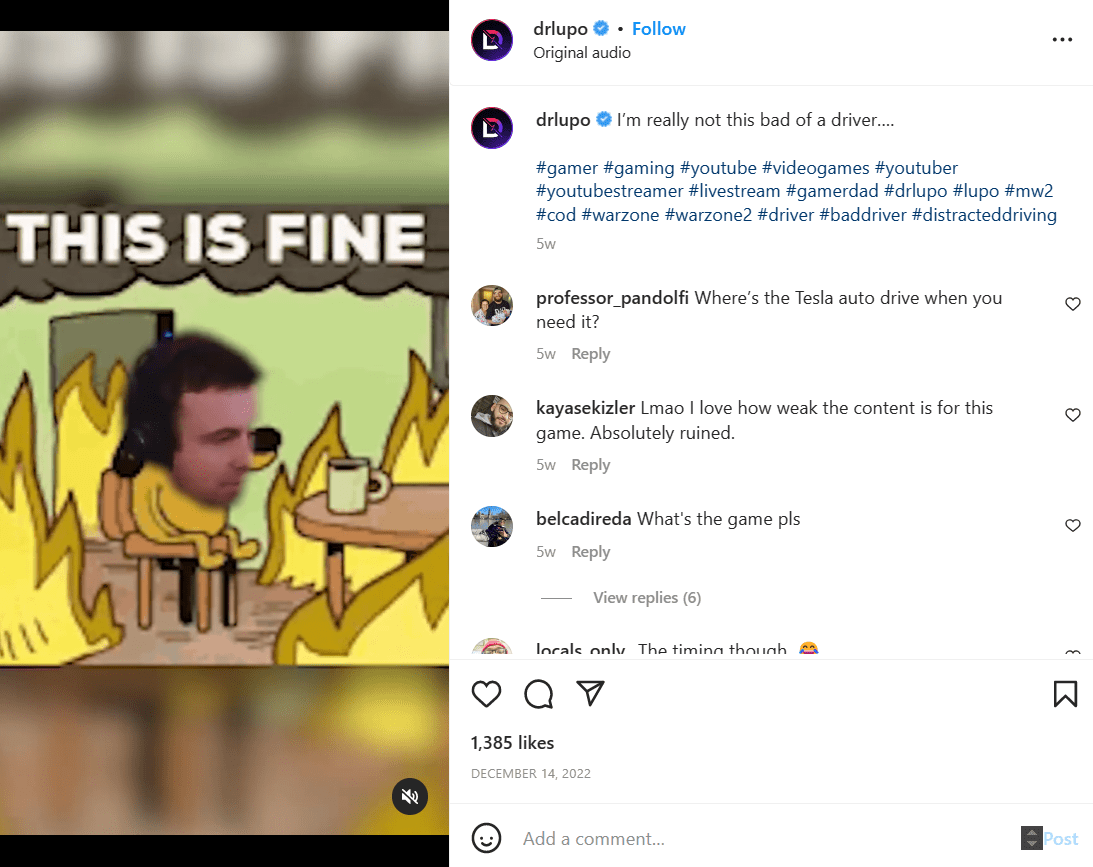 Interested in finding influencers for your gaming product?
Tom 72hrs Mulligan| over 405K followers
Tom Mulligan is a professional Battle Royale player and a gaming video creator. On his Instagram, he posts fascinating snippets from his live transmissions.
You can also find him on YouTube, Twitter, and Twitch.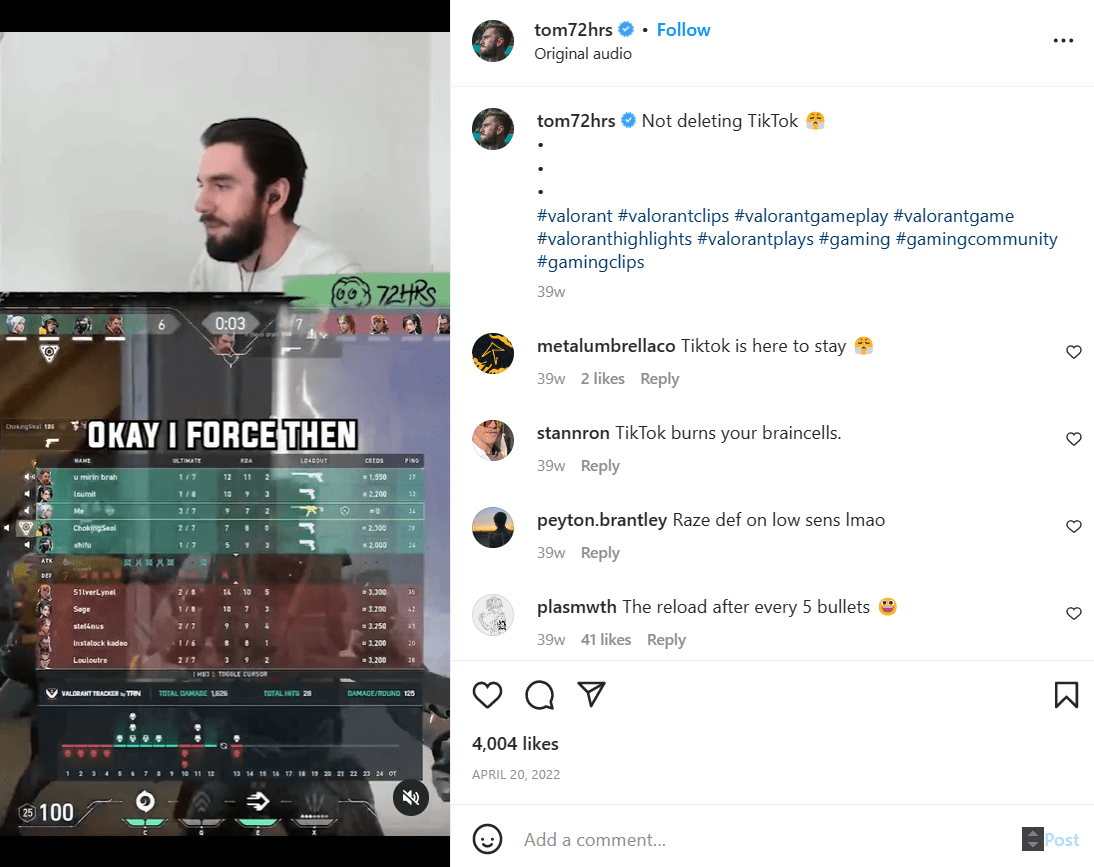 04 Travel
Jennifer Tuffen| over 2.8M followers
Jenniffer, known on Instagram as Izkiz, is an English blogger and influencer. She posts about her travels from exotic places.
Jenniffer has also created her own app for video and photo editing. The app is called Izkiz, the same as her website.
On her Instagram, you'll find colorful and captivating photos from around the world edited with Izkiz.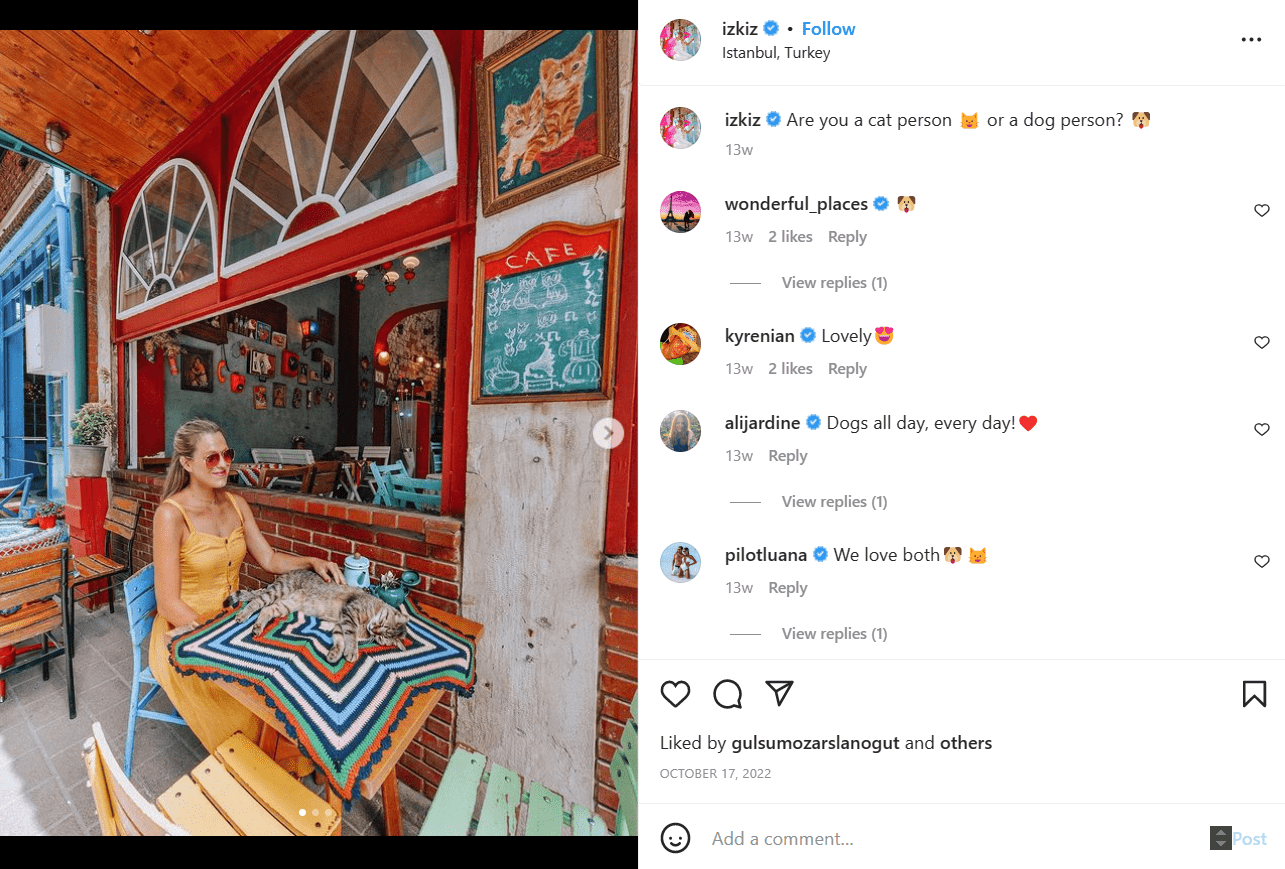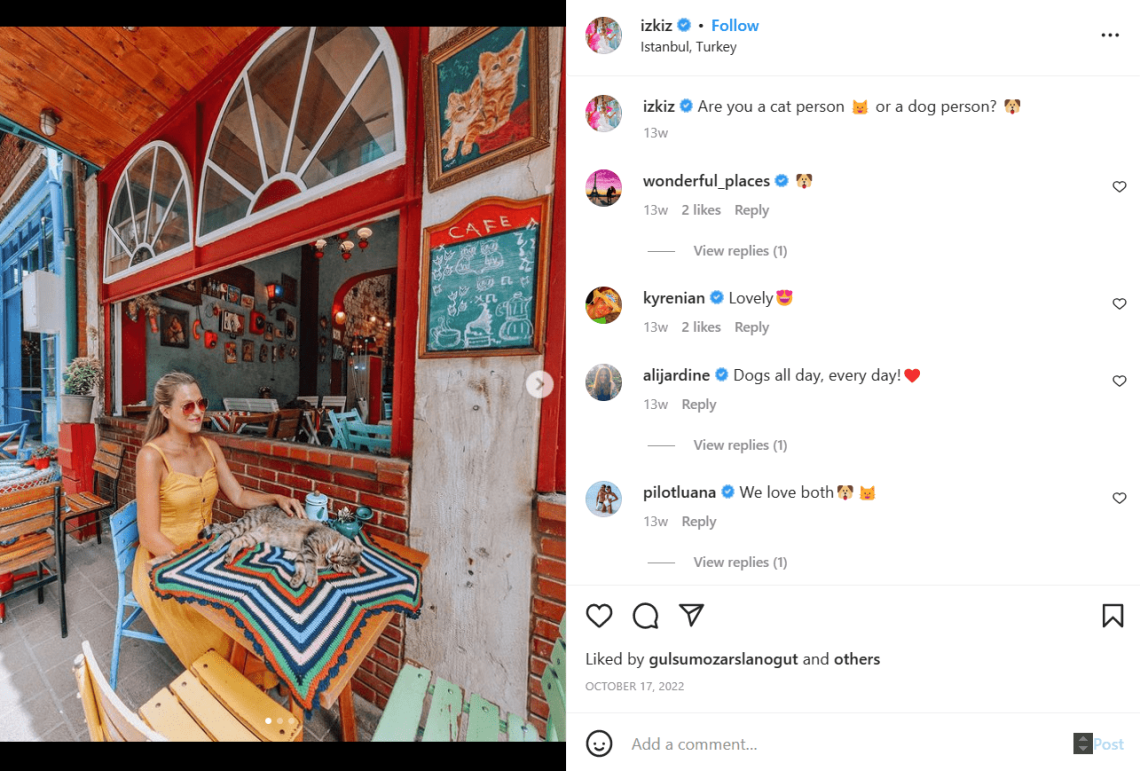 Louis Cole| over 1M followers
Louis calls himself an imperfect environmentalist, adventurer, and innovative DIY creator.
His Instagram will surprise you with captivating nature and monuments photos as well as dynamic shots from his travels.
You can find Louis on YouTube and Twitter, where he is active regularly.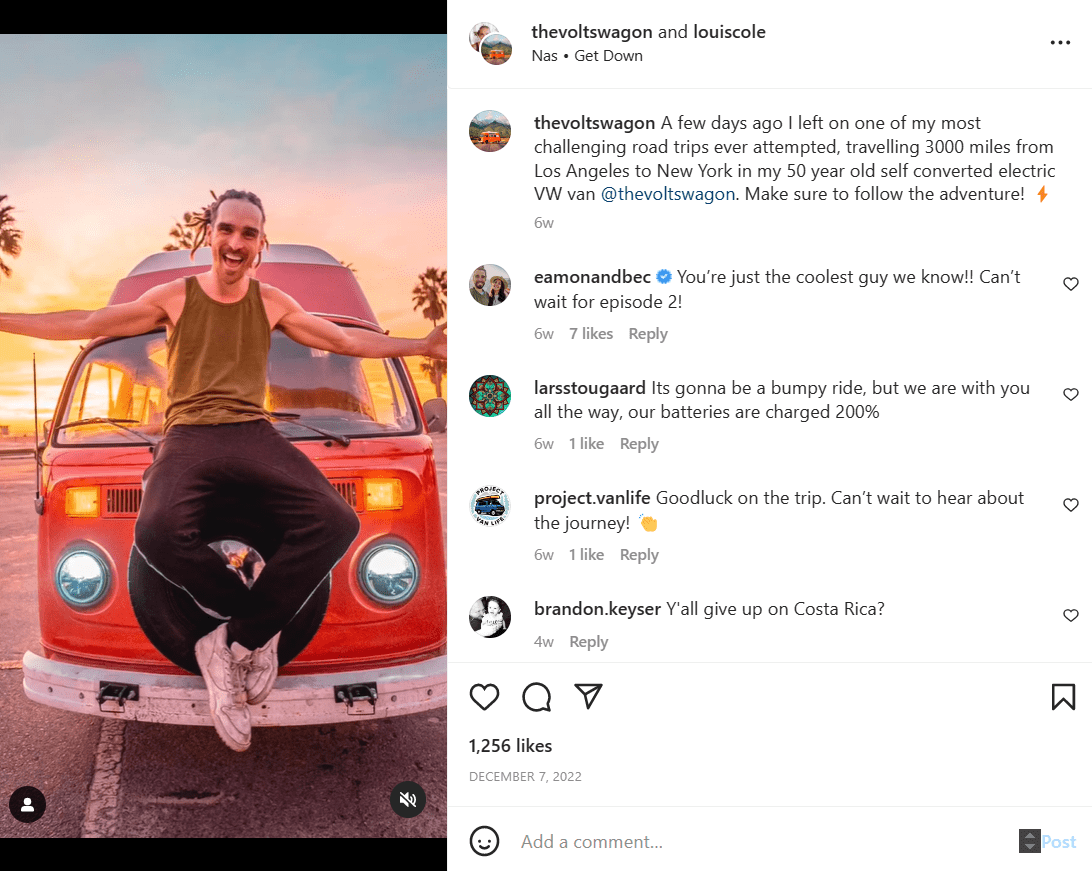 Ryan Resatka| over 594K followers
Ryan is a traveler and photography artist. On his Instagram, you can find stunning nature photos.
Ryan has been representing the brand Eddie Bauer as its contributor on Instagram for a few years now. It's always good to see influencers' collaborations with other brands. This way, you can see how they manage Instagram influencer marketing campaigns.
In Ryan's example, you can see that some influencers are entirely loyal to once-initiated collaboration.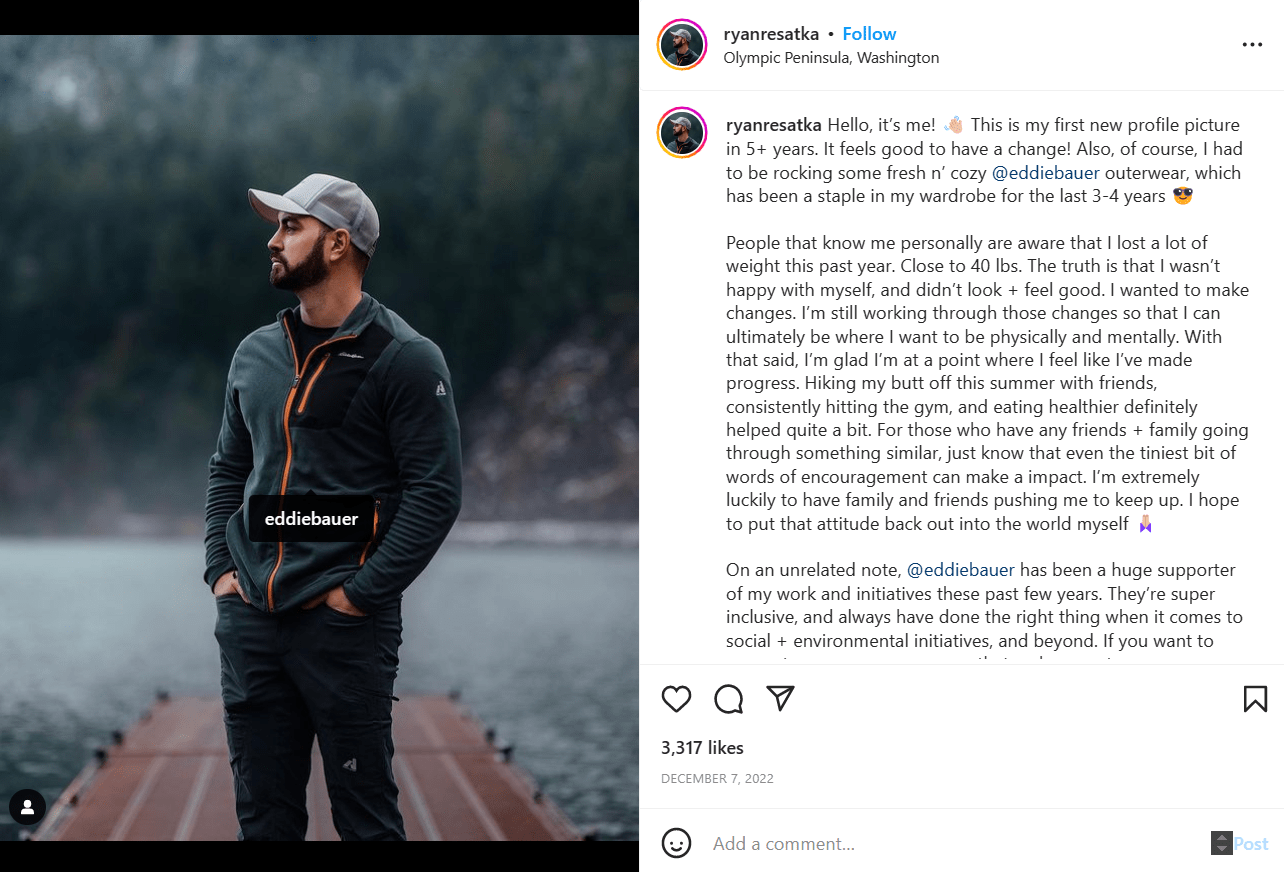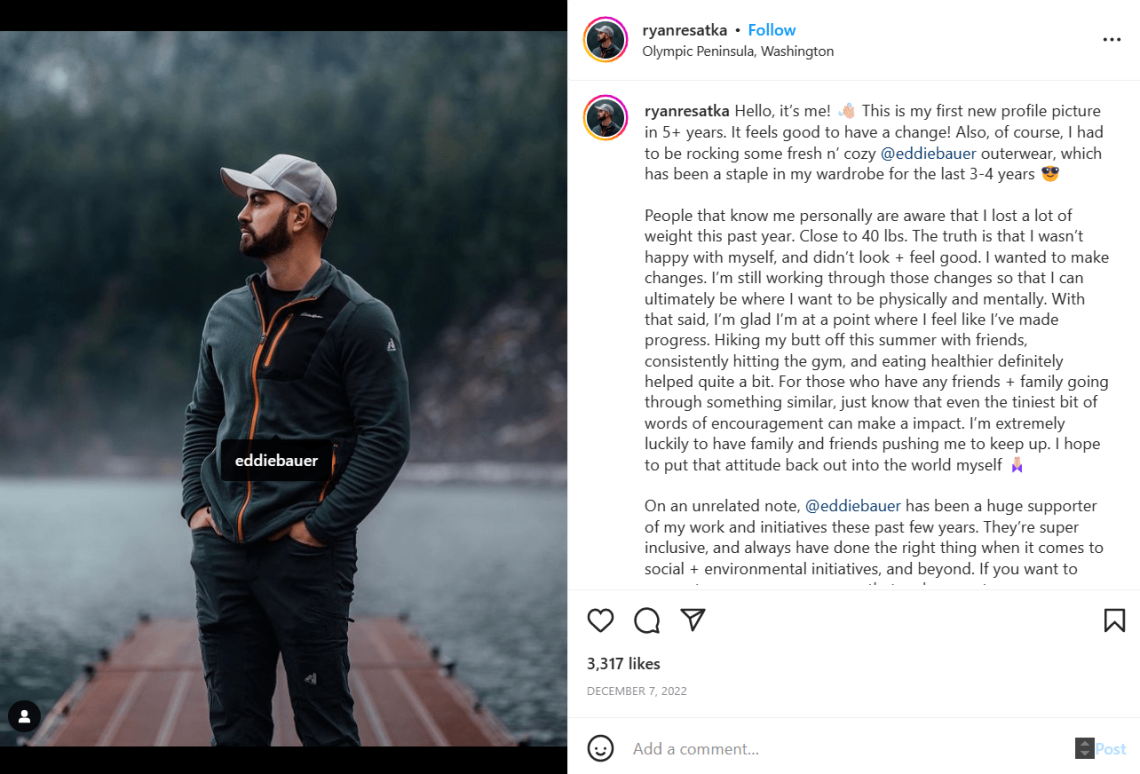 05 Lifestyle
Charli D'Amelio| over 48.6M followers
Another world-famous personality. Charli D'Amelio is an American influencer whose fame skyrocketed thanks to TikTok in 2019. She is also one of the top Instagram influencers these days.
On Charli's Instagram, you can find inspirational outfits and looks. She has a broad target audience and her posts evoke an authentic engagement.
You can see a great example of a social media influencer marketing campaign here. That's the collaboration of Charli D'Amelio with Spotify.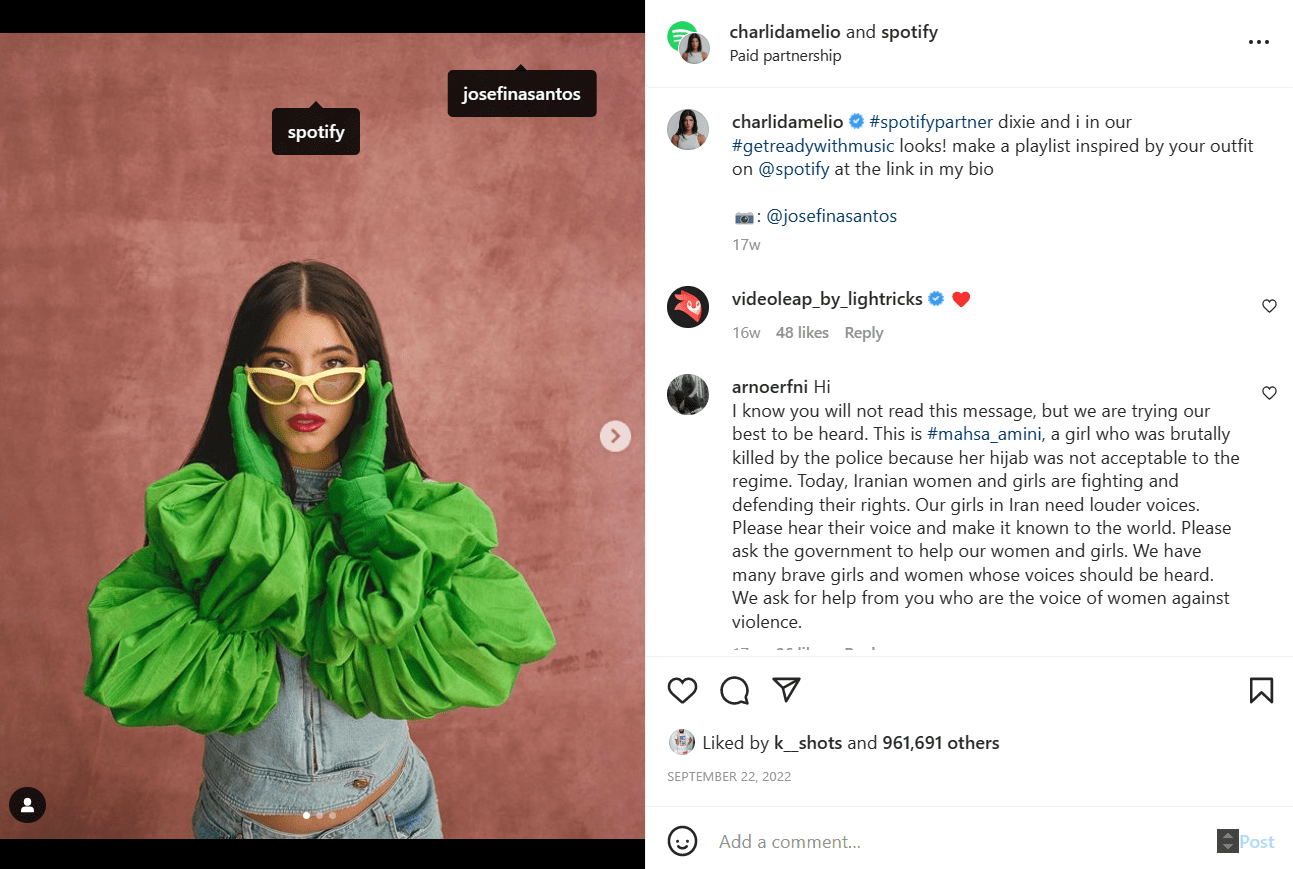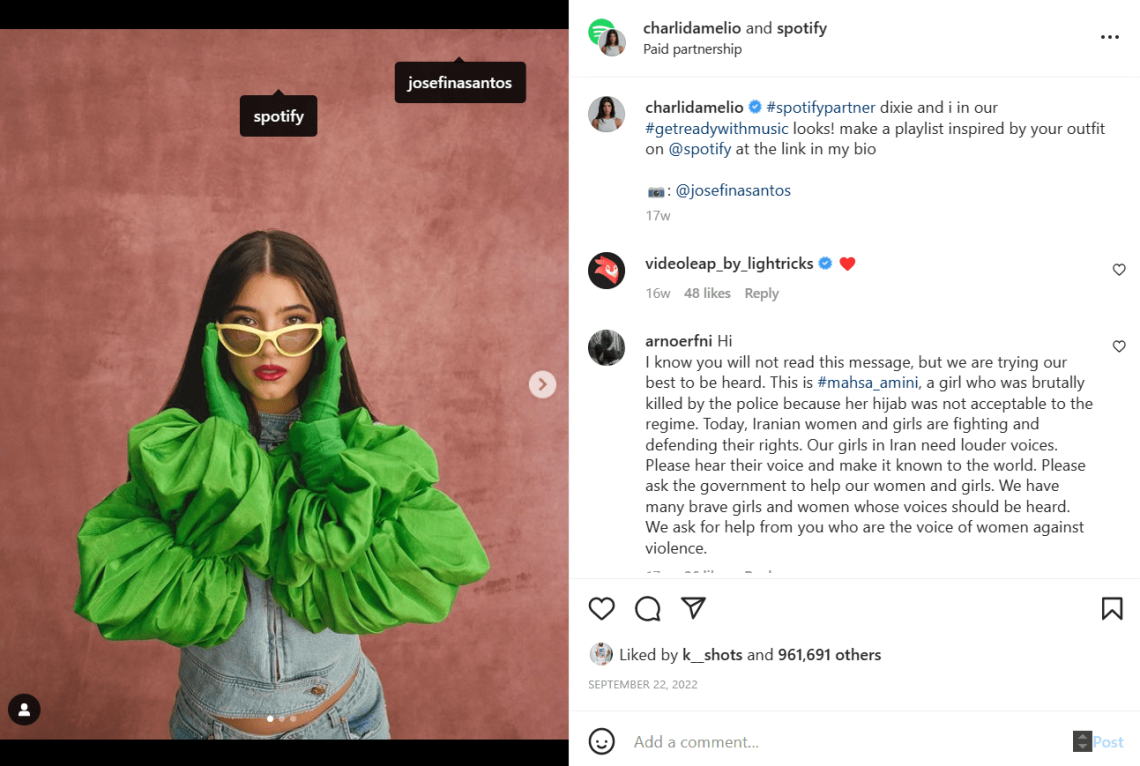 What's also interesting here is the use of relevant hashtags in the description. That's crucial for any social media marketing campaign.
Kennedy Cymone| over 1.6M followers
Kennedy is a lifestyle influencer and YouTuber. On her Instagram, Kennedy posts mainly about fashion and her travels.
In the past, she collaborated with brands like Shein, White Fox Boutique, Savage x Fenty, and many more.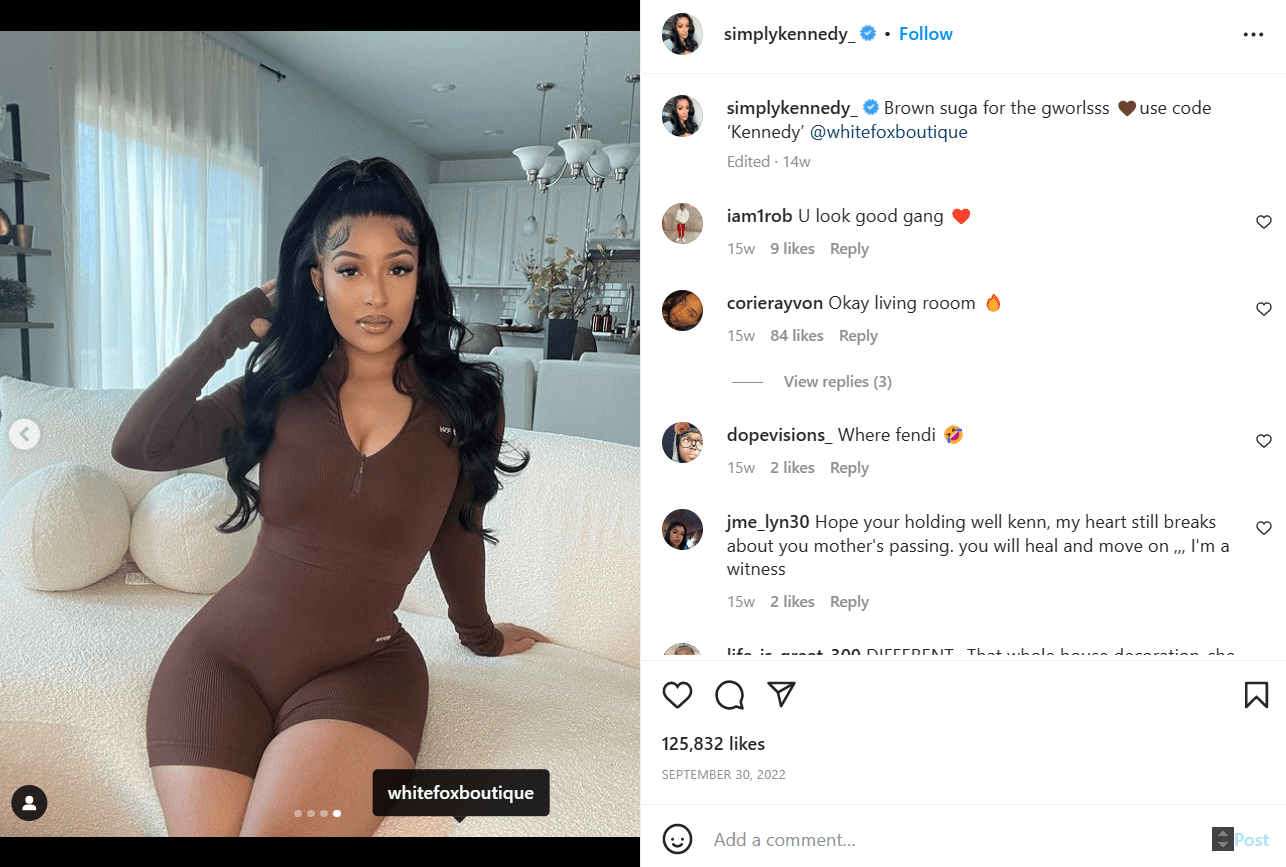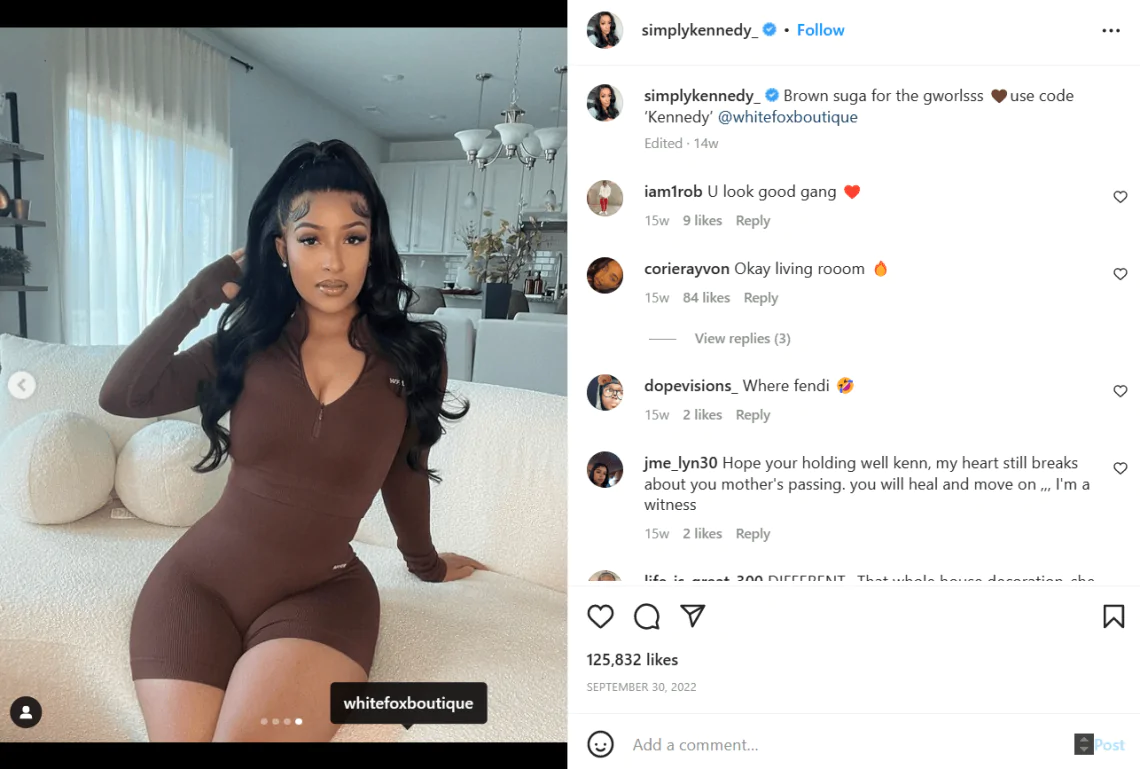 Jon Olsson| over 1M followers
Jon is a lifestyle YouTuber, entrepreneur, and traveler. He owns the clothing brand C'est normal.
Jon is familiar with social media marketing as he promotes the brand on his Instagram accounts.
Jon also posts about his luxurious life and trips on his Instagram and YouTube channel.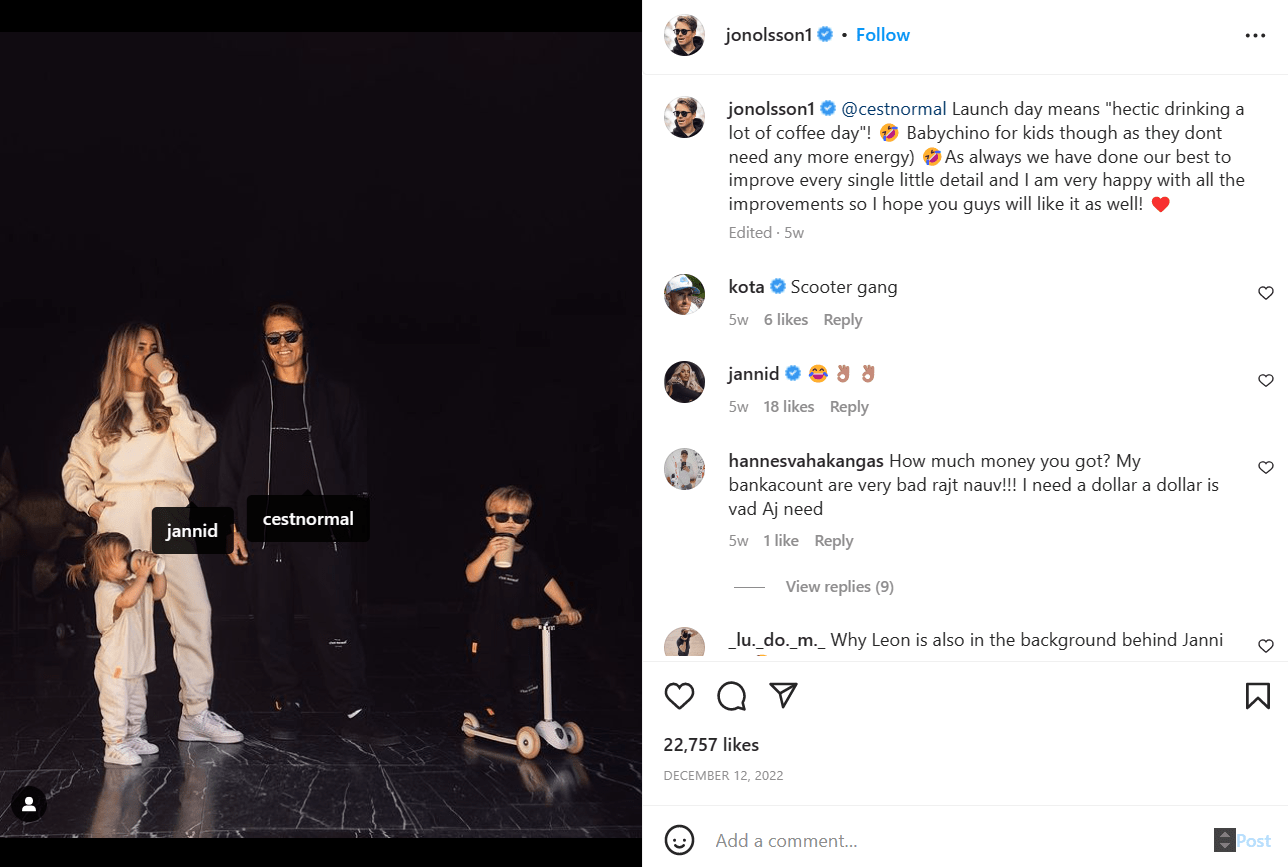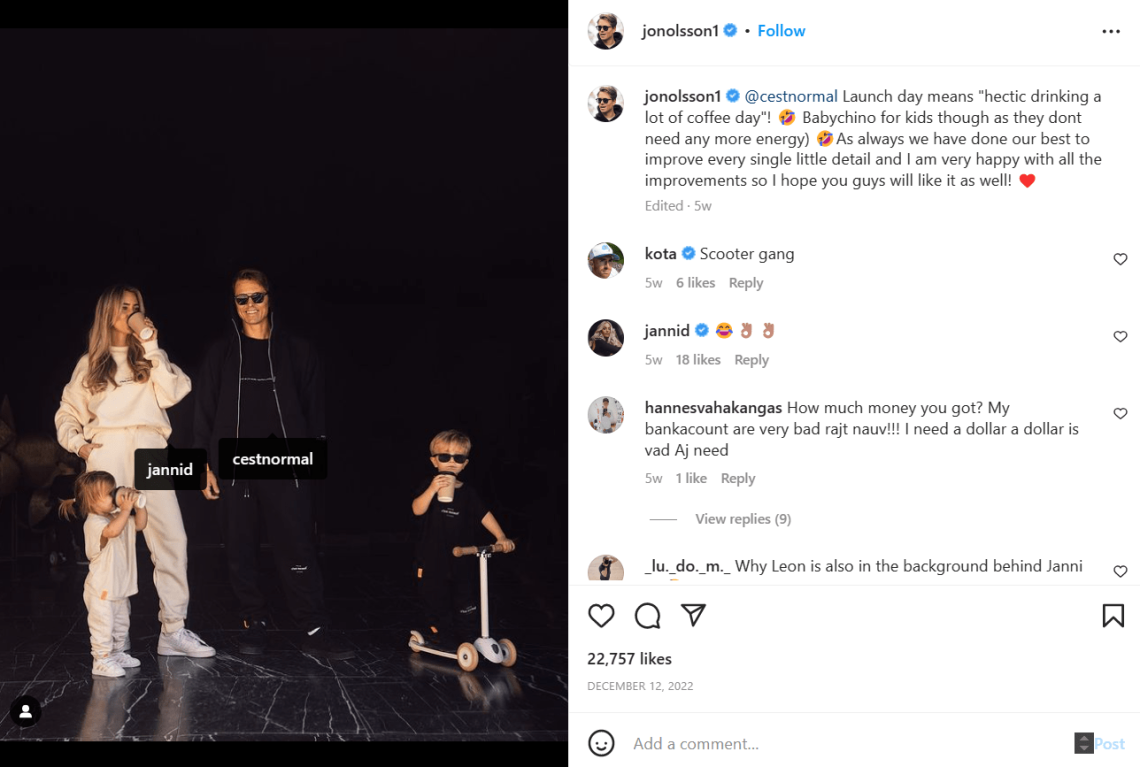 Antonia Karyne Ansgariusson| over 2.9K followers
Antonia is a digital creator, marketer, and lifestyle influencer on Instagram.
She posts a lot about her travels and adventurous life. Her Instagram will surprise you with a wide range of stylish shoots.
In 2019 she was listed on Sweden's 101 Top Talent for her marketing achievements.
As Antonia is a professional marketer, she is familiar with the influencer marketing industry and Instagram marketing.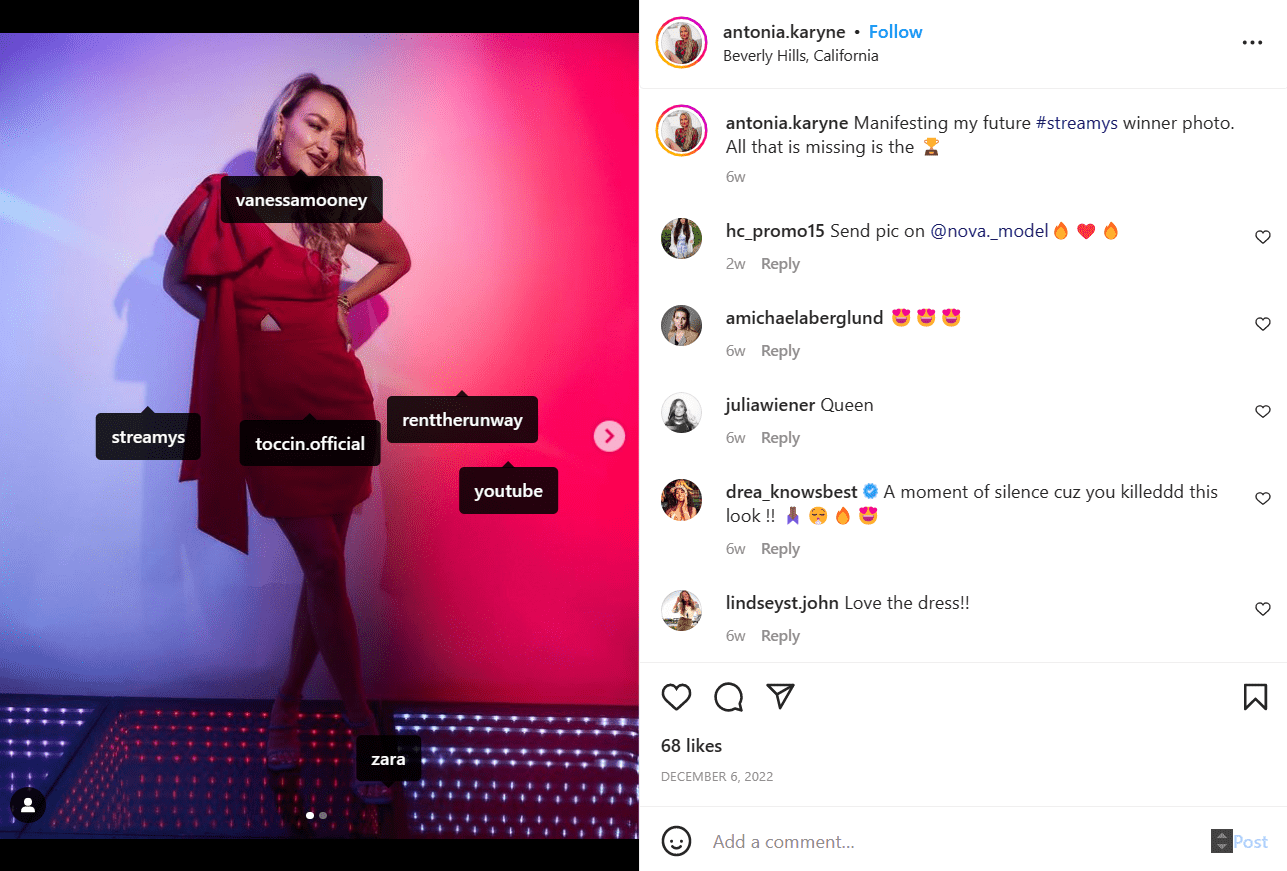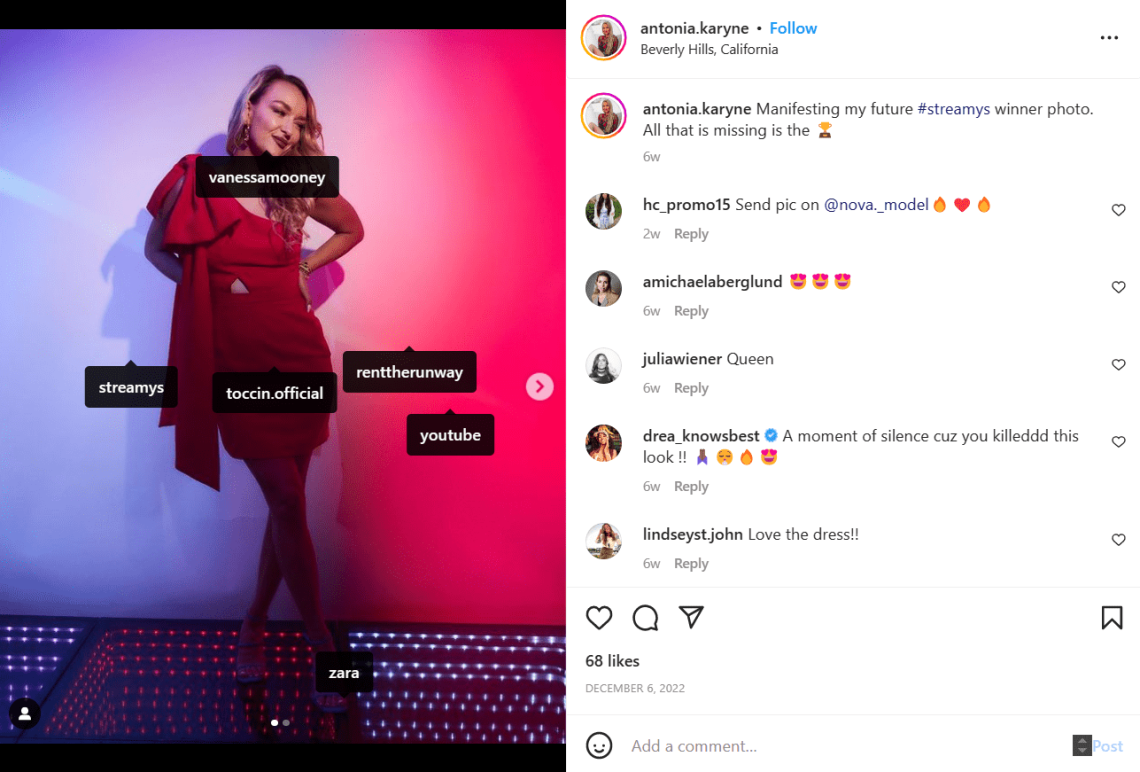 Search Instagram influencers and find relevant influencers for your brand!
06 Business
Brendon Burchard| over 1.1M followers
Brendon is a coach, author, and entrepreneur. On his Instagram, Brendon posts quotes and ideas that are real food for thought.
You can also find him on his website Growth Day, which is dedicated to people who need a breakthrough in their lives.
Brendon is also active on YouTube, where you'll find more inspirational content encouraging them to act and explaining how to start significant changes.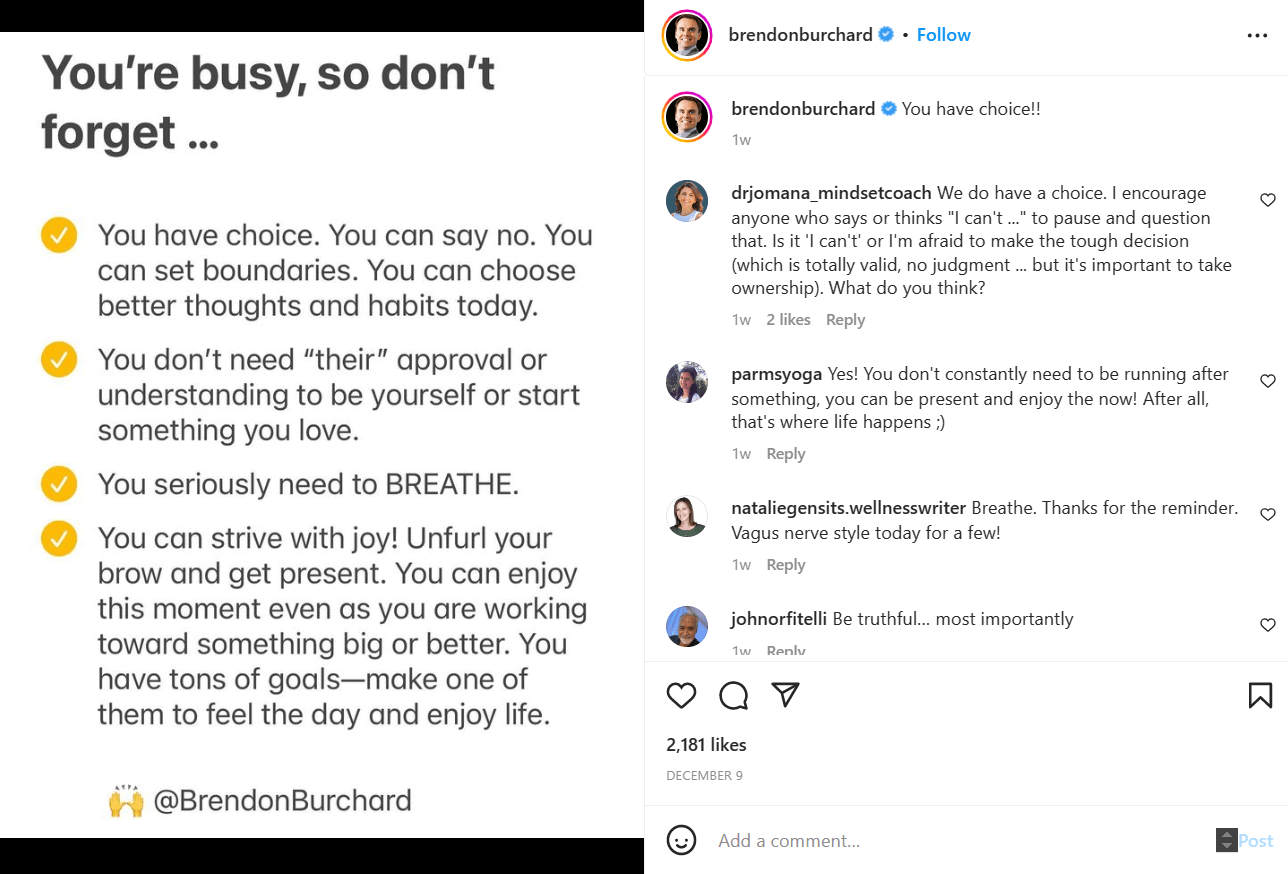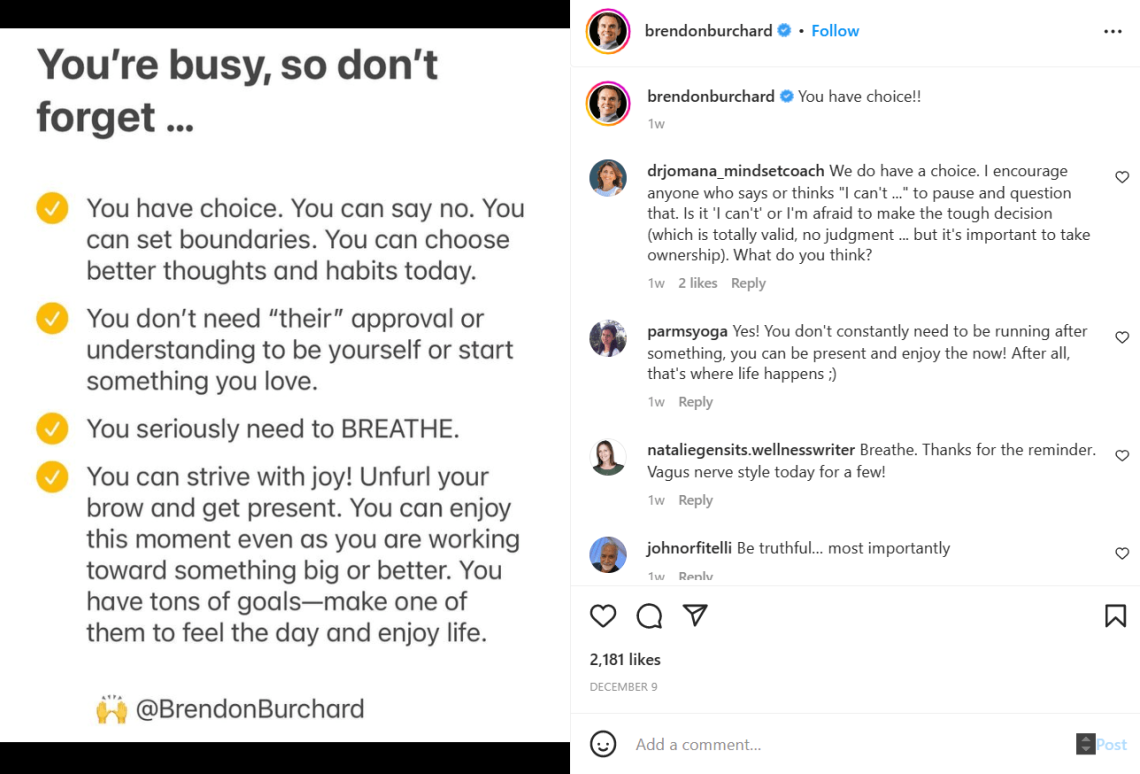 Todd Herman| over 31.3K followers
Todd is a coach and mentor. He is famous for his keynote speeches, podcasts, and books. His latest one – The alter ego effect – was a huge success and was mentioned in several TV programs.
As his bio description on Instagram says, Todd helps ambitious leaders achieve more with less.
Even if he belongs to the group of micro-influencers, he is recognizable on any social media channel and has a great engagement rate.
You can find Todd on his website.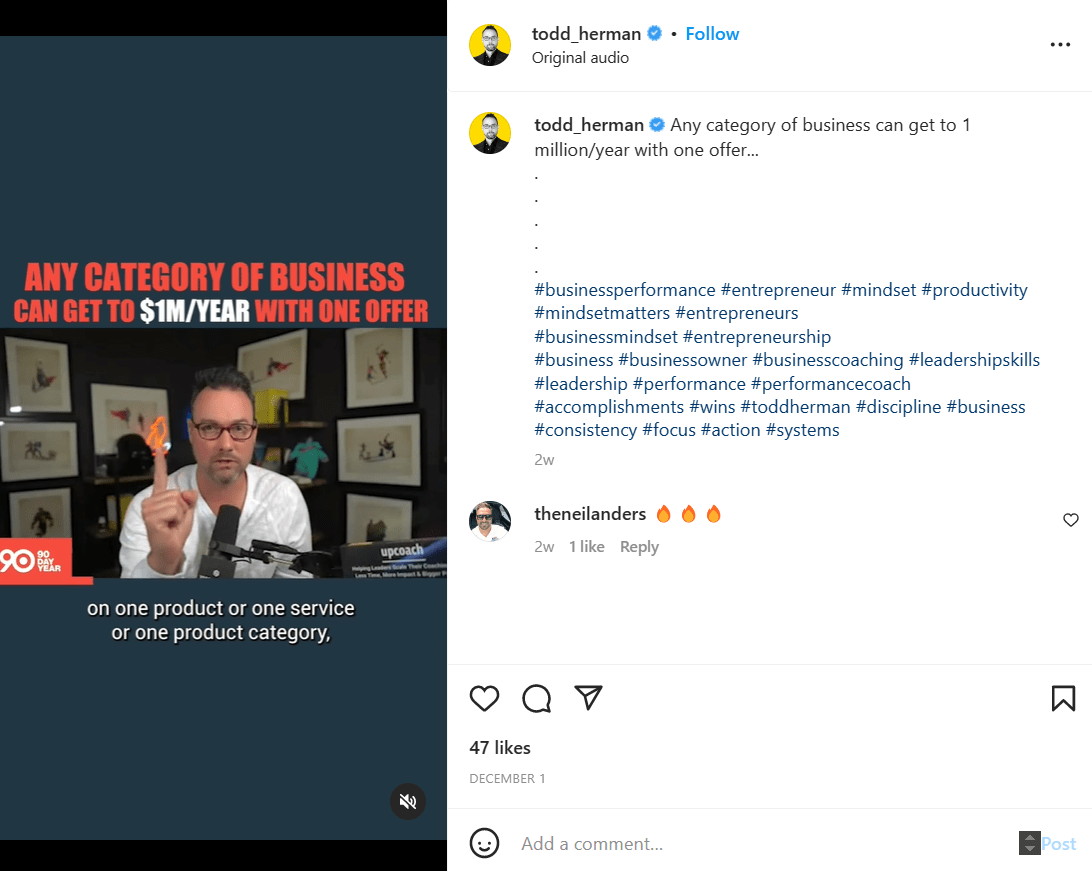 Lilach Bullock| over 3.3K followers
Lilach is a digital and tech influencer. On her Instagram, she posts fantastic marketing and business content.
Even if she is a nano influencer on Instagram, she has a great recognition and engagement rate on various social media channels.
Lilach's audience is very engaged and active under her posts which was a reason for her nomination for our Top 100 Marketing Influencers for 2022 report.
You can also find Lilach on her personal website.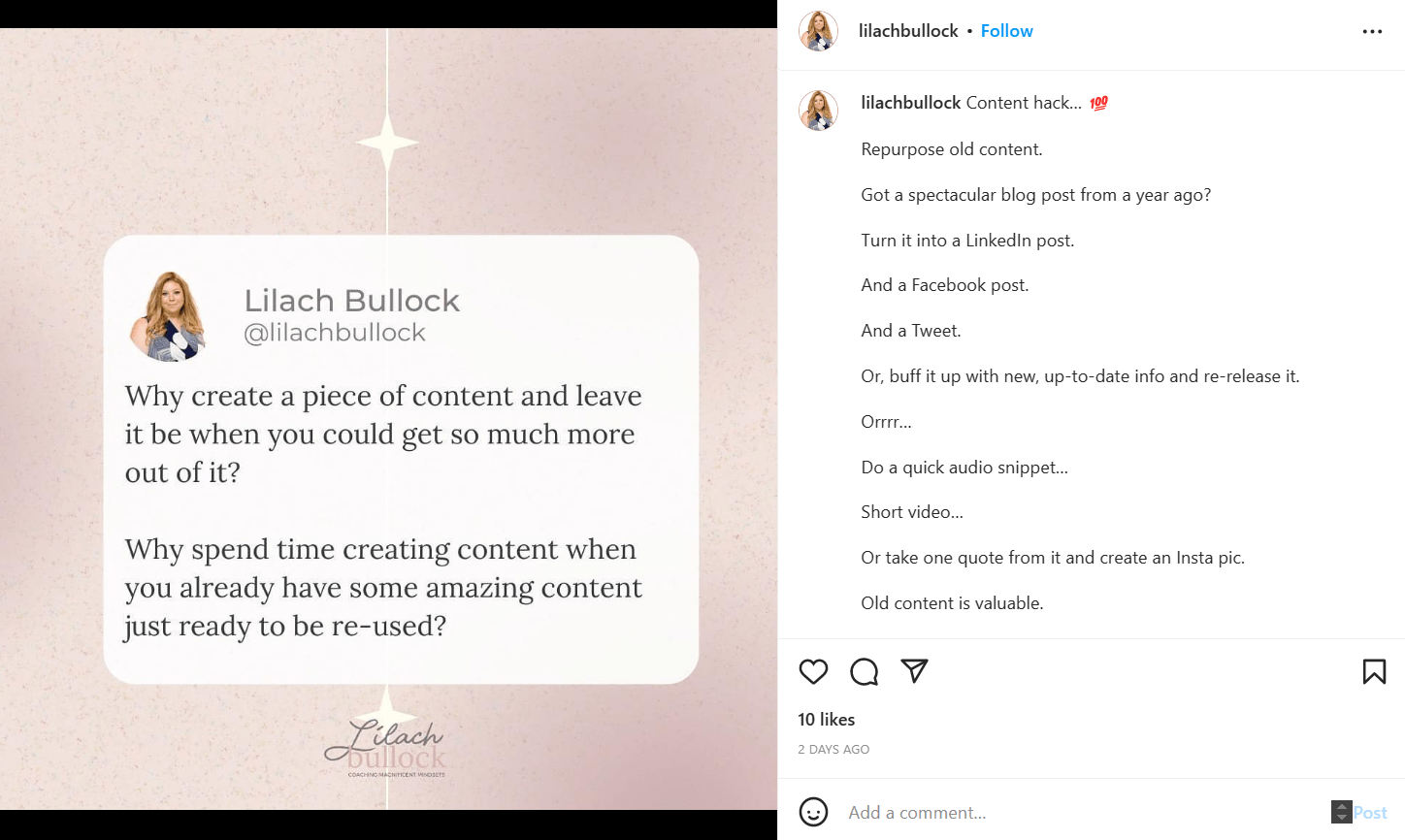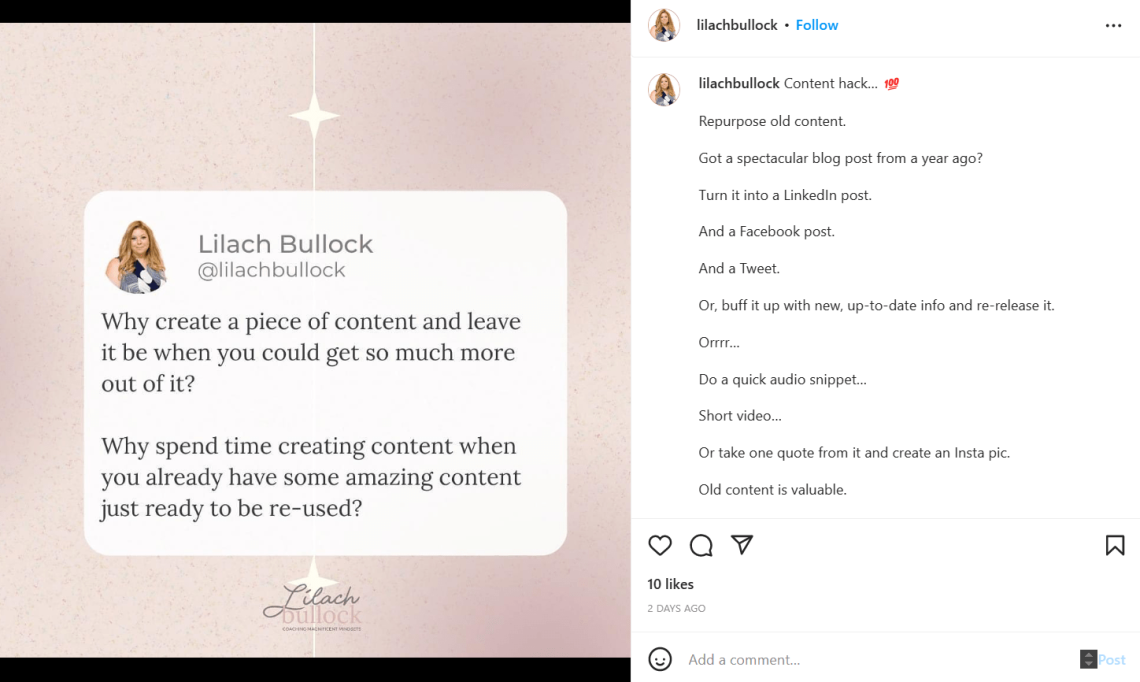 Discover potential influencers on Instagram now!
As you see, there is a variety of influential people you can choose from while looking for a representative for your company.
Everybody can find an Instagram influencer that will be a perfect match for them. The only thing you may need is an adequate influencer marketing tool to make the choice easier and more accurate.
With all the knowledge you just gained, you are ready to identify influencers for your brand on Instagram just now! Sign up for free.
Hope you'll find the Instagram accounts of the most suitable influencers for your brand!