Awario alternatives: Brand24
December 14, 2020 ・ 8 min read
Awario and Brand24 are both considered affordable media monitoring tools, but even though their pricing is slightly similar, they definitely differ. Is Brand24 a good alternative to Awario and which one should you choose? You will find all answers inside this article.
The aim of this article is to define two affordable media monitoring tools – Awario and Brand24, and find out if they are good alternatives to each other as well as what makes them different. This research will help you choose between those two solutions by finding out more about them.
Awario alternatives: Overview
Brand24 is a powerful media monitoring platform that offers analytical and reporting features. It can be used for various purposes, thus thousands of all-sized businesses use it every day to monitor conversations about them, engage with their customers, manage their reputation, build relationships with clients or measure their marketing efforts and discover insights.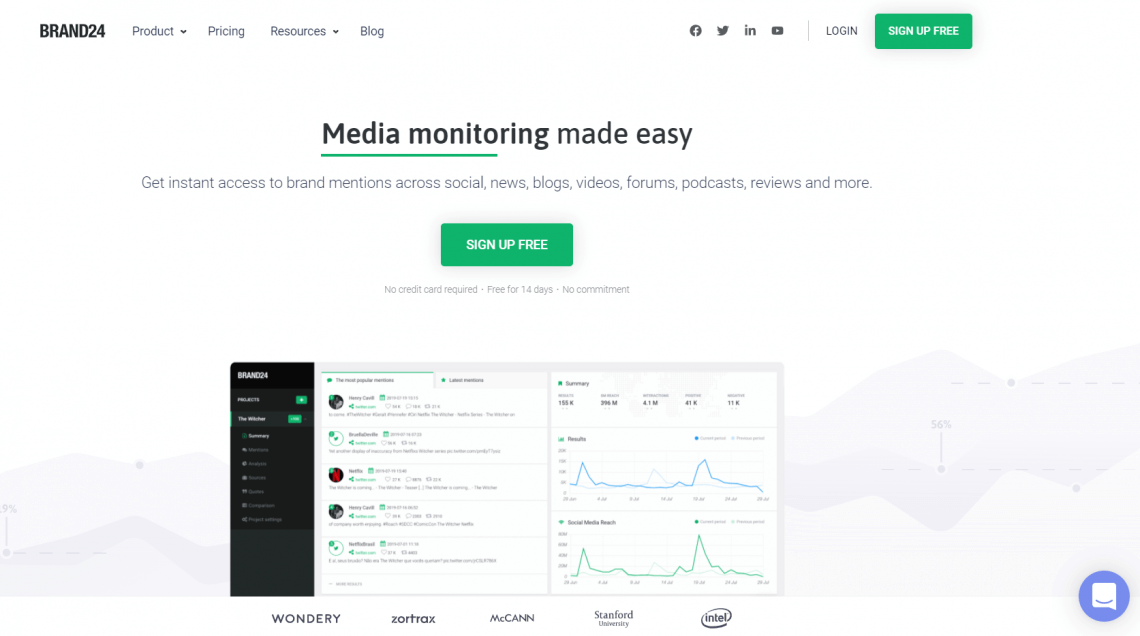 Brand24 is an affordable tool that is very advanced as well. It is a golden mean between cheap solutions that do not offer enough data and overpriced ones that are mostly targeted to big companies. Brand24 is perfect for small or medium-sized businesses, agencies, and enterprises that decide to choose it over more expensive solutions.
Awario is a social listening and analytics platform, that serves almost identical purposes to Brand24. It is a monitoring tool that helps to track brand mentions, monitor competitors, find sales opportunities and influencers, and engage with the audience online.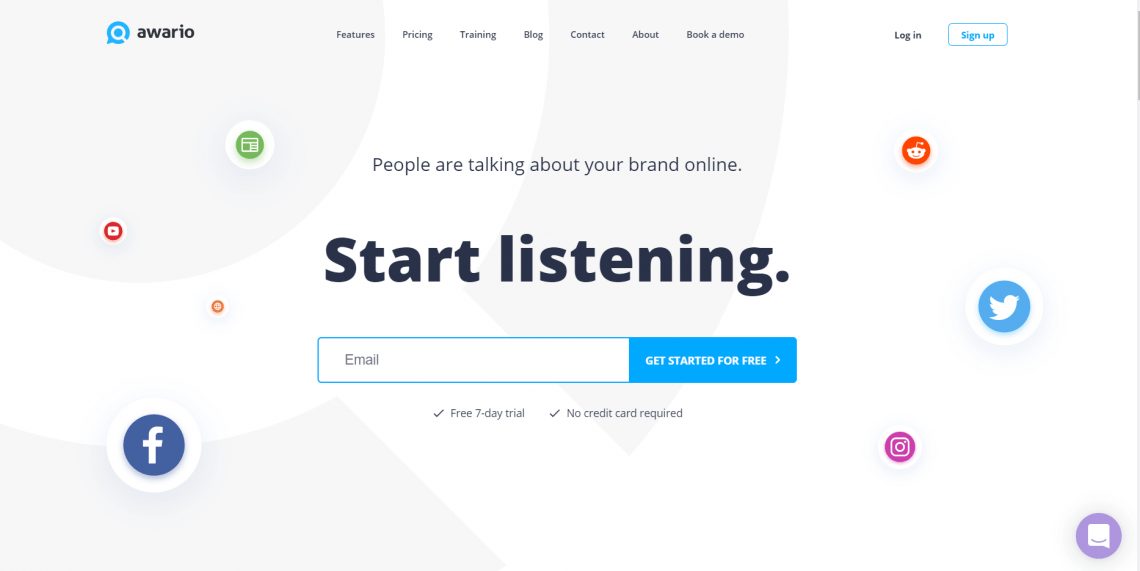 Awario is a great fit for both small to medium businesses looking to track brand mentions, monitor competitors, and find sales opportunities; and agencies looking to do the same for their clients.
Awario and Brand24 right away seem to be similar. Let's dive into a serious comparison that will allow us to draw further conclusions, see what actually makes these tools different, and learn if Brand24 is a good alternative to Awario?
Awario alternatives: Features
Features that Awario and Brand24 offer are probably what interests all of us the most. Let's start the comparison and learn more about both media monitoring tools to see if there are differences between them as far as functions are concerned.
Monitored Platforms
Let's start the comparison of features with the platforms that both tools monitor. This factor is probably the most important one for potential clients that are in need of social media monitoring. In this case, the more sources the better, but their credibility and reliability are significant as well.
Awario covers two types of sources:
Traditional media – websites, news sites, and blogs.
Social media – Twitter, Youtube, and Reddit.
The tool does not offer data from Facebook and Instagram anymore. It is currently being re-reviewed by Facebook's team. Awario may or may not be approved by Facebook but either way, the verification process will surely take some time. If Awario will be able to collect data from Facebook and Instagram ever again, their possibilities will be likely limited.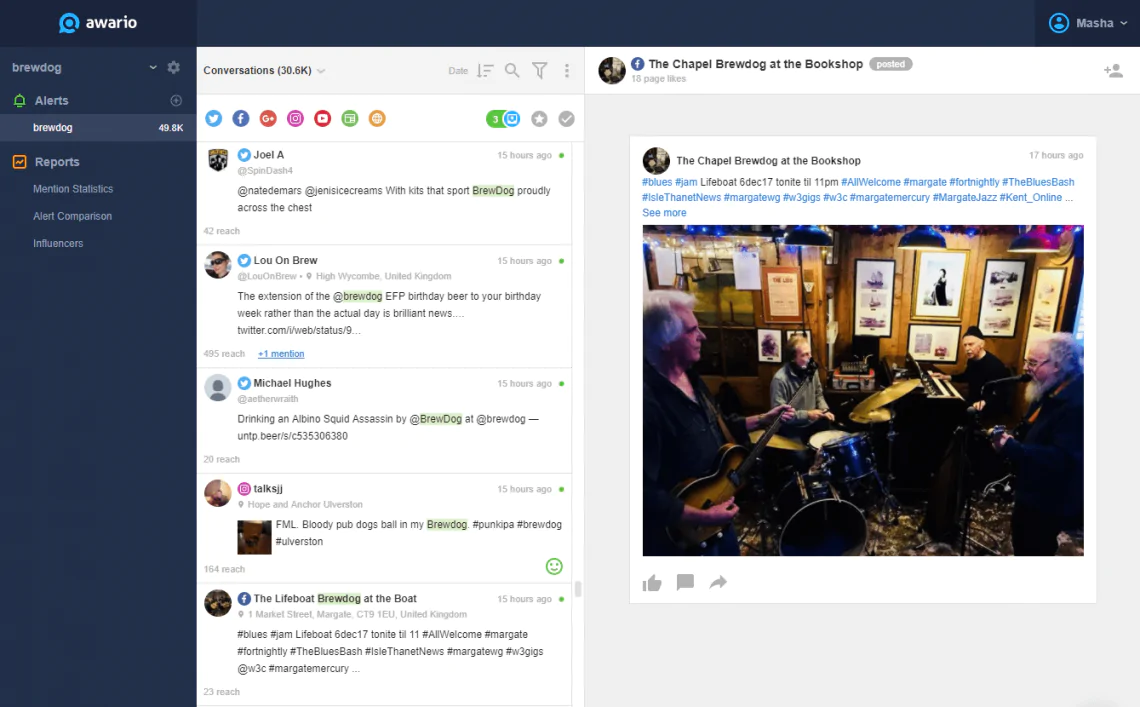 Brand24 monitors a couple types of sources:
Social media – Facebook, Instagram, Twitter, Youtube, Reddit, Twitch.
Traditional media – websites, news sites, blogs, forums, review sites.
Podcasts.
Newsletters.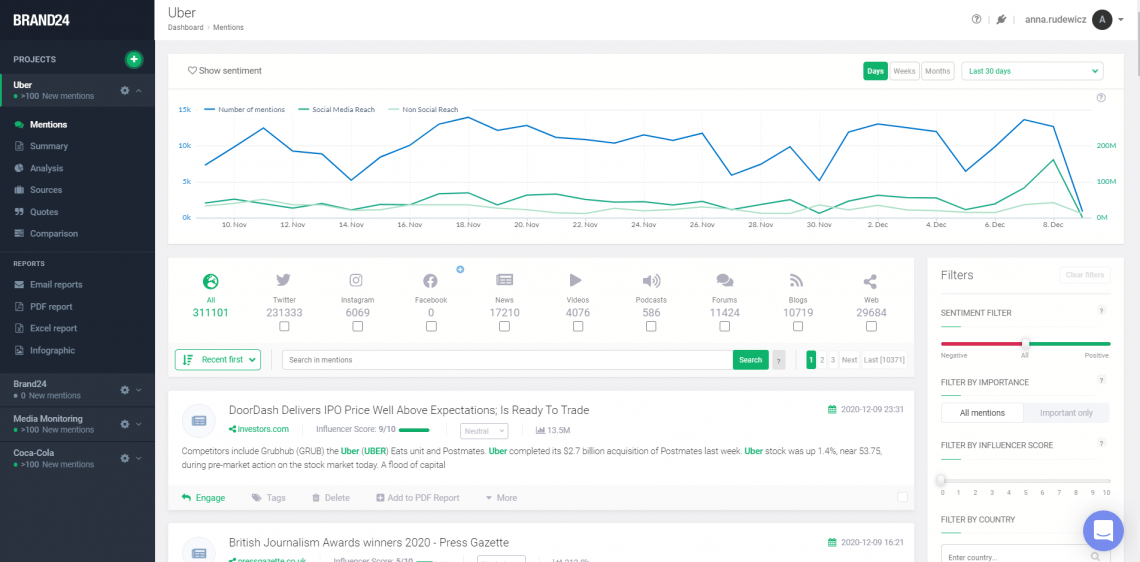 Brand24 is able to monitor Facebook and Instagram due to the integration, that is compliant with the latest rules, terms, and guidelines. This integration is perfect for business owners, marketers, agencies, and social media managers. Here is why:
Brand24 now helps you to collect some of the publicly available Facebook mentions like public posts in which the Facebook Page has been tagged, public posts that were published by Facebook Page, public posts published by individual users on the Facebook Page, comments on public posts published by Facebook Page, Facebook Page reviews.
As far as Instagram is concerned you can monitor public photos and videos containing a specific hashtag/hashtags, public photos, videos and comments in which an Instagram Business or Creator Account's alias has been tagged or @mentioned, public photos and/or videos posted by an Instagram Business or Creator Account's account.
Hashtag tracking
Both tools offer hashtag monitoring, but Brand24 allows to track hashtags on Instagram and all the other sources, and Awario does not include some of these platforms e.g. Instagram.
Sentiment Analysis
Awario and Brand24 offer sentiment analysis, and that's a huge plus for both of the tools! Moreover, Brand24's sentiment analysis works for over 90 languages.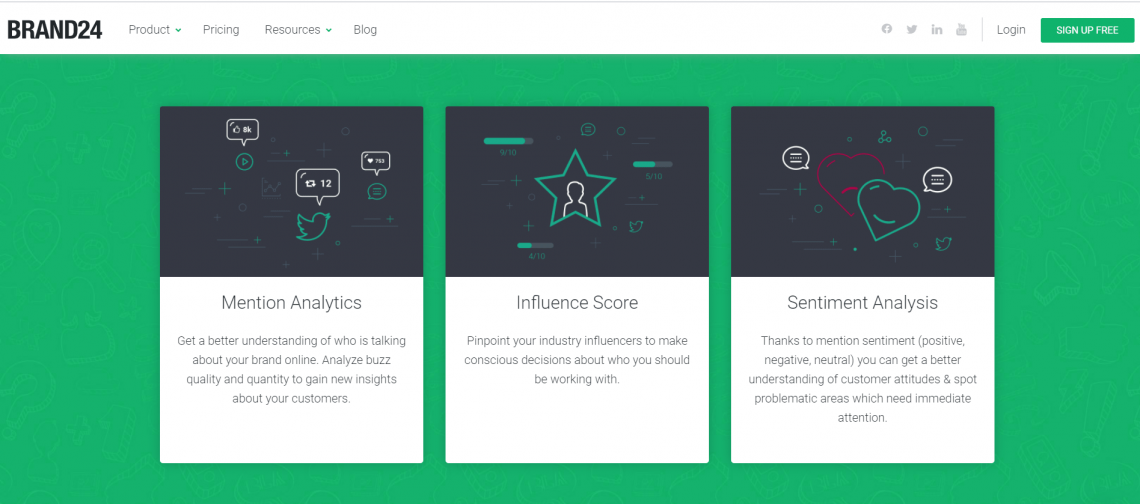 Discover the best sentiment analysis tool
Reporting
Awario offers PDF and HTML reports.
Brand24 helps to create PDF, Excel, Email (daily, weekly, storm alerts) reports, and Infographics. Email reports are extremely useful as they allow you to save some time and monitor your business everywhere, at any time.
Alerts
Brand24 can send you an email, Slack, or mobile notifications every time something important changes in your dashboard.
Awario does not send out mobile notifications, but it can send you email and Slack notifications.
Users
3 users can use Awario's Pro plan, and 10 users are allowed for the Enterprise plan.
Up to 99 users can use one Brand24's account. This may be your whole team!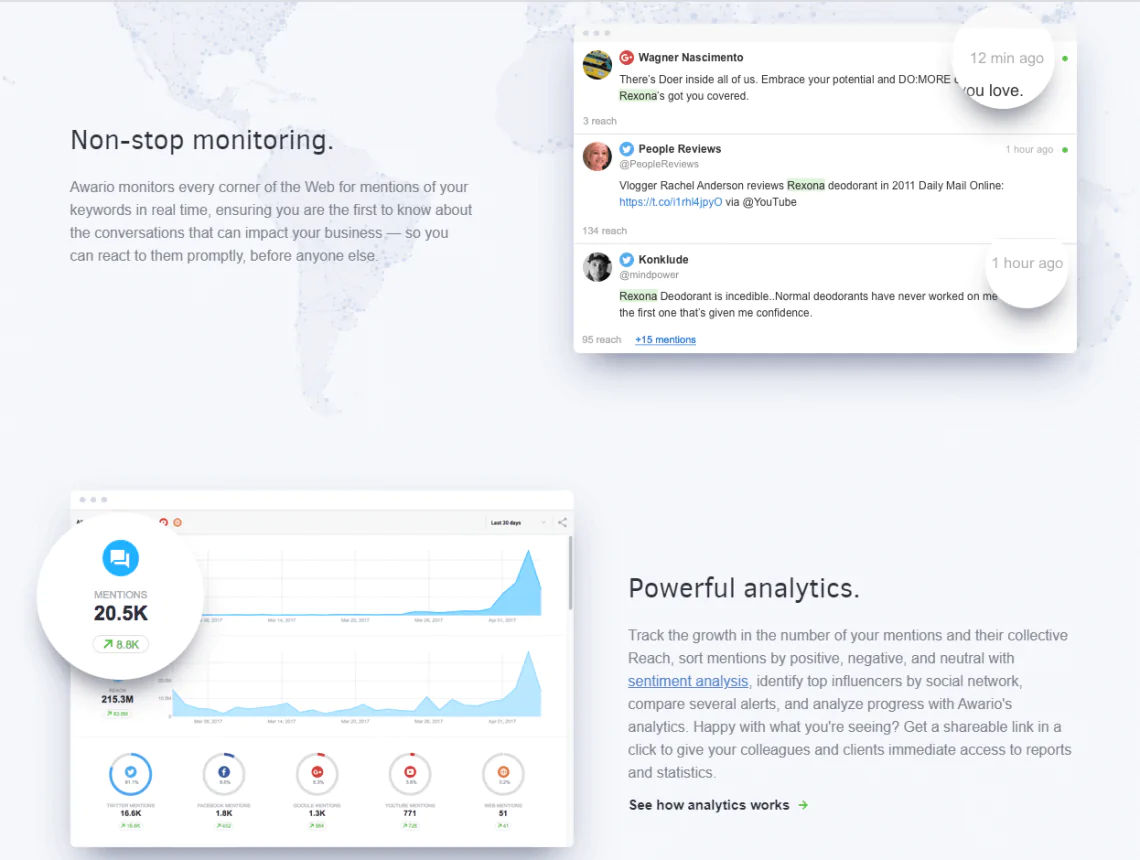 Mobile App
Brand24 has a mobile app that makes it easier to monitor your business no matter where and at any time.
Awario does not have a mobile app.
Influencer marketing
Brand24 has created its own metric that is made for influencer marketing. Influence score helps you find, identify, and collaborate with micro and popular influencers that work in your niche. Influence score is calculated for each public profile that mentions your brand or uses a keyword of your choice. Inside Brand24's analysis tab, you'll find a lot of information that will help you master influencer marketing.
Awario creates lists of influencers that you can turn into reports.
Find the best influencers to collaborate with!
Competitor analysis
Brand24 has a dedicated Comparison tab that allows you to compare two or more projects with each other. This feature makes competitor analysis easier.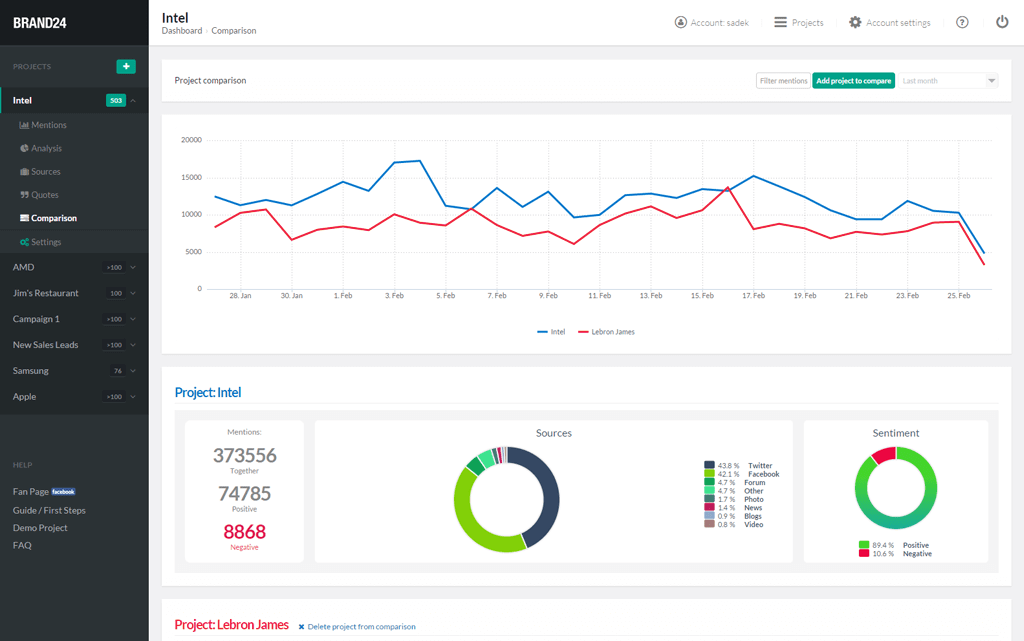 Awario does not have such a tab, but it allows you to compare projects with each other in the main Dashboard.
Filtering
Brand24 offers multiple filtering options that are visible and available for every client. The tool allows you to save a specific set of filters to be used further in the PDF report or next visits on the app. The filters tab is visible right in the main dashboard.
Awario lets you filter mentions, but these options are less visible.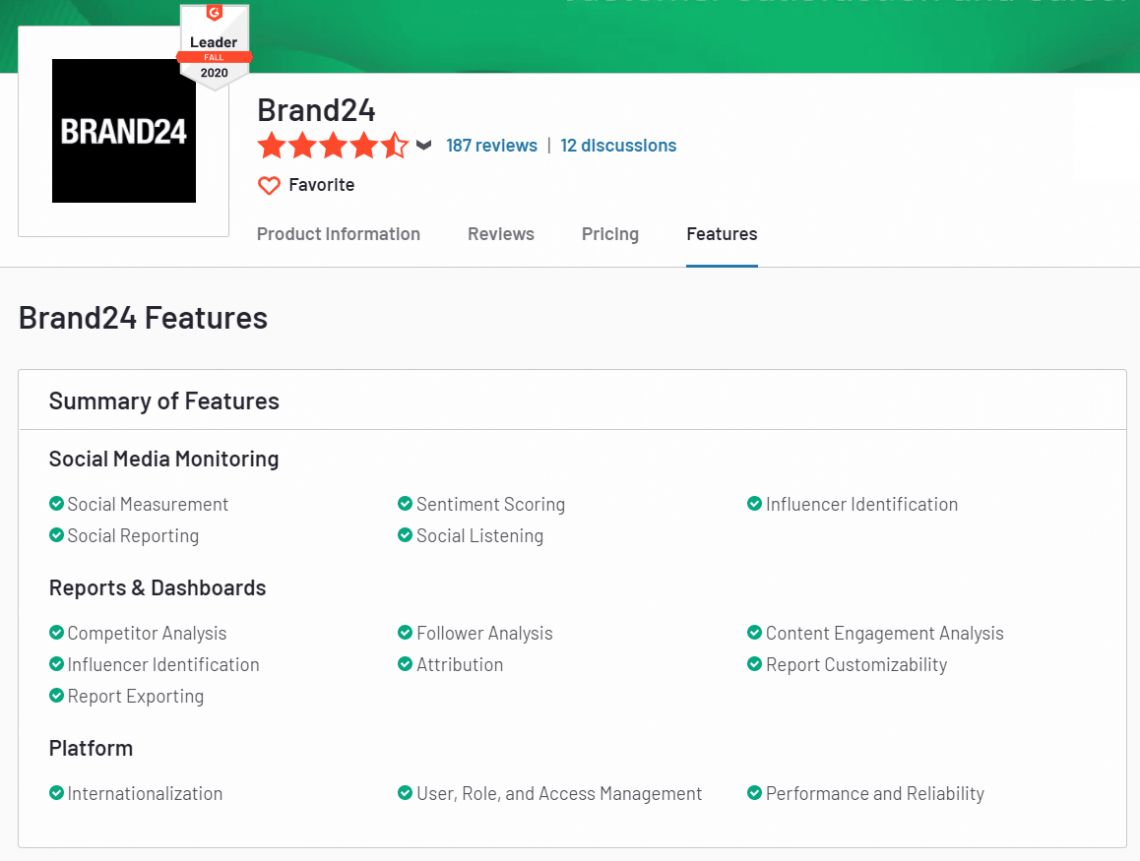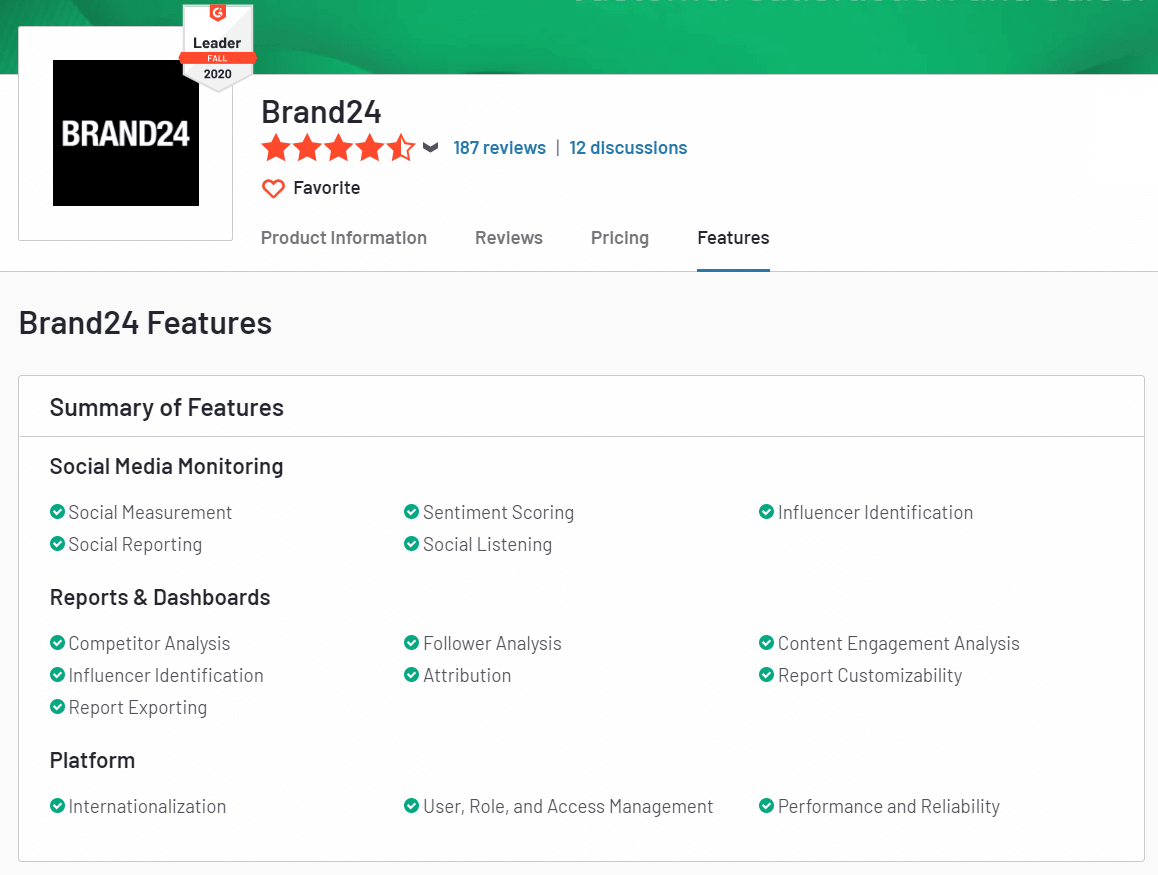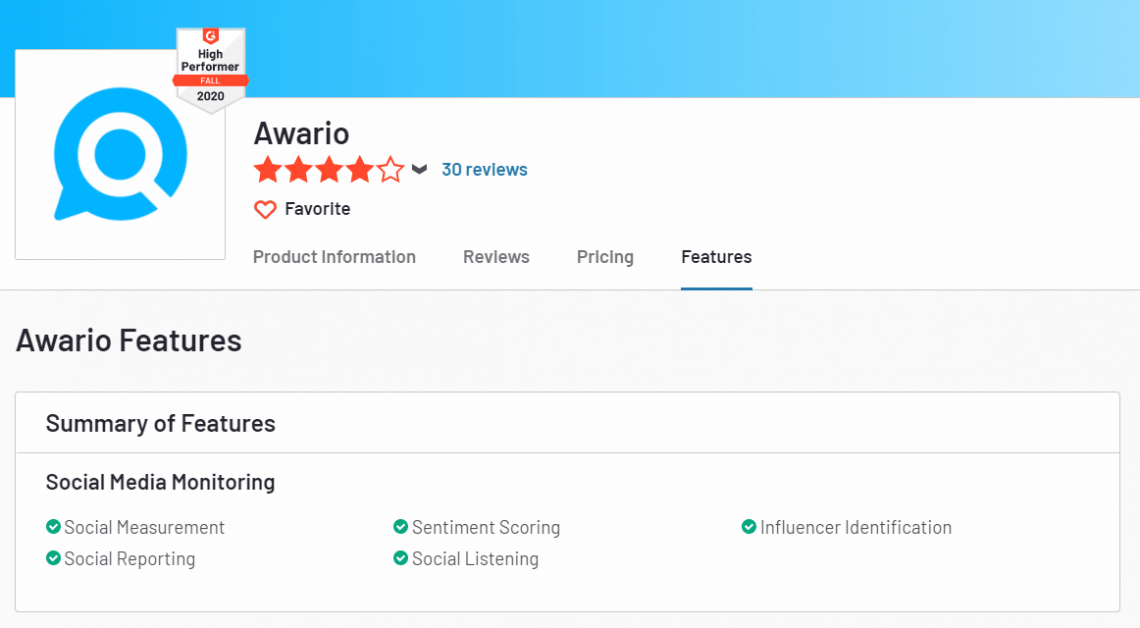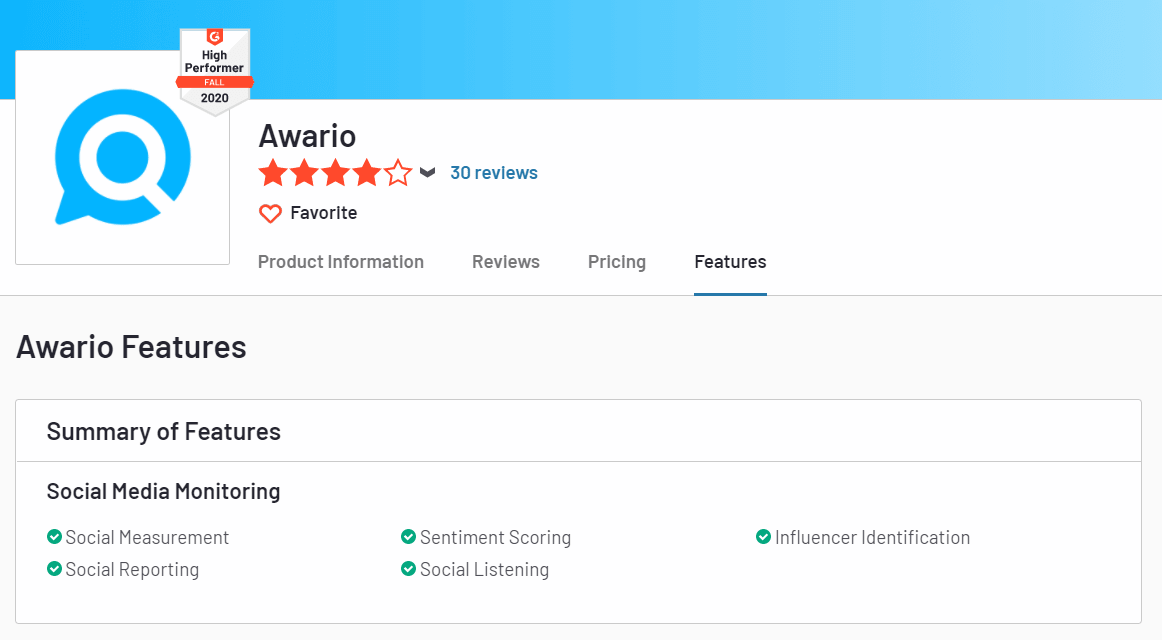 There are a couple of features that both Brand24 and Awario offer, but since Brand24 is a little bit more advanced, it definitely has a wider range of functions. Brand24 also covers more platforms, including Facebook & Instagram, which already makes it a good alternative to Awario.
Awario alternatives: Visuals
Awario's design is kind of similar to Brand24's but is definitely less clear and less user-friendly.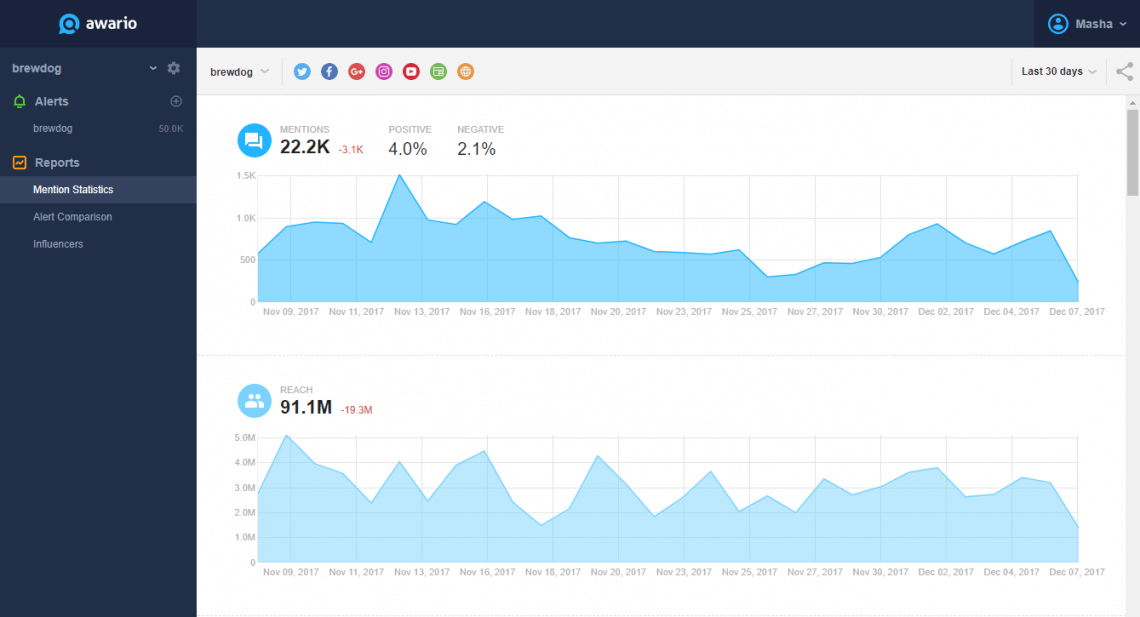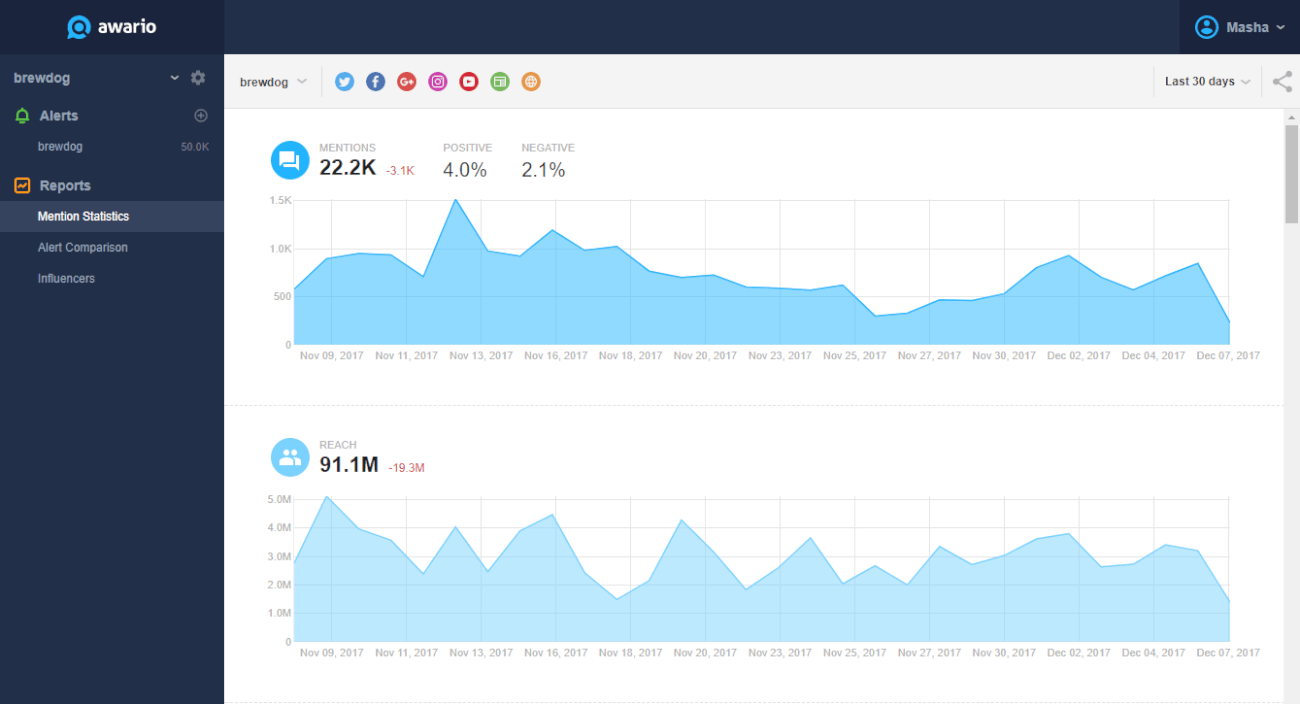 Awario's analytics look poor compared to Brand24's graphs or Analysis and Summary tabs.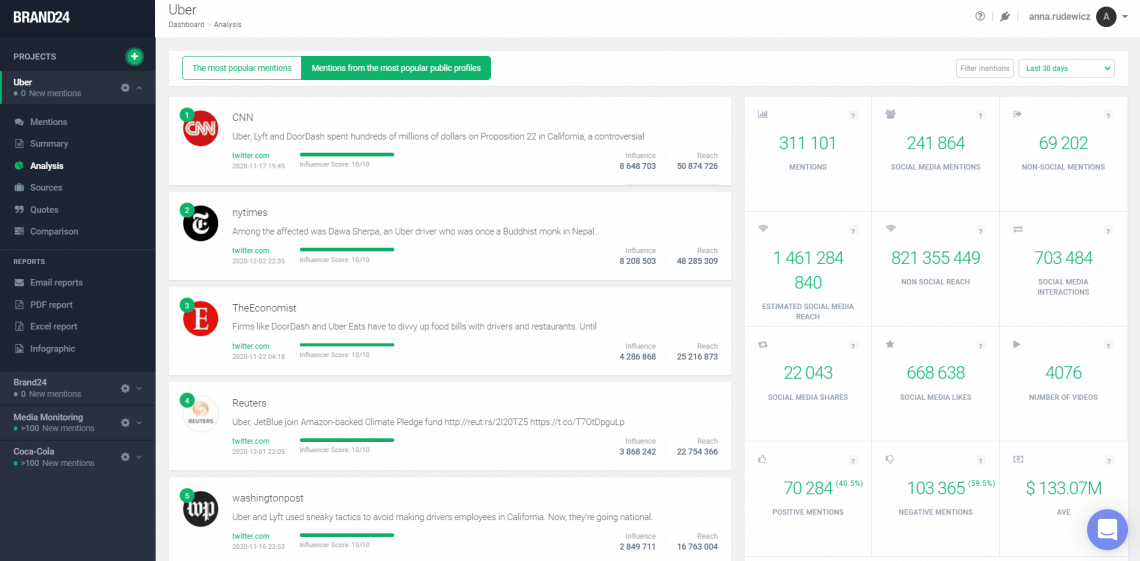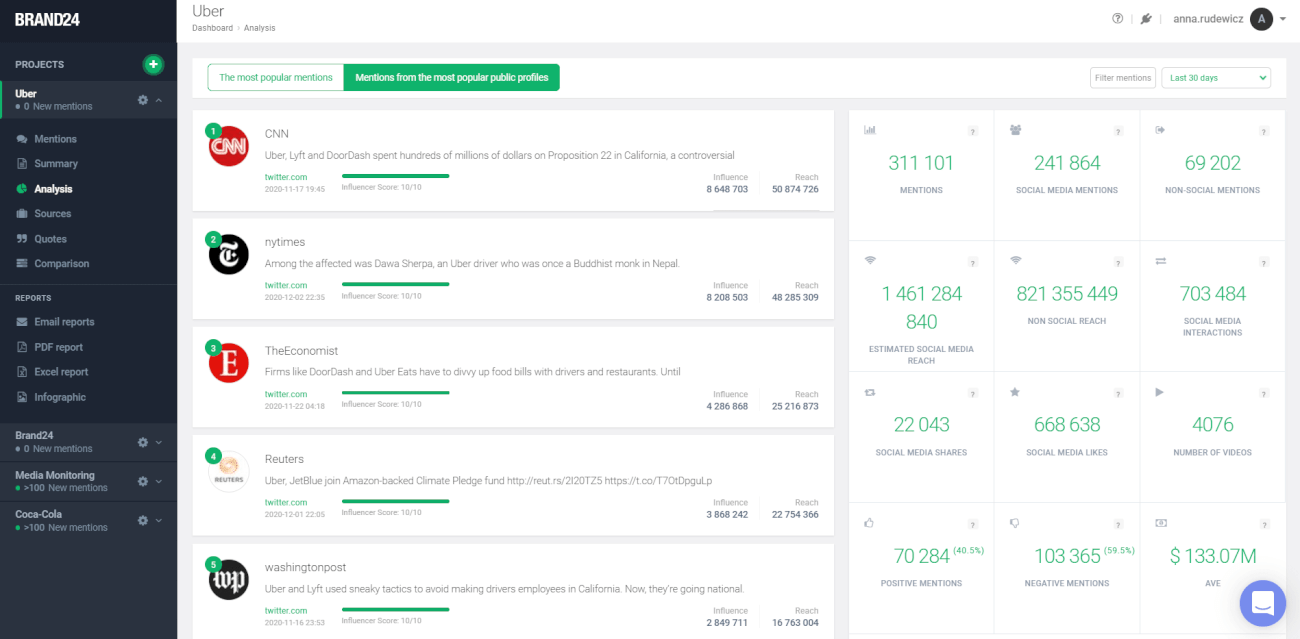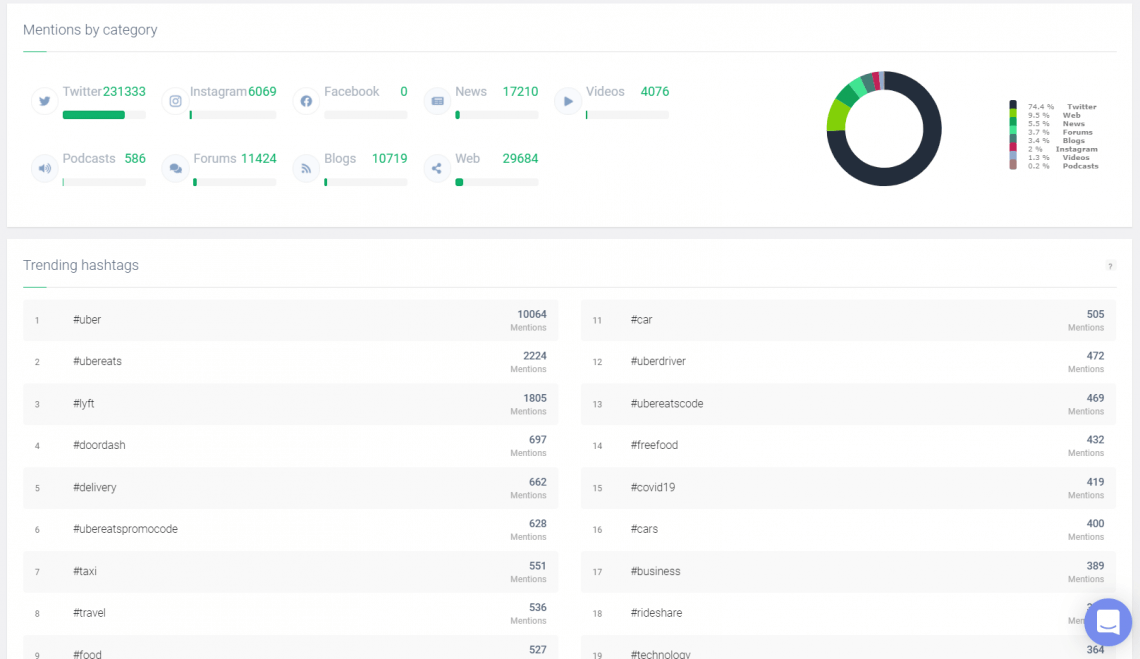 Awario alternatives: Reviews
I found Awario and Brand24 on Capterra and G2, the two most important (from my point of view) review sites. I wanted to compare how both of these services are performing as far as reviews are concerned.

Awario has rather good reviews, but not many of them.
G2: 4.1/5 basing on 30 reviews.
Capterra: 4.5/5 basing on 43 reviews.
Brand24 has definitely more testimonials, probably because of its higher recognition, brand awareness, and well-known good reputation.
G2: 4.6/5 basing on 187 reviews.
Capterra: 4.7/5 basing on 138 reviews.
Reviews justify the fact that Brand24's clients are satisfied with how the solution is performing. Awario's reviews are good as well, but Brand24 definitely wins this comparison, as it has more testimonials. If you are looking for Awario alternatives, Brand24 seems to be a good one so far.
Awario alternatives: Pricing
Awario and Brand24 both offer 3 pricing plans.
Brand24 will provide you with a 14-day free trial that you may use without any commitments because it does not require a credit card. Then, you can choose between three pricing plans that can be customized if you wish.
Personal Plus 49$/month
Professional Premium 99$/month
Professional Max 199$/month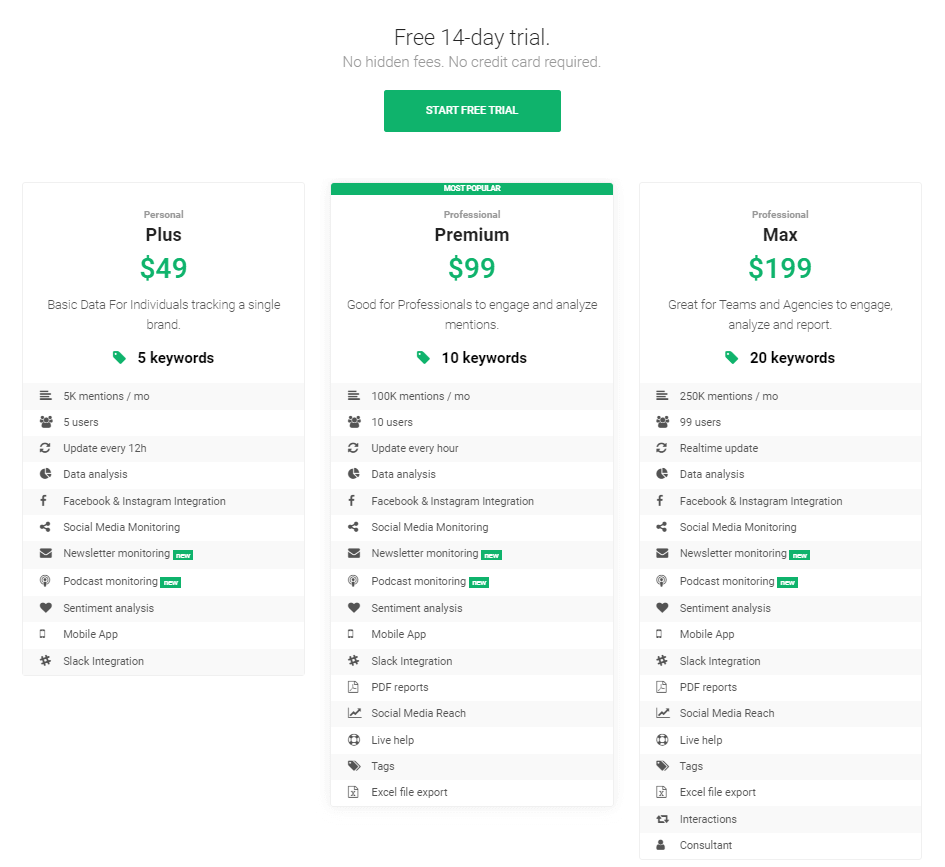 Start monitoring your business for free!
Awario has a 7-day free trial to offer that also does not require a credit card. After that, you will be offered 3 pricing plans as well.
Starter 29$/month
Pro 89$/month
Enterprise 299$/month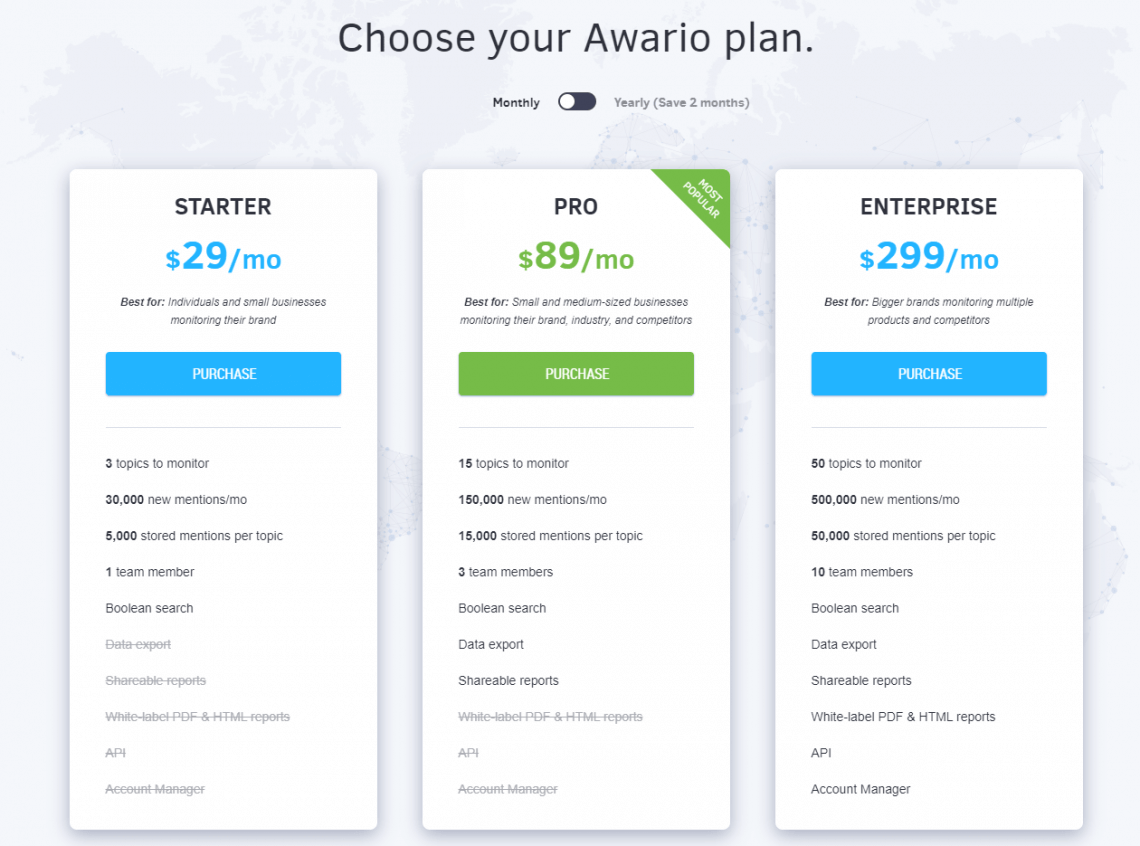 At first, it seems like Awario has two out of free plans that are cheaper than Brand24's plans. But as soon as you dive a little bit deeper into comparison, you'll see what you get for Awario's prices – definitely fewer data.
Awario's 1st plan is a bit cheaper and 2nd plan is almost identical to the one Brand24 offers, so if you don't need a lot of data, you can use it as an alternative to Brand24.
Although, Brand24 is still affordable and cheaper as far as the 3rd plan is concerned. It gives you much more for a better price.
Summary
In the end, I can say that I understand why some say that Awario is similar to Brand24. After the comparison, I definitely must say that both tools have their pros and cons, but they are much more different than I thought.
Awario is a little bit cheaper but is more basic at the same time in my biased opinion. A good thing is that Awario offers sentiment analysis, and allows you to still track Twitter hashtags. For some businesses, Awario will be just enough and that's good! Everyone needs to find a perfect solution that meets their needs and personal preferences.
Brand24 monitors more sources, serves more purposes, it offers more analysis and reporting features. It has great reviews and definitely a long-standing reputation. Brand24's design is user-friendly and all of that for just a couple of dollars higher price. That's why, if you are looking for Awario alternatives, you can check Brand24 out without hesitation.