Best PR software in 2021
October 8, 2020 ・ 8 min read
Public relations is a competitive industry. As a PR professional, you need to write and distribute press release, nurture media relations, prepare coverage reports, and work on media database. To succeed and stay one step ahead of your competitors, you need a stack of top PR software to help you.
PR software can make your life so much easier. A carefully chosen public relations management tool will benefit your organization and make your work more competitive. Many PR professionals and PR teams need a PR tool to meet their obligations and deliver the best work possible.
The trick is to choose exactly the type of public relations software you need to be successful in your job.
To help you choose the best public relations software stack, we prepared a list of various PR tools that will make your every day tasks a piece of cake.
A carefully selected PR software will help you monitor the mentions about your client, measure PR campaign, manage press releases, and track influencers campaigns.
Without further ado, let's take a look at the top PR software!
1. Brand24
Brand24 is a top media monitoring and media coverage reporting software.
Once you create a media monitoring project, the tool will collect all publicly available mentions containing your keyword.
The sources covered by this public relations software include:
social media platforms, for example, Facebook, Twitter, Instagram, YouTube, or Twitch
podcasts
publicly available newsletters
forums
blogs
news sites
other publicly available sources
But Brand24 is more than just a robust media monitoring engine. The piece of PR software will help you analyse your online presence.
Brand24 offers a robust analytics section, most of which is AI-based:
the volume of mentions
AI-based sentiment analysis
estimated social media reach
non-social media reach
total number of social likes, comments, and shares
the share of voice
top public profiles and their influence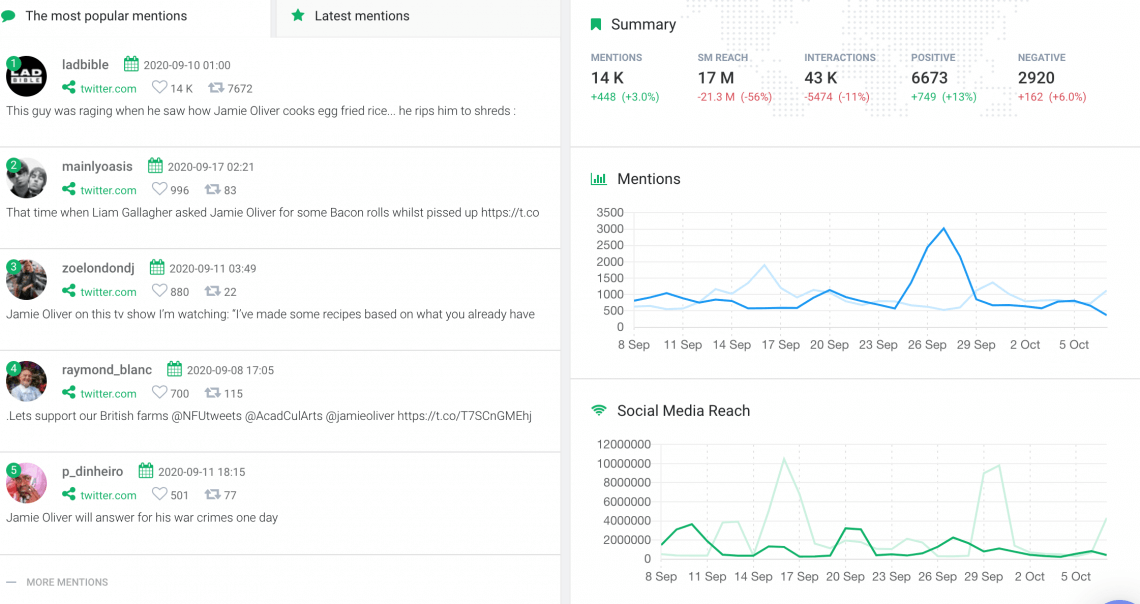 As you can see, that is a lot of useful insights you can implement across different stages of working with your client.
Media monitoring will help you:
build and measure brand awareness
spot any critical mention and manage online crises
monitor the results of PR and marketing campaigns
identify top influencers to work with
keep a close eye on your competitors
protect the online reputation of your clients
There are two additional features that make Brand24 the perfect piece of a PR software.
First, there is the system of notifications. You can choose between four types of notifications:
in-app notifications (both for iOS and Android)
storm alerts send to predefined email every time there is an unusual surge in the number of mentions
email reports you can receive daily that contain the most important mentions
integration with a Slack channel
Try top PR software! Brand24 offers 14-day free trial (no credit card required)
You can easily forward the emails to share them with your client and always stop on the top of your mentions.
The second feature extremely useful for a PR agency are PDF reports.
You have to present the results of your work to your clients. PDF reports are the perfect way to do that.
First of all, you can choose what information the report will contain. Simply use the slider to add or delete the data to the report.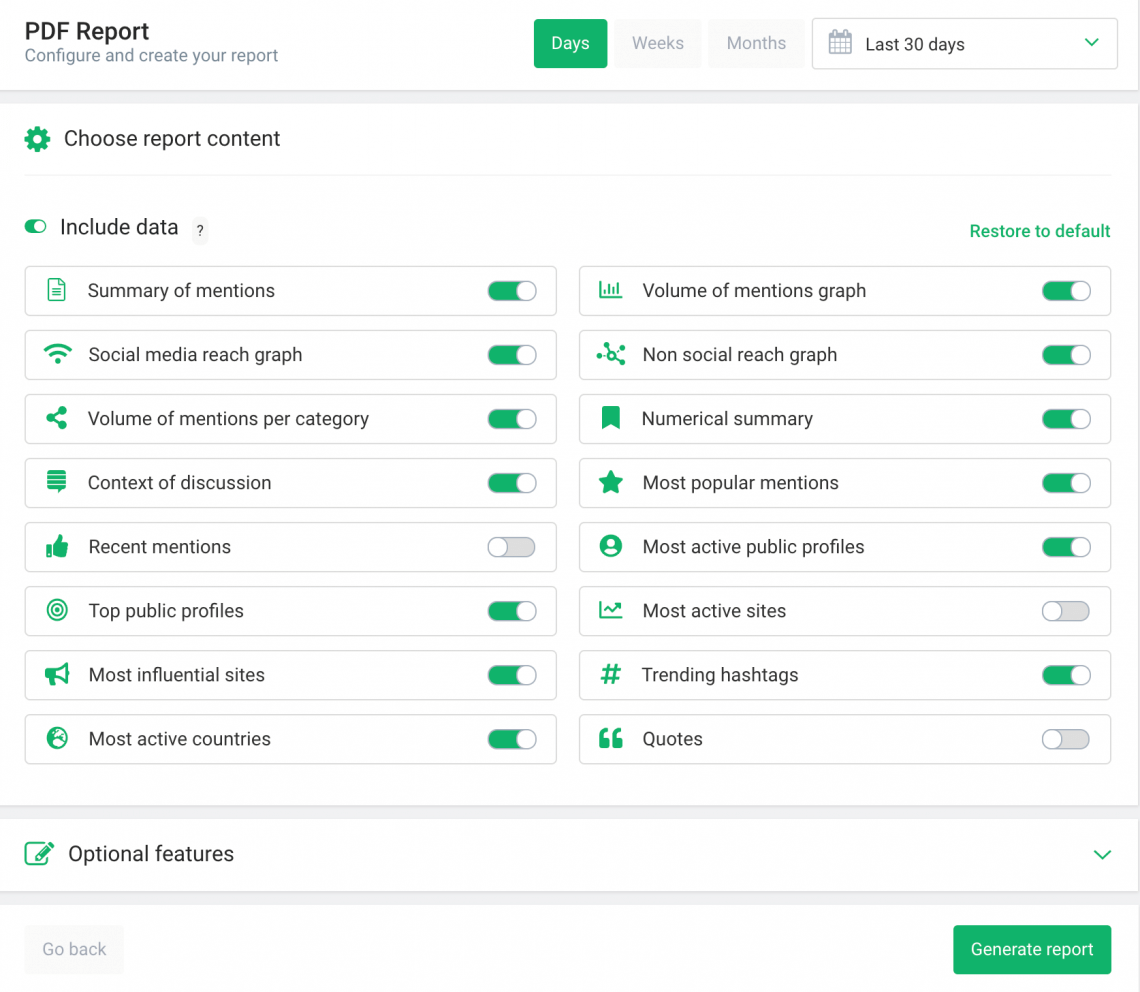 The media monitoring reports are also highly customisable. You can:
apply filters
manage quotes that appear in the report
add your own logo
add description of the report
pick your own accent colour
The last step is to generate a PDF report that will show the results of your work.
Moreover, you can use the social media monitoring tool for blogger outreach. The tool will analyse the public profiles talking about the topic that interests you and prepare a list of top public profiles. Based on the list, you can create a dedicated influencer marketing campaign to boost your clients' online presence.
Price: Brand24 starts at $49. Give it a spin during a 14-day free trial.
2. Brandwatch
Brandwatch is an enterprise level media monitoring and public relations management tool that offers robust analytics sections.
You can use this piece of PR software to measure previous and ongoing public relations campaigns, as the tool offers a solid set of historical data.
Brandwatch not only collects the data, it also analyses them and provides actionable insights. It is a piece of PR software that offers digital consumer intelligence platform. If you want to delve into the nitty-gritty of consumer research, Brandwatch is one of the best public relations software on the market.
With the help of Brandwatch, you can:
spot customers' trends
find new market opportunities
get ahead of your competitors and improve your ROI
protect your brand reputation by spotting any critical mention before they escalate into full-blown PR crisis
inspect the analytics tab to make more informed business decisions
This tool for PR professionals applies AI and machine learning across its platform, so you get to spot the best PR opportunities on the market.
Unfortunately, all the data will cost you. Brandwatch does not disclose its pricing, but the rumour has it the pricing starts at $800 dollars per month.
Price: Pricing available upon request
3. Prowly
You already have media monitoring at your fingertips, let's take a look at some press release management tools. PR professionals need to manage different types of content, so it is important to keep everything neatly organised.
Prowly is the PR software you need in your stack. This content platform will help you:
build your online newsroom or brand magazine
manage your media contacts
create engaging and interactive content
examine the analytics of your PR campaign
find relevant media opportunities
Prowly will play an important role in your PR software stack. This tool will make it easier to discover and share your content and will help you organise your owned, paid, and earned media.
The PR software will also help you organise media database. It provides an effective CRM system to make your PR pitches more effective.
Price: The Basic plan costs $210 per month. The tool offers a 7-day free trial.
4. Cision Communications Cloud
Cision Communications Cloud is considered one of the best public relations software. And rightly so!
The tool will help you identify influencers, prepare and distribute press releases that will help your clients, and measure the impact of your actions.
The PR software consists of different products:
communications cloud
media database
press release distribution
monitoring
analytics
impact
insights
The PR software offers a holistic approach to PR. The tool will help you execute the campaigns, measure their effect, get in touch with the right journalists and influencers. This will help you reach the right audience and engage the followers of your clients' social media accounts.
While doing blogger outreach, you will be able to use Cision Communications Cloud database of over 1 billion journalists and social influencers profiles. You can search by intent, expertise, or other demographics. Incorporating this piece of software will improve your overall PR workflow.
Price: Pricing is available upon request.
5. Anewstip
One of the most important aspects of working in a public relations agency is cooperation with influencers, journalists, various media outlets, and press release distribution.
If the above statement is true, Anewstip is the PR software you are looking for.
Once you sign up with your email address, you will see media lists containing contact details, specialisation, locations, etc.
Anewstip also offers the PR Pitch feature. Once you enter your press release, the software will automatically generate a list of recommended journalists you should contact.
Once you submit your press release, you will be able to track the open rate and clicks. PR professionals working closely with journalists will benefit from this piece of software.
Price: A limited free version is available, the most popular standard plan costs $200 per month.
6. Help a reporter out
Help a reporter out, also called HARO, is a similar piece of a PR software. It's a great tool for marketing communications and a must-have for PR pros working with more traditional media channels, such tv, radio, or newspapers.
HARO connects journalists and PR professionals who need expertise with experts in their field. Any media professionals who need to validate their press releases and pieces of news will find HARO interesting.
The tool is much simpler and cheaper than Anewstip.
Price: The Basic subscription is free, the Standard plan starts at $19 per month.
7. Radio Guest List
Radio Guest List is a public relations software that is very similar to HARO. The only difference is that it focuses on the audio world.
Radio Guest List connects radio journalists,PR professionals, and podcasters with experts in their field. It is useful for organizations and companies that specialise in online news and auditions. What the tools misses is an analytics section where you can track the effects of your work.
Price: Radio Guest List is a free piece of public relations software.
8. Prezly
Prezly advertises itself as a public relations software for better communication.
You can achieve various goals with this piece of software.
With Prezly you can:
manage your media contacts
publish your news and press releases
report on media coverage
The tool developed a CRM system that will help you keep your contact list up-to-date, the newsroom will help you publish easily publish your press releases, and provide personalised content to your target audience. One of the features is a robust analytics section.
Prezly will also help out with reporting the results of your work to your clients.
Price: Professional Plan starts at € 240 per month, billed annually.
9. Augure by Launchmetrics
Augure is a reputation management software. For public relations professionals, it offers a Publisher platform that will help you with:
media and journalists expansion
influencer outreach
content creation and distribution
car fleet loan optimisation
digital event management
cross channel tracking
campaign management and analytics
reporting
As you can see, Augure is an all-encompassing piece of public relations software that will help you with most of your PR needs.
Price: Pricing is available upon request.
10. Business Wire
Business Wire will help you with distribution of your content.
Business Wire has a patented NX network. Thanks to this solution, the software is able to reach more than 100,000 media outlets in 162 countries.
Moreover, the public relations software will help you create interactive content that has the potential to attract your target audience and help you stand out among your competitors.
Price: Pricing is available upon request.
Which PR software should you choose?
We presented different software categories, so you can choose the best PR software.
Are you more interested in managing and protecting your clients reputation, building brand awareness, or reaching out to journalists and influencers? Or are you more interested in more traditional public relations, for example, tracking news, where you work closely with various experts in their field?
The public relations process requires you to run various different tasks at the same time. It is sometimes impossible to track every activity and monitor the data without the help of dedicated analytics tool.
You might need to implement two or more public relations tools to meet all your business needs.
Before you start implementing any new tools, define the goals of your public relations campaign. What do you want to achieve? What KPIs will you use to measure your public relations campaign?