Hashtag campaigns are pretty typical nowadays. Successfully executed, they'll grow the size of your audience and increase customer engagement with your brand. However, even the best campaigns can have undesirable effects, well-planned or not.
Whenever you take anything which is subject to personalization and make it available to different characters, there are going to be risks.
A hashtag is a tool, and a tool can serve many purposes.
Too abstract? Just think back to art class. I'll use my class as an example.
I grew up in an outer suburb of Boston, where we had art class once a week. Armed with tools like paper, pencils, and paint, I always looked forward to each crazy art project. And although we would all be given the same assignment, we often ended up with varying results.
The teacher would lead by example and give us a topic or show us a picture of what was to be expected, but she didn't always get what she asked for.
Those who took the assignment seriously would hand in their best interpretations. Among them were perfectionists who followed the teacher's example exactly, right down to the color scheme. They basically produced replicas of what had been displayed on the board.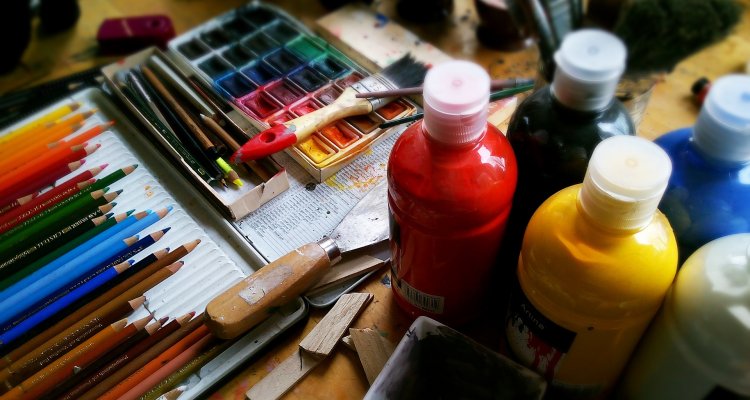 Then, there were the artsy students who saw this as an opportunity to take plain pieces of paper and breathe creativity into them — either based on the teacher's example or going off on some totally unrelated tangent, expressing themselves in picture form where words seemed insufficient.
A few cliques would consist of those who all had, or tried to have, similar drawings to one another. These could be related to the topic at hand… or not. It only depended on the leaders and whether or not the topic had caught their interest — it usually did if it was something they considered themselves to be good at drawing. The rest of the group could be trusted to follow suit.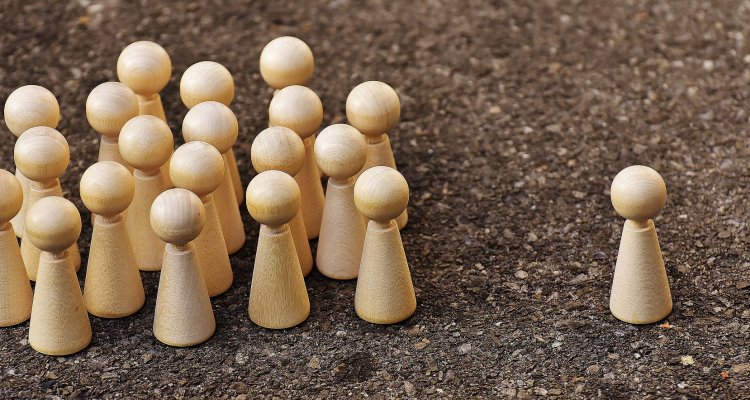 And finally, let's not forget the students who were… indifferent. They could often be seen passing time doodling colorful sketches or simple pictures that couldn't be further from what the teacher had asked for. If the drawings appeared to be on-topic, happy coincidence!
I won't tell you which group I belonged to. I always did enjoy art class, though; it was a study of people.
There are so many different types of personalities, producing many types of results, even while wielding the same tools. It can be difficult to predict how a tool or hashtag will be used once it's been released into the Internet and is out of your hands (though not impossible if you use social listening to study your audience — more on that below). The 5 examples that follow are just a few of many instances of hashtags turned bashtags.
Hashtag turned bashtag: making false assumptions
I miss our Friday night movie fests and feasting on fries! Let's repeat @Niki @Trish #McDstories.'
That's probably what McDonald's had in mind when it introduced the hashtag: #McDstories. It may have seemed like a good idea, but it wasn't long before #McDstories like the one below took over.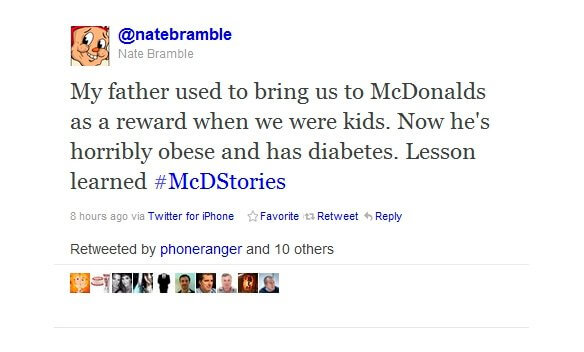 Qantas had a similar strategy with their hashtag #QantasLuxury. And they achieved similar results: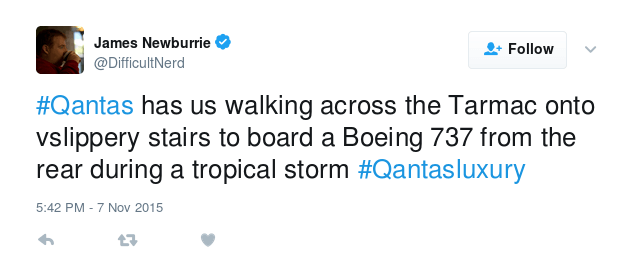 Both industry giants based these hashtag campaigns on the assumption that overall public sentiment for their brands was more positive than reality would soon dictate.
How goes the saying? When you assume, you make an *ss of "u" and "me".
Hindsight is 20/20. It would be too easy and unfair to criticize these campaigns after the fact.
However, the negative publicity they received probably could've been avoided had these companies used social listening to monitor their brand reputation before running any campaigns in the first place. No matter what you hear about your brand when people think you're listening, nothing beats the value from those candid pieces of information you pick up when no one even realizes you're there.
To paraphrase an oft-used quote:
The real strength of your reputation is determined by what people say after you've stepped out of the room.
There are quite a few tools you can use to monitor your brand. I recommend Brand24 as it's one of the easiest-to-use. It lets you collect mentions of your product, hashtag or business, etc., so you can see what people have to say about your company. And it's free to try — no credit card needed.
Hashtag turned bashtag: using pre-existing hashtags
Do your homework!
Entenmann's and DiGiorno also jumped on the hashtag bandwagon with pre-existing selections, but it seems they forgot to do some research first…
#Notguilty and #WhyIStayed were both created for then-current events.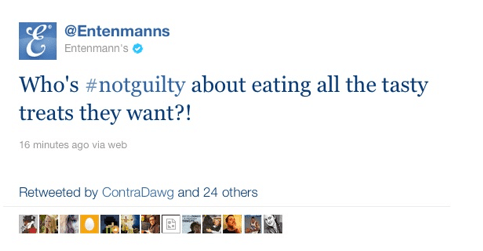 The #notguilty hashtag was originally used by people talking about the murder trial of Casey Anthony and its controversial verdict.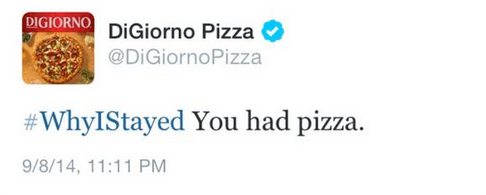 #WhyIStayed was created in support of domestic abuse victims when a video surfaced of NFL player Ray Rice punching his then-fiance in the face. Hard.
Entenmann's and DiGiorno apologized on social media for the awkward mix-ups but not before their audiences had time to call them out on their mistakes.
Hashtag turned bashtag: getting unexpected reactions
When Cheerio's launched the 2nd edition of their #bringbackthebees campaign on March 9, they offered free packets of wildflower seeds to their audiences in North America. The aim being to increase dwindling bee populations by painting landscapes full of colorful flowers. It's hard to describe this campaign as anything but bee-utiful (sorry, I couldn't resist).
Bee-ing (sorry again) an amateur gardener and self-proclaimed hippie flower child myself, I used Brand24 to track their hashtag, and this one sums up the sentiment of the less positive ones:

Some of the well-meaning Internet community pointed out that certain seeds in the free packets are considered to be invasive species in a few states, meaning that if planted, they could potentially take over and destroy the wildflower ecosystem in those areas.
No good deed goes unpunished.
A very unexpected reaction to a positive (albeit imperfect) hashtag campaign. Despite having the best intentions in mind, the cause marketing program led by Cheerio's still managed to elicit public criticism.
That's why it's so important to make sure that you are fully aware of how people are using your hashtags and responding to your campaigns. Don't just make assumptions.
This video shares some good tips on how to track your hashtag, so you can stay on top of how people are using them:
Hashtag turned bashtag: lessons learned?
Track your hashtags
Just what kind of lessons have we learned from these hashtags turned bashtags?
Besides the importance of research and awareness about your brand reputation, it's that your digital audience is real. Very real. And as diverse as an art class full of different students with equally different ideas. Real people often don't reveal what they're thinking, at least not openly and/or directly.
Before you set the wheels in motion for any hashtag campaigns, start by monitoring your brand reputation with Brand24 and find out what kind of reputation you have among your audience in the first place. Don't bet the entire success of your hashtag campaign on an assumption.
A hashtag is a tool and a tool can serve many purposes. As quickly as you might be able to use a hammer to build a wall, it would only take a fraction of that amount of time (using the very same hammer) to tear it down.
And some hashtags do better than others. For some examples of more successful campaigns, check out our post on 5 hashtag campaigns to aspire to.
For more resources on hashtags and brand reputation: