Hashtags are one of the fundamental tools that marketers use. The beauty lies in simplicity and hashtags are a wonderful example to prove that. In this post, we'll have a closer look at hashtags on Facebook. Here are things to discuss:
History of hashtags.
How do they work.
What value they give you.
How to analyze their performance using Brand24: number of shares, social media reach, engagement, sources, authors, etc.
Let's get started.
The Pound Symbol, The Octothorpe, IRC, Hashtag
It's interesting that a lot of people who work in marketing and use hashtags on a daily basis have no idea how it all started. Sure, people are usually aware that hashtags were first introduced on Twitter, but there's a lot more to the story.
Maybe it's the nerdish part of me, but I like to know the tool I'm working with in-and-out. Here's how it all started.
Oh, and if you fee like a paragraph about the # symbol is something you don't need right now, please skip it to the paragraph about hashtags on Facebook.
The Octothorpe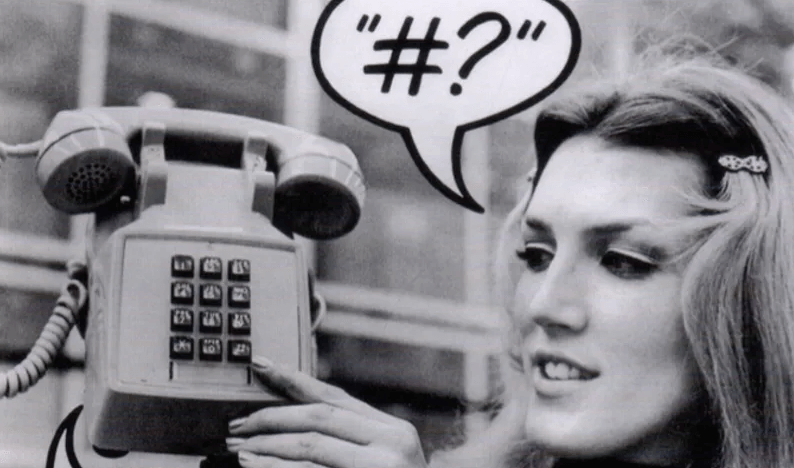 Researchers found it hard to provide an exact moment and circumstances in which the hashtag symbol was born.
"The octothopre", which by the way sounds like a name of a villain from Marvel, was most certainly brought to life in 1960s in Bell Laboratories. Back at that time, Bell was developing a new technology called Touch Tone and researched what symbol would the public use. People preferred the asterisk (*) symbol and the "hashtag" symbol (#).
Later on, Don McPherson of Bell gave it a name. Since the (#) symbol has eight points and McPherson's favorite athlete was Thorpe, he named it "octothorpe".
The Pound Symbol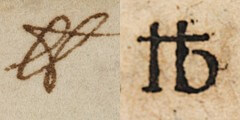 The origin of the Pound symbol is shrouded in mystery.
One story says that the typewriter keyboards used to share the number 3 key with the monetary symbol for pound. These days, the number 3 key is where you type it the hashtag symbol.
Another plausible explanation of this mystery says about the abbreviation of the pound as weight (lb). To avoid confusion between a lower-case "l" and the number "1", people used to write lb with a line going through the abbreviation. The story goes that over time people started writing "#" instead of "lb" with a line through it because of convenience.
Hashie
The Internet saw the pound symbol for the first time in 1988 in Internet Relay Chat. The chat had channels and for titles included the very hashtag symbol. All the people talking about, for example, cycling, went to the #cycling channel. It worked pretty much like Slack channels we know these days.
Hashtag
Finally, Chris Messina who was an avid user of the IRC chat, suggested to the guys at Twitter that they should implement the hashtag symbol as a mean to index, categorize and gather relevant conversations across the platform.
Twitter hashtags quickly caught on and have been used since then by presidents, celebrities, regular people and, what's important to us, by businesses. They can be a great ally of any marketer and business as a mean of support for marketing campaigns and raising brand awareness. however, one needs to know how to use them and analyze their performance.
Here's an example of a dedicated hashtag Black Diamond uses:
To bring the most out of hashtags, one needs to know how to use them and how to analyze their performance.
Hashtags on Facebook
Facebook hashtags work slightly different than Twitter and Instagram hashtags.
Hashtags on Twitter and Instagram allow a way deeper exploration of a given hashtags as they show all live results of a hashtag search.
Hashtags on Facebook are a bit more suggestive and search results depend on a user's profile: liked pages, connections, etc.
All in all, they are a powerful weapon when it comes to analyzing your marketing efforts, brand awareness, social media reach, getting customer insights, how customers interact with your hashtagged content and more.
What comes useful here is social media monitoring and tools like Brand24. It gives an opportunity to monitor and analyze a hashtag in a number of ways.
Social media reach.
Engagement: number of mentions, likes and shares.
Sources: exact sources of mentions, the most popular authors, the most influential authors.
Sentiment filter: positive, neutral, negative.
All this data tells you a lot about your hashtag. It tells you:
How people react to your hashtagged content.
Who and where uses your hashtag.
Who can become a micro influencer for your business.
Who and how people use your product.
Who are your customers.
How to Track Hashtag Performance
To track and measure results of a hashtag, first, you need a social media monitoring tool. You can try out Brand24 for free for 2 weeks. If you decide that's what you need, you can then choose one of the subscription plans.
But let me explain what Brand24 is.
It's basically a social media monitoring tool that collects in real time mentions of online conversations including predefined keywords. The keywords can be related to anything: cat videos, your company name, your name, hashtags you use or want to monitor, etc. There's no limit to what you can track.
Check the video we did to explain what Brand24 is.
New mentions arrive into Brand24 dashboard, or the mobile app, or a Slack channel, or into your inbox. Here's how they look in the dashboard: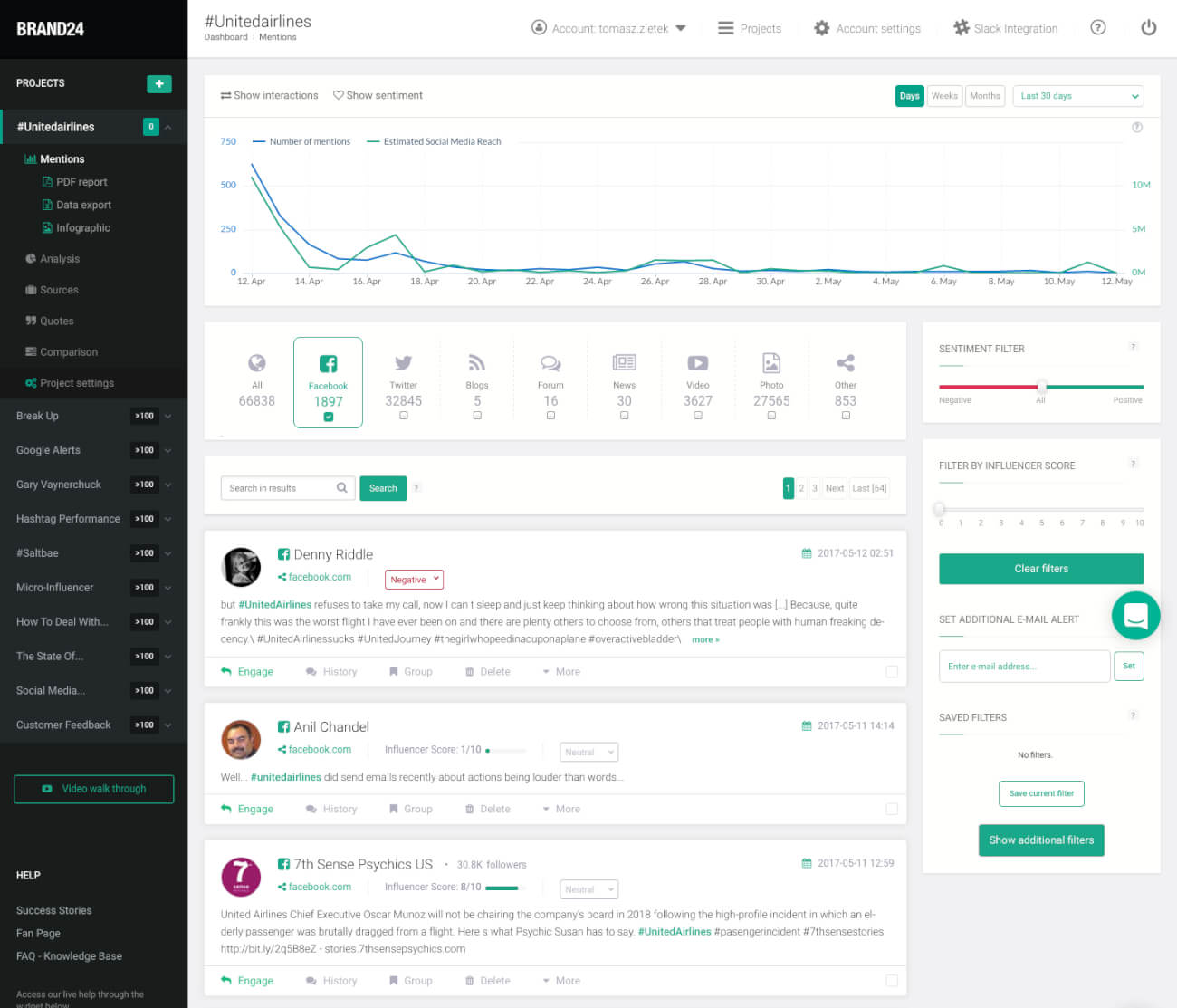 So let's talk now how you can do it yourself.
1. Fist of all, create a new project and type in your hashtag including the (#) sign.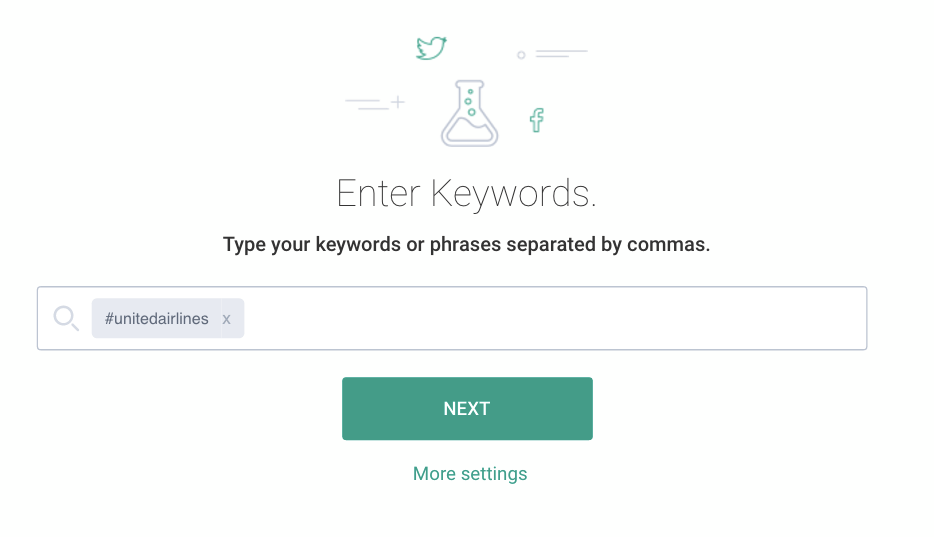 IMPORTANT! Social media monitoring tools, in general, don't collect historic data, so you want to make sure you set up the project before you start using a hashtag.
2. As mentions arrive in real time to your dashboard, you get first bits of data Brand24 can analyze.
The number of mentions and their social media reach, sentiment and interactions over specific time is represented by the chart. You can adjust time range.

Below the chart, there are sources of mentions. Brand24 collects them from social media, websites, blogs, discussion forums and other places publically available online.
You're interested in Facebook.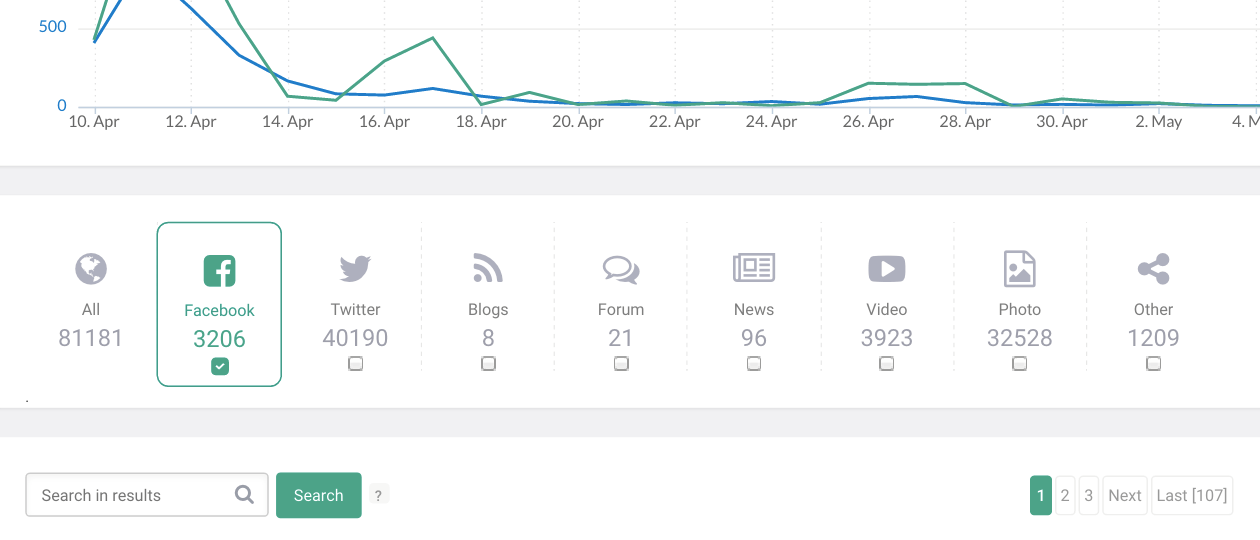 And there you have them.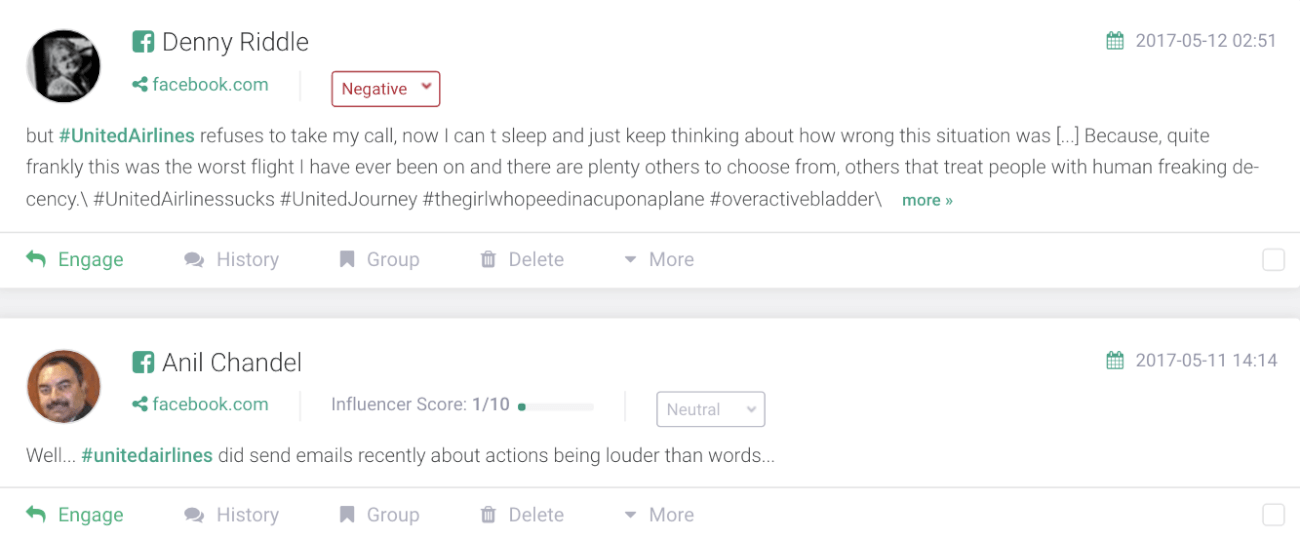 In each mention you can see data about:
The source of the mention.
The author.
The author's influencer score which is based on one's level of engagement and social media reach.
Sentiment filter.
The number of interactions.
Then, if you need, you can engage, see the history, engage or delete the mention.
3. Now what's of a bigger interest for you is tracking the performance. You can find it all in the Analysis tab that can be found on the left of the dashboard.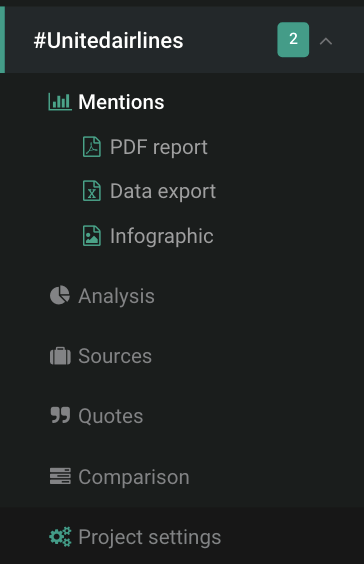 There's plenty of data in the analysis tab, for example, the most interactive mentions and mentions from the most popular authors: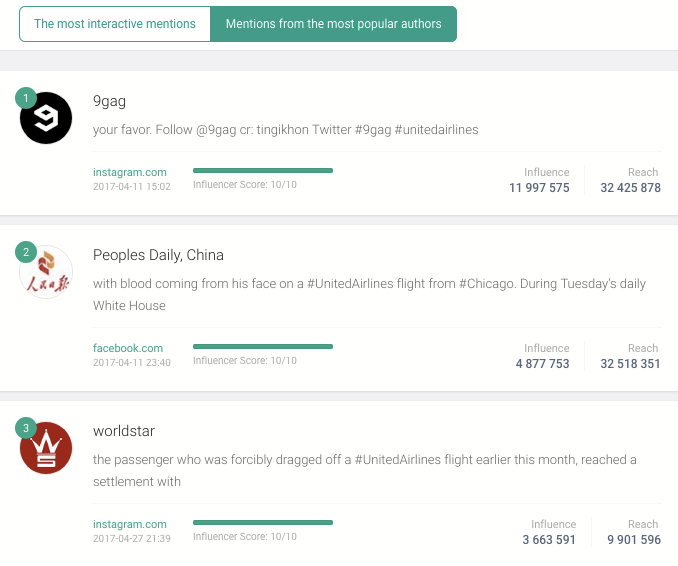 Another thing you can explore is the influence of social media authors and the most active social media authors: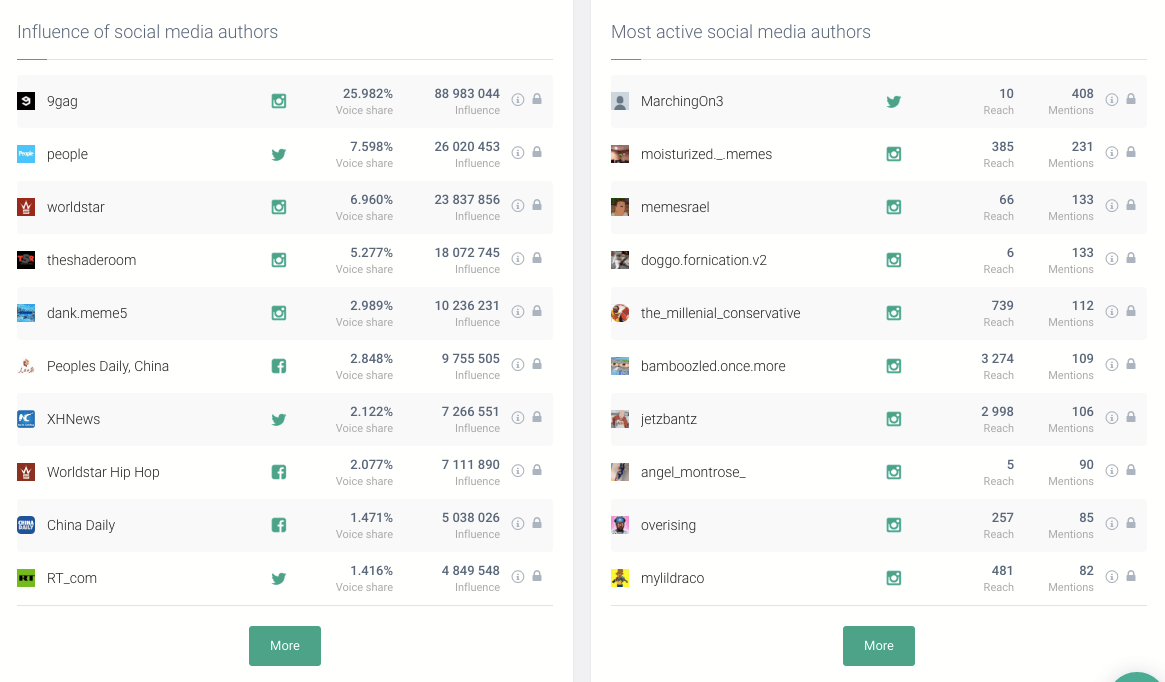 By the way, you can sort mentions in the dashboard according to many filters. One of them is the influencer score. It's an effective way to spot potential brand ambassadors and micro influencers for your business.

Conclusion
These and other features allow you to measure the performance of your hashtags. They show you:
Who and where talks about your business.
What engagement posts with your hashtag drive.
What's their social media reach.
Your potential brand advocates.
How people use your product or service.
If you feel that this is what you need, give Brand24 a try. It's completely free.
---
---