Nowadays, online presence became one of the essentials of running a business. The Internet is giving us the possibility to talk about our products, services, or brands and be heard all over the world.
But, on the other hand, the whole world may talk about us. Having in mind a continually growing number of social media platforms, forums, review sites, etc., being up to date with every mention about our brand can be an overwhelming task.
But you should know what people are saying about you because it's vital for your brand's reputation, customer service, and even sales. In the next part of this text, I'll explain to you why is media monitoring important for your business.
What is media monitoring?
Media monitoring is the process of keeping track of mentions containing our keywords on various media channels, including:
Social media platforms (Facebook, Instagram, Twitter, YouTube, TikTok)
Discussion forums
Blogs
Review sites (TripAdvisor, Yelp, Google Reviews, Booking.com)
Offline sources: TV, press, magazines, etc.
Media monitoring helps you to manage how your brand, product, or service is perceived in the media. Thanks to media monitoring tools, you can gather information about your campaigns, marketing initiatives, competitors, and industry.
This information can give you valuable insights into how your business, competitors, industry is being mentioned in the media, which can be used to manage your brand's reputation, boost your brand awareness, gain PR insights, improve customers' experience, and so on.
Why is media monitoring important?
Understanding what is happening around you is one of the essential elements of the success of your brand. As I told you in the previous paragraph, media monitoring helps you to stay up-to-date with the latest trends and mentions using only one app.
I prepared eight reasons why media monitoring is important for your business. Let's go through them now.
PR and Reputation management
The Internet has radically changed in the last few years. Today, websites are no longer static brochures. The times when companies were selling to a passive audience and people couldn't powerfully express their opinion are gone.
Now, no matter the size of your business, people are talking about you. They are tweeting about your latest products, campaign, unboxing your products and reviewing them on YouTube, leaving comments on blogs, discussion forums and so on and so on.
But you need to remember that the Internet is not only about social media. Your customers (current and potential) may talk about you everywhere: on the news sites, review sites and platforms (eg. TripAdvisor, Booking, Yelp, Google Reviews, forums). Mentions from these sources have a huge influence on your brand reputation.
What's more, their voice is becoming more and more powerful. According to research provided by BrightLocal, 91% of 18-34-year-old customers trust online reviews as much as personal recommendations. Moreover, customers read an average of 10 online reviews before feeling able to trust a business.
That's why monitoring what's being said about you should be one of your biggest priorities.
As you see, online reviews have a significant impact on the way people identify your brand. You need to remember that the reputation of a business is crucial for its survival.
Once you gain the customers' trust, they will speak about your company to others.
Thanks to positive reviews, your potential customers will be more like to trust you, which has a direct impact on the financial performance of your company.
In simple words, a good reputation means that the business is more credible than its competitors.
Market research
Let me ask you something – how deeply do you understand exactly where your potential customers are doing their research? And what is influencing their buying decisions?
Market research brings the answer to all these questions.
Thanks to media monitoring tools you can see:
On which media platforms people are talking about your business


List of most active sites with mentions containing your keywords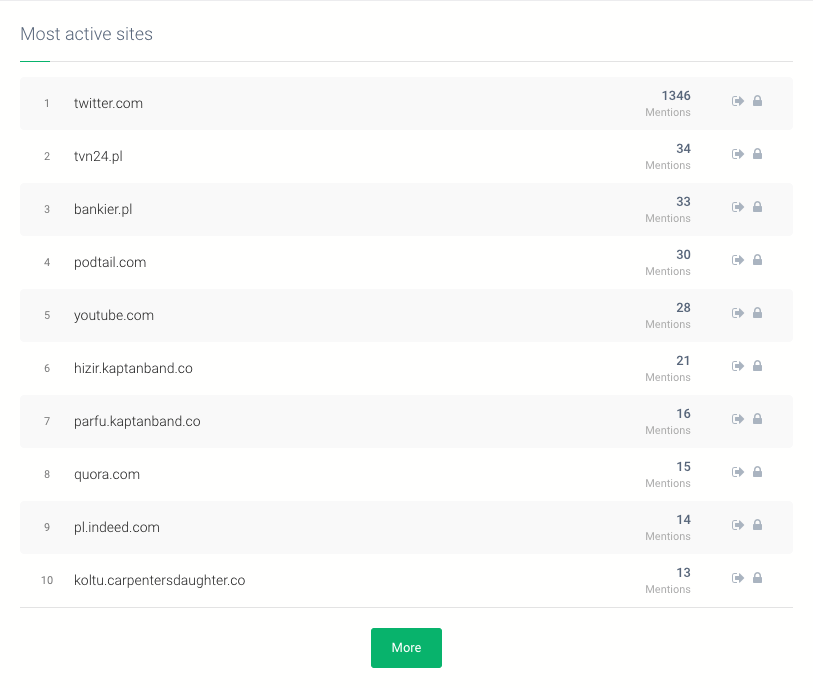 Context of a discussion about your brand


Investing our time and effort in market research can pay off in the form of many benefits.
Here is the list with a few examples of such benefits:
It helps businesses to strengthen their position.
Thanks to the knowledge gained by media monitoring about your market, you can gain a better perspective and understanding of your market or target audience. It can help you to stay ahead of your competitors.
It shows you where people are looking for your products or services.
Thanks to this data, you'll be able to analyze on which platforms and websites people are talking about your business and what's the context of these talks. This data allows you to suit your marketing activities to people's behaviors and promote your brand exactly where people are looking for it.
It focuses on customer needs and demands.
At the end of the day, your customers are the ones who pay your bills. If you monitor and analyze what's happening on the market and your industry, you'll know what are people's needs, expectations and demands towards companies like yours.
It identifies potential threats and opportunities.
Thanks to market research you can better understand the rules of your industry, and find out what threats and opportunities you may encounter in your career as an entrepreneur.
It facilitates strategic planning.
When your strategic plans are based on such sources of knowledge about your industry as case studies, expert's predictions, trends, etc., you can be sure that they are based on a solid foundation. This kind of planning gives you the best chance to achieve your business goals.
Competitor analysis
Keep your friends close and your enemies closer.
I think that everybody knows the legendary quote from The Godfather II.
Competitor analysis helps you to gather data and analysis about your competitors. It's an essential tactic for finding out what your competitors are doing, what are their strengths and weaknesses what can be extremely helpful in protecting and managing your marketing activities.
Competitive analysis is an investment, thanks to which, by investing a relatively small amount of money, you can gain a remarkable insight into the market around you. By analyzing your competition, you can not only learn from their best practices but also avoid their mistakes.
Competitor monitoring can give you a list of interesting business insights; let's go through them now:
How are your competitors perceived by your audience?
Your audience doesn't belong solely to you, and that's cool, you can use is to beat your competitors. Analyzing what and how your audience is talking about your competitors will give you a tremendous knowledge about how they feel about them, where are your competitors succeeding and failing, etc. This information is crucial to your competitive strategy.
Unexpected competitors that you are ignoring.
I can bet that you don't know every single company in your branch, which can be your competitor. By monitoring your branch and listening to what people are saying, you may discover competitors that you might not even know existed.
Competitor pricing.
You need to be up-to-date with what's happening in your branch. Check out your competitors' pricing while preparing your own one to stay competitive.
Competitor product or service tracking.
Find out what people are saying about your competitors' products or services and try to avoid their mistakes in promoting your ones. Compare your products, services to your competitors and try to eliminate every possible shortcoming, basing on the competitors' fails.
How to target your customers better?
Check out to which target group your competitors are trying to approach and how successful are their campaigns. You may use that knowledge while preparing your own campaign and avoid your competitors' mistakes, organize your campaign better and reach a wider audience.
Customer insights
Consumer insight is an interpretation used by businesses to get a better understanding of what their audience thinks and feels. It allows companies to better understand what exactly do their customers want and need and why they think this.
This kind of cheat sheet can be an extremely effective tactic to understand why people decide to trust (or not) your brand and to adjust your communication and product or service development precisely to their needs.
Customer feedback
Top performing companies understand the importance of customer feedback, and they consistently listen to their clients. What's more, they do not only search for opinions their clients publish on various platforms such as social media sites, review sites (e.g., TripAdvisor), forums, blogs, etc., but they also ask the clients for feedback.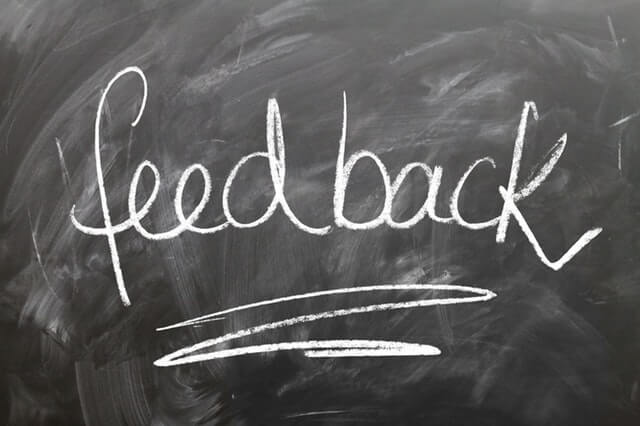 Nowadays, in the era of social media, you should never stop listening to what people are saying about you, whether it is positive, negative, prompted, or unprompted.
Thanks to media monitoring tools like Brand24, you get access to all the public mentions about your brand what helps you to spot your customers' feedback and react to it.
Customer feedback is vital for a few reasons: let's go through them quickly.
It helps improve your products and services.
When you introduce a new product or service, you probably have an idea about what do your customers need. However, only after your customers use it, you can learn about its advantages, disadvantages, which should be changed, and so on. That's why you have to listen to what people are saying about your products or services. Thanks to your customers' opinions and reviews and implementing corrections based on their reviews, you'll create product / service perfectly tailored to your customers' needs.
It helps you to measure customer satisfaction.
Nowadays, in the era of hyper-competition, customer satisfaction and loyalty has a huge influence on a company's financial performance. That's why you have to stay in touch with your customers by reading and reacting to their opinions and reviews gathered by media monitoring tools. By doing this, you'll show them that you care about what they say and you create your business not only to get money from them but also to solve their problems, meet their expectations and satisfy their needs.
It helps you to improve customer retention.
A satisfied customer will stay with you. Monitoring of customer feedback helps you to determine if clients are happy with your services and detect areas you should improve. Each time an unhappy client shows his disappointment, thanks to immediate access to reviews provided by media monitoring tools, you can quickly react to it and find a solution to clear up the misunderstanding.
Sometimes it doesn't have to be your fault, but you need to remember that you are 100% responsible for your products or services.
And it's your job to solve your customers' problems (of course when it's related to your business).
This is the best moment to win back the client and even increase his loyalty to our business. By doing this, you'll show that you care about your every single client, no matter if there are 30 or 30 000 of them.
Learn more: Improve your knowledge about crisis management.
Sentiment analysis
Sentiment analysis is one of the features in a lot of media monitoring tools, including Brand24. It's the process of analyzing online pieces of writing to specify the emotional tone of them.
In simple words, if mentions contain emotionally charged words, the algorithm can determine whether they are positive, negative, or neutral.

Spotting the sentiment of mentions (especially negative) is extremely helpful in such marketing areas as reputation management and customer feedback.
You also need to remember that media monitoring is not only about negative mentions. If your customers praise your brand, thank them for it! A simple "Thank you" is enough to evoke positive associations of your brand with your clients.
Now, take a short break from reading and check out what our wonderful content manager – Chia, has to say about what sentiment analysis reveals:
Learn more: Find out more about sentiment analysis, how to use it and how big brands like UBER benefit from it by reading this post.
Review sites
Nowadays, reviews sites and platforms like TripAdvisor, Yelp, Google Reviews, Booking.com, G2Crowd, Twitter, etc., etc., are getting more and more popular. What's more, according to research provided by HubSpot, ⅓ of responders admitted that review sites played an important role in their purchasing decision-making process.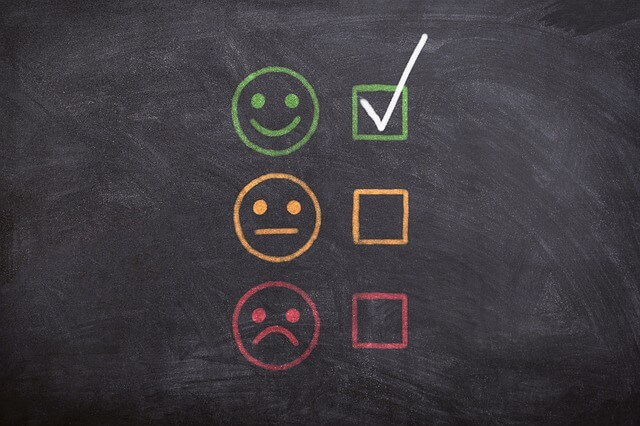 Thanks to media monitoring tools, you can have all the mentions, reviews, and opinions from these sites in one place and react to them quickly.
What's more, people trust these reviews even more than regular ads. According to research provided by BrightLocal, 91% of 18-34-year-old consumers admitted online trust reviews as much as personal recommendations. So, the more positive reviews people write about you, the more trust your brand inspires.
Trend monitoring
The marketing landscape is changing continuously. Keeping on top of all these changes, including new trends, new social media platforms (TikTok, for example), researches, new technologies is a challenge. And without being up to date, we can end up far away behind the competition.
Monitor industry trends to stay up to date with the newest trends in your branch.
How to monitor the media?
If you want to start monitoring media and know what people are talking about you, you need to take a few steps:
Find the tool which suits you best.
There are plenty of media monitoring tools, and every one has its pros and cons. Do the research, read some blog posts with tools lists (take a look at our list about social media monitoring tools), and find the best one that will meet your expectations.
Ask yourself, what do you want to monitor.
Decide if you wish to track your competition, your industry, or mentions your brand. This step is significant because it outlines the direction we will follow during the next step – choosing keywords to track.
Choose the keywords you want to monitor.
Now you need to choose which keywords you want to follow. Media monitoring tools will collect all the public mentions containing given words, so the choice of the keywords should be well thought out.
Learn more: Find out more details about how to do media monitoring.
Conclusions
Now, let's sum up all the knowledge explaining why is media monitoring necessary.
First of all, it helps you to be aware of what's being said about your brand on the Internet and manage your brand's online reputation, which is one of the essential elements of building a strong brand. Also, the real time media monitoring provides you such vital data about your customers as:
websites where they are talking about your brand
the sentiment of their reviews and opinions
what do they like and dislike about your products or services
Second of all, media monitoring allows you to spy on your competitors (properly and positively, of course). Thanks to monitoring their marketing initiatives and stats, you can catch their weaknesses and strengths, compare your results with competitors, and improve your weakest links.
Third of all, media monitoring gives you the possibility to stay up to date with the newest trends in your branch what may help you always to be one step ahead of the competition.
FAQ
What are the skills in media monitoring?
Effective media monitoring requires a range of skills. Critical thinking is important to interpret the media coverage and its potential implications for your brand. Analytical skills are required to make sense of large volumes of data and identify trends or patterns. Familiarity with media monitoring platforms and tools is also necessary to efficiently track and evaluate your brand mentions across different channels. Additionally, good communication skills can aid in reporting the insights in a clear and impactful manner.
What is media monitoring vs listening?
Media monitoring refers to the process of tracking and collecting all mentions and discussions about your brand, competitors, or relevant industry topics across various media channels, including print, online, and broadcast outlets. On the other hand, media listening, often used interchangeably with social listening, goes a step further by analyzing the gathered data to extract insights, understand sentiment, identify trends, and make informed decisions. Essentially, media monitoring is about collecting data, while media listening involves making sense of that data.
What is an example of media monitoring?
An example of media monitoring could be a company using media monitoring services to track all mentions of their brand across various media channels, including social media channels, blogs, news outlets, and forums. They could set up alerts for certain keywords related to their brand and industry. This way, they can promptly respond to customer queries or complaints, gauge public sentiment, keep an eye on the competition, and stay updated on industry trends.
HANDPICKED RELATED CONTENT
Brand monitoring tips and tools [2020 update]
How to Measure Brand Reputation using Web and Social Media Monitoring