What Is Corporate Reputation Management? [2023 Guide]
September 12, 2023 ・ 11 min read
Did you know that customers read an average of 10 reviews before making a purchase decision (according to Forbes)? Your brand reputation should be one of the priorities in your business strategic planning, and I'm here to tell you why and how.
Corporate reputation management is much more than just word-of-mouth marketing. There's much more planning into it that includes nurturing customer loyalty, workplace environment, and social responsibility. But let's not skip ahead!
In this article, you'll learn what corporate reputation management is, how to implement a successful strategy, what to do when things go wrong, online tools for reputation management, and much more. Here's what's prepared for you today.
Table of contents:
What is corporate reputation management?
Corporate reputation management is the practice of shaping and maintaining a positive public image for a company or organization. It's an essential part of modern business, especially in the digital age, where information about a company, whether positive or negative, can spread rapidly and have significant impacts.
In the following chapters, I'll explain in detail how to lead effective corporate reputation management, what are the core elements, how to proactively manage your company's reputation, and what tools you can implement in your stack.
Master your corporate reputation with Brand24. Click the button to get the free trial.
Corporate reputation management elements
A good corporate reputation management consists of several components. Let's discuss the most important parts and briefly overview others.
Executive leadership
The leaders and management team must set an example for all other employees. Effective corporate reputation management is impossible when the senior leadership has a bad reputation themselves.
Workplace culture
Similar to executive leadership – if the workplace environment is not friendly and has a bad fame, it can cause a backslash on the brand's reputation. On the other hand – if the word out is the company has an amazing workplace culture, it's corporate image will improve.
Corporate social responsibility
In 2023, companies should put an extra focus on social responsibility. Although it may seem like an emotional appeal, customers care about the brand's consciousness in environmental activities.
Online presence
With advanced access to the internet, it's almost impossible to build an online reputation without any digital footprint. Ensure your brand is visible online and what shows after you use Google search to find information about the company.
Customer focus
Poor customer service is unacceptable if you really care about your corporate reputation management strategy. It's not only about being responsive and helpful in your helpdesk tickets. You need to be proactive and use social media monitoring to be present in your target audience conversations.
Other factors
Other factors include ethical behavior, service quality, crisis management, media coverage, and all other business practices that show your company in a good light.
How to protect your company's reputation?
Taking a proactive approach is the best way of protecting corporate reputation. Many companies don't care about their brand image until it's too late. Unfortunately, when your company faces a PR crisis, there's no longer time to manage reputation but rather a moment to release a statement and start a PR repair campaign.
Remember that a good reputation can take years to build but only moments to ruin.
The proactive approach usually involves using corporate reputation management tools and media monitoring. Prepare a crisis management strategy beforehand. Use the tools and monitoring to amplify positive feedback and look for negative reviews that may harm your reputation.
Be sure your brand is never shown in the wrong context. This may happen while using programmatic advertising. Read our guide to brand safety to learn how to avoid these problems.
Master your corporate reputation with Brand24. Click the button to get the free trial.
Corporate reputation management tools
In 2023, a lot of manual labor can be automated using online reputation management tools. Here's a list of recommended apps that can help you improve your reputation management strategy.
Brand24
Brand24 is an AI-powered social listening tool and a powerful device for improving your corporate reputation management strategy. You can use it to monitor brand mentions and online reviews, set up keyword alerts, perform sentiment analysis, and much more.
Gathering and acting on brand/keyword online mentions is a crucial part of online reputation management strategy, and Brand24 allows you to perform that easily. We also introduced AI reports for people with little time to manually analyze the insights.
You can try Brand24 for free. Try the basic features with a 14-day trial (no card required) and tell us what you think!
Brandwatch
Brandwatch is a powerful social media intelligence suite for corporate reputation management. This tool is especially designed for enterprises with its vast array of features and, therefore, will successfully help you to manage your corporate reputation.
Each plan is crafted for the recipient so you can be sure you can effectively manage your corporate reputation.
Unfortunately, with its advanced features, the tool also comes at an advanced price. It's up to you to calculate the ROI.
Semrush
Although Semrush is primarily an SEO suite tool, it can also be used for corporate reputation management.
First of all, you can monitor your core web statistics, such as traffic, keyword positions, competitors' performance, etc. That will give you an overview of your brand's website health, which is also part of corporate reputation.
Secondly, Semrush offers nifty add-ons that can help with reputation management. Namely, a media monitoring app can be added to your Semrush suite. Inside the tool, you can monitor online brand mentions and take action if your reputation is in danger.
Talkwater
Talkwater is another social listening tool on our list. It's a great social media monitoring and analysis app that provides actionable insights based on your brand mentions.
Talkwater advertises itself as a consumer intelligence tool. It means they try to provide advanced insights that can boost your reputation management and positively influence business operations.
Apart from that, it's a more or less standard media monitoring tool, and ultimately, it all boils down to your personal preferences of which solution to choose.
Awario
Another media monitoring tool on my list – Awario – is also a good brand management solution for corporations.
Awario monitors mentions of your brand across the internet, from social media platforms to news websites, blogs, and forums. It's a simple and cheap tool for teams that don't need to get advanced insights and prefer to save some money. If you like it, you can expand your plan with advanced analytics, though.
Trustpilot
While primarily a platform for collecting consumer reviews, you can use Trustpilot to engage with your customers and respond to feedback. If you heavily rely on public feedback, your corporate reputation management strategy should also involve online review management.
Use Trustpilot to read and respond to customers' feedback. You can use positive reviews as user-generated content to add social proof to your products or services. Don't omit negative feedback – be sure to respond to any review that is not positive and try to resolve clients' problems (or at least apologize and take notes when things go really south).
How to monitor your reputation
Corporate reputations can be monitored and analyzed.
You can use tools like Brand24 or any other media monitoring tool to monitor how your brand is perceived online.
I can show you an example of managing your reputation using Brand24.
First, start a free trial and create a new project.

Enter your brand name to start a new project. The tool will start collecting all publicly available online mentions about your company.
In the project view, you can filter the mentions by positive, negative, or neutral sentiment. To keep your company's reputation high, regularly check the negative feedback and try to improve the customer experience by resolving any issues they might have.
To lessen the risk of negative reputation, regularly monitor online conversations and boost the positive user-generated content. You can use good reviews to amplify the positive reputation. Share them on your social media to promote your brand.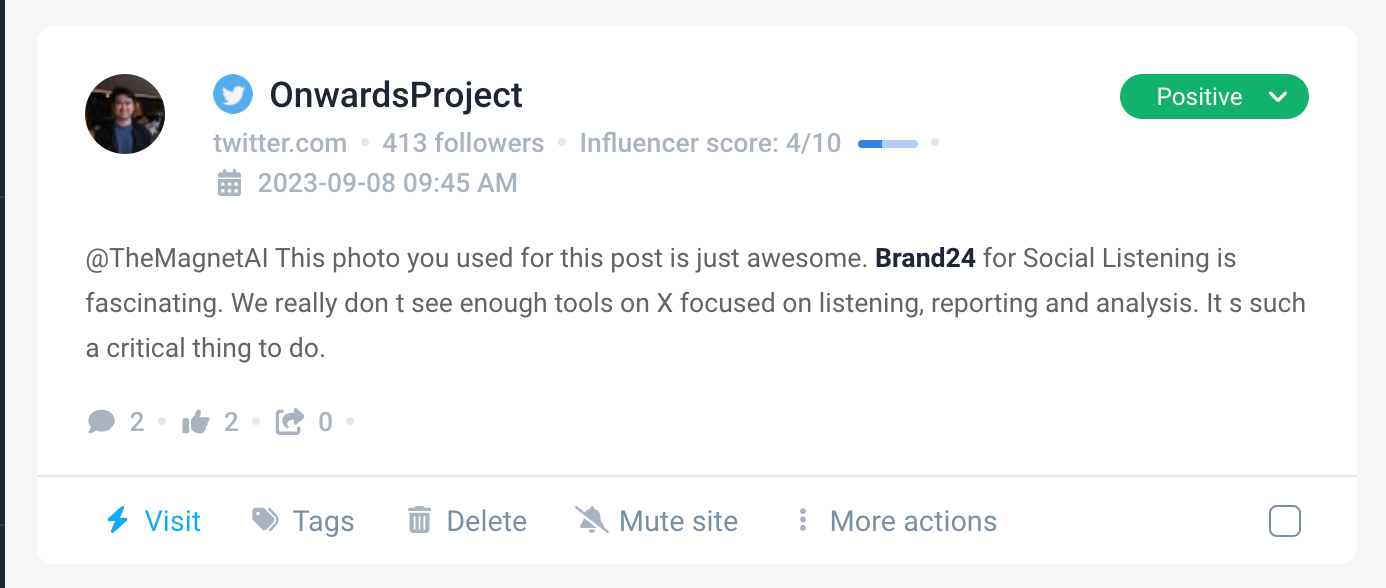 Brand24 is also a great tool for reputation management as it is able to monitor App Store and Google reviews.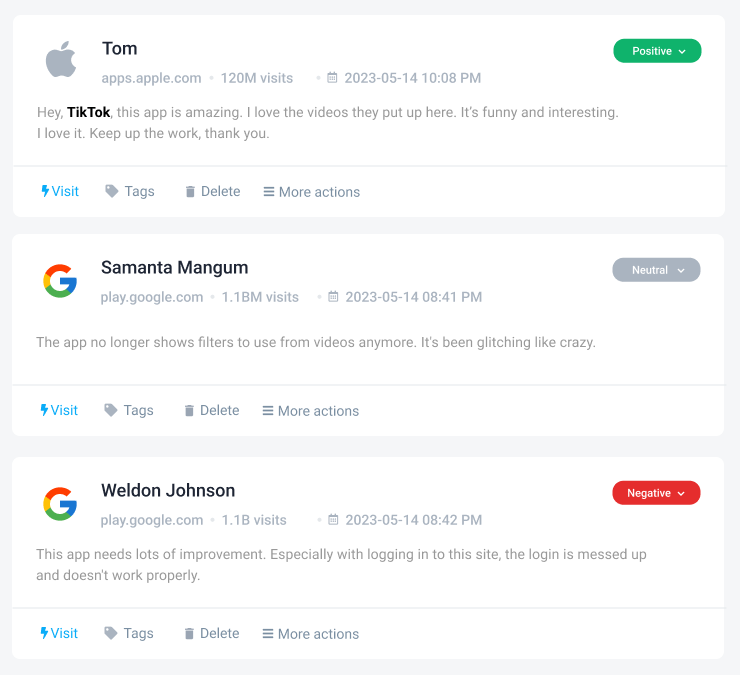 See other tips for good reputation management presented by Katarzyna.
Master your corporate reputation with Brand24. Click the button to get the free trial.
Advantages of a good reputation
After reading this article, I'm sure you no longer need to be persuaded that maintaining a good corporate reputation should be a crucial part of your strategic planning. But just in case you could use an extra push in the right direction, here are the most important benefits.
Corporate reputation management advantages:
Trust and credibility. A well-managed reputation fosters trust among consumers. People are more likely to support businesses that are reputable and trustworthy.
Increased profitability. Effective corporate reputation management often translates into financial performance and increased sales. Consumers prefer doing business with companies with positive reviews and a positive reputation.
Better talent acquisition. A strong corporate reputation can attract top-tier talent. High-quality job applicants are likely to be drawn to companies that are respected in their industry.
Competitive advantage. Companies with good reputations stand out in the marketplace. A strong reputation can be a unique selling point that sets a business apart from its competitors.
Stakeholder confidence. Shareholders and investors feel more secure investing in companies with solid reputations, which often indicates stability and strong management.
Crisis mitigation. A strong reputation can act as a buffer during times of crisis. Companies with a history of good reputation can recover more quickly from negative publicity or mistakes.
Improved online presence. Effective reputation management, especially in the digital realm, results in a more controlled and positive online image, ensuring that potential customers' first impressions are favorable.
Long-term success. A well-maintained reputation supports sustainability. It fosters long-lasting relationships with stakeholders, from customers to suppliers to investors.
Higher market value. Corporate reputation can significantly influence a company's market value. Firms with strong reputations often see a positive correlation with their stock prices.
Examples of good corporate reputation management
There are many examples of companies taking good care of their corporate reputation. You can learn from these cases and implement the best practices in your work environment.
Patagonia's environmental advocacy
The outdoor clothing brand Patagonia has long been known for its environmental activism and sustainable practices. They have donated millions to environmental causes, and their clear messaging and consistent actions in line with their values have bolstered their reputation.
Patagonia, Inc. was founded in 1973 by Yvon Chouinard – an American rock climber who wanted to create clothes for sports enthusiasts, hikers, and travelers. The philanthropic views of Patagonia's founder were quickly implemented into the corporate reputation management and are now at the top of the company's priorities. It's also what customers cherish the most about the brand, and for years, it's attracted mostly clients that are environmentally friendly and appreciate sustainability.
Microsoft's commitment to accessibility
Microsoft has been at the forefront of making technology more accessible to people with disabilities. From developing products like the Xbox Adaptive Controller to ensuring their software has built-in accessibility features, their active efforts have shown a dedication to inclusivity.
This is a great example of a positive corporate reputation because accessibility is becoming a priority. Companies that do not offer accessibility features may become less relevant and even face poor financial performance for not caring about their disabled customers.
Airbnb's COVID-19 Response
Understanding the plight of hosts and guests alike during the pandemic, Airbnb established a $250 million fund to compensate hosts for canceled bookings. They also introduced enhanced cleaning protocols for listings, underscoring their commitment to safety and support for their community.
This move shows great care for Airbnb users who were facing financial problems due to unpredictable conditions.
Examples of bad reputation management
To contradict good examples of corporate reputation management, some brands faced backslash and a tarnished reputation because of their actions. This usually includes threatening unsatisfied clients, not accepting their feedback, or blatantly lying to your customers.
Out of respect, the names of the companies were redacted. Hopefully, their reputation management is on a different level now.
Oil giant's deepwater oil spill
British oil and gas company faced criticism for its perceived slow response and attempts to downplay the severity of the Gulf of Mexico oil spill. Its CEO's comment about wanting his "life back" was perceived as insensitive, further damaging the brand's reputation.
This goes against the corporate social responsibility rule, especially with the insensitive remarks coming from the company's management.
A popular airline passenger removal
A passenger was forcibly dragged off a flight due to overbooking, and the video went viral. The company's initial response seemed to blame the passenger and lacked empathy, resulting in a PR crisis.
Everybody knows about overbooking practices some airlines enforce. Usually, they try to compensate the passengers with at least a free hotel. Removing the passenger by force could have fallen into the category of human rights abuses, though, and damaged the airline's corporate image.
Social media platform data leak
A popular social media platform was criticized for inadequately protecting user data, which an analytics company improperly accessed. The social media giant was seen as slow to take responsibility and was vague in its initial responses.
This incident resulted in jagged brand authority and destroyed customers' trust. Many existing users feared this could happen again and felt alarmed about privacy issues.
Key takeaways
Now that you know everything there is to know about corporate reputation management, it's time you start working on your own strategy.
Remember to proactively manage the brand reputation and prepare a repair scenario for your company.
Use media monitoring tools to find and respond to negative feedback and improve your brand image online.
Explore the positive reputation case studies and learn from the best companies in the industry.
And ultimately, be true to yourself and don't deceive your customers. Have transparent policies and never lie about your actions.
Corporate reputation strategy takes a lot of effort and planning but can save you a lot of money in times of crisis or even boost your financial performance in day-to-day actions. The more trusted your brand is, the more likely you are to find new customers!