How to manage online reputation?
January 7, 2021 ・ 7 min read
Managing online reputation is a crucial part of running a successful business. Owners sometimes don't know how to manage online reputation, and managers, marketers, or PR experts constantly look for new methods on how to manage online reputation in the most effective and least time-consuming ways possible.
This article will help you understand more about managing online reputation and find out what techniques will help you do it in the best way possible. You'll also learn how to manage online reputation with a media monitoring tool and what are the benefits of it.
Why is online reputation important?
Nowadays, customers easily speak their minds about products and services everywhere, but mostly online. They have many opportunities now to talk about their experiences, share opinions, and post comments about specific brands. They often use social media or other media, such as forums, review sites, blogs to express their thoughts. All of these views impact the reputation of companies.
Do not neglect the power of online reviews.
Managing and maintaining a positive online reputation will get people to continue to buy your products. This aspect will simply impact their shopping decisions the most. If you care about your brand's performance and sales, you need to start managing online reputation.
93% of consumers say online reviews impact their purchasing decisions.
Your positive online reputation can be treated as a competitive advantage. If your potential customers will be deciding whether to buy your or your competitor's product, they will likely choose the brand with a stronger online reputation.
If you want to establish top-of-mind awareness, which refers to a brand or specific product being first in customers' minds when thinking of a particular industry or category, you need to start managing online reputation. It will make you more visible on the market and among competitors. The more people talk about your brand online, especially in a positive way, the more popular you will get.
Like reviews, a strong online reputation is a confirmation of your credibility, and the best social proof you can think of. It certifies the quality and value of your product or service. Reputation makes your brand more trustworthy. It is a sign of your customers' loyalty and attachment.
Why manage online reputation?
Now that we know why online reputation is important, let's learn more about managing it.
Managing online reputation is the process of finding and responding to comments, reviews, posts that can impact your reputation – both positive and negative. Communication and reaction are key to stay in control of your reputation.
It obviously takes time to build and maintain a positive online reputation. On the other hand, we all know that even one bad review that remains unhandled can make a difference and ruin your reputation.
85% of potential customers use the Internet to research the company before they decide to make a purchase.
That's why, in my opinion, managing online reputation is crucial for every type of business.
Learn how to manage online reputation.
If you still wonder why or don't know what are the benefits of a well-managed online reputation, in the following paragraph, you'll find a couple of reasons and positive outcomes that can not just walk by.
Managing online reputation with media monitoring
The best method of managing reputation is simply staying up-to-date with what's being said about your brand online and reacting to these mentions.
Keeping up with customer's thoughts and opinions can help you spot problematic areas first, prevent PR crises, reach out to both satisfied and dissatisfied customers, build relationships with them and react before it's too late.
As people nowadays speak their minds all over the Web, searching mentions about your brand manually would be almost impossible. Here is where media monitoring tools come in handy. They do the research for you. They are the perfect solution for those who wonder how to manage online reputation in the easiest, least time-consuming, and most effective way.
Media monitoring is the process of tracking mentions of your company, your products, services, and also following keywords connected to your industry or competitors.
Monitor the online reputation of your business.
This specific method enables you to immediately communicate with people who talk about your product and service. Being present in customers' conversations is key if you want to engage with them, build relationships, and most importantly, manage reputation.
Benefits of media monitoring for managing online reputation
Managing online reputation…
helps you stay in control of your online reputation, which is incredibly important;
helps you spot dissatisfied clients, problematic reviews, or opinions first and prevent your company from PR crises;
allows you to reach out to satisfied clients as well, gain their trust, loyalty, and build strong relationships with them;
helps you strengthen your customer service by making it easier to communicate with your clients on various online platforms;
lets you find valuable insights and information, collect feedback and suggestions needed to develop your brand and satisfy your clients;
gives you a chance to contact your clients directly and show them the human side of your business;
helps you discover consumer insights – find out what are their needs, preferences, and characteristics to make sure your brand reflects the same values.
Start managing online reputation for free!
How to manage online reputation with Brand24?
Brand24 is a media monitoring platform that monitors both social and traditional media and tells you where people publicly talk about your business, product, or service. Using it, you will keep up with mentions, comments, or reviews that regard your company and allow you to react to them instantly.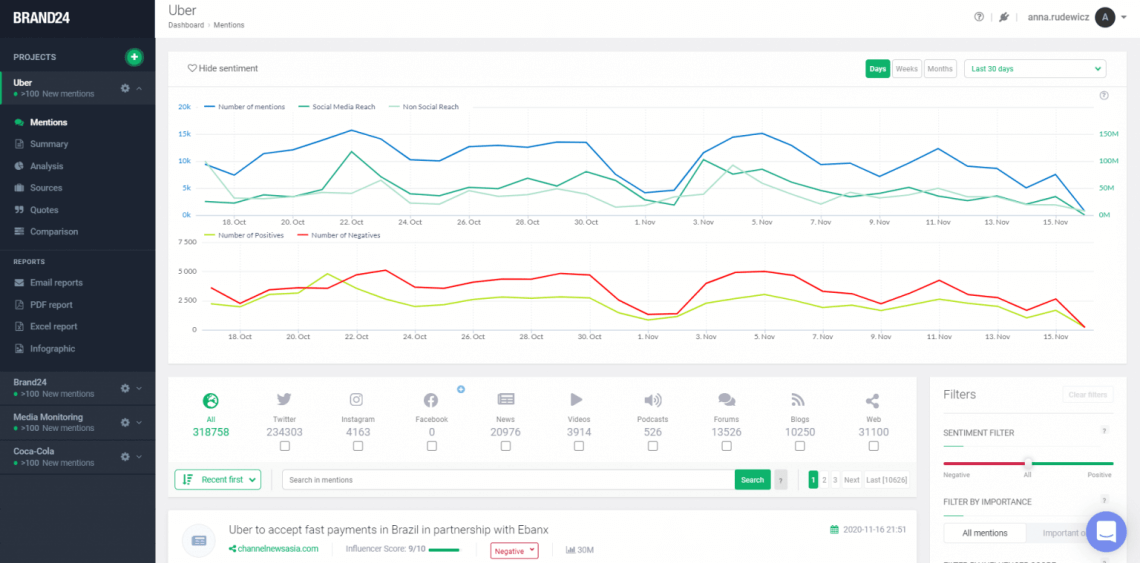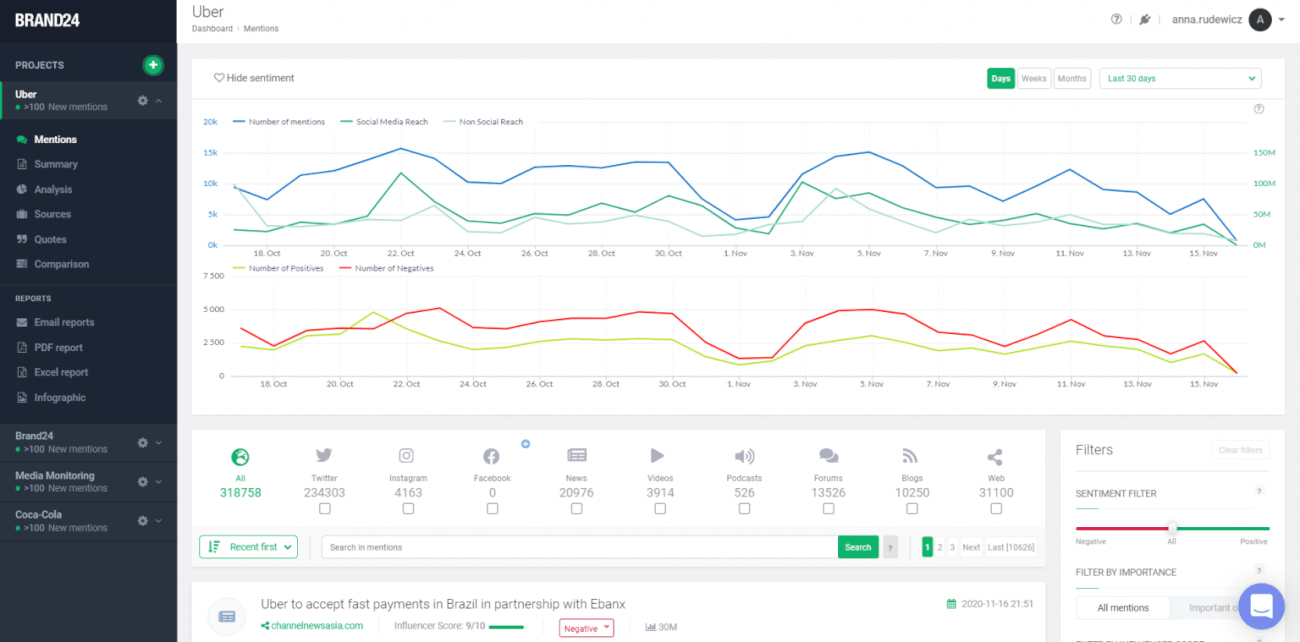 Clients tend to not tag social media accounts of companies that they are dissatisfied with. Fortunately, media monitoring tools help you spot all types of mentions that you wouldn't have found manually.

Having all these valuable data collected automatically in one place will let you be in control of your online reputation.
How to start managing online reputation?
Brand24 monitors and analyzes keywords of your choice and gathers all mentions or reviews connected to them that are publicly available on the Internet and social media platforms.

If you want to manage your online reputation, I would recommend entering keywords strictly connected to your business:
your brand name;
your branded hashtags;
the name of your product or service;
As I mentioned earlier, Brand24 will do the research for you, the results will start flowing in as soon as you start your monitoring project. You can filter the results by their importance or sentiment to spot negative reviews first.


Brand24 not only enables you to reach out to people who publicly speak their minds about your company but also offers additional, innovative features that make the process of managing reputation even more effective. If you wondered how to manage online reputation, there is no easier way than this one.
Sentiment analysis segments positive, negative, and neutral mentions. It helps you get a better understanding of customer attitudes & spot problematic areas that need immediate attention.
For example, sentiment detection lets you find bad reviews before it's too late. We all know that these ones can have the strongest impact on your reputation. Being able to reach out to people who are dissatisfied in the first place enables you to prevent unflattering opinions from spreading. Time and immediate response are key when it comes to managing reputation.


Alerts and reports let you be the first one to discover changes in the volume of discussion around your brand.
A sudden change in the reach or number of mentions may be caused by a positive or negative situation. Whether your new campaign is extremely successful and the buzz around it rises, or an influencer posts an unfavorable opinion about your brand – Brand24 will inform you about the source of the changes and let you react to it immediately.
It's your turn now to go through results available in the Dashboard or Email Inbox and start managing online reputation.
Best practices on how to manage online reputation and react to negative reviews
Keep up with mentions of your company.
Set email notifications in your media monitoring tool to be able to react immediately if something threatens your online reputation.
Act fast.
The time is key while replying to mentions of your company. The longer a customer's complaint, comment, or review remains unanswered, the worse impact it can possibly have on your business. My number one suggestion here would be to respond to bad reviews in the first place. Simply before it's too late. These kinds of opinions tend to spread faster than positive ones. Brand24 gives you access to all the mentions of your brand, and sends alerts, and allows for your prompt reaction.
Apologize.
No matter if the reason for a negative review was truly your fault or not, an apology costs you nothing but it'll certainly help you. If a customer is dissatisfied and driven by emotions, it is always better to show him a little bit of understanding and empathy. It will for sure put you in a better situation.
Hold back your emotions.
It's never a good idea to show your disagreement with an angry customer. Try to respond in a positive manner, act polite, and never show aggression toward your client. It will be appreciated, I promise.
Offer solution.
You can also tell the reviewer how you're going to fix the problem and prevent it from happening again or offer a discount on a customer's next purchase or visit at your place, or even give something for free if you feel like that's the best way to go.
Do your best to turn it around.
Try to make the best out of every review. Make sure to do everything to deal with an unsatisfied customer. Show your engagement, efforts, and believe that even bad reviews can bring something positive to your business. They can be a source of valuable insights that can help you see people's pain points and develop your product to meet their expectations.