Identifying Twitter Influencers for Smarter Influencer Marketing on Twitter
November 27, 2019 ・ 9 min read
As of 2019, there are approximately 330 million active monthly users on Twitter, making it one of the biggest social networks globally.
Most likely, your family, friends, colleagues, mailman, dog walker… they all have personal Twitter profiles… as well as your potential customers. Consider the steady growth in the number of active monthly users on Twitter for the past few years: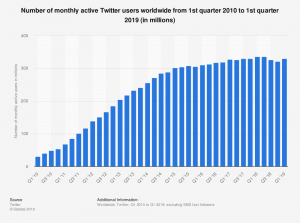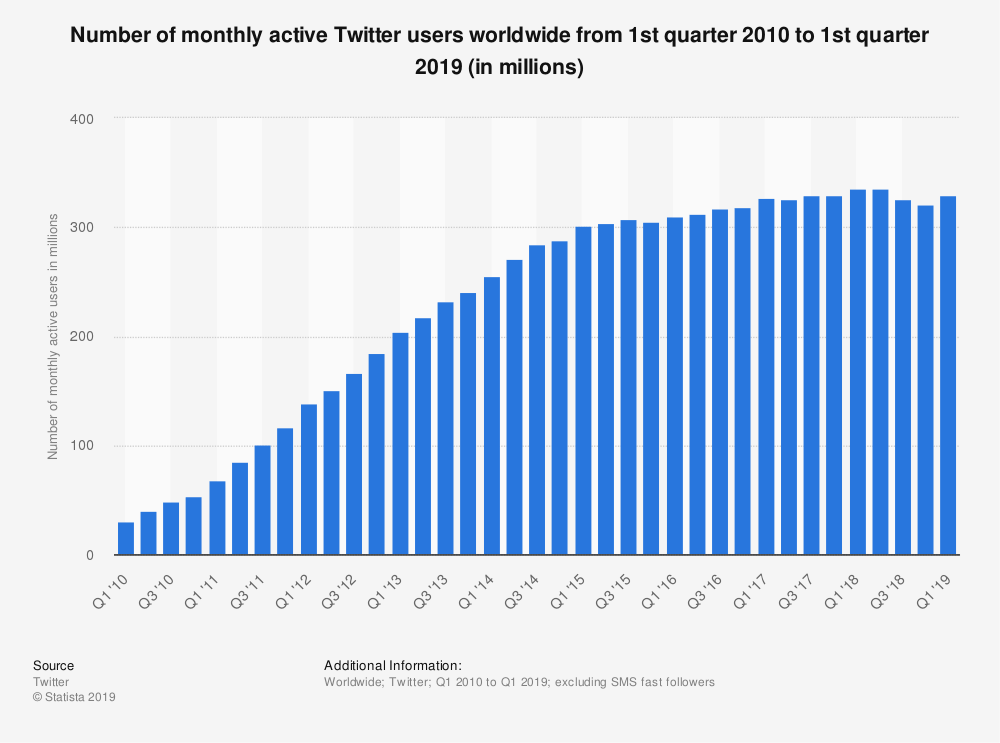 Moreover, recent studies from Twitter have shown that:
Customers spend 3-20% more on the average price of a product or service when a brand responds to their tweet.
Users are 44% more likely to share their positive experiences — both online and offline — when a business responds to them on Twitter.

Correspondingly, they're also 30% more likely to recommend the business to others and give them high NPS scores.

And even when a customer tweets negative feedback on Twitter, 69% of users start to feel better about the brand when it responds to their concerns.
This is why your brand needs to build a strong presence on Twitter.
Especially because Twitter is here to stay
Twitter gave itself an update just last year by extending its legendary low character limit from 140 to 280 characters per Tweet. For anyone who's ever Tweeted anything that was exactly 140 characters long, you know what I'm talking about. (How often are Tweets coincidentally 140 characters long? Pretty much never. If a Tweet was exactly 140 characters long, it's because you had to make it fit — by getting creative and shaving off words & punctuation. Hence, the extended character limit.)
When a company is smart enough to evolve with the market by introducing new features and making game-changing updates, you know they mean business.
Now, how do you reach these 330 million active monthly users on Twitter?
Through Twitter influencer marketing
Who are Twitter influencers?
Twitter influencers are experts at engaging audiences on Twitter, and each one is focused on a slightly different topic.
Food influencers in the foodie sphere often dole out cooking tips, share their favorite recipes, and recommend delicious restaurants and culinary delights. Sports and fitness aficionados engage conversations about the kind of equipment they use, the gyms they go to, their preferred brand of athletic wear and other related topics. Every industry, niche and brand has its own set of influencers.
Whether they're working with other brands to increase their brand awareness or generating buzz for their own personal brands, all influencers on Twitter have sizable followings who are more than just numbers — they're actively engaged users who value and pay attention to what their favorite Twitter influencers have to say.
What should you look for in a Twitter influencer for your own brand? What makes one influencer different from the other?
Who is the ideal Twitter influencer for your brand?
If I could only stress one helpful hint, it would be this:
Not every Twitter influencer is going to be a good fit for your brand.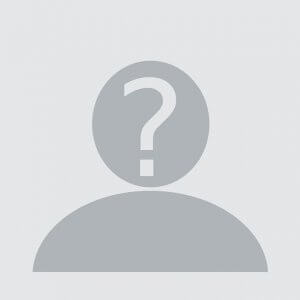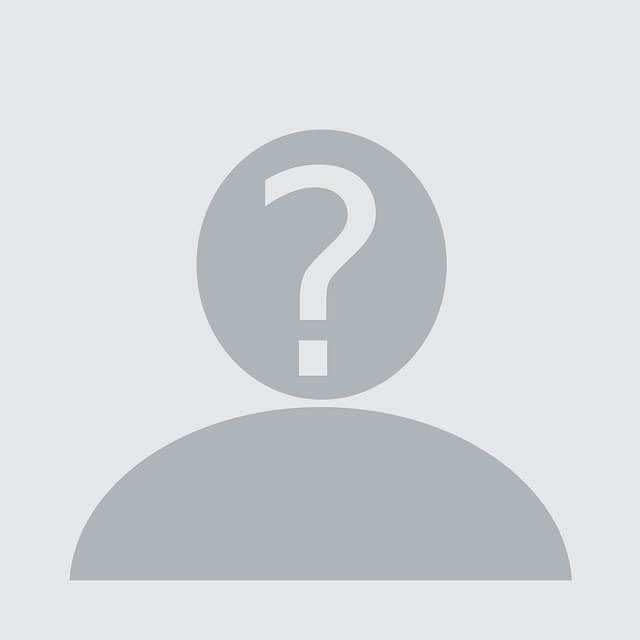 No matter how many followers they have or how many likes and retweets they get, if the influencers you're interested in don't possess the qualities below, they're not going to be a good match for your brand.
Twitter influencer marketing checklist:
Any Twitter influencer that works with your brand should have the same target audience — at least as a subset.
Their image or online persona should fit your brand personality.
They should genuinely like your brand. You might not see this as a requirement, but trust me — your Twitter influencer will be so much more inspired and create infinitely better content if they truly appreciate your product or brand.
Now, let's move onto identifying the Twitter influencers who would be a good match for your brand!
How to identify Twitter influencers who match your brand
Identifying Twitter influencers who match your brand is a 2-part affair. Part one is about tracking down Twitter influencers who already know your brand and like it (they'll create better content when they genuinely appreciate your product). Part two is about narrowing down the list to identify the TOP Twitter influencer who will be the best match for your brand. Social listening plays a key role here.
What is social listening?
Social listening is about paying attention to public online conversations about your brand, company, product, or even your competitors — so you can find key customer insights. It's a simple concept: by monitoring relevant keywords and phrases online, you find out who talks about these topics, and when and where it happens.
One of the main benefits of using social listening tools for this is that it saves you a considerable amount of time and energy, by helping you analyze all the data you collect. Brand24 also generates detailed reports & data-based analyses, and comes with a wide set of filters (like sentiment analysis) that lets users zero in on key pieces of information. It definitely beats searching for conversations that mention your keywords manually… across 100+ different platforms and websites. As you might have gathered, Brand24 isn't a Twitter-monitoring tool — most brands use it to manage their online reputation and see what people are saying about them on various platforms across the Internet (not just Twitter) — but you can focus on the data from Twitter if that's all you need.
This video clip gives you a general overview of all (or most) of the things that you can do with social listening and media monitoring:
Monitor mentions of your company online with Brand24 and see where you stand in terms of brand sentiment, customer engagement, influence and social media reach. You can use social listening data in many ways: to improve your customer service, generate leads, create buyer personae, protect your brand reputation and more…
Now, lets see who would make the best Twitter influencer for your brand!
Part One: Identifying influencers on Twitter who know and like your brand
Step 1. Identify potential Twitter influencers for your brand with social listening
Create a social listening project to monitor mentions of your brand* on the Internet.
*If your brand is still relatively unknown and doesn't generate too much buzz, track industry keywords for your niche instead. This will help you find industry Twitter influencers who can help you increase your brand awareness by letting their audiences know about your brand and the products and services you offer — in the personal style that their followers have grown to know and love.
Since this is the month for holiday parties, and none of us want to spend too much time cleaning up afterwards… let's see what's been going on in the land of festive, red disposable cups. (Hey, Solo!)
Just enter your brand, product, or key industry terms in your niche as keywords and phrases in your social listening project.
What the keywords for tracking a brand like Solo Cup would look like: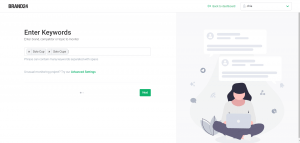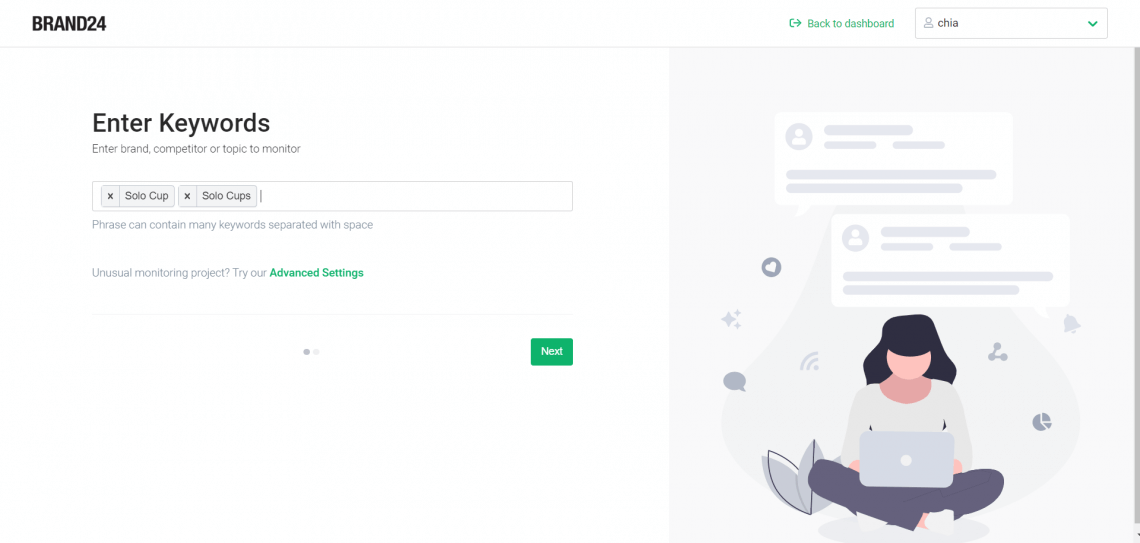 What the keywords for tracking key industry + niche terms for Solo Cup would look like: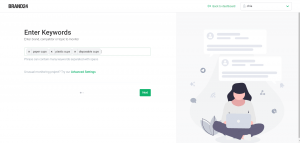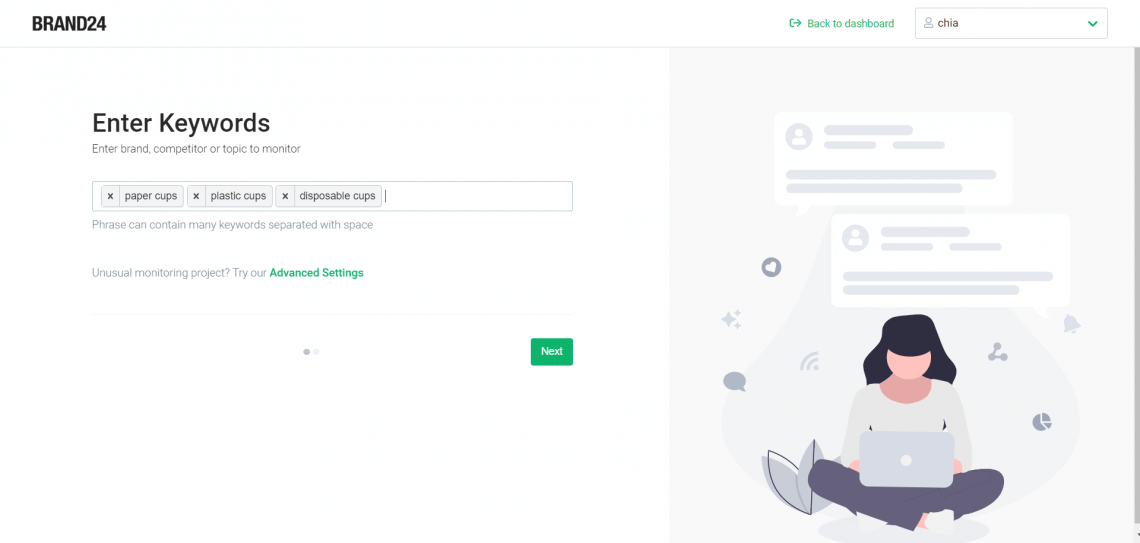 After you've entered all your keywords and phrases, click on NEXT, select the language you want to monitor, and then you'll find yourself inside your project dashboard. This is where you can see all the mentions for the keywords you're monitoring.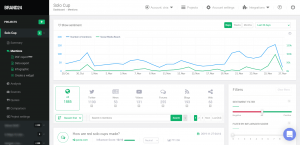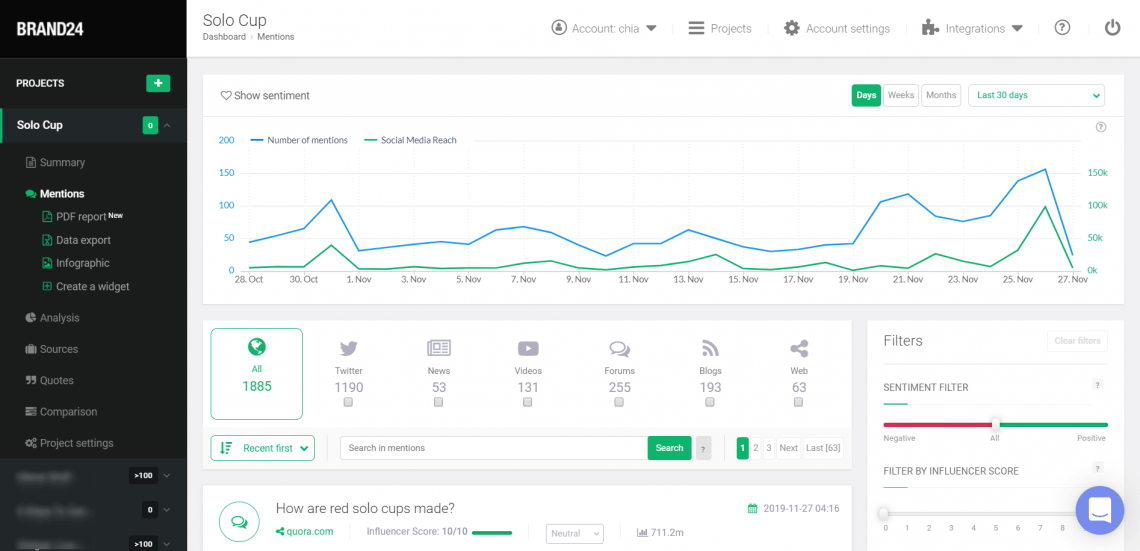 I planned ahead and started this project a while ago for more historical data, which is why I already have nearly 2,000 mentions of Solo.
You don't need to collect so many mentions to find Twitter influencers for your brand, but more data always leads to better and more informed choices.
Step 2. Identify potential Twitter influencers for your brand in the Analysis Tab
To identify the top Twitter influencers who talk about your brand (or niche) most often, enter your Analysis Tab, located on the left side of your dashboard.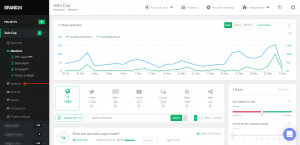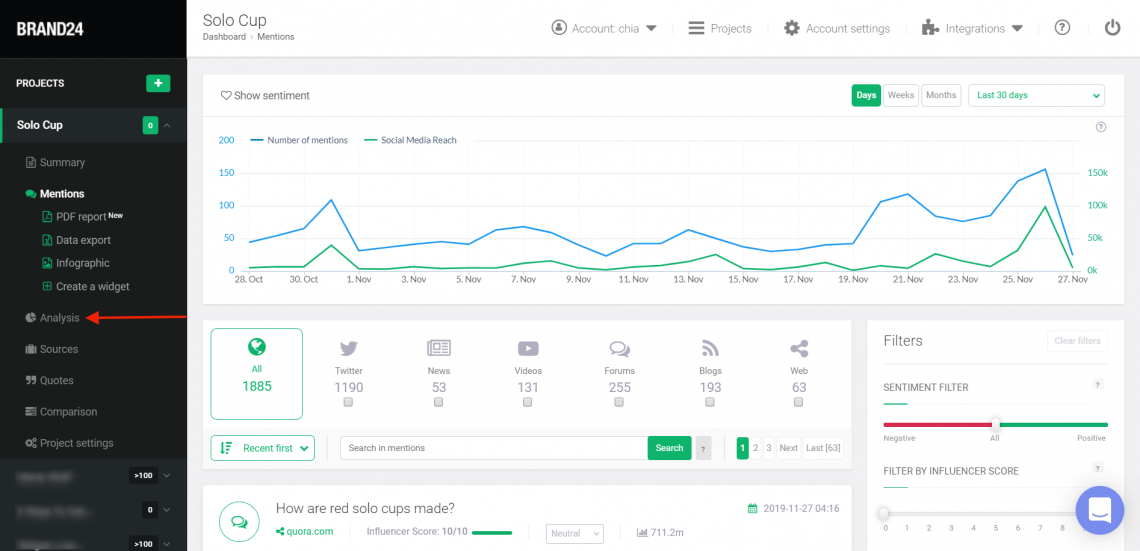 Brand24 automatically analyzes all your mentions and lists them by order of importance in several different categories:
Most popular mentions
Mentions from most popular profiles
Mentions by categories
Trending hashtags
Top profiles
Most active profiles
Top websites
Most active sites
Top countries
and more…
Since you want to find top Twitter influencers, we can filter the results in the Analysis Tab to show data from Twitter only. From your Analysis Tab, select Filter mentions on the upper right hand side: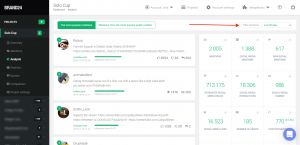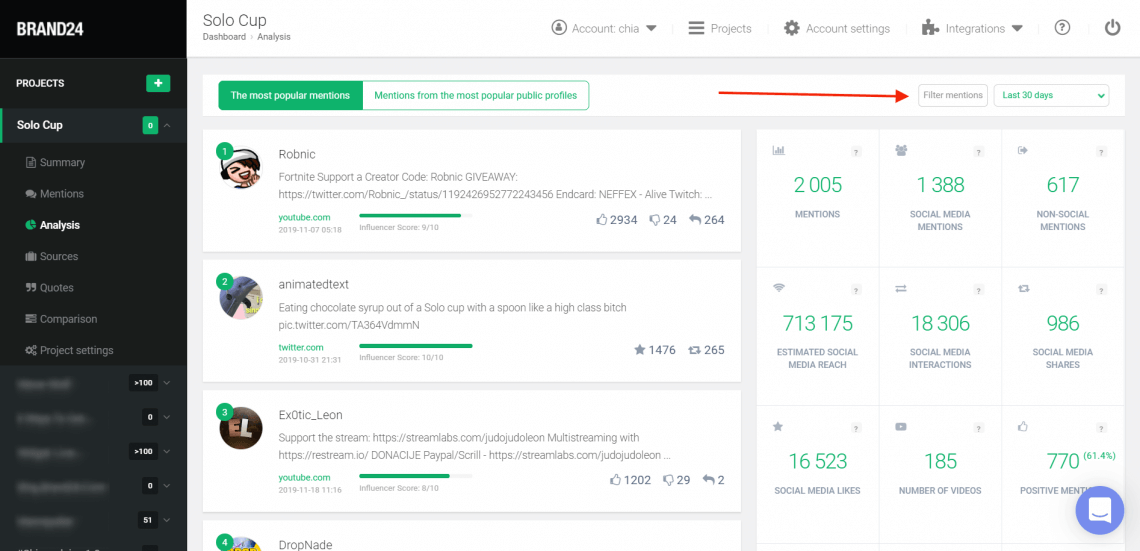 A popup window will appear for filtering data. Scroll down and click on SHOW ADDITIONAL FILTERS.
Now, check the box for Twitter under Category Filter. Apply the filter by clicking on CLOSE at the bottom of the pop-up window and your Analysis Tab will only display results from Twitter.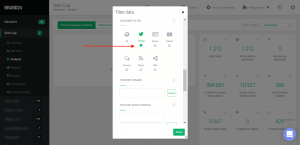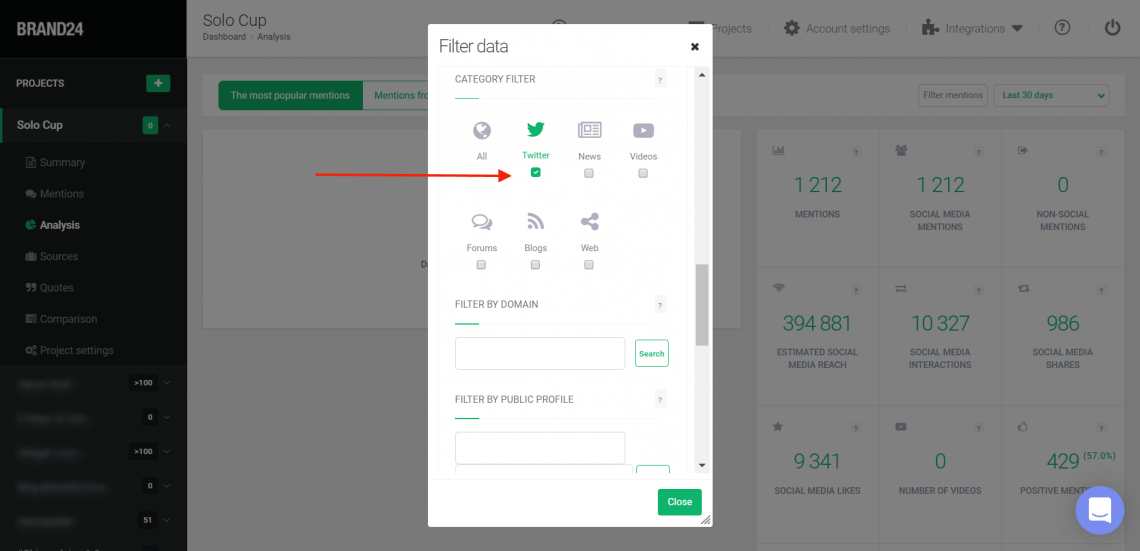 Step 3. Identify potential Twitter influencers for your brand based on Influence and Share of Voice
You'll find the best Twitter influencers for your brand on your list of Top Public Profiles in the Analysis Tab — that's where you can see their data for 'influence' and 'share of voice'. Influence considers the 'reach' of all the mentions from these profiles. Share of Voice (Voice Share in the image) informs us what share of the total amount of discussions for your keywords that they are responsible for.
This is what that list looks like for Solo: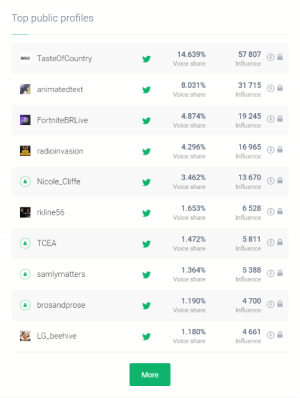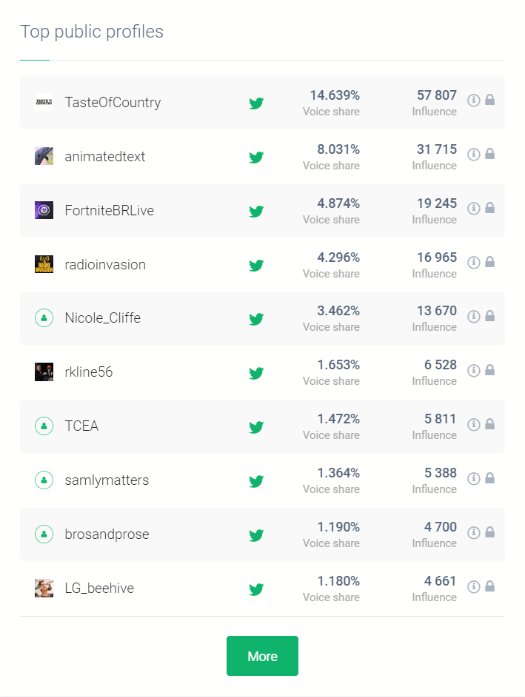 We can see that TasteOfCountry has the highest amount of influence and share of voice. This means that, overall, their tweets mentioning Solo received the most views and also generated the greatest number of discussions on Twitter.
The interesting thing is that TasteOfCountry is a profile that talks about country music and not food or drink! Maybe instead of just serving up drinks, more people are using Solo Cups for games and other activities? To find potential Twitter influencers to work with, Solo could look beyond the obvious — profiles that talk about food and drink — and consider profiles like TasteOfCountry, that think outside of the box and show people other ways to use Solo cups.
After you see what kind of profiles have mentioned your brand or industry, you can narrow down your potential Twitter influencers even more: create separate media monitoring projects for each influencer that you're interested in. Then, analyze their reputation with the Brand24 Sentiment Filter.
Part Two: Narrow down the list of potential Twitter influencers for your brand to find THE best match
Step 1. Identify the TOP Twitter influencer with social listening
Create social listening projects for each specific Twitter influencer you're interested in. It's just like monitoring your brand or industry, only your keywords will be Twitter usernames and hashtags.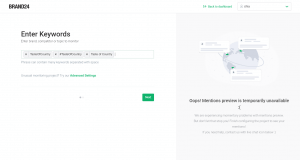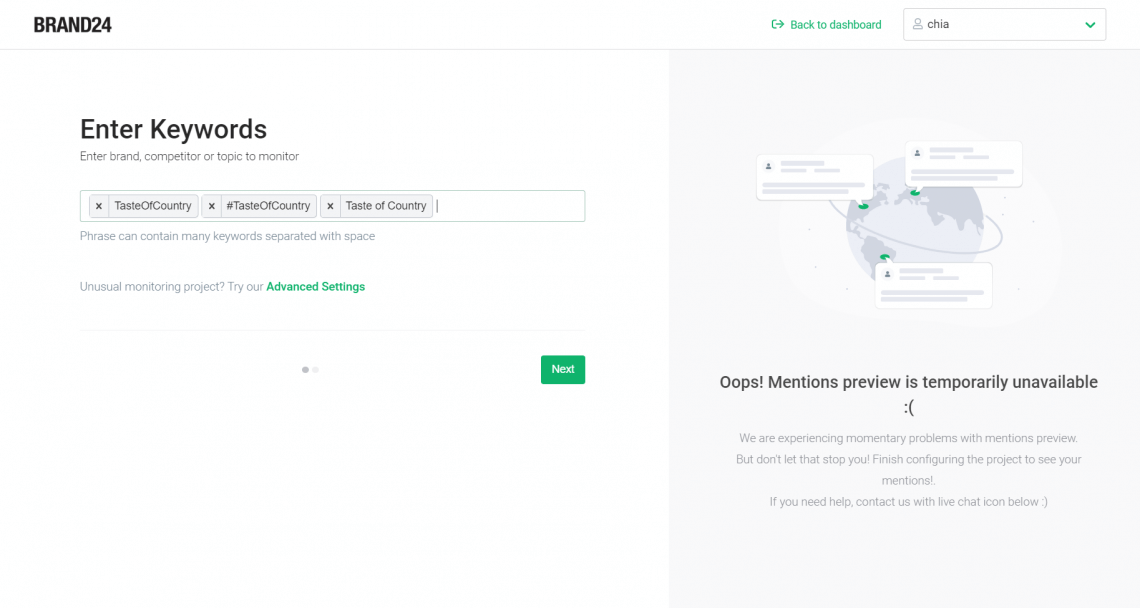 Step 2. Identify the TOP Twitter influencer by sentiment
As you look over the online mentions for each Twitter influencer, really get to know them and see them from their audience's perspective by running a sentiment analysis on mentions of their names and Twitter handles.
Inside your project dashboard, you'll see a Sentiment bar on the top right hand side. Move it to the left to see all negative mentions of your Twitter influencer, and to the right to see all positive mentions. Keeping it in the middle shows you all mentions.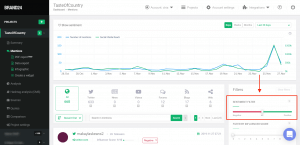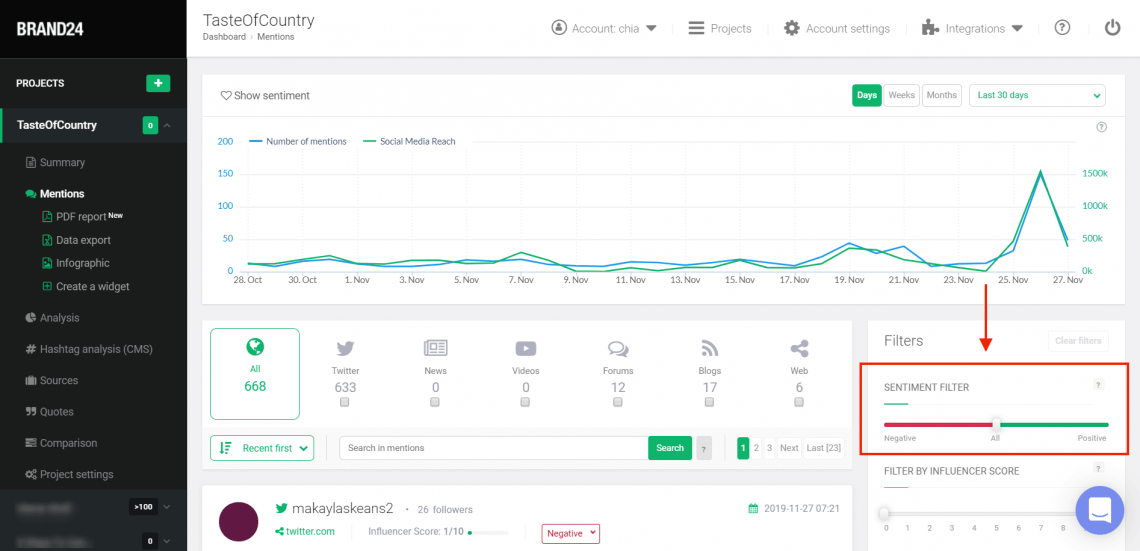 At the top of your line graph showing Number of mentions and Social media reach, click on Show Sentiment to see how your Twitter influencer's sentiment levels change over time. You can set the time period to see sentiment on a particular day, or view changes in sentiment over weeks, months or years.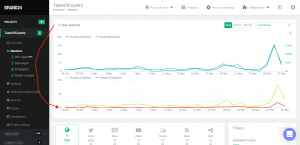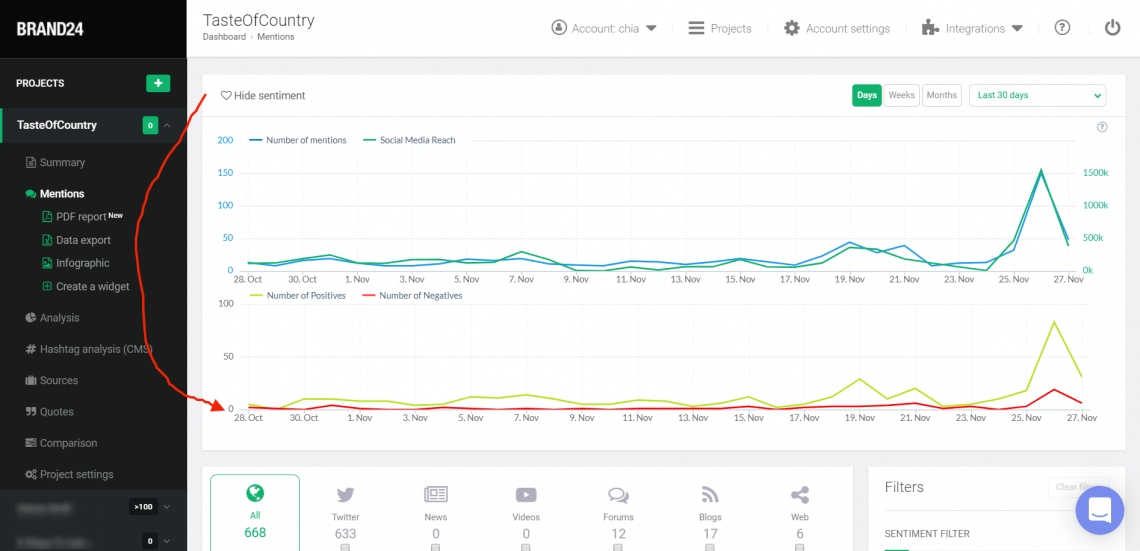 If you notice any surges in negative or positive sentiment for a Twitter influencer, check their mentions for that time period to find out what may have caused the sudden negative or positive buzz. Did they do or say something to offend their audience? Do they practice behavior that you don't want associated with your brand?


Compare sentiment (aka reputation) levels for each Twitter influencer to see which one would be the best choice for your brand.
That's it! You've identified the ideal Twitter influencer(s) who would be the best match for your brand!
Highlights: how to identify Twitter influencers for smarter influencer marketing on Twitter
Track your brand (or industry + niche keywords) with social listening to find a short list of potential Twitter influencers who already know and like your brand — because it's always better to work with friends.
Create individual social listening projects for each Twitter influencer you're interested in. See what their audiences are saying about them and find the Twitter influencer who is the best match for your brand.
If you haven't already, create a free social listening project with Brand24 and identify Twitter influencers for smarter influencer marketing on Twitter!
For more resources on Twitter influencers and influencer marketing on Twitter: