Talkwalker alternatives: Brand24
March 17, 2021 ・ 10 min read
Social listening tools come in different versions – some of them are very advanced and pricey, which makes them targeted to enterprises and corporations. One of such solutions is Talkwalker. On the other hand, affordable social media monitoring tools, like Brand24, may be equally valuable and definitely more budget-friendly. Let's find out then if Brand24 is a good alternative to Talkwalker.
Using a social media monitoring tool is a smart way to boost your social media marketing strategy. To do that, you need a high-value tool that will work for your success.
Today we will focus on Talkwalker and Brand24. Let's check what highly popular reviews service says about those tools.
G2, a review site that helps businesses choose the right software and services, recognized

Brand24

and

Talkwalker

as Fall 2020 Leaders.
According to G2, Brand24 is also one of the top alternatives (#2) to Talkwalker.

Both of this information made me want to find out what are the differences between these two social listening solutions.
Many businesses go through a tough time nowadays and they look for ways to save some budget. I would suggest choosing a social listening tool that is an alternative to Talkwalker or other expensive solutions. Maybe Brand24 will be one of them.
Let's find out which social media monitoring software is the right choice.
Inside this article, I will compare Talkwalker vs Brand24, and we will see if an affordable solution can be a good alternative to Talkwalker, an expensive social listening tool.
Looking for an alternative to Talkwalker? Keep reading.
Talkwalker alternatives: Brand24. Comparison
Overview
Let's begin with a quick overview of both social listening tools.
Talkwalker is a social listening and analytics company. It is used for social media monitoring by the biggest brands and agencies from all over the world. It offers multiple features to provide advanced results to all the clients.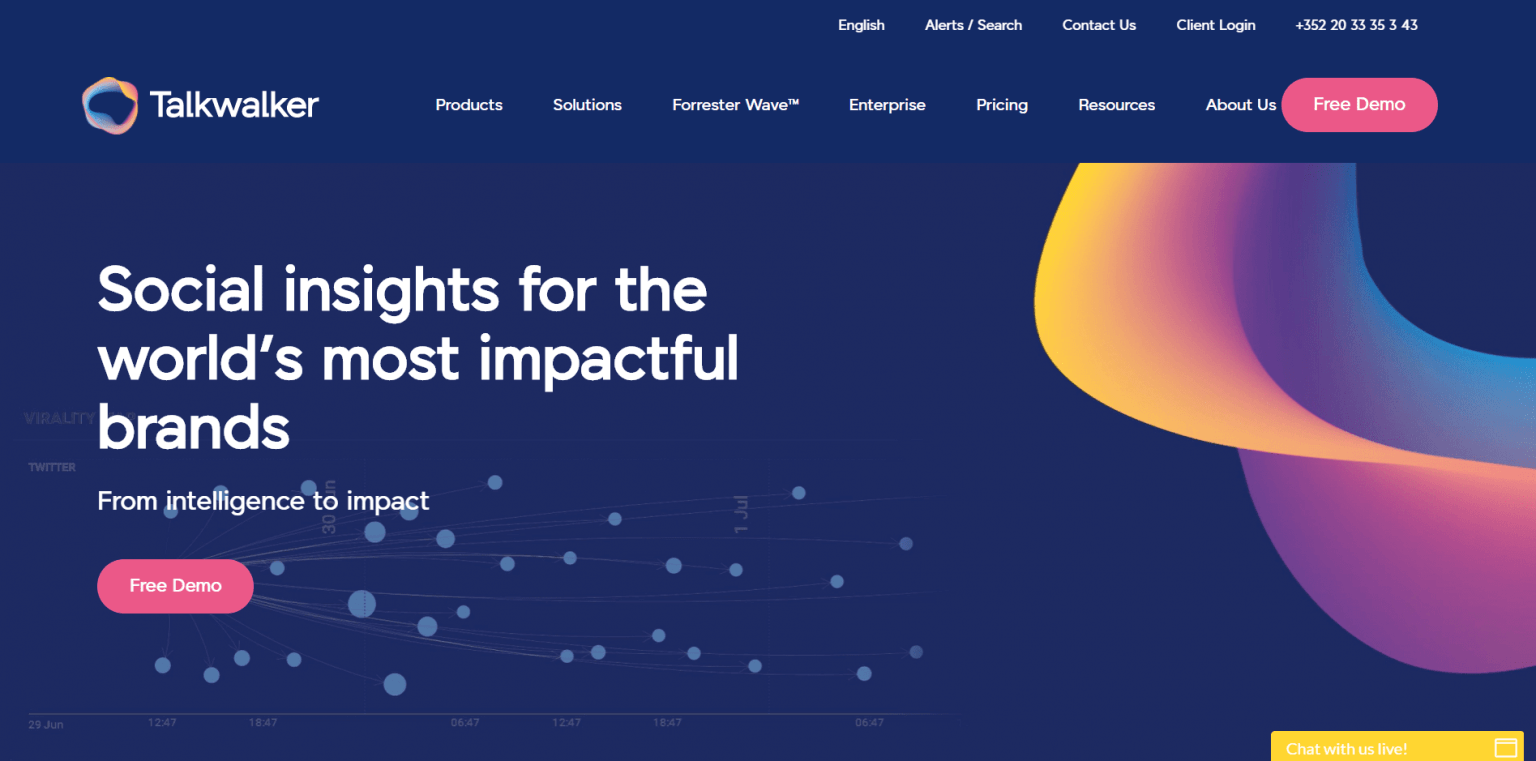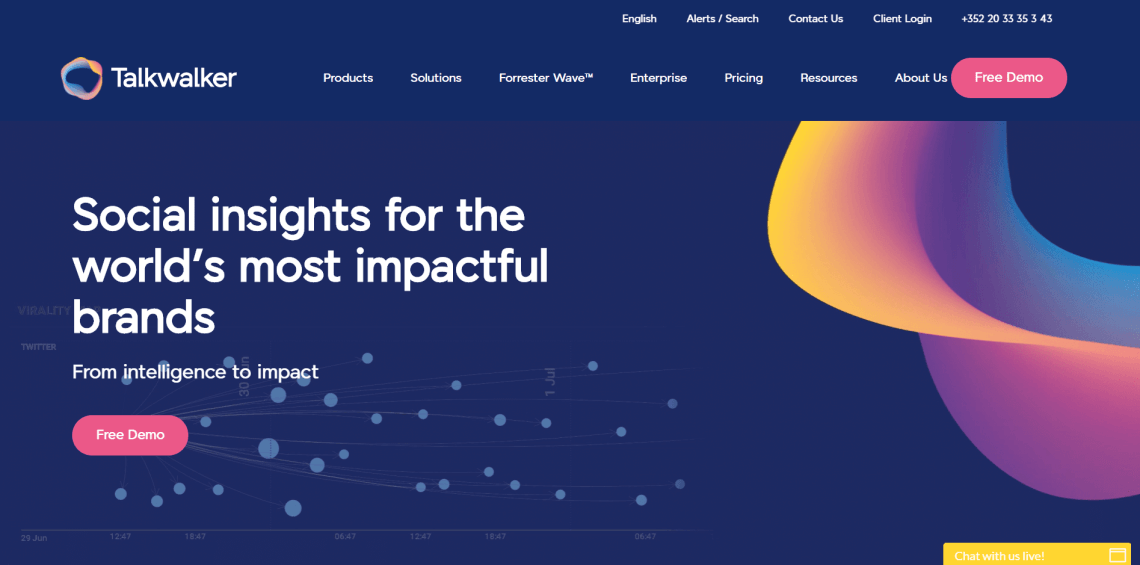 The solution monitors and analyzes online conversations in real-time across social networks, news websites, blogs, and forums in 187 languages.
If you run a small or medium-sized business, you might wanna look for alternatives to Talkwalker, as it is rather made for enterprises, big companies, or agencies that work with many clients.
Brand24 right from first sight seems like a good alternative to Talkwalker. It is one of the top social listening solutions as well. Apart from social media monitoring, it offers analytics, reporting, and other valuable features that make Brand24 really effective.
The tool, just like Talkwalker, monitors, and analyzes data in real-time, but it manages to cover even more types of online sources, being a lot cheaper.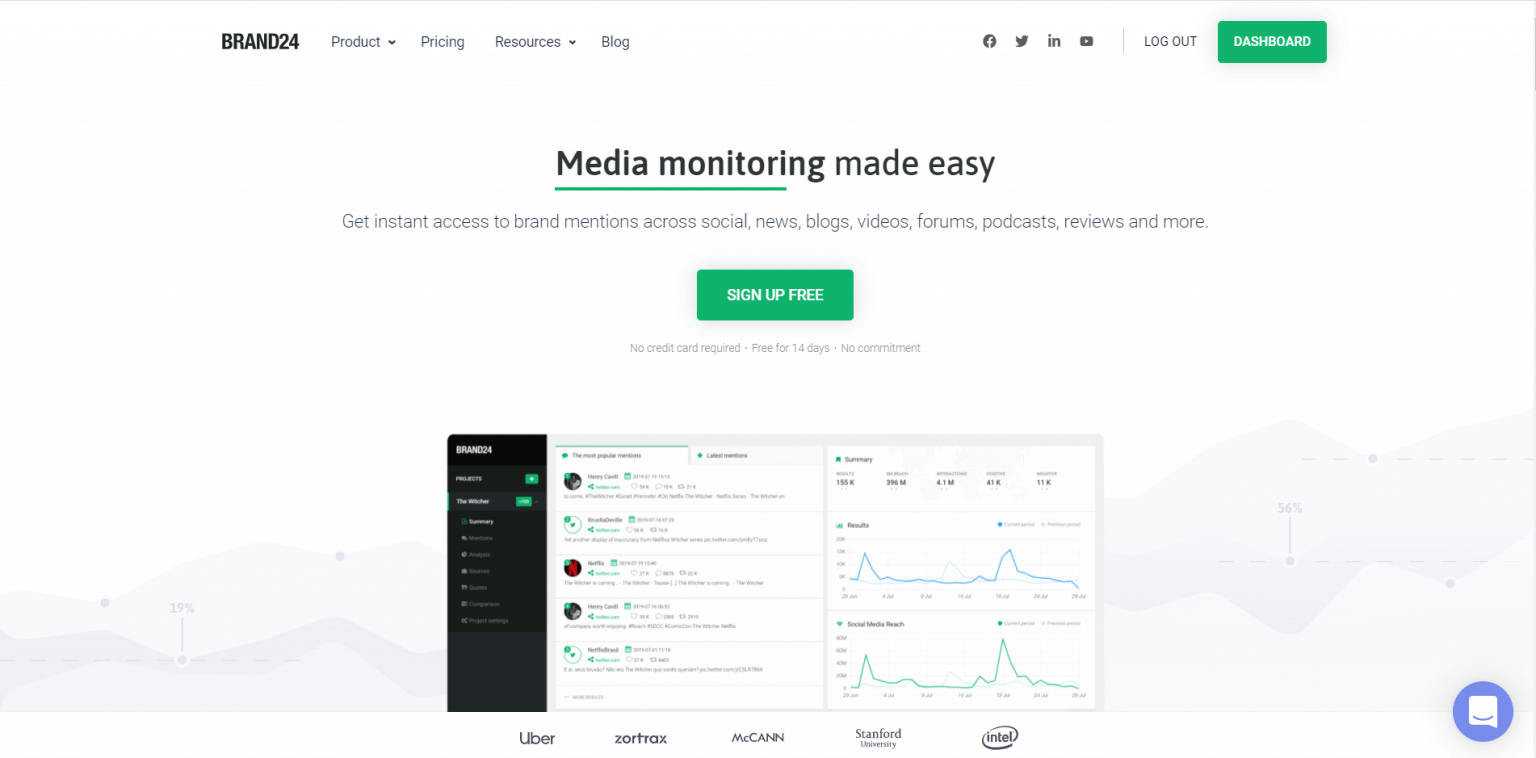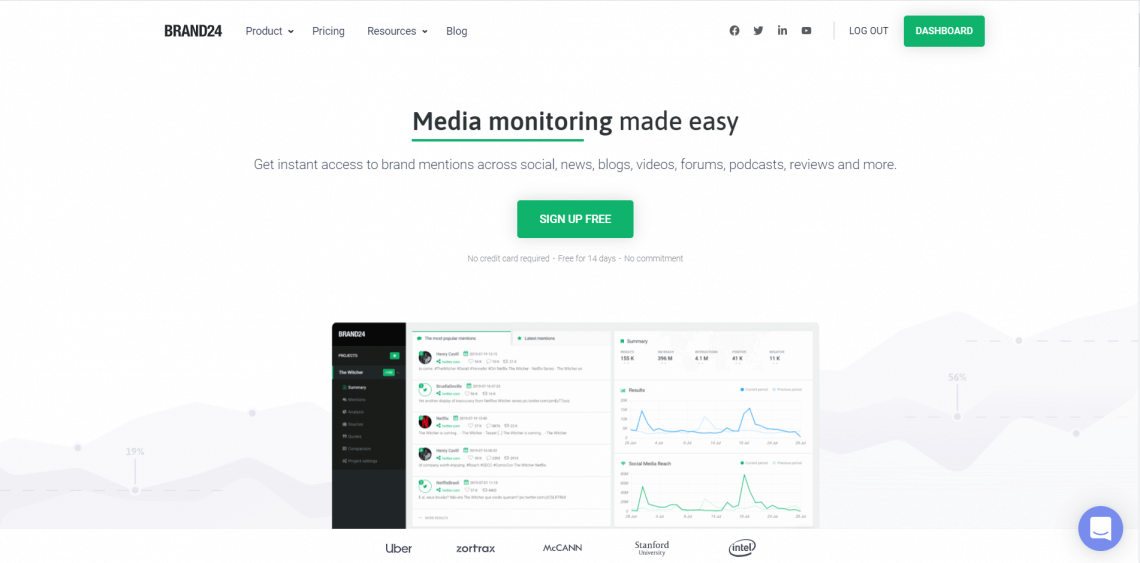 Brand24 is a powerful solution used by thousands of businesses of all sizes. It makes social media management accessible for every company, and at the same time, provides valuable insights and advanced results for a reasonable price.
Brand24 makes media monitoring easy.
With this tool, you can track multiple social media platforms, increase brand awareness, discover trending hashtags, find the right influencers, conduct social media analytics of competitors, and many more.
Brand24 is a tool that monitors online mentions about your company for $49/mo.
Purposes
Talkwalker claims it helps to optimize businesses' communication efforts. It helps clients to protect, measure, and promote their brands worldwide, across all social media channels.
Talkwalker has multiple purposes, such as:
Monitoring online conversations on multiple social media platforms
Discovering consumer insights
Reporting
Analyzing brand statistics
Monitoring trends and content ideas
Protecting online reputation
Identifying influencers
Reputation management
Brand24's purposes are very alike and that's another reason why it can be a great alternative to Talkwalker. It is so much more than just social listening solution though. It can be used for various purposes, depending on the client's needs.
Thousands of brands of all sizes use Brand24 to track and analyze online conversations about their brands, products, and competitors.
In addition, Brand24 can be used as an analytical and reporting tool as it offers a whole set of these kinds of features as well.
Protecting online reputation – social media management, monitoring online reputation
Improving customer satisfaction and customer relations
Identifying brand ambassadors and influencers
Measuring brand performance
Tracking hashtags and trends
Measure Presence Score
Increase brand awareness
Conduct sentiment analysis
Campaign monitoring
Monitoring competitors and researching the market
Discovering actionable insights on their products and services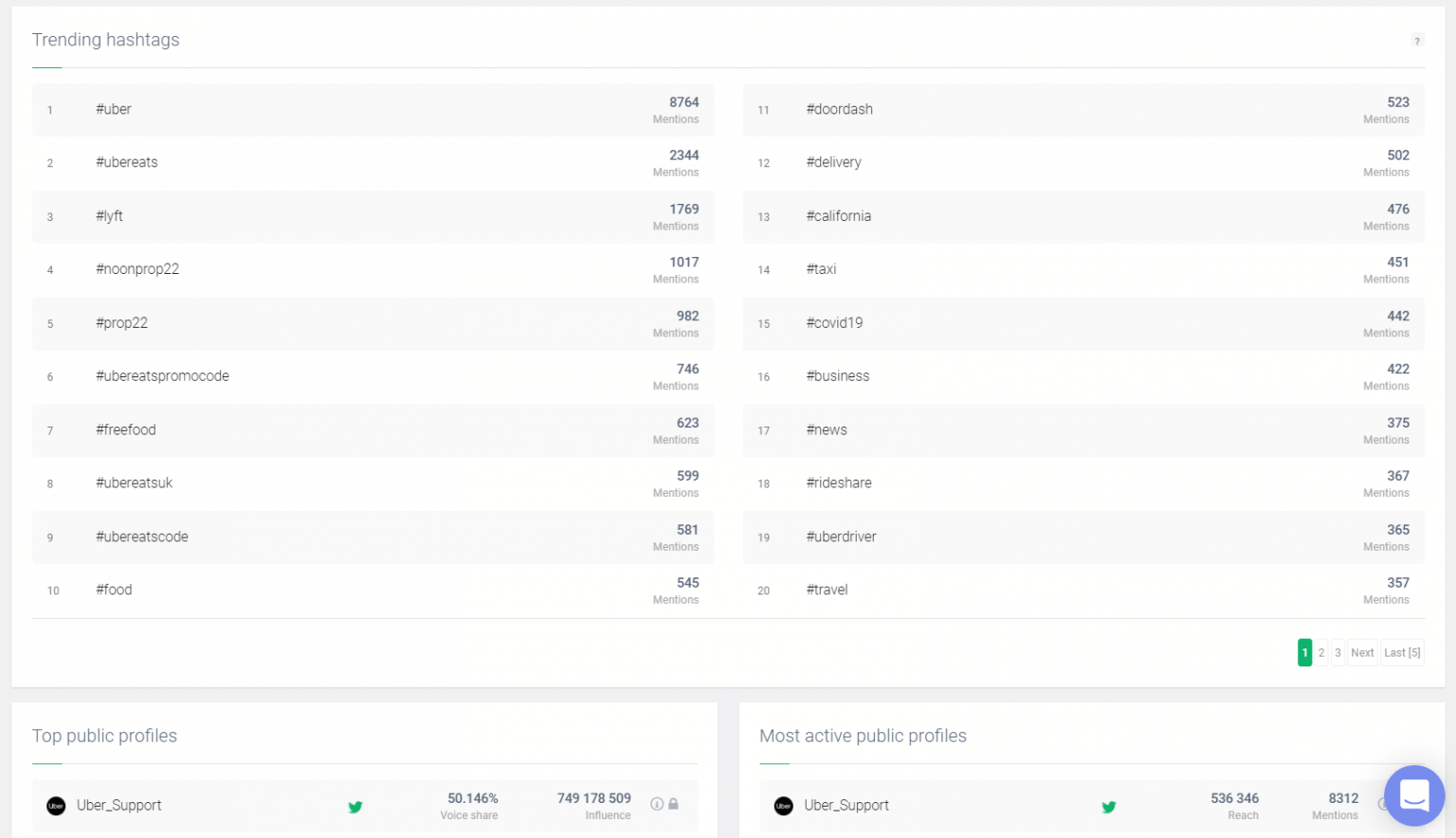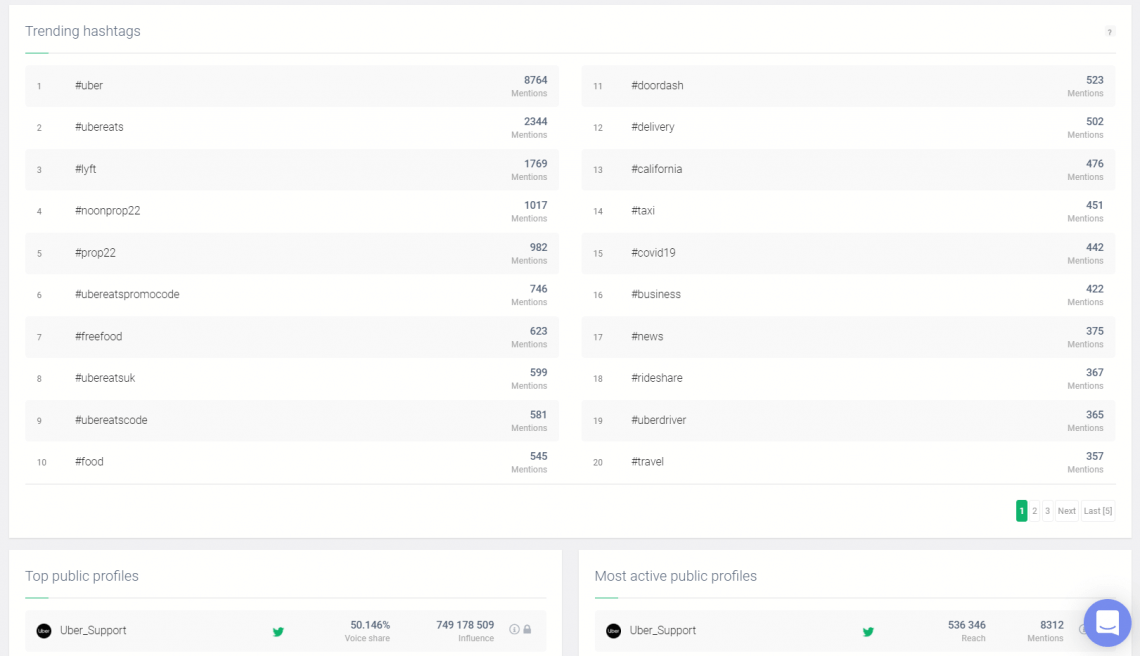 Set up the Brand24 tool and try its features. Register a free 14-day trial!
Visuals
Brand24's dashboard is clean and minimalistic. The software looks organized and modern. Reviews claim that it is very user-friendly as well.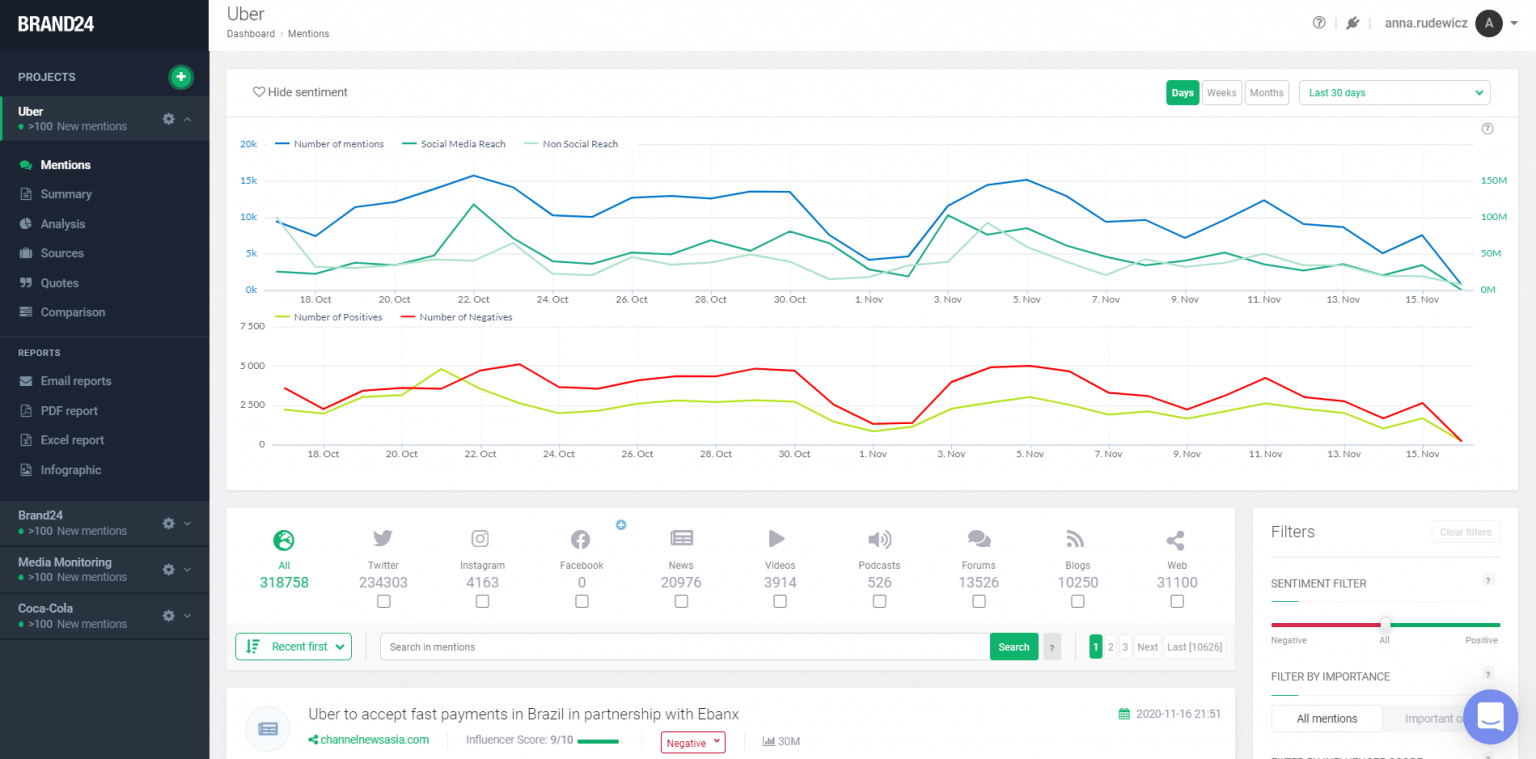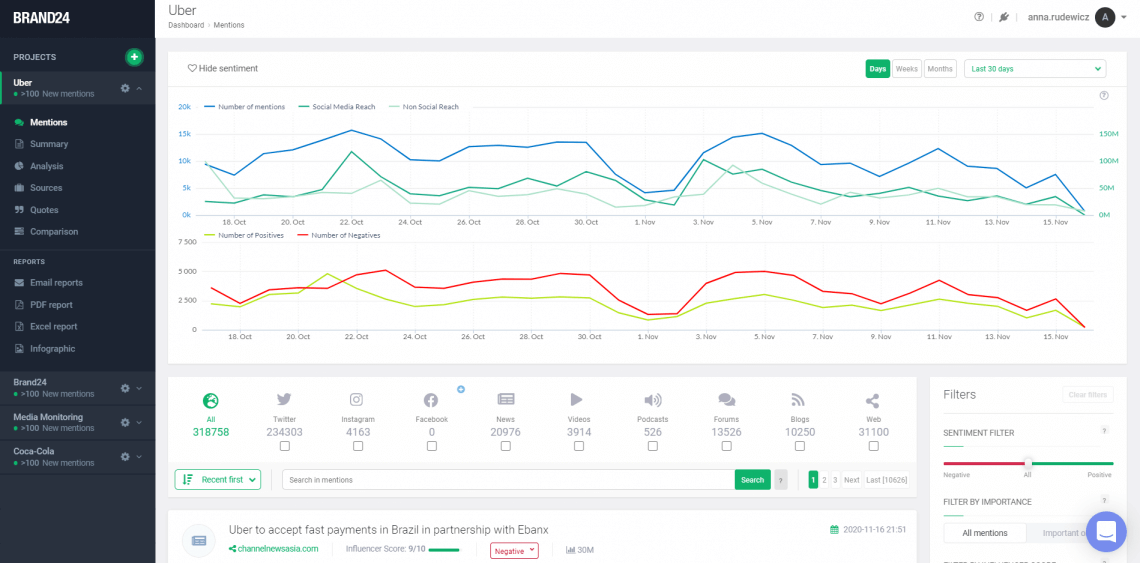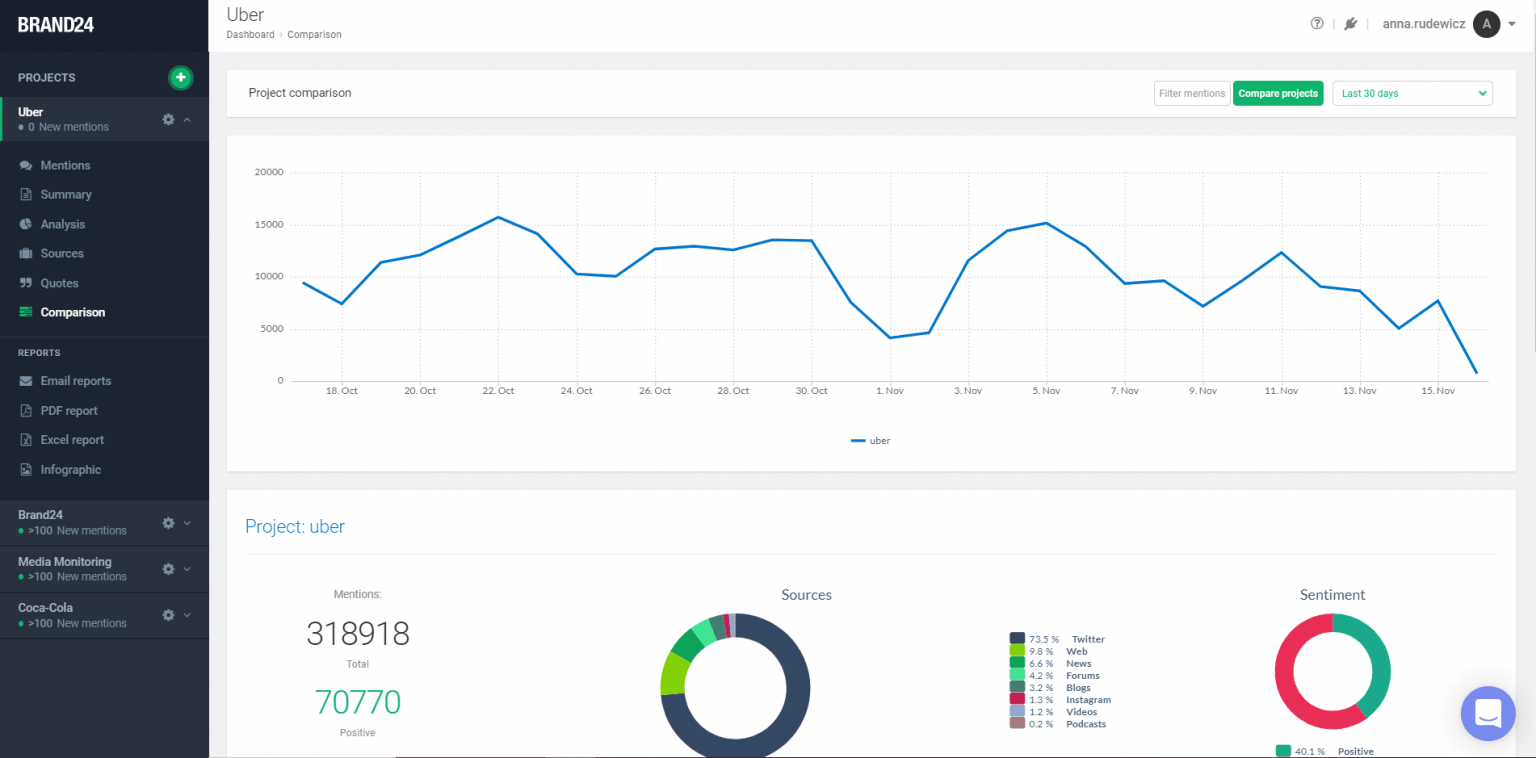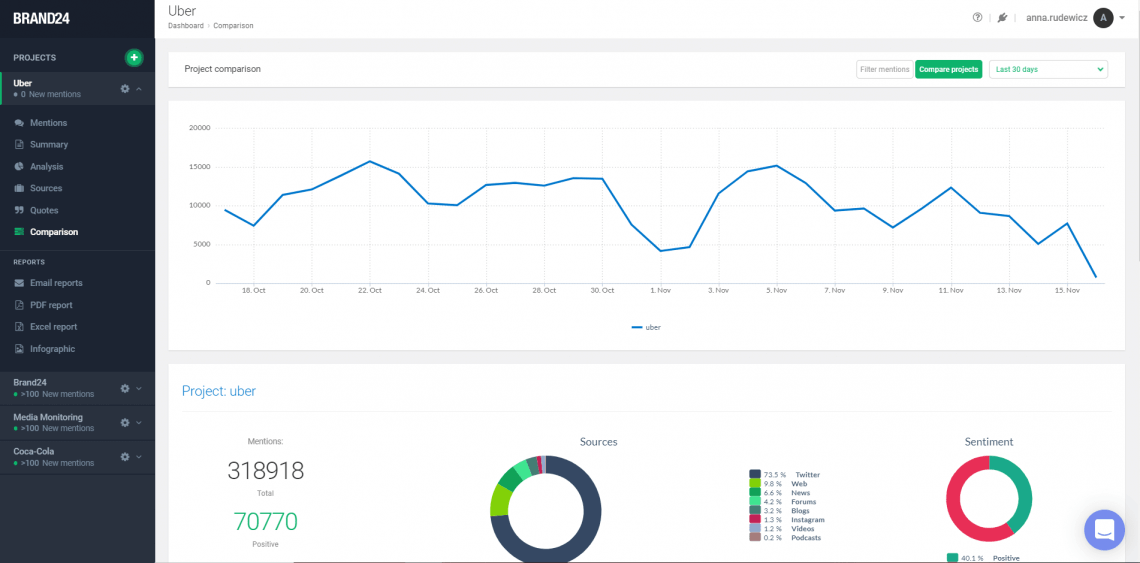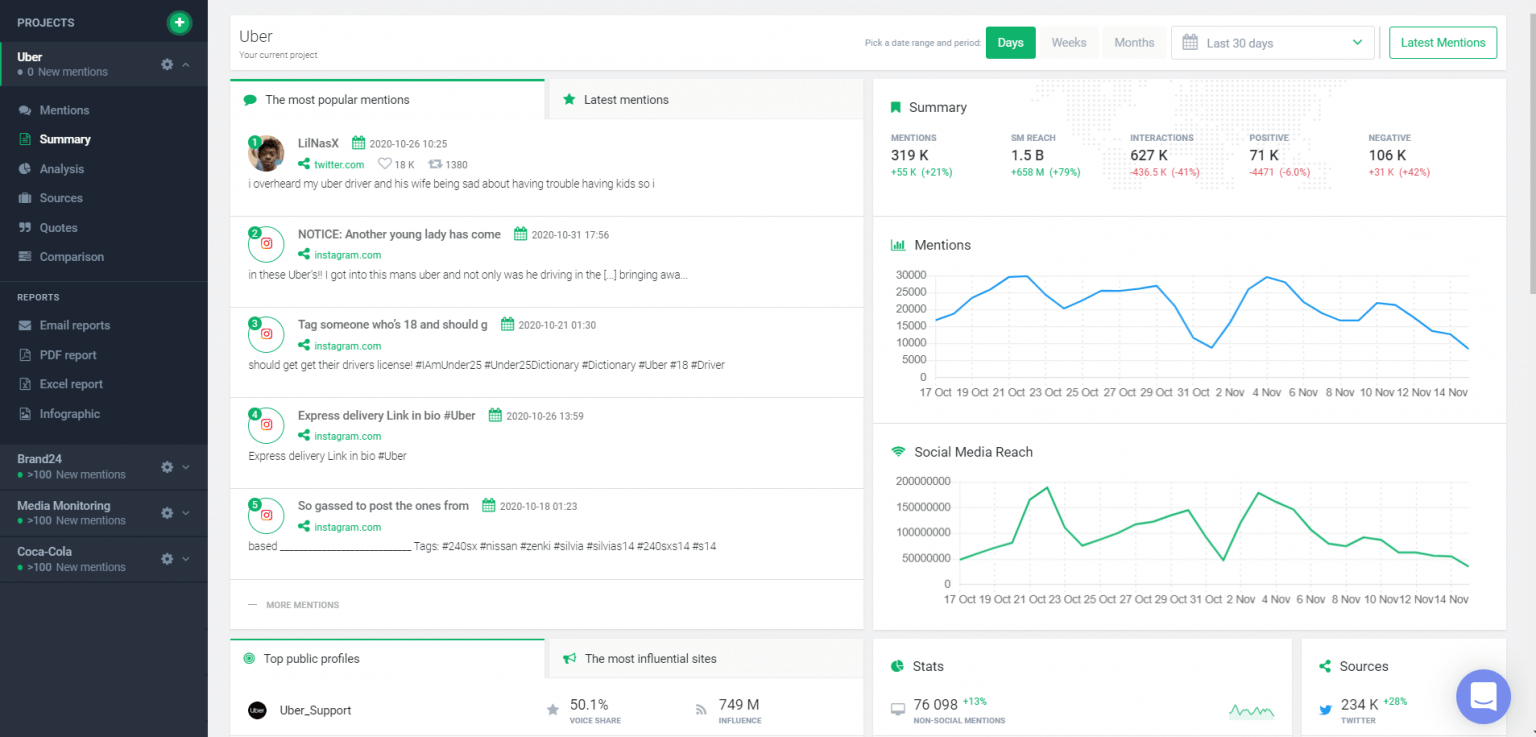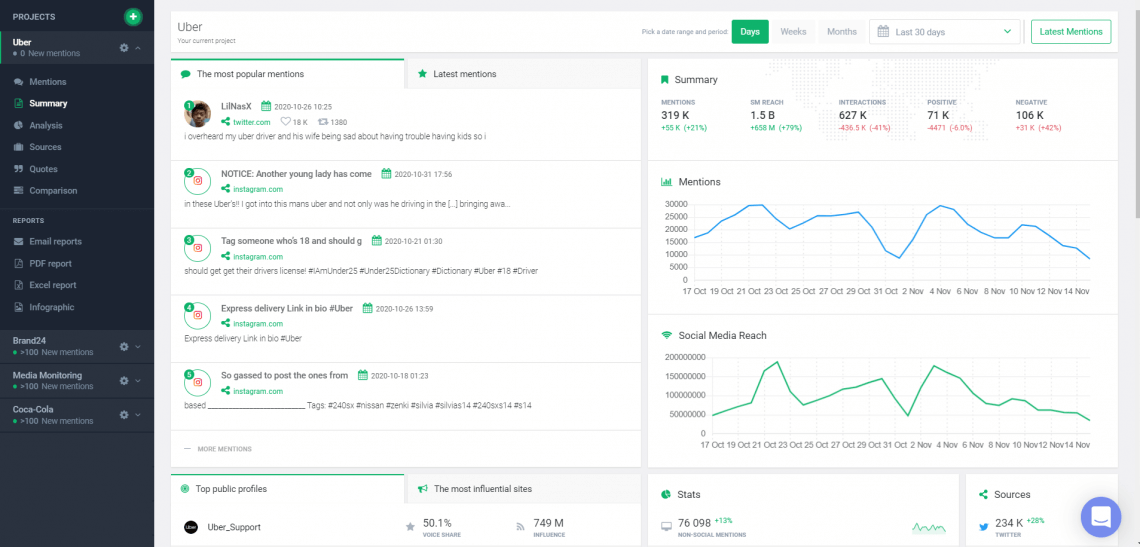 Talkwalker's design seems to be a little bit less user-friendly, but the screenshots from the tool surely verify that Talkwalker is full of various options and features.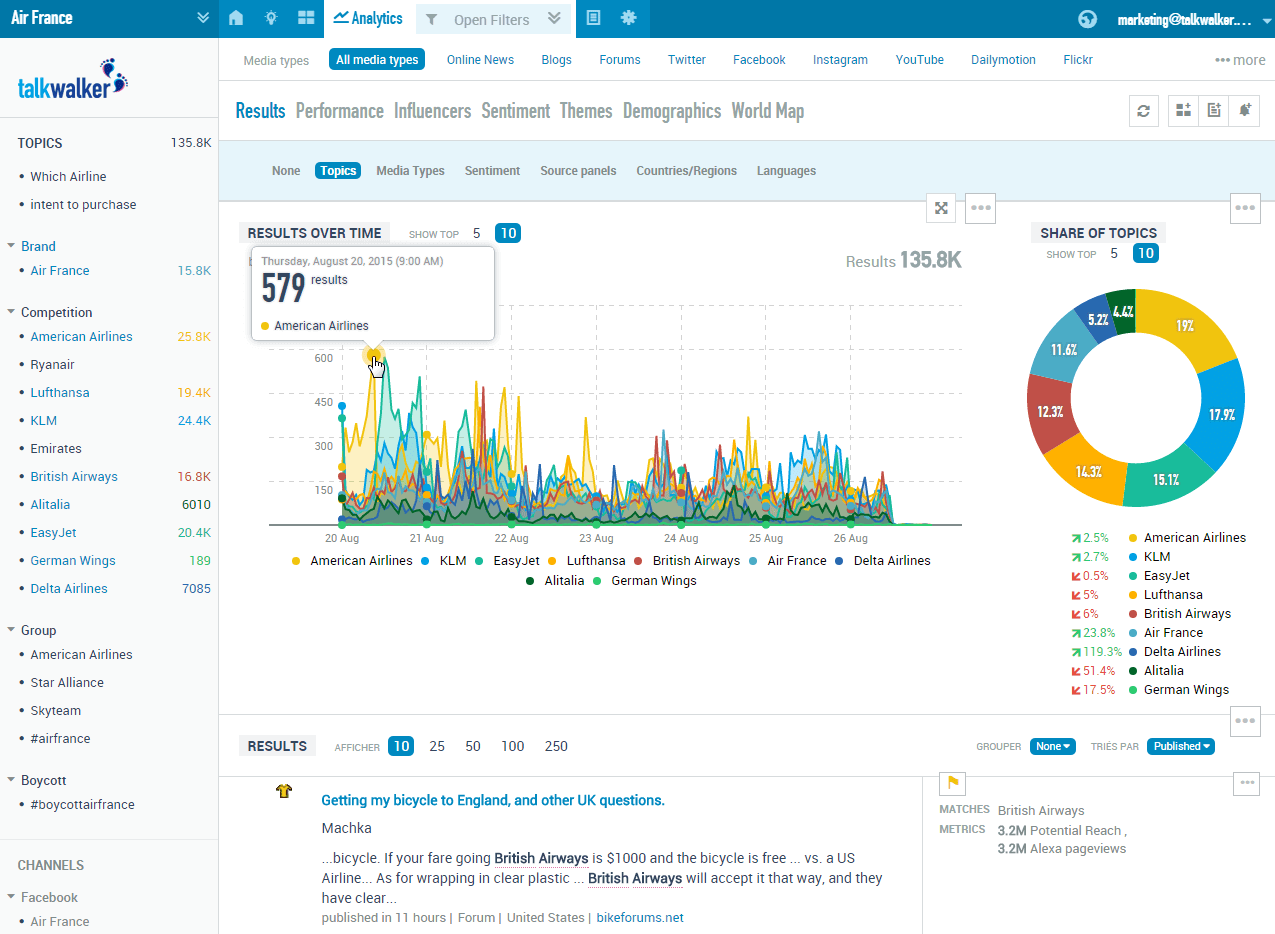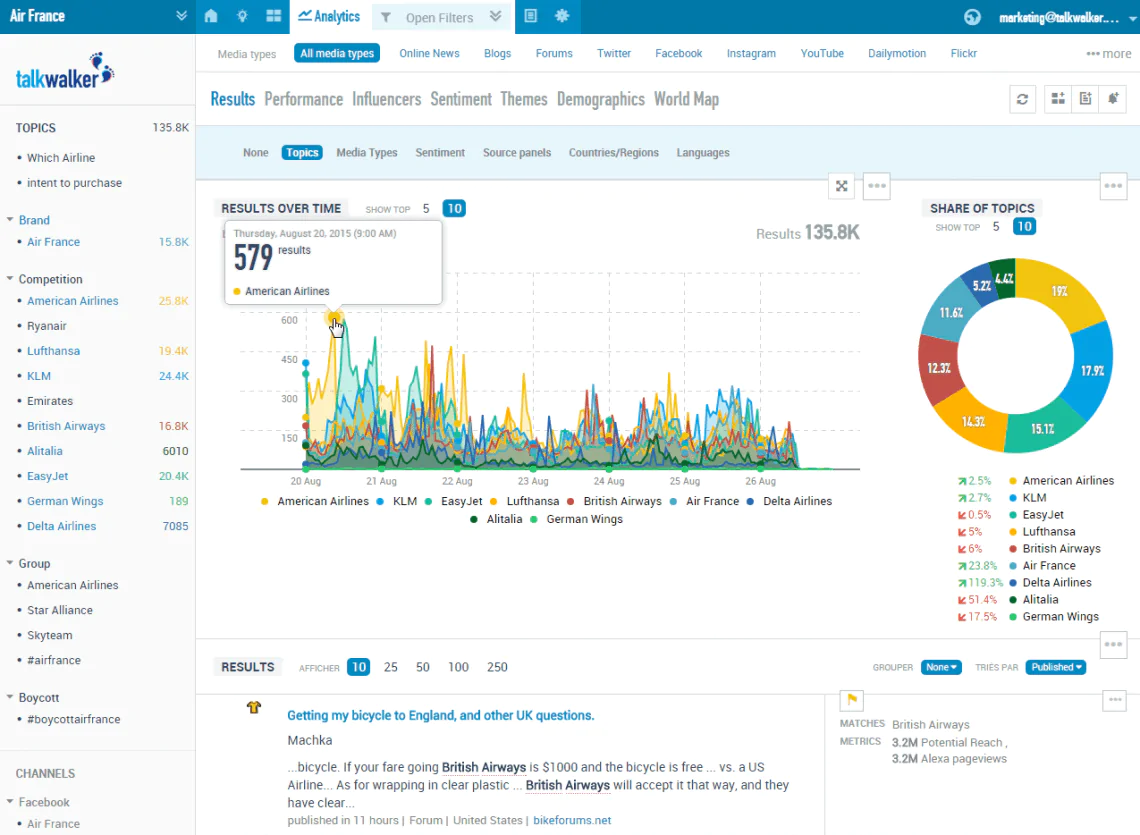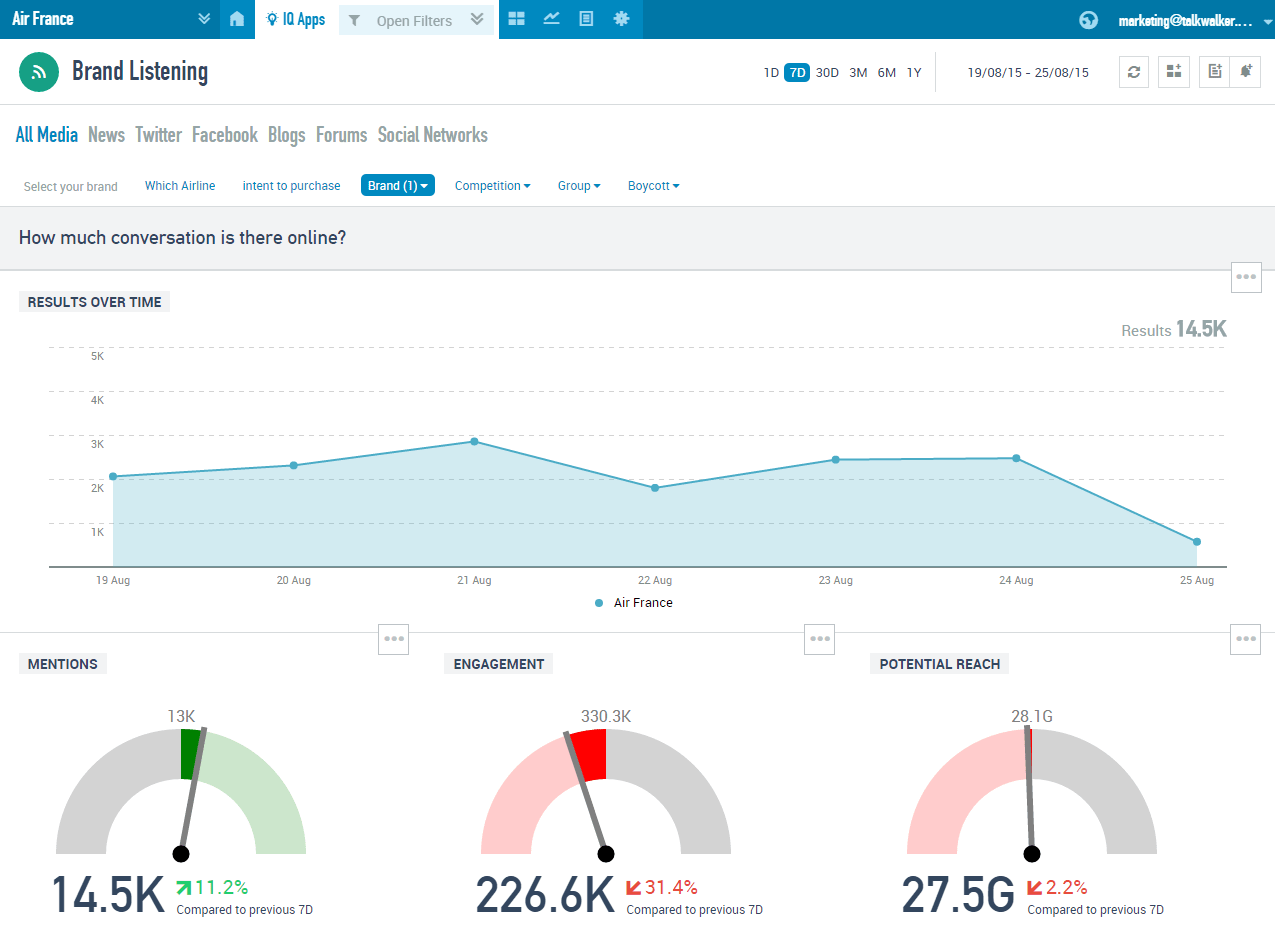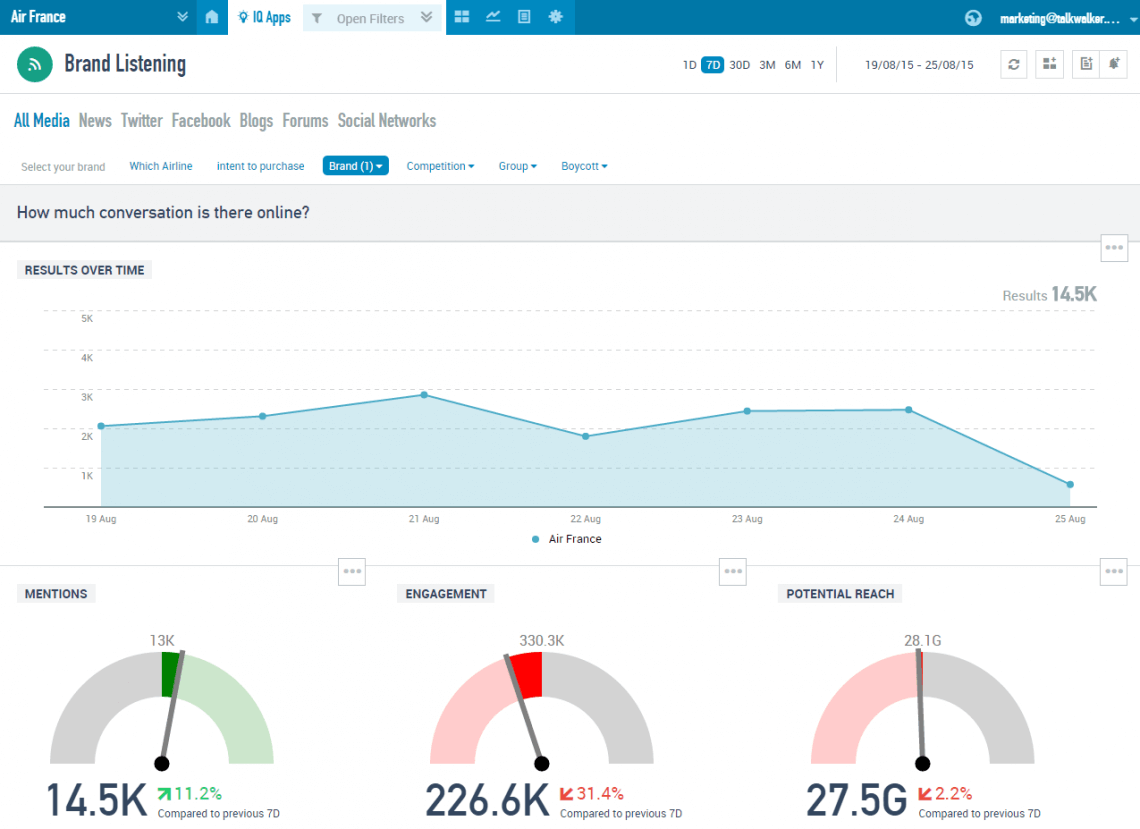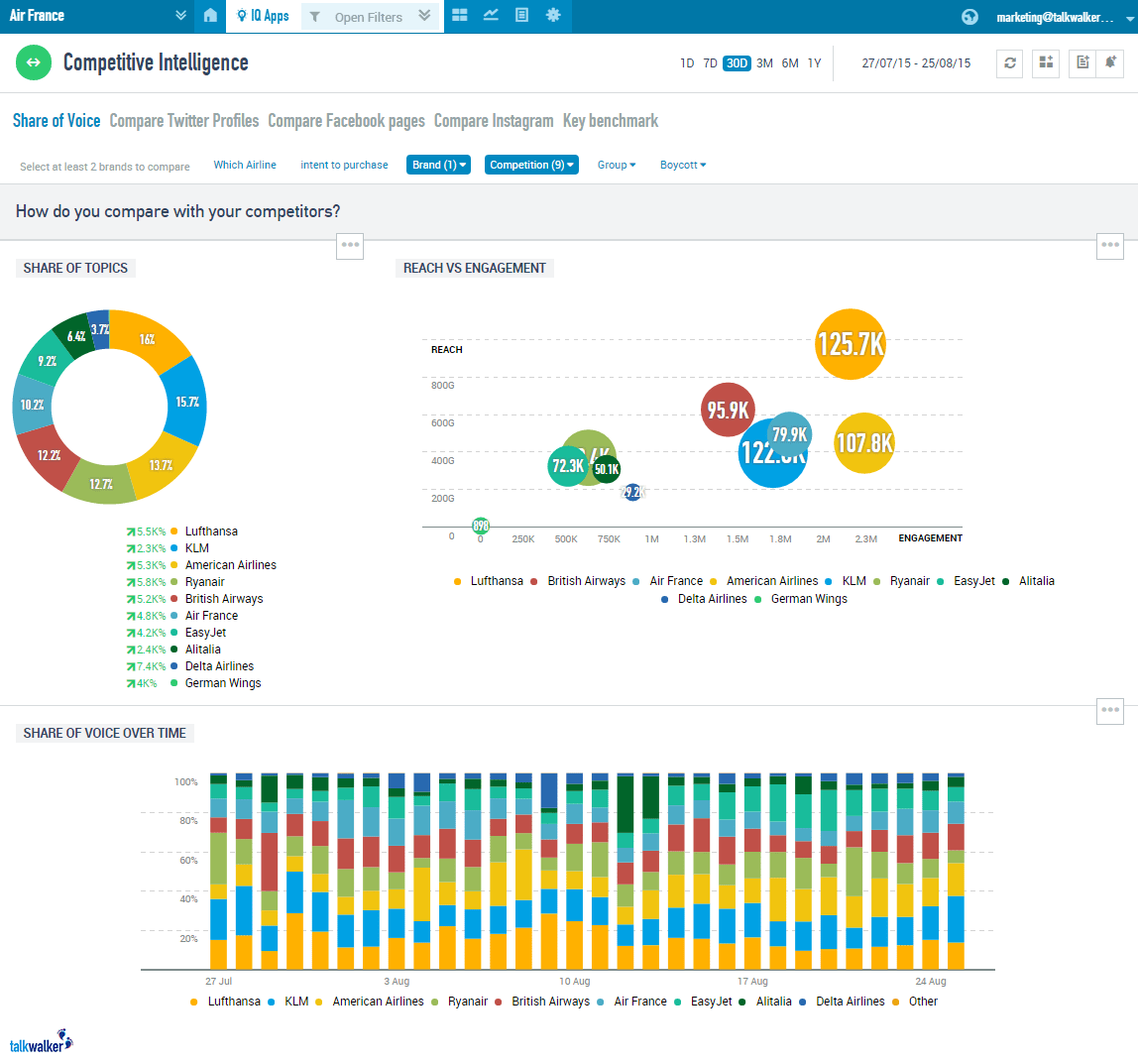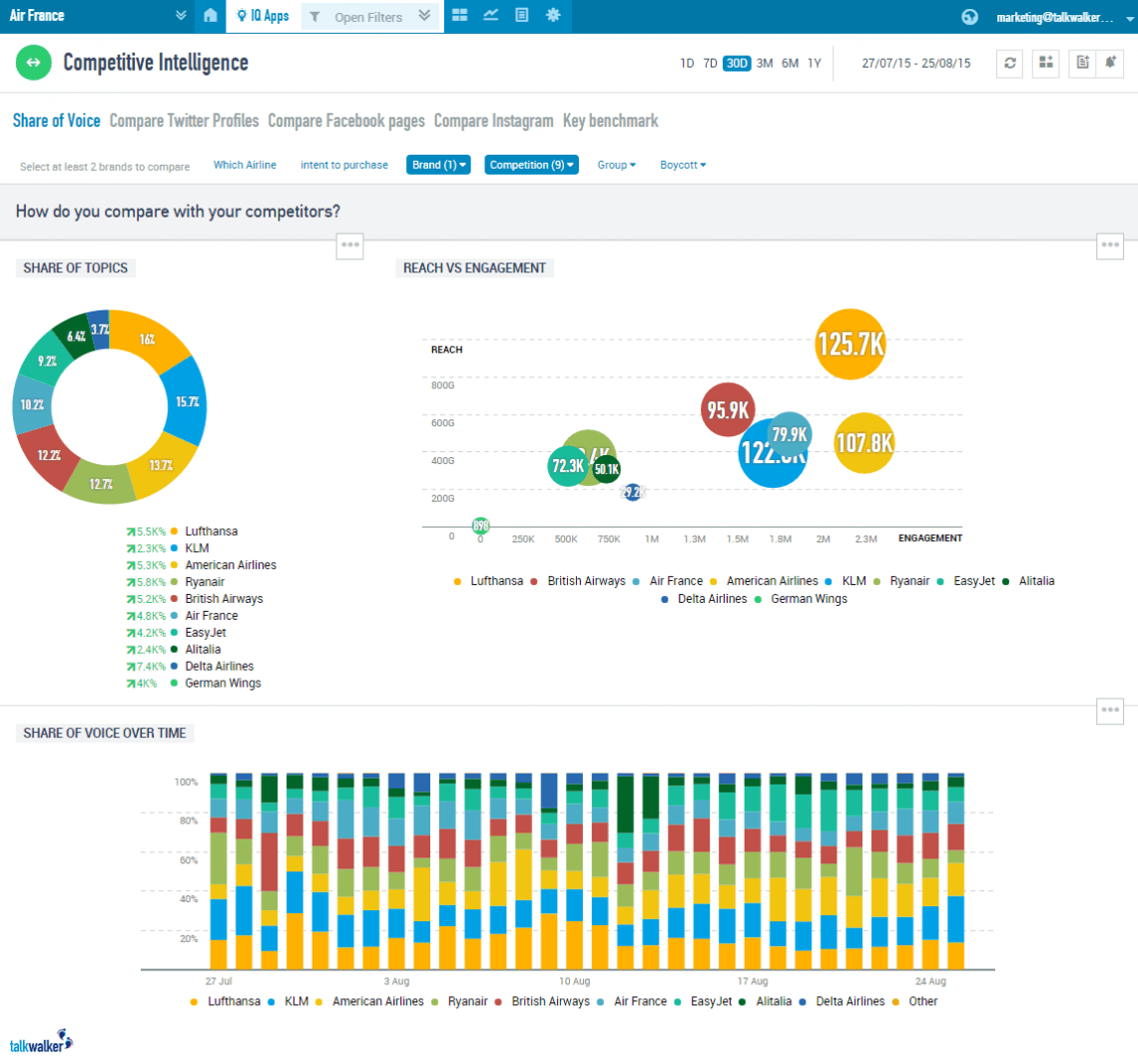 Talkwalker alternatives: Brand24. Features
Let's take a look at the features that both social listening tools offer, as the possibilities of both Brand24 and Talkwalker probably interest you the most.
What are we looking for?
A good alternative to Talkwalker should definitely contain similar features and give clients comparable possibilities.
According to G2, a review site that helps businesses choose the right solutions, both Brand24 and Talkwalker offer almost identical sets of features.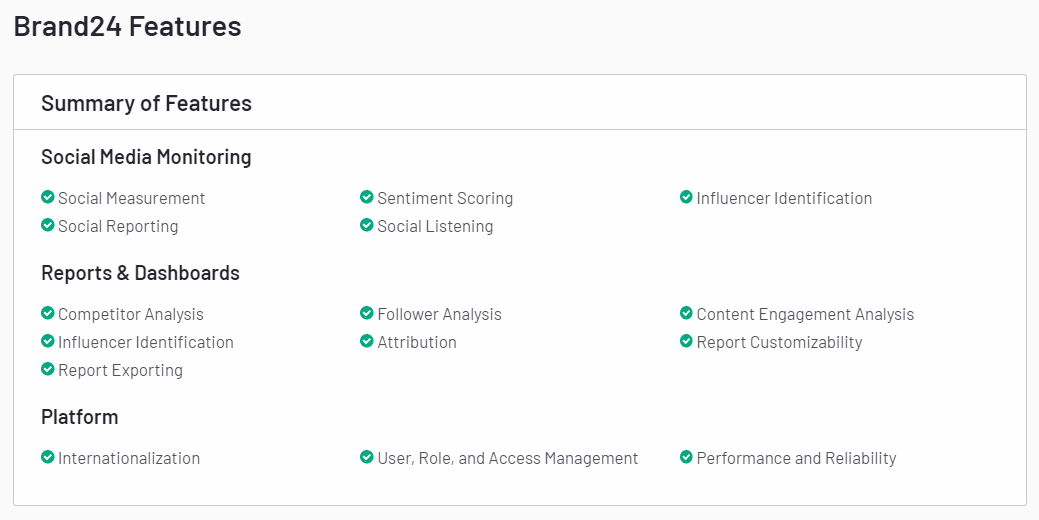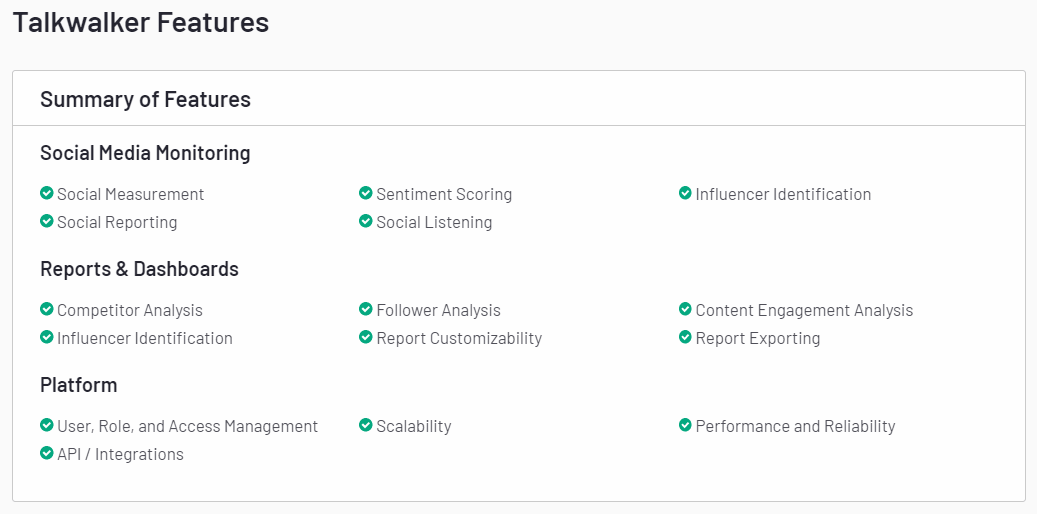 Both tools are very similar, while still one of them is definitely cheaper. Let's take a look at a couple of features a little closer to find out if there are any differences.
Monitored Platforms
Talkwalker: Facebook, Instagram, Twitter, YouTube, Websites, Blogs, Print Media, TV, and Radio
Brand24: Twitter, Youtube, Facebook, Instagram, Reddit, TikTok, Twitch, Websites, Blogs, Review sites (Yelp, Tripadvisor), Podcasts, Forums, News sites, Newsletters, and other publicly available sites.
Discover all public conversations about your business with Brand24!
Sentiment analysis
Brand24 and Talkwalker offer sentiment analysis. Both tools show whether mentions of your company are positive, negative, or neutral.
Social measurements
Brand24 and TalkwalkeBrand24 and Talkwalker both allow measuring campaigns, and metrics such as conversation volume, reach, engagement, or brand's share of voice.
Influencer identification
Both Brand24 and Talkwalker can serve for influencer marketing.
Social listening solutions like these are also considered influencer marketing tools as they help to find and identify influencers as well as make it easier to contact them. Both tools also make it possible to measure the effectiveness of influencer marketing campaigns.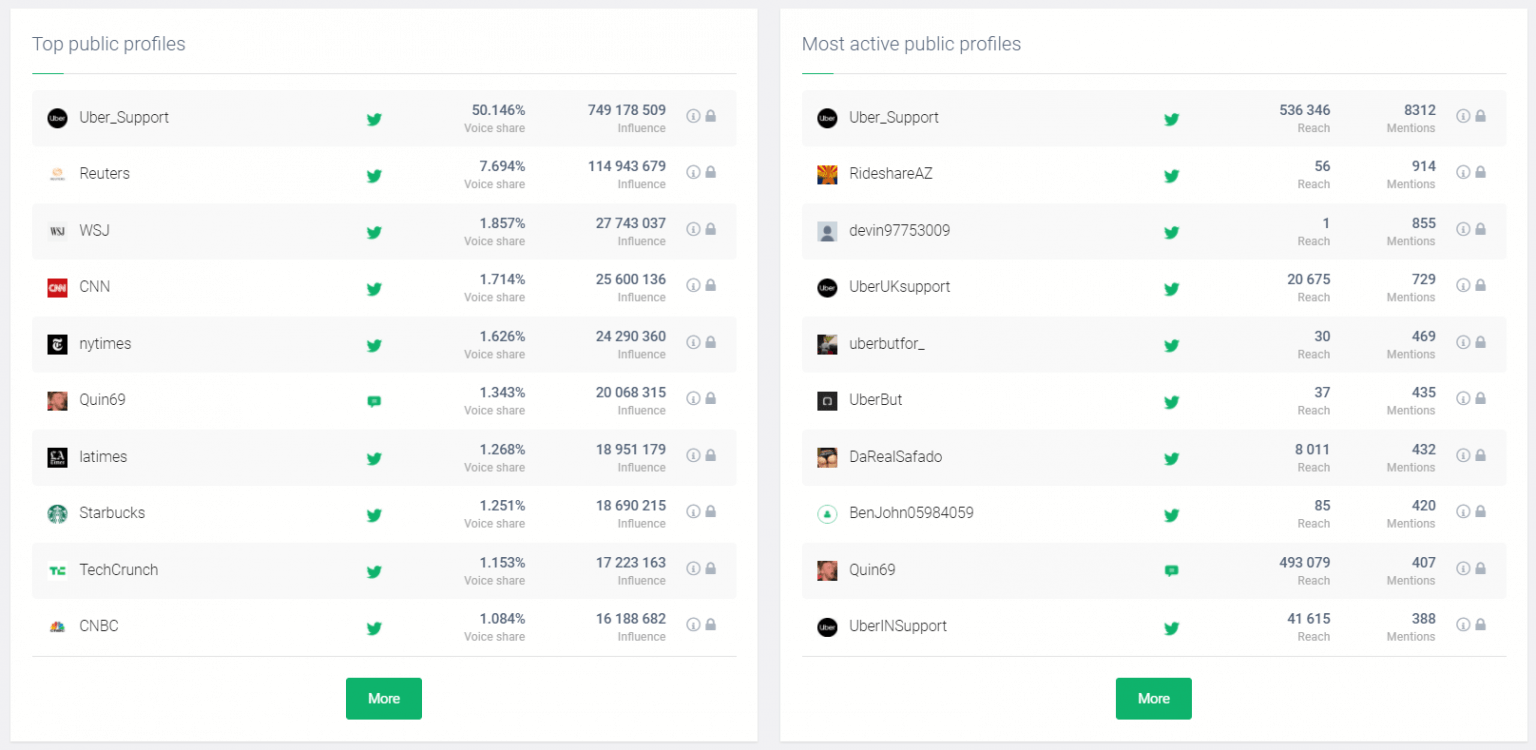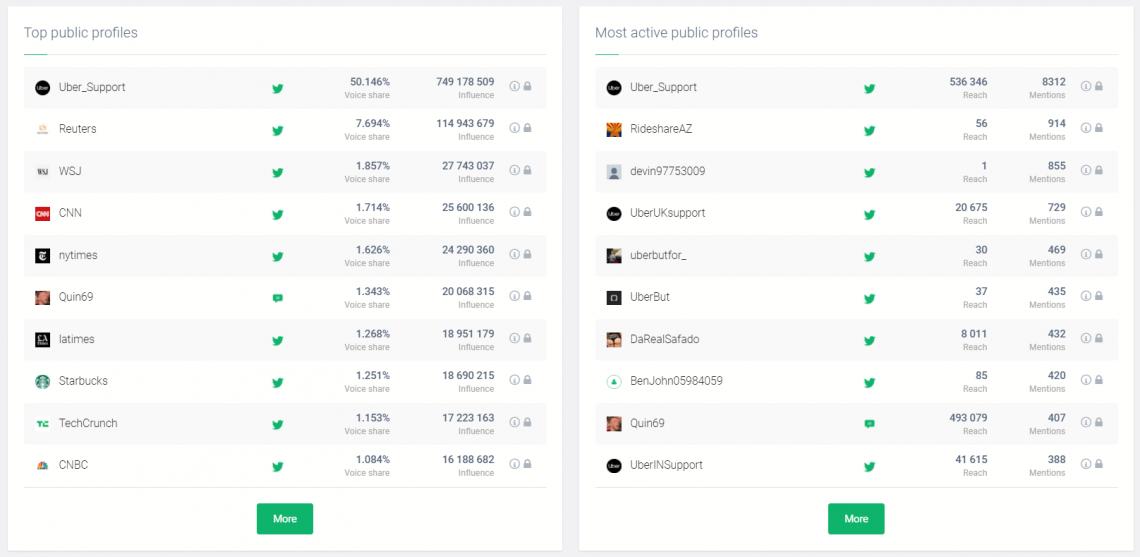 Alerting
On G2, there is not enough data about Talkwalker's alerting possibilities, but Brand24 surely offers pretty advanced alerting options. The affordable social listening platform can send out an e-mail or push notifications informing about the most important changes or mentions of your business.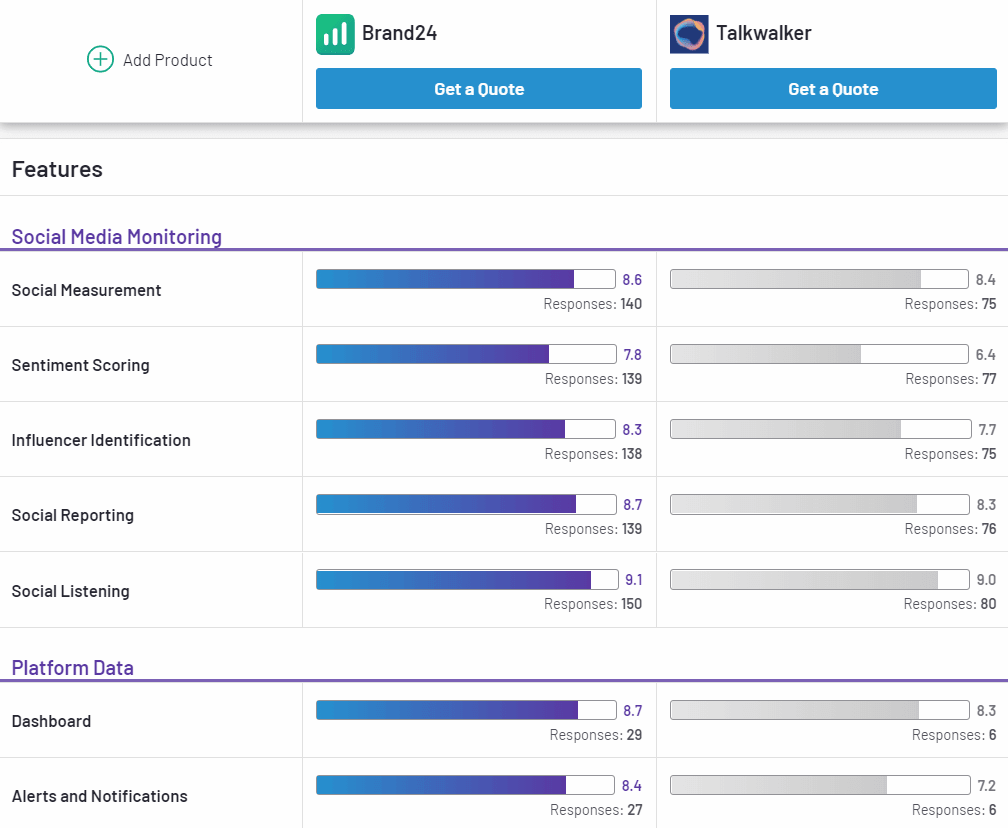 The most important features that serve for social listening in both solutions seem to be almost identical. After analyzing and comparing the features, Brand24 is a very promising alternative to Talkwalker, as its reviews are even better.
If you want to see how other features perform next to each other, check out this comparison as well.
Talkwalker alternatives: Brand24. Pricing
Pricing is what mostly tells the difference between the two platforms we are comparing.
Brand24 is a powerful, but affordable solution compared to other social listening platforms available on the market.
It is a promising alternative to Talkwalker, which is really advanced and surely effective, but a lot more expensive.
Obviously, Talkwalker targets a specific audience and is mostly used by big companies that can afford a tool like this. Brand24 is an alternative, as it's a lot more accessible and suitable for all types of businesses. That's why thousands of brands all over the world use it for social media monitoring.
Talkwalker Pricing
Talkwalker offers a demo on request.
Basic, $9,600/year
Corporate, Custom Pricing
Enterprise, Custom Pricing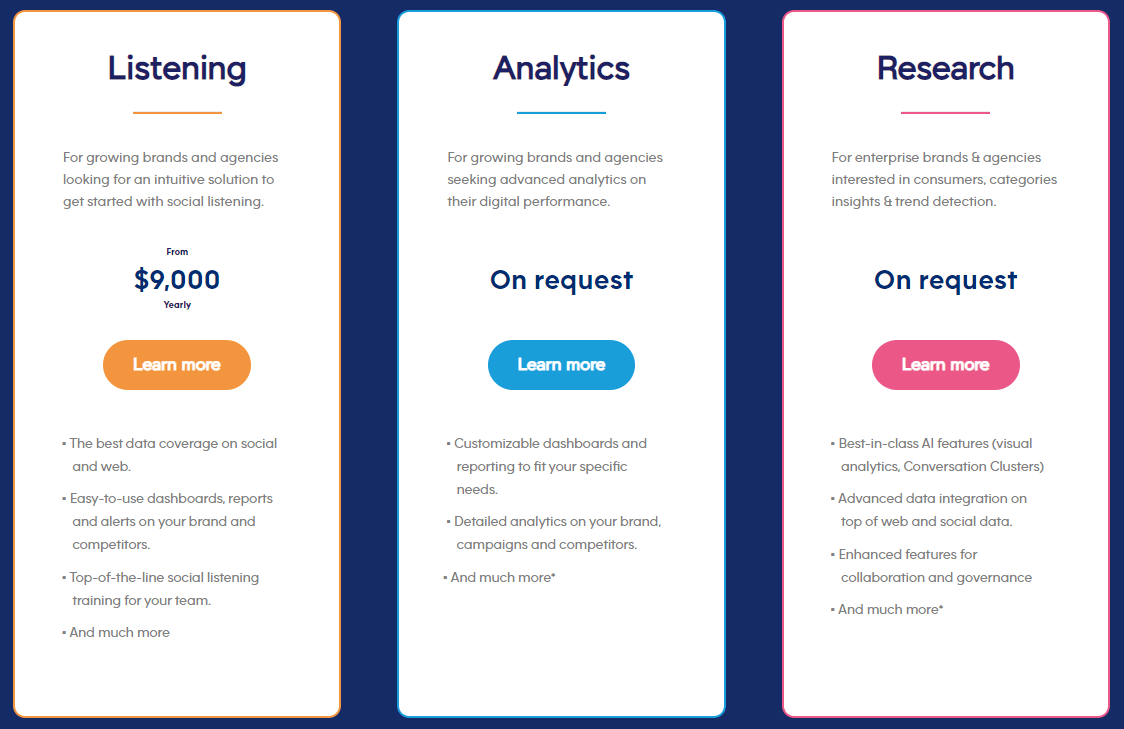 Brand24 Pricing
Brand24 offers a 14-day free trial!
Personal Plus $49/month
Professional Premium $99/month
Professional Business $149
Professional Max $249/month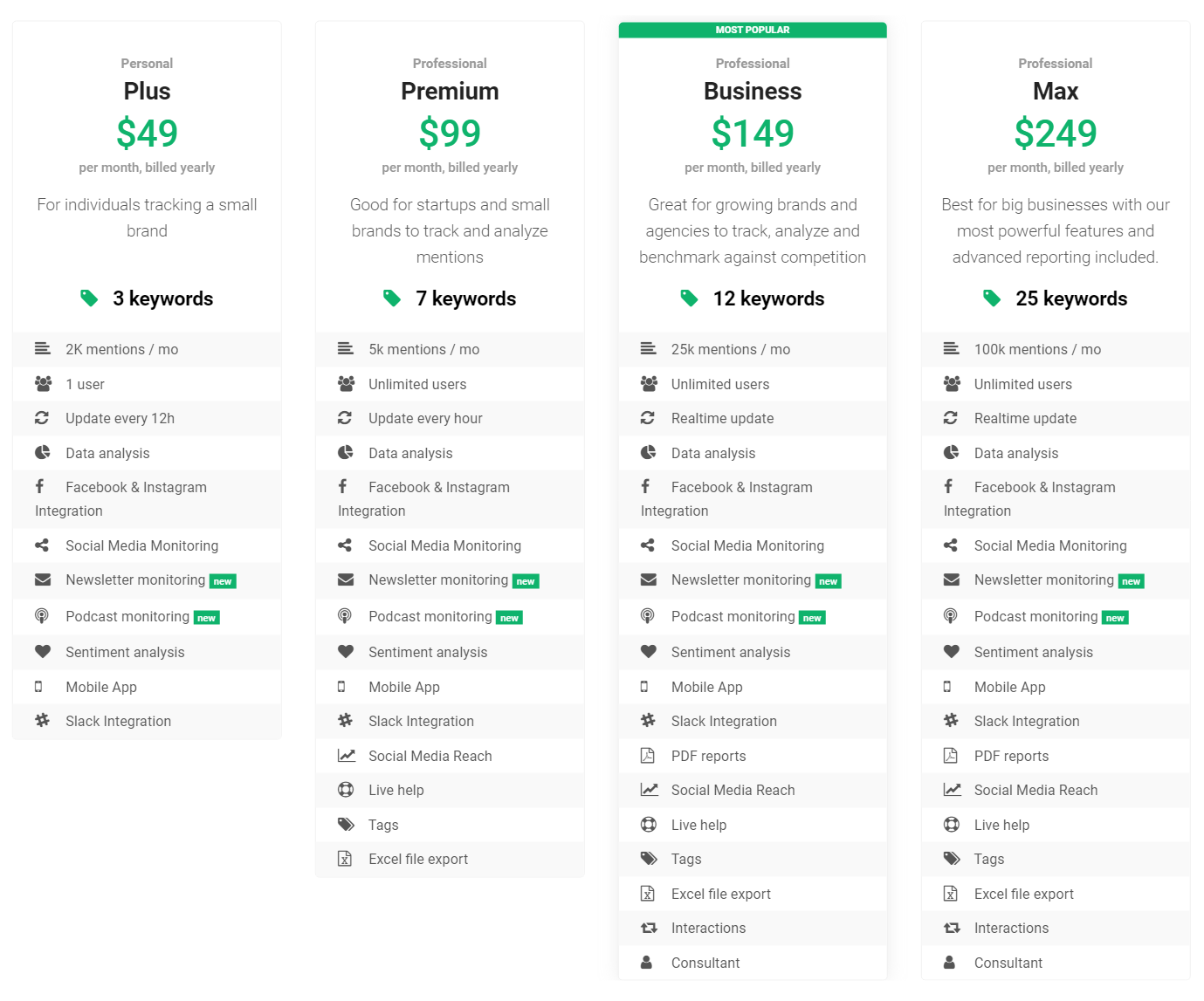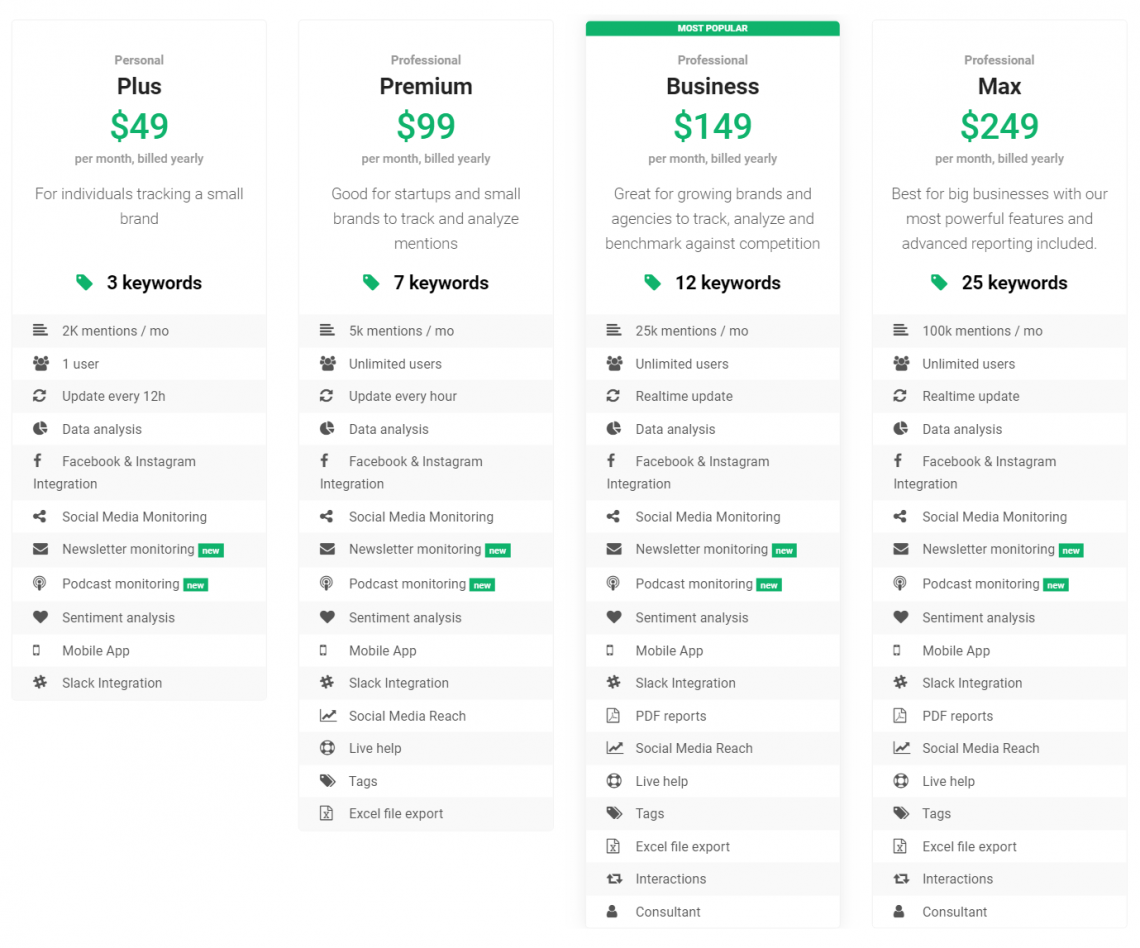 Brand24 pricing can also be customized, depending on the amount and type of social media data you need.
Comparing those pricings, Brand24 is definitely more affordable.
Check Brand24 pricing and plans!
Want to save 7212$/year on the social listening tool?
You can do it by choosing an alternative to Talkwalker. Even if you decide on Brand24's Professional Max plan (the most expensive) over Talkwalker's Basic plan (the cheapest), you will still be able to save a good amount of money.
If your business is going through a tough time and you need to take care of your budget, you might want to look at alternatives to Talkwalker or other expensive tools. Brand24 seems to be the best option.
Is Brand24 a good alternative to Talkwalker?
After analyzing different aspects of both Brand24 and Talkwalker, I feel like we all can agree that these social listening tools are obviously still very different, but at the same time very similar.
Talkwalker is definitely an enterprise-class software that works effectively. I would recommend it to big corporations and companies that don't need to worry about their budget and can afford to spend a lot of money on a social media monitoring tool.
Brand24 in my biased opinion can be a good alternative to Talkwalker.
This social listening solution offers almost identical features, has even better reviews, serves for various purposes, is very easy to use, and, most importantly, is a lot cheaper.
Furthermore, Brand24 tracks more social networks than Talkwalker. So if you want to build a strong social media strategy for your brand, definitely consider investing in this tool.
Brand24 is accessible for every type of business. It can be used not only by small brands but also by bigger companies as well since it is also very advanced and effective. It offers a free trial that is also an advantage over Talkwalker.
Try the best Talkwalker alternative!
FAQ
What is similar to Talkwalker?
Several tools offer functionalities similar to Talkwalker, providing comprehensive social media analytics, publishing capabilities, and more:
Brand24: Like Talkwalker, Brand24 offers powerful social media analytics, providing real-time insights across various social media accounts. It's particularly beneficial for marketing teams aiming to streamline their social media campaigns.
Hootsuite: Hootsuite provides robust features for managing social media accounts, scheduling posts, and analyzing performance. It's a comprehensive platform that can assist businesses in their marketing efforts.
Sprout Social: Sprout Social offers extensive capabilities for social media publishing, analytics, and engagement. It's a suitable tool for employee advocacy solutions as well as managing and analyzing social media campaigns.
Mention: Mention offers real-time media monitoring and competitive analysis features, supporting marketing agencies in refining their strategies.
Where is Talkwalker based?
Talkwalker, a leading marketing platform, is headquartered in Luxembourg. While the company originated in Europe, it now operates globally, offering social listening and analytics services to businesses worldwide. It also has offices in several other locations including New York, San Francisco, Frankfurt, Paris, and Singapore.
Is Talkwalker free?
Talkwalker has free alerts. Talkwalker does not offer a completely free version of its social media listening tool. However, they do have a free demo available that allows users to test out the platform's features and see if it fits their needs. For comprehensive access to Talkwalker's social media listening and analytics capabilities, there are several paid plans available. For the most accurate and up-to-date information, it is recommended to visit the Talkwalker website or contact their sales team directly.
What is the coverage of Talkwalker?
A: Talkwalker offers comprehensive coverage when it comes to social data and business insights. Its platform is designed to monitor and analyze online, social, print, and broadcast channels globally. It collects data from a vast range of sources, including blogs, forums, news sites, and all major social networks such as Twitter, Facebook, Instagram, YouTube, and more.