Hashtagify alternatives: Brand24
January 31, 2023 ・ 12 min read
It's no secret that hashtags are a powerful tool for social media managers. They help connect with relevant audiences, track popular conversations, and measure the impact of your social media marketing campaigns. To do all those things more efficiently, you are probably trying the hashtag generator tool Hashtagify. But is it the only tool you can use? Of course not! Today I will present Brand24 as a Hashtagify alternative.
I'm sure you know that running a hashtag campaign without measuring its results is pointless. Unfortunately, social media platforms usually present basic metrics. To explore in-depth analytics, you need a great tool.
I assume that (for some reason) you are not fully satisfied with Hashtagify. I've tested it, and understand you. It has some limitations, especially regarding the number of social media platforms it can monitor.
The good news is that you can try an alternative that gains data from many more sources. I'm talking about the hashtag tracker Brand24.
Let's compare those two tools!
Table of contents:
Overview
Hashtagify is a tool that focuses on hashtag marketing. It serves 4 primary purposes: to find the right hashtags, gain insights to plan ahead, drive up engagement, and market the results.


With this tool, you'll be able to:
Discover the popularity of a hashtag
Discover related hashtags
Explore hashtag trends
Monitor the performance of hashtags
Track any Twitter hashtag
Analyze reach
Gain suggestions for social media posts
Monitor competitors or influencers
Provide hashtag analytics
Create custom reports
The tool focuses mainly on Twitter. Therefore, you can track and analyze hashtags on Twitter or follow Twitter users and get in-depth analytics. Hashtagify aims to boost your social media strategy through efficient hashtag marketing.
Brand24 is a hashtag tracker that tracks and analyzes hashtags in real-time on multiple social media platforms such as Instagram, Twitter, Quora, YouTube, Reddit, TikTok, Twitch, and Telegram. That's not everything. The tool monitors news sites, blogs, forums, Medium, reviews, newsletters, and podcasts.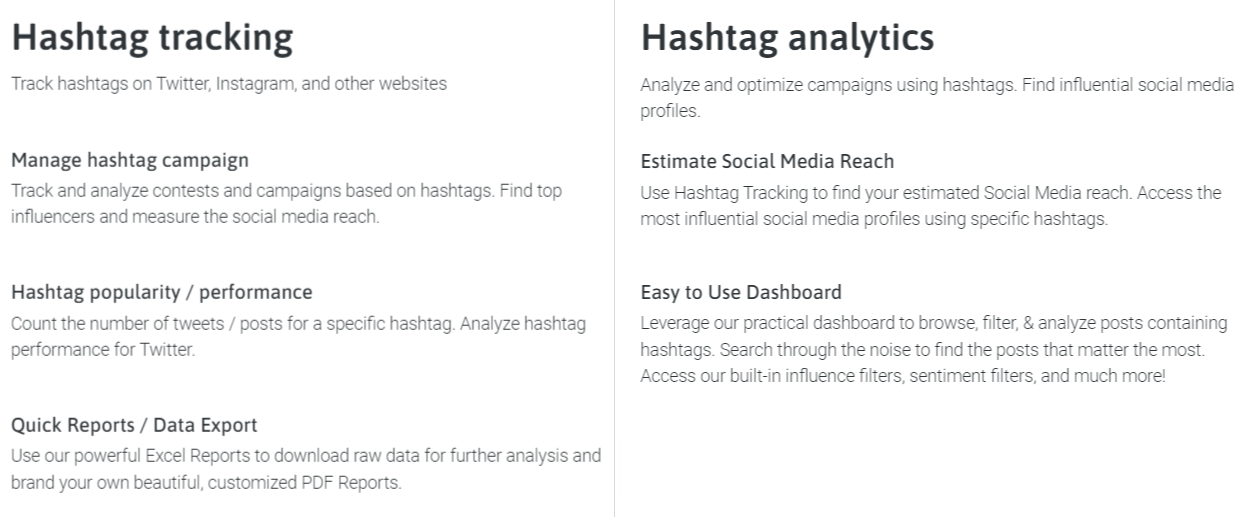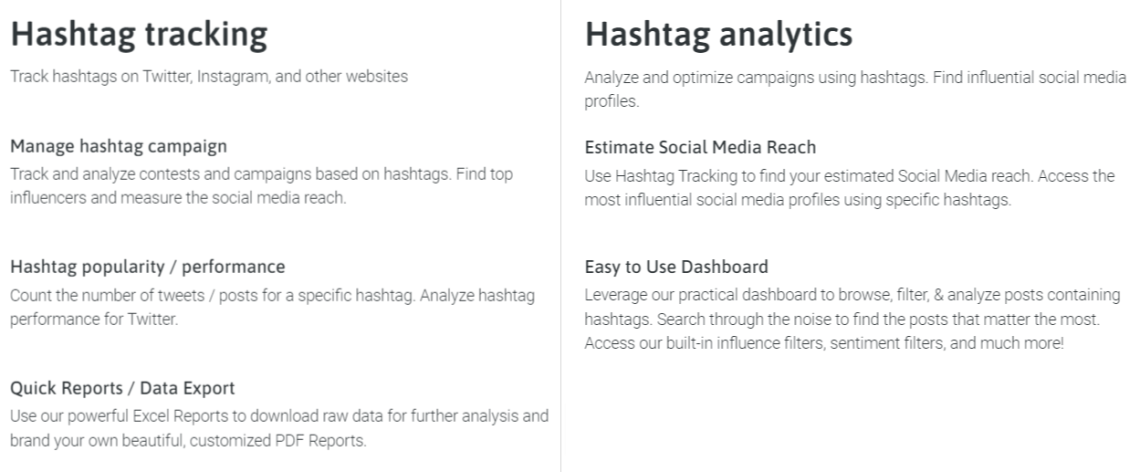 Thanks to Brand24 you'll be able to:
Track hashtags on multiple social media platforms such as Instagram, Twitter, Quora, YouTube, TikTok, Twitch, and Telegram
Discover the precise number of mentions containing a hashtag
Discover trending hashtags
Monitor the performance of hashtags
Identify top and most active influencers
Measure social media reach
Measure non-social media reach
Provide hashtag analytics
Discover the hashtag engagement rate
Conduct sentiment analysis of a hashtag
Conduct competitor analysis
Create custom reports
With Brand24 you will track the most important social media metrics. Thanks to this tool, you will evaluate many valuable insights, such as the engagement and sentiment around the hashtag.
Brand24 is a tool that tracks and analyzes hashtags in real-time. Try it during a 14-day free trial!
Features
Good hashtag generator tools should let you find the most popular hashtags for your social media content and present analytics to see how your hashtags perform. Both Hashtagify and Brand24 will let you do that.
01 Detecting hashtag popularity
Hashtagify detects popularity, recent popularity, and monthly and weekly trends of a hashtag.

Brand24 detects the precise number of public mentions containing a hashtag. Also, it presents how many times the hashtag was used on Twitter, Instagram, Facebook, and other sources.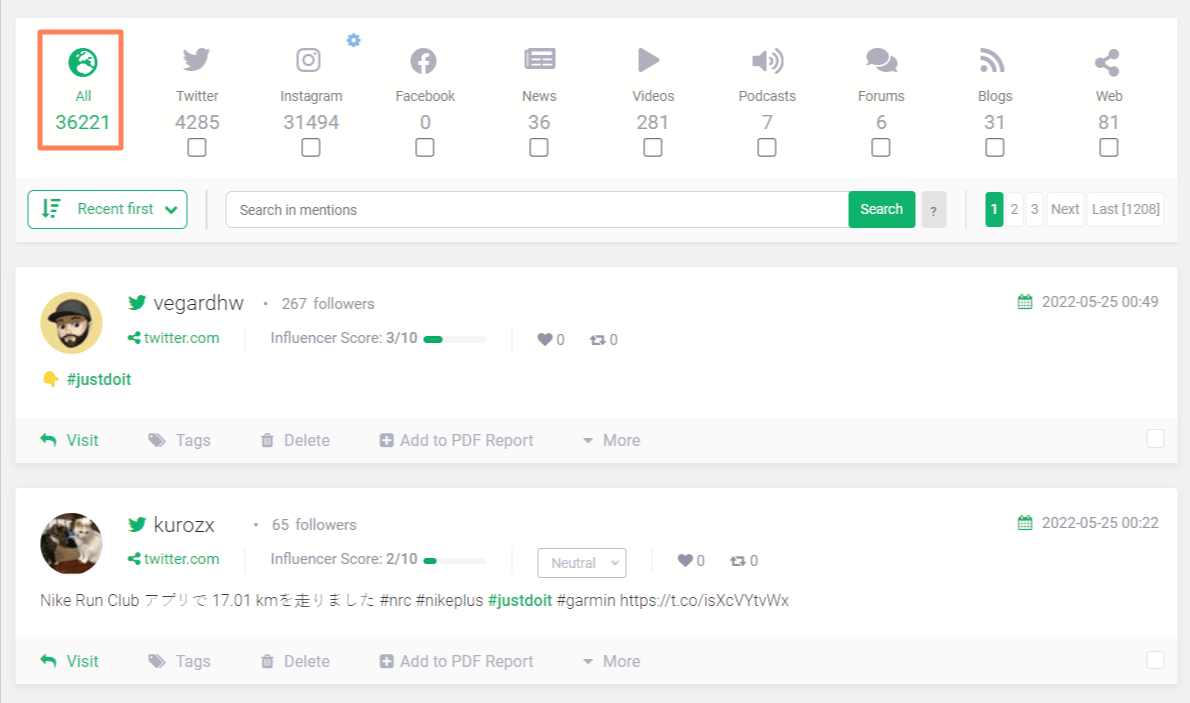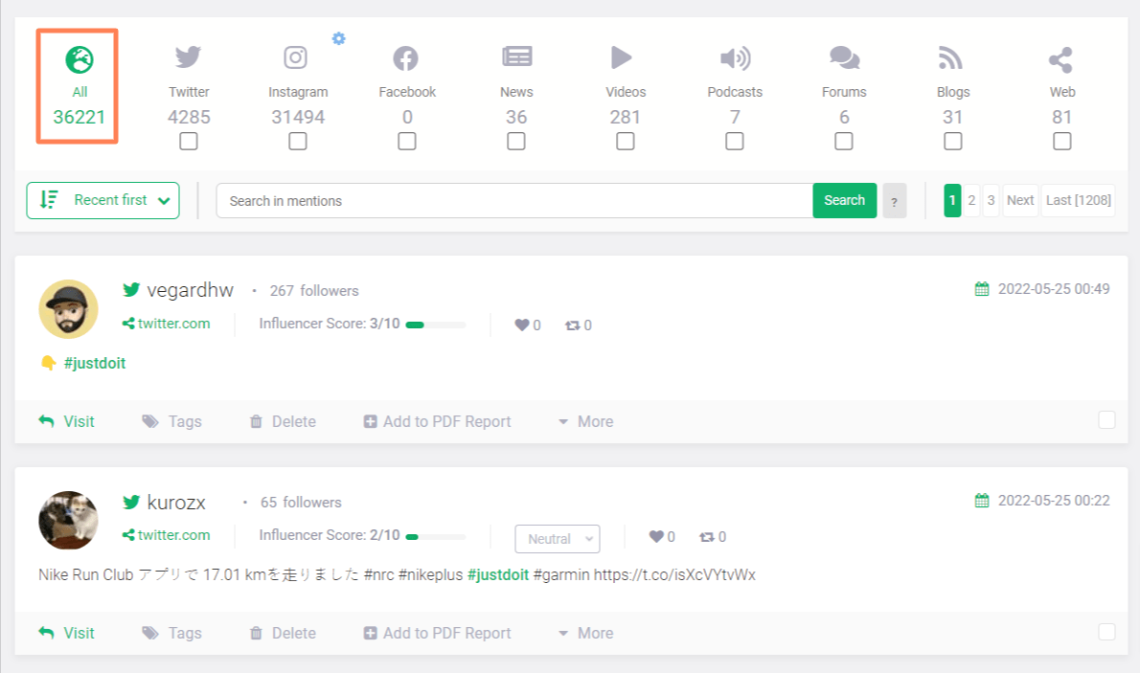 02 Finding relevant hashtags
One of the essential features of Hashtagify is related hashtags discovering. I was curious about this feature.
I wanted to find hashtags that would match #JustDoIt. The results were surprising. Most of the hashtags were related to the Nike brand, but two of them, #Jaemin and #Jeno, were connected with South Korean rappers and their music performances.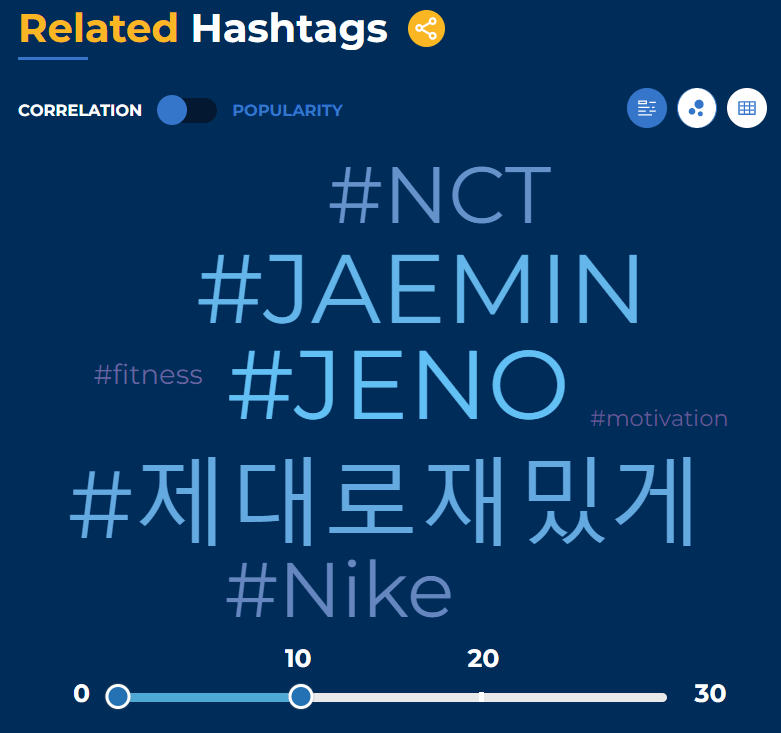 Brand24 detects top trending hashtags that match your business. Here you can see the results related to the famous #JustDoIt hashtag. The tool sorted them by the number of mentions.
The results are pretty accurate. Hashtags #fitness #motivation #workout #running #noexcuses suite Nike brand.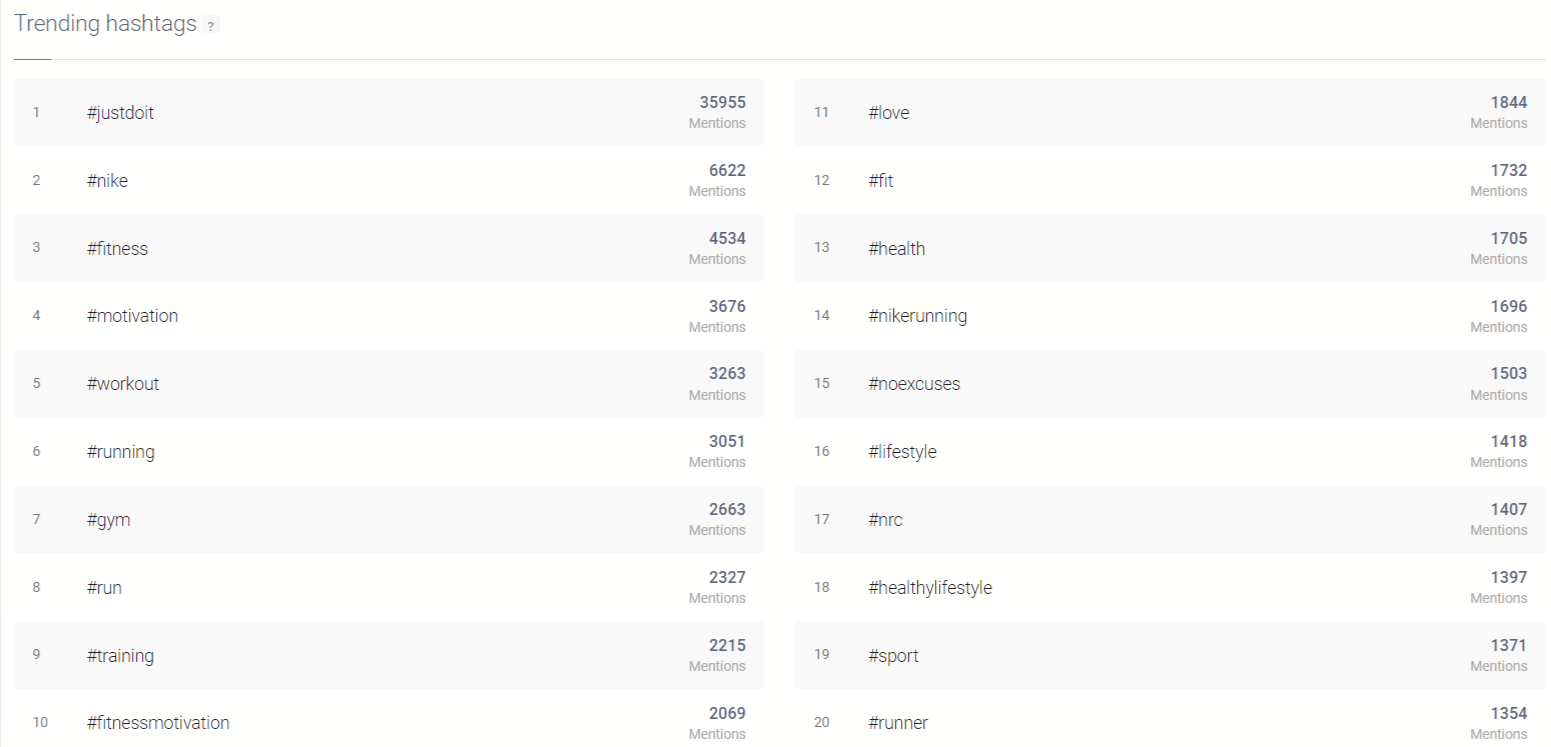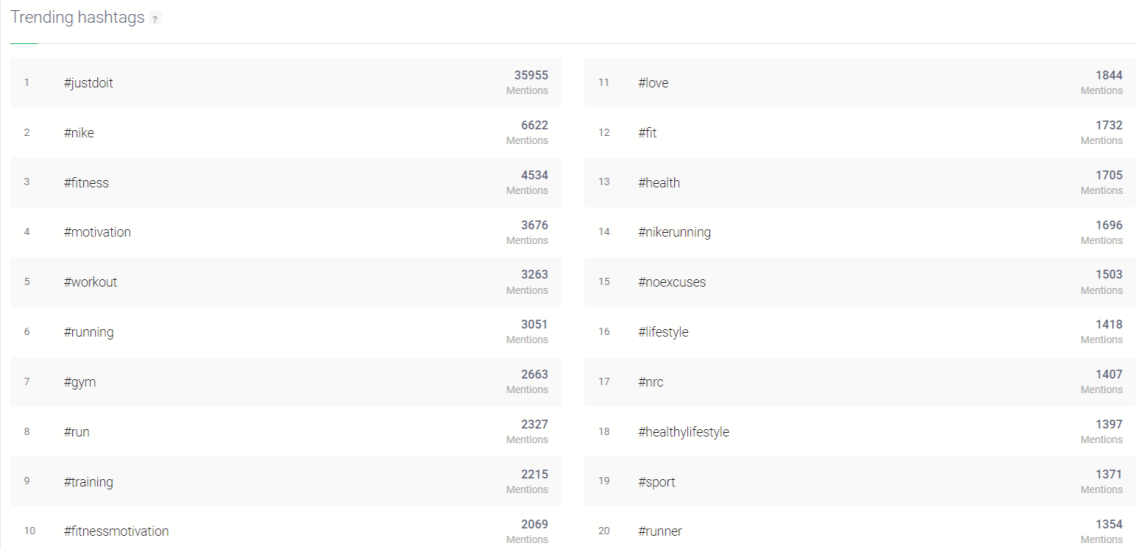 Furthermore, the Brand24 tool has one more exciting feature that will help you improve your hashtag strategy. The context of a discussion is a list of the most popular words that appear with the monitored hashtag. That means social media users use those words commonly.
How about using them as hashtags?


Read more about how to find:
Brand24 is a tool that finds trending hashtags from your business niche.
03 Finding top influencers
Hashtagify shows Twitter users that mostly use hashtags.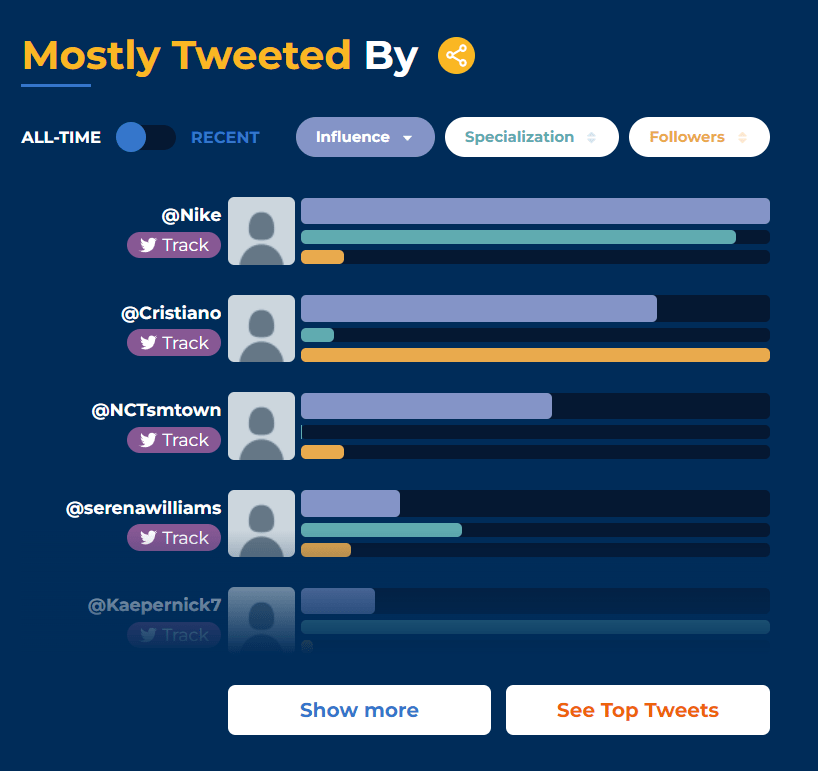 Brand24 presents top public profiles and most active public profiles. The tool is based on important social media metrics such as voice share, influence, reach, and mentions.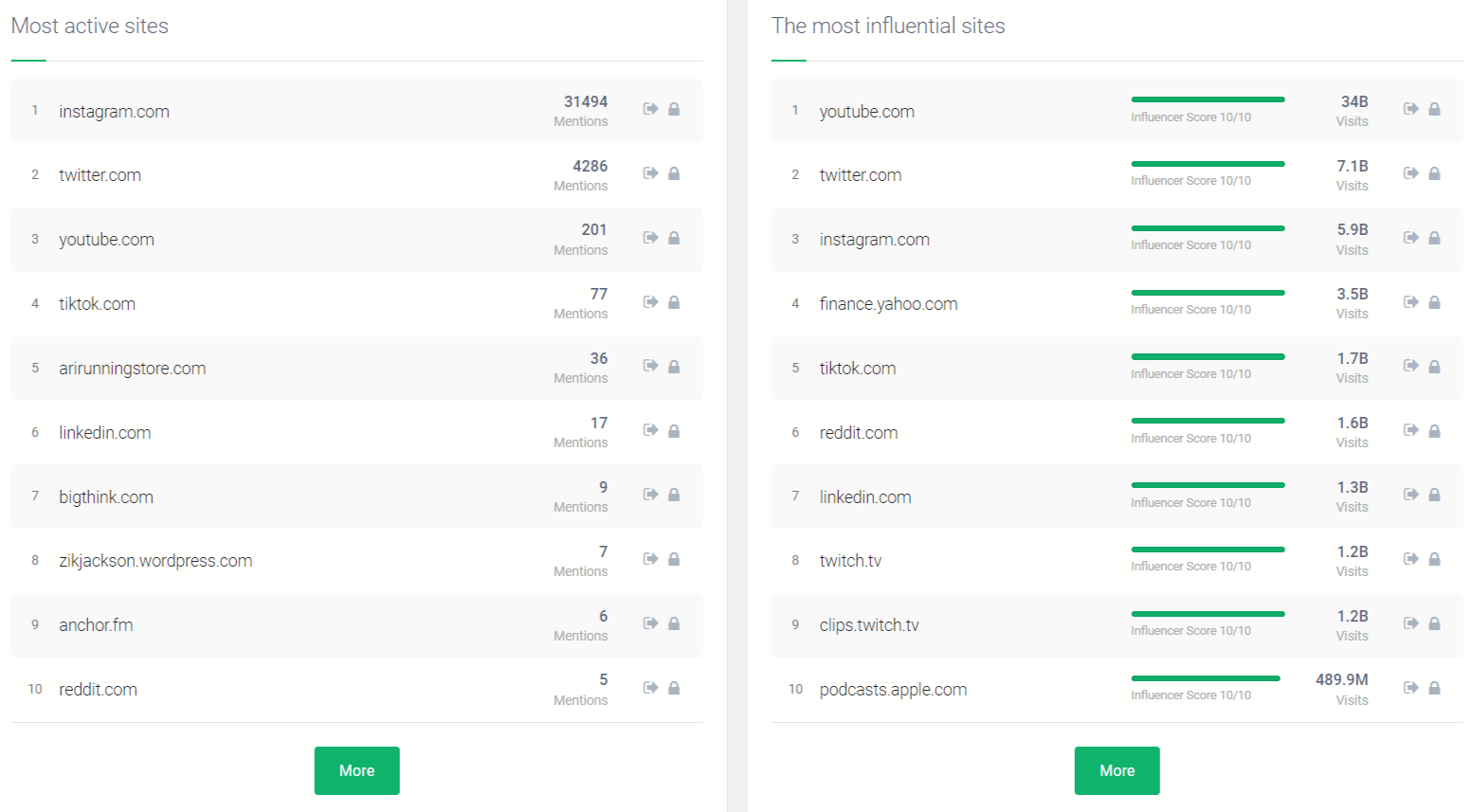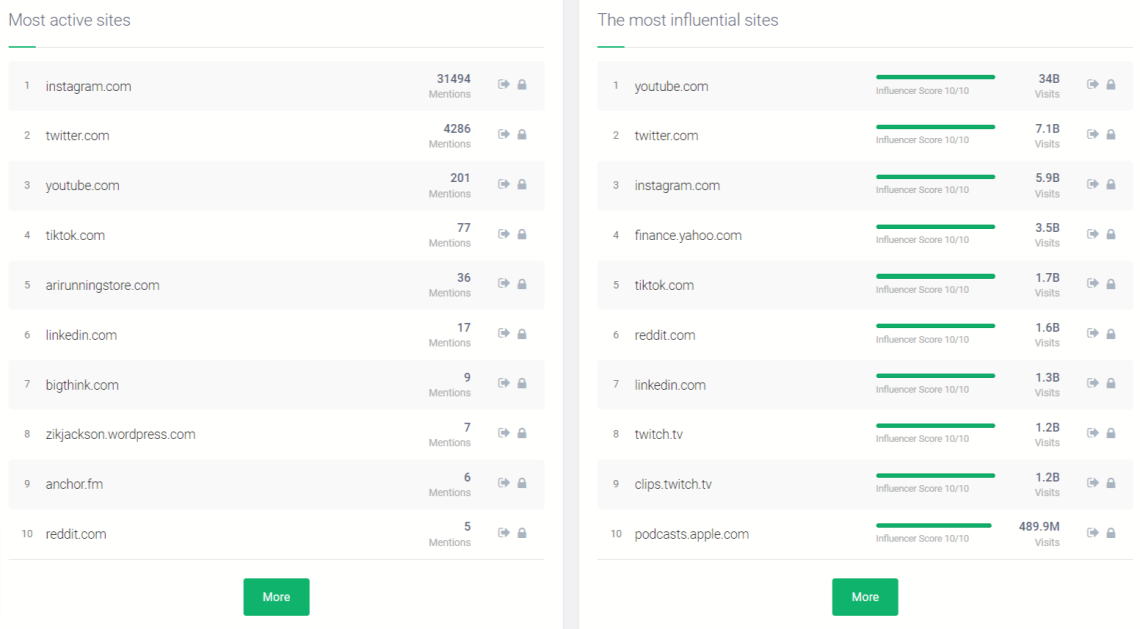 04 Wall of mentions
As Hashtagify mainly focuses on Twitter, it presents a Tweets Wall.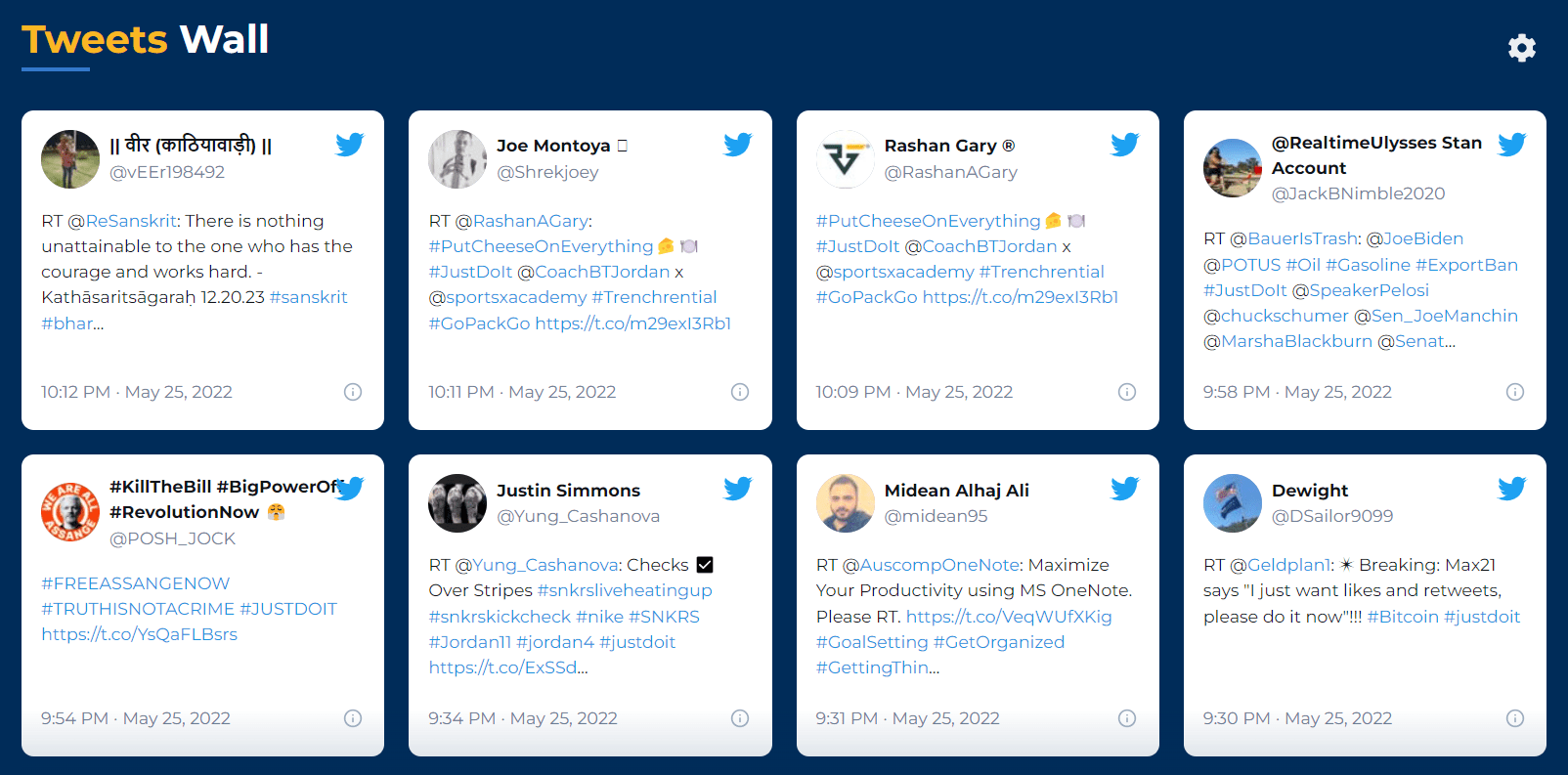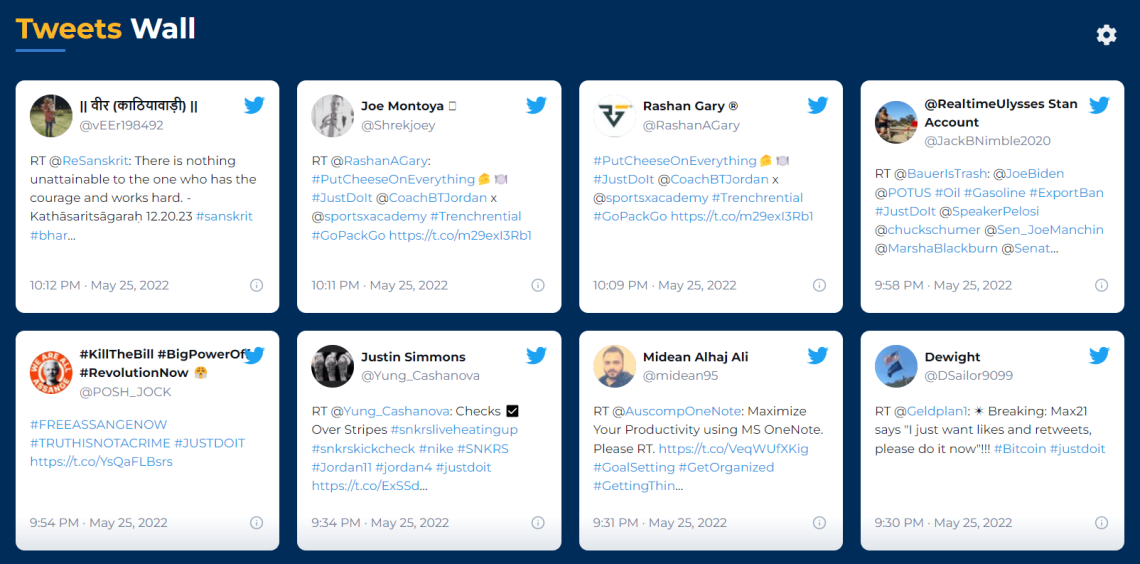 Brand24 presents a wall of mentions from multiple social media channels such as Instagram, Twitter, Quora, YouTube, TikTok, Twitch, and Telegram. In addition, the tool is equipped with advanced filters, so you can sort data in many different ways.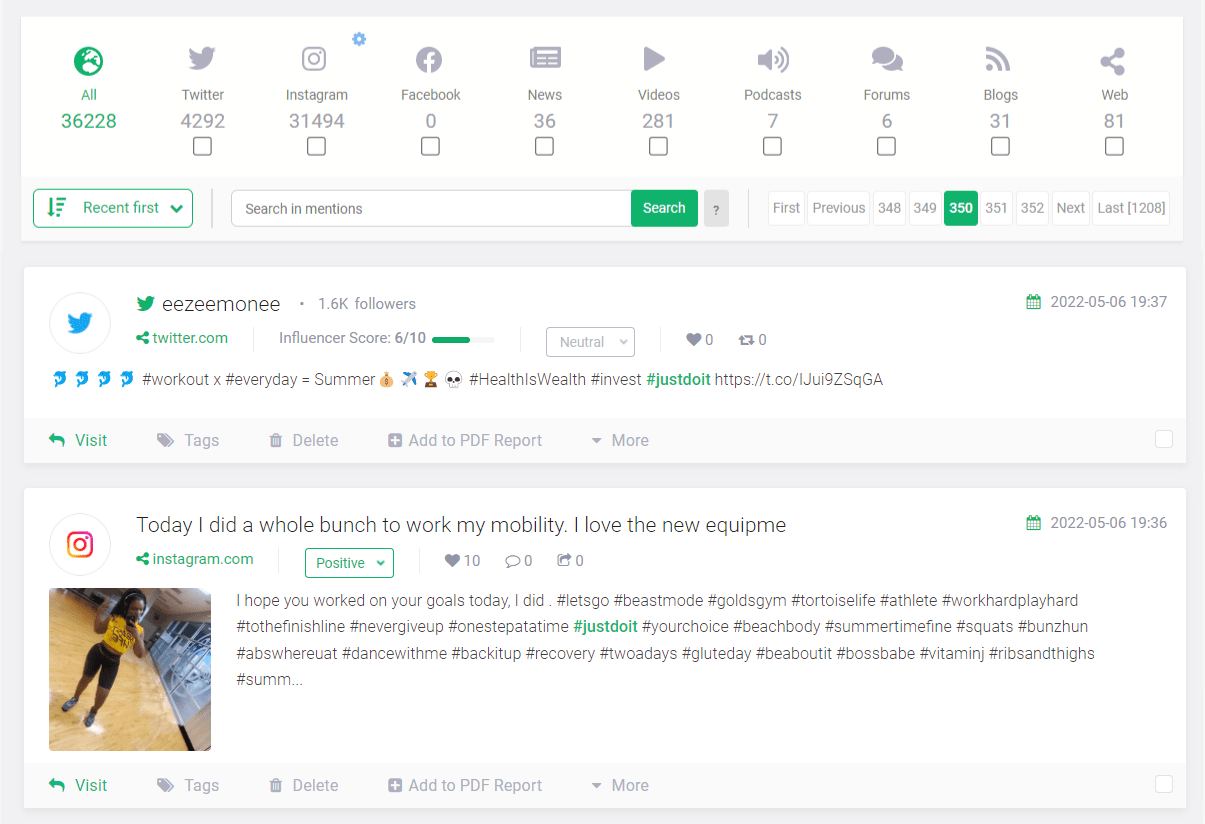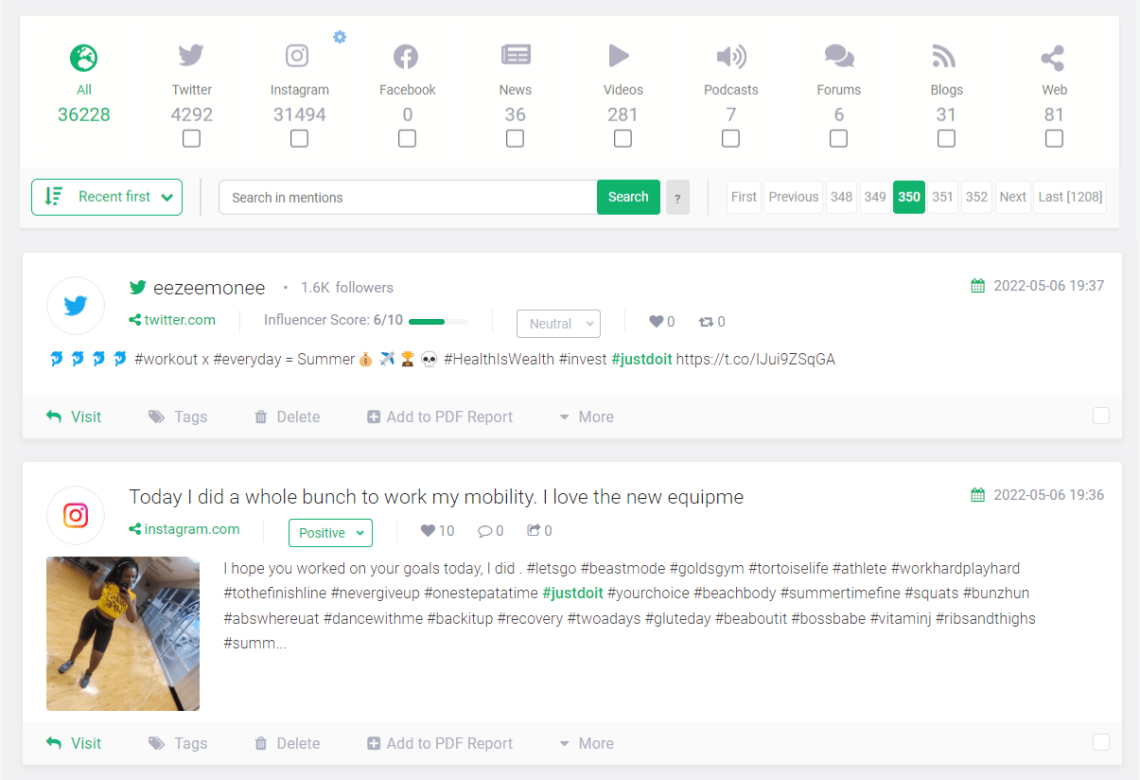 Set up Brand24 and track hashtags across Instagram, Twitter, Quora, YouTube, TikTok, Twitch, and Telegram.
05 Unique features of Hashtagify
As Hashtagify mainly focuses on hashtag marketing, all its features are related to searching popular hashtags and finding insights that will help develop your social media accounts.
Languages used
Hashtagify detects which language is the most commonly used. That can be a valuable tip in which countries you should intensify social media marketing efforts.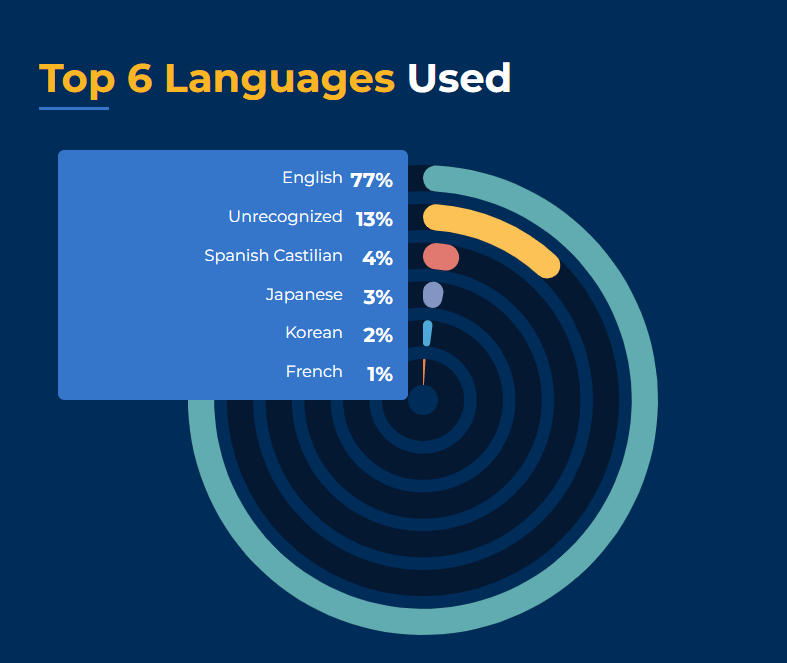 Spelling variants
Spelling variants are an interesting feature that helps us understand how social media users type hashtags. As we can see, most people prefer to write lowercase hashtags. The reason is simple: it's less time-consuming.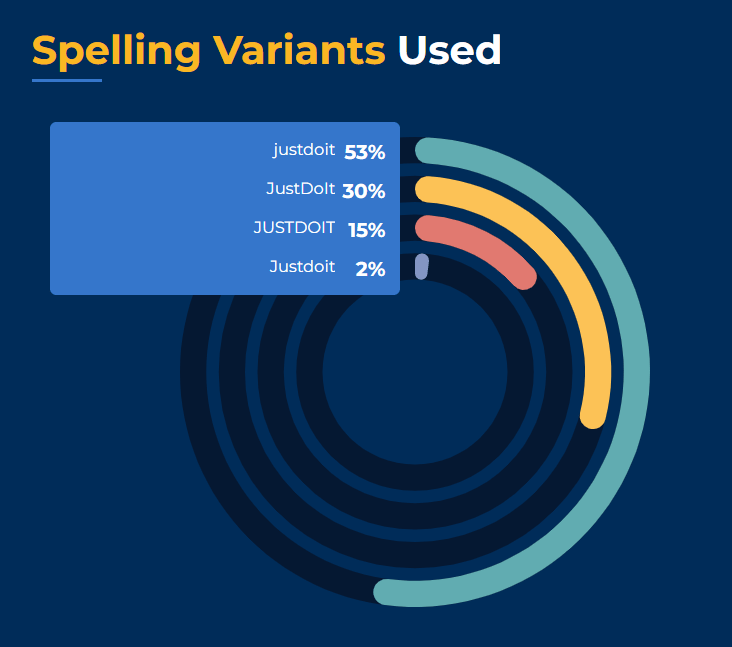 Top countries
With Hashtagify you will discover top countries that use hashtags. The data are shown on the map.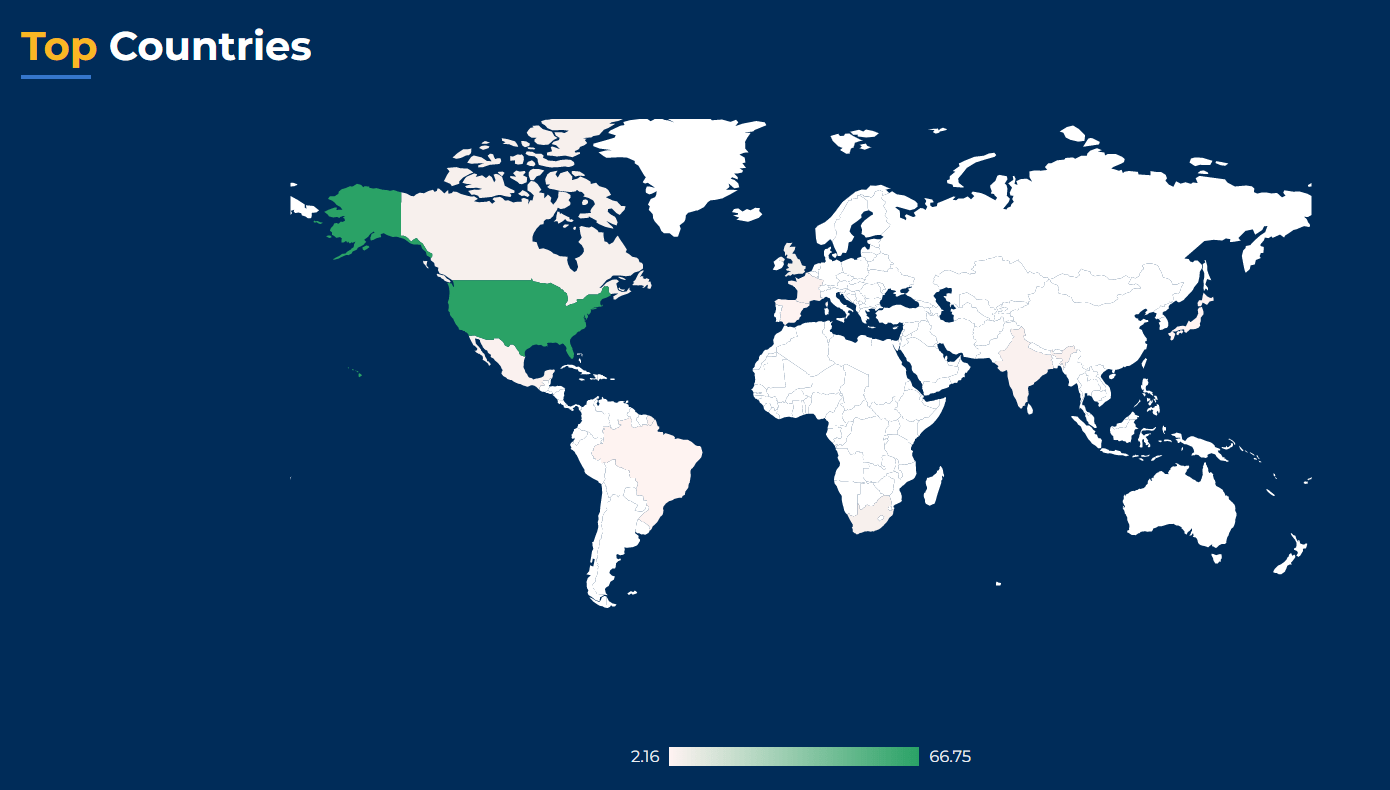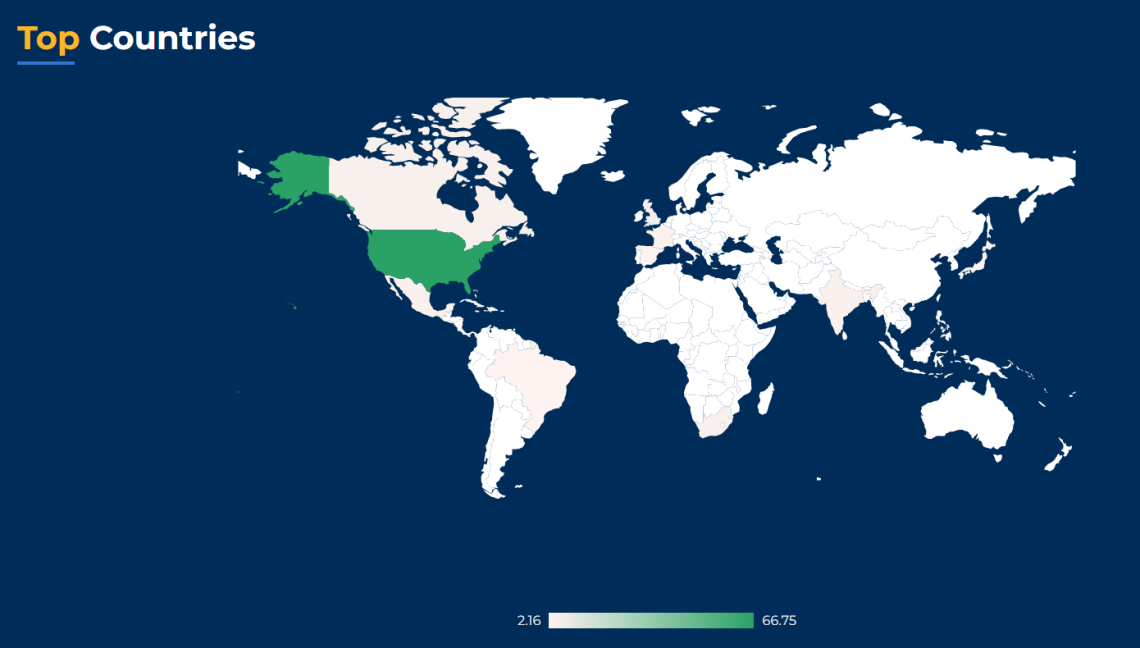 06 Unique features of Brand24
Brand24 is more than just a hashtag tracker. It is an advanced social media monitoring tool. The tool is equipped with some exciting features and metrics.
Sentiment analysis
Brand24 conduct a sentiment analysis that tells you how users feel about your hashtags. The tool analyzes every mention containing a hashtag and categorizes it as positive, neutral, or negative.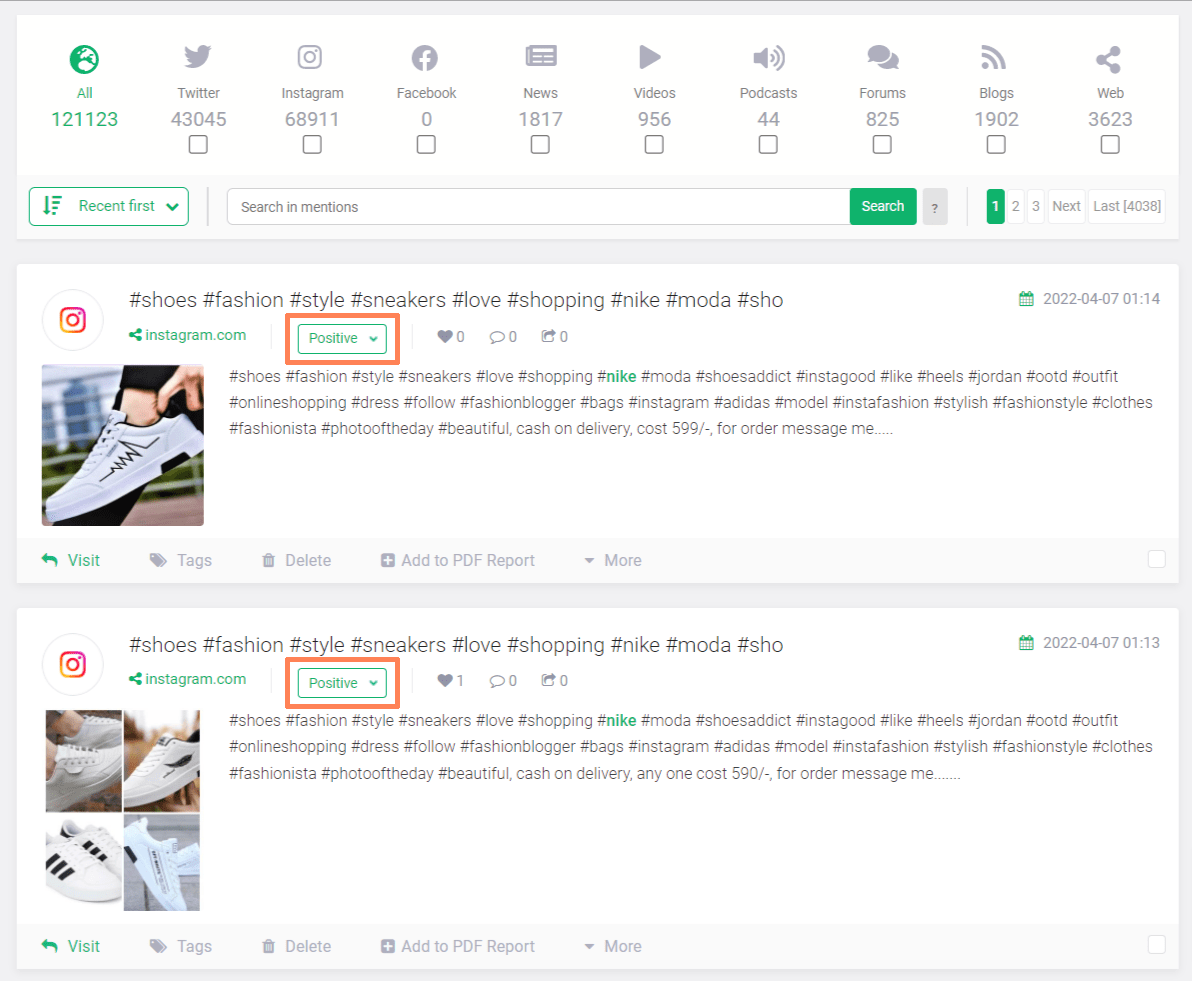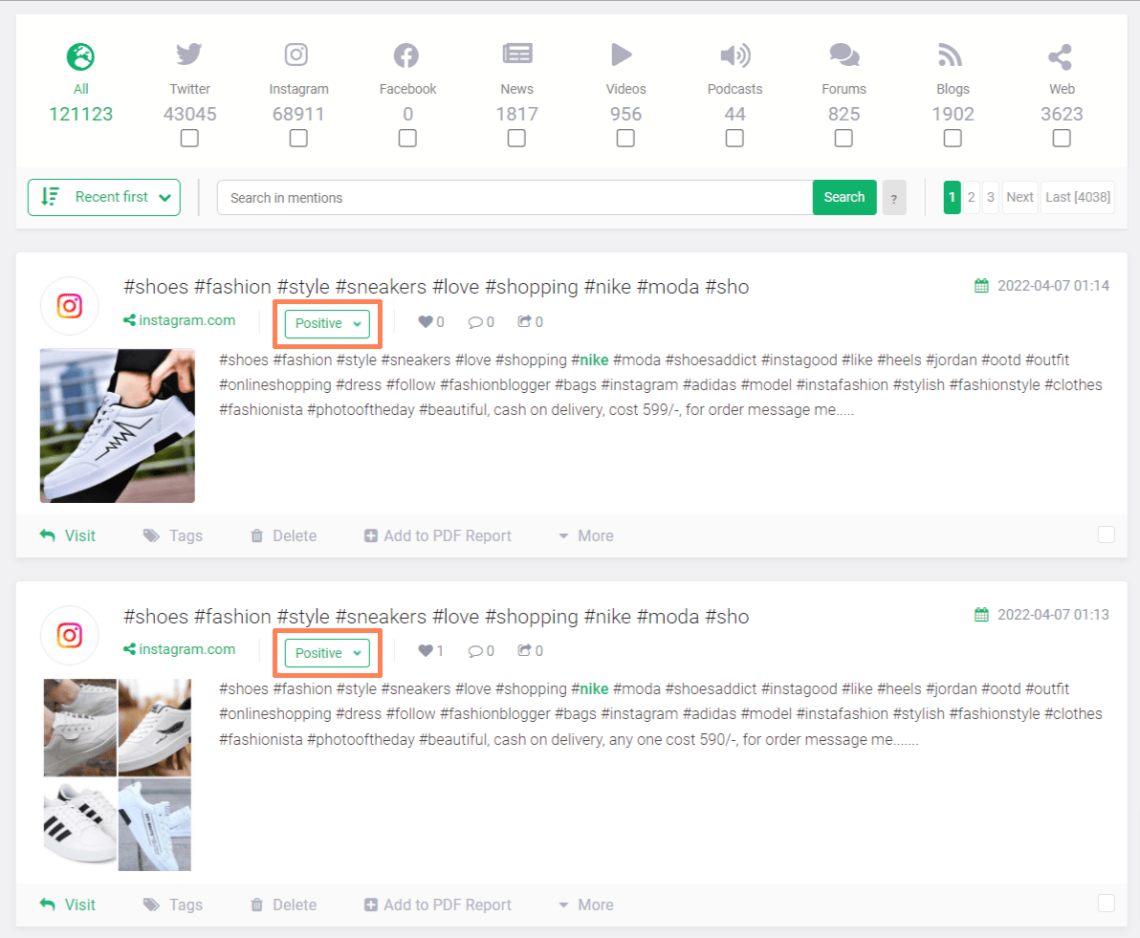 Also, the tool presents overall sentiment data on a chart:


Hashtags comparison
With Brand24, you can compare your hashtag to any other. It's a great way to learn which social media channel works best for your competitors. Also, you will discover whether the competitive hashtag has positive or negative reception by the target audience.
Below you can see a comparison of two highly popular hashtags, #JustDoIt by Nike and #ImpossibleIsNothing by Adidas.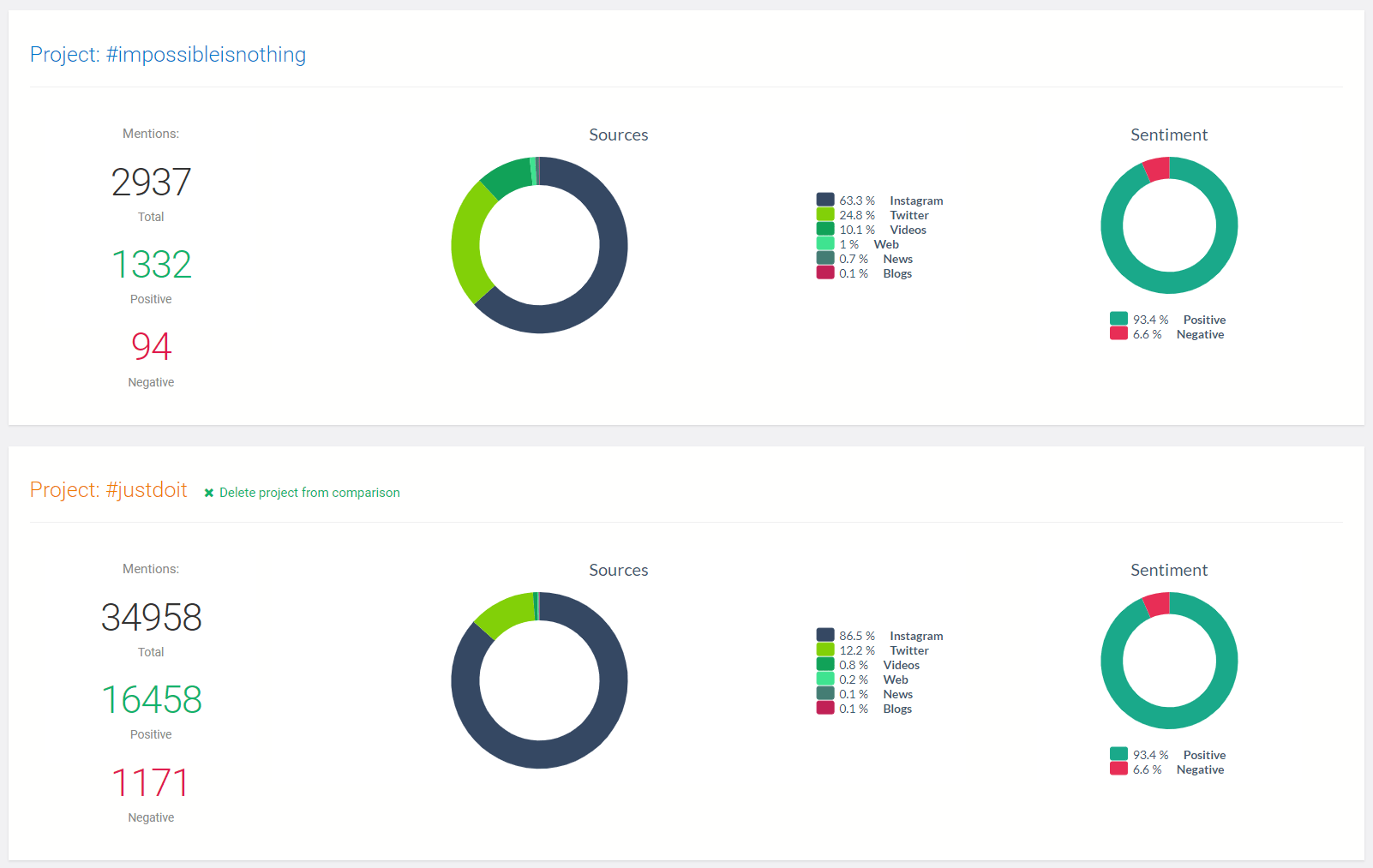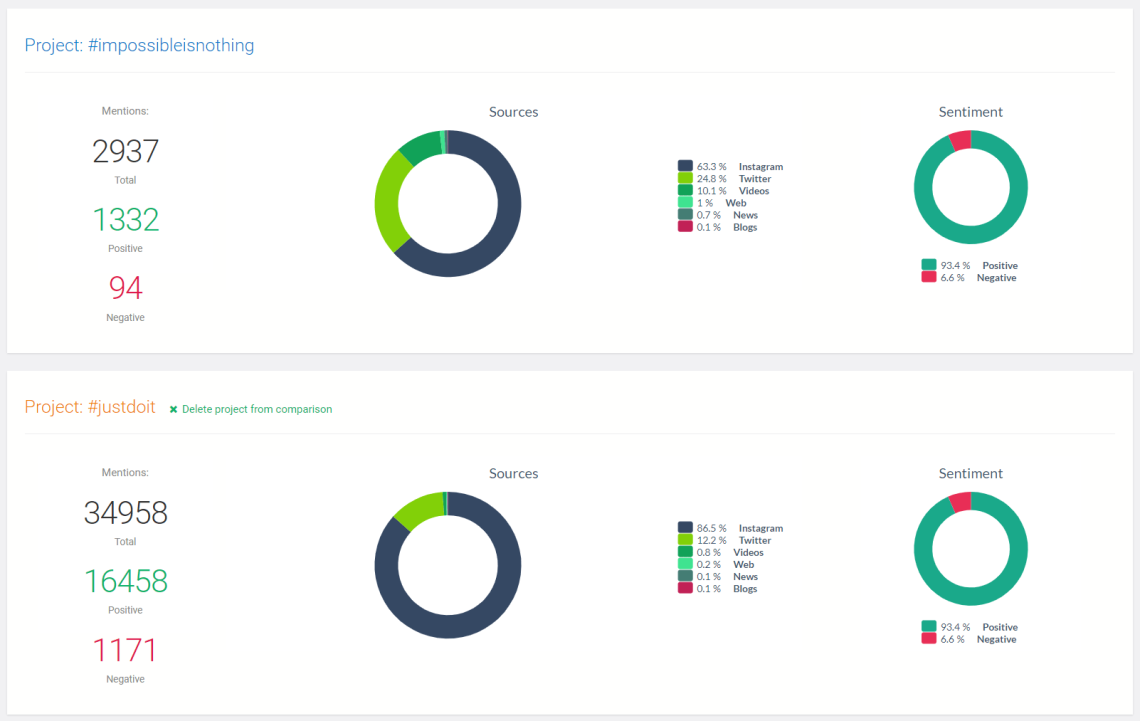 Brand24 is a Hashtagify alternative. Try it during a 14-day free trial!
Presence Score metric
Do you know how popular your hashtag is online? It's challenging to measure, but with Brand24, it is possible.
Thanks to the Presence Score metric, you will quickly check a hashtag's online popularity. The tool automatically compares your effects with the popularity of other brands. As a result, you will discover the awareness of your hashtags.


Trending links
Let's assume you are running a hashtag campaign that redirects to a dedicated landing page. How to check whether the target audience shares this link in their mentions? Take a look at the Trending links tab. Here you will see the list of most frequently shared links in the mentions.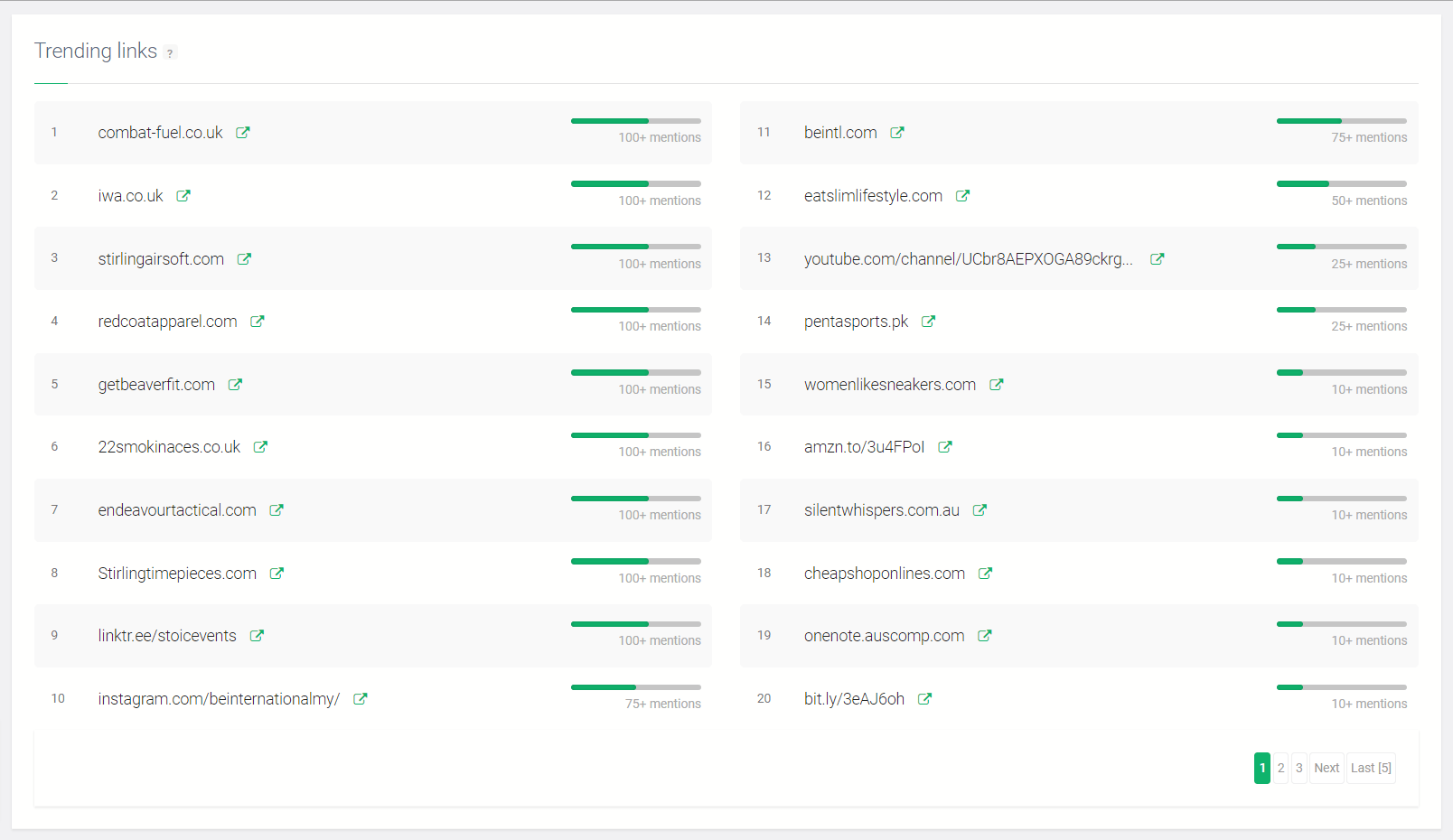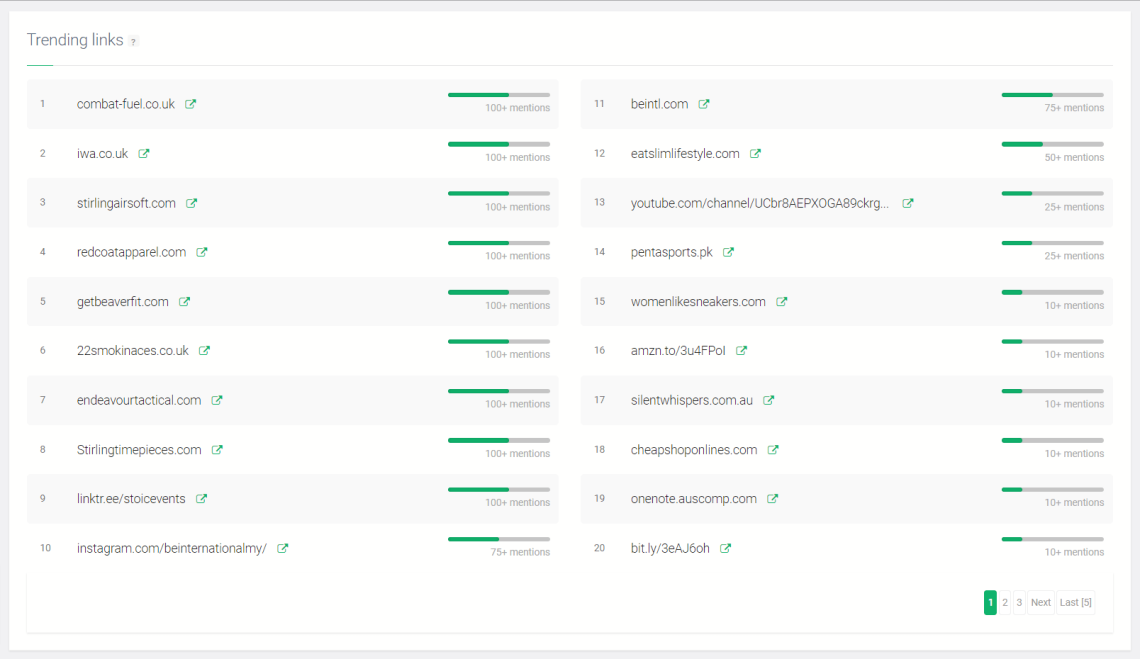 Pricing
Both Hashtagify and Brand24 offer affordable plans that suit many businesses, teams, and startups.
Hashtagify Pricing
Hashtagify offers a 7-day free trial that requires a credit card. After that, you can choose from 3 plans: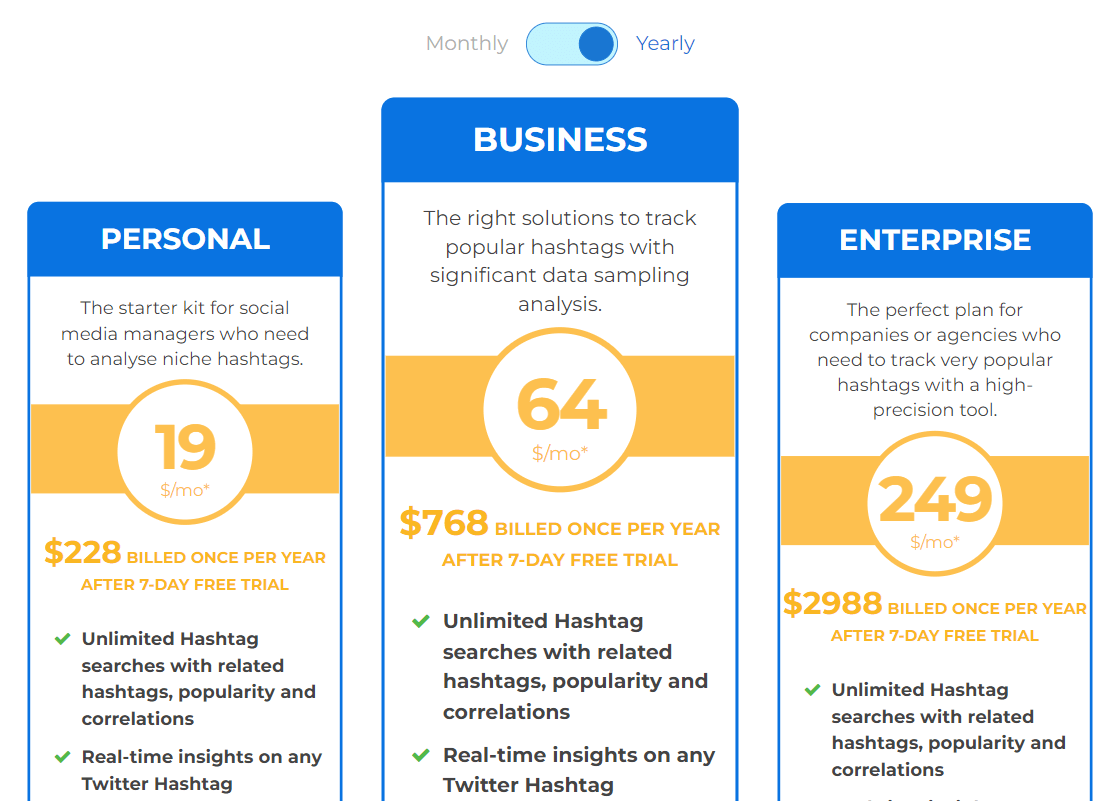 Brand24 offers a 14-day free trial that does not require a credit card. After that, you can choose from 4 plans: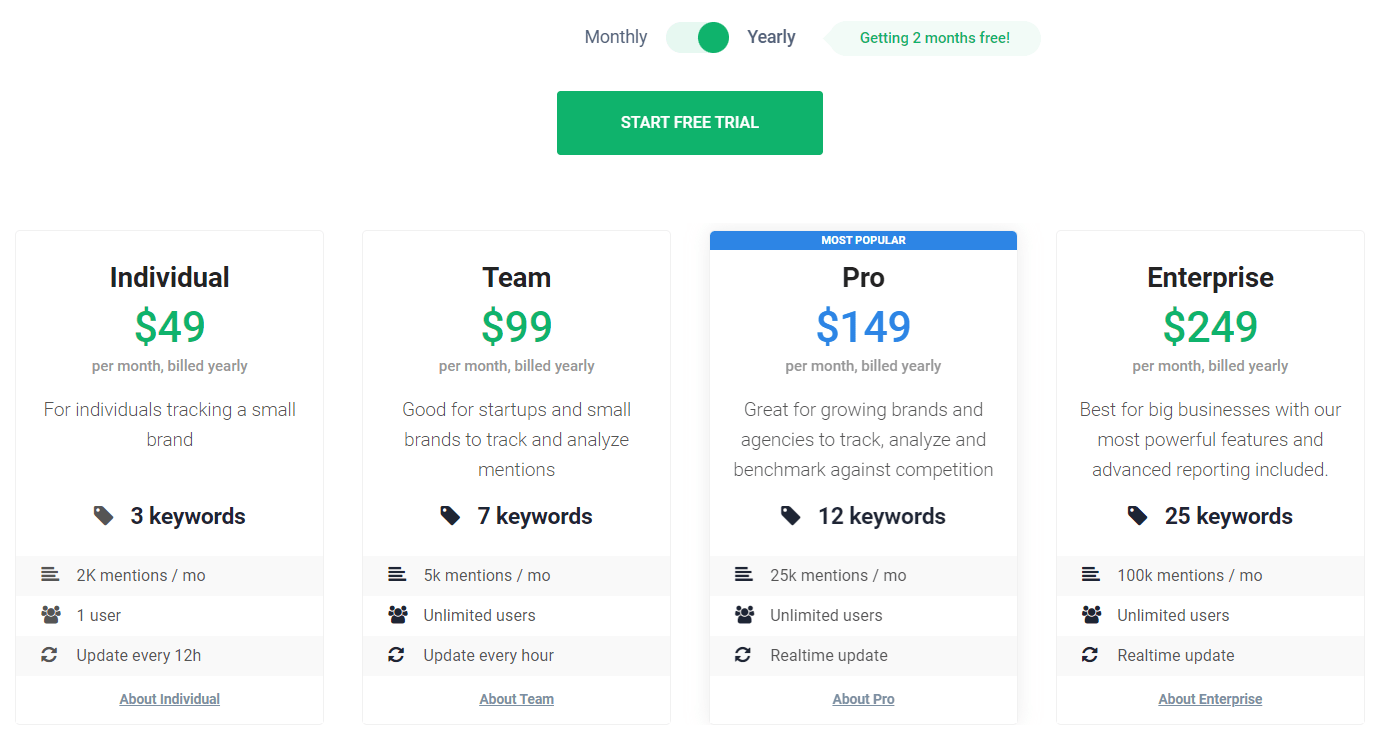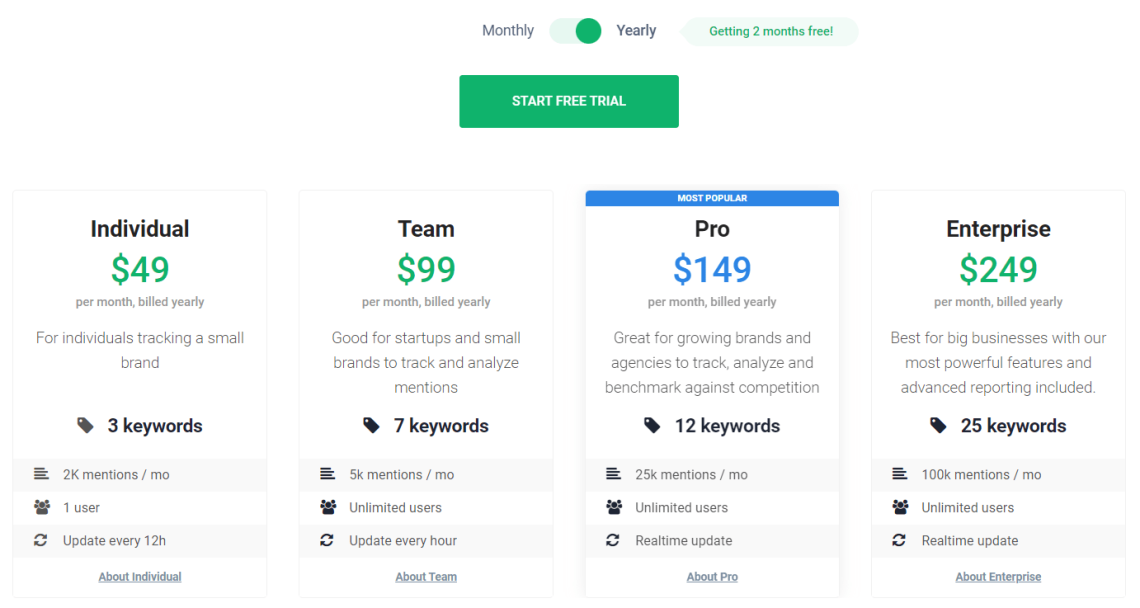 Value for money
Hashtagify's plans seem more affordable, but whether they offer as many functionalities as Brand24 plans? Let's check it!
I compared the Hashtagify Business Plan for $64/month and Brand24 Team Plan for $99.
Hashtagify plan allows tracking 2 hashtags and 2 users. Brand24 plan allows tracking 7 keywords (you can use them to track hashtags, brands, and any phrase you want).
The next difference is related to top influencers. With Hashtagify, you can track up to 30 top influencers per tracked hashtag. Brand24 tool gives a list with an unlimited number of top influencers.
In case you feel those 2 hashtags trackers and 2 users in the Hashtagify plan are not enough, you can buy add-ons.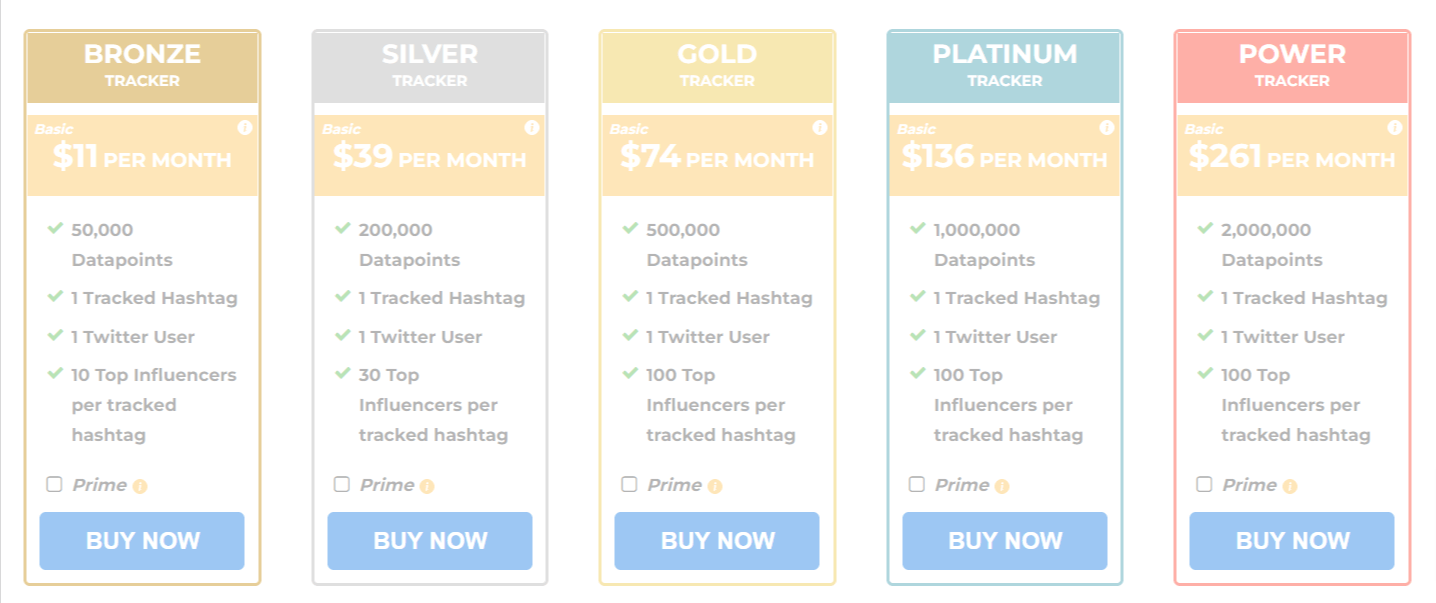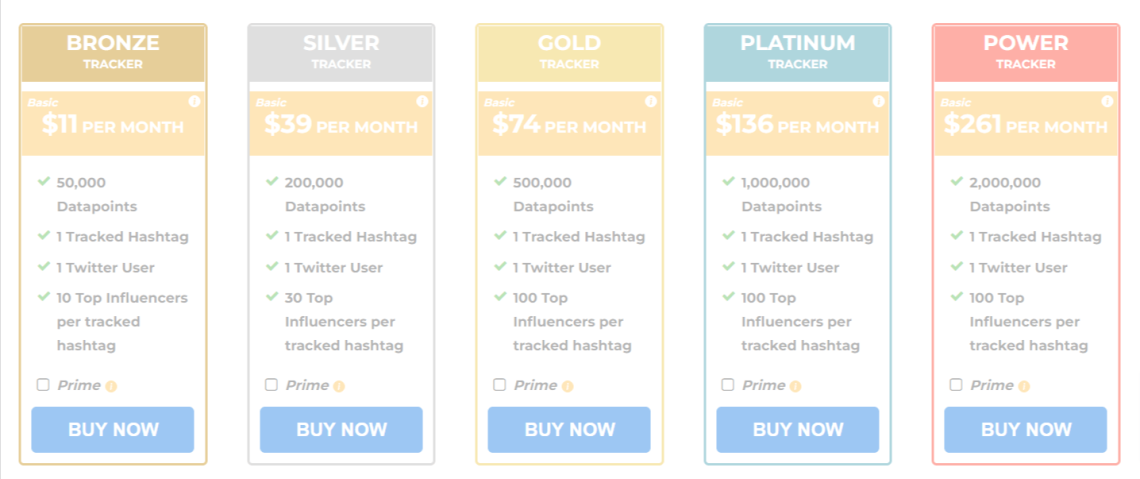 Let's assume you would like to track 7 hashtags as it is possible in the Brand24 Team plan for $99. You need to buy 5 hashtag trackers. The cheapest add-on costs $11 per month and is called Bronze Tracker.
So you need to pay $64 for Business Plan plus $55 for added hashtags trackers. Overall, tracking 7 hashtags with Hashtagify costs $119 per month.
Is Hashtagify free?
Hashtagify shares basic data for free. All you have to do is type a hashtag and click the Track button. The tool allows one hashtag search per day. If you need more searches, you have to purchase a monthly subscription.
To discover the tool's full potential, you can set up a 7-day free trial. During the registration, you must fulfill the payment method.
On the other hand, during the registration for a 14-day free trial, the Brand24 tool requires only one thing – your e-mail address.
Which of the hashtag tools is better?
The answer depends on your needs. As you can see, both Hashtagify and Brand24 have similar functions supporting hashtag marketing. Nevertheless, each tool also has its own unique features.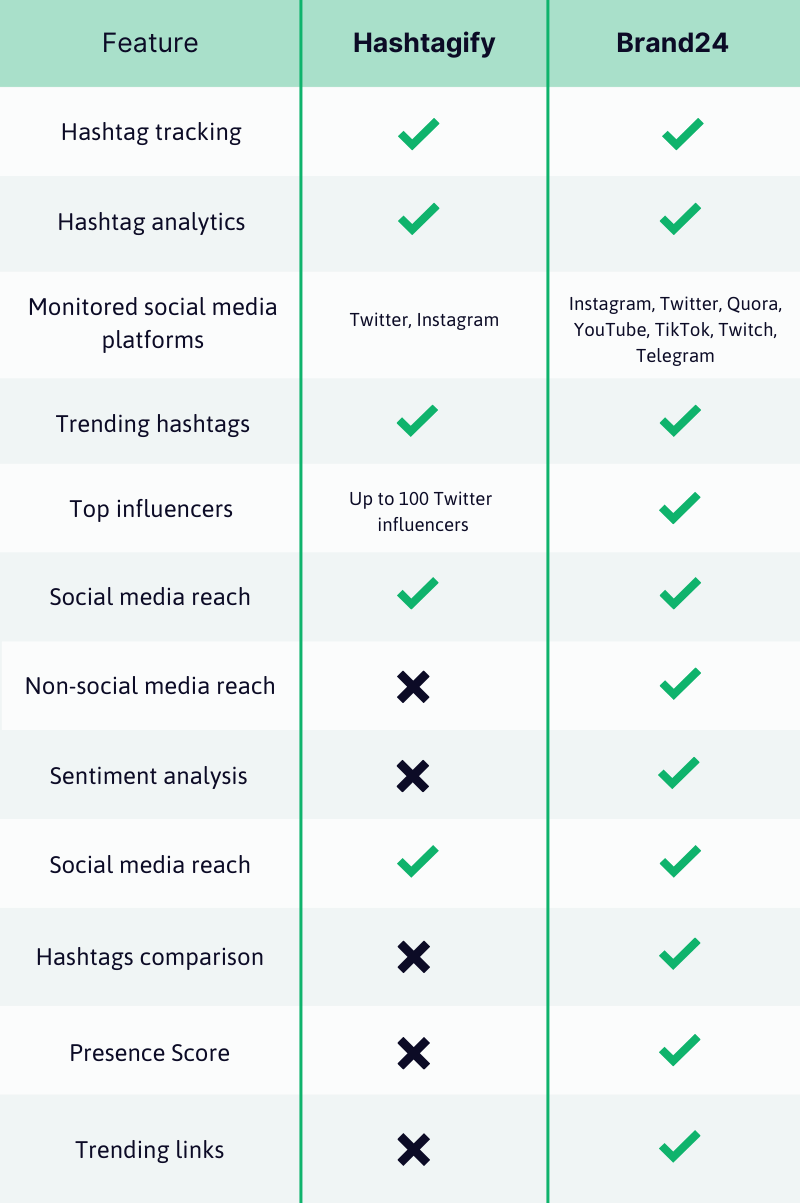 If your social media strategy focuses on improving your Twitter profile, Hashtagify will meet your needs. With this tool, you will be able to identify Twitter influencers, discover trends, and gain valuable hashtag suggestions. Unfortunately, although the tool monitors Instagram, it doesn't present many attractive insights about Instagram followers.
The tool serves for hashtag marketing. However, if you need to analyze phrases containing two keywords, for example, "social media", the tool will not handle it.
Brand24 is a social media analytics tool that can handle hashtag marketing as well as other areas such as brand awareness, sentiment analysis, PR management, and social listening.
Furthermore, you can monitor any phrase you want. The tool supports keywords as well as hashtags.
Brand24 is a Hashtagify alternative. Try it during a 14-day free trial!
Hashtagify alternatives: Summary
In the end, I understand why you are looking for Hashtagify alternatives. I am a little disappointed that Hashtagify monitors only two platforms, Twitter and Instagram. In my opinion, however,, it is not enough to focus only on those two social media channels nowadays. For example, since TikTok gives the broadest organic reach, it makes sense to track hashtags on it.
So, if you're looking for a hashtag analytics tool that goes beyond the basics, I recommend giving Brand24 a try. It's a social media monitoring tool that will track the performance of your hashtags, measure social media reach, and discover top trending hashtags and influencers.
Ready to try it out? Sign up for a 14-day free trial today!
FAQ
Is Hashtagify free?
Yes, Hashtagify does offer a limited free version of its tool which can be useful for basic hashtag research. However, for more advanced features and in-depth analysis, they offer paid plans. These premium options provide additional functionality, like trend tracking, hashtag comparisons, and influencer identification. Always check the current pricing and plan details on their website as these can change.
What does Hashtagify help you do?
Hashtagify is a tool primarily designed to assist with hashtag research. It helps users discover trending hashtags, identify relevant hashtags for their content, and analyze their performance. This can significantly enhance a brand's visibility on social media. However, it's important to note that while Hashtagify is an invaluable tool for hashtag analysis and strategy, it doesn't directly facilitate social media management or the handling of multiple accounts.
How do you know if a hashtag is trending?
Discovering a trending hashtag involves tracking a sudden increase in its usage across social media platforms. For this, you can utilize Brand24, which is adept at providing real-time data about trending hashtags related to your brand or industry. Once identified, you can schedule social media posts using them, leading to enhanced social media engagement. Moreover, using Brand24 can help you monitor user generated content linked to these trending hashtags, allowing you to effectively gauge their impact on your brand's online presence.