Critical Mention Alternatives: Brand24
January 18, 2023 ・ 11 min read
Media monitoring tools market has grown so much that it's hard to know all the available solutions. The ones that used to be popular, now may be a little forgotten. They are being replaced with more modern and advanced solutions that use the newest technology and are compliant with all the latest regulations. Critical Mention is a tool that has been created almost 20 years ago and surely now has many alternatives. Is Brand24 a good alternative to Critical Mention?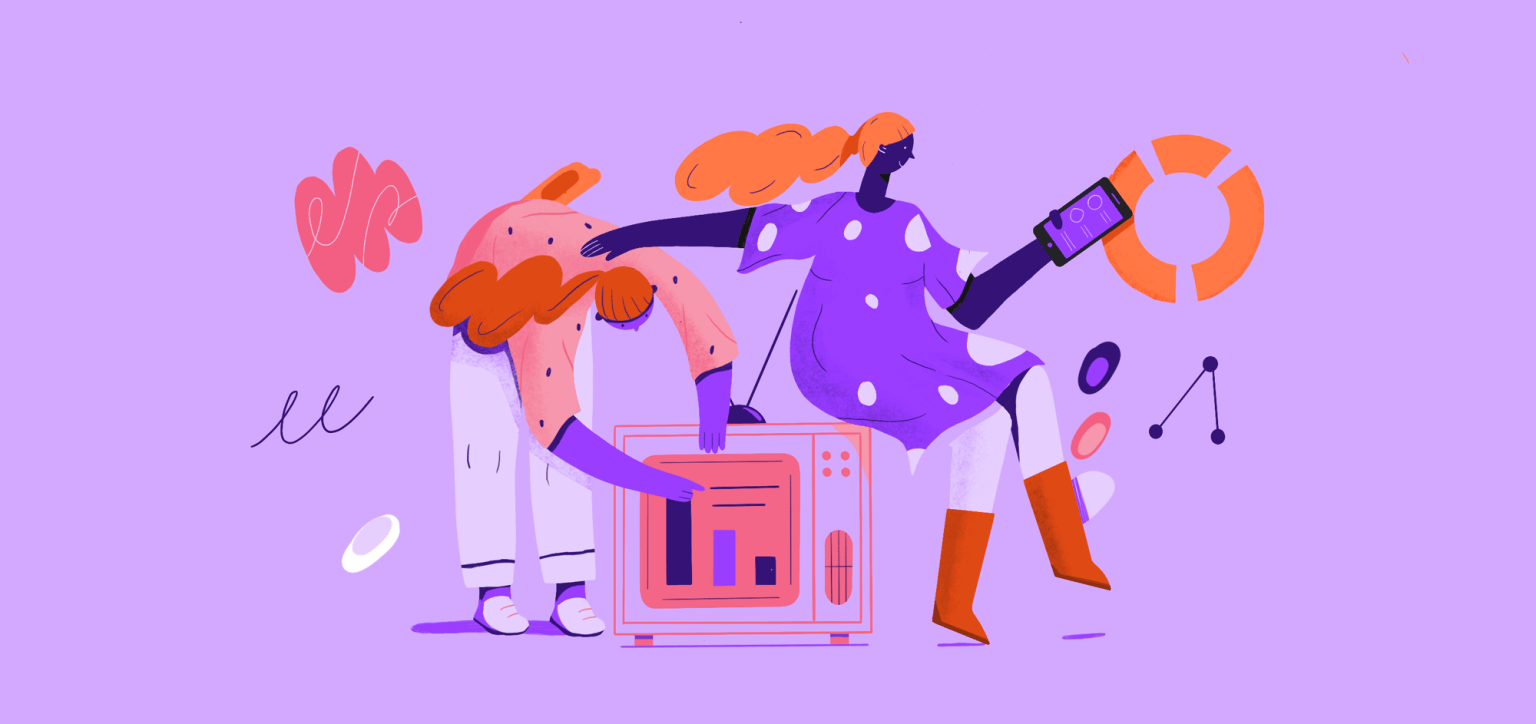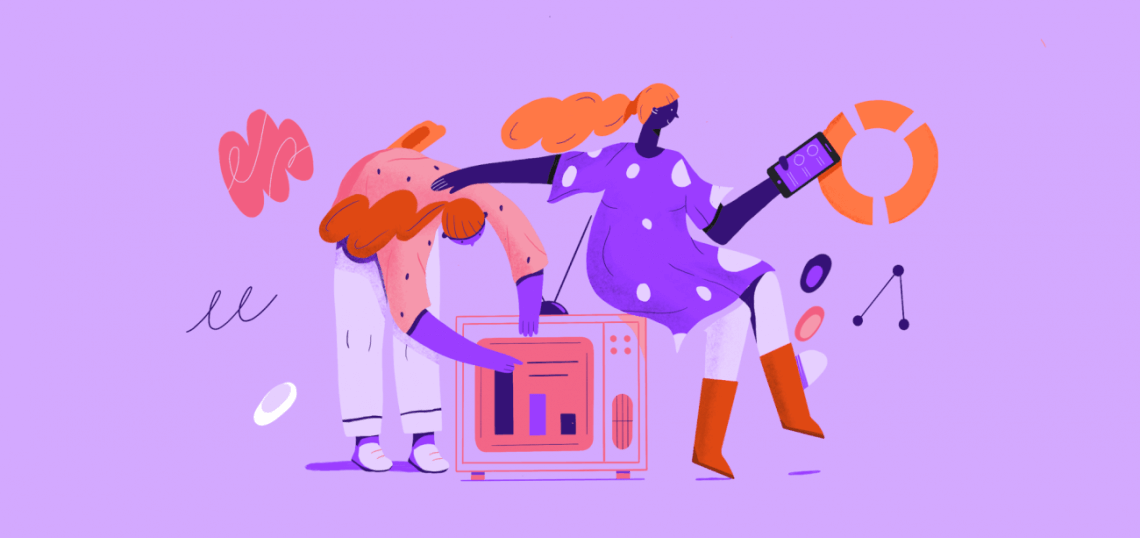 Critical Mention is an old-school media monitoring tool, and if you are looking for alternatives, that are probably more advanced and modern, you have come to the right place. In this article, we will check if Brand24 is a good alternative to Critical Mention and compare both of these tools.
Inside this article, I will do my best to compare two media monitoring tools – Critical Mention and Brand24. Together, we will go through comparison and decide whether Brand24 is a good alternative to Critical Mention.
Here is an agenda of what we will be having a closer look at in our comparison of Critical Mention and Brand24.
Critical Mention Alternatives: Brand24. Comparison

Overview
Purposes
Features

Monitored Platforms
Metrics
Influencer marketing
Competitor analysis
Reports

Pricing
Design
Reviews

7 reasons why Brand24 is a good alternative to Critical Mention
Let's get started!
Critical Mention Alternatives: Brand24. Comparison
Let's begin our comparison. My research will help you decide if Brand24 is a good alternative to Critical Mention. We will go through an overview of both solutions, check and compare their features, look at their purposes, prices, and how well they are performing in online reviews.
Check out Brand24 – alternative to Critical Mention
Overview
Critical Mention is an all-in-one media monitoring platform that has been created in 2002. It definitely means that the company has a lot of experience and recognition on the market, but does Critical Mention keep up with the times and still is at its best?
Critical Mention consists of search, sharing, and analysis tools. What makes Critical Mention stand out is the ability to not only monitor online sources, but it covers offline media as well. The platform gives users the possibility to discover mentions from TV, radio and online media, such news websites and social media.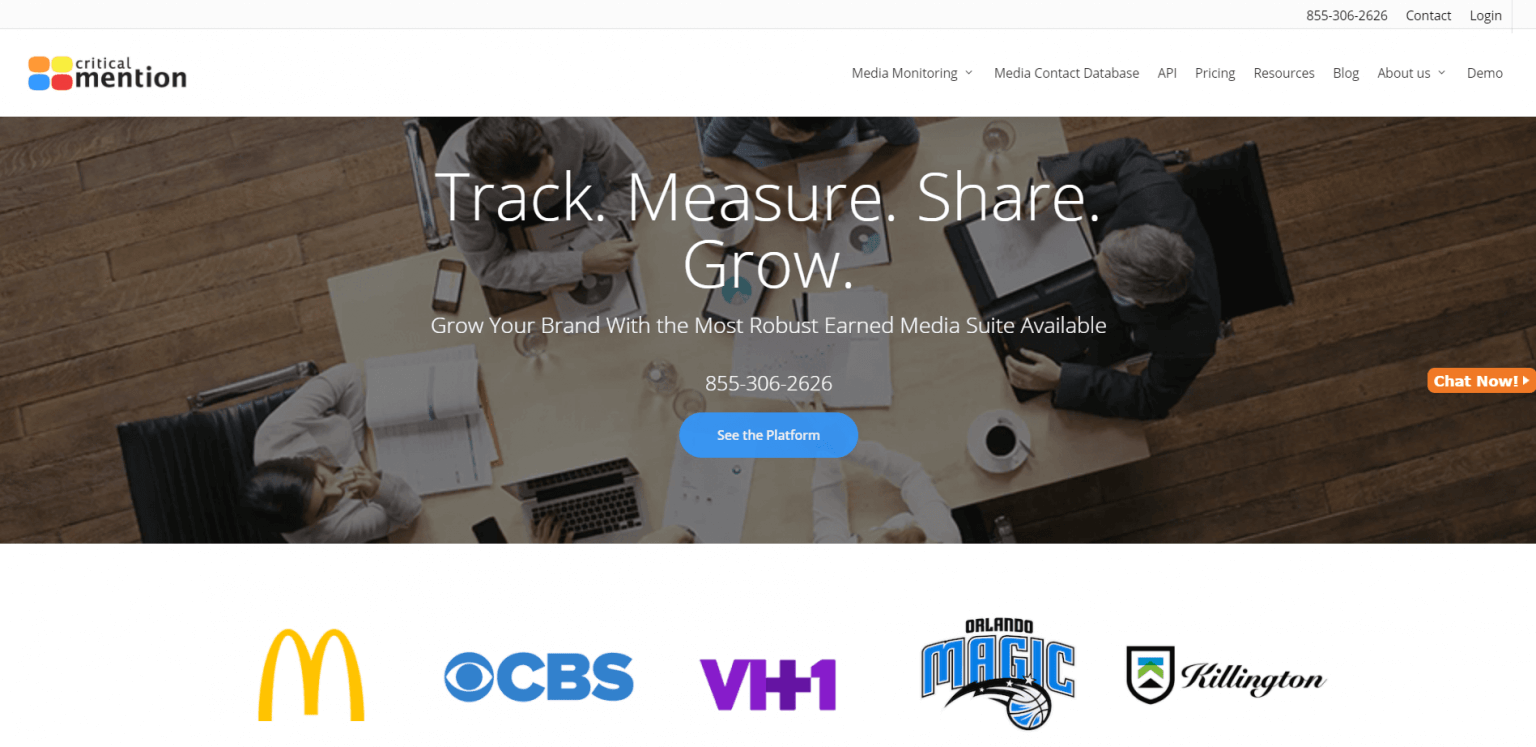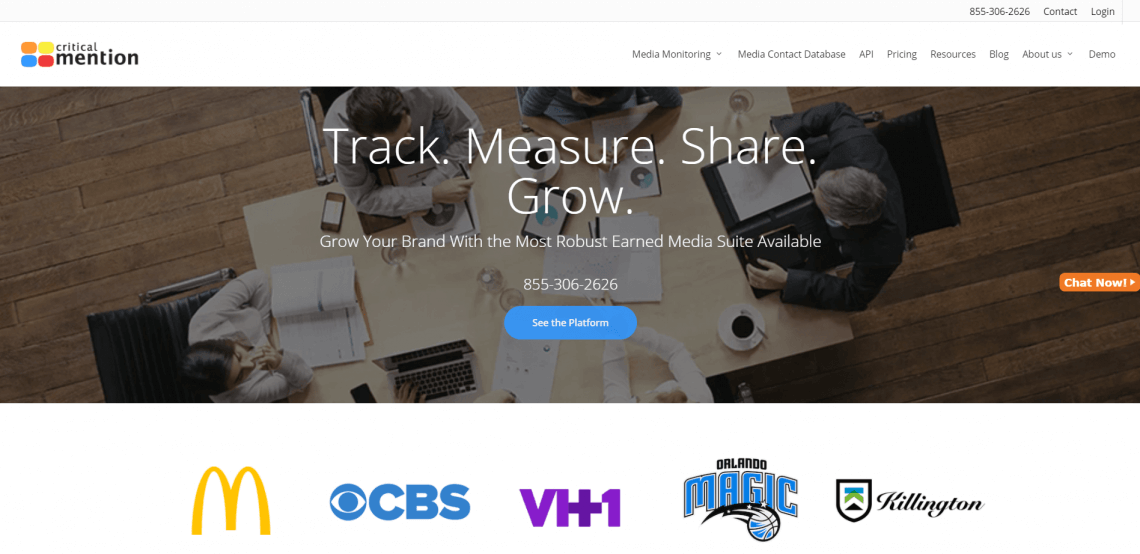 Critical Mention offers real-time monitoring results that are being analyzed, turned into actionable data and shared using Critical Mention's platform.
Critical Mention claims to be 'The fastest, most reliable all-in-one PR and earned media platform featuring global media monitoring, a media contact database, and robust analytics.'
Brand24 is an all-in-one media monitoring platform as well, that has definitely no less experience, credibility, and thousands of satisfied users.
Brand24 is a flexible platform that has been growing a lot in recent years to make sure to constantly provide users with the most advanced features, newest technologies, and monitoring trends. I may be biased, but Brand24 surely spots users' needs and meets their expectations.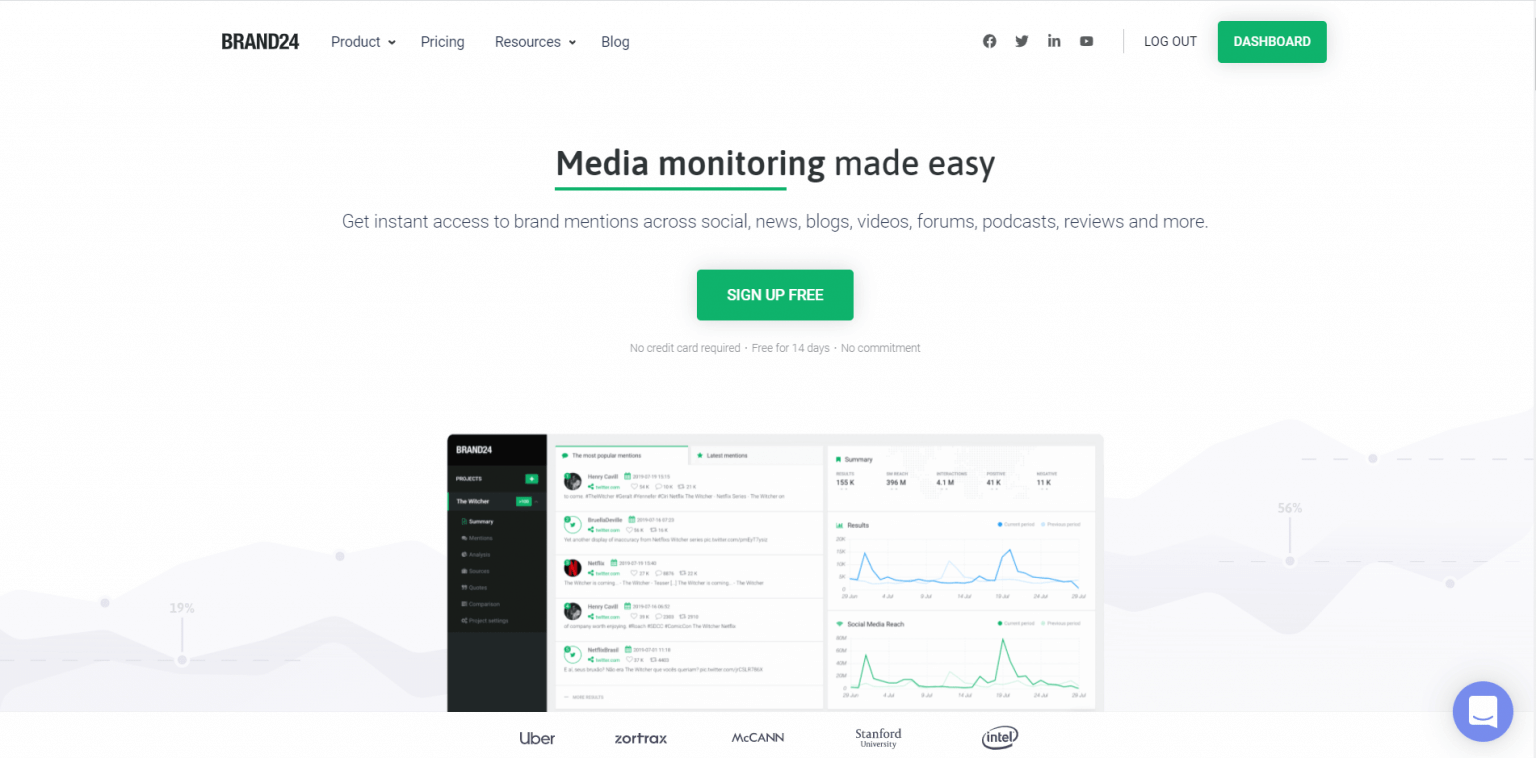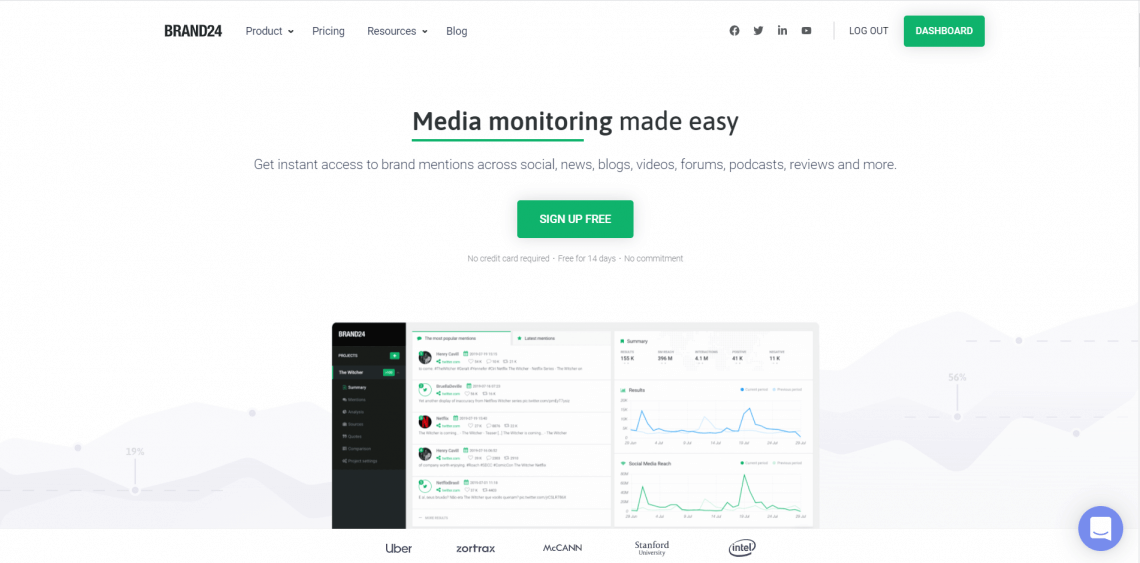 That is why Brand24 as a social media monitoring platform transformed a lot. It is currently not only delivering mentions from the most valuable social media channels, such as Instagram, Twitter, TikTok, Youtube but also helps you manage Facebook and Instagram business accounts to make sure your brand communication and relationships with clients stay at their best.
Apart from social media, Brand24 also monitors podcasts, newsletters, and traditional online media such as websites, news sites, review sites, blogs, forums to give you the best idea of how a certain topic, industry, product, or brand is performing online.
Try monitoring, analyzing and reporting with Brand24
Brand24 obviously does not leave users with rare data. It offers analytics and reporting features equally, to provide you with understandable results, valuable insights.
Purposes
Critical Mention claims to be targeted rather to PR professionals, who need to understand their earned media values and manage them in a quick way, get accurate results, and get the idea of the value of their coverage.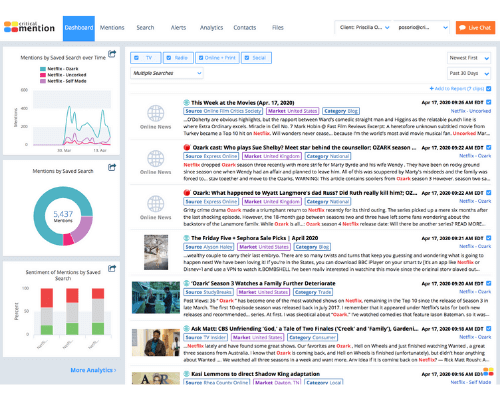 Critical Mention helps with:
monitoring online and offline media,
managing earned media,
creating customized, shareable reports,
analytics.
You can use Critical Mention to:
report public relations efforts,
manage earned media,
analyze earned media,
find new ways to grow your business.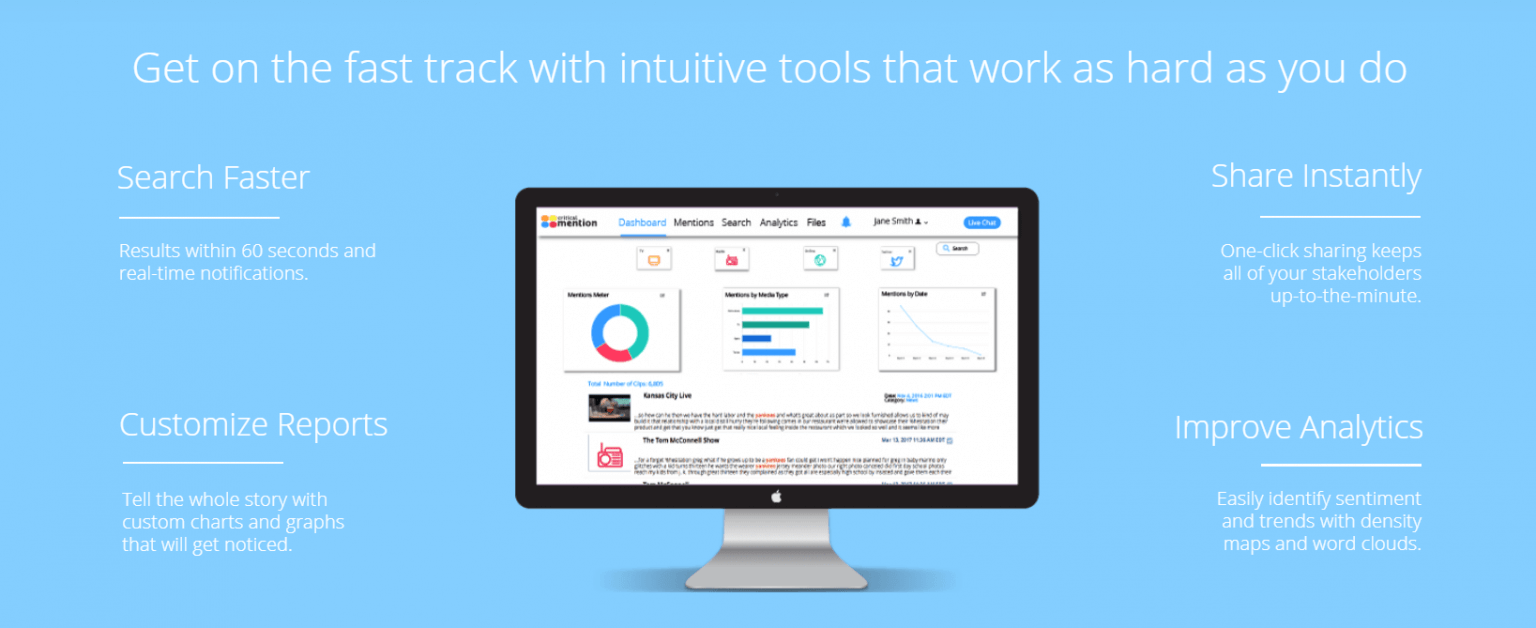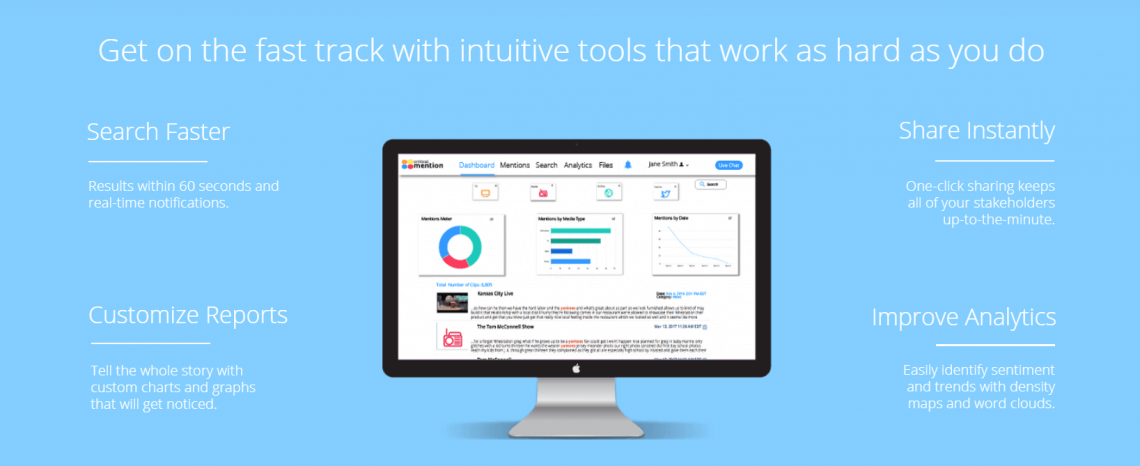 Brand24 is used by thousands of brands of all sizes for various purposes. Its main feature is social and traditional media monitoring and social listening, so it can be beneficial for public relations professionals, marketers, communication teams, customer service teams, or business owners.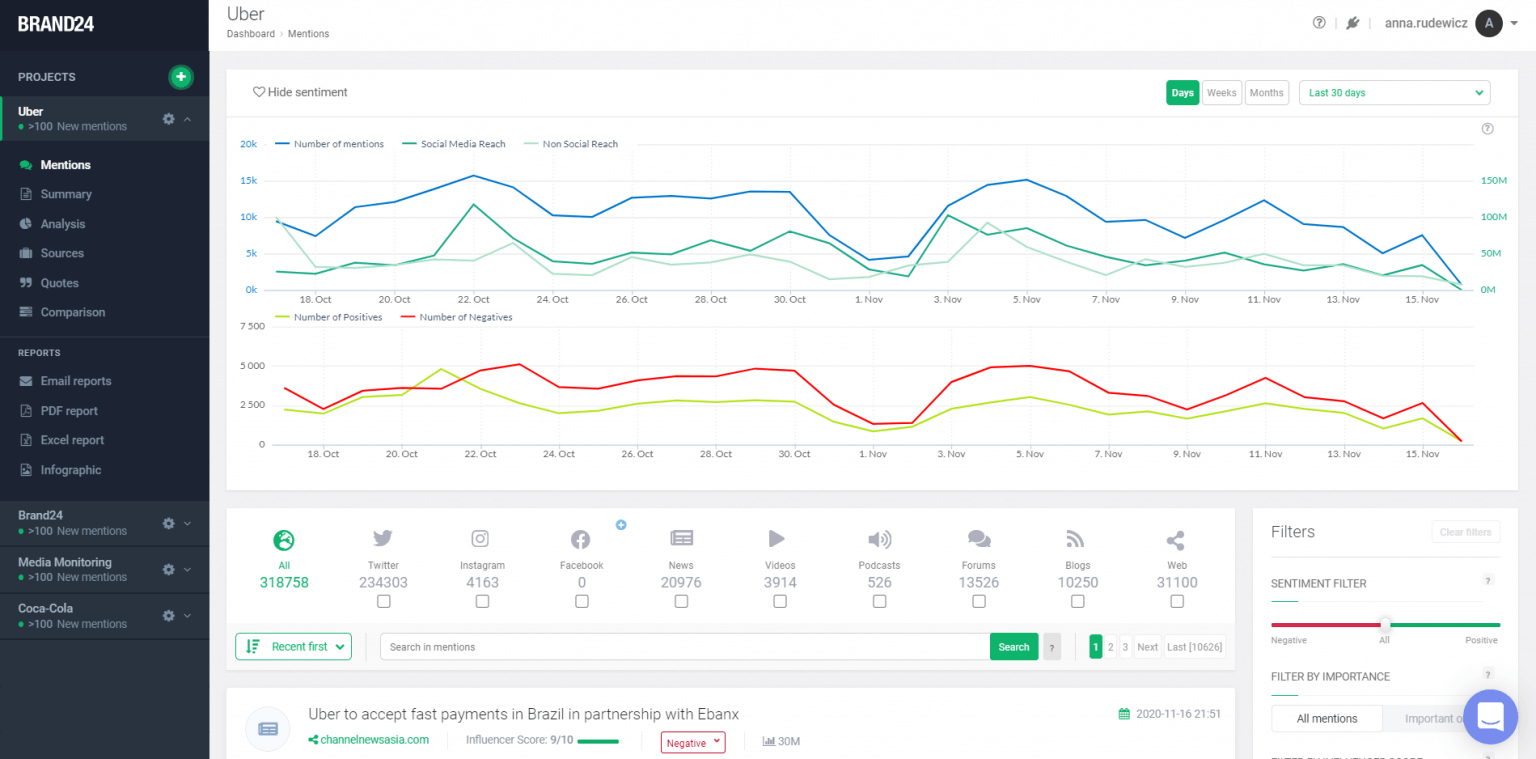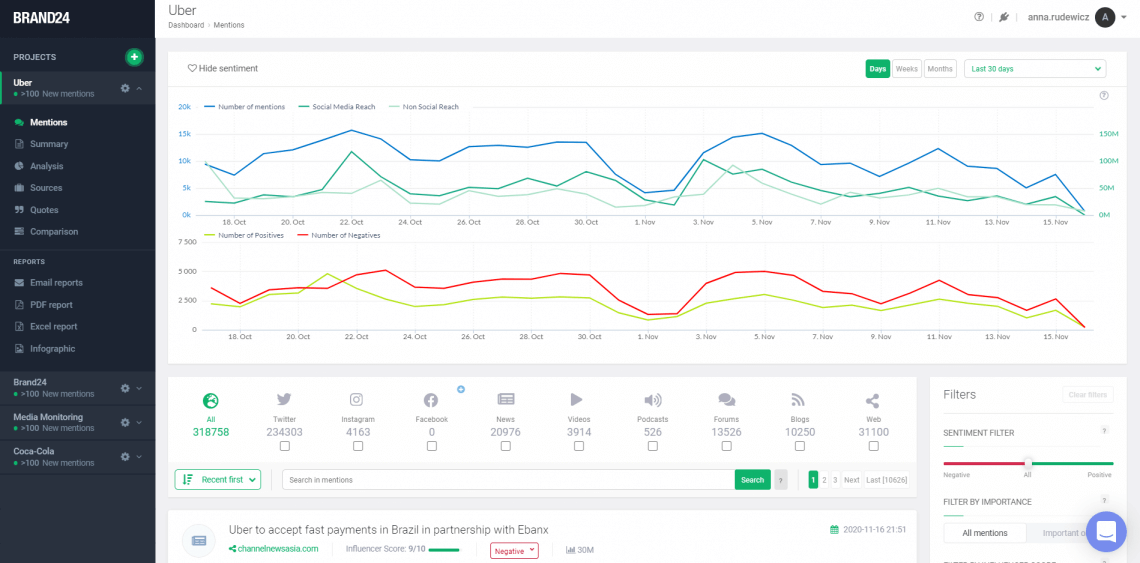 Brand24 will do it for you:
monitoring online and traditional media,
measuring important social media metrics,
measuring your marketing / public relations efforts,
analyzing online presence and campaigns results,
tracking hashtags,
finding brand ambassadors and influencers.
Try out Brand24's multiple purposes for free
Brand24 can serve for:
preventing a PR crisis,
reporting your work efforts,
improving relations with customers,
monitoring competitors and researching the market,
monitoring online campaigns,
improving your social media marketing,
social media management,
discovering customer insights on their products and services.

Features
So far Brand24 seems to be similar to Critical Mention. Both of these media monitoring software can be used for many different purposes. Brand24 is even more multi-purpose since it can be used not only for PR, but also for marketing or customer service purposes.
Let's have a closer look at features and find out which software offers more possibilities and functions.
| Brand24 | Critical Mention |
| --- | --- |
| online media monitoring | online media monitoring |
| X | radio and tv coverage |
| newsletter monitoring | X |
| sentiment analysis | sentiment analysis |
| real-time monitoring | real-time monitoring |
| customized reports | customized reports |
| e-mail alerts | e-mail alerts |
| mobile app and push notifications | X |
| podcast monitoring | podcast monitoring |
| Facebook and Instagram integration | X |
| Slack integration | X |
Monitored Platforms
Critical Mention covers two types of sources:
Offline media – tv, radio.
Online media – podcasts, news sites.
Social media – Youtube, Twitter, Facebook.
The fact that Critical Mention offers radio and tv coverage is surely a plus for some users.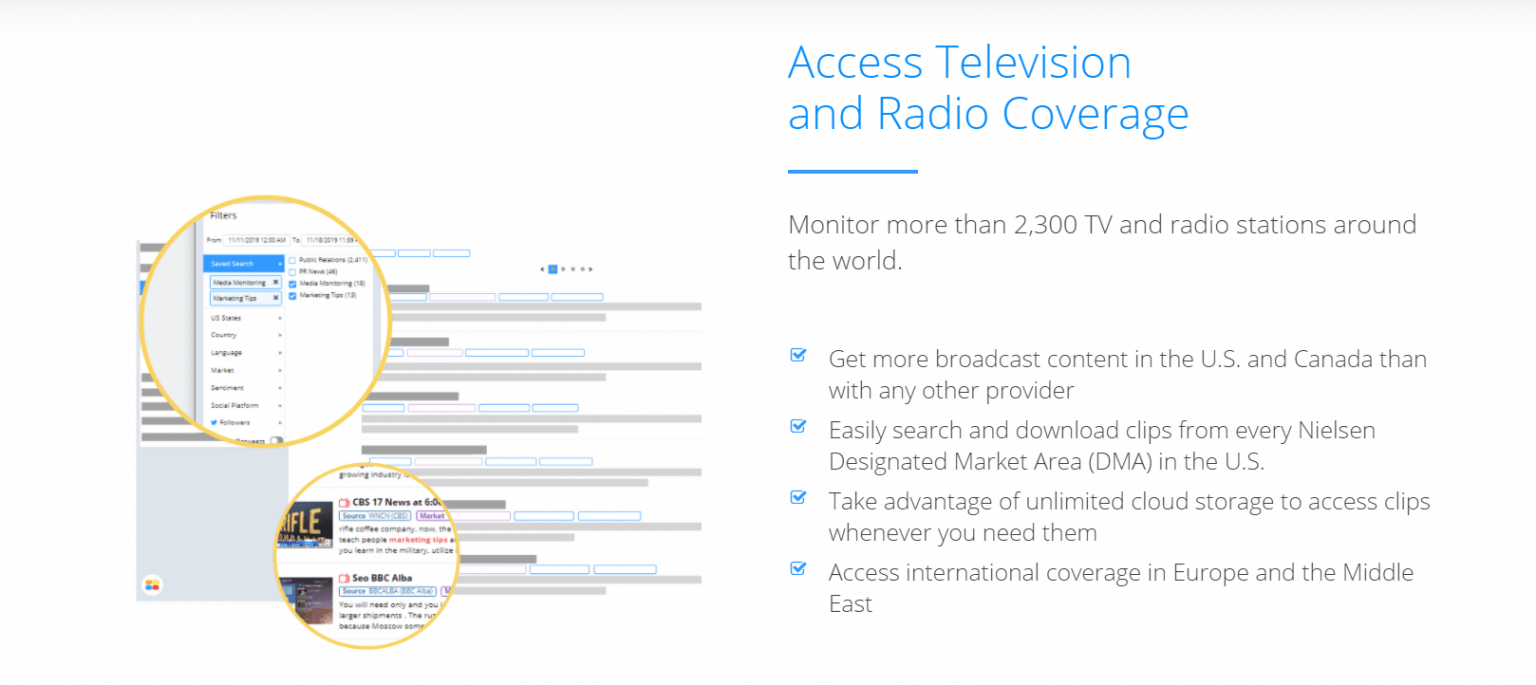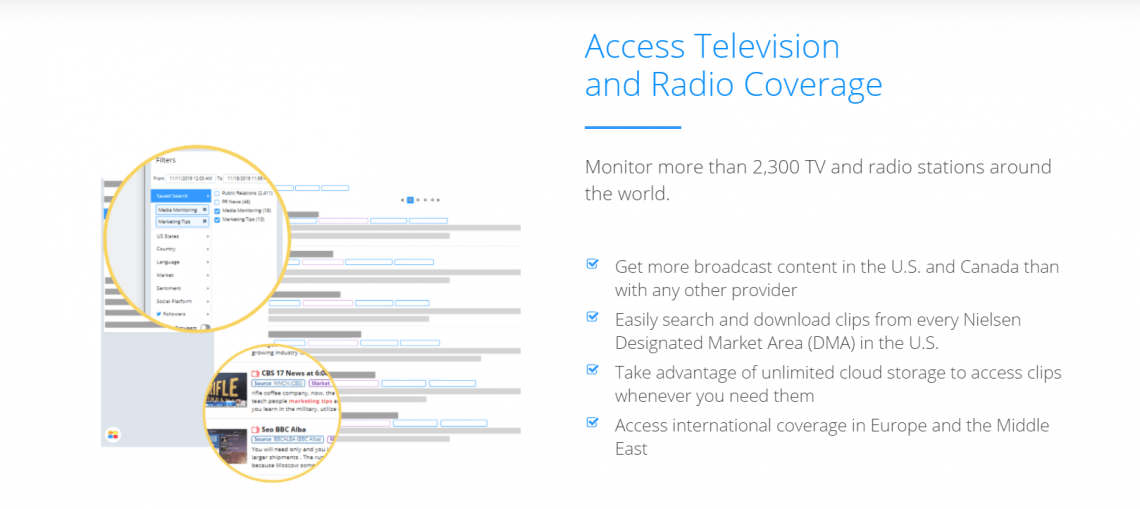 Brand24 monitors:
Social media – Facebook, Instagram, Twitter, Youtube, Reddit, Twitch.
Traditional media – websites, news sites, blogs, forums, review sites.
Podcasts.
Newsletters.
Brand24 is a social media monitoring software that you can use for social media management as well. You can track your Facebook Page and Instagram Business accounts due to the integration, that is compliant with the latest rules, terms, and guidelines. This integration is perfect for business owners, marketers, agencies, and social media managers.
The integration also allows to track Instagram hashtags.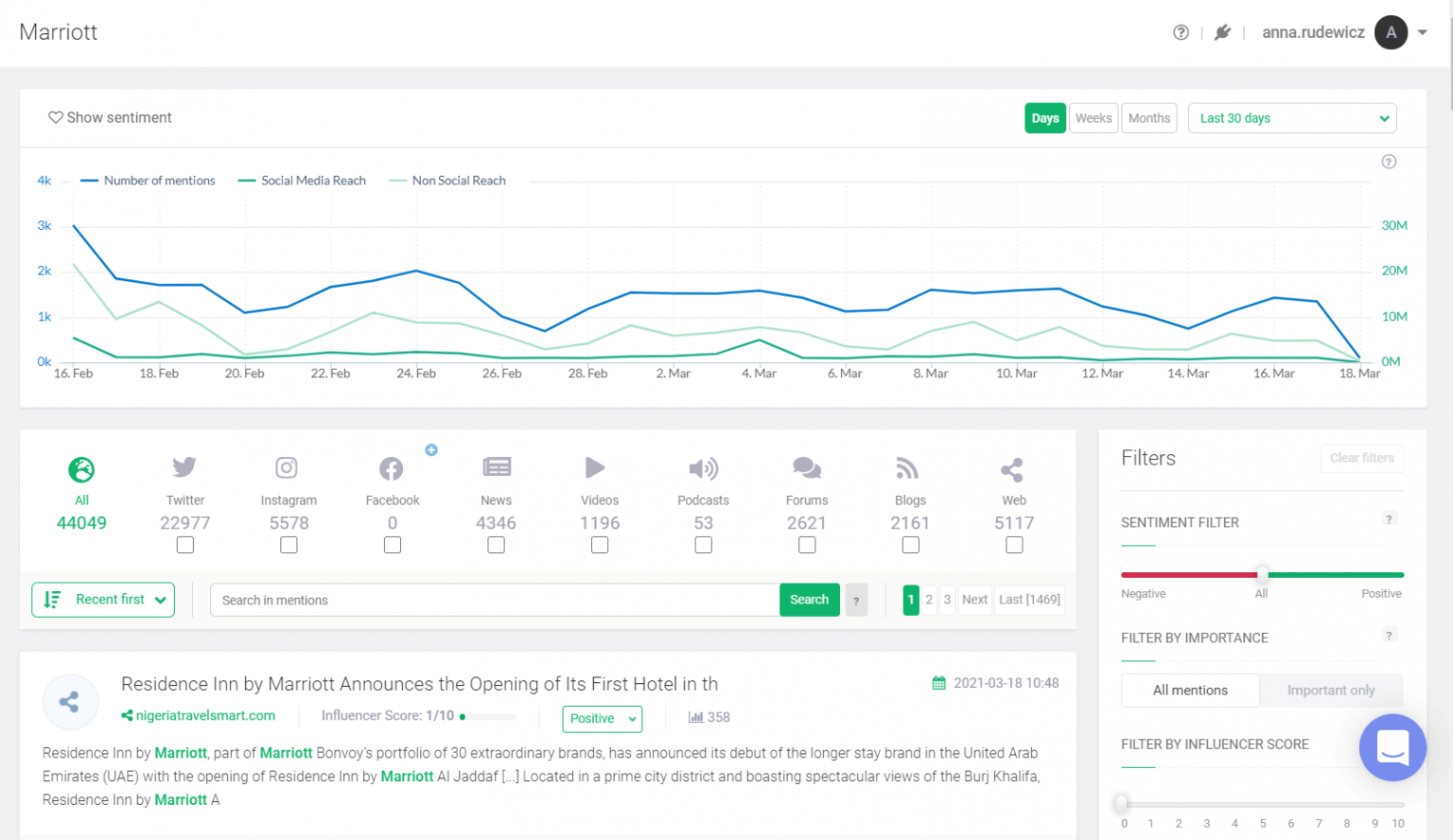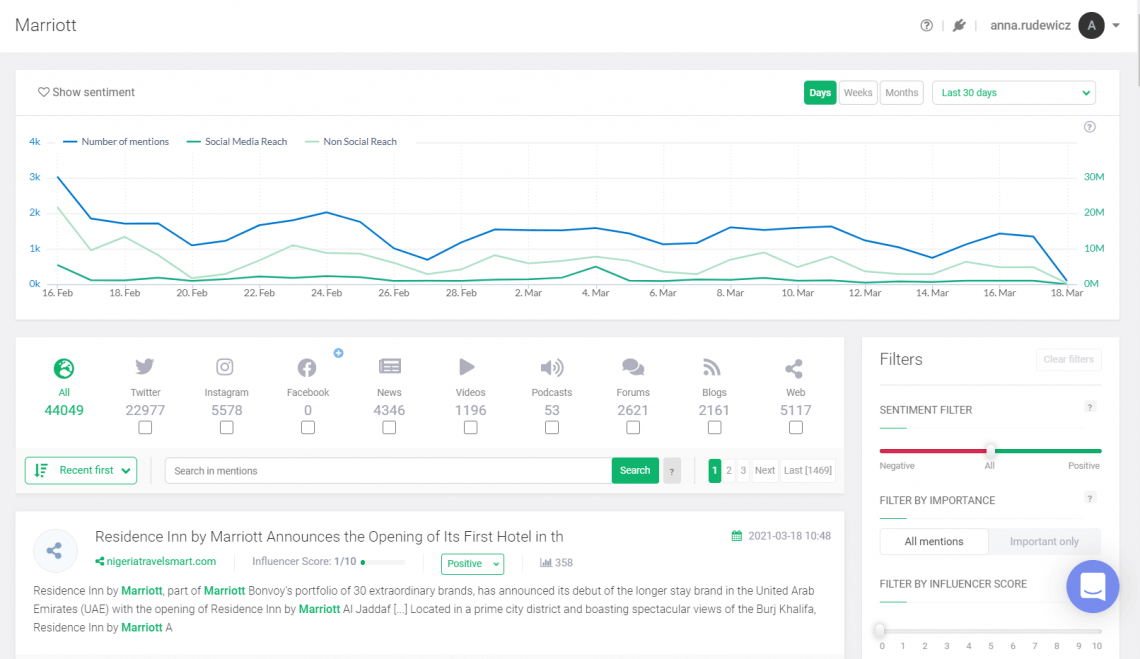 Brand24 definitely monitors more online soruces than the other software, but Critical Mention offers offline media coverage instead. If you want to focus on online media monitoring – Brand24 is a tool you might wanna try.
A good thing is that the differences between monitoring solutions make it possible for everyone to find something for themselves.
Metrics
Since Brand24 is a traditional social media analytics tool as well, it automatically measures many inportant metrics:
Volume of conversations about a brand,
Number of mentions,
Social media reach,
Non-Social reach,
Engagement,
Influence score,
AVE.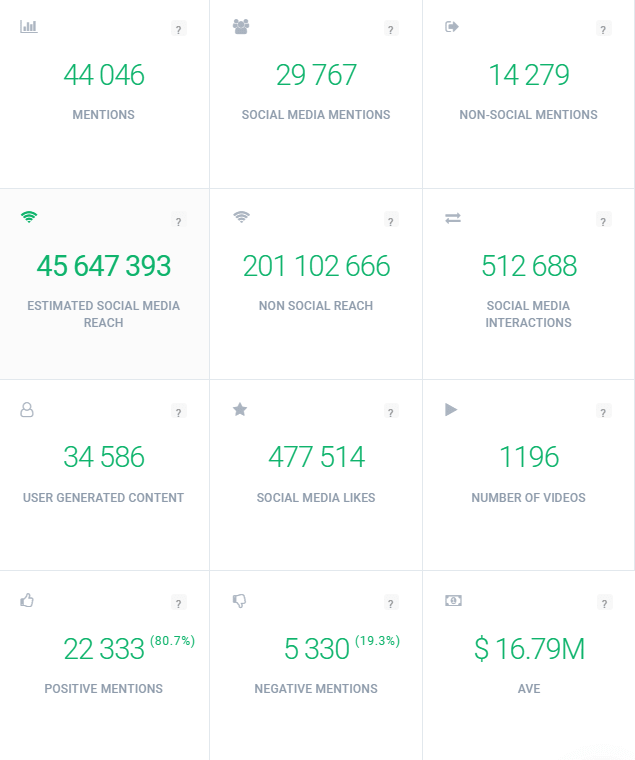 Measure important metrics with Brand24
Critical Mention also has a couple of valuable metrics to offer:
Online news monitoring:
Audience values
Publicity values
Mentions over time
Geographic coverage breakdowns
Social media monitoring:
Audience values
Share of voice
Mentions on specific social networks
Social mentions over time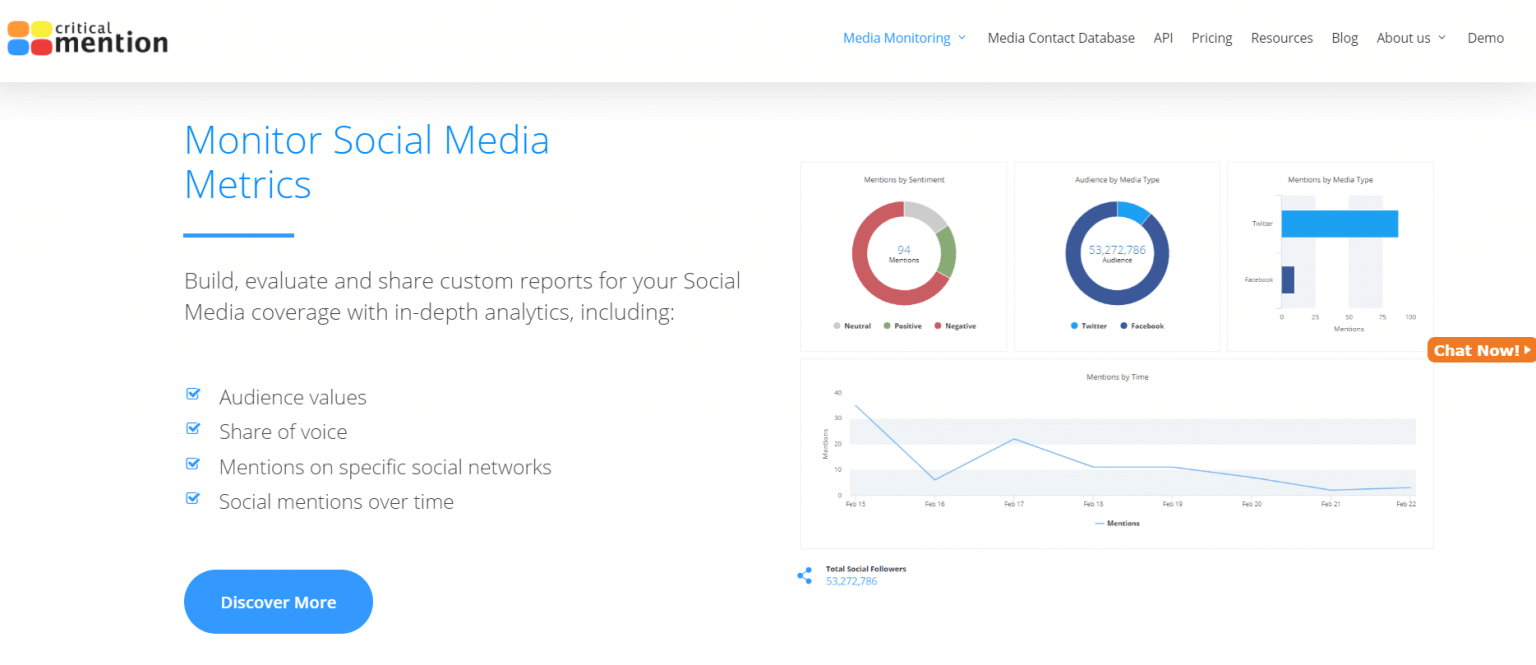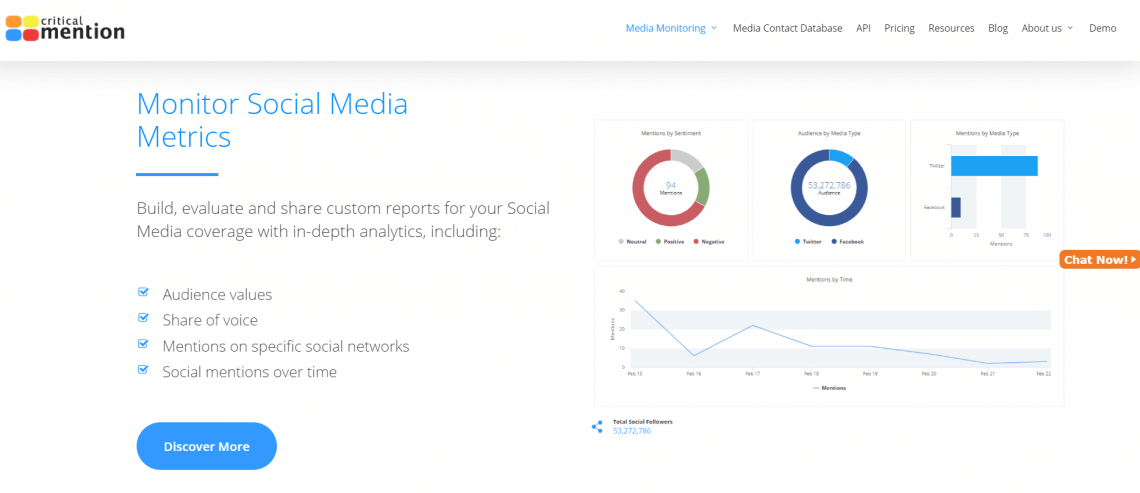 Influencer marketing
Brand24 created its own metric that makes influencer marketing easy. Influence score helps you find, identify, and collaborate with micro and popular influencers that work in your niche.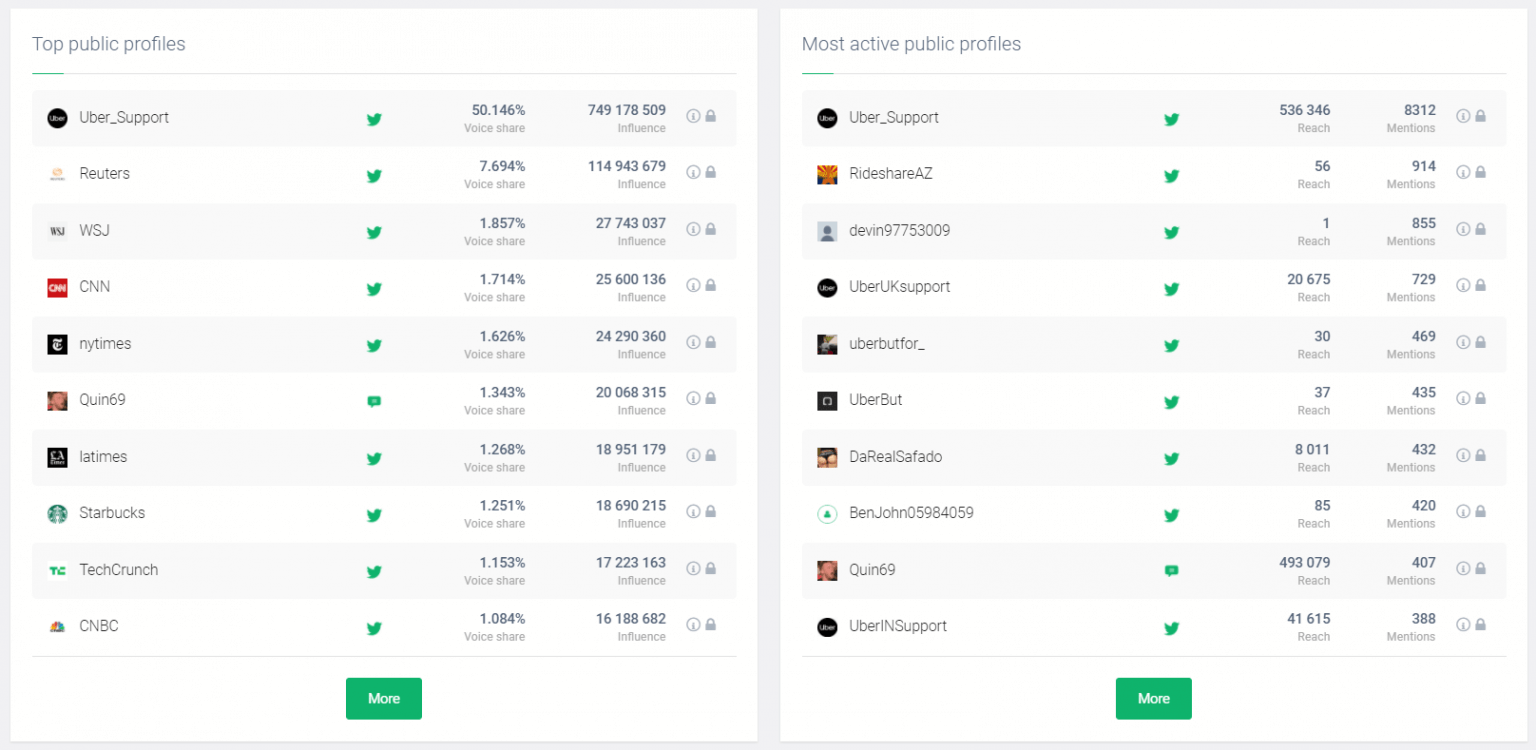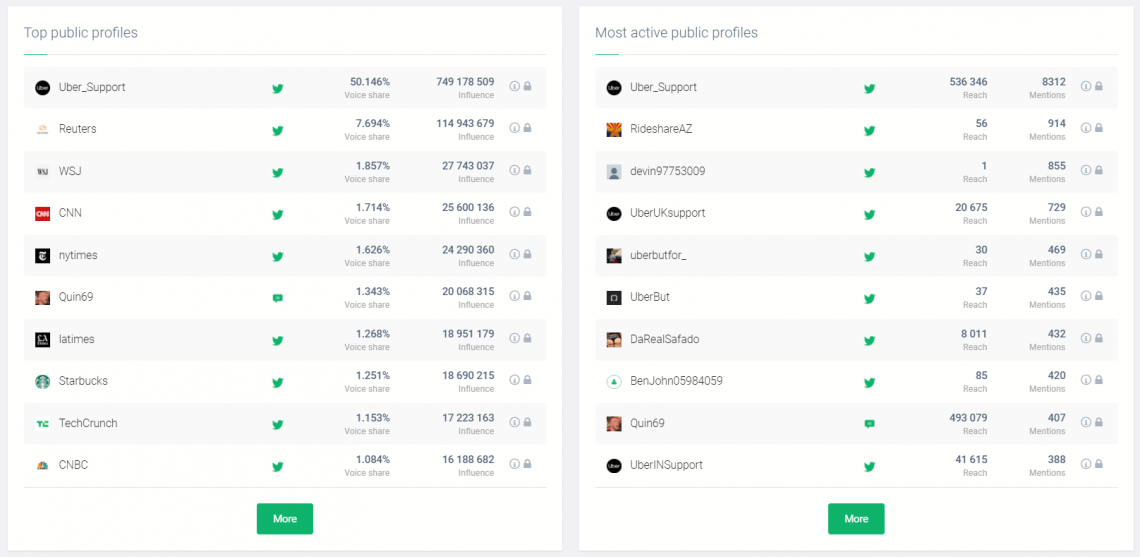 Influence score is calculated for each public profile or website that mentions your brand or uses a keyword of your choice.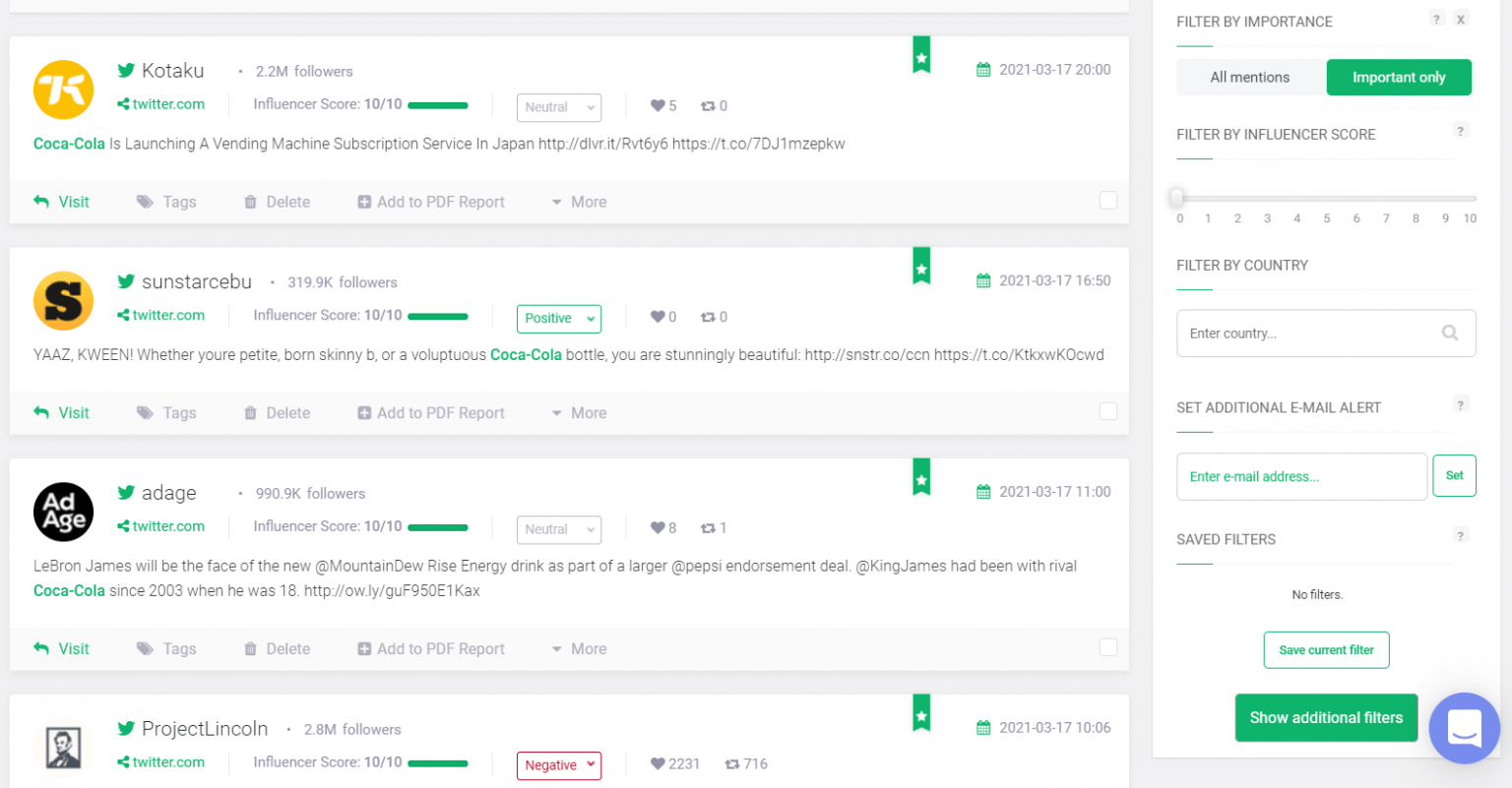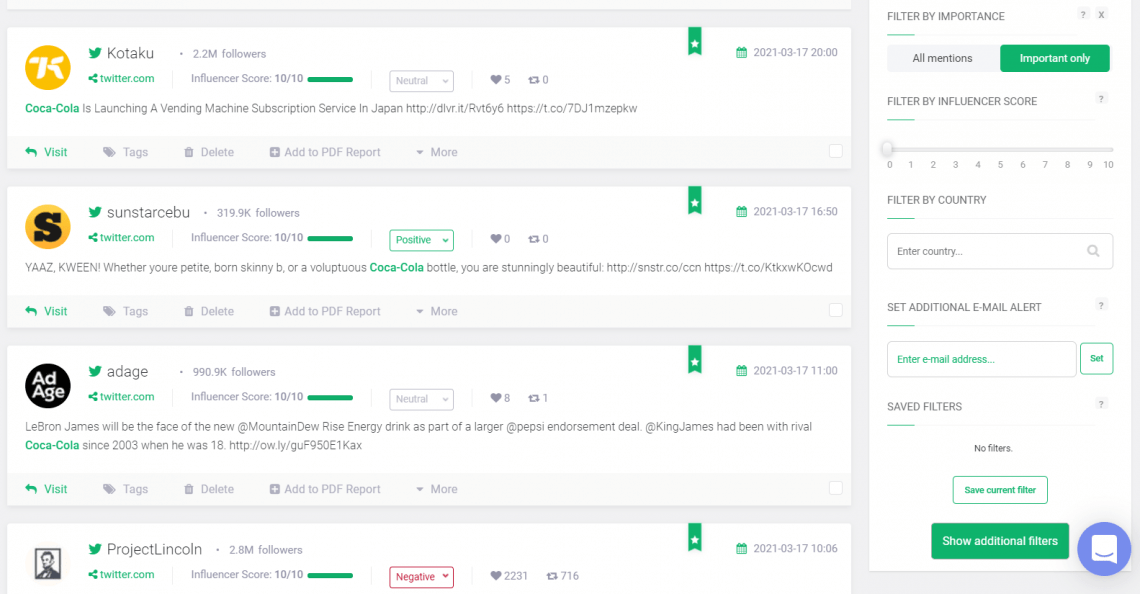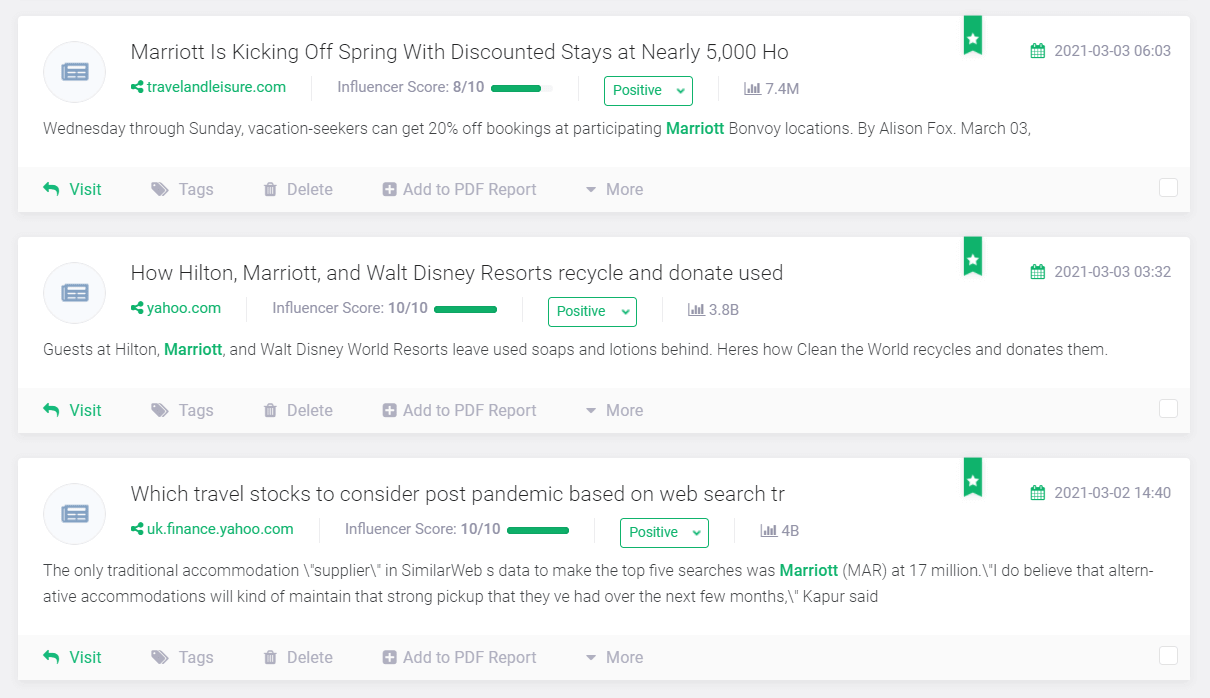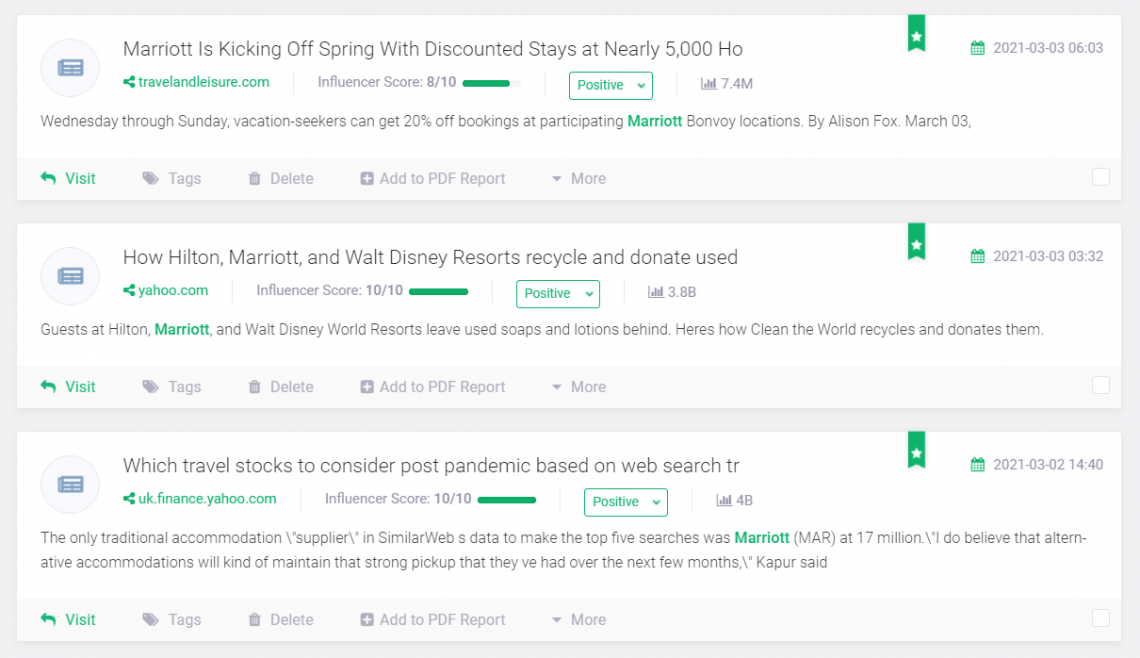 Critical Mention from what I know does not offer any metric that would be useful for influencer marketing.
Competitor analysis
Brand24's dedicated Comparison tab makes it easy to track competitors and compare their results to yours.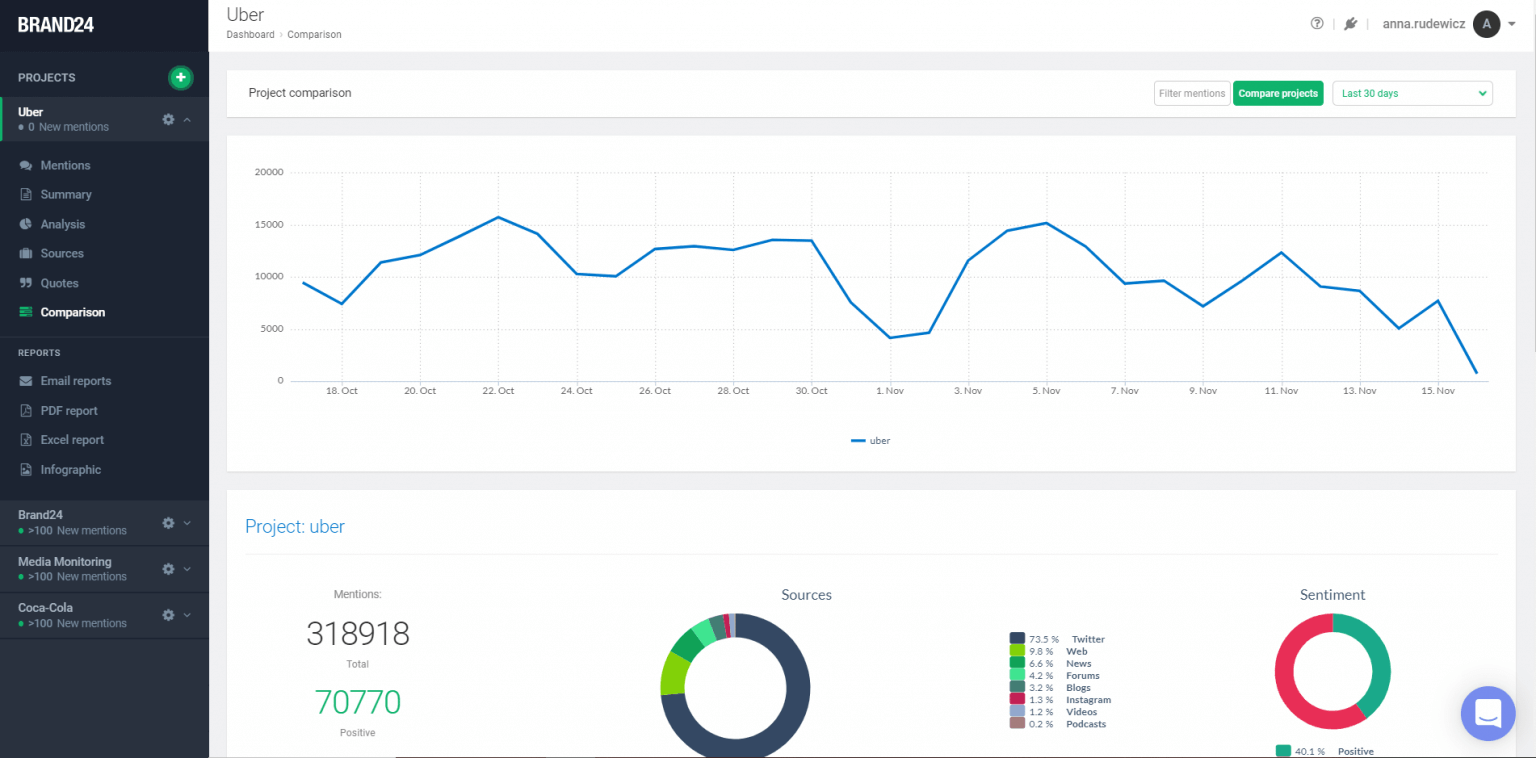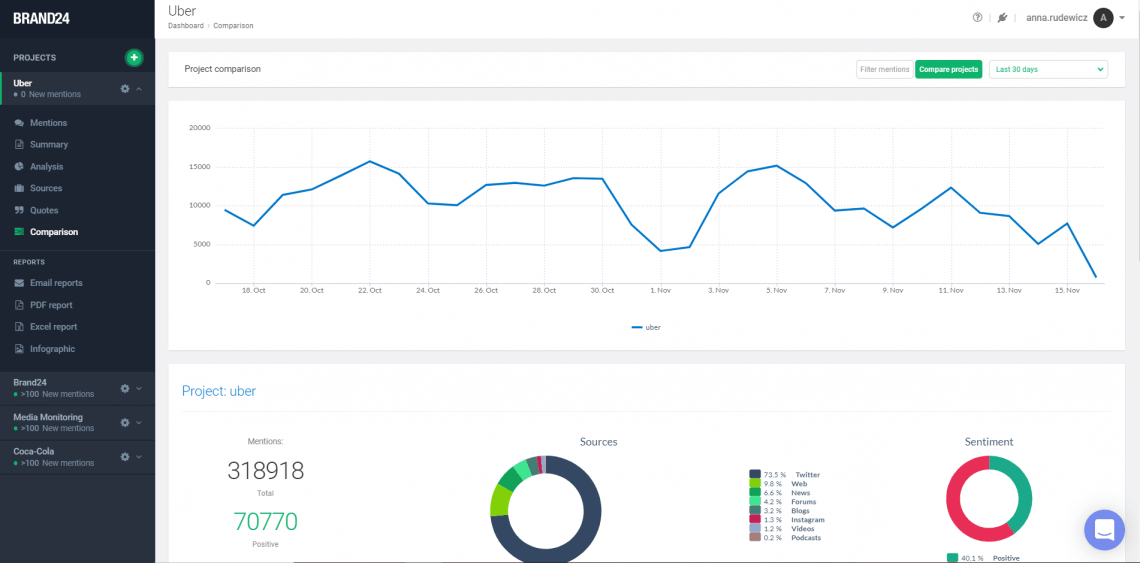 The software helps you conduct market research and learn new insights about your competitors and other companies from your industry.
You can monitor competitors with Critical Mention, but it will not likely provide you with a comparison.
Reports
Brand24 helps to create PDF, Excel, Email (daily, weekly) reports, and Infographics. Email reports make it possible to monitor your business everywhere, at any time.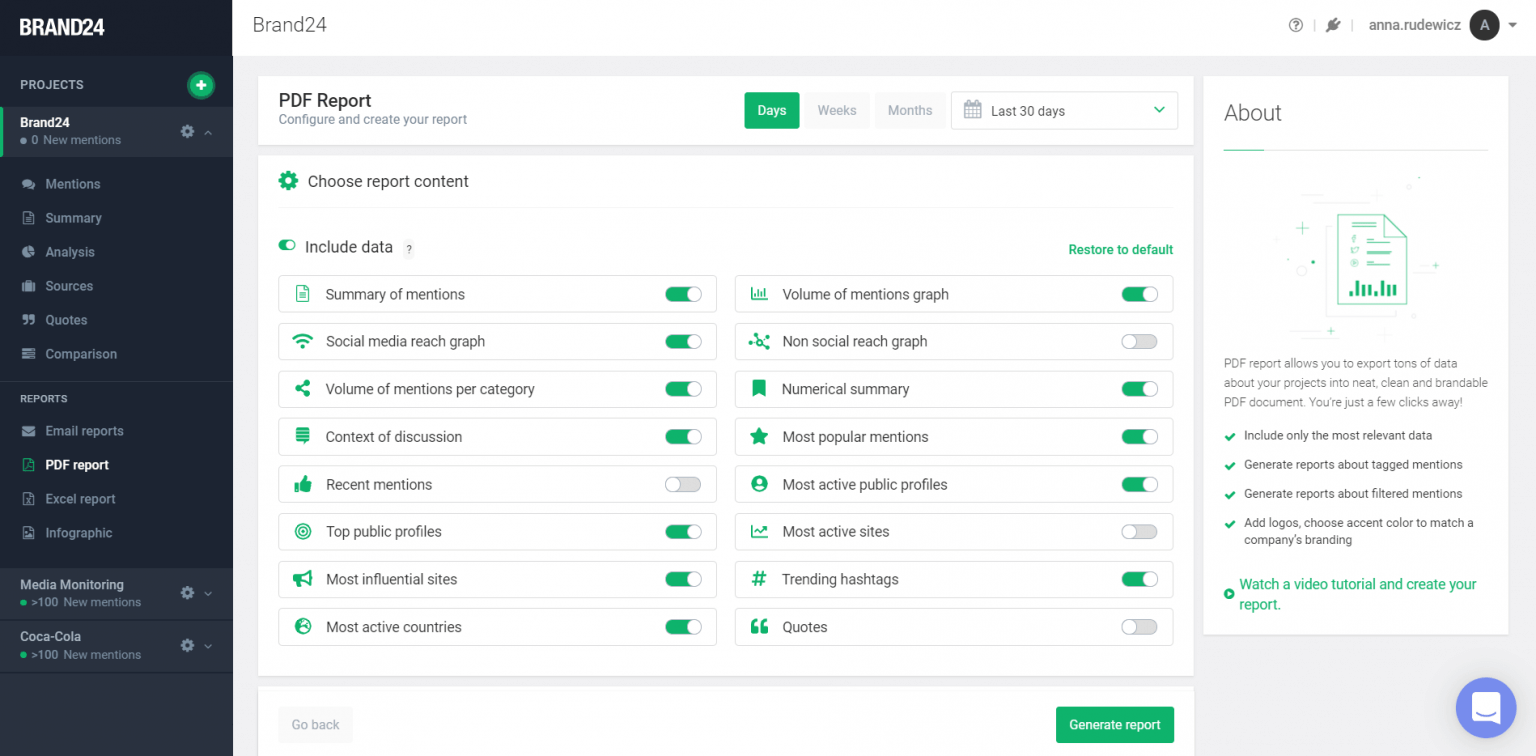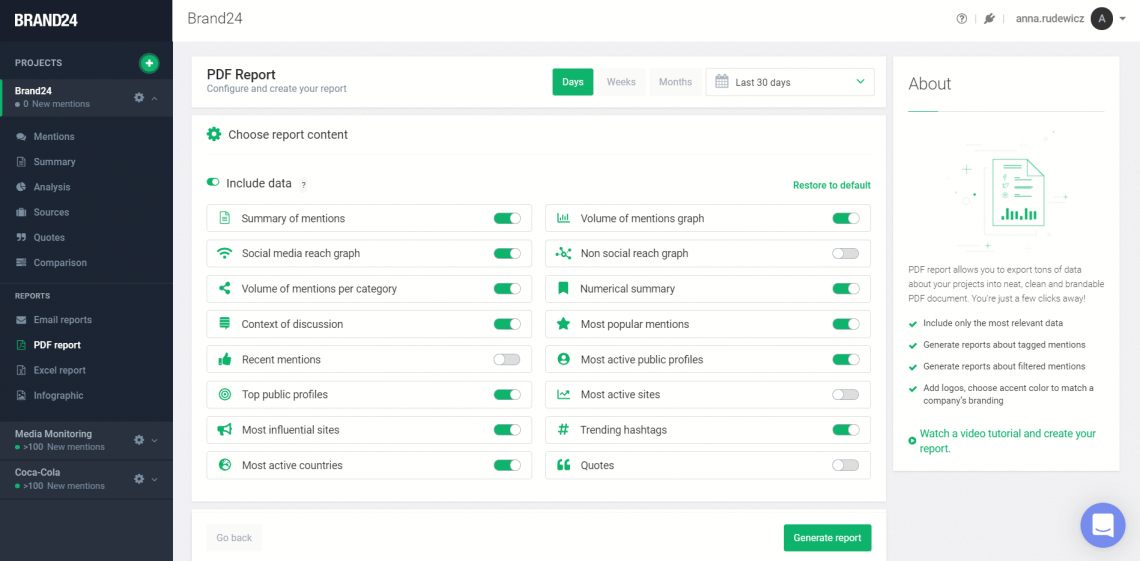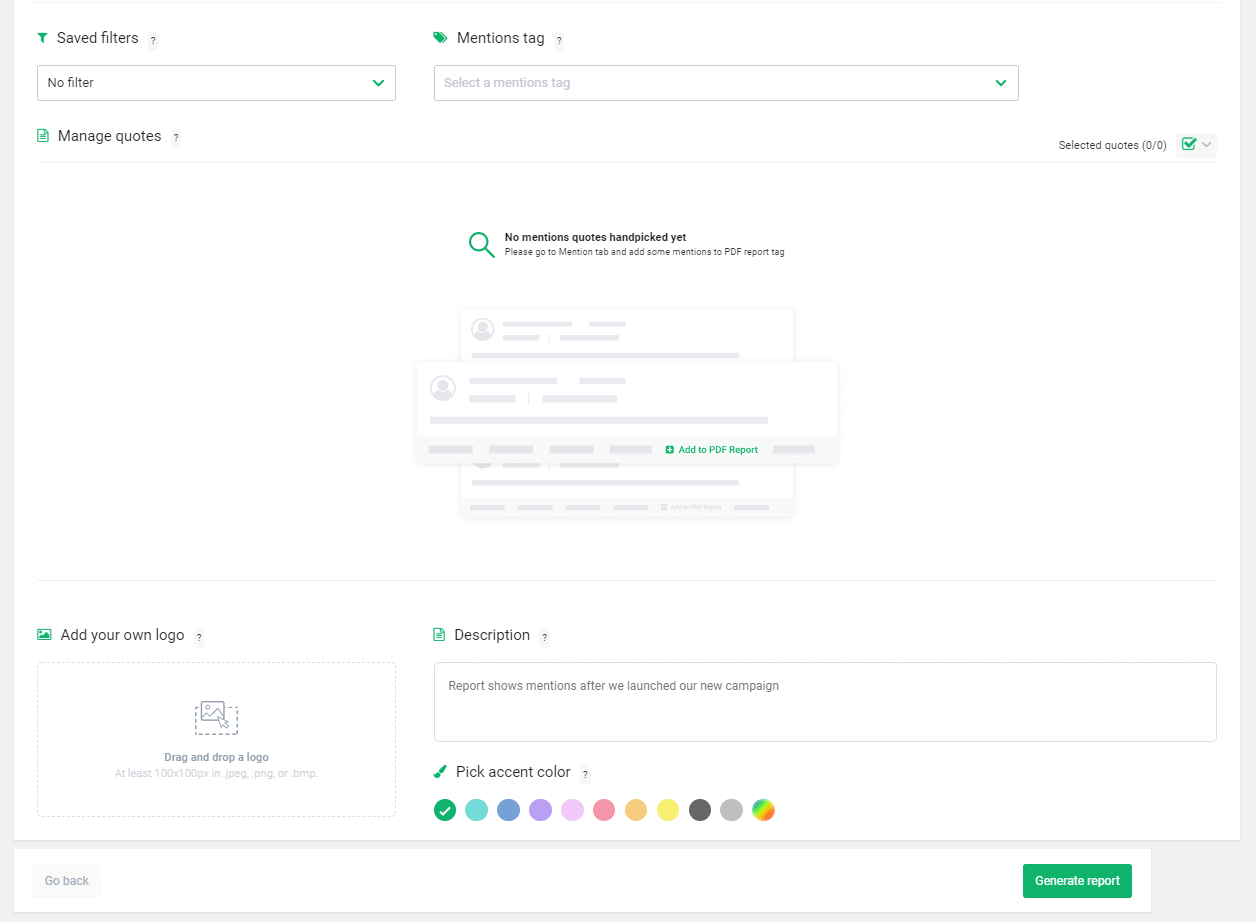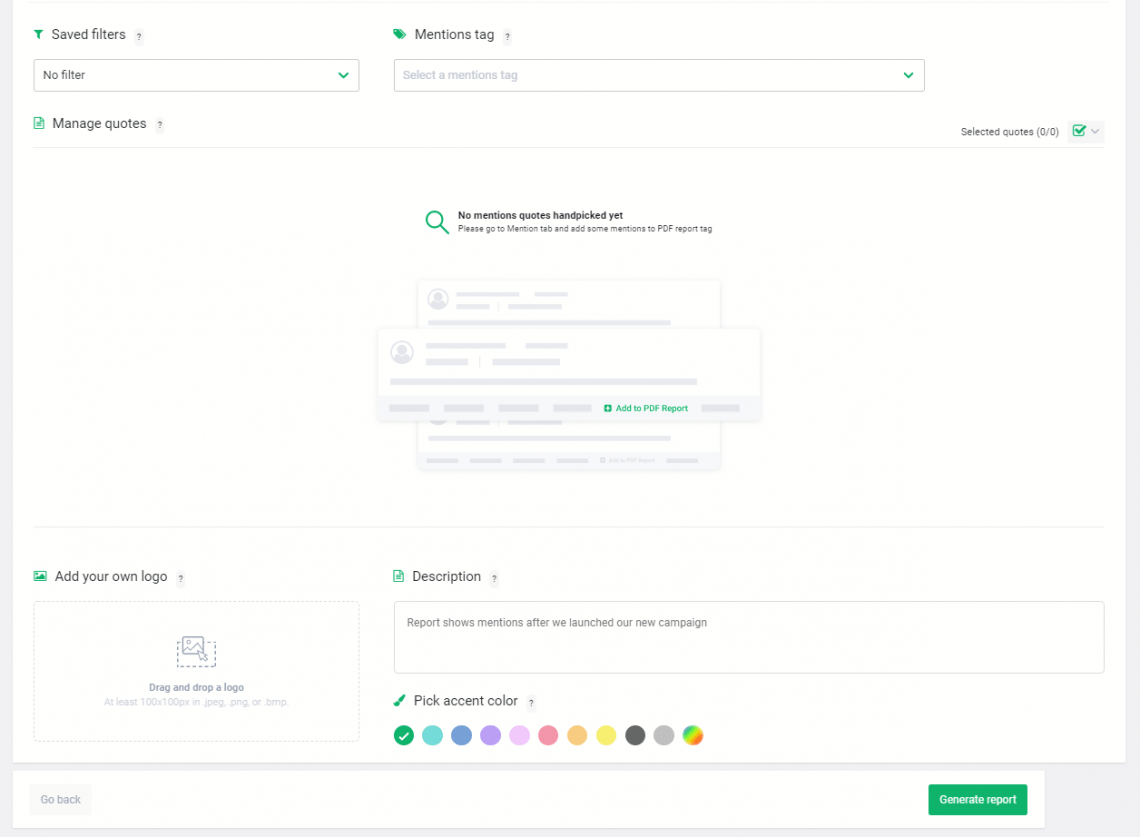 Critical Mention offers customized reports, but I couldn't find any information if these are PDF reports or in which form they perform.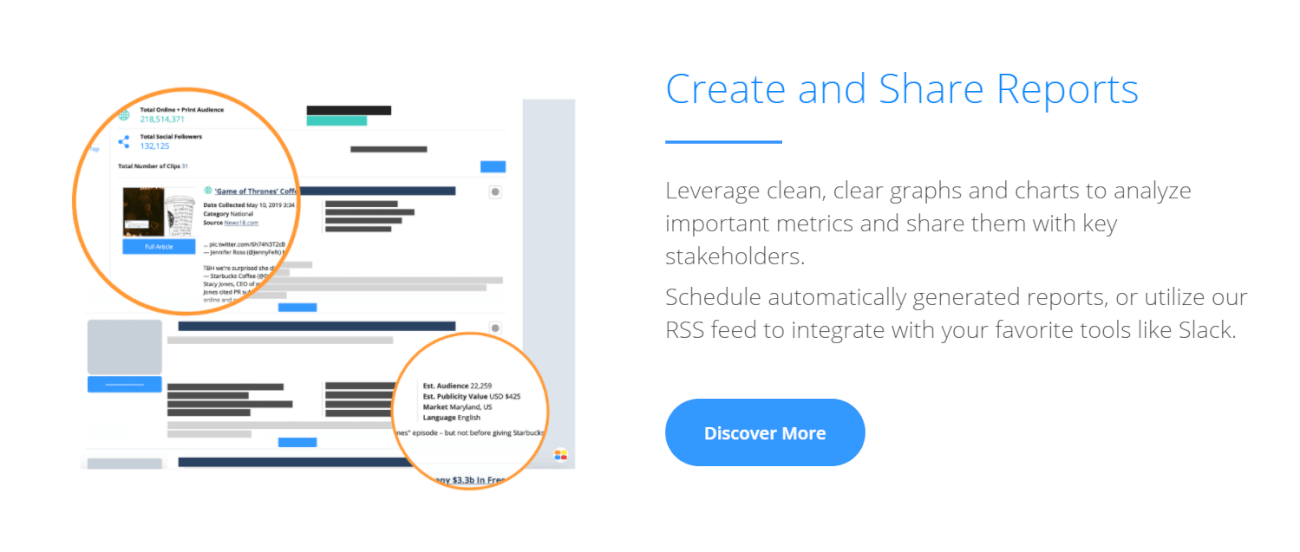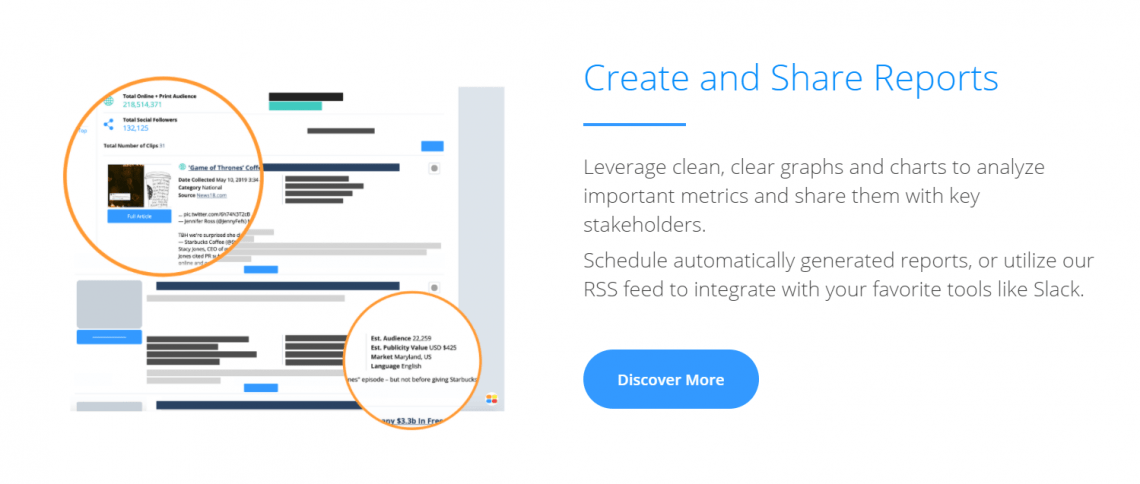 Pricing
Critical Mention price is not widely shared and known. I did my research and tried to find reliable information on Critical Mention pricing, and it is not that easy to find any information about it online.
Anyways, it is being said that the Critical Mention price typically runs $4,000-$10,000 per year.
It is also being said that the price depends on the user's needs and personal preferences.
"Let us know what your earned media needs are and we will create a package to meet those needs." – claims Critical Mention.
Let's compare it to Brand24 pricing.
Brand24 offers ready-to-go 4 pricing plans that you can choose from depending on your needs, budget, and expectations. They obviously can be customized and tailored to your personal preferences, so the pricing possibilities are very flexible, but it's good to have the idea that Brand24 is on the more affordable side when it comes to pricing.
Sign up for a cheaper alternative to Critical Mention
Personal Plus $49/month
Professional Premium $99/month
Professional Business $149/month
Professional Max $249/month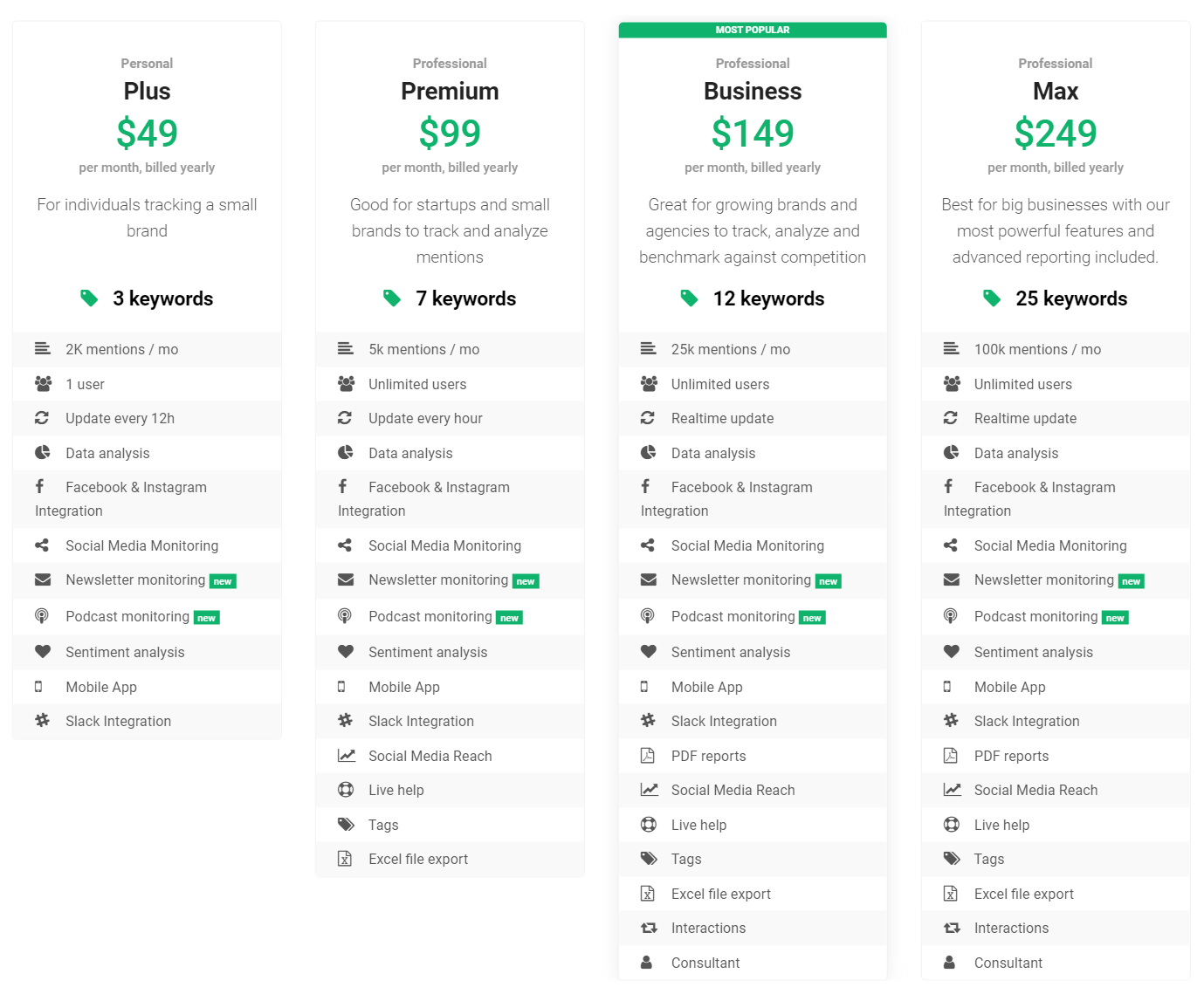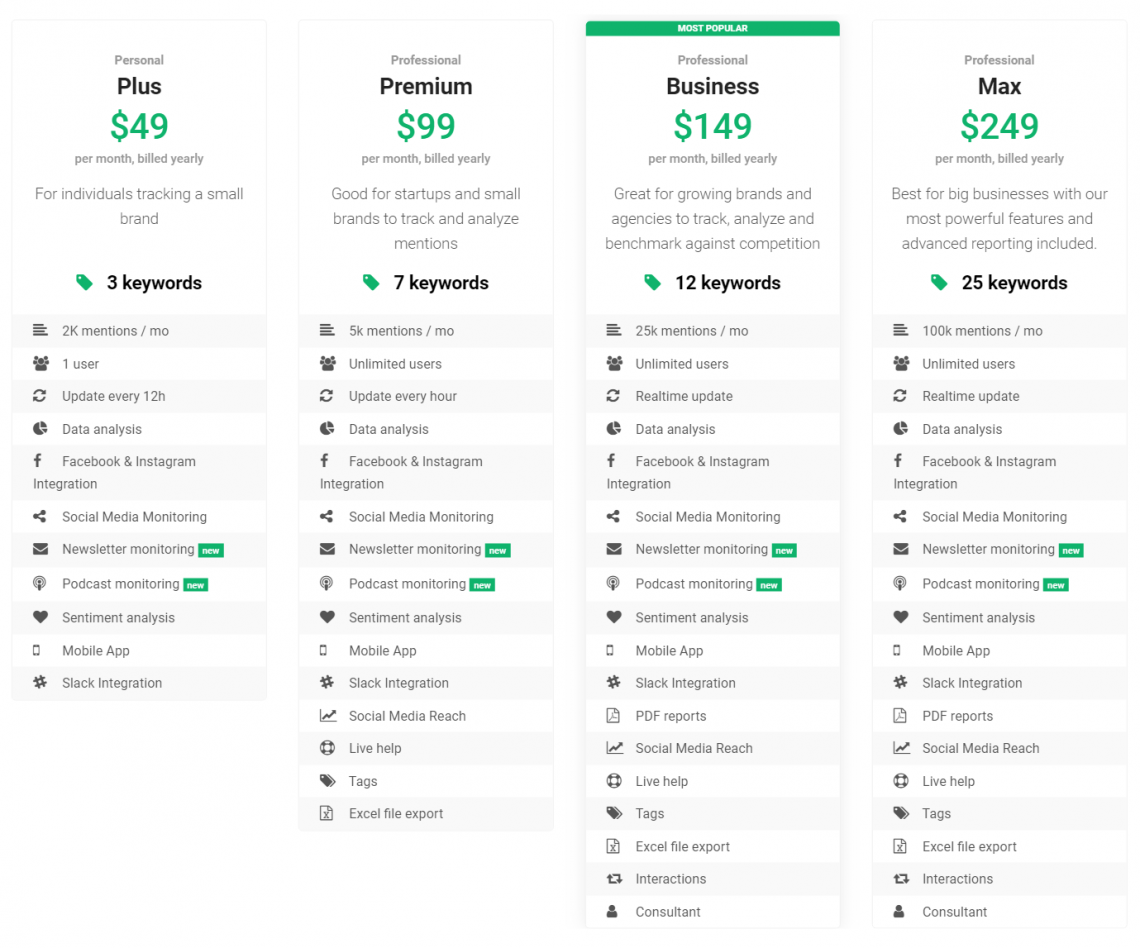 Each of these plans varies when it comes to the number of features they offer. It makes it possible for all kinds of businesses to find the perfect fit for their needs.
Brand24's plan that offers the most features yearly costs around $2300, which makes it still cheaper than Critical Mention.
Brand24 also offers a 14-day free trial that enables you to test the tool without any commitments, just to see if a solution meets your expectations and needs.
Critical Mention does not offer a free trial. You can contact their team to get a demo.
Design
Critical Mention visually does not look very modern and clear in my biased opinion. Make up your own mind by having a look at these screenshots:
I wouldn't say that Critical Mention is user-friendly. It's pretty basic.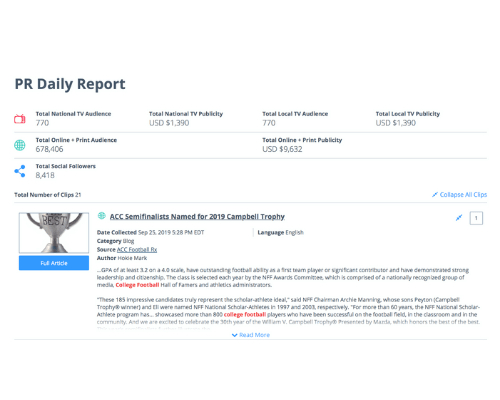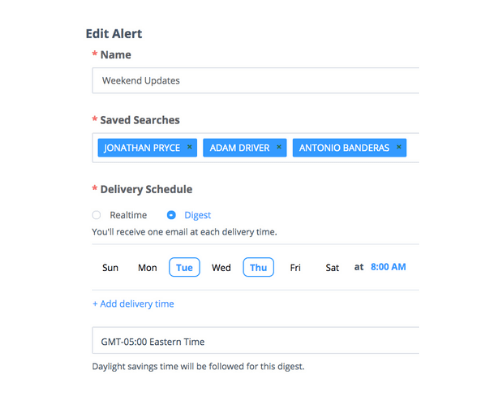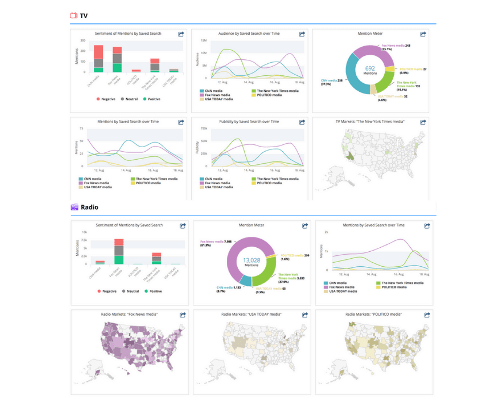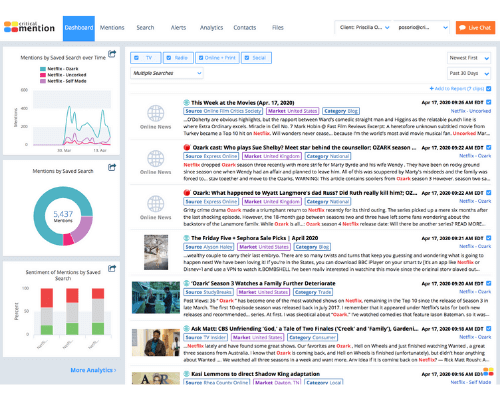 Brand24 on the opposite performs data and results in an organized, clean way that is user-friendly. The tool's design is very modern in my opinion.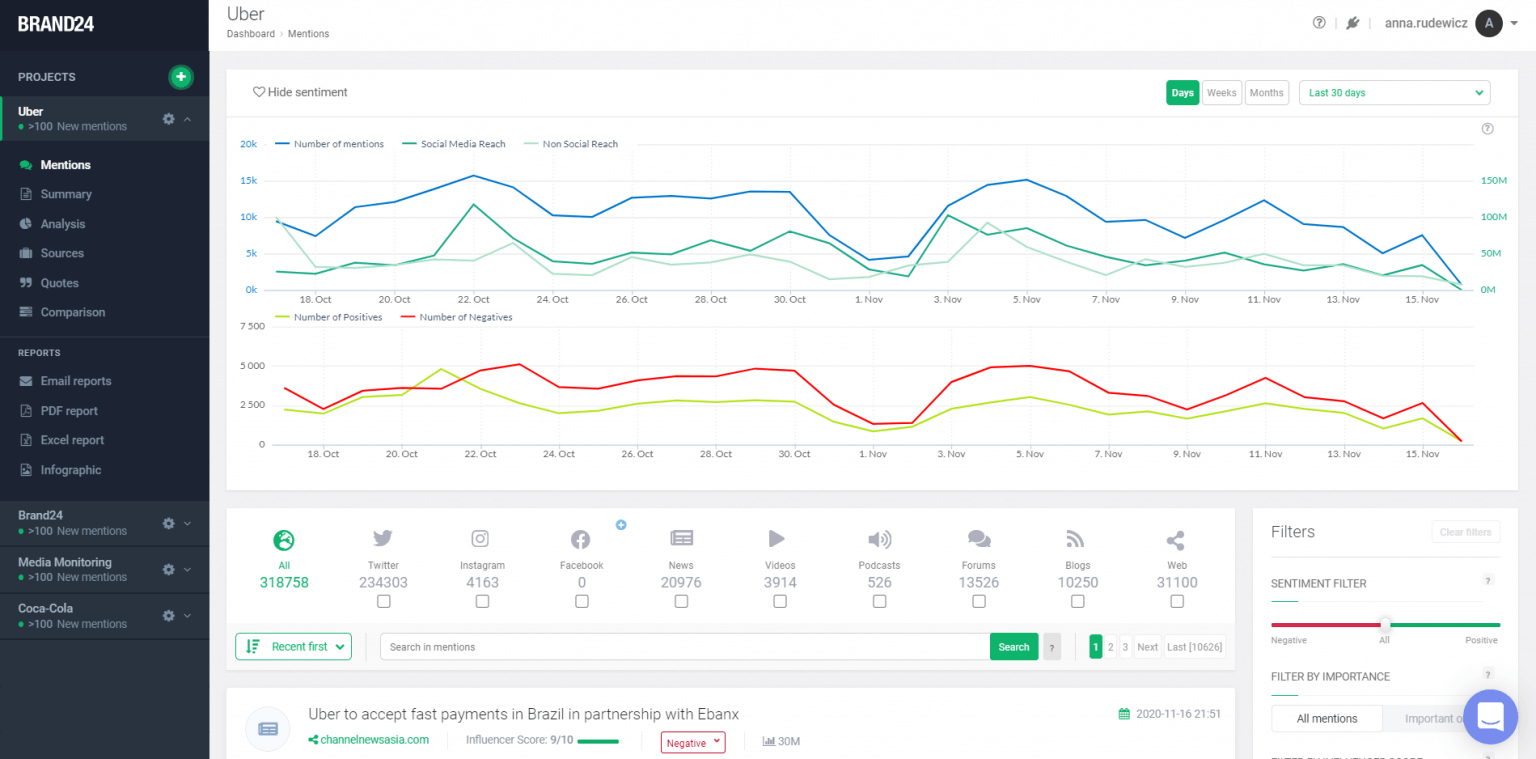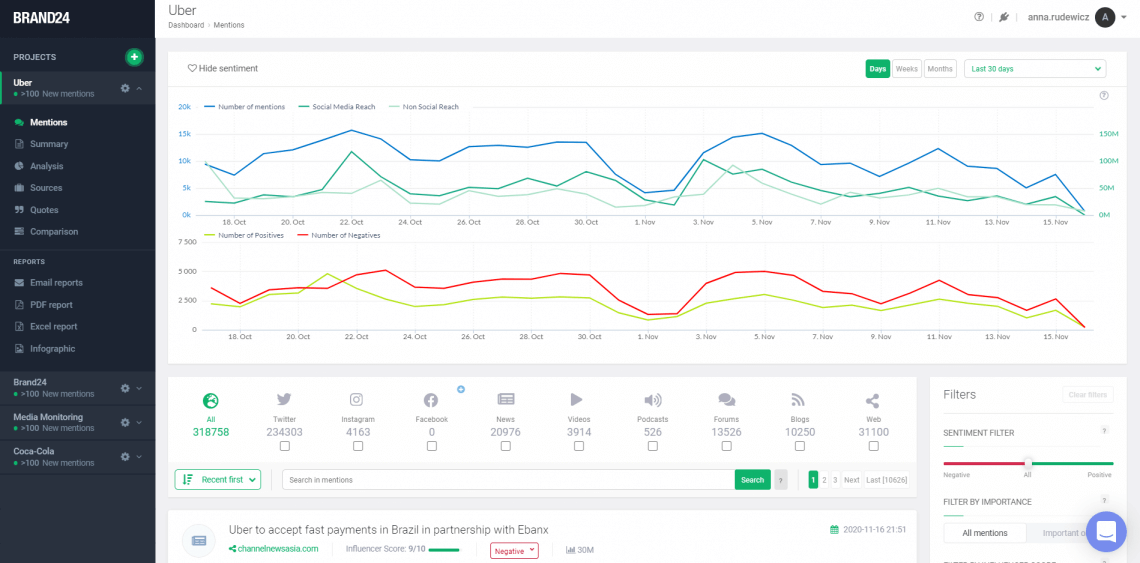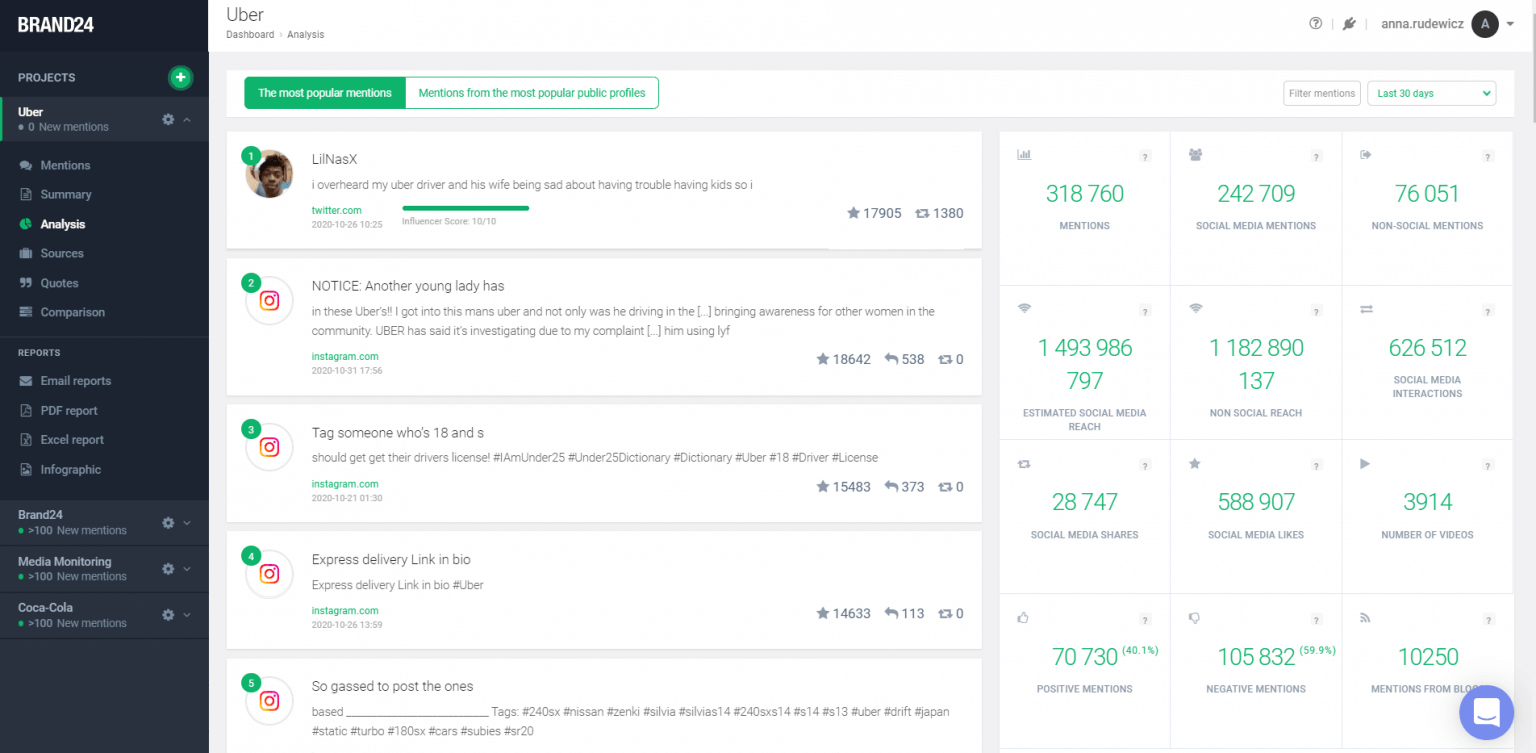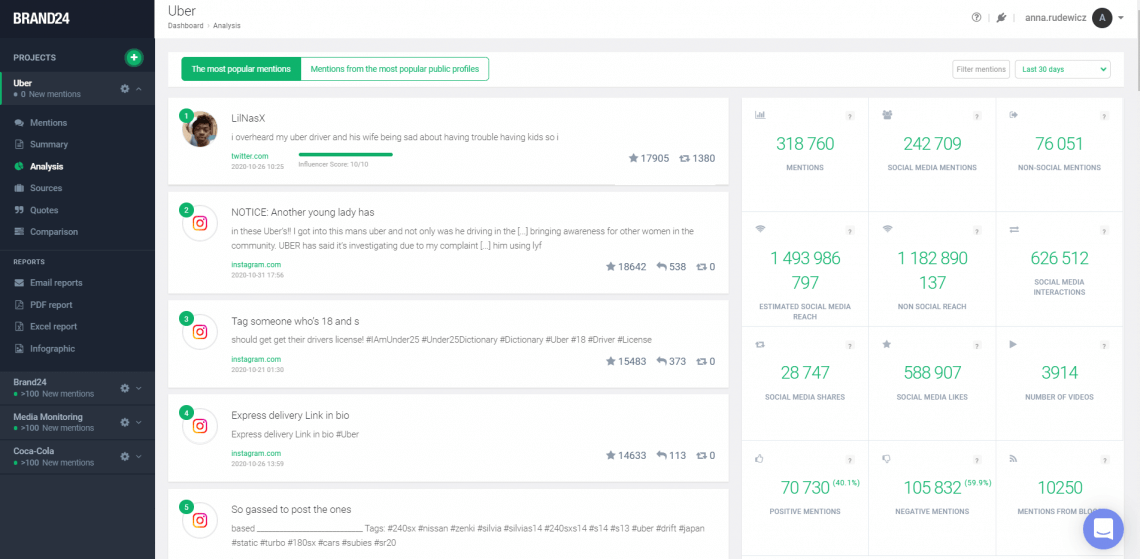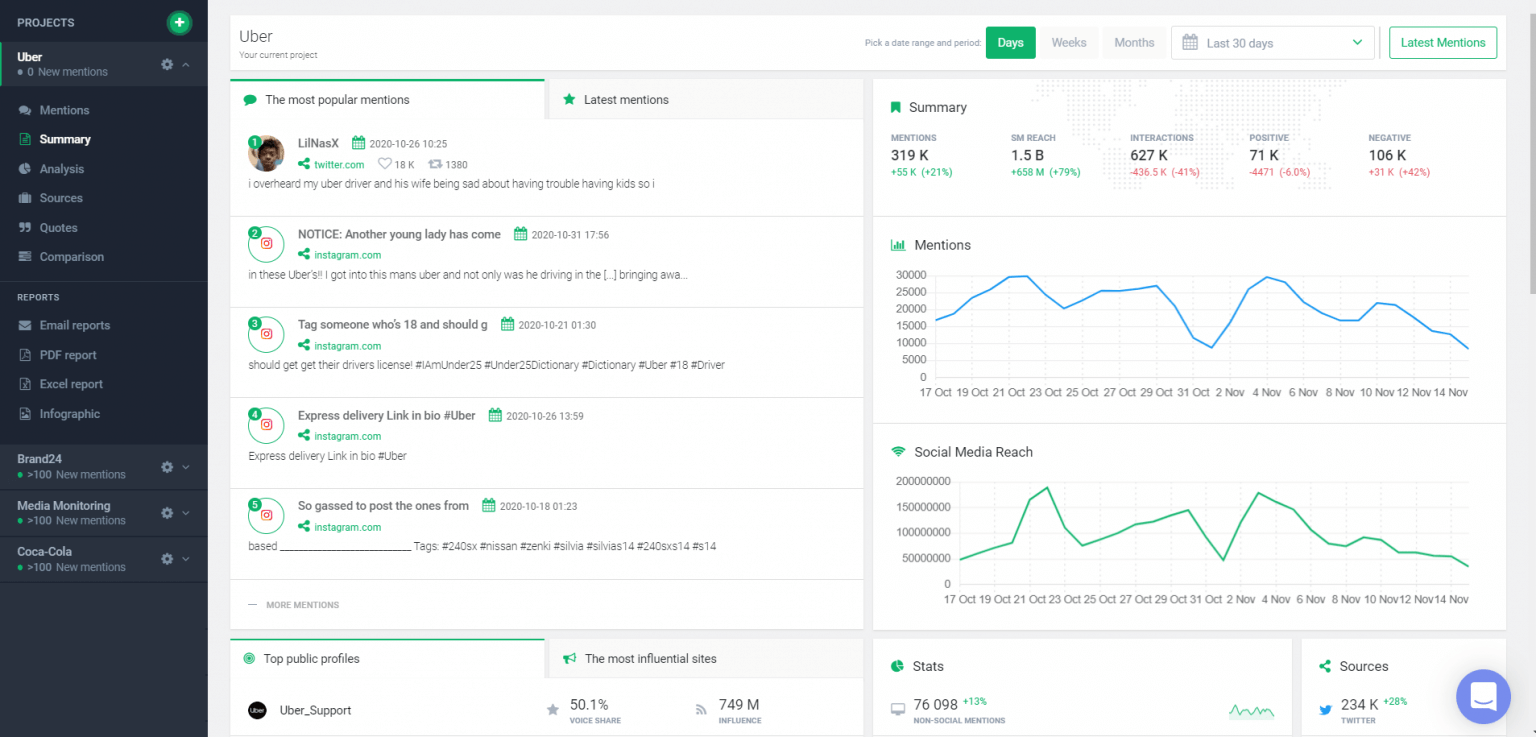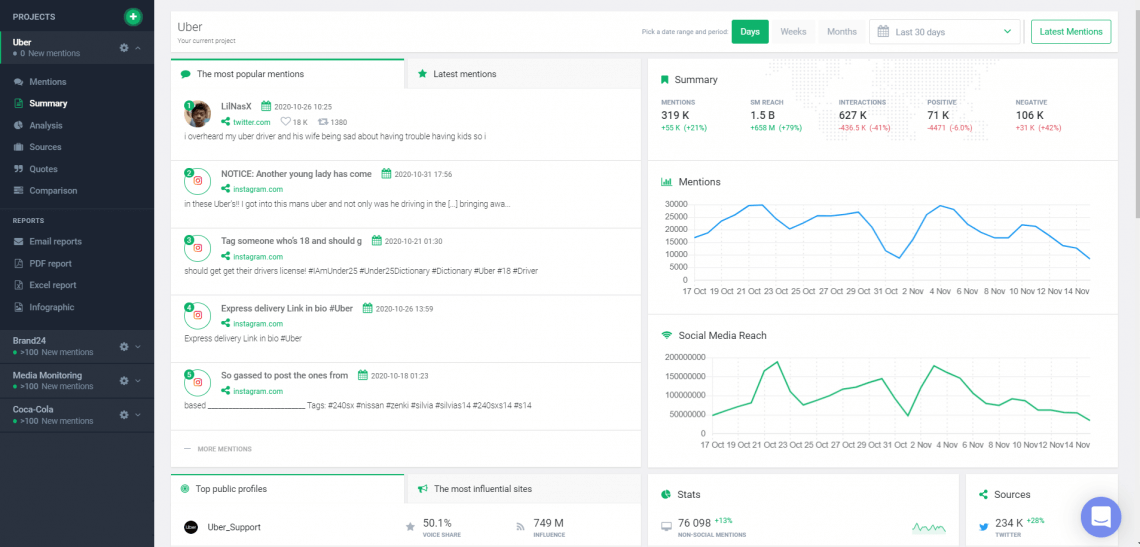 Reviews
Both Brand24 and Critical Mention have great reviews. It makes both solutions credible, reliable and trustworthy.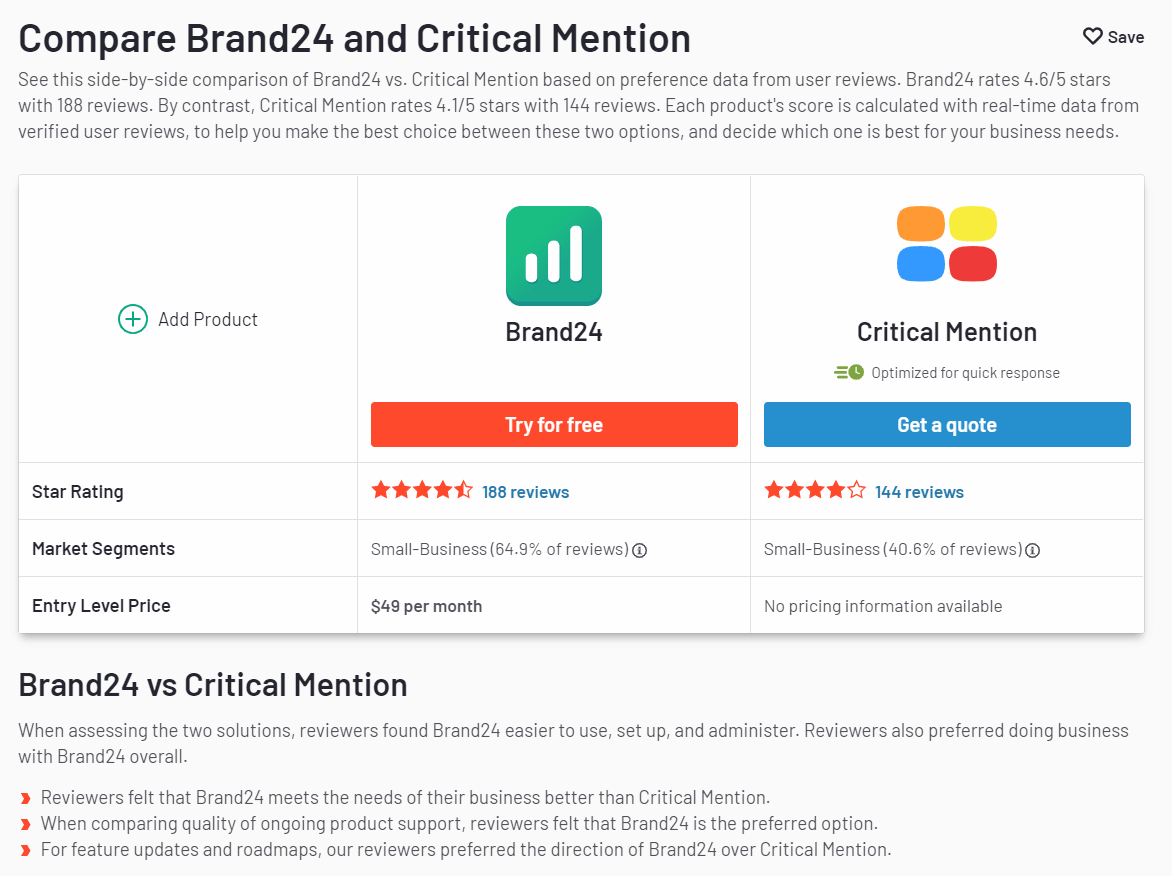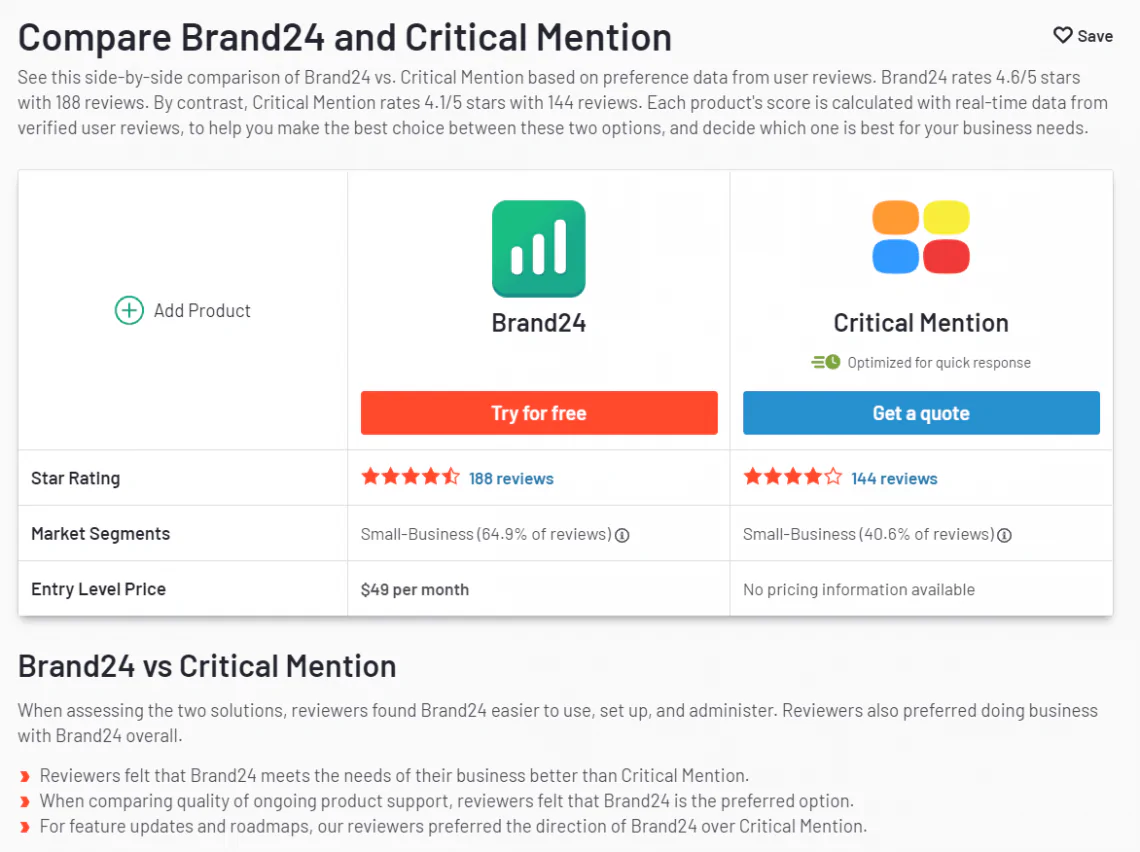 Each of these solutions surely will be satisfying for many users, depending on their needs, preferences, and budget.
Brand24 has a little more reviews and still has a higher score – promising 😉
Both companies are exquisetly recommended na praised for their customer support standards. Customer support of high quality is a very important factor that makes a service even more reliable and credible. Congrats to Brand24 and Crticial Mention's customer support teams!
Brand24 – advanced but affordable monitoring tool
7 reasons why Brand24 is a good alternative to Critical Mention
Brand24 monitors more online sources, including newsletters,
Brand24 is very advanced, but still more cost effective than Critical Mention,
Brand24 is more friendly to small businesses due to its price,
Brand24 is as reliable as Critical Mention and has more positive reviews,
Brand24 has a modern and user-friendly design,
Brand24 offers really advanced and valuable features,
Brand24 can be used for various purposes,
Both solutions offer an outstanding customer support service,
Brand24 offers a free trial and Critical Mention doesn't.
FAQ
What is Critical Mention used for?
Critical Mention is a real-time media monitoring platform used to track and analyze online conversations across multiple media channels. Its primary function is to help businesses keep up with what is being said about their brand, industry, or competitors. By providing tools for social listening, Critical Mention allows companies to gain insights into customer sentiment and trends, enabling them to respond swiftly and appropriately. It is also used for saving time on manual media monitoring by offering automatic alerts and detailed reporting features.
What does Critical Mention cost?
As said before, Critical Mention's cost hovers around $4,000 per year. While Critical Mention is a great tool for media monitoring and analysis, some businesses may find the cost challenging, especially smaller organizations or those with tighter budgets. As an alternative, Brand24 offers competitive pricing and a robust set of features that provide excellent value, making it a highly considered option for businesses of all sizes looking for cost-effective media monitoring solutions.
Where is Critical Mention based?
Critical Mention is based in New York City, United States. The company's headquarters are located there, but it helps businesses worldwide with their media monitoring and analytics solutions.