4 Keyhole Alternatives +Why You Should Try Them
October 3, 2023 ・ 13 min read
There are dozens of social media analytics tools on the market. For sure you want to use the most efficient one. Before making a purchase, you shall take a look at the Keyhole alternatives list. I prepared an overview of 4 best social media analytics tools that can save the day. Learn the differences between them and choose the best for you!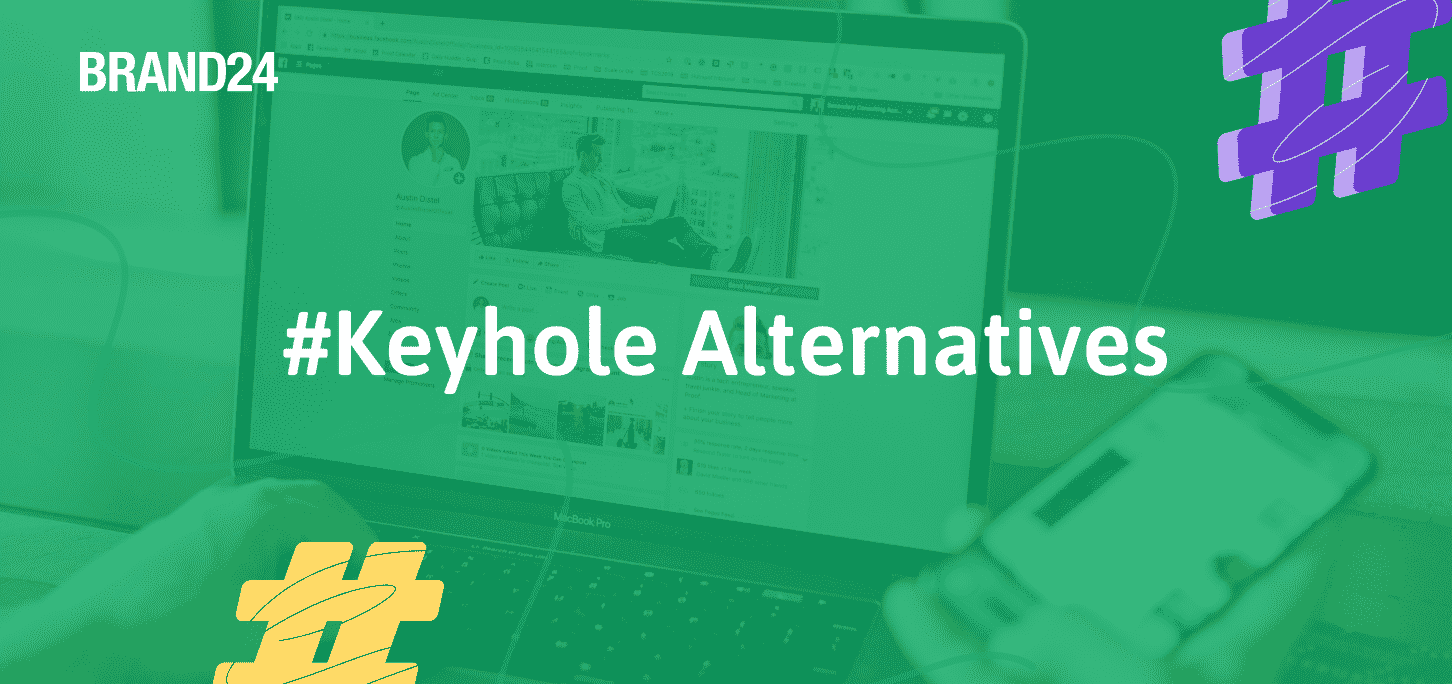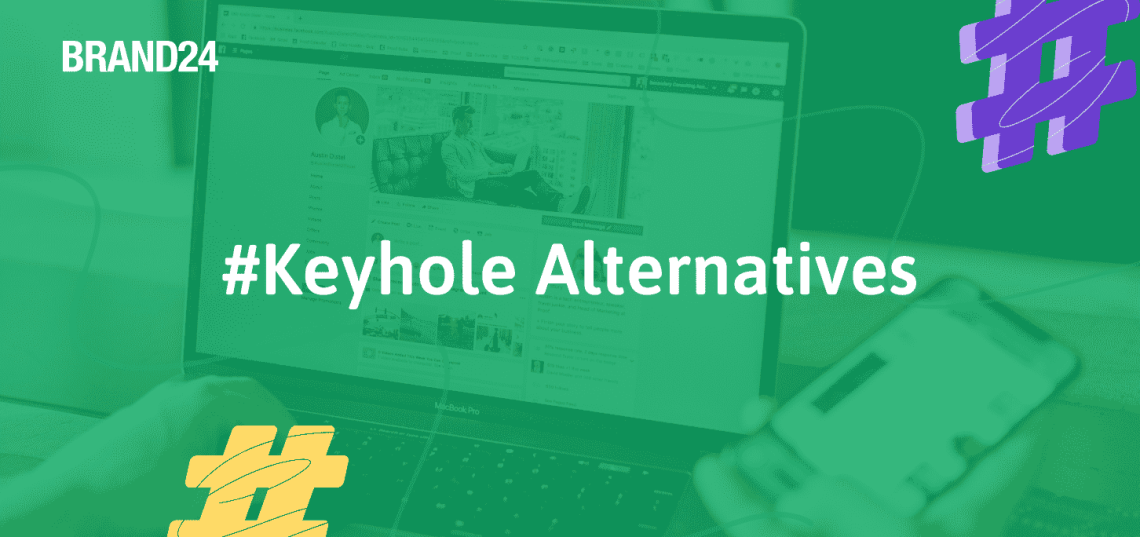 I don't want to say Keyhole is a bad tool.
Of course, it has some handy features. But everybody needs something different from social media analytics tools.
That's why it's good to know you have a choice and discover Keyhole alternatives. This way, you can make an informed decision and choose a social media listening platform that matches your needs best.
Why should you go for a Keyhole alternative?
Overall, Keyhole is not bad software. It has a wide range of features for managing social media accounts, metrics for actionable insights, and a media monitoring tool.
However, I can find a few major downsides of Keyhole. They are a good reason to consider Keyhole alternatives.
Firstly, the trial let me down a bit. It's 7 days long. That's fine. The problem is the limit of 1000 mentions per trial. When you reach it, you can't delete the project and start a different one.
Thus, choose your keywords wisely when testing Keyhole. Unfortunately, I went for the keyword 'McDonald's.' As you can imagine, after a few hours, it reached the limit. Because of this, I feel I wasn't given a chance to try the tool thoroughly.
Another thing that struck me is the lack of crucial metrics. These are the numbers Keyhole provides:
Posts
Users
Engagement
Reach
Impressions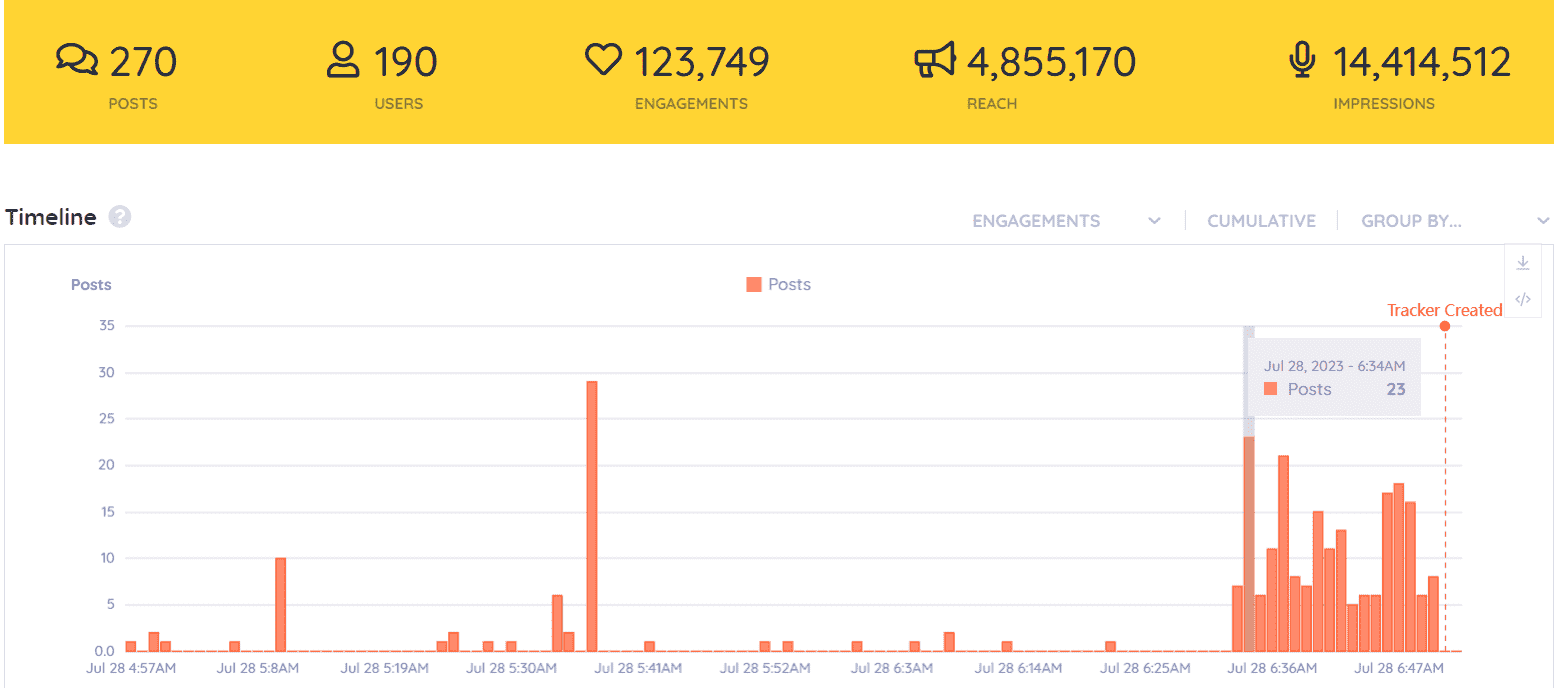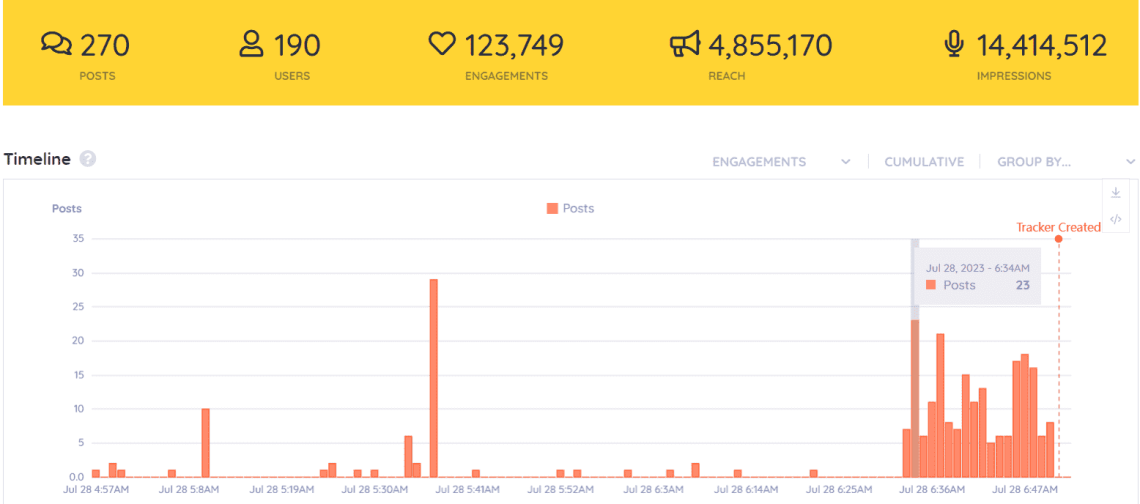 There are also stats for sentiment, gender, and location of the users and top devices & apps. You can also see sites and accounts that mention your keyword the most.


That's it. This may seem enough, but it lacks the social media metrics other tools have.
These are general metrics that help you gauge your overall online performance and reputation. That's a vital aspect of successful social media marketing. They are helpful because they do the analysis for you and provide a complete picture of your Internet and social media performance.
Moreover, these metrics are essential for competitor analysis. With them, you can easily assess your market position in relation to other companies in your niche.
Besides the metrics, there's one more remarkable shortcoming. Keyhole doesn't monitor all the key platforms you need for a complex analysis. It skips news sites, Pinterest, and Reddit. Sadly, this may influence your results and metrics, giving you a distorted picture.
There are two other things I'll bring up. Namely, language filtering and topic analysis.
It's good to know that the former is available only for the enterprise plan. This means you'll also be getting mentions in foreign languages that you can't understand or are not interested in. To me, that's an unforgivable con.
Regarding the topic analysis, it's rather imperfect. It identifies the most common words from the mentions. Thus, it's not trending topics, in fact. It's more of trending words, and that makes a difference. Of course, this information is still valid, but it's less informative than an actual topic analysis.
Not satisfied with Keyhole? Don't worry; many alternatives exist!
That was a bit of criticism, so let's look at the plus side now.
Definitely, Keyhole has its benefits. Here they are:
The option to get historical data
Filtering by country (enterprise feature)
Collect posts only from verified Twitter and Tiktok users (enterprise feature)
Media wall
Scheduling posts & publishing – useful when managing multiple social media platforms
Profile analytics – an excellent way of measuring if your social media management works
Measuring cross-platform performance – great if you operate in multiple social networks
Benchmarking against competitors
The price starts at 79$ per month, billed yearly, dedicated to freelancers. You can also choose between Corporate and Agency plans or request custom pricing.
But if you're here, I guess you have doubts about Keyhole… No worries! I'm just about to show you Keyhole alternatives that will meet your expectations, providing the meaningful customer insights you're looking for.
Looking for Keyhole alternatives? You're in the right place.
Best Keyhole alternatives
Now, let's explore some of the best Keyhole alternatives. These tools offer powerful features to track and analyze social media trends, hashtags, and mentions. Some of them focus more on social media management, while others are more of media monitoring tools. Thus I hope you'll find something for yourself.
Whether you're seeking budget-friendly options or tools with advanced analytics, you'll find them here. Let's dive in and discover the perfect fit for your social media monitoring requirements.
01 Brand24
Brand24 is a comprehensive AI-powered media monitoring and social listening tool. With its robust social media analytics, it's a reliable Keyhole alternative.
It monitors both social and traditional media. Thus, it offers a complex and thorough analysis of your online performance. Besides sources that Keyhole monitors, Brand24 also covers news sites, Pinterest, Reddit, and more.
When it comes to the mention tabs, there are few differences. Of course, design varies, but the metrics mostly overlap.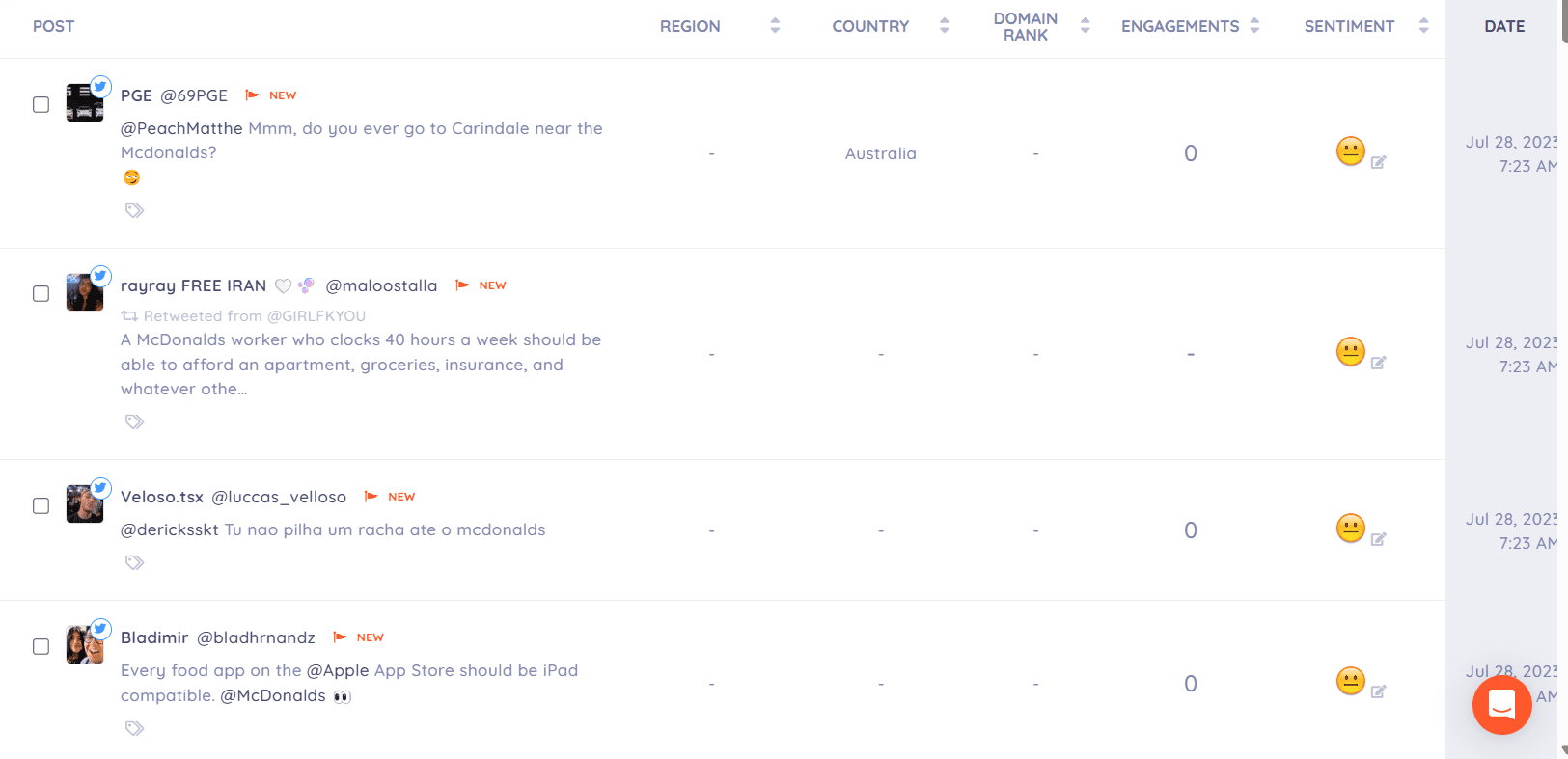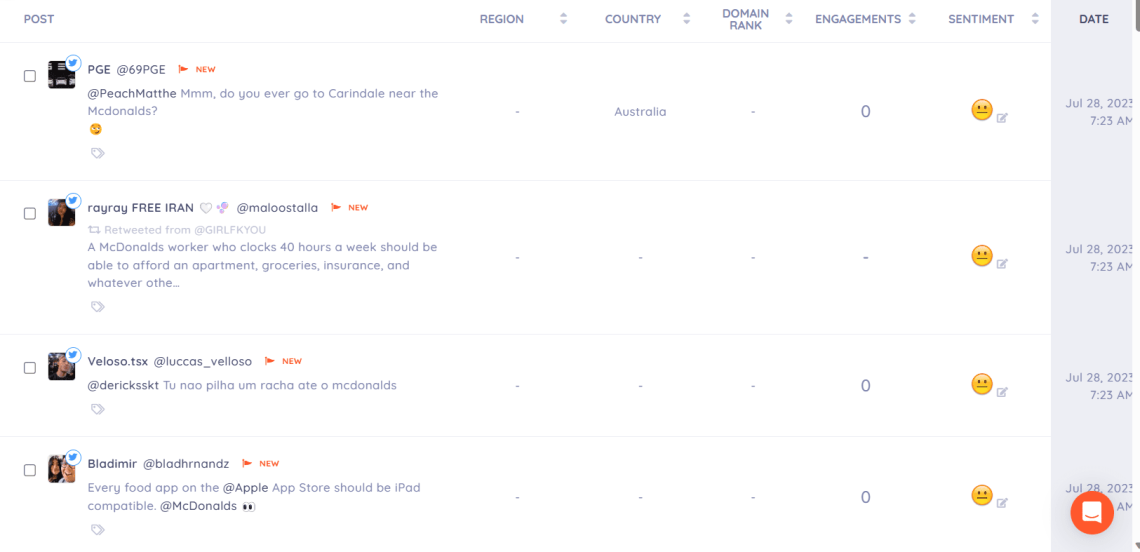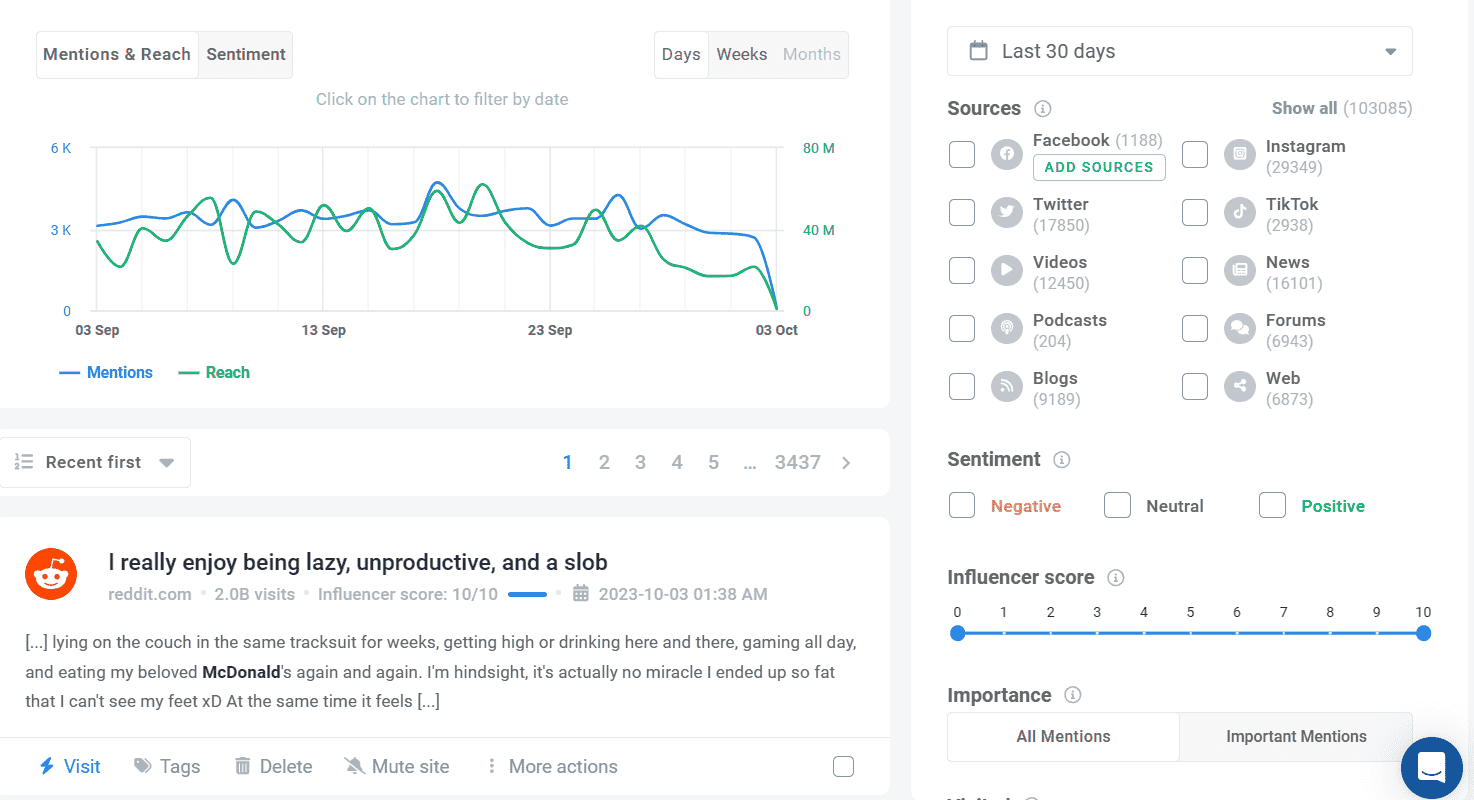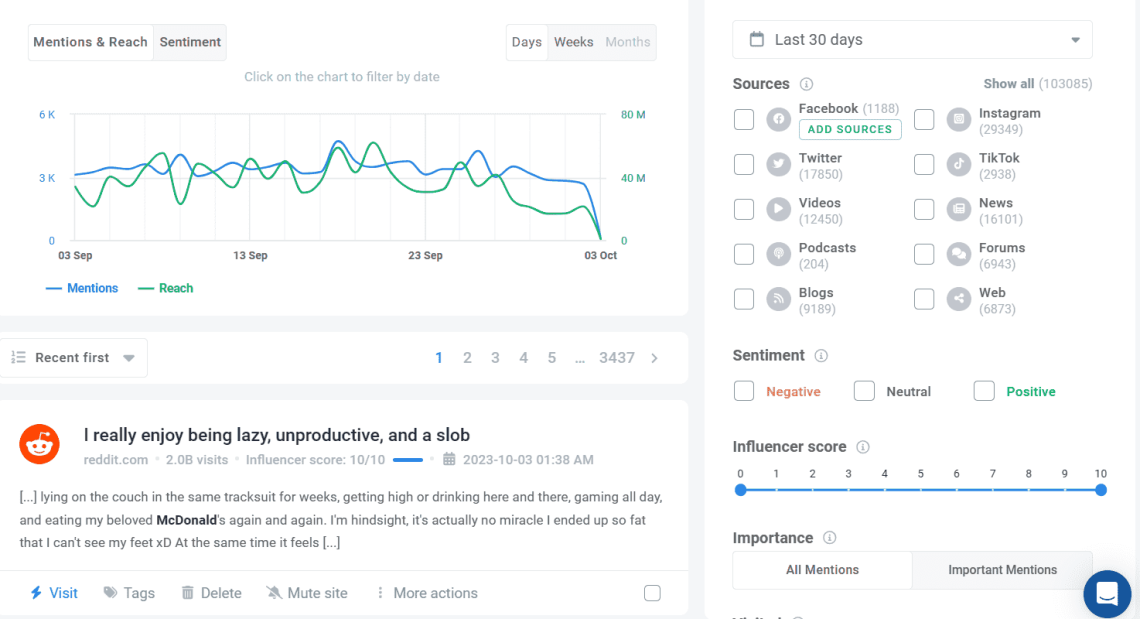 In theory, Keyhole additionally informs about region, country, and domain rate, but as you see, it's not there in most cases.
Regarding the metrics, Brand24 has a lot to offer:
Number of mentions
Social media interactions
Social media likes
User-generated content
Sentiment Score
Social media and non-social reach
Presence Score – measured on a scale of 0 – 100, where globally known brands achieve 100
Reputation Score
Share of voice
AVE
Influencer score
Measure your online metrics and social media data!
Brand24 provides AI-powered metrics to help you analyze complex data. This way, you conclude your social media performance without spending hours studying mentions and numbers.
Plus, you can use Presence and Reputation Scores to inform your competitive analysis or conduct a SWOT analysis.
Besides AI-powered metrics, there are other innovative analytics features supported by artificial intelligence:
AI-reports assuring you won't miss out on critical strategic insights
Emoji analytics to back up your emoji marketing and identify trends
Discussion leaders with the division for positive and negative speaking authors
Insights for an in-depth analysis of your keyword with a division for social media platforms
There's also an AI-powered topic analysis. Let's compare it with the one offered by Keyhole.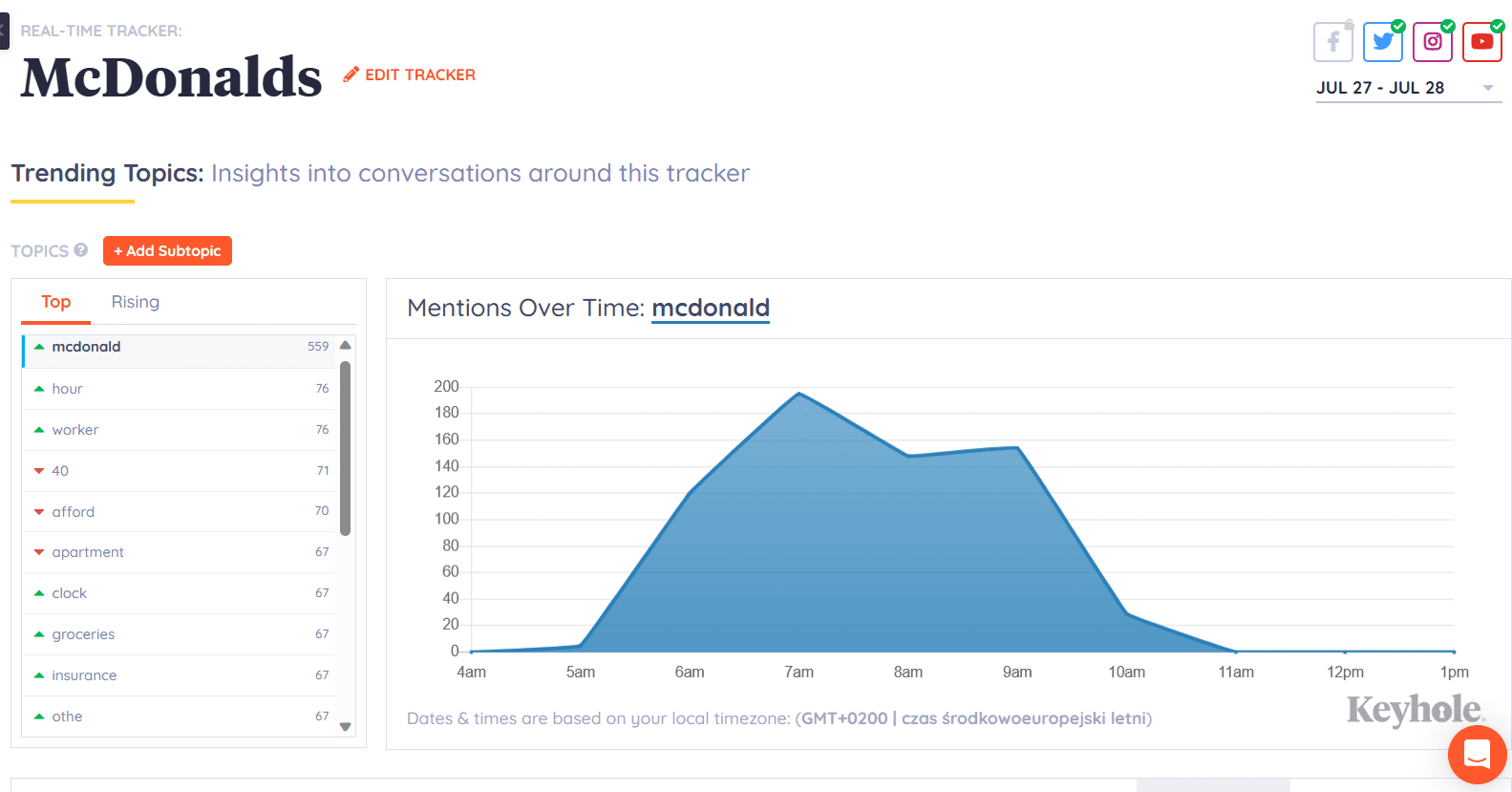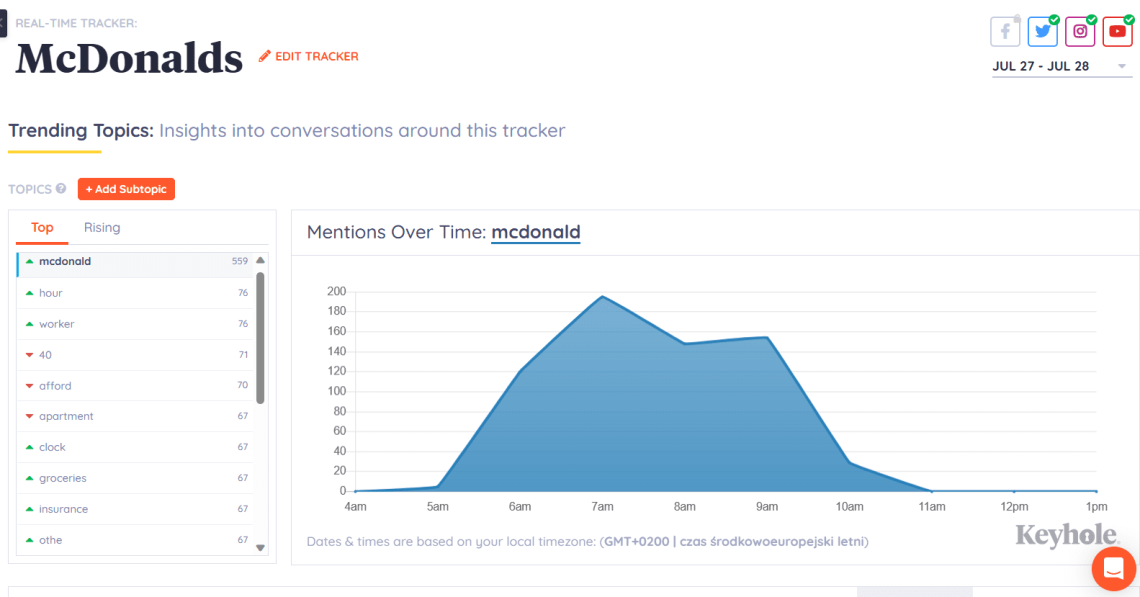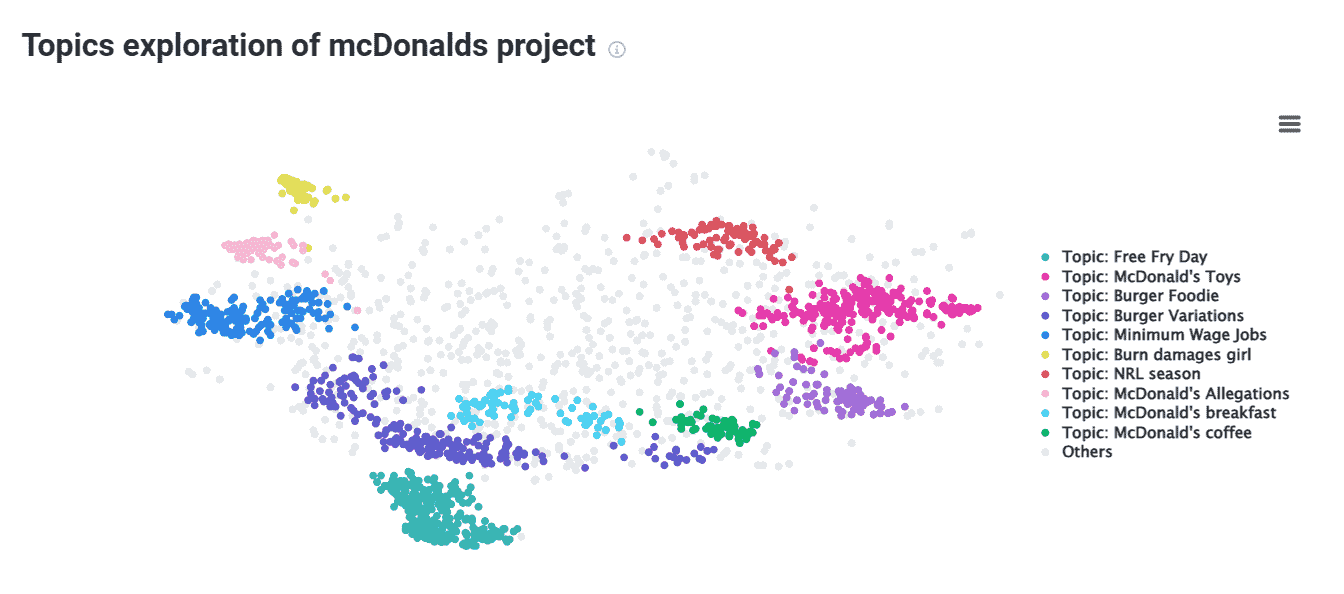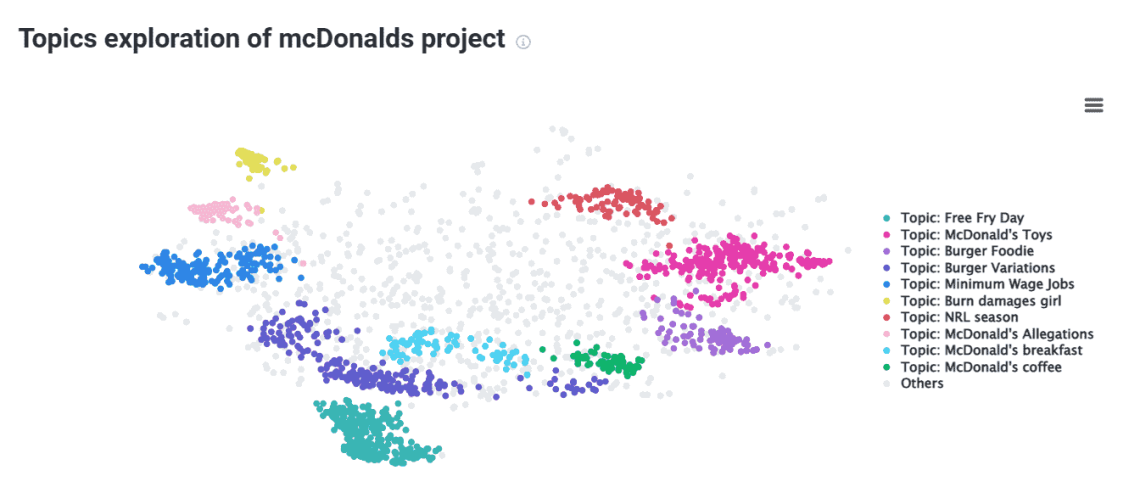 Brand24 identifies complex topics, while Keyhole simply finds the most common words. By the way, Brand24 also has this feature, but it's called Context of a Discussion.


There's one more significant advantage of Brand24's Topic Analysis. You can check each topic's detailed analytics to learn the sentiment, changes in popularity, sources, most important phrases, and more.
This way, you'll know exactly what your audience is up to. That's how you learn what matters for them through the trending topics.
Start a free trial and see what Brand24 has to offer.
Besides sentiment analysis, all AI features are available from Pro or Entreprise Plans.
Brand24 empowers your influencer marketing. With ranks of Influencers, Top profiles, and Most active profiles, you can identify your brand's fans. If you have successful influencer marketing programs in mind, this feature will definitely help.
There are also Trending hashtags and Trending links ranks. That's all you need to identify trends for your brand.
There are two more functions I want to show you. These are language filtering and Quotes.
What's critical, the former is available for every plan. Meanwhile, Keyhole offers language filtering only for the Entreprise plan. To me, that's a very important functionality that should be accessible to everybody.
Additionally, Brand24 supports over 20 languages, from Slovak to Vietnamese, so you will surely find what you need.
There are also the Quotes. In this section, you'll find the best testimonials. That's a handy feature as it extracts the most representative comments from among your mentions.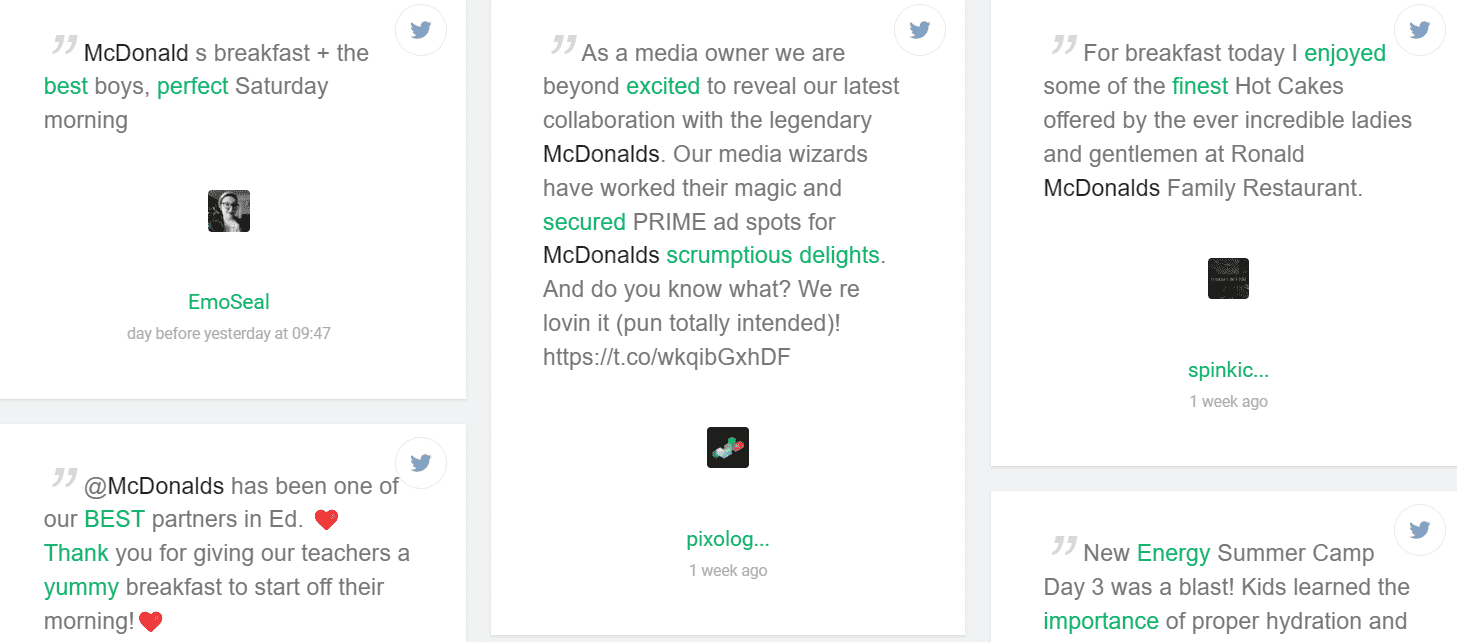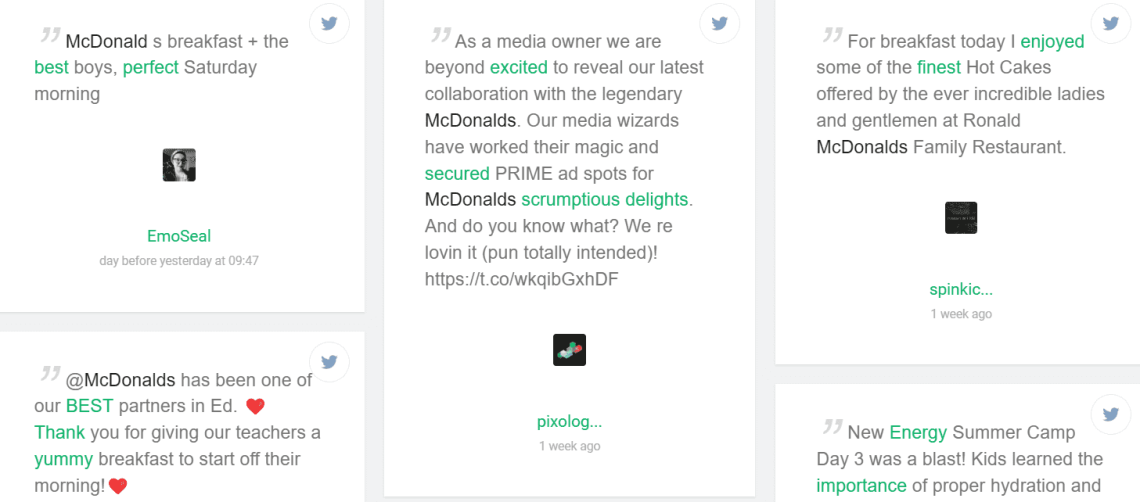 One last important thing. Brand24 offers a mobile app that allows you to access your mentions and social media analytics whenever needed. This way, you'll have an eye on your social media mentions and analytics anytime and anywhere.
Finally, Brand24 has a 14-day trial with no overall limit of mentions. This gives Brand24 a huge advantage, as you can test it thoroughly before purchasing.
The pricing starts from $79 for an Individual Plan, billed annually. As you see, it's the same price as Keyhole. But Brand24 offers way more social media analytics and bigger benefits for social media marketing.
We also offer custom plans. To learn more, contact us at help@brand24.com.
Do you still hesitate? Try one of the Keyhole alternatives and see for yourself.
02 Awario
Awario is one of the popular Keyhole alternatives. It's a social media monitoring tool with an option to answer the mentions directly from its dashboard. This feature can be useful for managing multiple social media accounts.
Awario's motto is Brand management made simple. Let's see if their solution coincides with the promise.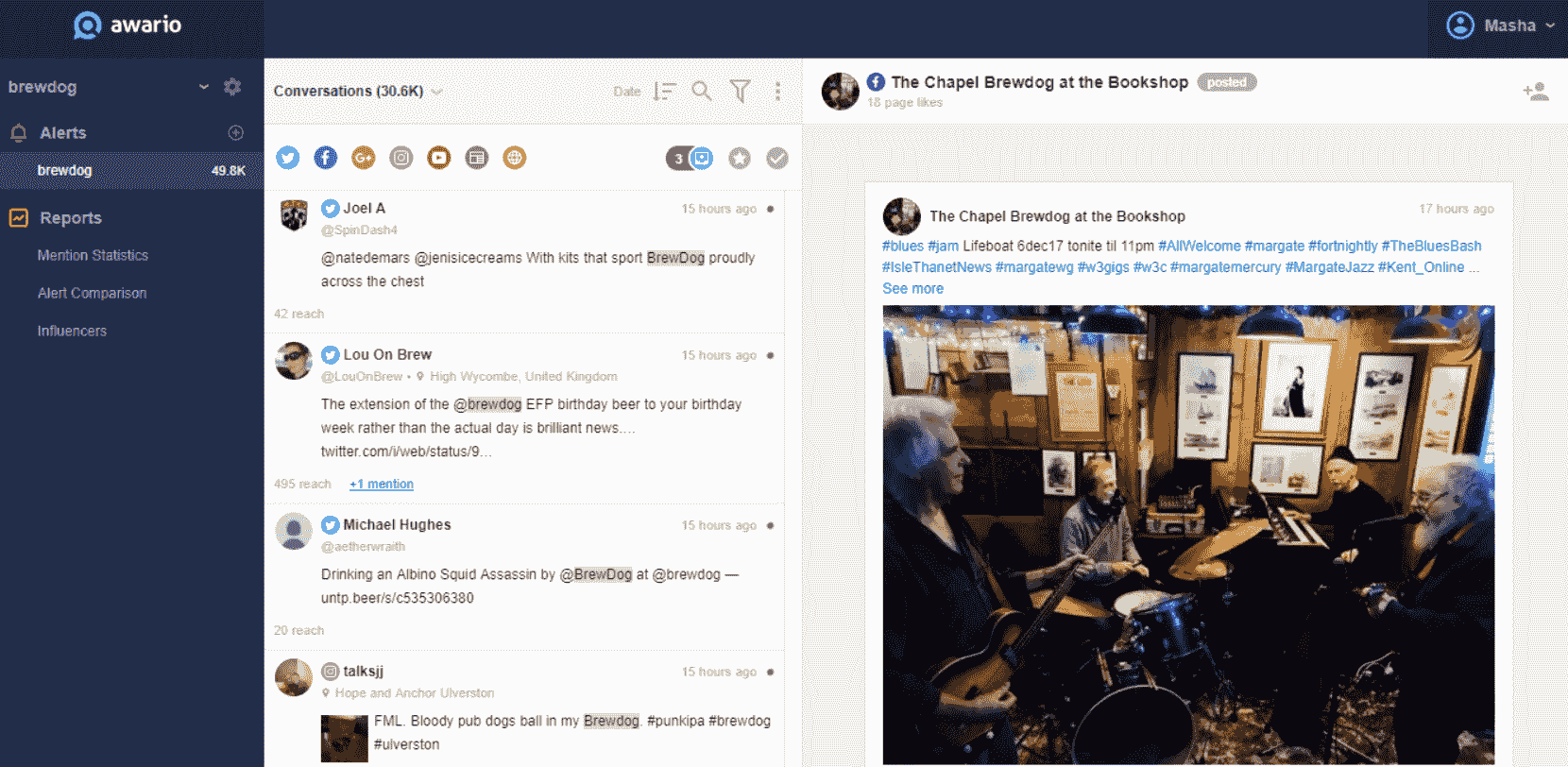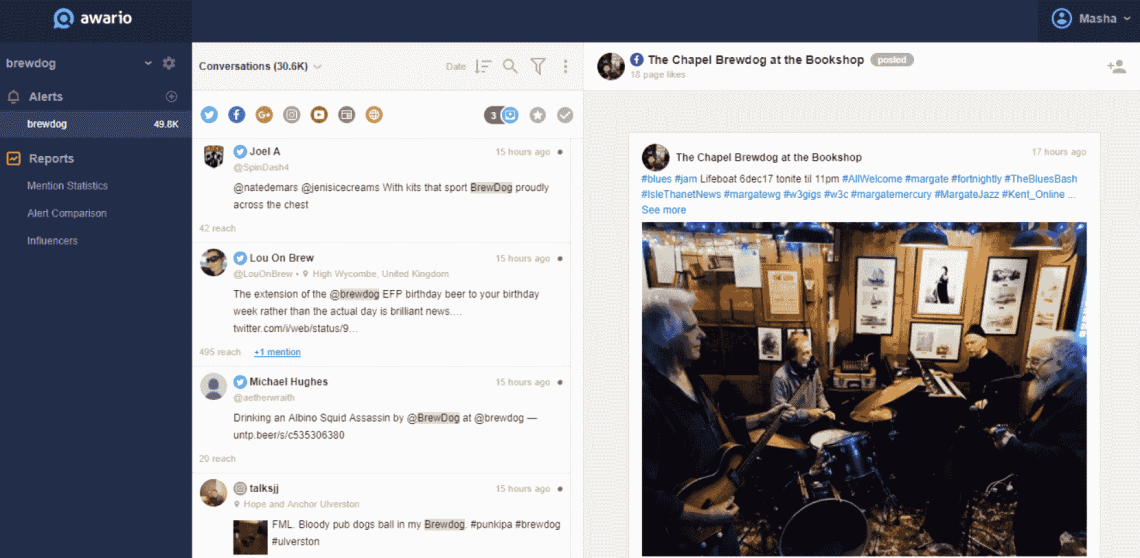 This social media analytics software can support your efforts in:
Brand monitoring
Influencers search
Competitive analysis
Topic research
Social Selling & social listening
The spectrum of functions looks promising. But according to the G2 review platform, Brand24 wins in the ease of use, ease of setup & quality of support.
Another concern about Awario is that it monitors way fewer platforms than Brand24. It omits important sources like TikTok, Pinterest, Quora, or Twitch.
This aspect influences your social media marketing. It can mislead your social media strategy, as you base your assumptions on incomplete data. That's very dangerous for your business' success.
What adds up is that X (Twitter) listening doesn't work well. Even though Awario claims to monitor Twitter, in reality, it collects one-off posts and misses a whole bunch of them.
That's a final deal breaker. As we all know, X (Twitter) is among the most opinion-forming social media channels. When people want to share their opinion on something, they will likely do it on X (Twitter). You shouldn't miss out on that.
Another problematic aspect is the boolean search. It seems complicated to navigate without technical knowledge. At Brand24, we have a way more comprehensive dashboard for narrowing down your results with just the same precision.
Now, let's look at the metrics you can track with Awario:
Reach,
Language analysis & geolocation (I already told you my opinion on the latter)
Sentiment of the mentions,
Mentions comparison,
Most successful source identification,
Influencer identification
Another thing is Awario's Topic Cloud. It's almost as good as the World Cloud at Brand24. The thing that could be better is the color-based sentiment for each word.
However, if you are interested in a real topic analysis, Brand24 offers an AI-powered one. It will surely meet your expectations. Don't hesitate to check it out now!
Manage your Internet and social media presence with Brand24.
One significant advantage of Awario would be the geolocalization… but unfortunately, it doesn't work too well. For example, it displays one specific country for dozens of mentions even if the company is international, and the place attribution seems completely missed.
The only aspect where Awario wins as one of Keyhole alternatives could be the location-based narrowing down of the search. But as I've just said, the geolocation feature doesn't actually work, so we can ask ourselves if this functionality does…
There is a 7-day free trial, but just like in Keyhole's case, you will bounce off the wall when you reach a mention limit. Awario has a limit of 30k mentions, which is a bit better than Keyhole, but still, a limit is a limit.
The Starter plan for one member is $29, billed annually. There are also Pro ($89) and Enterprise ($249) plans.
03 Meltwater
Let's move to see other Keyhole alternatives. Here's Meltwater – a social media monitoring software with the aim to help you understand your customers and support your decision-making.
In my opinion, Meltwater, together with Brand24, are the best Keyhole alternatives.
Try Brand24 – one of the best Keyhole alternatives.
Thus, listen closely and let me introduce the areas covered by Meltwater:
Online media monitoring
Social media analytics
Social listening
Social media engagement measurement
Consumer intelligence solution
Influencer marketing
Competitor benchmarking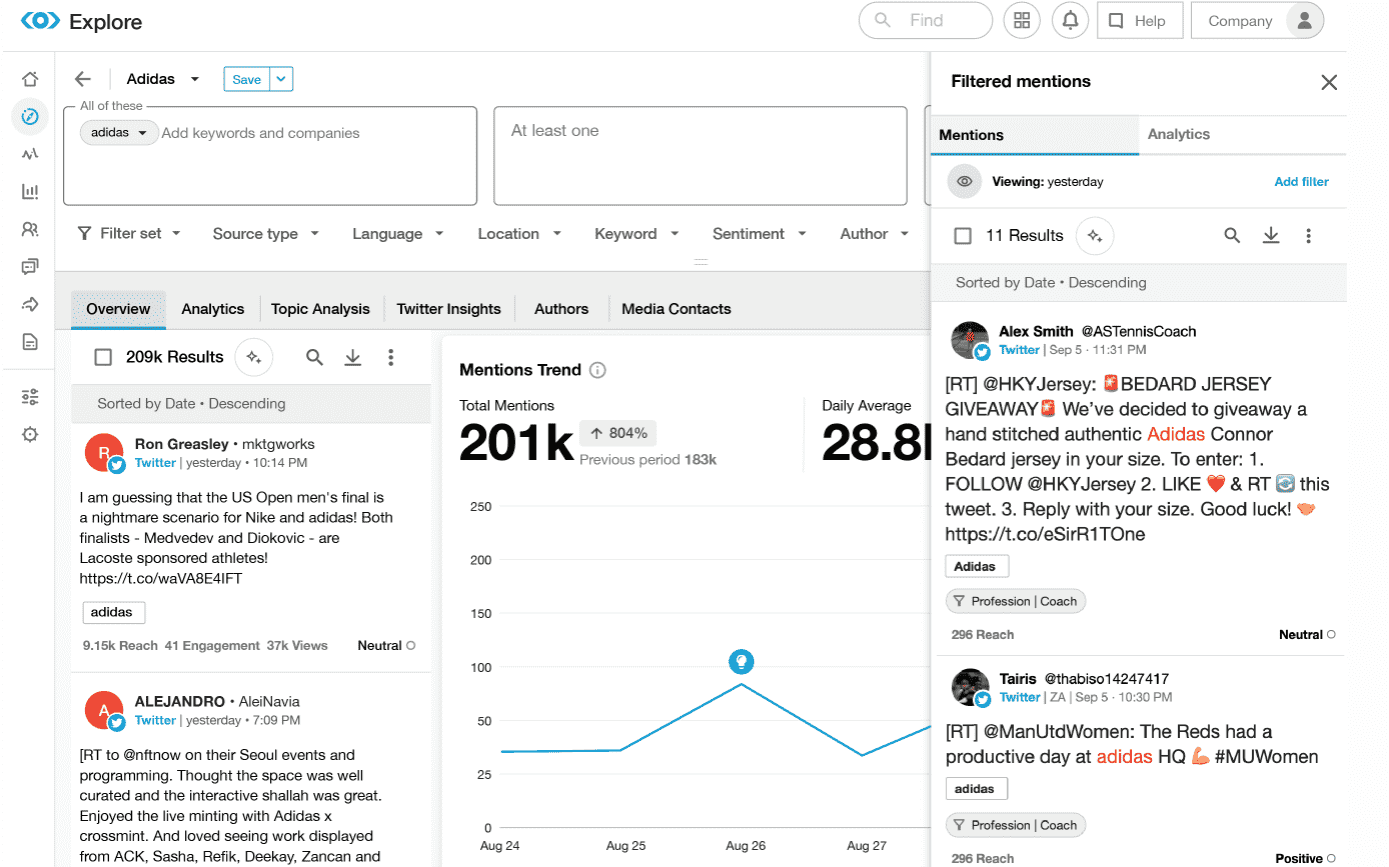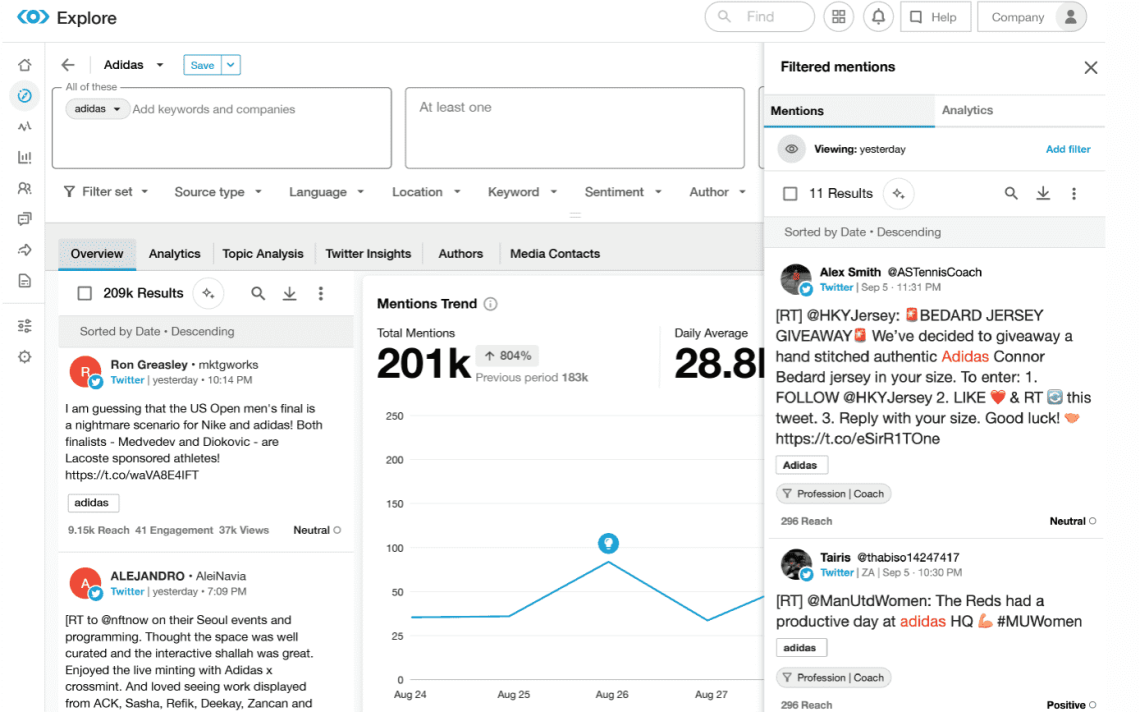 Among the metrics provided by Meltwater are Engagement, Sentiment, and Emotional Analysis. This last is very useful as it attributes content to various emotions (joy, sadness, surprise, love, anger, fear), giving a precise picture of your audience's status.
Besides that, there are graphs for Top locations and Trendlines (indicating the level of trendiness of your topic).
The topic analysis is another handy feature for your social media analytics, and in the case of Meltwater, I have no hate comments. It works pretty well.
Finally, there's also localization filtering, and that's a really good one! It's very detailed. You can select a country, region, or even a city. This function will be especially beneficial for small businesses working locally.
You can also learn a lot about your audience with Meltwater. Here are some of the audience insights you can use to inform your social media marketing campaigns:
Demographics (gender, age, country, city, top interests, occupations)
Top content sources
Top influencers & social media accounts
Segments distribution
There's no free trial at Meltwater, but you can request a demo. Pricing is available upon request.
Monitor your social media campaigns with Brand24.
04 Brand Mentions
Brand Mentions is one of Keyhole alternatives focused on supporting companies' efforts to Stay in control of your company's public image.
What's special about this social media marketing tool is the image recognition technology feature. It's an Enterprise function, thanks to which you can track your logo and other branded images online.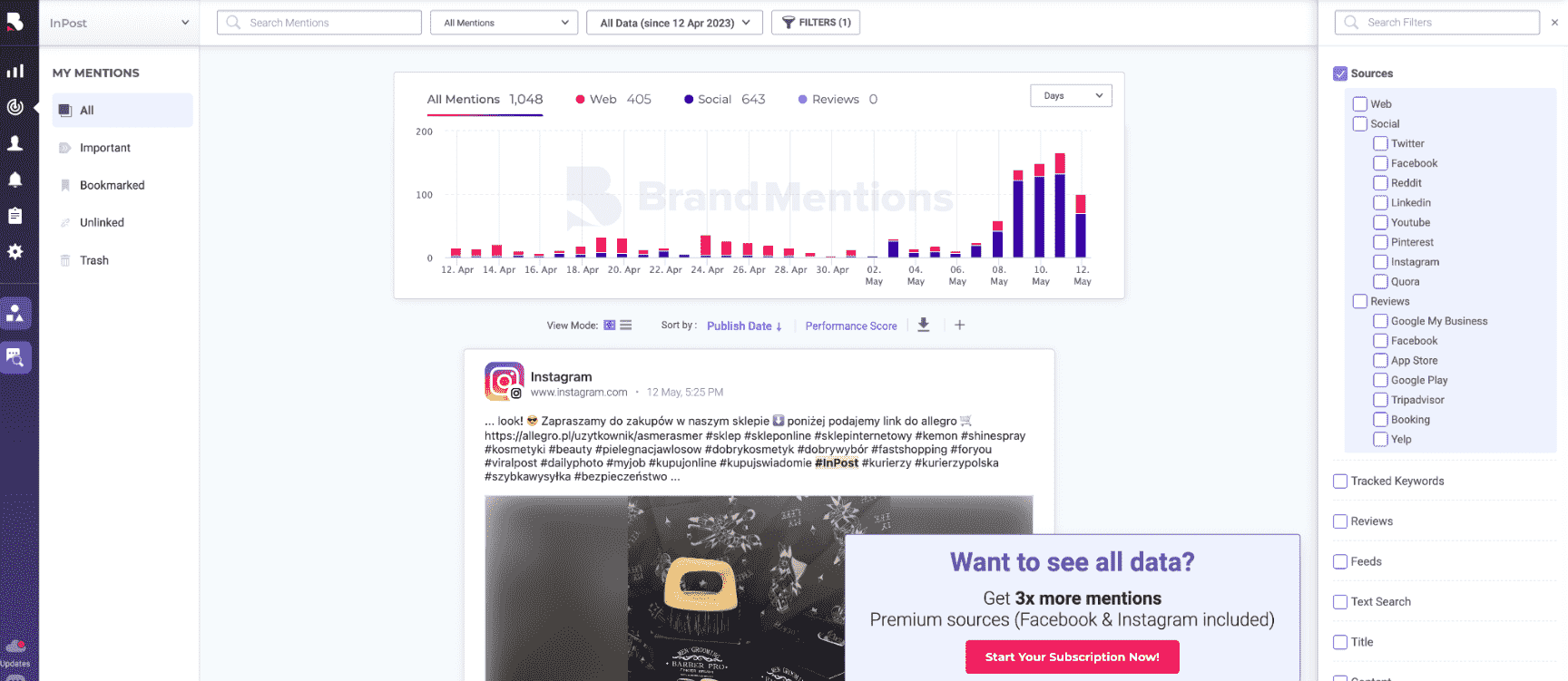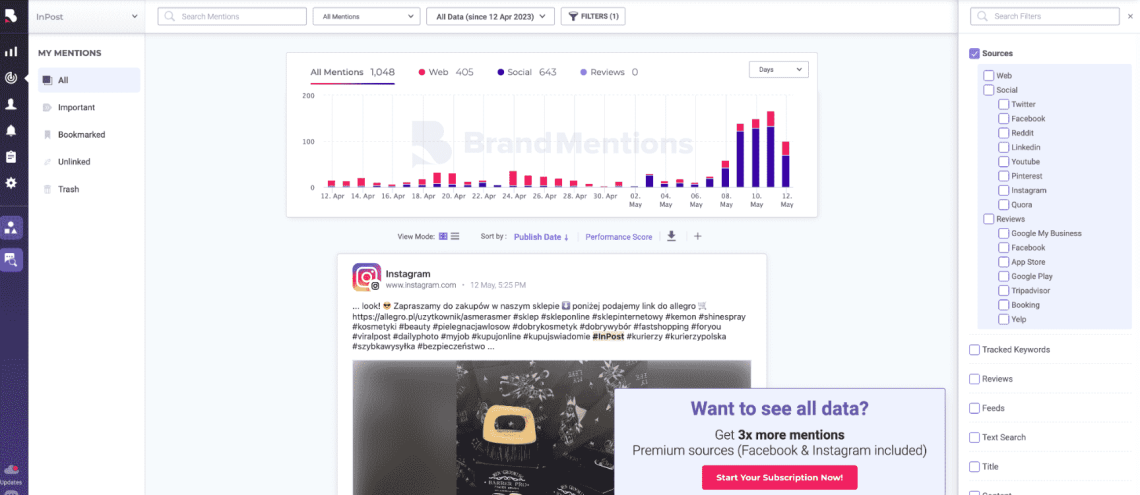 Besides that, Brand Mentions provides social listening services, sentiment analysis, and mentions research tools. Notably, language & country filtering features allow you to get valuable insights from a specific target group.
Overall, Brand Mentions is quite a nice social marketing tool, but it has one major downside. It does not cover some significant social media platforms like TikTok and Twitch.
As I mentioned before, this lack of social data may lead to wrong conclusions and embracing a misguided digital marketing strategy. Thus, think about this aspect if you're looking for actionable insights.
Let's move on to some of the vital metrics you'll find inside Brand Mentions:
Interactions count
Reach & sharing stats
Valuable insights on your backlinks
Context of mentions
Related hashtags
Google search trends – that's a good one!
Brand Mentions offers a 7-day free trial so that you can check it out as one of the Keyhole alternatives. Surprisingly, this social media management tool requires credit card information, which may be considered a downside.
The basic plan is for $79 per month, billed annually. There are also Company ($249) and Enterprise ($449) plans to choose from.
Start a free 14-day trial at Brand24!
So, which Keyhole alternative to choose?
There are many Keyhole alternatives to choose from. So what can I say? Test it yourself!
Fortunately, most social media analytics tools offer a free trial, so you don't need to worry that you will bear social media marketing costs for nothing.
First, test all the social media analytics platforms & then decide!
Personally, I recommend our social media monitoring platform with social listening capabilities: Brand24. I know our media monitoring solution inside out and guarantee you actionable business insights and advanced analytics reporting.
And, of course, you can count on our Customer Support dream team!
Interested in Keyhole alternatives?