Meltwater Alternatives: Brand24
February 6, 2023 ・ 9 min read
If you are looking for Meltwater alternatives then why don't you try Brand24? Read this article to learn the differences between the two tools and discover why we recommend Brand24 as your go-to (and cheaper) media monitoring tool.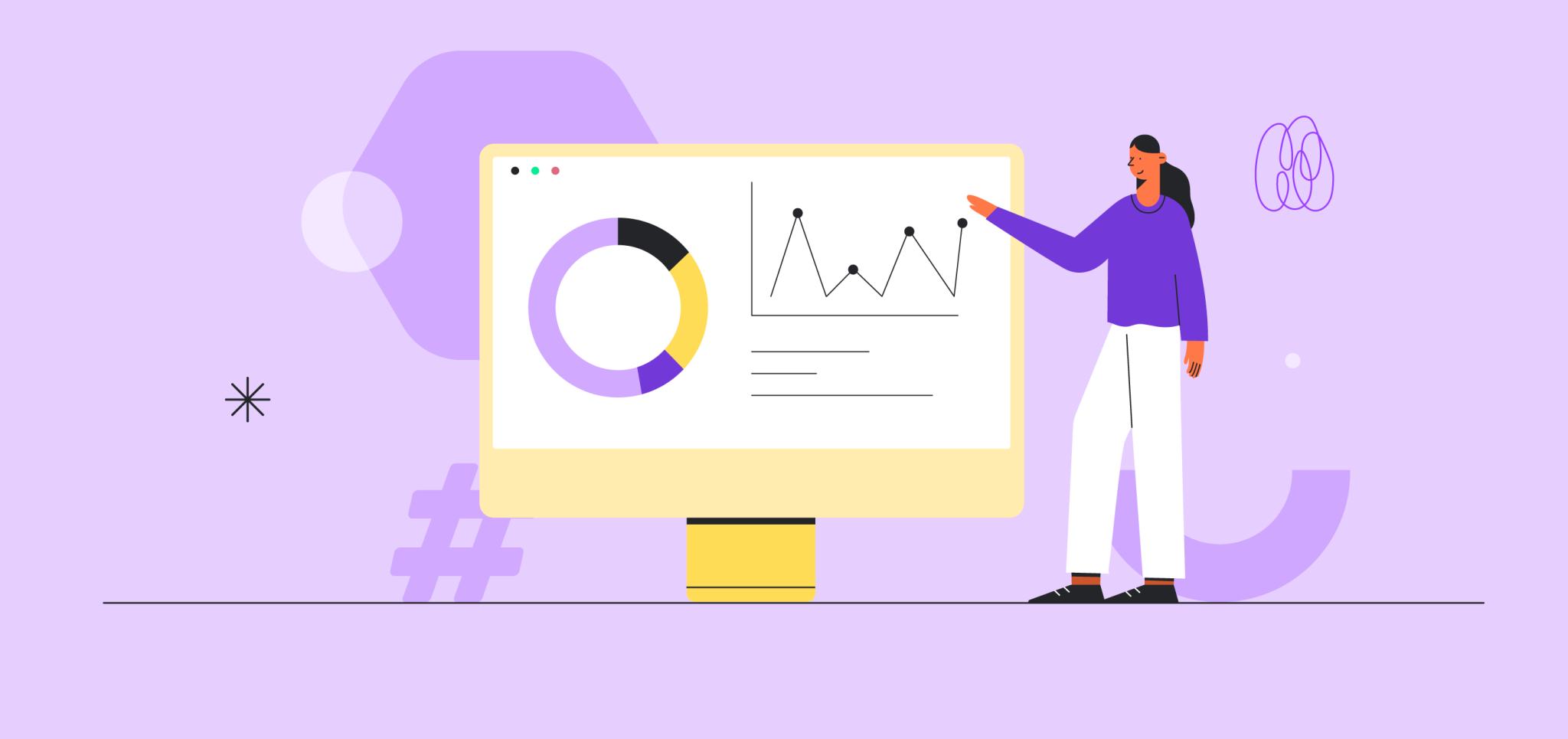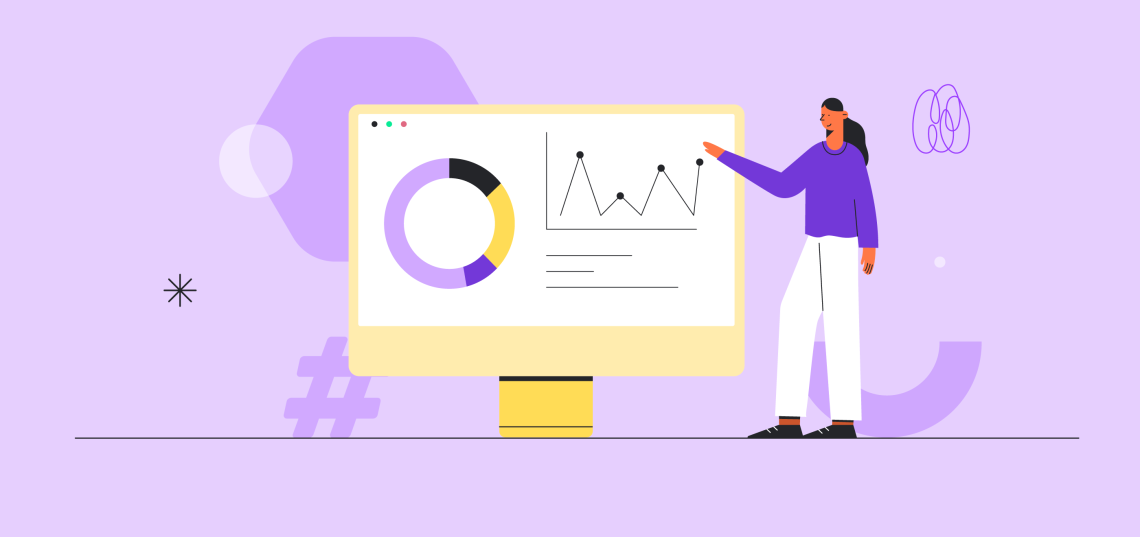 I know it's hard to find a good media monitoring tool with advanced social media analytics features that is fairly priced. Every online app has some benefits and drawbacks. If you are here, then you are probably not content with what Meltwater is offering, you are concerned about the pricing, or just want to try something else.
In following paragraphs you will find all arguments why we think Brand24 is a better choice and why it gives more valuable insights at a lower price. Read more about Meltwater alternatives below!
Brand24 – alternative to Meltwater. Overview
Meltwater is a media intelligence platform. It serves multiple purposes and offers many features that can be desired among specialists and business owners. Meltwater is an advanced "all-in-one" solution.
In 2018, it acquired another social media monitoring solution – Sysomos, which is now the Social Media Analytics department of Meltwater.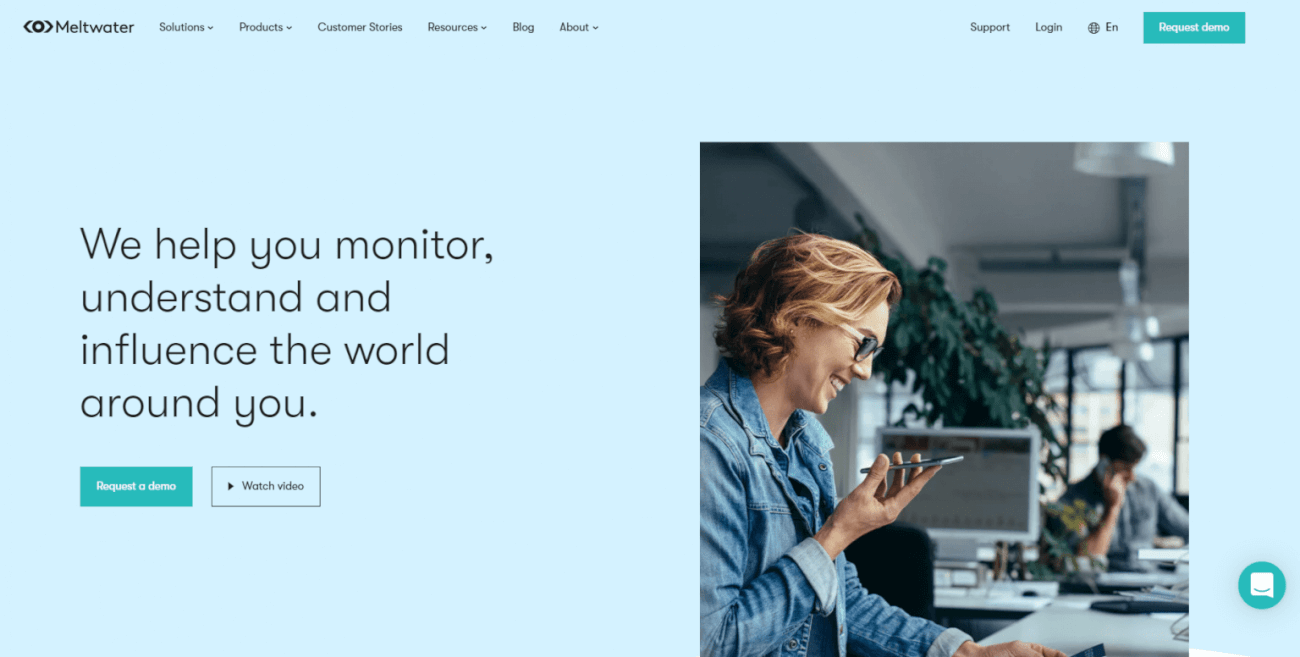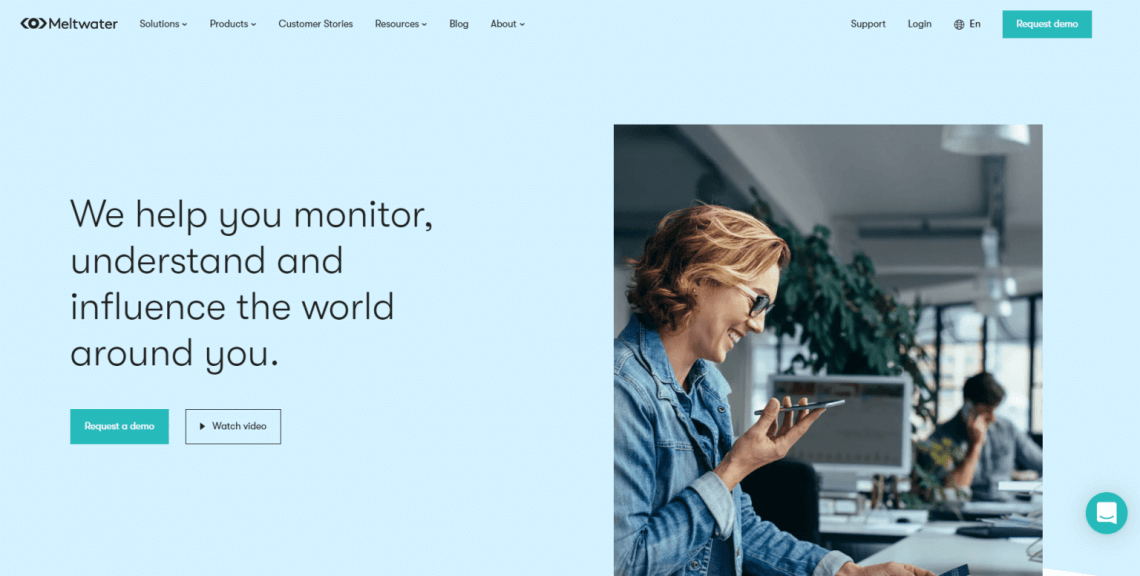 Meltwater can be suitable for different types of clients, both PR specialists, marketers, and enterprises, but is targeted to bigger companies. Small businesses or startups may look for alternatives to Meltwater.
More than 30,000 companies use Meltwater's media intelligence to stay on top of billions of online conversations and extract relevant insights to strategically manage their brands.

Now, let's talk bout Meltwater alternatives (Brand24 being one of them).

Brand24 is a media monitoring solution that offers both, robust analytics, and reporting features that can be beneficial, again, to many types of specialists and business owners. It is a smart tool that is considered effective and user-friendly.

Brand24 can be considered a social media monitoring solution that is suitable for businesses of all sizes. It is affordable but offers a good amount of valuable data.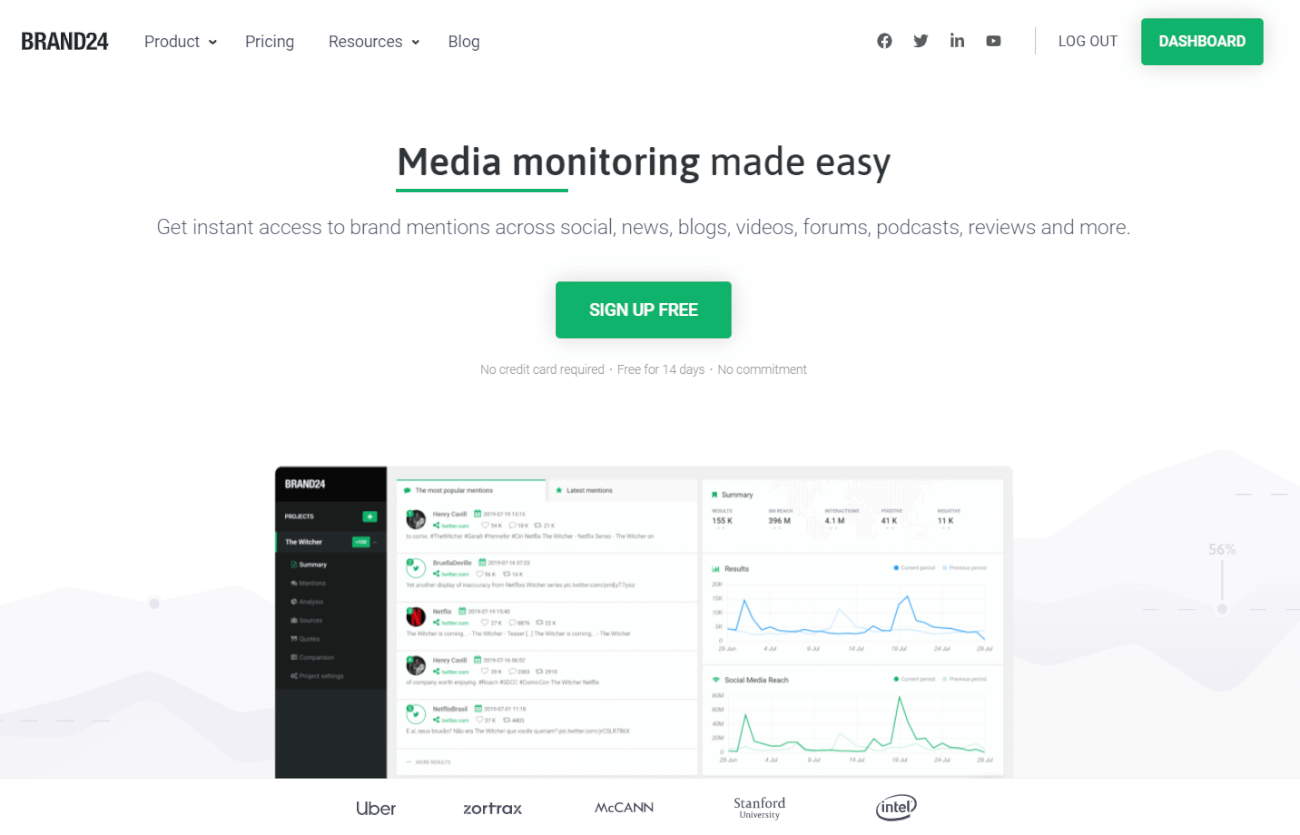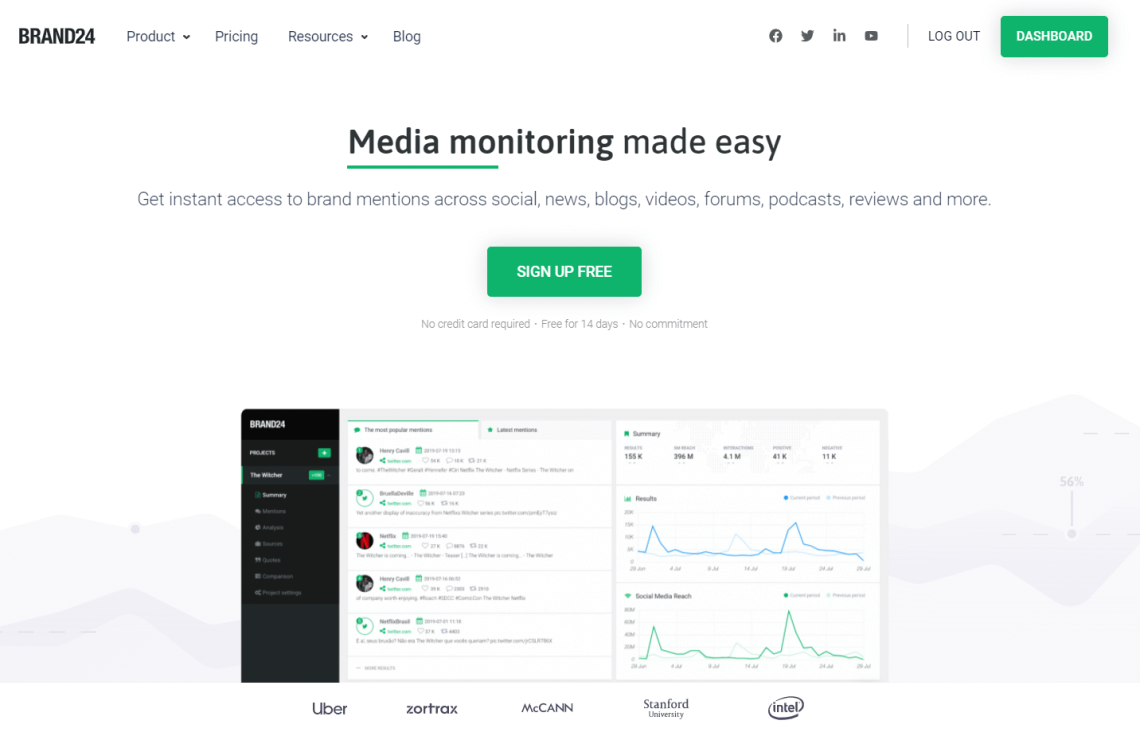 Since there are 3 customizable pricing plans, every client can adjust the solution to his needs and resources. Thanks to that, Brand24 is an accessible, widely known alternative to more pricey solutions because it performs equally great.
Brand24 caters to small & medium brands all over the world to identify and analyze online conversations relevant to their business to get customer insights, grow their satisfaction and sales.
Brand24 vs Meltwater. Comparison
Now, since we already know a little something about each of the tools, it's time to start the comparison. In this section, we will have a look at all the details, that will help us find out if Brand24 is a good alternative to Meltwater.
Brand24 vs Meltwater. Purposes
Let's start with what interests us the most! Do Brand24 and Meltwater serve for the same purposes? What are the main functions of these social media monitoring tools? Let's find out.
Brand24 Purpose
Thousands of brands of all sizes use Brand24 to track and analyze online conversations about their brands, products, and competitors. Brand24's main feature is social and traditional media monitoring and social listening.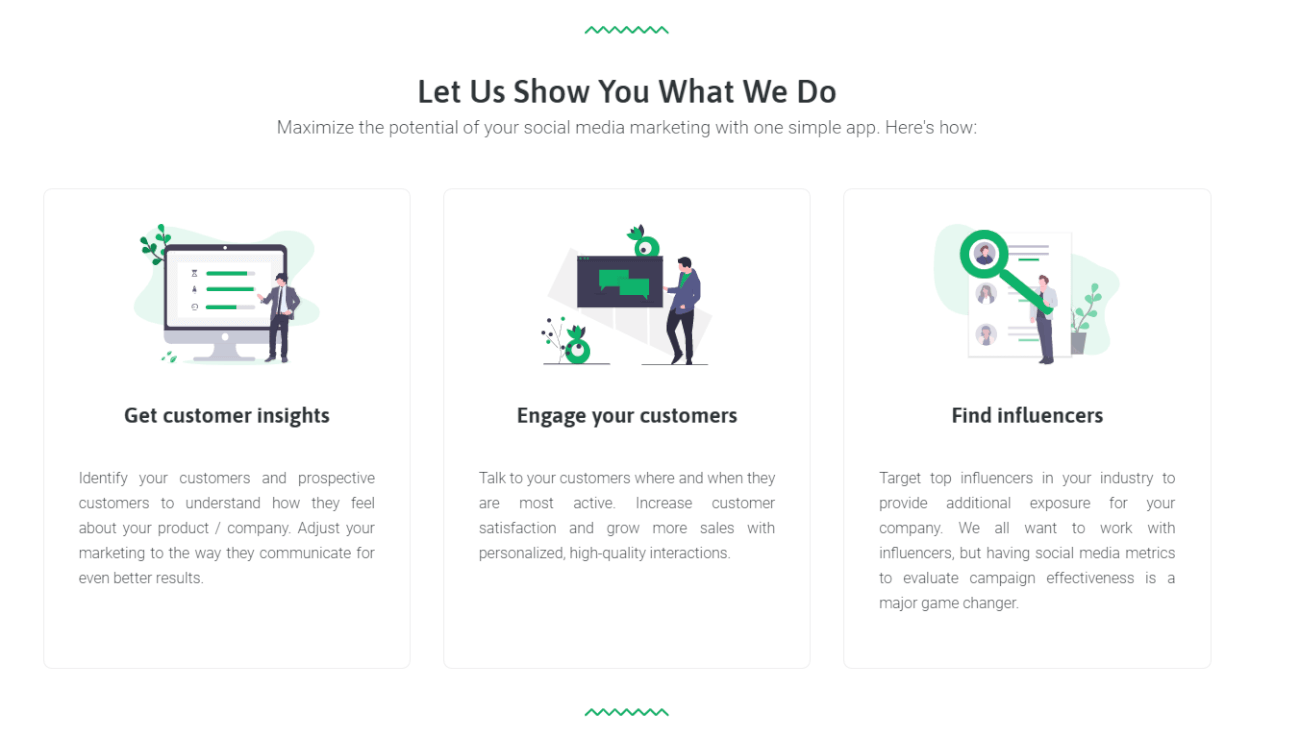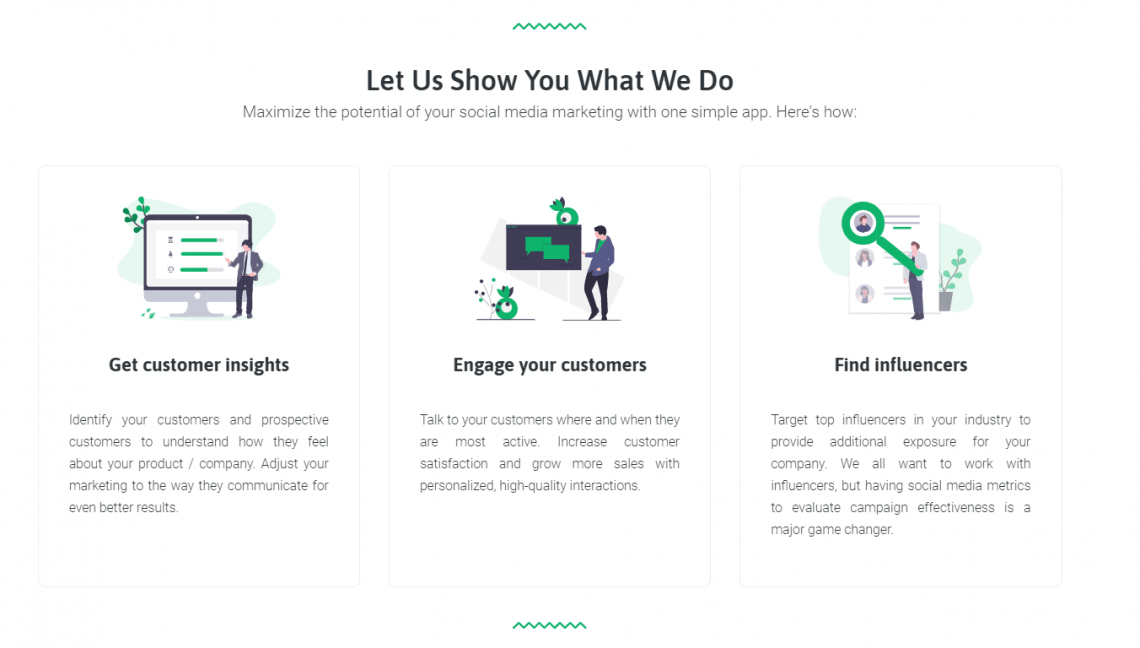 Brand24 has various purposes, such as:
Protecting online reputation – reputation management, monitoring online reputation,
Preventing a PR crisis,
Improving customer satisfaction and social customer service,
Measuring your social marketing / PR effort,
Growing sales,
Hashtag tracking,
Finding brand ambassadors and influencers,
Campaign monitoring,
Monitoring competitors and researching the market,
Public relations management,
Social selling,
Discovering customer feedback on their products and services.
In addition, Brand24 can be used as an analytical and reporting tool as it offers a whole set of these kinds of features.
Meltwater Purpose
Meltwater serves many different purposes as well. Its main aim is media monitoring and Social Media Listening, but it also offers Social Media Management, PR Analytics, and Influencer Engagement tools.


As I said, it is an all-in-one solution, that helps its clients analyze media and social media coverage with ease, with both qualitative and quantitative metrics.
Through Meltwater Media Intelligence, companies make better, more informed decisions using insights from the outside.
Brand24 vs Meltwater. Features
In this part of the comparison, I would like to focus on features that serve for social media monitoring and social listening in both tools, as we are looking for an alternative to Meltwater and its main purpose.
Monitored Platforms
Brand24 monitors both social and traditional media. It covers multiple social media platforms including Twitter or Youtube and has a dedicated integration with Instagram and Facebook, that for example allows you to track Instagram hashtags, or your Facebook pages.
Moreover, Brand24 can analyze news and review sites, podcasts, newsletters, forums, blogs, and many other websites.
Meltwater equally monitors many online platforms such as social media channels or online news and podcasts but also delivers mentions from print, TV, and radio to their clients.
Sentiment Analysis
Meltwater's sentiment is currently supported by 16 languages including Chinese, Japanese, Portuguese, German, English, Spanish, Arabic, Hindi, and Korean.
Brand24's sentiment analysis is very advanced. The tool can analyze 80+ languages and mark collected mentions as positive, neutral, or negative.
Influence identification
Brand24 allows for influencer identification as it analyzes each public profile and calculates its influence score. This feature not only helps you find influential people that talk about your brand but also meet brand ambassadors and influencers that are worth collaborating with within your industry.
Meltwater, being an all-in-one tool, offers a solution that also serves Influencer Marketing professionals. It makes it possible to identify influencers that are valuable for your target audience and helps to manage your relationships with them.
Social Media Metrics
Since Brand24 is an analytical tool as well, it automatically measures the volume of conversations about your brand and shows metrics like Social media reach, Non-Social reach, and Engagement. These metrics help you gain new insights about your customers and your brand's online presence or campaigns.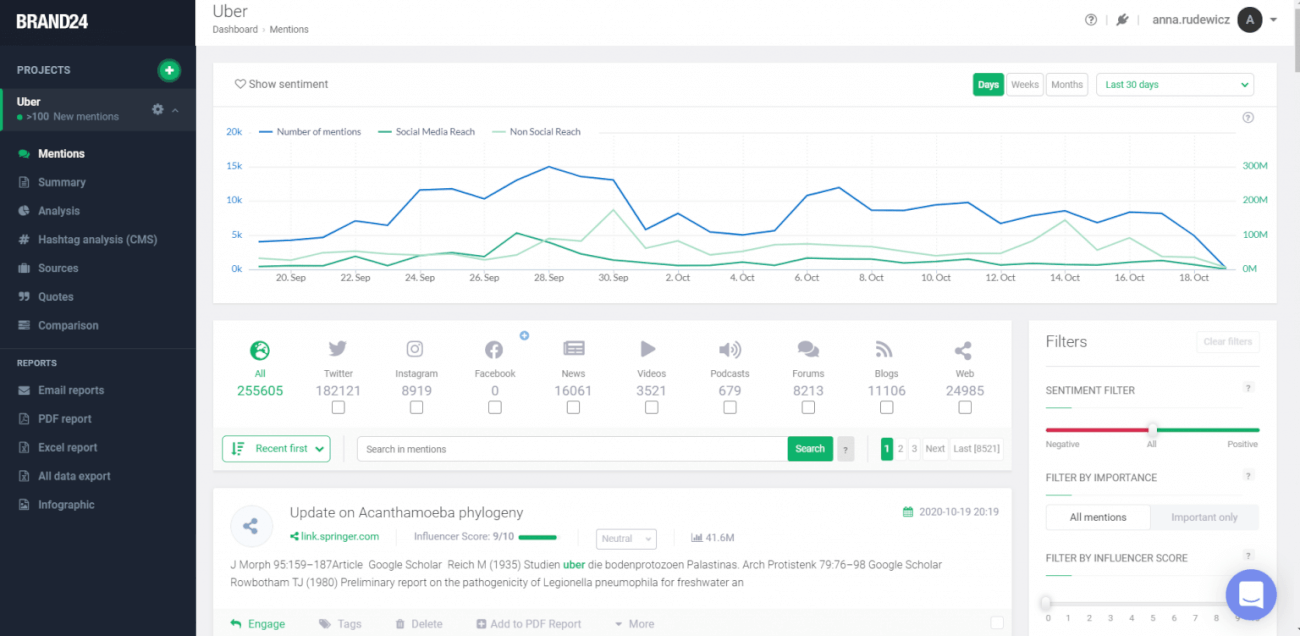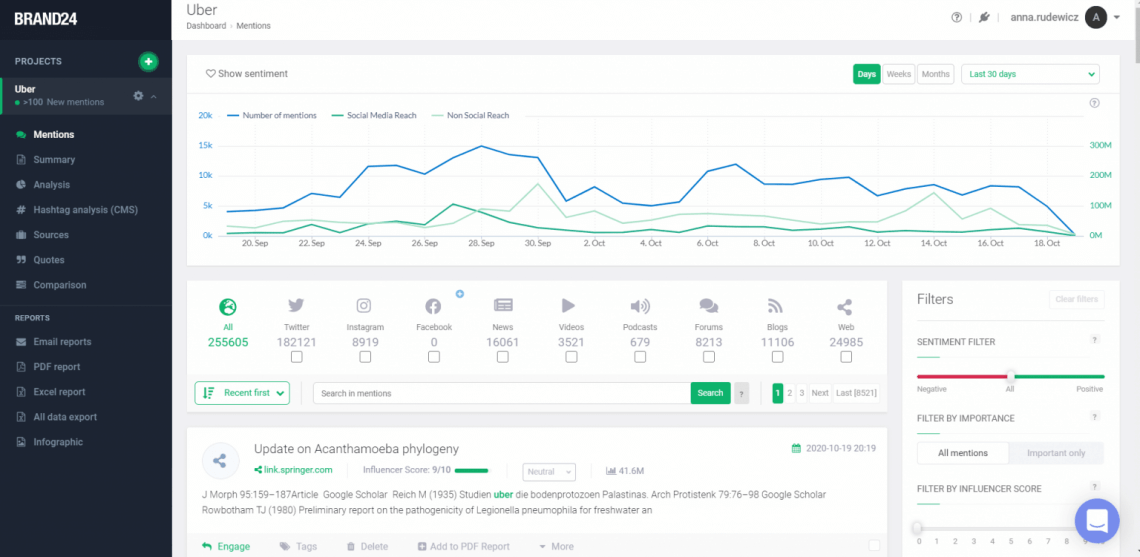 It's hard to find information on what kind of exact metrics does Meltwater show.
Alerts
Brand24 allows you to set up email or push notifications alerts that can be delivered to you as something important happens in your monitoring project.
Meltwater also makes it possible to keep you up with the newest mentions of your brand by delivering email or mobile notifications.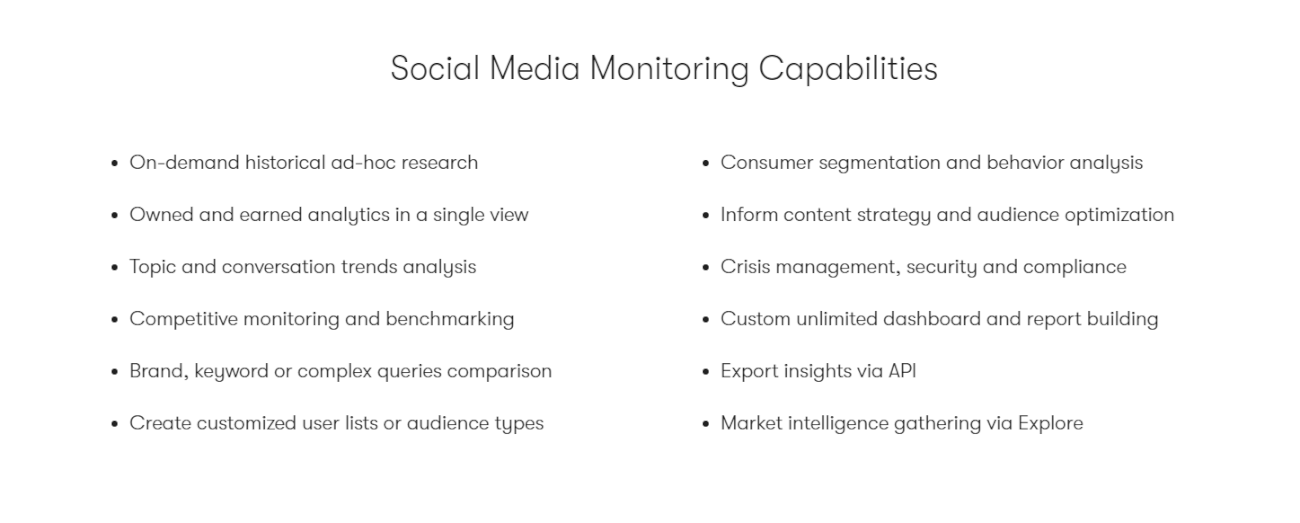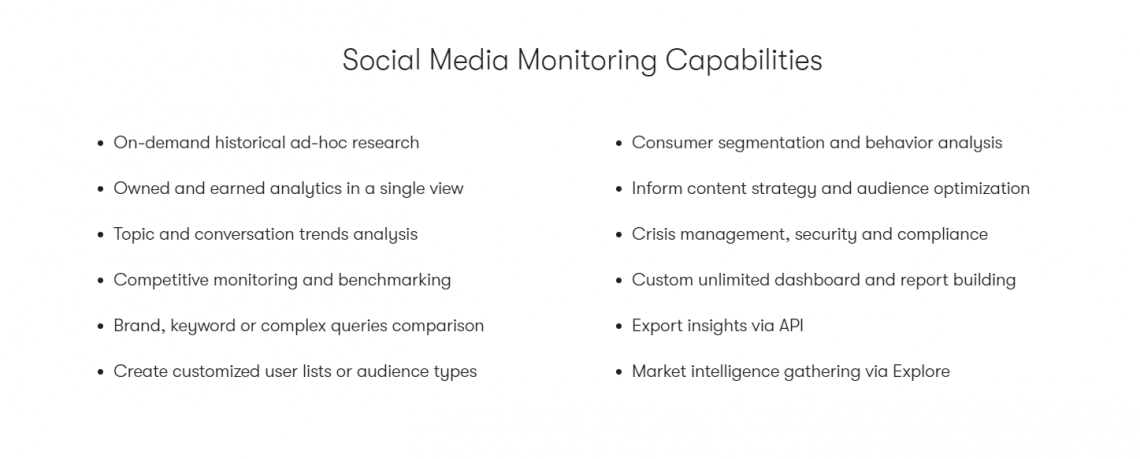 Data and Report Exporting
This Brand24's feature makes it possible to turn data into automated, but customized PDF reports, .xls files, and infographics.
Meltwater helps to create "comprehensive reports filled with insights with the click of a button".
Competitor Analysis
Brand24's dedicated Comparison tab makes it easy to track competitors and compare their results to yours. The tool helps you conduct market research, learn new insights, and spot new industry trends.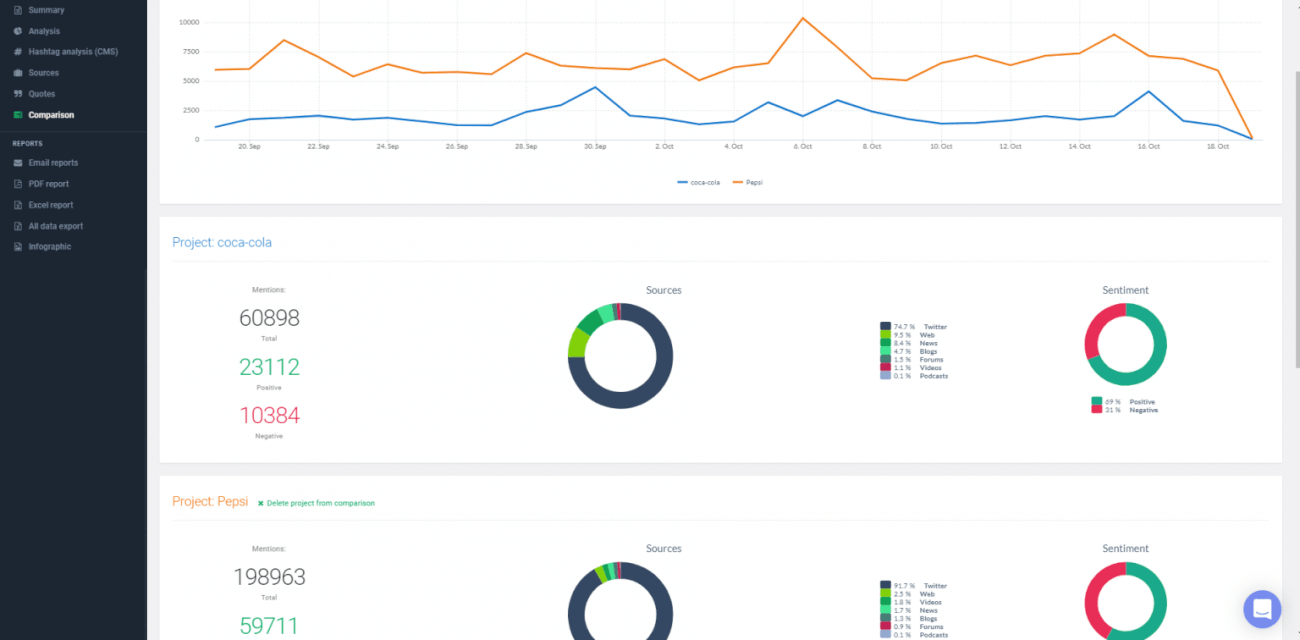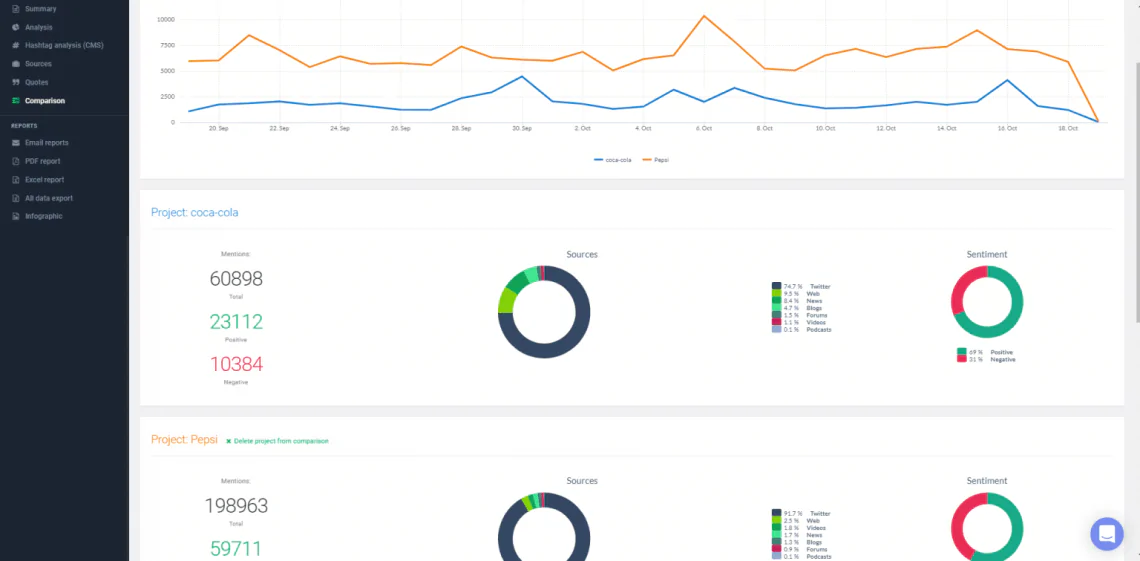 Meltwater offers competitive monitoring.
Hashtag tracking
Brand24's media database not only lets you track chosen hashtags, and their performance, on Instagram, and all over the net, but also prepares a list of trending hashtags, associated with your monitored topic, to help you reach a wider audience.
Languages
Brand24 allows you to monitor and collect mentions in specific languages. If you run a company in Brazil, there will be no problem with tracking mentions of your brand written in Portuguese.
Pricing
Meltwater Pricing
Meltwater does not provide any public information about the pricing.
Some researchers estimate Meltwater's cost. Some of them cite that it may start at 4000$/year and others that at 6000$/year. Any of these assumptions have been confirmed though.
Nonetheless, in the industry, Meltwater is rather considered an expensive solution.
Brand24 Pricing
Brand24 offers three pricing plans that can equally be customized to the client's request.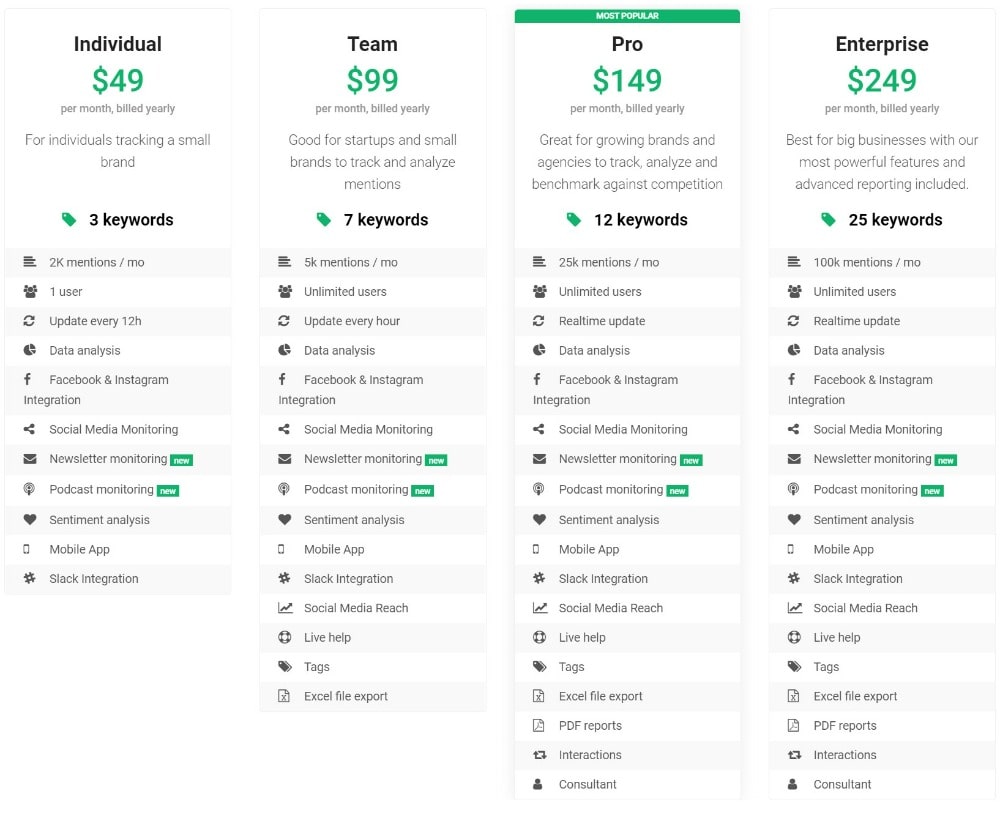 Each of these plans differs from each others due to the number of features they offer. It enables all kinds of businesses to find the perfect fit for their needs.
Brand24 by many is considered an affordable solution. Cheaper than Meltwater.
Check the Brand24 pricing and plans!
Trial
Brand24 offers a 14-day free trial and does not require a credit card to make use of it. These two weeks enable you to check if the tool matches your expectations without any commitments.
Start monitoring your brand for free!
Meltwater offers a free demo that you can request by contacting its team.
Brand24 – alternative to Meltwater. Reviews
I decided to compare two main sources of online reviews. As we all know, testimonials are incredibly important and they should be taken into consideration by those who are looking for a tool that matches their expectations. Other users' experiences are valuable and worth knowing.
I decided to take into account reviews from both G2 and Capterra, the most known review sites.
Meltwater reviews
Great platform but gets expensive when additional features are added.
Helpful but overwhelming tool.
Great investment for the right company.
Meltwater = Too Expensive For Small Business, Good For Larger Operations.
Brand24 reviews
Fast, reliable, and comprehensive social listening tool.
A must-have tool for businesses of all sizes.
It is one of the easiest and most effective social media listening tools I have used.
Brand24 is the 1st email I look at daily.
How to start using Brand24 and Meltwater?
If you want to start using Brand24, all you need to do is create an account, think about keywords or hashtags you want to track and enter them to start your first monitoring project!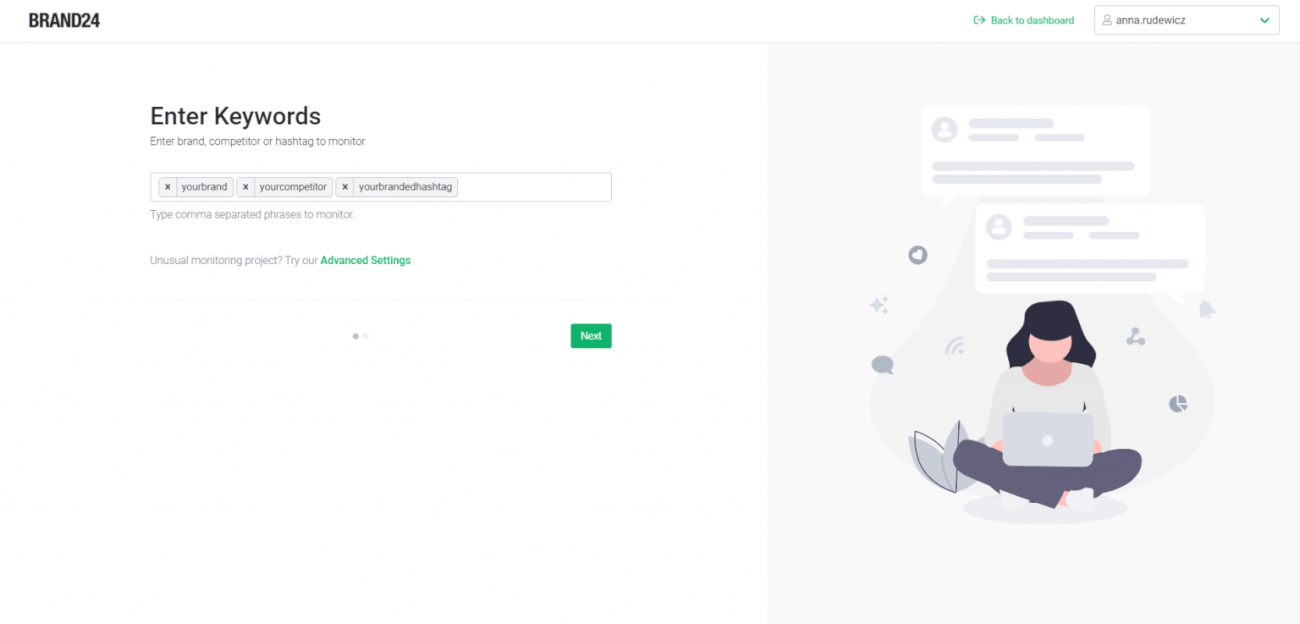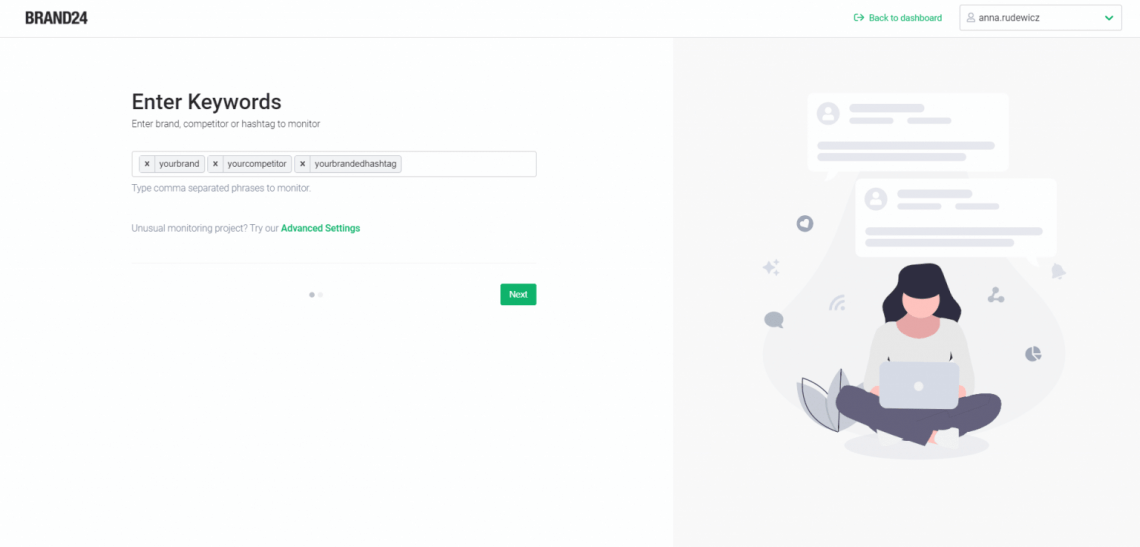 If you want to use Meltwater, you need to fill out a form on its website to contact the team.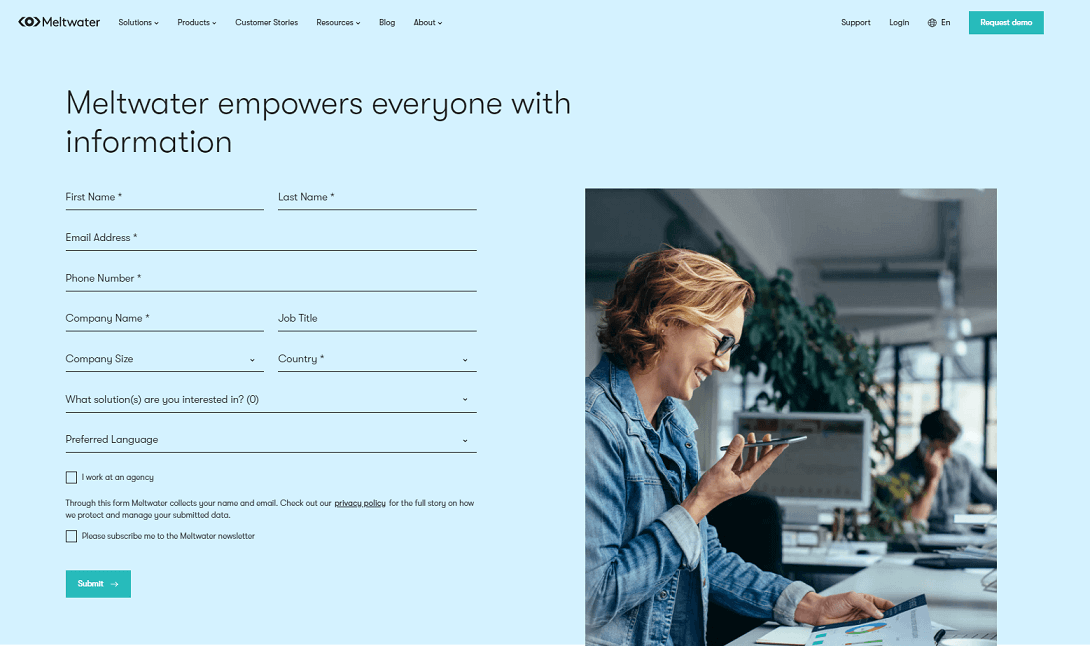 Conclusion
While looking for a social media monitoring tool, it's important to know the characteristics of a couple of solutions available on the market, to be able to find the one that matches your needs, budget, and expectations best.
Multiple social media monitoring solutions that are considered valuable but they are often expensive. Fortunately, it is possible to find cheaper alternatives to them. This research aimed to check if Brand24 is an alternative to Meltwater.
The good news is that most of the Brand24 and Meltwater's features overlap. Brand24 is a tool that focuses on social media monitoring, thus it offers high-quality features for a smaller price. Moreover, Brand24 is more accessible as it offers a free trial and has 3 pricing plans that you can choose from depending on your needs and budget.
Summarising, if you don't need to save your budget and you need an all-in-one solution, that has a little bit of every kind of feature available, including monitoring, you can go ahead and try Meltwater out. Brand24 is a tool that specializes in media monitoring, it is easy to use and user-friendly, but all its features are of a high-quality. If you are looking for Meltwater alternatives, I feel like Brand24 might be the one!