How to Collect Customer Feedback? Methods + Pros&Cons
October 10, 2023 ・ 20 min read
Did you know average e-mail surveys get less than a 25% response rate? That doesn't sound promising. This means you need a smart approach to collecting customer feedback. Read further for 7 effective methods, helpful tools, and the pros & cons of each feedback method.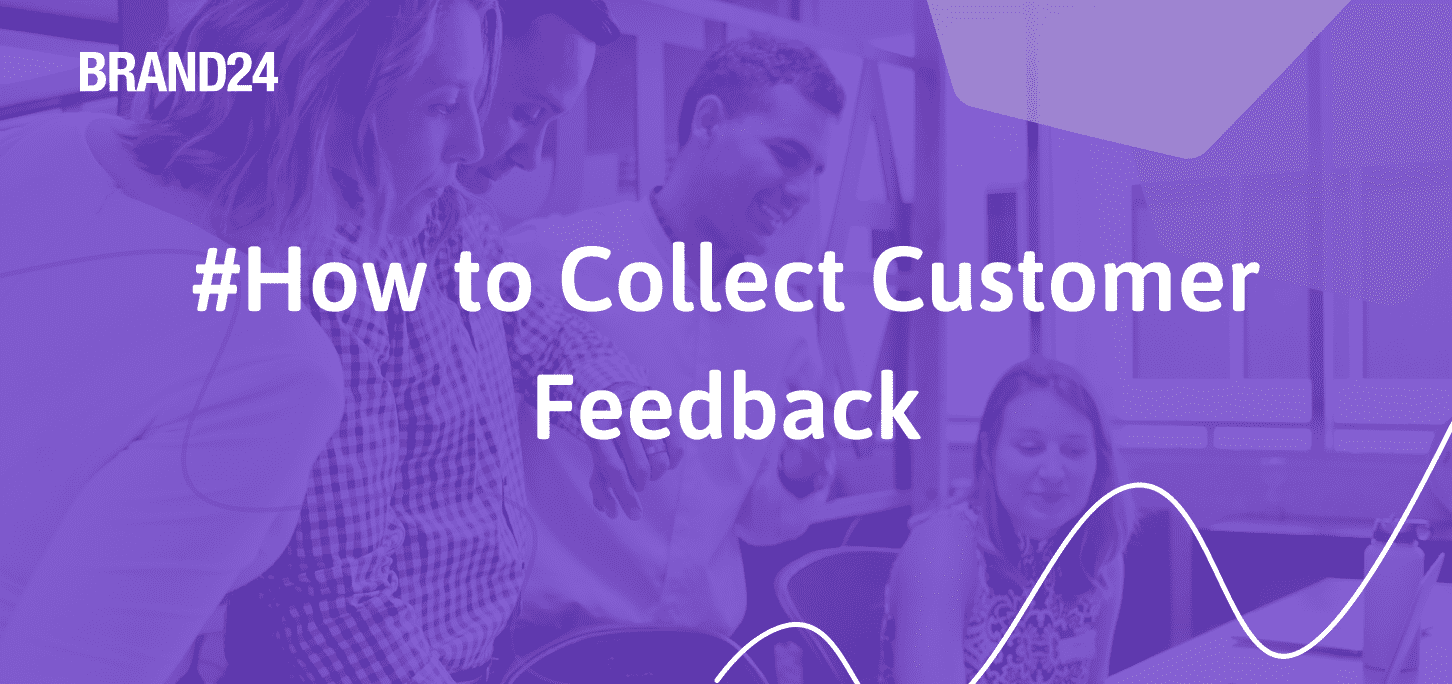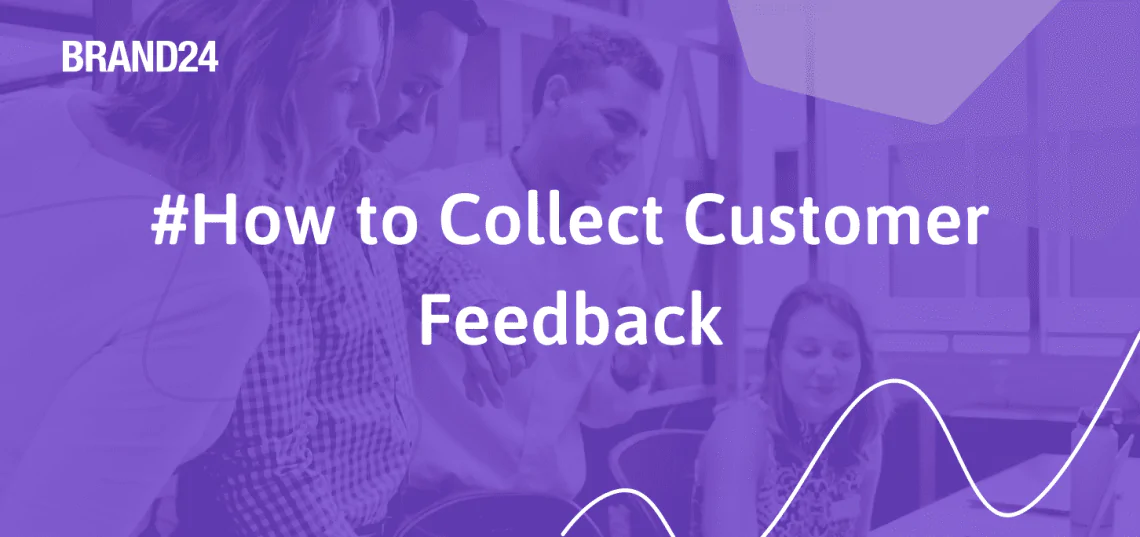 There's a wide range of methods for customer feedback collection. They vary in effectiveness and depth of insight. You can use both passive and active approaches to collect customer feedback.
Passive techniques are non-intrusive data collection. It's a so-called indirect feedback. Active strategies involve targeted surveys to gather specific insights from targeted groups.
Let's explore the tools and strategies to help you optimize your customer feedback process.
How to collect customer feedback?
01 Brand monitoring – check user-generated content
02 Customer feedback surveys
03 Interview customers directly
04 Take advantage of your social media channels
05 Check online reviews
06 Start a feedback community
07 Check website analytics
How to collect customer feedback?
01 Brand monitoring – check user-generated content
Brand monitoring is a powerful method. It's a passive customer feedback collection, yet it's very insightful. It gives a holistic overview of brands' online situation thanks to a wide range of metrics.
With tools like Brand24, you can effortlessly track what people say about your brand across the Internet.
The most fundamental feature is the Mention Feed. It allows you to keep a close eye on all brand mentions. This way, you don't need to prompt customers to answer specific questions or participate in surveys. Here, you can find everything you need to know.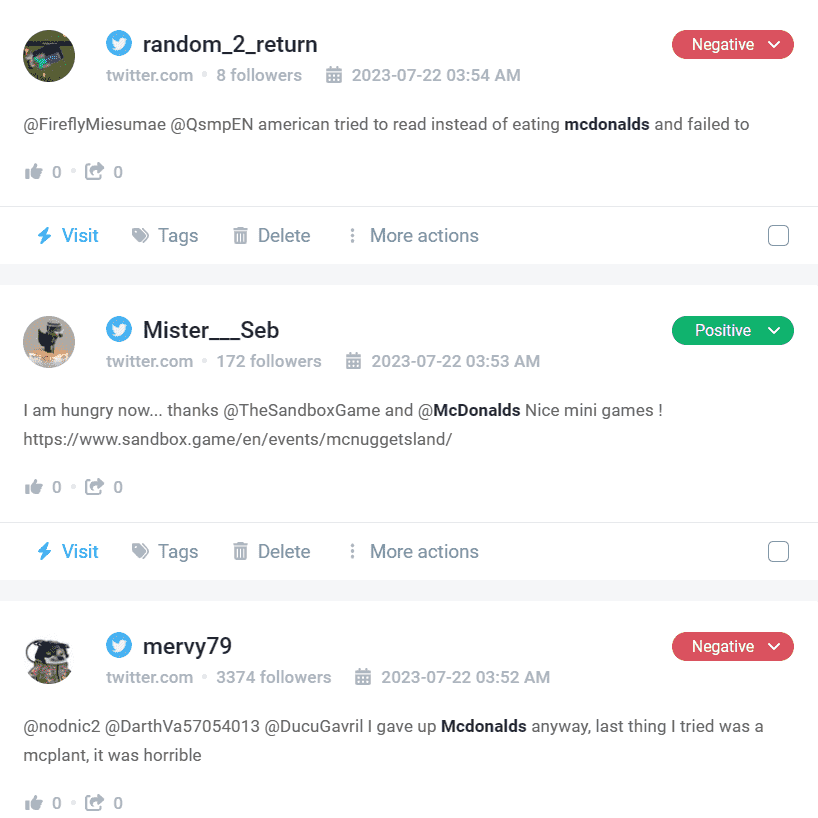 You can browse through mentions, adding specific keywords to focus on a particular aspect. This way, you will get more detailed and meaningful feedback.
Collect product feedback with Brand24.
Let's say you are a quality expert at McDonald's. You monitor the feedback for the whole brand, but today, you want to learn specifically about the fries. Nothing easier. Type fries in the search bar.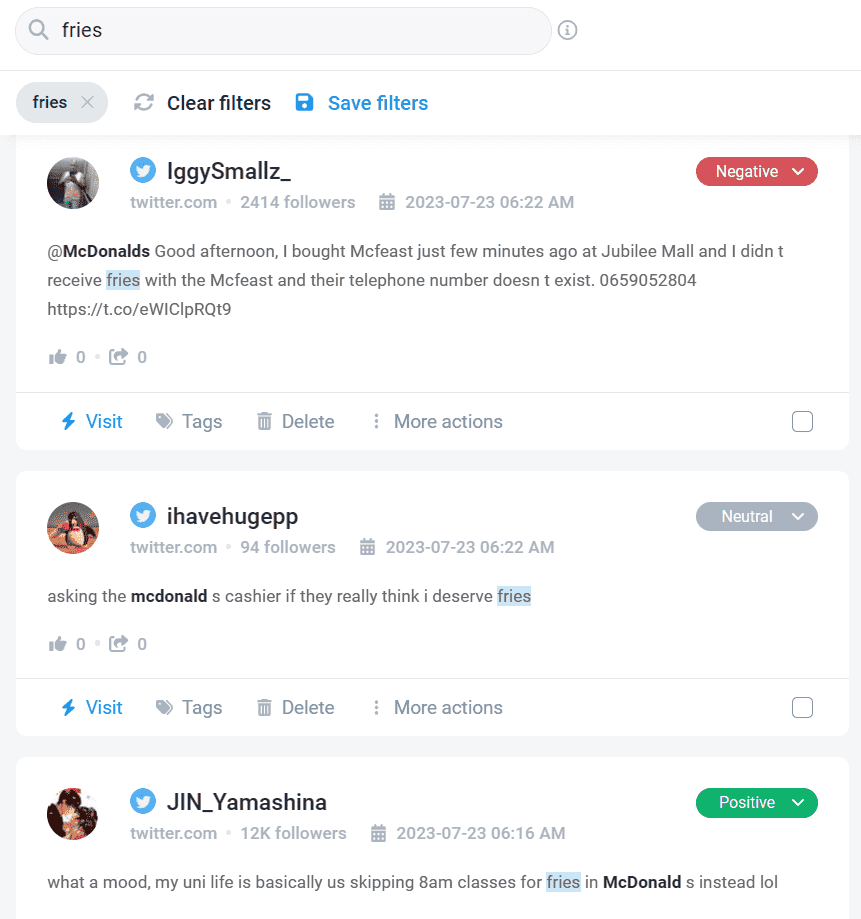 What's also nice and useful is that you can answer your online mentions. From the mention in your dashboard, you can go directly to the mention's source and interact with it.
Whether you get positive or negative feedback, you should address the comment. With the former, be grateful and say thank you. When you get the latter, solve the problem and mitigate the situation.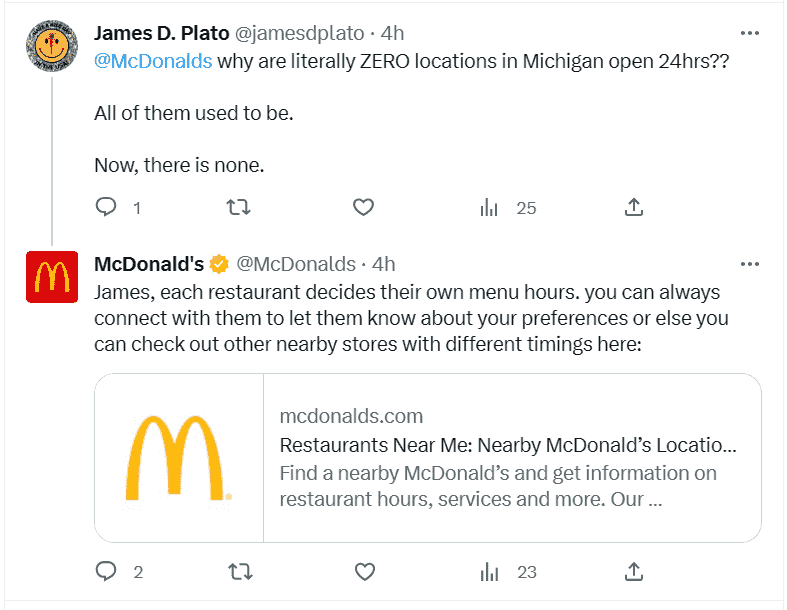 Brand24 not only provides mentions but also analyzes them. It counts several metrics to help you monitor your overall online performance.
We also equip you with AI-powered metrics that guarantee the deepest level of insight alongside ultimate precision.
Forget feedback forms! Collect passive feedback with Brand24.
With Sentiment and Reputation Scores, you can monitor the changes over time. Seeing drops in these metrics lets you identify issues right away when they emerge. This way, you can address them promptly and avoid a PR crisis. Thus, it's handy for a successful reputation engagement.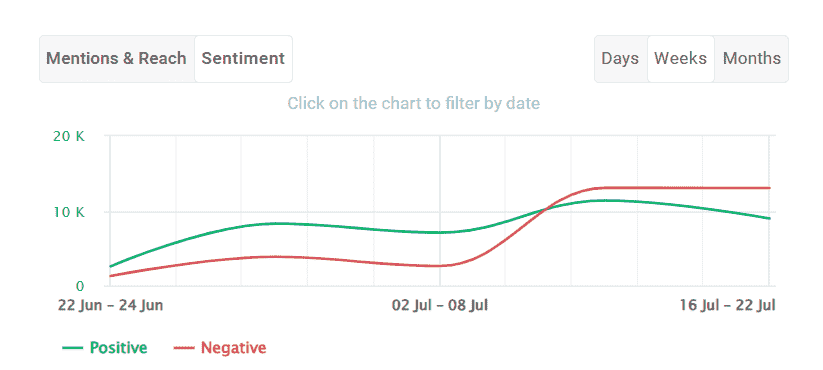 Advertising Value Equivalent (AVE) and Social Media Reach metrics will help you understand your brand awareness and performance.
What's more, you can compare your customer feedback with your competitors'. You just set up a media monitoring project for them and check who gets better reviews and sentiment. That's useful for competitor analysis, often the aim of feedback collection.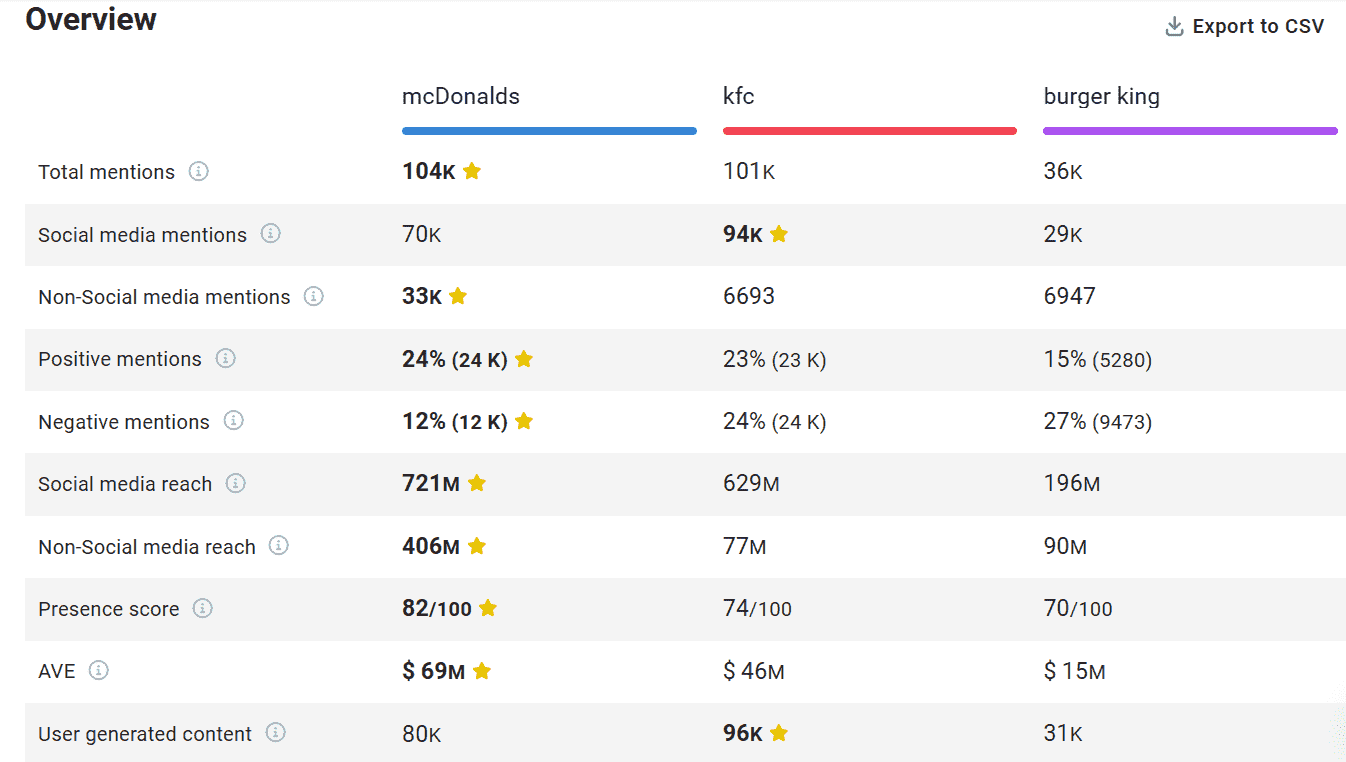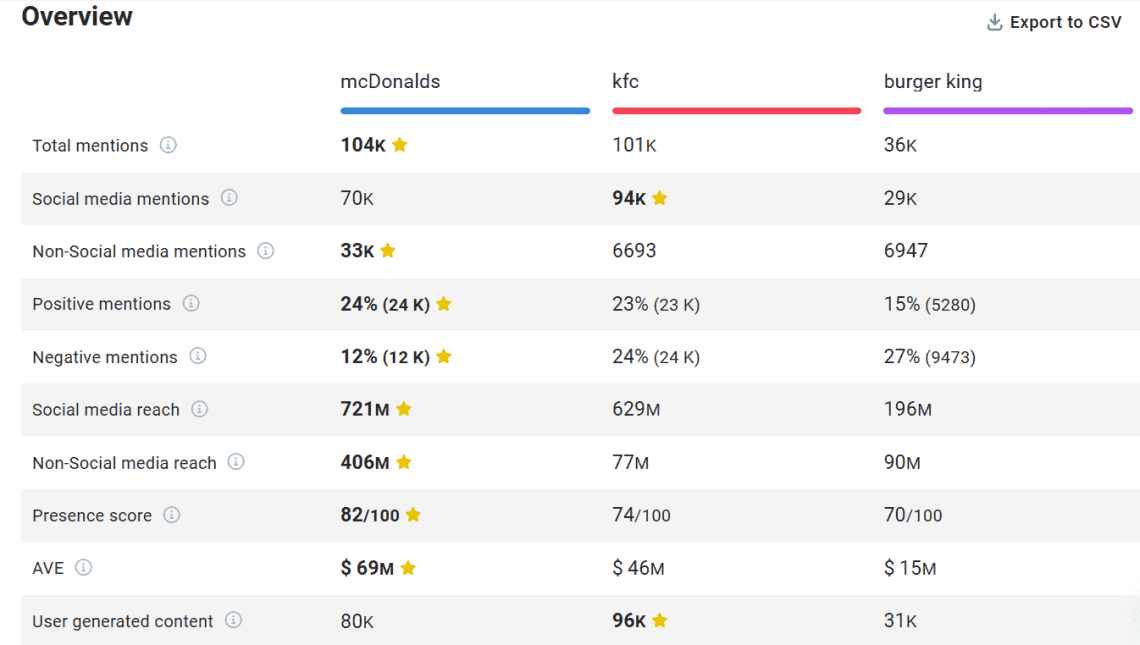 It's very easy. As you see, McDonald's gets the best sentiment and gathers the most online mentions. At the same time, KFC has more social media mentions and brings more user-generated content. Nonetheless, McDonald's visibly outperforms the two other fast-food brands with almost all metrics.
The comparison tab also has visual representations of the feedback data. Pie charts show the Share of Voice, Sentiment, and Categories share.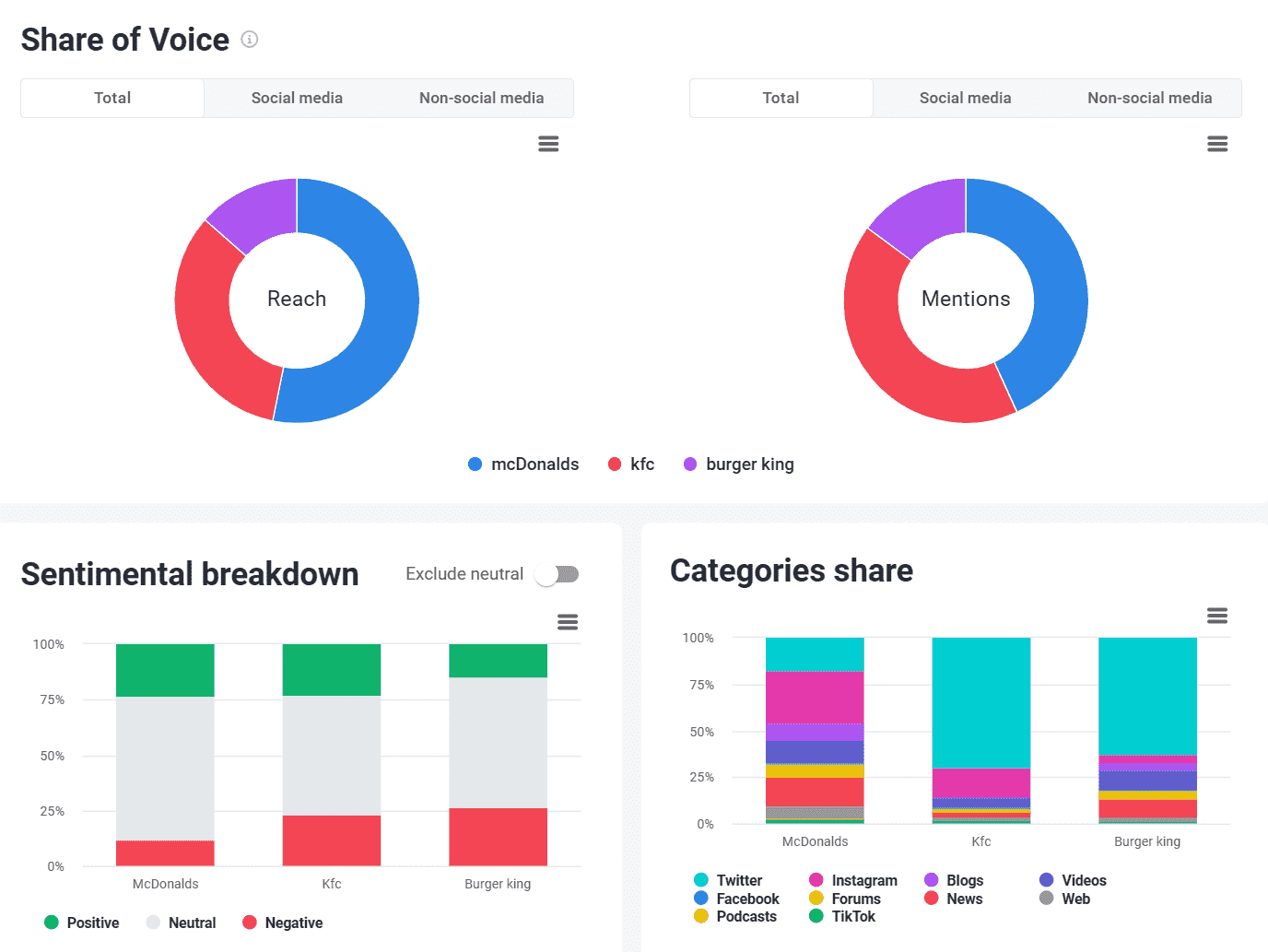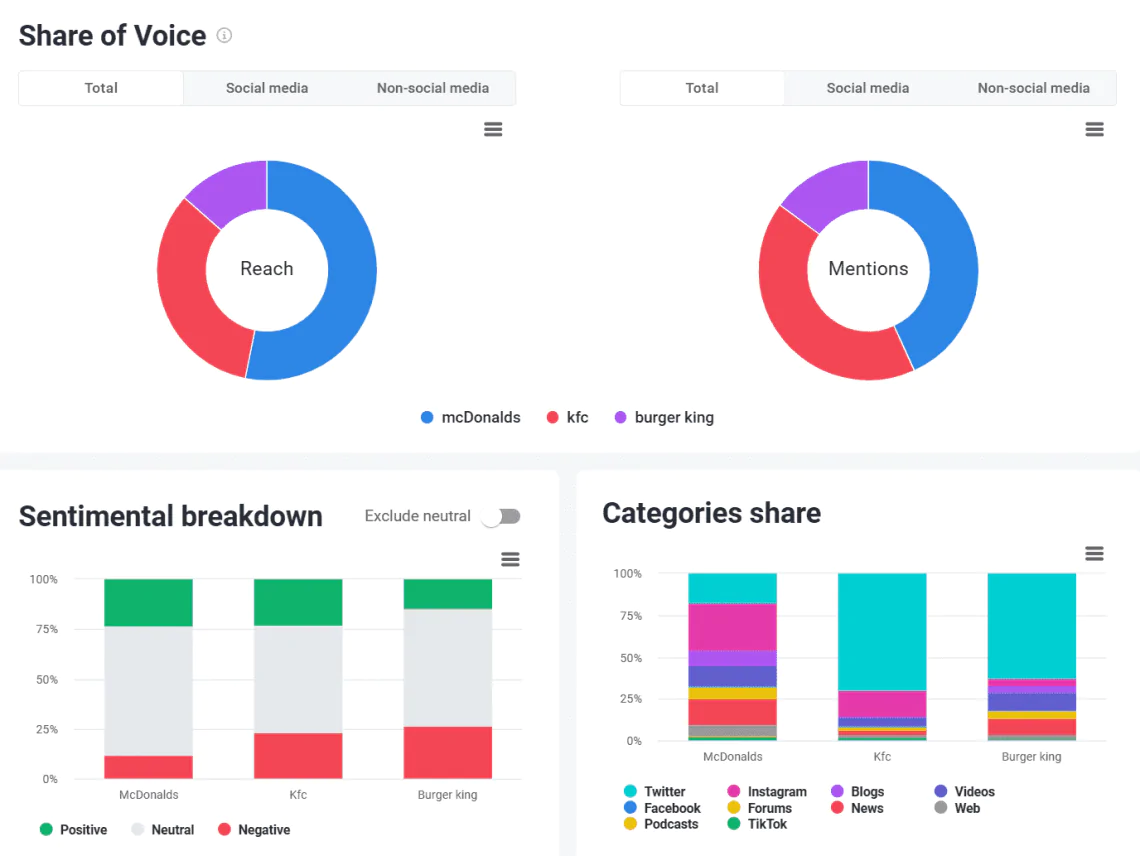 Easily measure customer satisfaction with Brand24!
Embracing brand monitoring not only helps you stay informed about customer sentiments. It also supports identifying issues and improvement areas.
Moreover, you can be sure that the consumer feedback will be sincere. People tend to say what they really think on their social media platforms.
There's one more feature that I want to show you. Namely, Quotes. It's a super useful option for gathering feedback from happy customers. If you wish to share testimonials on your website, that's something you can definitely make use of.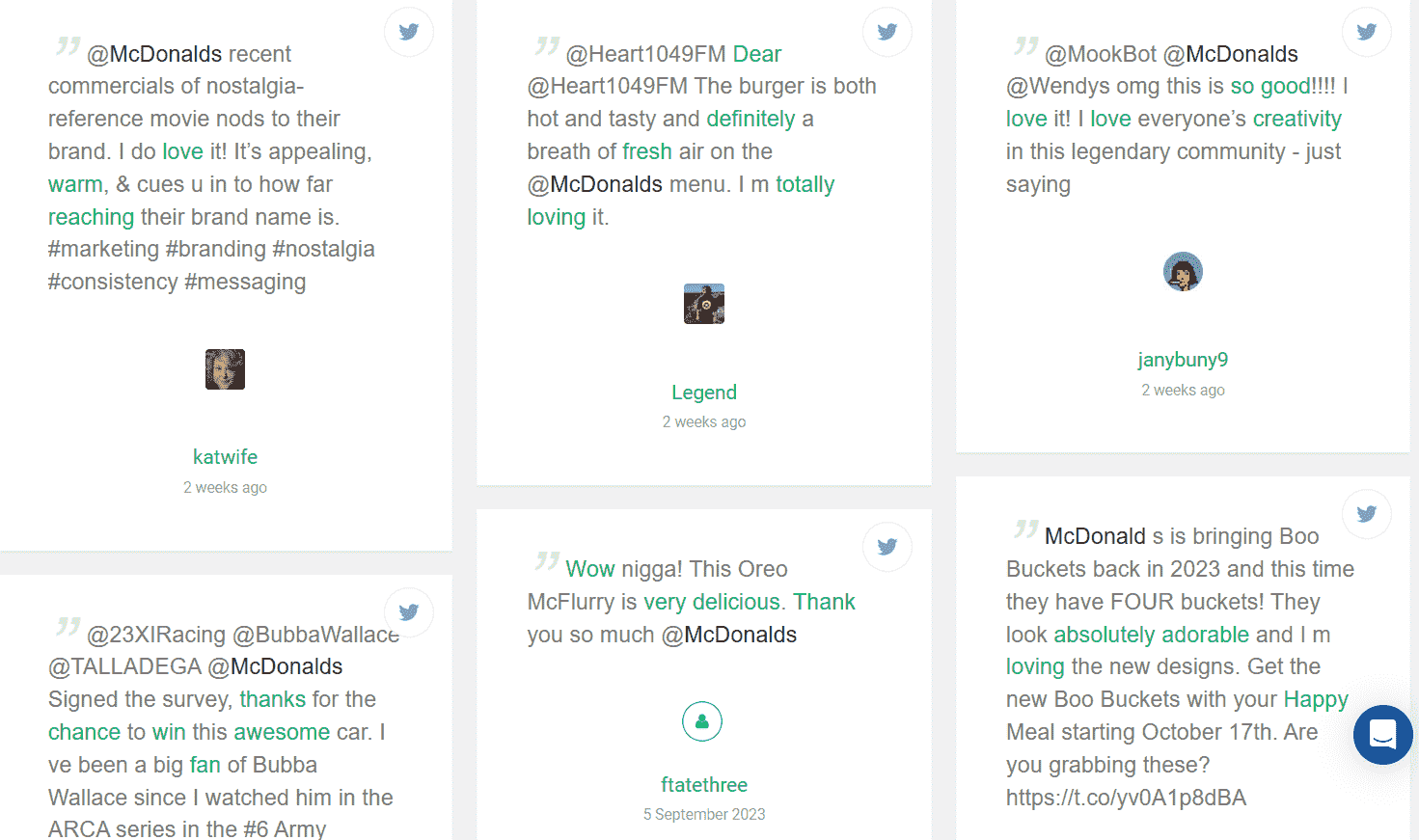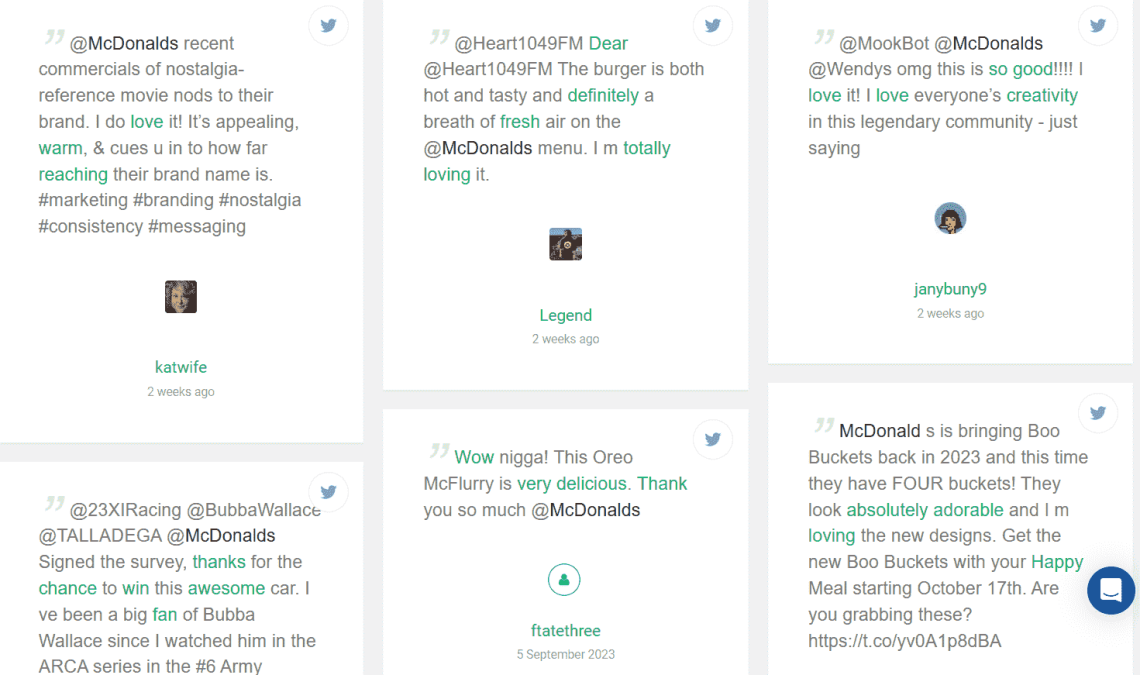 Quotes are the most representative of your positive mentions. They are also presented visually appealing, ready customer feedback examples you can use on your website.
Pros & cons of brand monitoring for feedback collection
Pros:
Social proof: Provides testimonials and user-generated content for marketing purposes.
Passive approach: No need to engage customers to answer questions or surveys.
Comprehensive insights: A holistic understanding of customer sentiments and brand reputation.
Real-time tracking: Be the first to discover new online mentions.
Identify issues: Address and solve problems before they escalate.
Data-driven decisions: Make strategic decisions based on customer feedback.
Build stronger relationships: Engage with customers and build trust.
Measure brand performance: Use Sentiment, Reputation, and Social Media Reach metrics.
Find trends: Identify trends and patterns in customer feedback.
Competitors comparison: Supports competitor analysis and benchmarking.
Understand customer needs with media monitoring!
Cons:
Limited context: Some mentions may lack context, making it challenging to understand the full story.
Sentiment ambiguity: Identifying the true sentiment behind mentions may be challenging. That's especially true when people use sarcasm.
Negative bias: Customers are more likely to share negative feedback.
Incomplete data: Some customers refrain from expressing feedback publicly, leading to vague insights.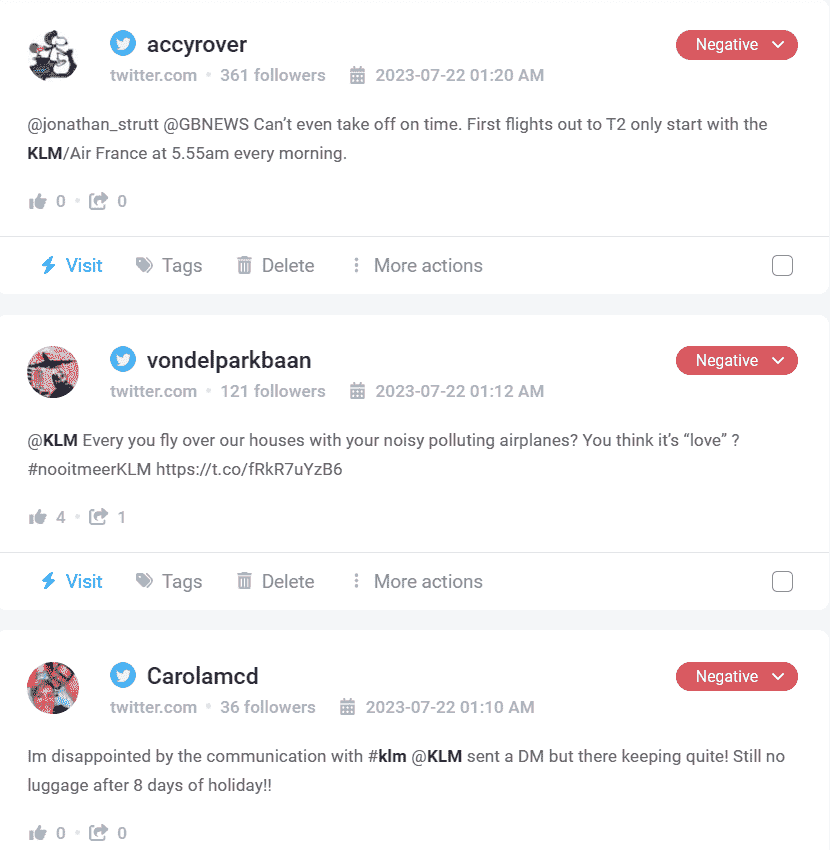 Collect customer feedback with Brand24.
02 Customer feedback surveys
Surveys allow you to get insights directly from customers. They come in various types and formats designed for specific responses.
Types of customer feedback surveys
Net Promoter Score (NPS) surveys
NPS surveys measure customer loyalty and satisfaction. They ask customers to rate their likelihood of recommending the product or service.
Customer Satisfaction (CSAT) surveys
A customer satisfaction survey assesses how happy a customer is with a specific interaction or experience. Typically, it asks to rate satisfaction on a scale.
Customer Effort Score (CES) surveys
CES surveys focus on the ease of customers' experience. It measures the difficulty of using a product or software. These surveys support creating a more seamless customer experience.
Online Feedback Forms
These are open-ended surveys. They allow customers to provide reviews in their own words. Thanks to this form, the feedback is very personal and accurate. On the other hand, it requires more time and effort from the clients.
Post-Purchase Surveys
Post-purchase surveys collect feedback after a transaction. It gauges customers' overall experience with the buying process.
Don't waste time on surveys. Try real-time feedback instead!
Customer surveys tools
01 Google Forms
Google Forms is a versatile tool for customer surveys. It has a user-friendly interface and seamlessly integrates with the Google G Suite. This makes creating and distributing surveys effortless.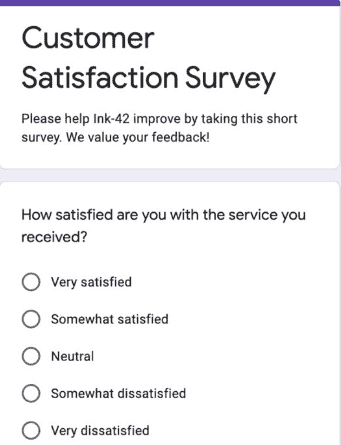 You can use it to gather feedback, from customer experiences to product preferences. The tool offers diverse question options. These are, among others, multiple-choice, checkboxes, and text answers. All the features allow for comprehensive data collection.
Additionally, Google Forms provides easy customization. You can add your logos, images, and even YouTube videos. This ensures a personalized survey experience.
Google Forms presents survey responses in visual charts. The survey data is easy to analyze and export to Google Sheets.
Moreover, there are collaborative features to facilitate teamwork. They allow team members to work together on creating surveys and data analysis.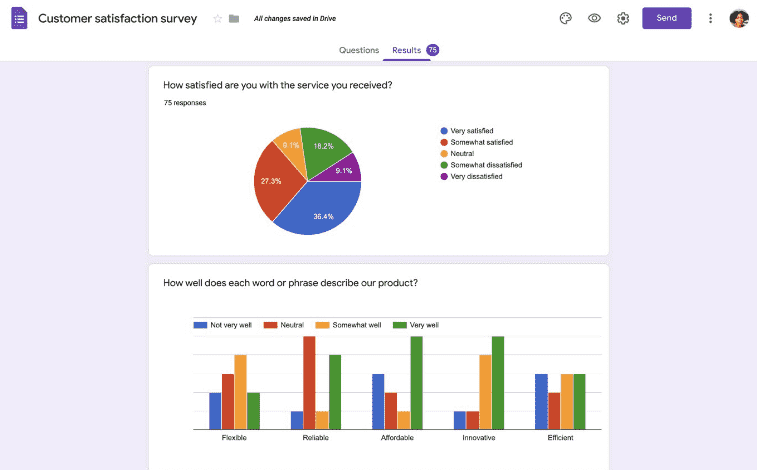 Best of all, Google Forms is free for personal use. This makes it an accessible tool for small businesses. But not only for them. It's an excellent tool for obtaining insights for everybody.
02 Survey Monkey
Survey Monkey is an appreciated tool for collecting customer feedback through satisfaction surveys. Its simplicity and intuitive interface make it an excellent choice, especially for small business owners.
Survey Monkey offers a range of templates to create a questionnaire for your needs. The sample questions will help you to kickstart the survey creation.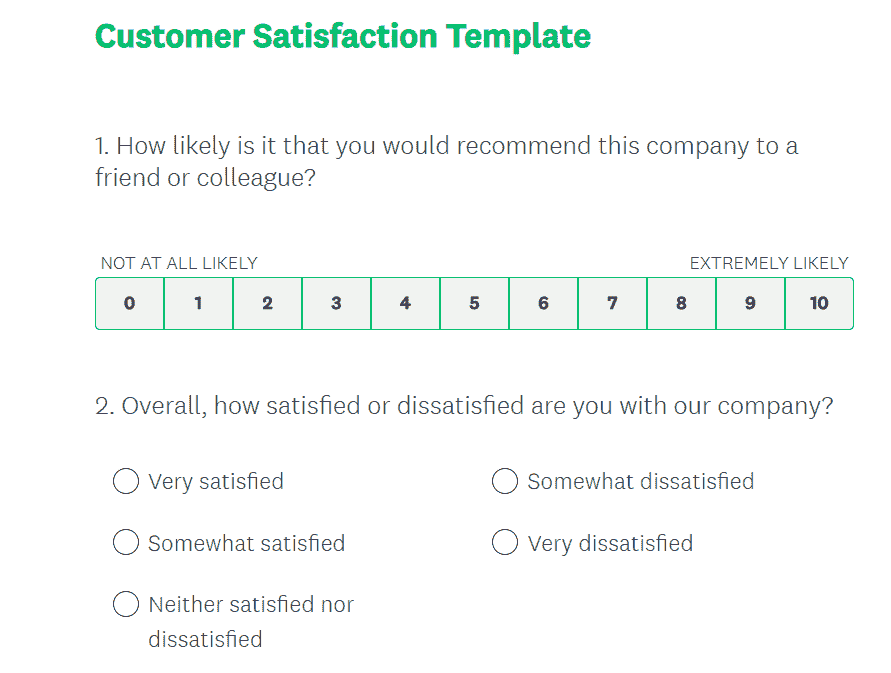 It integrates with CRMs, social accounts, and e-commerce platforms. This function enhances the feedback collection process.
Survey Monkey offers a basic Freemium plan, so you can check if it suits your needs.
Support your marketing efforts with Brand24!
03 Survey Lab
Survey Lab is a reliable tool for conducting feedback surveys. It stands as a popular alternative to Survey Monkey. With similar functionality, it offers the creation and distribution of surveys and questionnaires. It has comprehensive response aggregation, powerful analytics, and reporting.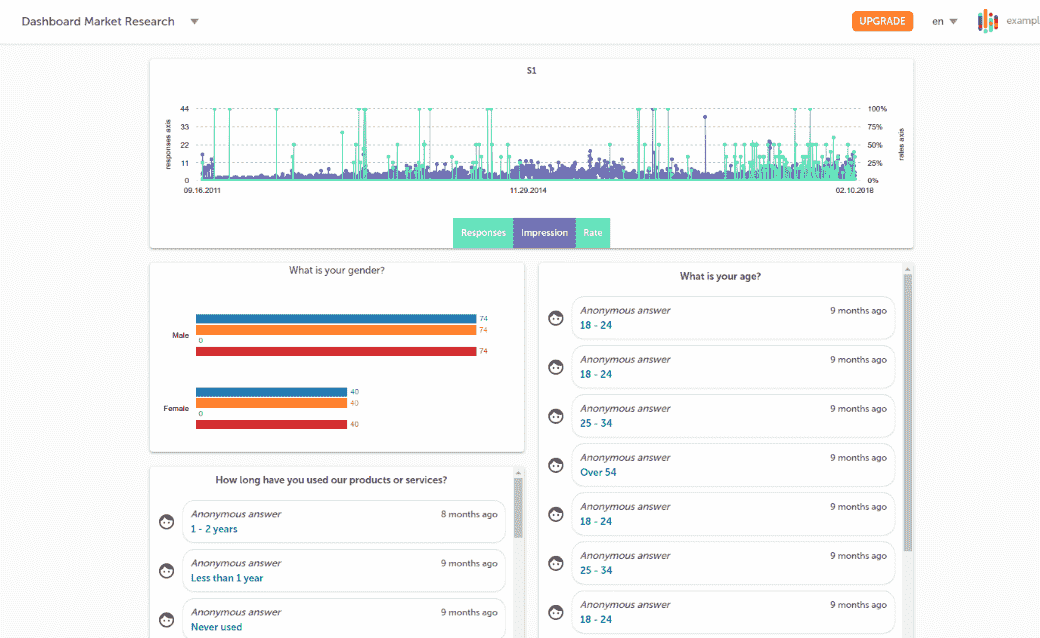 The software supports multiple languages and branded surveys. Thus, it's a good solution for businesses of all sizes.
Survey Lab's professional package is very generous. It gives unlimited survey responses, making it a scalable choice. With seamless integrations and a data upload facility, Survey Lab streamlines operations.
For more tools also check out: The 14 Best Customer Feedback Tools to Try in 2023
04 Zoho Survey
Zoho Survey is a customer feedback tool that empowers users to create surveys in minutes. It seamlessly integrates with other Zoho tools, offering a user-friendly experience for existing users. These are, among others, Zoho Social, Zoho Desk, Zoho CRM, and Zoho Campaigns.
It provides features, including diverse question types, skip logic, custom variables, and multi-language support. This ensures flexibility and personalization in survey design.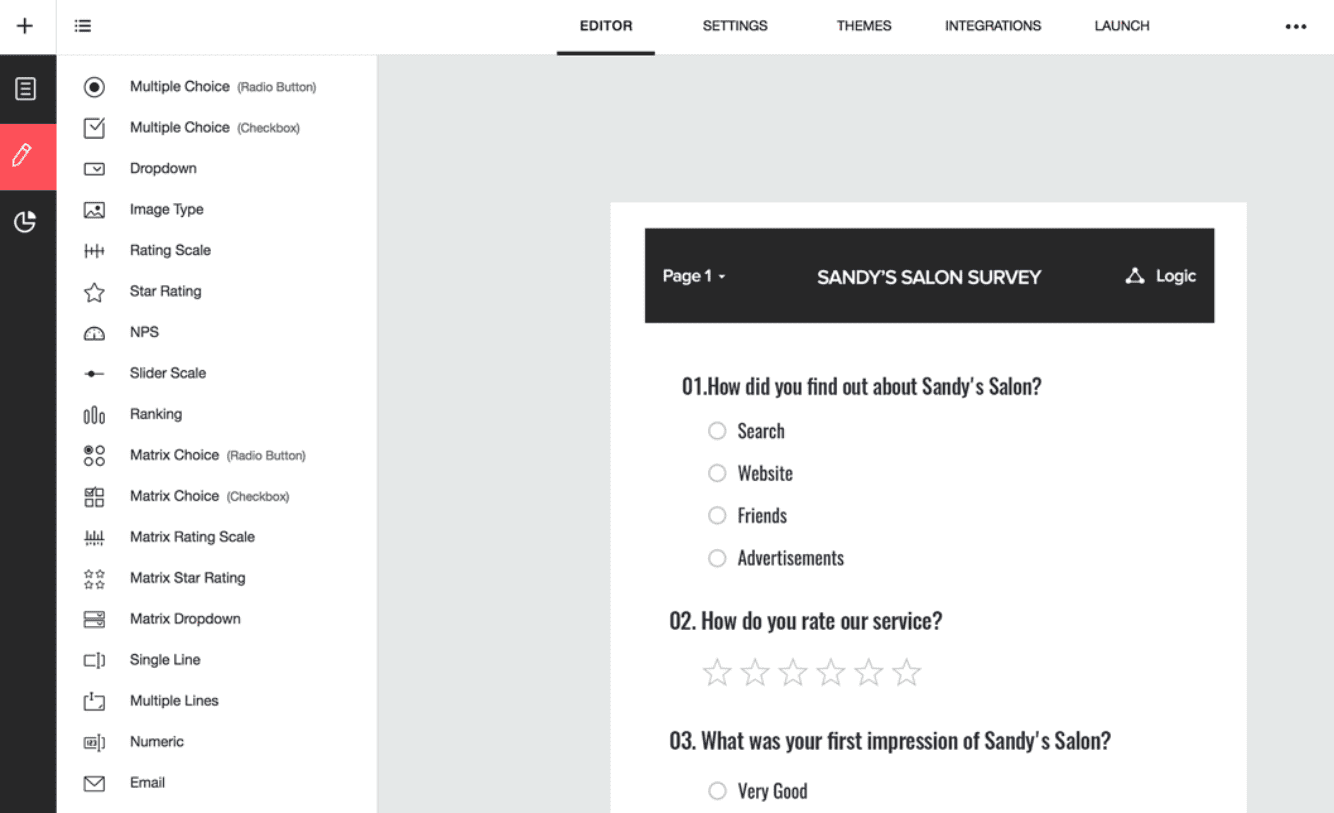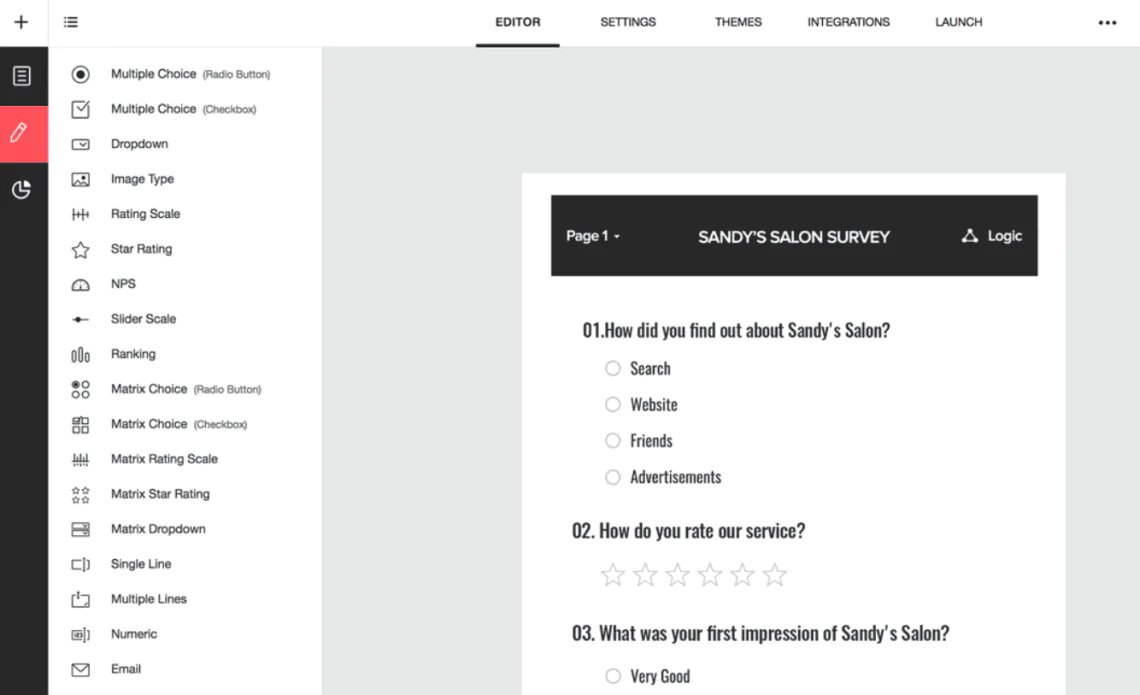 You can distribute surveys through the web or custom domain links. Other options are e-mail campaigns, social media, and QR codes. Response collection offers offline support and website embedding.
Real-time reporting and analysis enhance customer survey management. There's also the team collaboration feature, which streamlines teamwork.
Zoho Survey integrates with third-party apps like Eventbrite, Zendesk, and Tableau. This way, you can expand its functionality.
For those in need of targeted responses, Zoho Survey offers answers purchase. You can choose specific demographics so that the gathered responses are reliable for your audience. That's a unique offer that makes Zoho Survey stand out.
Collect feedback on products or services with Brand24!
Pros & cons of feedback surveys
Pros:
The option to choose a target audience and a specific topic.
Direct insights from customers.
Measuring customer loyalty.
Demonstration of the brand's commitment to improvement.
Cons:
Time of distribution: It's difficult to send surveys at the optimal time for everybody. Especially if your customers' time zones and habits differ.
Low response rates: Getting enough responses is a challenge. Unfortunately, people tend to ignore surveys.
Bias in responses: Participants may present bias or provide inaccurate information.
Time-consuming: Designing, running, and analyzing surveys can be time-consuming. Especially with multiple survey types and customer segments.
Survey fatigue.
One-way communication: Surveys offer one-way communication. This limits the option for follow-up questions or explications.
E-mail surveys risk ending up in the spam folder.
Don't fight with low response rates. Choose Brand24 instead.
03 Interview customers for feedback directly
Interviewing is a highly effective method for gathering customer feedback. It provides a deeper understanding of customer experience and perspective.
Unfortunately, this approach is time-intensive, both in online and face-to-face settings.
In-person interviews, although they allow for more nuanced discussions, may lead to hesitancy in being overly critical. People may temper their responses to avoid confrontation.
On the flip side, this method often yields richer insights. That's thanks to the option to pose in-depth questions and engage in comprehensive discussions.
To maximize the effectiveness of customer interviews, thorough preparation is crucial. It'll ensure that the conversation remains focused on obtaining the specific answers needed.
While some loose discussions may unveil unexpected insights, straying too far from the primary topics could result in missing valuable information.
Tools
Various tools can facilitate online customer interviews. Video conferencing platforms like Zoom, Skype, and Google Meet are commonly used for remote interviews. They enable real-time, face-to-face interactions despite distances. This makes collecting feedback convenient for both businesses and customers.
VideoAsk
There's one particularly interesting tool I've stumbled upon recently. It's VideoAsk – the latest tool from Typeform.
It's a platform for creating interactive interviews for various purposes, including collecting customer feedback.
The idea behind the app is to create a personal face-to-face interaction while collecting feedback without connecting in real time.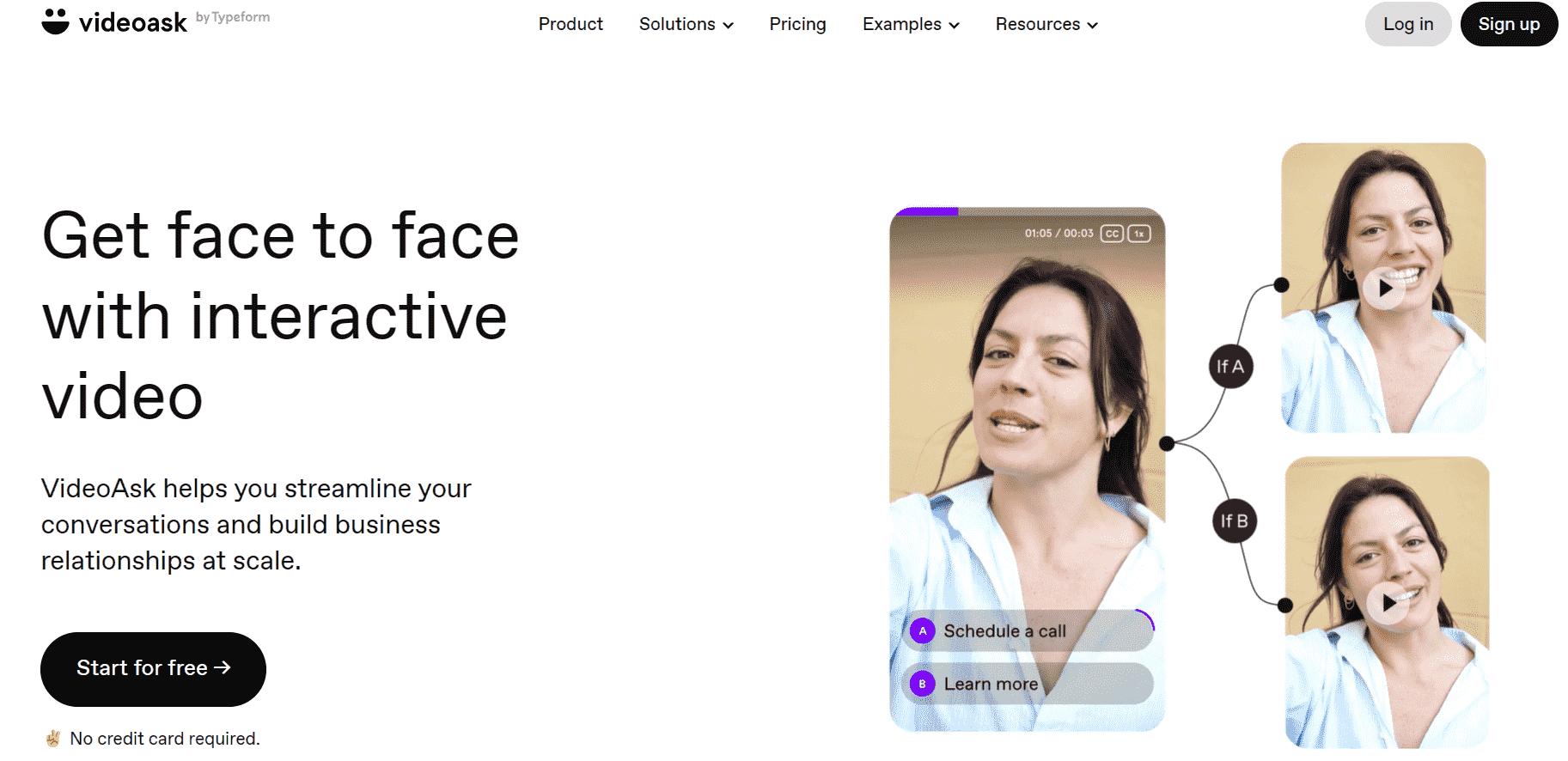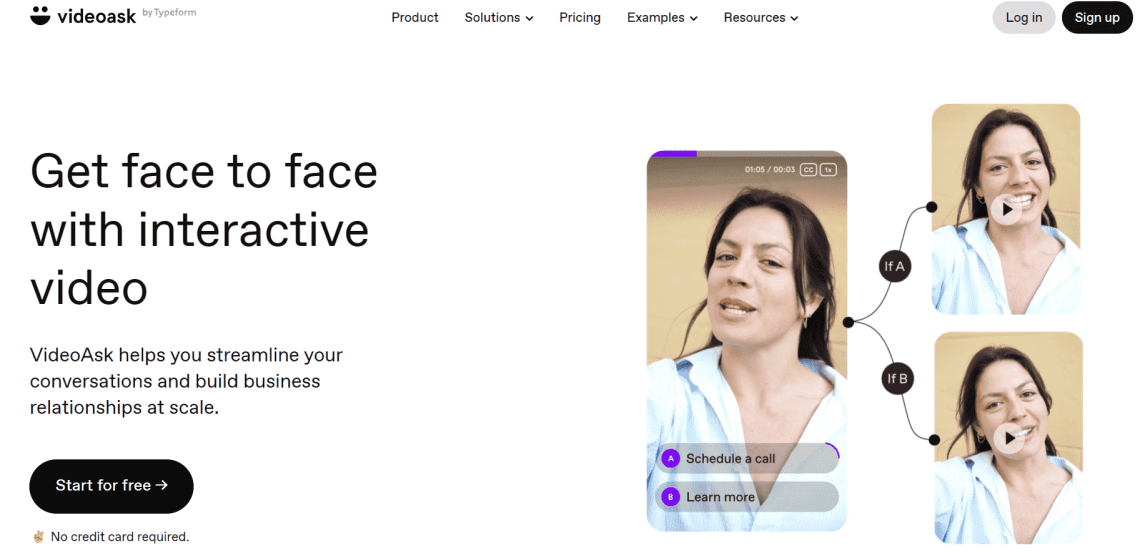 With VideoAsk, you can create interactive videos asking about customer experience and feedback. They may answer using text, voice recording, or video recording. The conversation continues as the interviewer asks the next question, the customer answers, and so on.
This form ensures communication on a personal level. At the same time, it solves many of the problems of real-time collecting feedback.
Pros & cons of collecting direct feedback
Pros
In-depth insights: Interviews allow for detailed, nuanced responses, providing richer feedback.
Clarification: Interviewers can ask follow-up questions for better understanding.
Personal connection: Establishing rapport can lead to more open and sincere responses.
Customization: Tailored questions ensure relevant data collection.
Non-verbal cues: Face-to-face interviews capture body language and facial expressions.
Trust building: Direct interaction fosters trust and strengthens customer relationships.
Cons
Time-consuming: Interviews can be lengthy, demanding both interviewer and respondent time.
Resource-intensive: Requires scheduling, coordination, and travel expenses for face-to-face interviews.
Limited reach: Interviews are feasible with only a small subset of customers, limiting sample size.
Potential bias: Face-to-face interviews may result in less candid responses due to social desirability bias.
Skill-dependent: Effective interviewing requires skilled mediators to navigate conversations.
Subjectivity: Interpretation of qualitative data can be subjective, leading to potential bias in analysis.
Data management: Organizing, transcribing, and analyzing qualitative data can be labor-intensive.
Gather customer feedback through media monitoring with Brand24.
04 Take advantage of your social media channels
Leveraging social media platforms for customer feedback collection is a dynamic and real-time approach. It involves harnessing the power of platforms like Instagram, Facebook, and Twitter to engage with your audience directly.
For instance, you can use Instagram Stories to collect customer feedback. There are many options like polls, quizzes, question boxes, or a box with sliding emoji for rating.
That's a quick and fun way for customers to share their preferences and opinions.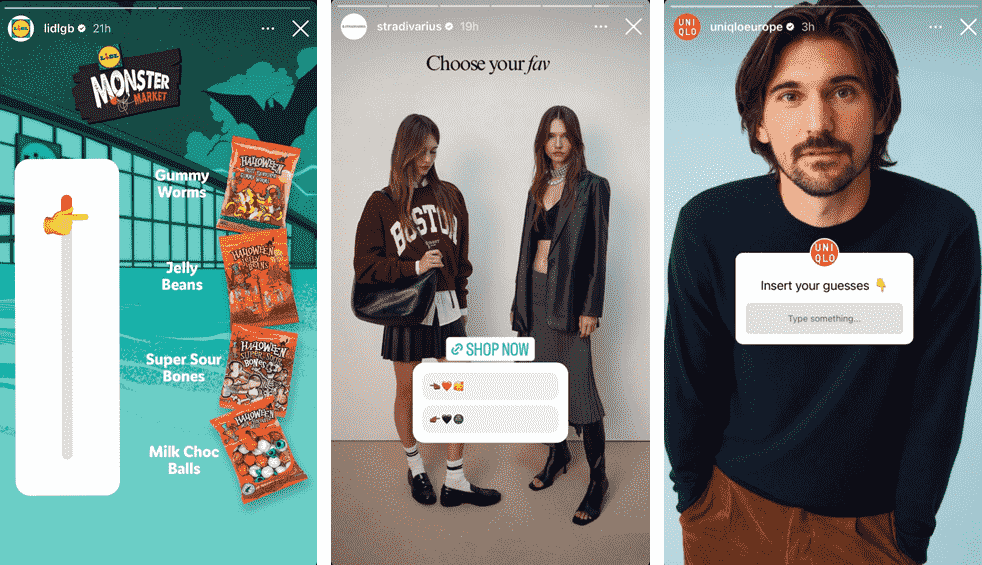 This method enables you to get customer feedback swiftly and capitalizes on social media's interactive nature.
Plus, it fosters a sense of community and engagement with your brand.
It's essential to monitor social media channels regularly, respond to feedback, and continually use the insights gained to improve your products or services.
Monitor your social media comments and mentions with Brand24.
Pros & cons
Pros
Real-time interaction: Immediate and real-time engagement with your audience, ensuring quick customer feedback.
Broad audience reach: Reach a diverse and widespread audience, including potential customers.
One of the cost-effective customer feedback methods
Visual engagement: Utilize images, videos, and interactive features to make the feedback process engaging and enjoyable.
Community building: Fosters a sense of community around your brand.
Data accessibility: Easily access and analyze data.
Global insights: Get customer feedback from a worldwide audience, providing valuable international perspectives.
Enhanced brand image: Demonstrates your brand's commitment to listening to customers and making improvements. Plus, in general, interacting with customers online fosters your brand's image.
Cons
Limited control: You have limited control over the demographics of your social media followers.
Filtering noise: Sorting through irrelevant or spam comments can be time-consuming and may hinder the feedback process.
Sample bias: Feedback collected on social media may not represent your entire customer base, leading to sample bias.
Competitive listening: Competitors can monitor your feedback channels, potentially gaining insights into your strategy.
Volume of data: Managing a high volume of feedback on social media can be overwhelming and resource-intensive.
05 Check online reviews
Review sites let customers rate their product, service, or brand experiences. The most common services are Yelp, Google Reviews, Capterra, and G2.
Third-party review sites offer practical insights into customer satisfaction. By browsing through them, you can identify areas for improvement. The ratings and reviews help companies estimate their online performance and reputation.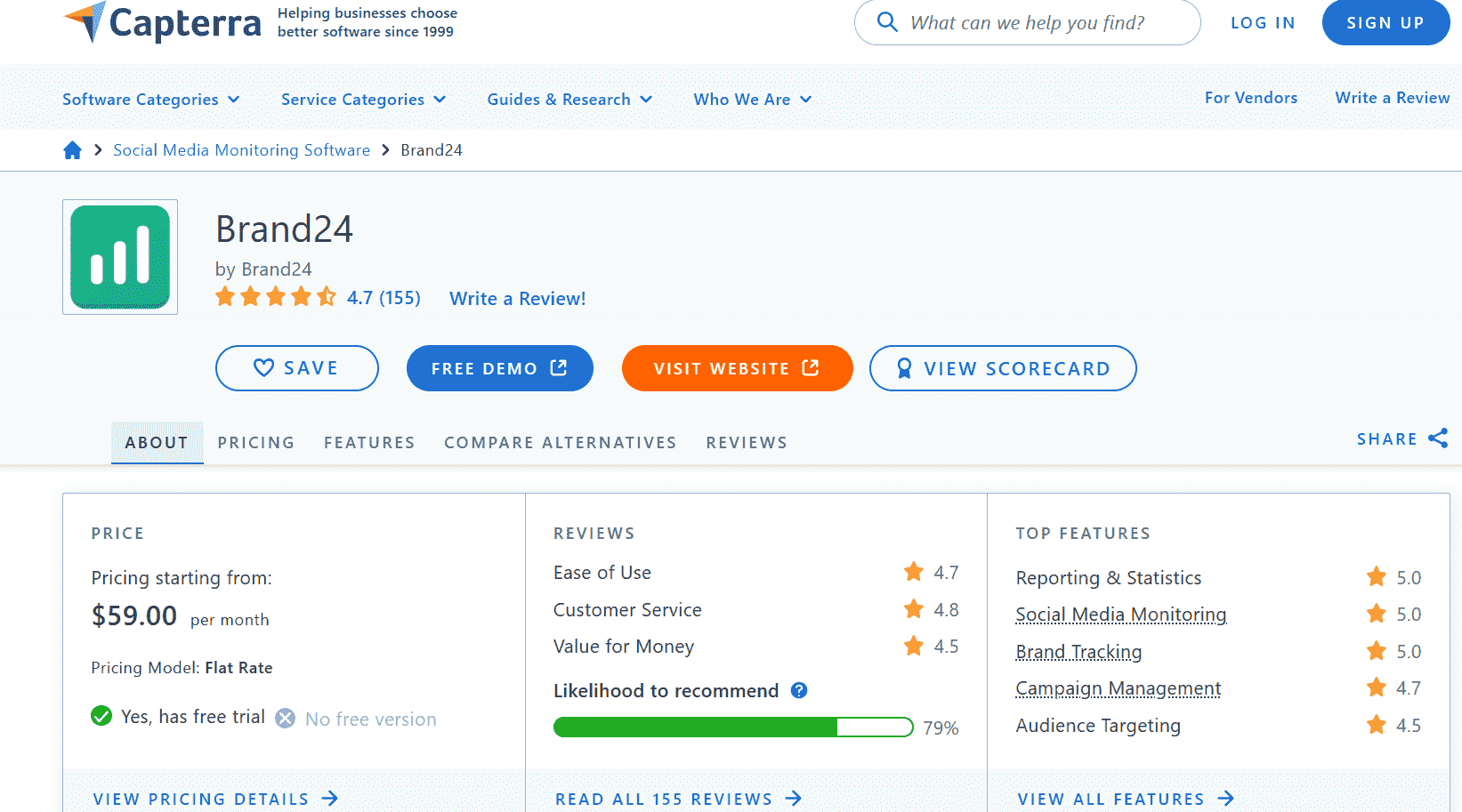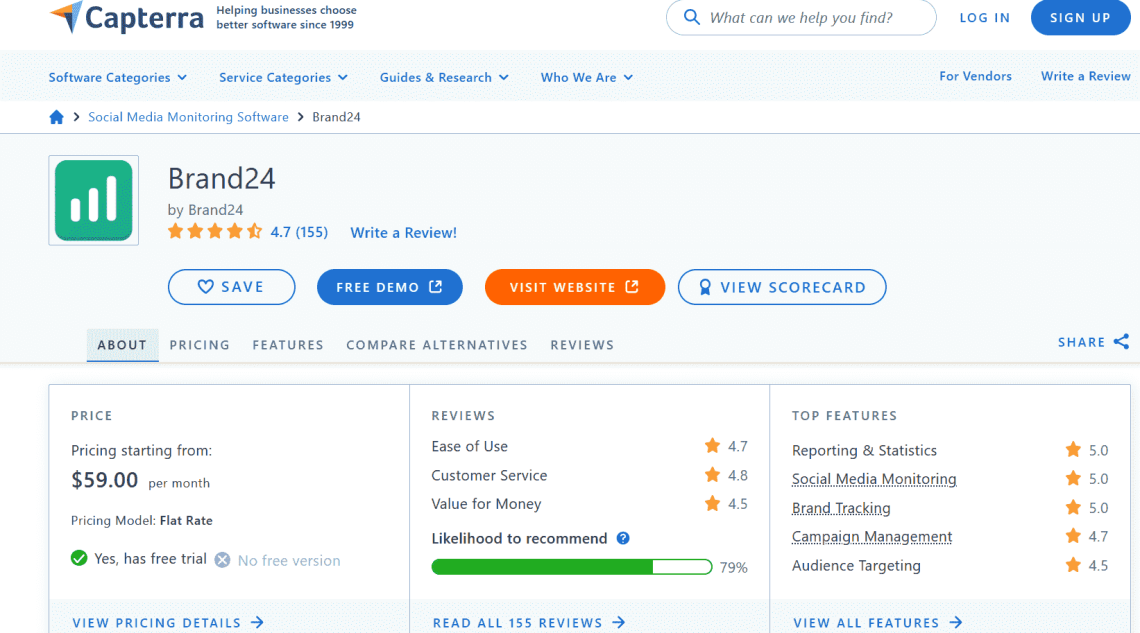 Monitor customer feedback across social media channels and review sites with Brand24!
Pros & cons of browsing review sites to collect user feedback
Pros:
Helps identify areas for improvement.
Shows overall performance and reputation.
Allows for competitor analysis and benchmarking by comparing reviews and ratings.
Helps build trust and credibility with potential customers.
Provides testimonials and user-generated content for marketing purposes.
Supports development based on user needs and preferences.
Cons:
It's difficult to check the authenticity of some reviews. Competitors or fake accounts can bias them.
Time-consuming to browse through numerous reviews and extract valuable insights.
Lack of detailed information or context in some reviews.
Inability to ask follow-up questions or seek explanations on feedback.
It's complicated to track and organize opinions from multiple review sites.
06 Start a feedback community
Creating a feedback community is an effective way to facilitate a continuous feedback loop.
Providing a dedicated space for customers encourages open communication and builds a sense of community around your brand.
Members can share insights, suggestions, and concerns, fostering a direct and ongoing dialogue. This not only helps in gathering valuable feedback but also cultivates customer trust and loyalty.
It's essential to guard the community to ensure it is constructive and respectful. You can gather authentic insights with a well-maintained feedback community.
At Brand24, we have our Social Listening Community on Facebook. It's a space where we share info about new features and collect customer feedback.
Sometimes, we also offer early access in return for customer feedback!
So join us and be on top of events in the social listening & media monitoring world!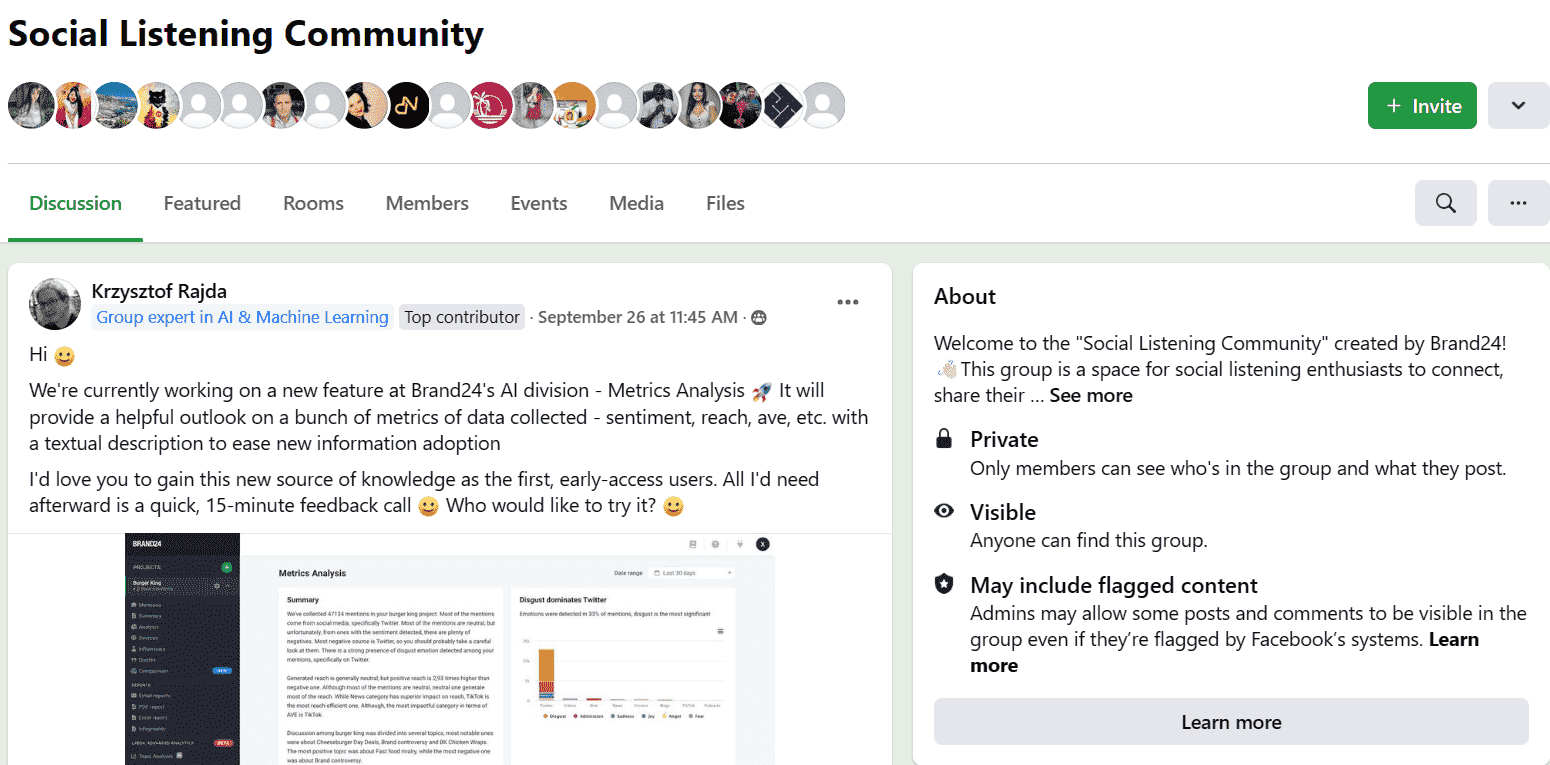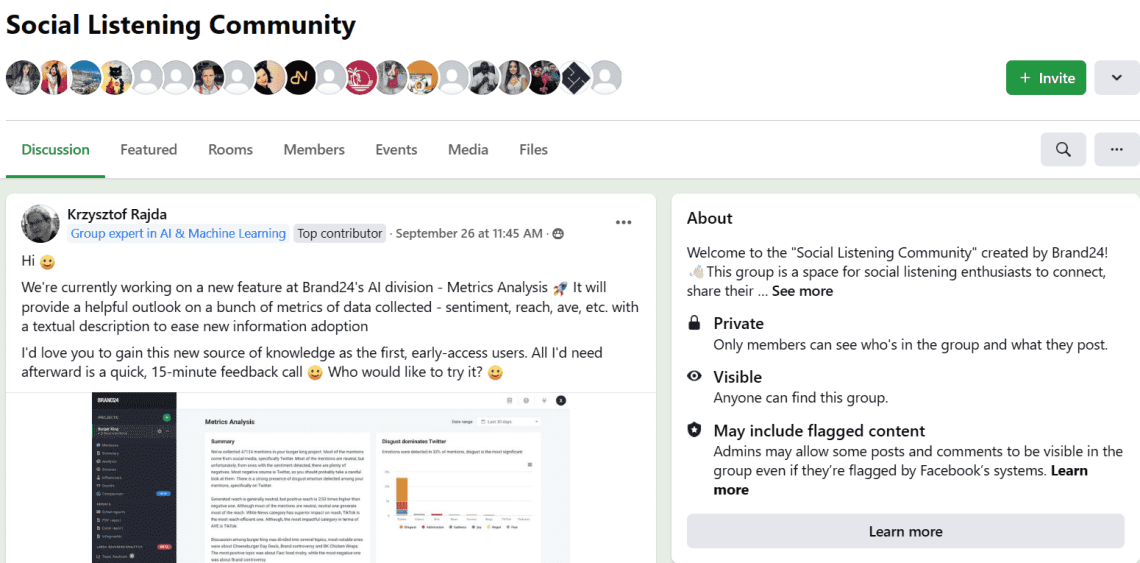 Pros & cons
Pros
Continuous engagement: A feedback community promotes ongoing engagement with customers, keeping them connected to your brand.
Enhanced loyalty: Fosters a sense of belonging and loyalty among community members, increasing their investment in your brand.
Constructive discussions: Creates a platform for constructive discussions and idea sharing, which can lead to valuable product improvements.
One of the cost-effective customer feedback methods.
Collect feedback through social listening with Brand24.
Cons
Resource-intensive: Establishing and managing a feedback community can be resource-intensive in time and effort.
Active social community management and moderation needed: To ensure constructive and civil discussions.
Limited reach: The community may not represent your entire customer base, leading to biased feedback.
Slow to grow: Building an engaged community can take time and may not yield immediate results.
Potential for negativity: Negative feedback can sometimes dominate discussions, affecting community morale.
Maintenance and content generation: vital to keep community interest.
07 Check website analytics
By closely examining your website analytics, you gain valuable insights into customers' behaviors and sentiments regarding your products or services. It's an indirect method of collecting feedback, but depending on your needs, it may be efficient.
When you delve into the data on pages where customers stay longer, you uncover their preferences. Similarly, when you explore pages, they exit rapidly; you reveal their pain points.
This feedback provides crucial information for boosting your customer experience journey.
Additionally, it's essential to consider the broader context surrounding your insights. Think about external factors that can influence users' web behavior.
This comprehensive approach helps you refine strategies and cater to your customers' needs better.
Tools
Lucky Orange
That's my personal favorite among the website analytics tools.
Lucky Orange has features like session recording and dynamic heatmaps. That's actionable feedback on what your customers do on your site.
But that's not the end. This tool has way more options for feedback data collection. From surveys, visitor profiles, and behavior-generated personalized announcements to form analytics.
Lucky Orange has no equal in terms of website analysis for customer feedback.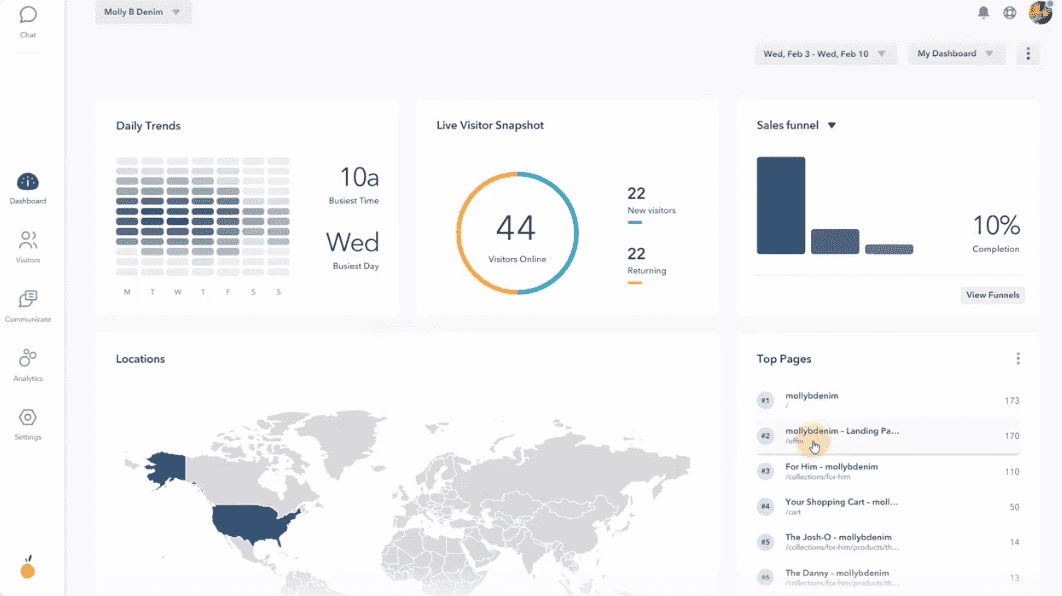 There's a free trial and a free plan to try Lucky Orange without commitment.
Get customer feedback with Brand24.
Full Story
Full Story will tell you everything you need about how people interact with your website. With features like Retention, Journeys, Conversions, and Heatmaps, it tracks people in your domain and examines customer experience.
With Full Story, you can identify customer behavior and fix bugs without the need to request feedback.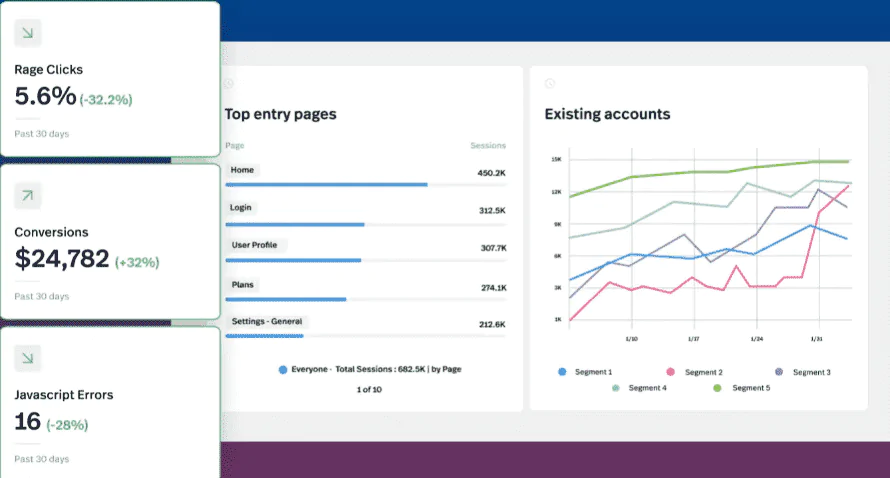 You can try Full Story with a 14-day free trial.
Pros & cons
Pros
Objective data: Concrete, quantitative data about user behavior and preferences.
Real-time insights: Instant access to customer actions and trends, allowing for timely adjustments.
Holistic view: Offers a comprehensive view of the customer journey and touchpoints.
Identifies pain points: Reveals areas of concern or confusion on the website.
Informed decision-making: Data-driven insights aid in making informed business decisions.
Cons
Limited context: Analytics can't explain the "why" behind user behavior, lacking qualitative insights.
Data overload: Excessive data can be overwhelming, making it challenging to pinpoint key issues.
Inaccuracies: Data may not always reflect users' true intentions or emotions.
Privacy concerns: When tracking user data, you must navigate privacy regulations and ethical matters.
Start media monitoring and get customer feedback with Brand24.
How to encourage customers to fill in a feedback form?
Encouraging customers to fill in a feedback form may seem complicated. However, you can effectively collect customer feedback with a few tested strategies.
Incentives
Offer tangible incentives such as reward points, discounts, or exclusive offers for completing the feedback form. Customers are more likely to participate if they see immediate value.
Transparency
Be clear about how the feedback will be used. Specify how it will benefit both the customer and the company. Transparency builds trust and encourages participation.
Convenience
Ensure that the feedback form is user-friendly and won't take long. Customers are more likely to participate if the process is quick and hassle-free.
Personalization
Tailor the feedback request to the customer's previous interactions or purchases. Showing you value individual input will increase participation.
Follow-up
Acknowledge and thank customers for their feedback. Show how the input was used to make improvements. Demonstrate that their opinions matter.
Gamification
Implement gamification elements, like badges or levels, to make the feedback process more engaging and enjoyable.
Detect your unhappy customers and happy customers with Brand24.
Gather customer feedback effectively!
That was a lot of information to digest! At this point, you may feel confused with the number of options you have.
So what should you do next?
Mix and match! Try different methods and tools. This way, you'll find a perfect fit for your industry and audience.
Every company needs something slightly different. That's why you should experiment and observe the results.
Fortunately, most tools have free trials or even unpaid basic plans so you can test different customer feedback solutions.
But where to start if there are dozens of options?
Don't wait any longer! Try Brand24 for customer feedback collection.