Customer Feedback Examples: Apple, Facebook, Nike +more
August 3, 2023 ・ 18 min read
Did you know that out of 26 unhappy customers, only one voices their complaint, while the rest churn silently? That's why effectively collecting feedback is so crucial. Let's dive into the best customer feedback examples and analyze them together!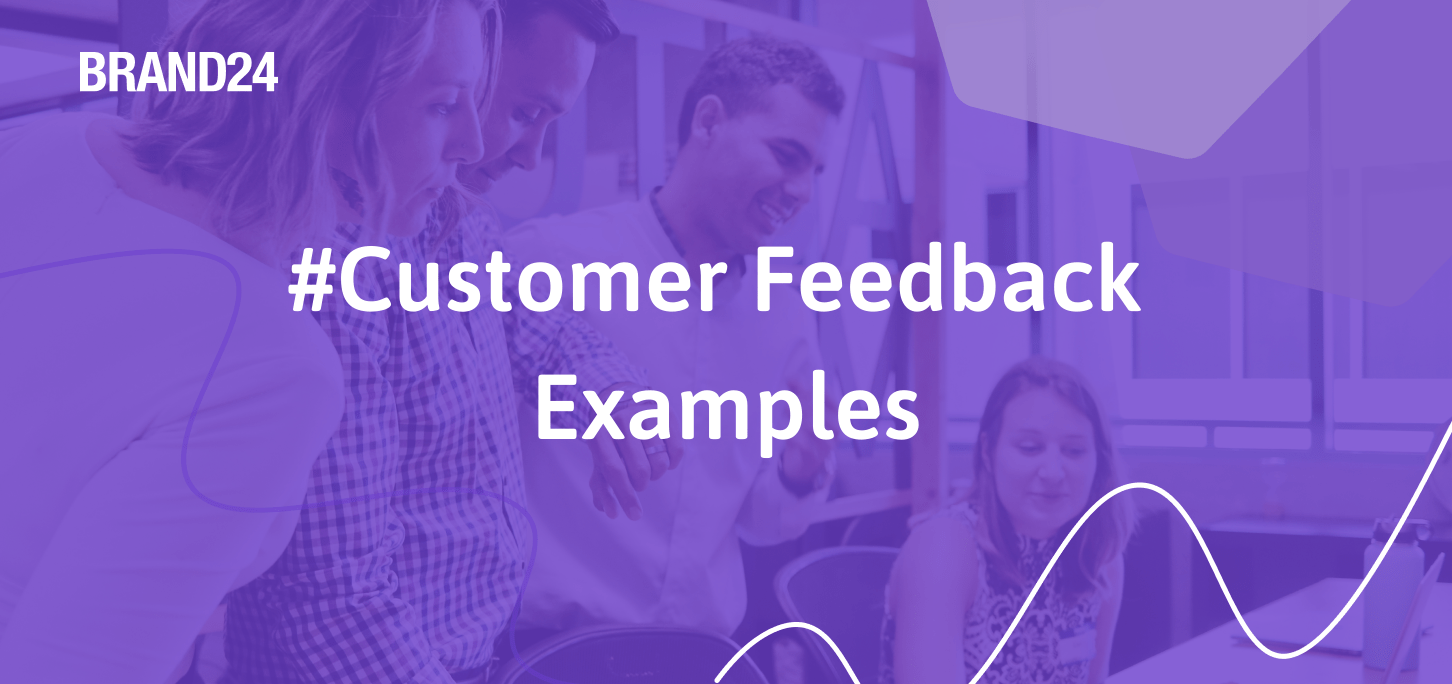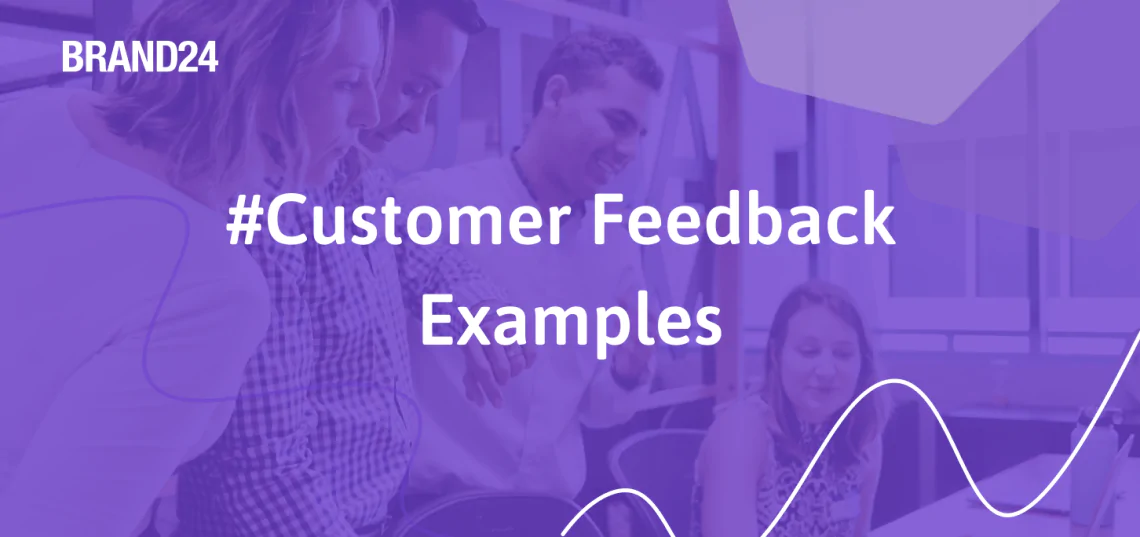 The stats are cruel, I know. You don't want 96% of dissatisfied customers to leave immediately, providing no feedback.
That's why you should always be prepared to collect consumer insights. It's good to have ready structures to measure customer satisfaction and request feedback when needed.
With accurate feedback and actionable insights, you can improve your customer journey. This way, you'll reduce churn rates and earn customer loyalty.
Today we'll learn how successful companies get good customer feedback examples. We'll also see which feedback form is the most effective.
Sounds good?
Let's discover how to unlock the power of customer feedback together!
What is customer feedback?
Customer feedback refers to customer opinions and insights about a product or service.
It is a valuable source of data for businesses as it helps understand customer satisfaction and needs. It plays a role in identifying improvement areas and measuring success.
You can obtain customer feedback through various channels. You can choose from
customer satisfaction surveys,
feedback forms,
online reviews,
social media interactions.
By monitoring user feedback, you can make informed decisions to enhance your customer experiences. There are many customer feedback tools that can help you with that.
Stay up-to-date with your customers' feedback!
Active vs. passive customer satisfaction feedback
Active and passive feedback are two approaches to collecting feedback. Both have their benefits and are suitable in certain situations. You can also use them together as they can complement each other. Let's look at their definitions and pros & cons.
Active customer feedback
This one is a proactive approach. The company initiates the feedback collection by reaching out to clients. They contact customers through surveys, emails, or phone calls to ask specific questions.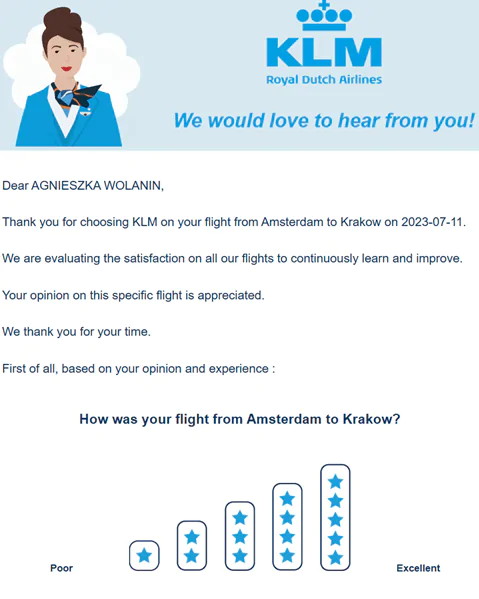 Active feedback pros
Contextual: You can ask about certain experiences at a specific moment.
Customer-specific: Targeted micro-surveys bring more personalized feedback.
Precision: Gather insights on specific aspects of your product or service.
Informed decision-making: Valuable feedback supports decisions aligning with customer preferences.
Enhanced customer satisfaction: Addressing concerns shows you value customers' opinions. These active strategies lead to higher satisfaction levels.
Passive customer feedback
Passive customer feedback involves capturing customer opinions without direct solicitation. It uses social listening, website analytics, and sentiment analysis.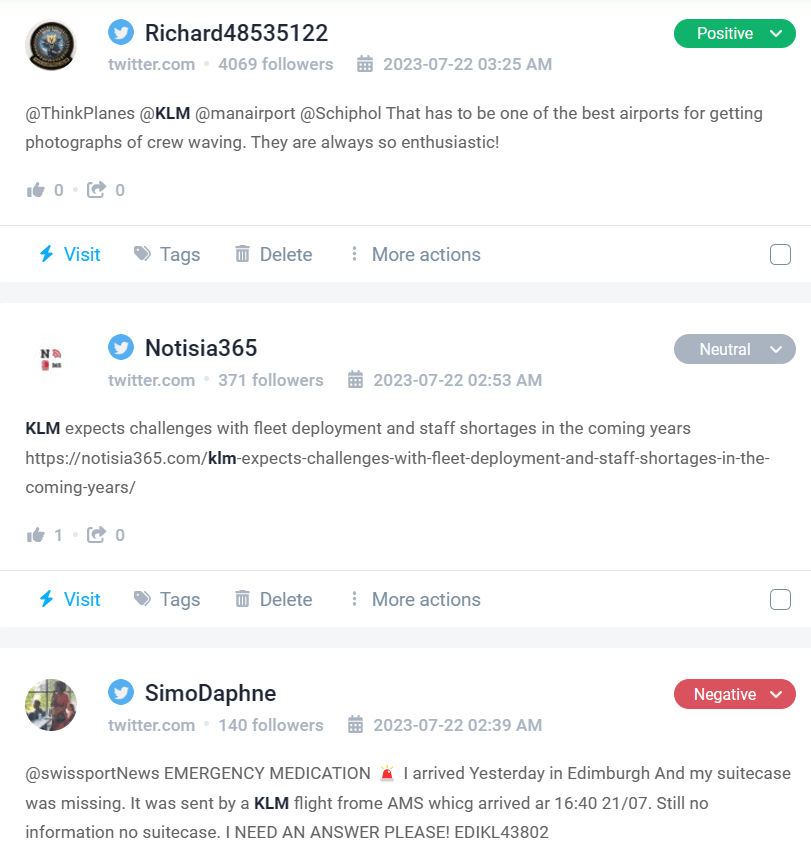 Passive customer feedback pros
Non-intrusive: It does not interrupt the customer experience.
Unbiased insights: Customers provide feedback at their convenience. This leads to more authentic responses.
Continuous improvement: Feedback data collection fosters the culture of constant development
Low effort: Ongoing data collection with no need for active involvement.
Holistic view: Insights from a broad audience.
Scalable: Suitable for gathering feedback from many customers. It doesn't place a burden on resources.
Long-term analysis: Enables data collection over extended periods, supporting trend identification.
Collect user feedback with Brand24!
Collecting customer feedback – examples from real brands
In today's competitive world, companies know the value of user feedback.
It's useful for outsmarting competitors and improving products and services. Thus, we'll explore customer feedback examples from well-known brands. I hope these benchmarks will inspire you.
You'll see that each has its unique approach to customer insights and strategy.
01 Brand24
How do we collect feedback at Brand24? Of course, we use media monitoring!
We don't want to miss any crucial opinions. Because of this, we regularly browse through our mentions and monitor metrics. That's how we check if our customers are happy and track our Reputation Score.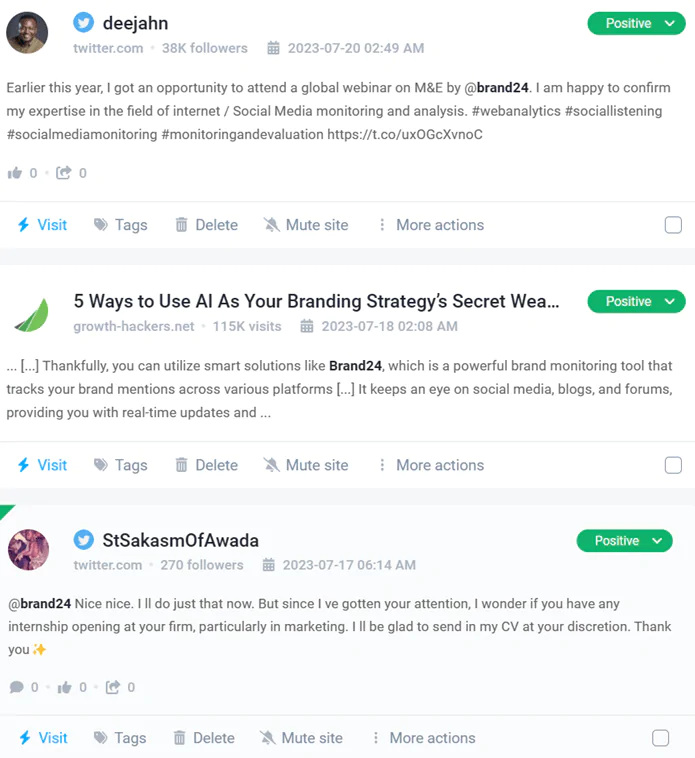 But that's not the only thing we do.
We reach out to our customers regularly. We ask if they like the tool and if it's understandable.

We hope to provide support and the option for leaving feedback this way.
Our Customer Success Team contacts people who started a trial or purchased the tool but don't use it. That's how we collect feedback on why people churn. We learn what causes difficulties or is too complicated.
Based on these valuable insights, we can develop Brand24 in your desired direction.
We also inform you about features and options you don't use. This way, we want to ensure you take advantage of all crucial functionalities.


We also have a private group on Facebook to be close to our audience. You can join the Social Listening Community to learn more about social media monitoring tools and the use of Brand24.
You'll also be able to impact our development by taking part in surveys and leaving feedback in posts and comments.
We're waiting for you to join us!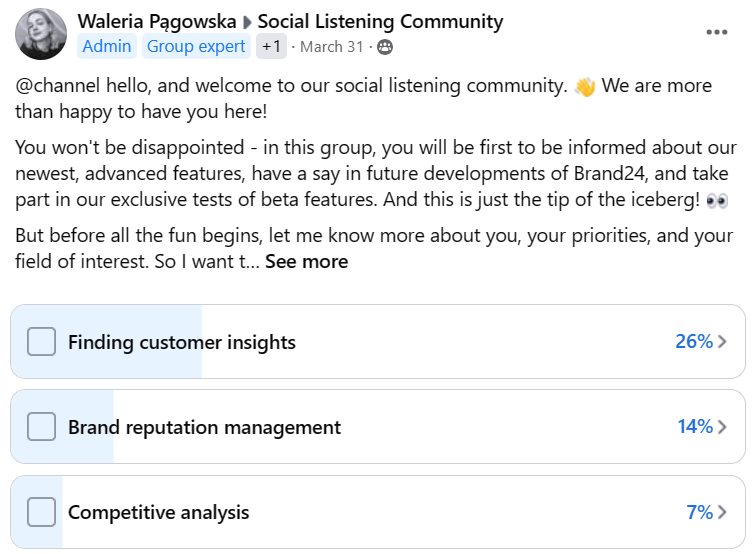 Brand24, we collect user feedback holistically. We don't want to leave any unaddressed comments or customer feeling left behind.
Try media monitoring with Brand24 and stay on top of your mentions!
Of course, when a company grows, it starts to get more recognition and social mentions. Then it becomes difficult to answer every tweet and Instagram post.
Though, you shall not abandon monitoring and answering mentions.
You probably won't have time to interact with every single comment, but take McDonald's as an example. They get thousands of mentions daily but still address issues and thank customers for compliments.
02 McDonalds'
McDonald's actively collects and responds to customer feedback on social media. They promptly address customer concerns and engage with their audience.
The company definitely knows the importance of answering queries. They do their best to solve issues and improve customers' dining experience.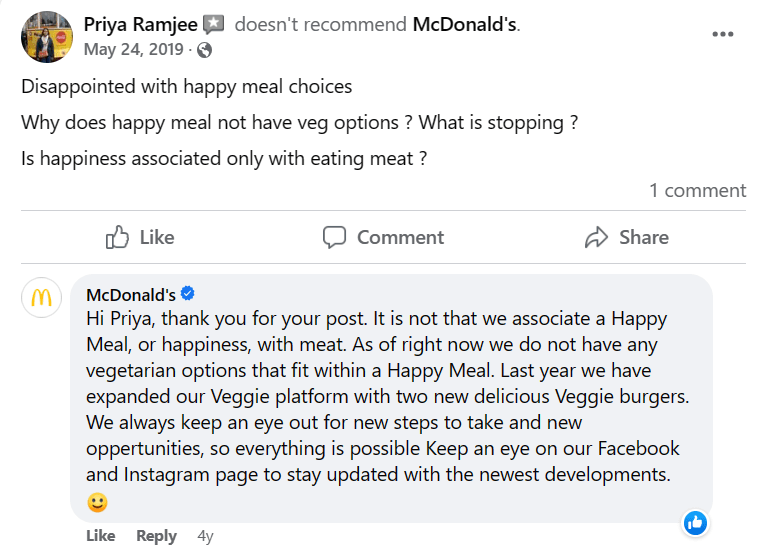 Through real-time interaction, McDonald's shows its commitment to customer satisfaction. It proves that they value and care about their visitors' opinions.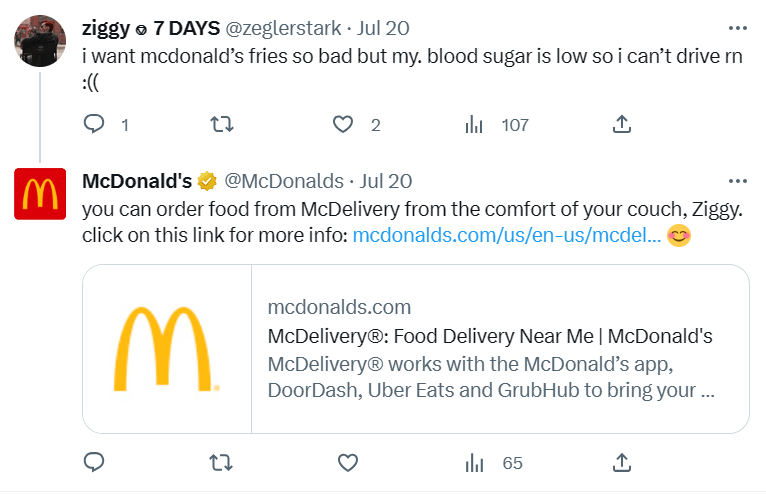 Besides addressing the negative reviews, Mcdonald's remembers to interact with the happy ones. That's the aspect that many companies forget. However, it's also vital for solid brand awareness and an excellent brand reputation.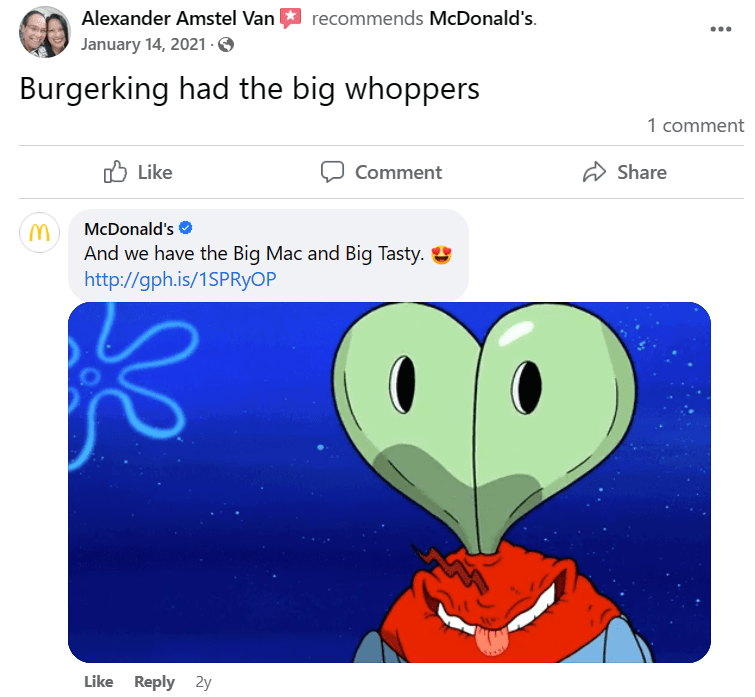 Looking at McDonald's online activity, I actually suspect they use a media monitoring tool. It's because they are always on top of their mentions. They never miss a post, even when nobody tagged them.
Join the circle of best enterprises and identify customer needs effectively.
03 Booking.com
Booking, a prominent online travel agency, relies on a detailed survey to collect customer feedback. You fill it in after every hotel stay to share your experiences.
The intention behind the survey is to gather detailed insights. Unfortunately, some customers find it lengthy. This discourages them from leaving any feedback. It's especially tiring if you stay in multiple hotels during one vacation.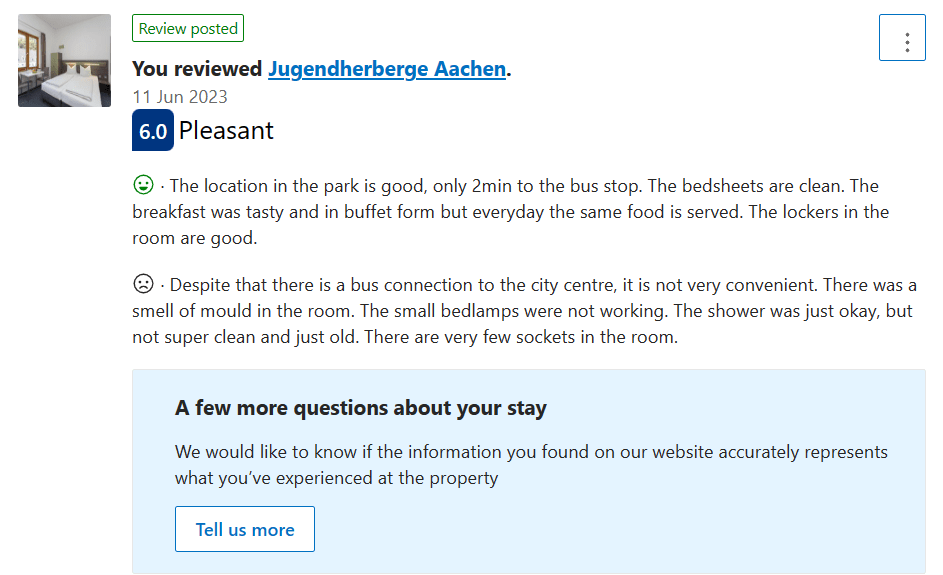 Fortunately, there's also the option to rate everything with emojis and numbers. That's a more convenient alternative.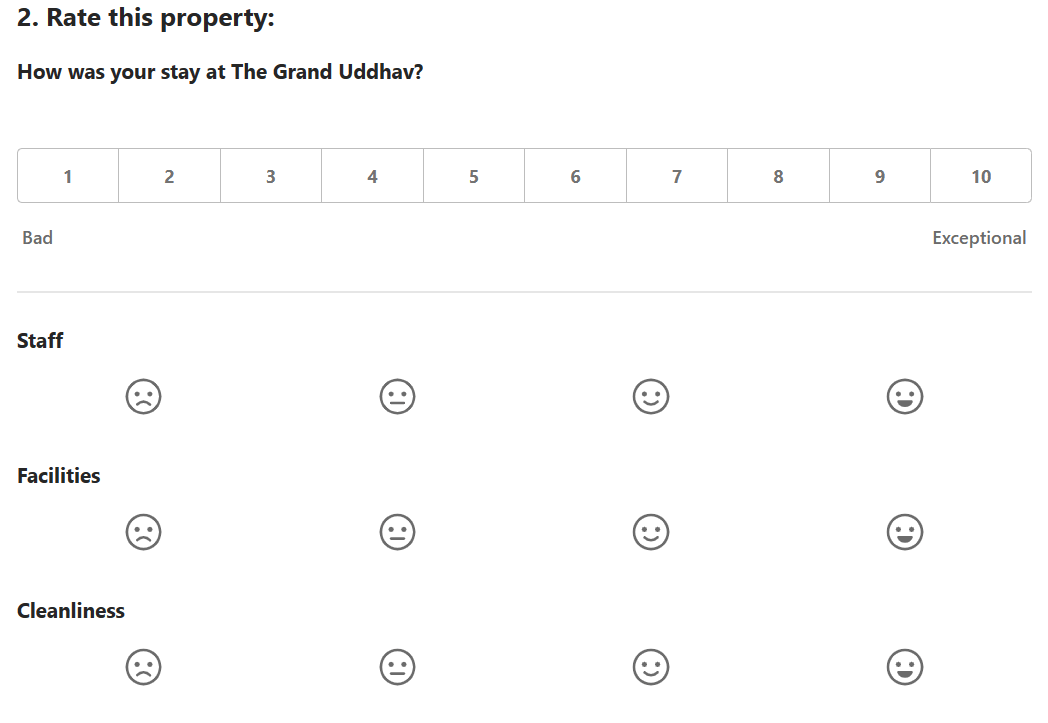 However, for those engaged, there's an opportunity to share detailed feedback. That's how you can influence the future of Booking's services.
To ensure you will remember to provide feedback, Booking sends emails. They ask you to rate your experience with a certain stay and hotel.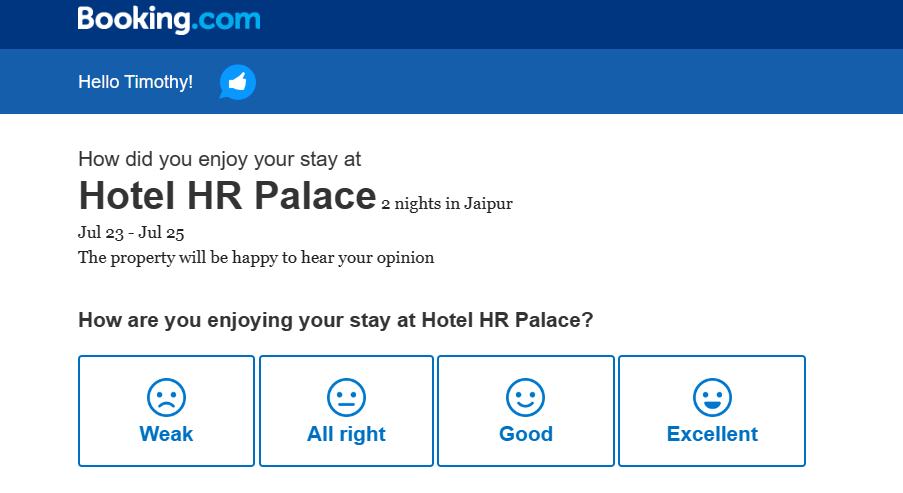 Easily measure customer satisfaction with Brand24!
04 Apple
Apple has two methods of collecting customer feedback. Firstly, they have a dedicated site where customers can leave feedback both on Apple software and hardware products.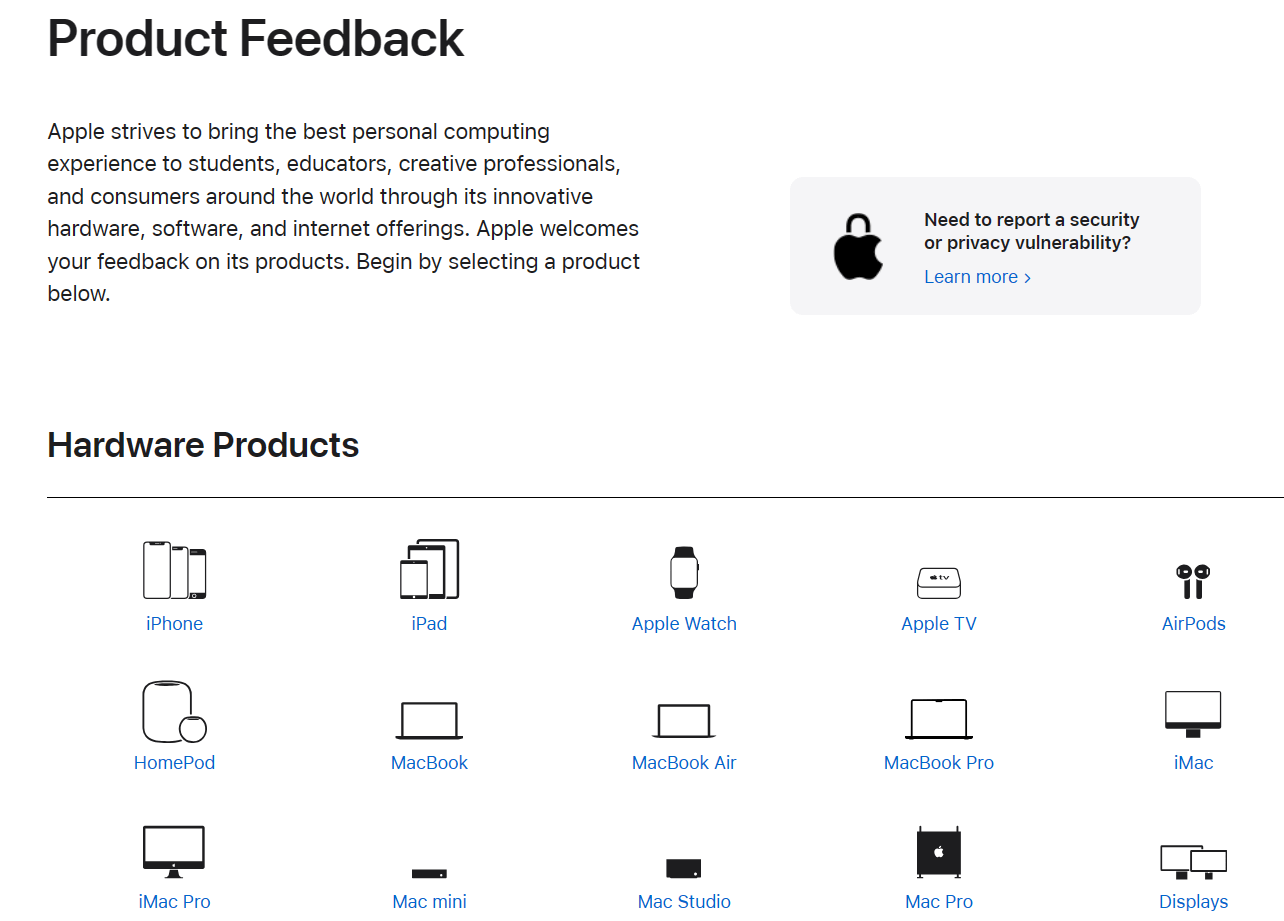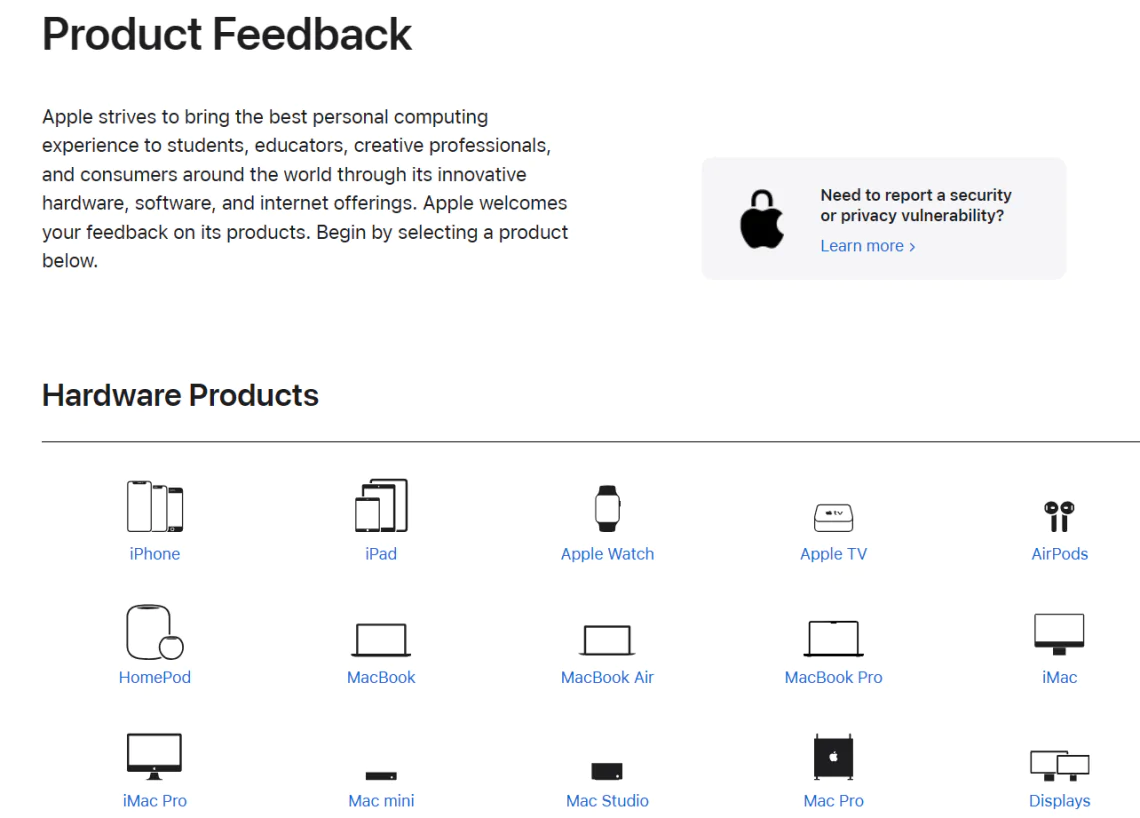 That's an efficient method of segmenting the product feedback and customers who leave it. In the survey, they ask questions about yourself and your tool use. This way, Apple gets the necessary context of your situation.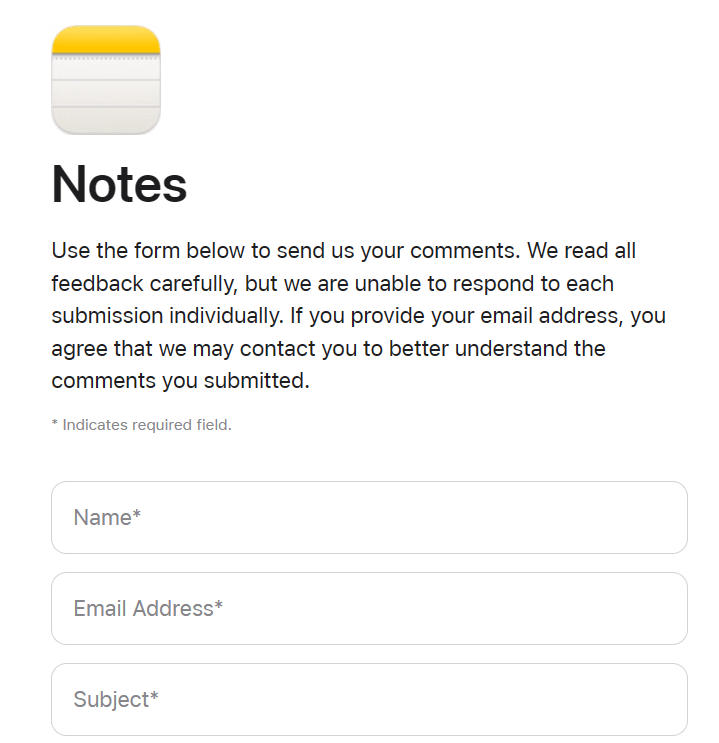 Secondly, Apple uses email surveys and asks for opinions through its Feedback Assistant. The survey form consists of a simple question about the experience on a scale of one to five stars.
This uncomplicated approach allows Apple to collect feedback efficiently not being invasive.
Moreover, their well-trained support is ready to help those who want to provide some more input. With such an effective feedback system, Apple prioritizes customer satisfaction and improves its products and services.
Gather product feedback with Brand24!
05 Nike
As a leading sportswear corporation, Nike doesn't regret its time to analyze valuable insights. The company aims to solve problems for athletes of all skill levels, across all sport and fitness dimensions, everywhere. That's why they appreciate feedback from all customers and have a special program called Nike Feedback Lab.
Nike uses collected feedback when designing new products. The company wants its products to fit all the athletes' needs and facilitate doing sports.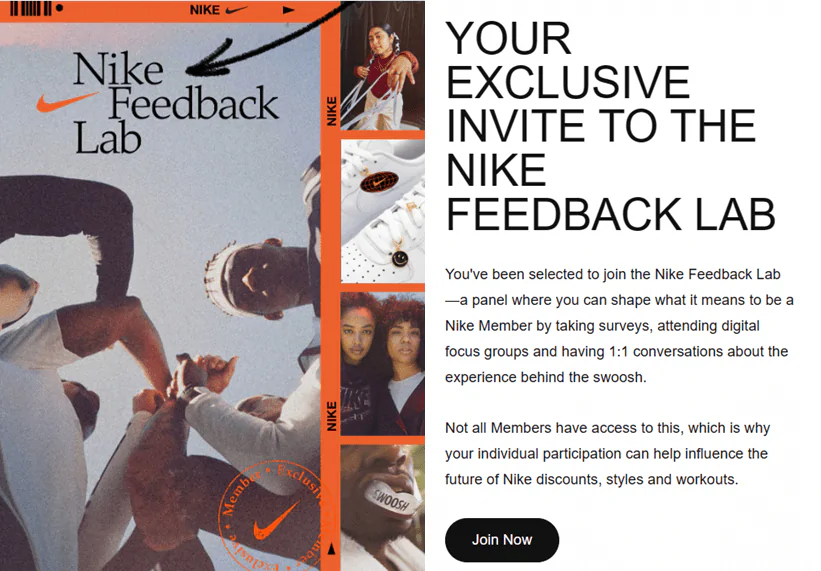 But if the Nike Feedback Lab didn't choose you, don't worry. That doesn't mean Nike doesn't care about your feedback!
You can contact them via hotline, chat, or customer satisfaction surveys. This last is a feedback form where you can leave your opinion on the products, shops, or website.
That's how Nike's customer feedback surveys segment customers according to the area and product or service they rate.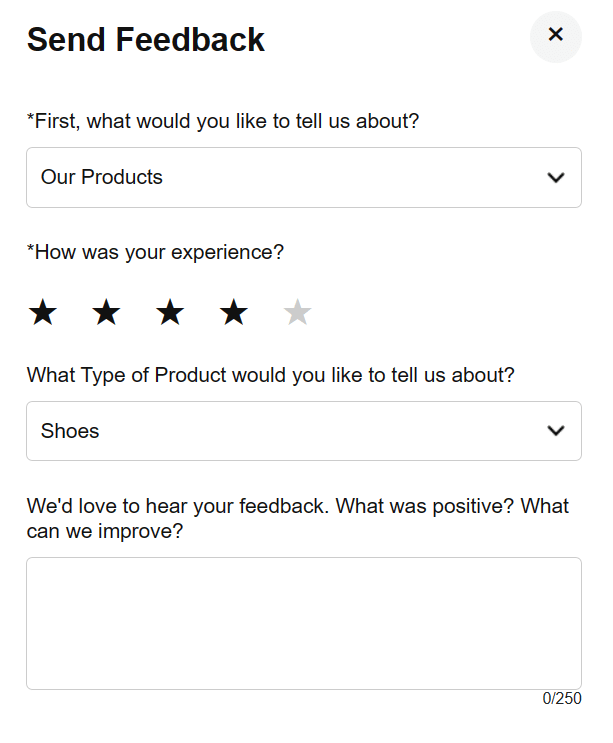 Nike emphasizes how vital feedback collection is for them. They express it in many marketing materials and encourage active feedback. That's how they can gather the best customer feedback examples.
Measure customer loyalty with Brand24!
06 Facebook
Facebook strategically gathers customer feedback by asking one simple question at a time. This makes the whole process user-friendly and efficient.
The social media giant collects feedback through various touchpoints. They use in-app surveys and 5-star rating systems for specific features.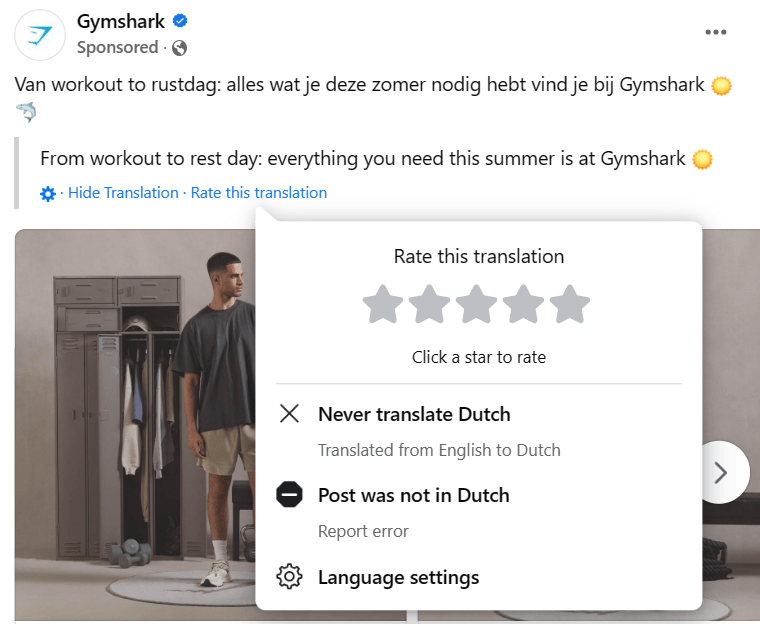 With a seamless experience, Facebook encourages users to provide feedback. They can easily report issues, especially for the latest features. This way, Facebook provides a smooth and satisfying user experience.
Their approach allows them to address and resolve any bugs or concerns promptly. That's how Facebook meets customer expectations and preferences.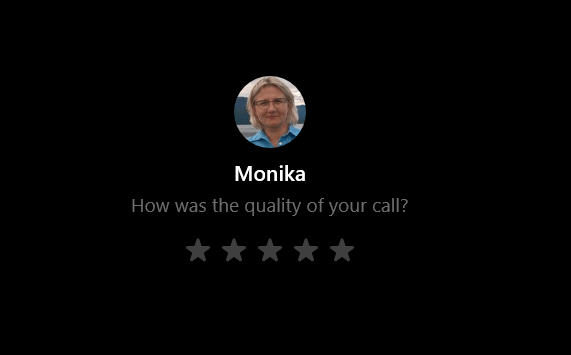 Gather real-time feedback with Brand24.
07 Revolut
Revolut takes a proactive approach to collecting customer feedback. The company sends straightforward surveys via email. They are short yet substantial, making it convenient for customers to provide valuable insights.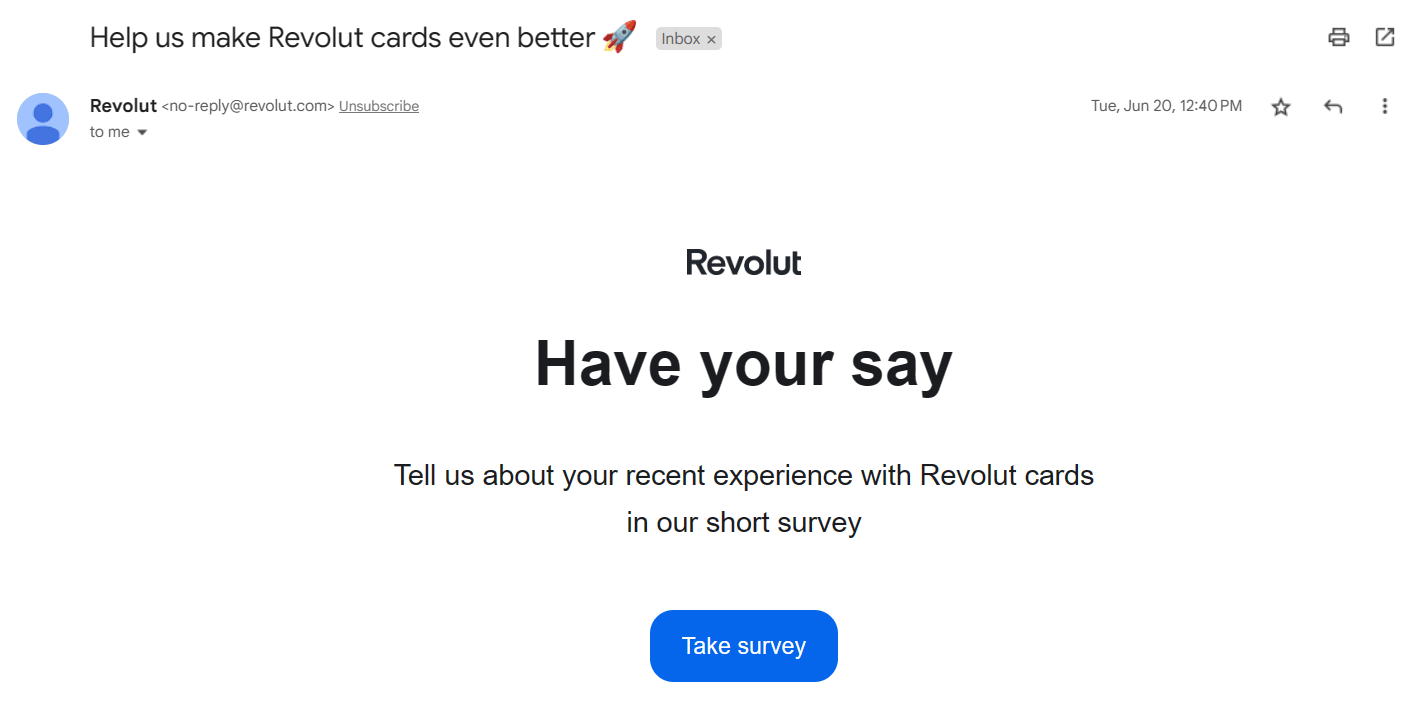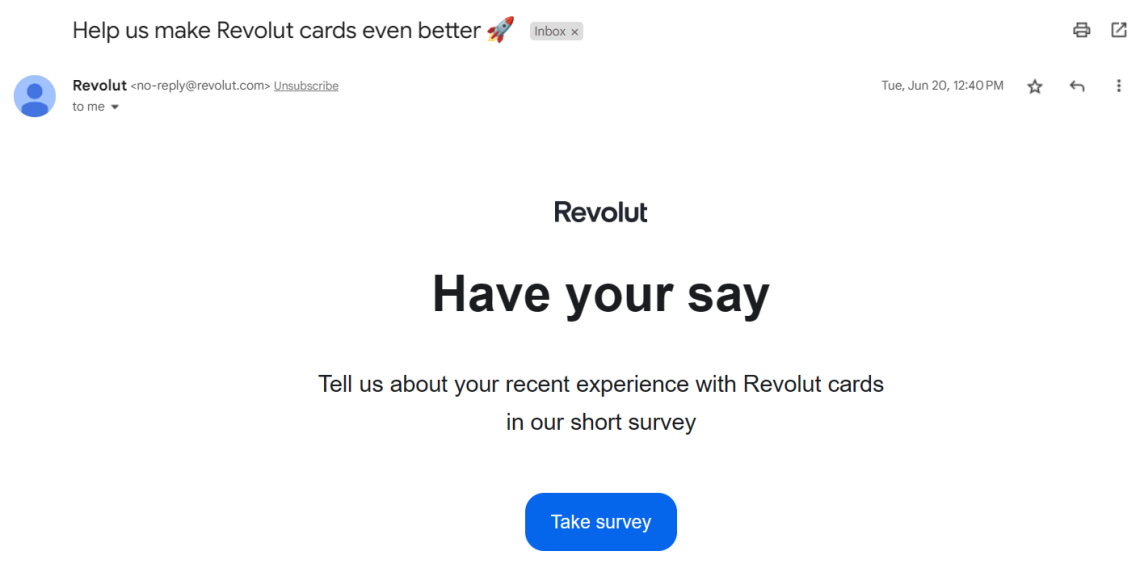 Revolut encourages users to share their ideas on improving the platform. Customers can submit feedback through email at feedback@revolut.com. They don't respond to each message individually, but their teams read and analyze all the submissions.
Revolut understands the role of customer input in new products and features. The company wants the updates to cater to their clients' specific needs. This feedback process ensures that customers shape Revolut's future direction.
Provide great customer service! Listen to your clients needs & feedback.
08 Notion
Notion is another company that embraces the power of Twitter to foster customer satisfaction. They collect product feedback to make informed business decisions with every new feature they implement.
This feedback approach allows them to tailor their development to user feedback and attract even more customers.
Connecting with customers on social media channels is very important. It's the closest way you can interact with your target audience. When you answer comments, your customers feel heard and cared for.
That's how you can boost customer loyalty and get more satisfied customers.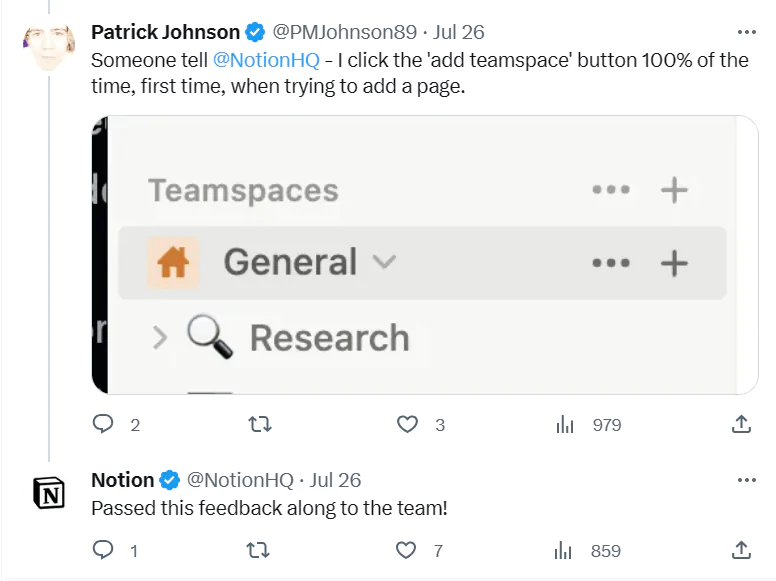 Notion excels on Twitter, but unfortunately, they don't take enough time to analyze responses on other platforms. I found dozens of unanswered comments and mentions on Facebook. People need help with the tool, but there's nobody to improve their poor customer experience.
That's a shoot in the foot for Notion's marketing efforts.

Stay on top of your negative mentions with Brand24.
09 Ryanair
Ryanair has quite a unique way of encouraging passengers to fill in customer feedback surveys.
They send feedback forms via email offering the option of winning a €100 Ryanair Gift Voucher. Definitely, that's an efficient method to collect many survey responses.
Thus, if you struggle to get enough survey data, try Ryanair's strategy.
Offering something in exchange for product or service feedback is a fair deal. Plus, it guarantees high response rates, so it's a win-win situation.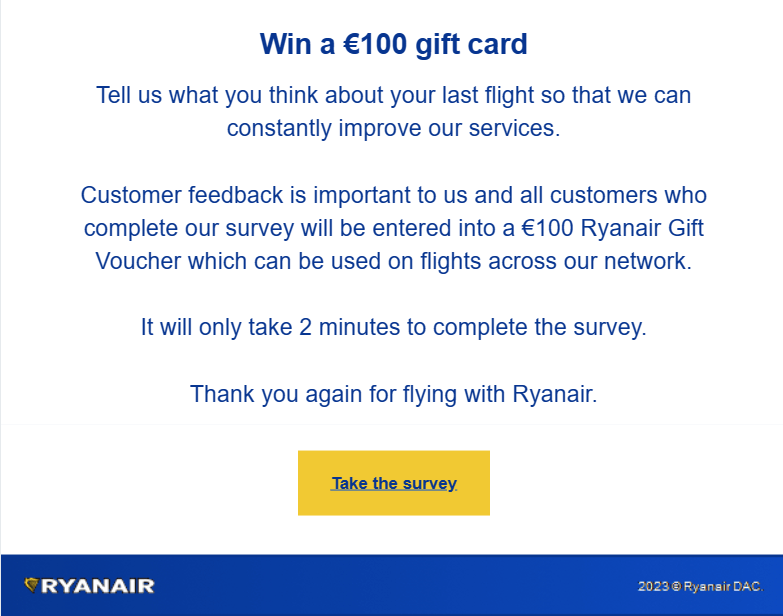 Another aspect of boosting response rates is a short feedback form. It's a good strategy to mention the length of customer surveys, especially when they are short. If it takes less than 10 minutes, say that. It will be encouraging.
10 Bol.com
Bol is one of the biggest Dutch webshops offering products from any category. The company encourages customer feedback with the website design. You'll find feedback forms and areas where you can ask for help in multiple places.
Bol's design allows them to measure customer satisfaction and foster customer experience easily. It ensures that customers provide negative feedback when they have problems.
This way, bol can constantly improve their service. They also show commitment to meeting customer needs and providing a seamless experience.


But Bol goes one step further. They not only ask about your satisfaction with the purchased product and delivery experience. Bol also wants to know how your interactions with the customer service department went. When you contact them, they send customer satisfaction surveys via email afterward.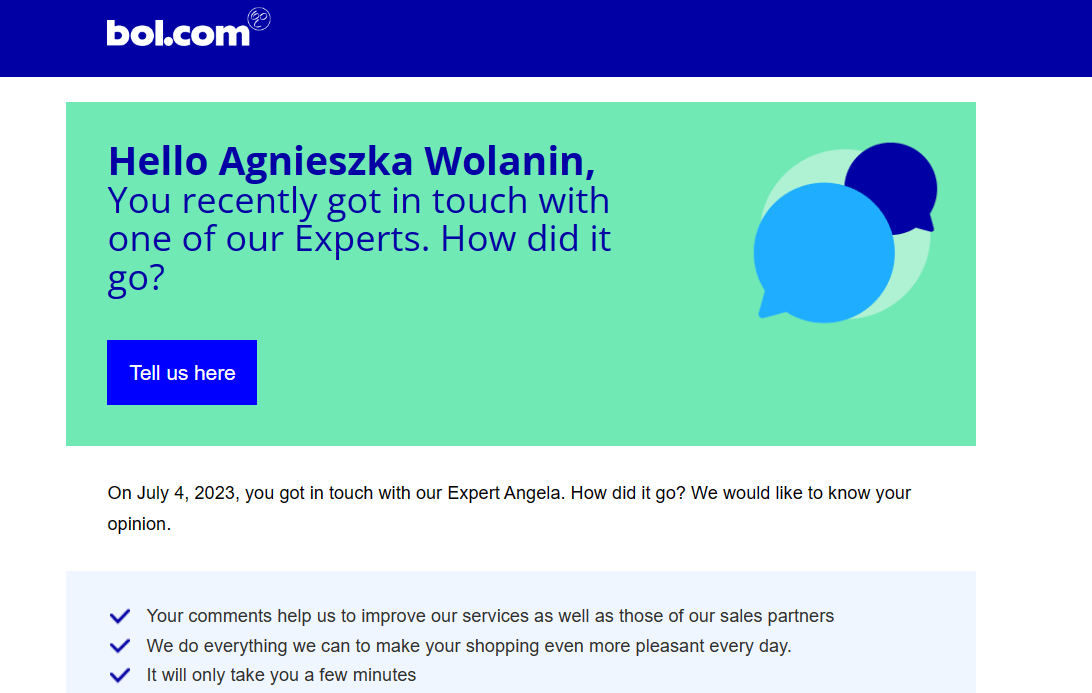 This feedback process ensures the best customer experience on every level. It also guarantees that all negative encounters are reported so that Bol can work on them.
Identify trends & monitor customer feedback with Brand24.
Takeaways from the customer feedback examples
The above customer feedback examples reveal the commitment to understanding customers' needs. They show engagement in interacting with customers in unique ways.
At Brand24, we join media monitoring and direct contact with customers on social media. We have a dedicated fan page where we are open to feedback and discussion. Besides that, our Customer Success Team assists customers on their first days with the tool.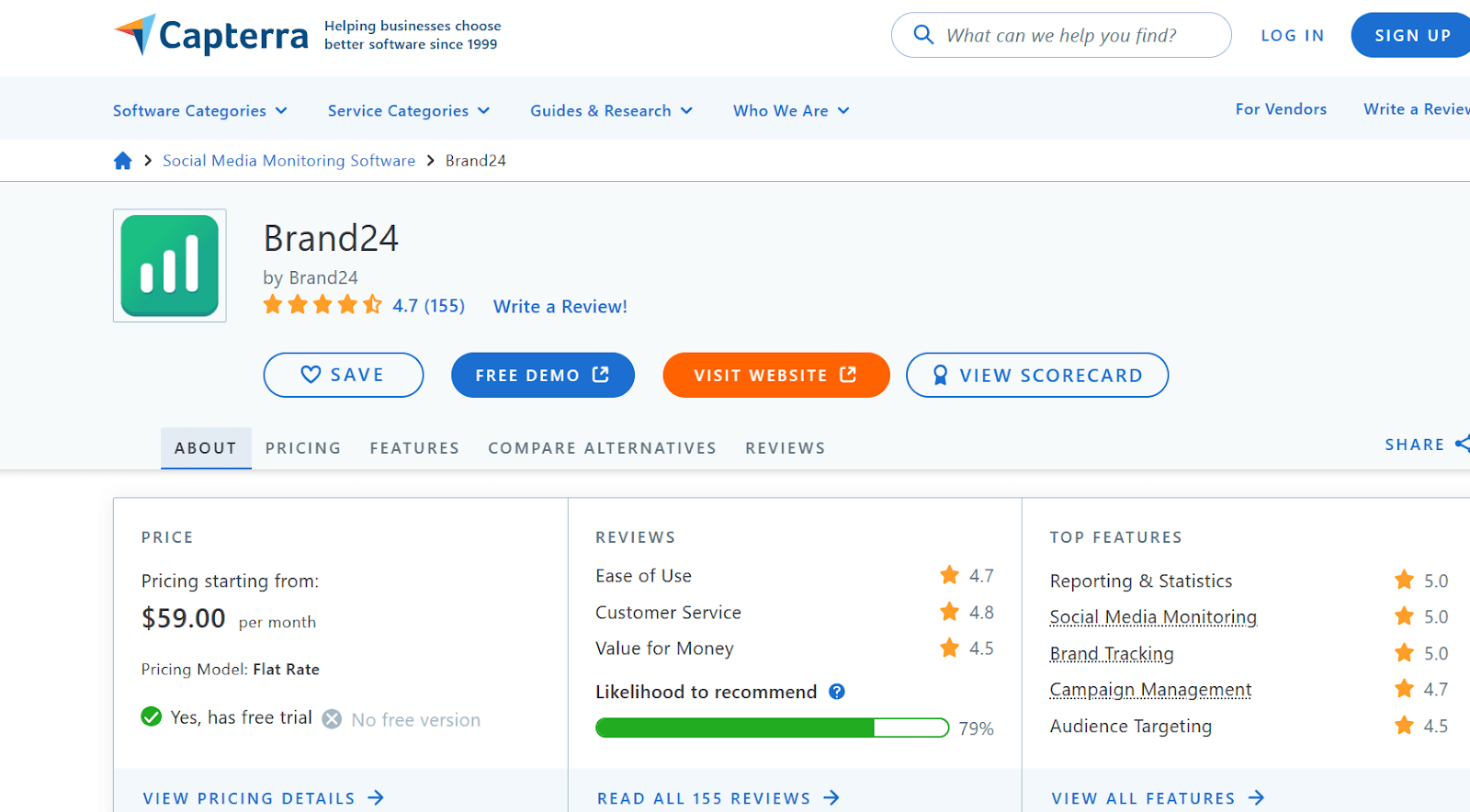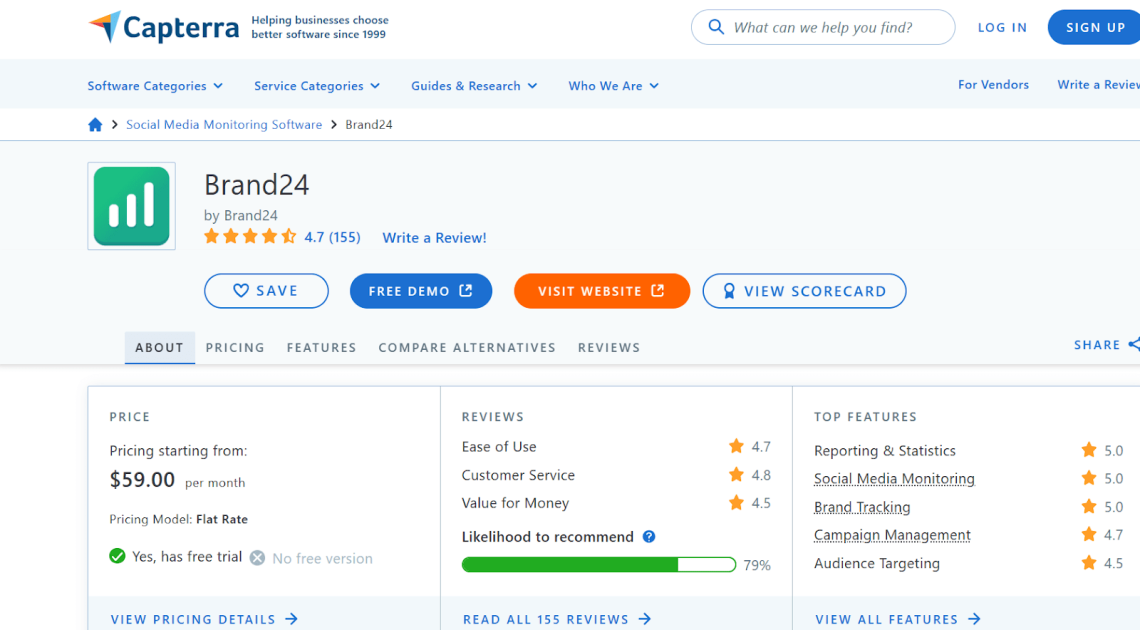 McDonald's showcases remarkable responsiveness. They excel at actively addressing both tagged and untagged mentions, whether positive or negative. It may be thanks to a social media monitoring tool.
Booking impresses with its complex surveys. You can rate the experience on a scale with additional spaces for personal feedback.
Apple's segmentation allows for tailored feedback based on customers' product usage and demographics. This method guarantees more targeted user insights.
Nike knows how to gather feedback and prove its commitment to it. Thanks to Nike Feedback Lab, the company shows a proactive approach and genuine dedication to enhancing customer experience.
Facebook's strength lies in its simplicity. It adopted a unified rating system that streamlines customer feedback across the platform.
Meanwhile, Revolut excels in simplicity by using short and uncomplicated surveys, ensuring customers can easily share their insights.
Notion is another proof that Twitter is effective in collecting feedback. You can also learn from their mistakes and equally answer your mentions on all social media platforms.
Ryanair is smart. They know people are usually unwilling to waste their time on feedback. That's why they have something to offer in exchange. Keep this example in mind.

Bol assists you at every stage of your customer journey. They ask for product feedback and check your interactions with the support department.
These best practices highlight the importance of a customer-centric approach. It empowers brands to improve their offerings and enhance customer satisfaction constantly.
Get valuable customer feedback with Brand24.
Why is customer feedback important?
Customer feedback gives insights into experiences, preferences, and satisfaction. Analyzing feedback helps identify areas for improvement. With data-driven decisions, you can enhance offerings and customer experience.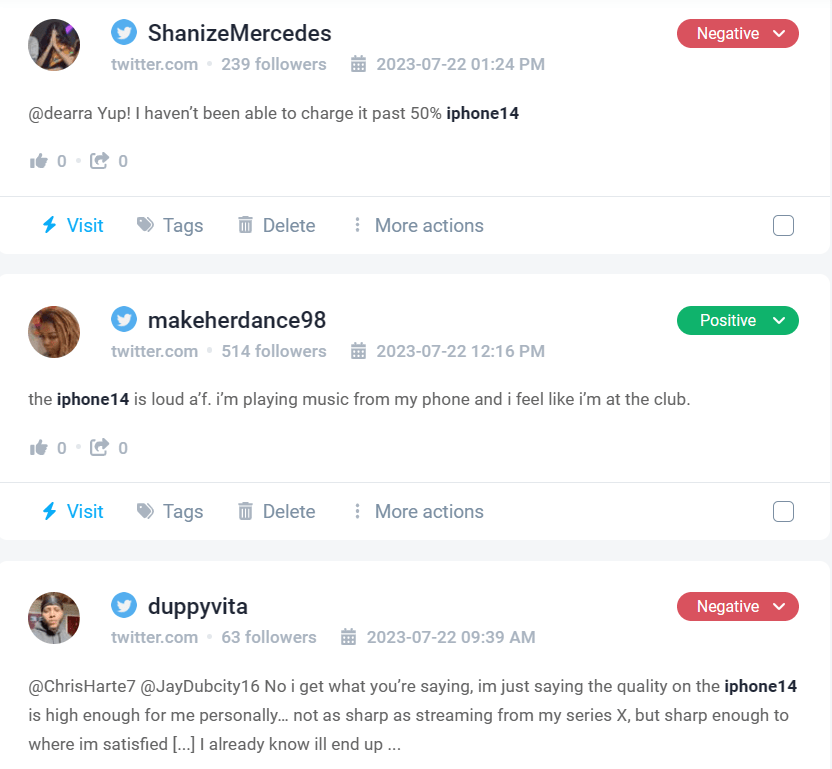 Customer feedback uncovers potential issues. Importantly, it also highlights strengths you can use for competitive advantage. That's how it supports SWOT analysis and market research.
Feedback fosters a sense of customer engagement and loyalty. Customers feel heard as the companies acknowledge their opinions. Embracing customer feedback in business strategies increases customer retention, brand loyalty, and business success.
Plan new feature updates with media monitoring to make informed decisions.
What can you use customer feedback for?
Customer feedback is a powerful resource you can use for several purposes. Let's see how you can benefit from it.
Fixing shortcomings
Customer feedback is useful for identifying flaws in products and services. By attentively listening to customers, you can pinpoint what needs improvement. Then, implement necessary changes accordingly.
This way, you can improve your offering exactly how your customers need it. That's how you foster customer loyalty and trust by meeting their needs.
Testimonials
Testimonials are another way to benefit from collected customer feedback. They help boost credibility and trust.
You can display positive customer quotes on your websites, social media, and marketing materials. This way, you present the actual value of your products and services.


Testimonials serve as social proof. They influence potential customers and encourage them to purchase your solution.
Get great customer feedback examples for your site!
By highlighting the experiences and satisfaction of existing customers, testimonials are a persuasive tool in attracting new customers. They also support maintaining a positive business reputation.
Planning development strategy
With customer feedback, you get valuable insights into opportunities for innovation. Understanding customer needs allows you to align your development efforts with them. This ensures the new features and offerings will cater to your target audience.
Based on customer feedback, you can prioritize the most urgent developments. This way, the focus is on initiatives that will most impact customer satisfaction.
Integrating customer feedback into the development strategy lets you stay agile and responsive. It's vital with the changing market demands. In turn, it leads to constant growth and improvement.
Avoid PR crisis
Collecting customer feedback is a crucial step in avoiding PR crises. When actively listening to your customers' experiences and concerns, you can address issues before they escalate into major problems. Customer feedback lets you identify potential issues early on, respond promptly, and make necessary improvements.
That's a key to effective brand reputation management.
Competitor analysis
Collecting customer feedback is a valuable competitor analysis tool. You can listen to your competitors' customers' preferences, pain points, and experiences. That's how you gain insights into what they like or dislike about their products and services.
This information can help you perform competitor analysis and understand how to differentiate yourself in the market.
Capture user feedback easily!
Customer feedback is vital to understanding your audience and improving your brand's performance. We've explored various strategies and active vs. passive feedback examples.
Through real brand customer feedback examples, we've seen how companies approach customer feedback to serve their clients better. We analyzed Apple, Nike, Facebook, McDonald's, Revolut, and more.
Remember, every brand has its unique strategy. Analyzing your needs and choosing the best approach for your brand is essential.
One thing is for sure: brand monitoring is crucial for keeping track of online mentions.
So, embrace the power of customer feedback and listen to your audience with a brand monitoring tool.
Watch your brand succeed with Brand24!