Mediatoolkit alternatives: Brand24
May 18, 2021 ・ 12 min read
Mediatoolkit is one of the most popular social media monitoring tools, but no solution is perfect for everybody. There are surely some good alternatives to Mediatoolkit that are more affordable or perform better. Is Brand24 one of them?
Since Mediatoolkit is quite expensive, it is more likely used by big companies, enterprises, and corporations. We made this comparison for those who seek a similar solution, but definitely more affordable, or the ones that are not fully satisfied with Mediatoolkit and search for an alternative.
Inside this comparison, you will find out what are the differences between the two monitoring solutions, that at first sight seem to be alike. You will also learn which tool performs better in certain areas that may be crucial for your business.
Table of contents:
Overview
Mediatoolkit and Brand24 are both media monitoring tools that are used for similar purposes. Both of these software help businesses monitor the web to keep them up-to-date with online mentions about you, your competitors, your campaigns, or whatever might interest you.
Media monitoring tools like Mediatoolkit and Brand24 can be useful for:
Staying on top of online mentions about your business
Protecting and managing online reputation
Managing your online presence
Building relationships with clients online
Analyzing your PR or marketing efforts
Finding new leads
Reporting your PR or marketing efforts
Creating PR clippings
Increasing brand awareness
Brand24 and Mediatoolkit can be used for social listening, but also may be helpful with many different activities connected with social media marketing, and social media analytics.
Brand24 is an affordable Mediatoolkit alternative. Personal Plus plan costs $49/mo.
Features
Brand24 right away seems like a good alternative to Mediatoolkit, since we can use it for similar purposes. The first overview of both of these tools also gave me the feeling that they can substitute for each other.
Comparing features of both Mediatoolkit and Brand24 will give us a better idea on what are the differences between the tools.
Let's see if Brand24 offers the same key features for a much more reasonable price, or if Mediatoolkit is worth the money because it has more to offer?
Different businesses, PR, and marketing professionals use media monitoring tools for various purposes. Some features are important for all of them, some users are looking for an all-in-one tool that offers every feature possible, and some left out features that they don't need and stick to the ones that make their work easier.
As I always say, everything depends on your personal needs and preferences. No tool is perfect for everyone. A good thing is to compare a couple of solutions, test them and decide which one matches your expectations.
And that's why we are here, comparing Brand24 to other monitoring platforms and looking for alternatives to Mediatoolkit, Brandwatch, Sprout Social, Awario, or Talkwalker.
Monitored platforms
Mediatoolkit claims to monitor millions of online sources including key platforms like Facebook, Twitter, Instagram, Youtube, Reddit, VKontakte, Tripadvisor, Websites, Blogs, and Forums.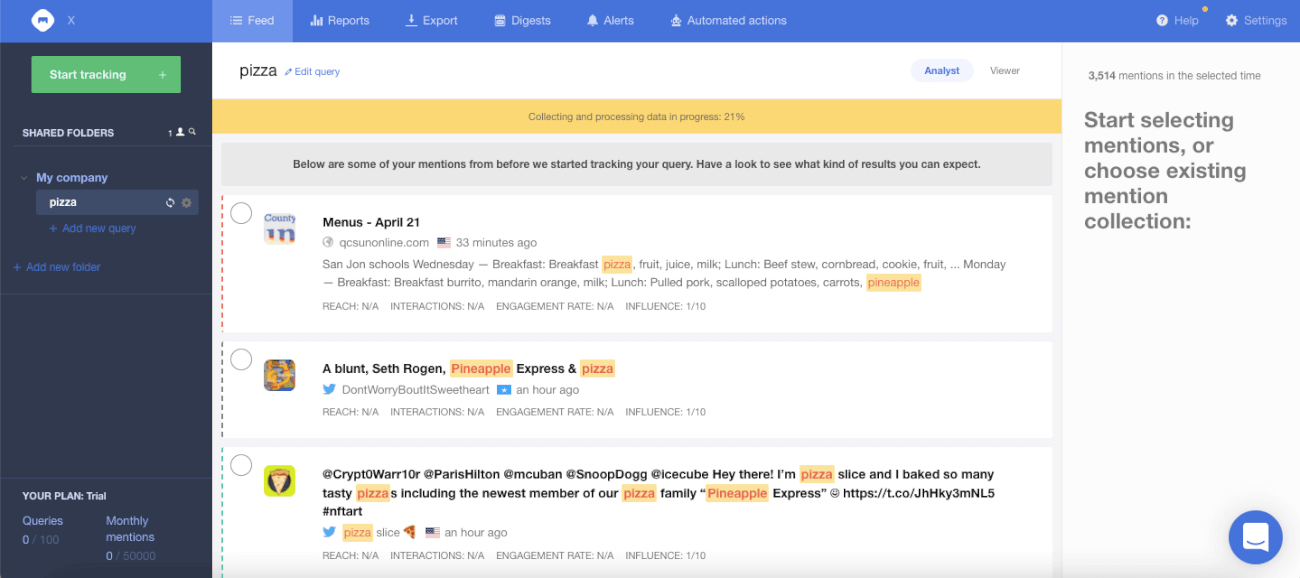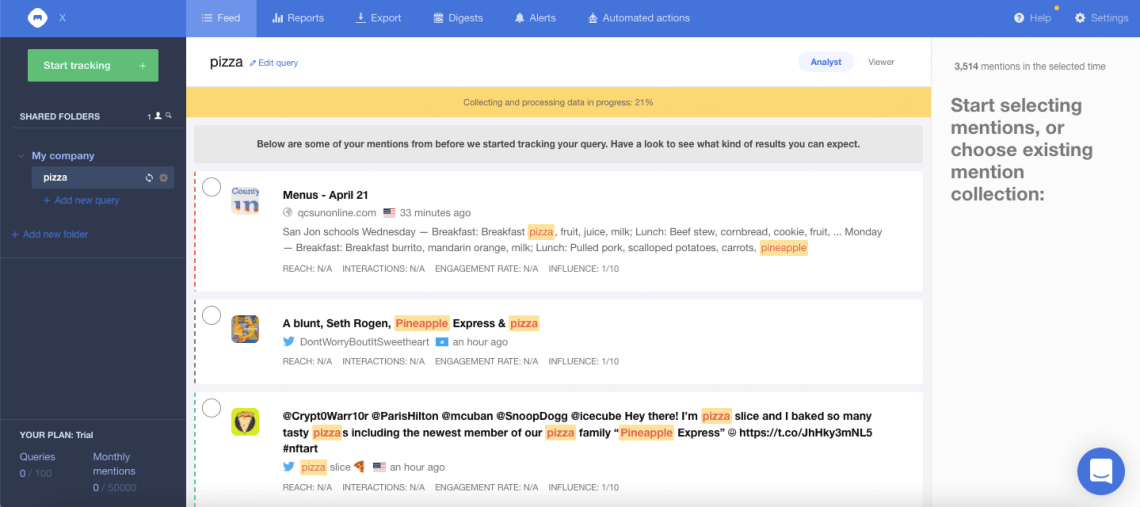 Brand24 monitors an equally huge amount of online sources, including news sites, reviews sites, forums, blogs, and traditional websites but has even more to offer.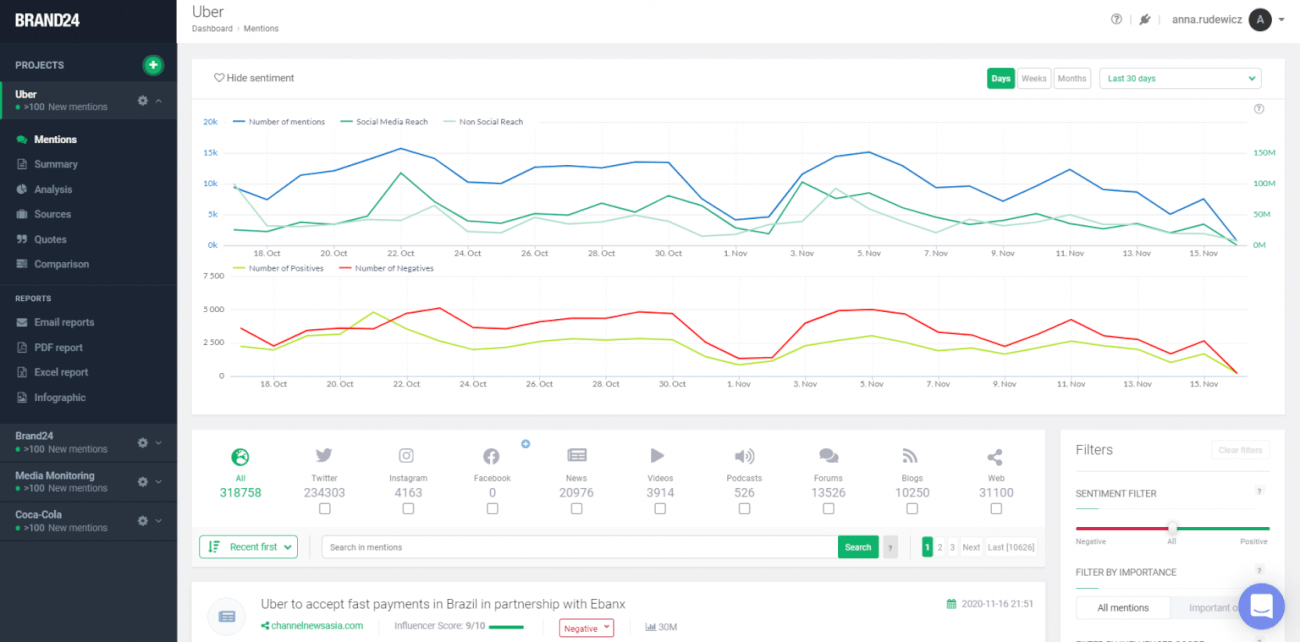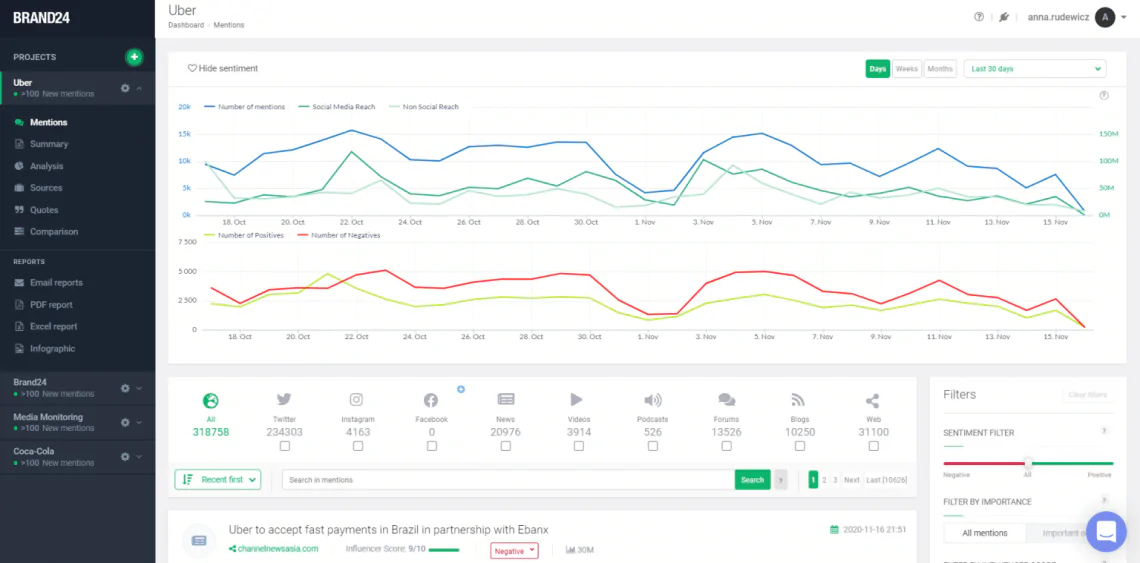 You can easily track Twitter, Youtube, Reddit with Brand24. Also, apart from offering a dedicated Facebook and Instagram integration that is compliant with the latest rules and fully safe, it also covers additional social media like TikTok, Twitch, or Flickr.
Brand24 tracks newsletters and podcasts in addition.
Both tools track an impressive amount of sources, but Brand24 covers more web and social media platforms and offers very innovative newsletters and podcast monitoring.
| SOURCE | BRAND24 | MEDIATOOLKIT |
| --- | --- | --- |
| Twitter, Facebook, Instagram, Youtube | ✔️ | ✔️ |
| TikTok | ✔️ | ❌ |
| Twitch | ✔️ | ❌ |
| VKontakte | ❌ | ✔️ |
| News sites | ✔️ | ✔️ |
| Review sites | ✔️ | ✔️ |
| Blogs | ✔️ | ✔️ |
| Forums | ✔️ | ✔️ |
| Podcasts | ✔️ | ❌ |
| Newsletters | ✔️ | ❌ |
Both tools track an impressive amount of sources, but Brand24 covers more web and social media platforms and offers very innovative newsletters and podcast monitoring.
Boolean search
Mediatoolkit and Brand24 both offer a boolean search. This cool feature can help you narrow down your results, or search for keywords in the exact context that interests you.
Sentiment Analysis
Brand24 offers a sentiment analysis, which detects the online sentiment around a specific business, campaign, topic, hashtag, or person.
Brand24 offers a really advanced metric of this kind, thus it measures the sentiment for individual mentions as well, not only the whole monitoring projects. It makes it easier to find negative mentions or reviews written by clients and respond to them in the first place.
Mediatoolkit offers brand sentiment analysis but does not show it for individual mentions.
Influence Score
Both tools can be used for influencer marketing, as their offer a dedicated metric for this purpose – influence score.
Influence score can help you reach out to the most people from a certain industry, micro-influencers, or influencers speaking about your brand.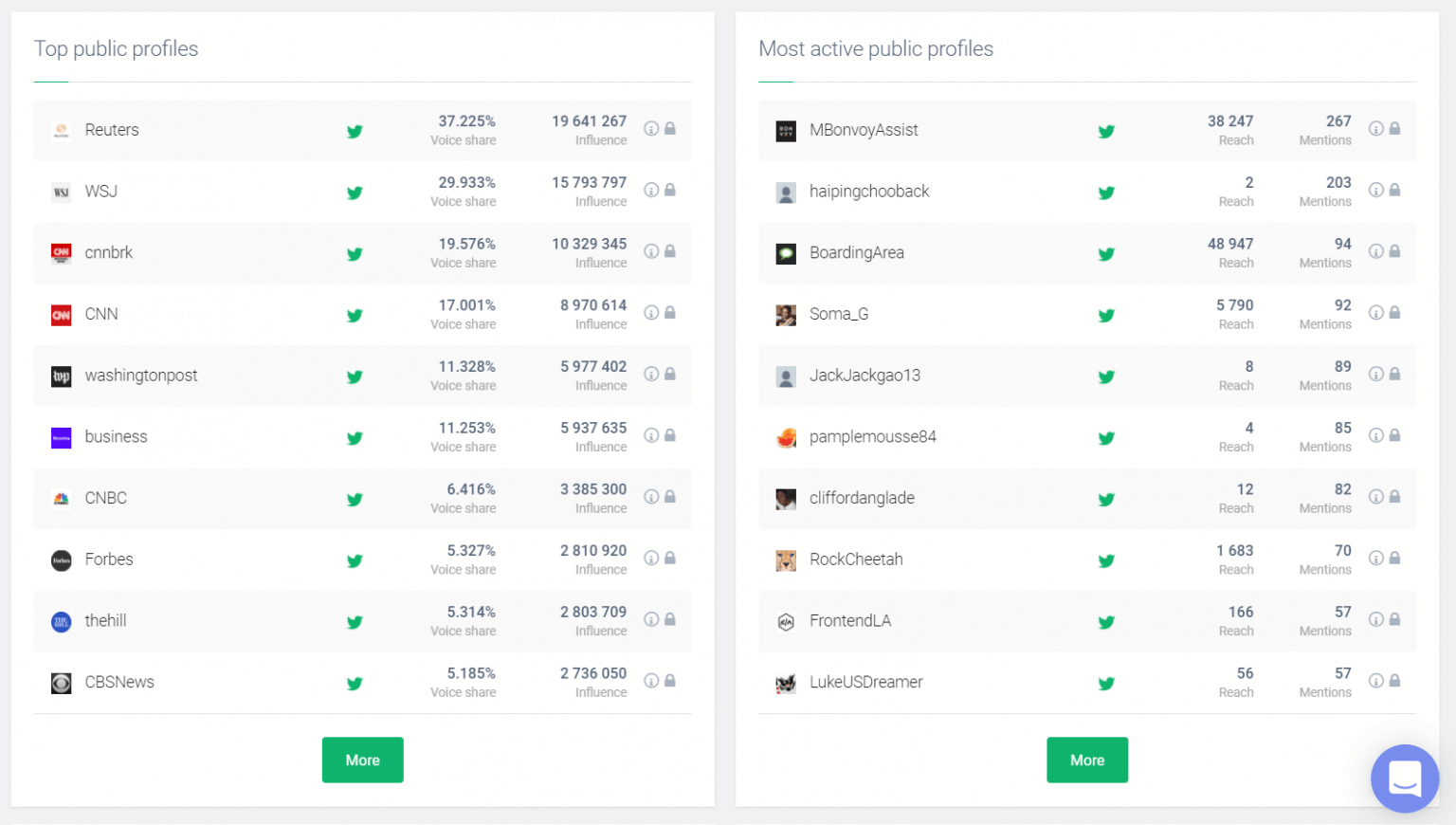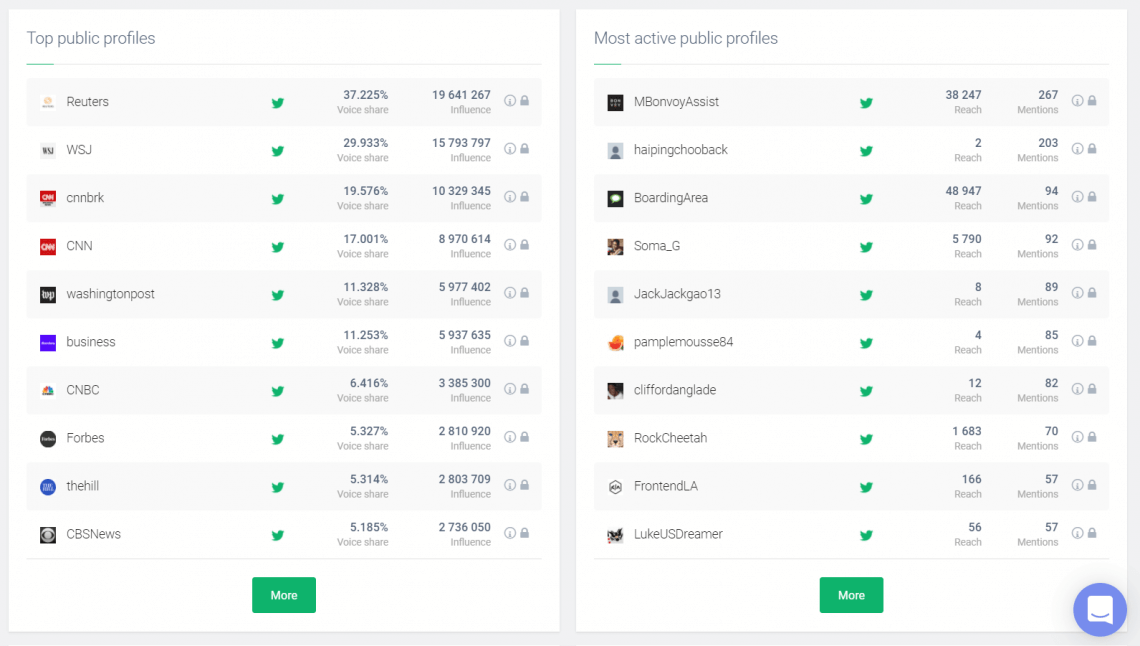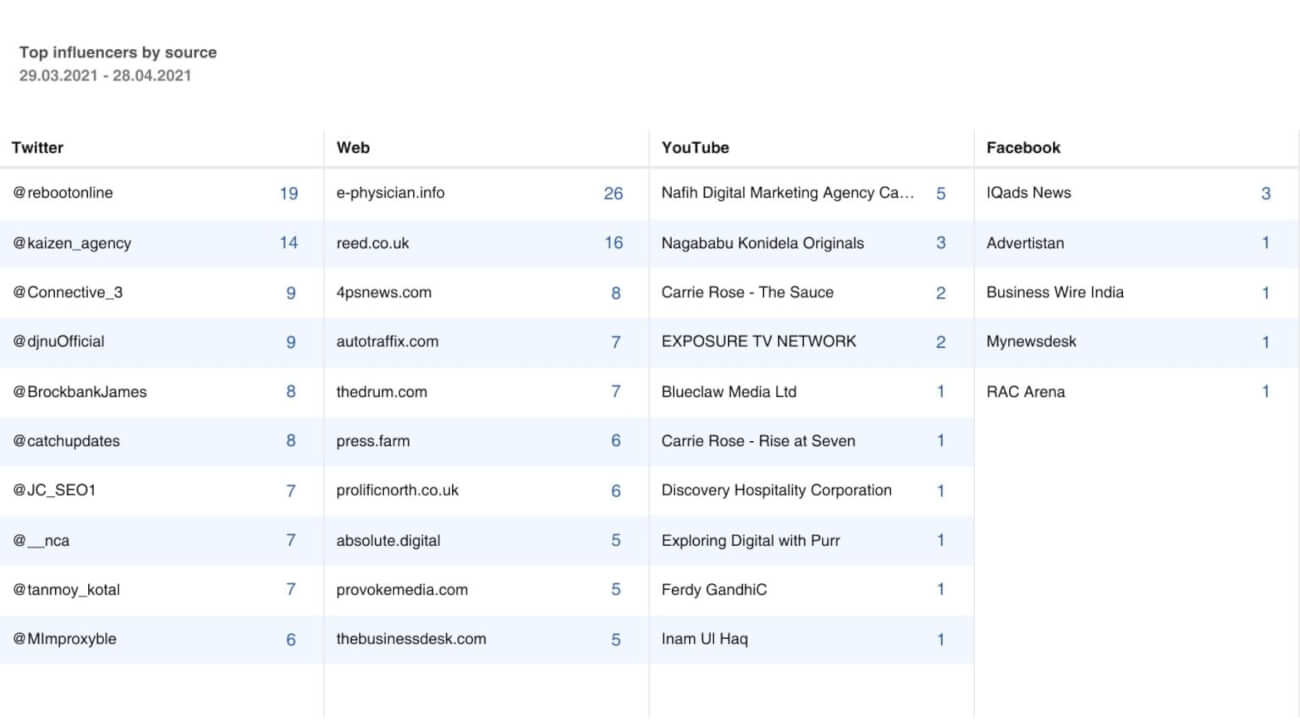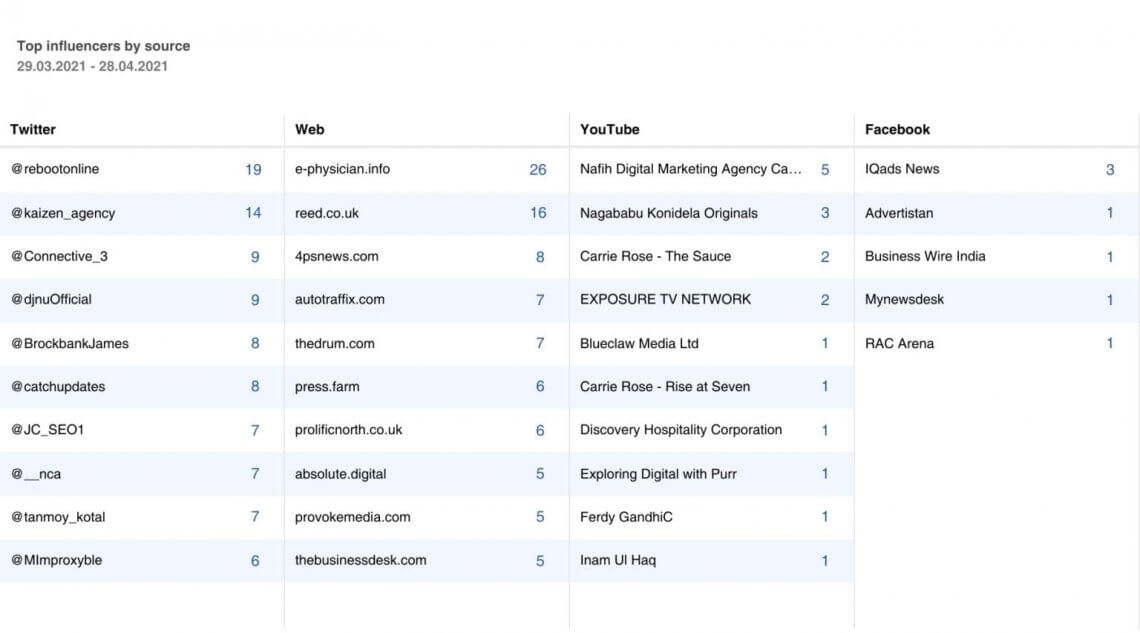 Use Brand24 to analyze advocates talking and find influencers!
Alerts
Social media monitoring tools' alerts can be real lifesavers. They can help you react to a sudden change in your dashboard. Alerts make it possible to prevent a PR crisis, protect your online reputation or respond when an important influencer speaks about your brand or product.
Brand24 has five types of notifications:
Slack notifications allow receiving your keyword mentions in real-time directly to one of your Slack channels.
Email notifications are pretty simple as they keep you notified about every single new mention of your keywords. What's important, you can apply filters on them and receive filtered notifications.
Daily or Weekly reports can be a good insight into the daily or weekly performance of a company's online presence. It's a good solution for people who don't have the need to know about every single mention, or simply don't have time to analyze the dashboard.
Storm Alerts can keep you notified when the number of mentions and/or their social media reach suddenly increases.
Push notifications on the mobile are advised if something requires immediate attention and action.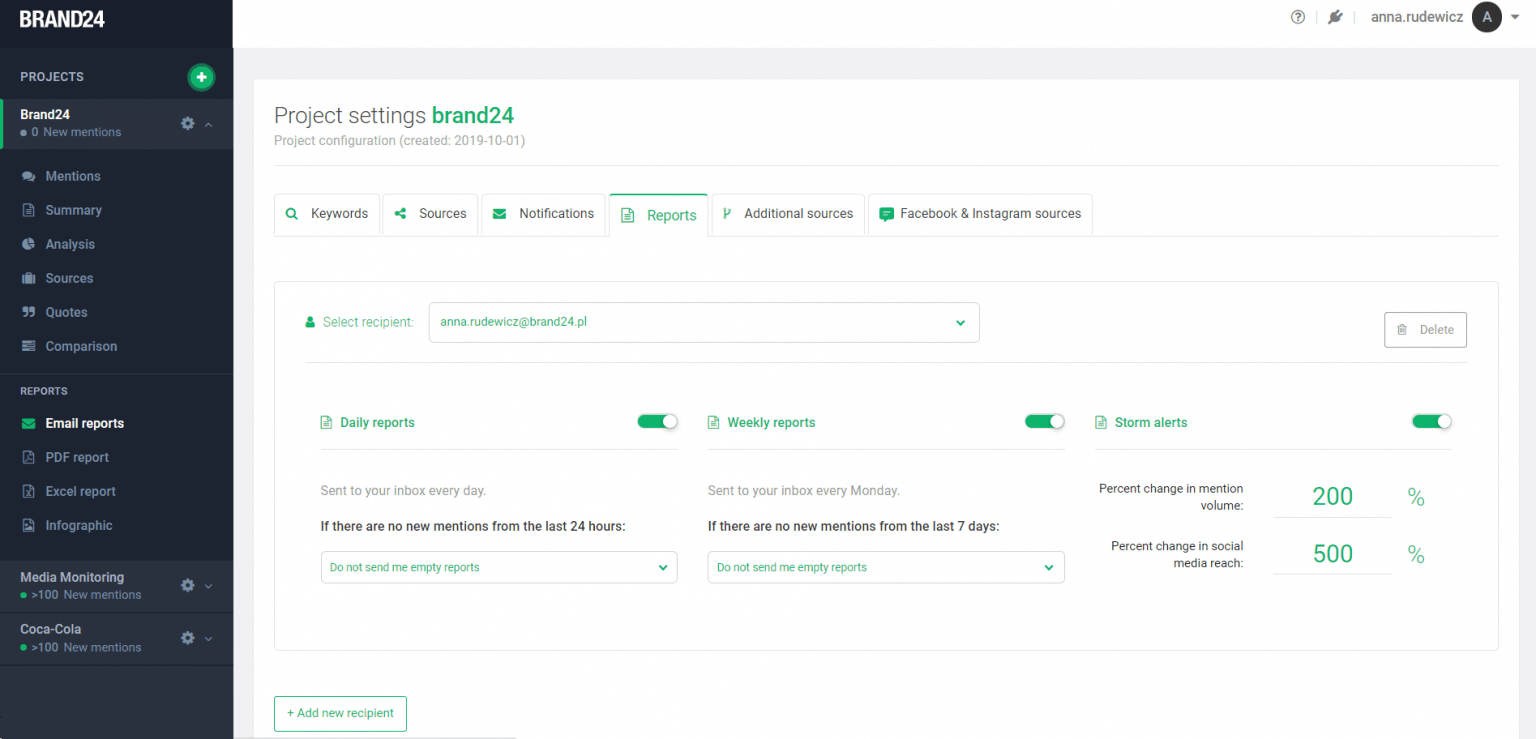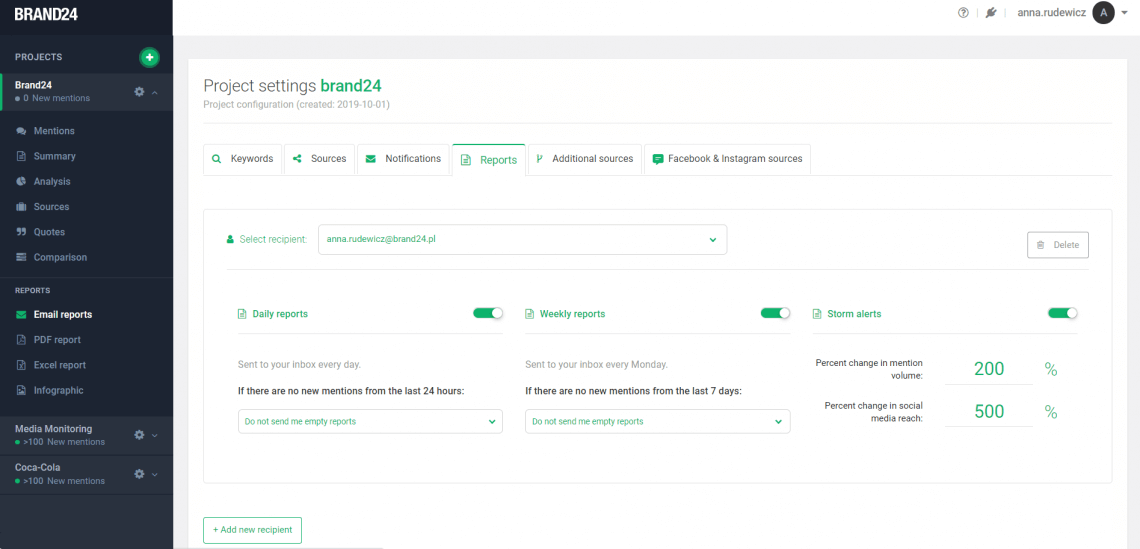 Mediatoolkit offers:
Notifications in the Mediatoolkit mobile app.
Alerts sent to an email inbox.
Alerts delivered directly into a Slack channel.
Reports
Mediatoolkit lets you create three types of predefined reports. You can download particular sections from the report or export it whole as a PDF or as an editable document for your customization (.PPT).
Brand24 makes it possible to turn data into automated, but customized PDF reports, .xls files, and infographics. You can personalize your report – add your logo and choose the color of the document. You can also choose which sections you want to have in the report and which data you want to include.
Analytics
Social media monitoring software that delivers raw data are not as useful as the ones that turn them into numbers and insights.
Social media analytics is really valuable, especially for users of monitoring tools. It helps you measure performance, PR and marketing efforts, reputation.
Let's dive into a comparison of what kind of metrics Mediatoolkit and Brand24 offer and how do they compare to each other.
Set up Brand24 and use reliable social media analytics to find new customers!
Brand24 in its offer has such metrics as:
Mentions Tab:
Discussion volume chart (based on number of mentions)
Social media reach chart
Non-Social reach chart
Number of mentions for each source
Sentiment analysis chart
Individual mentions analytics:
Reach
Sentiment
Interactions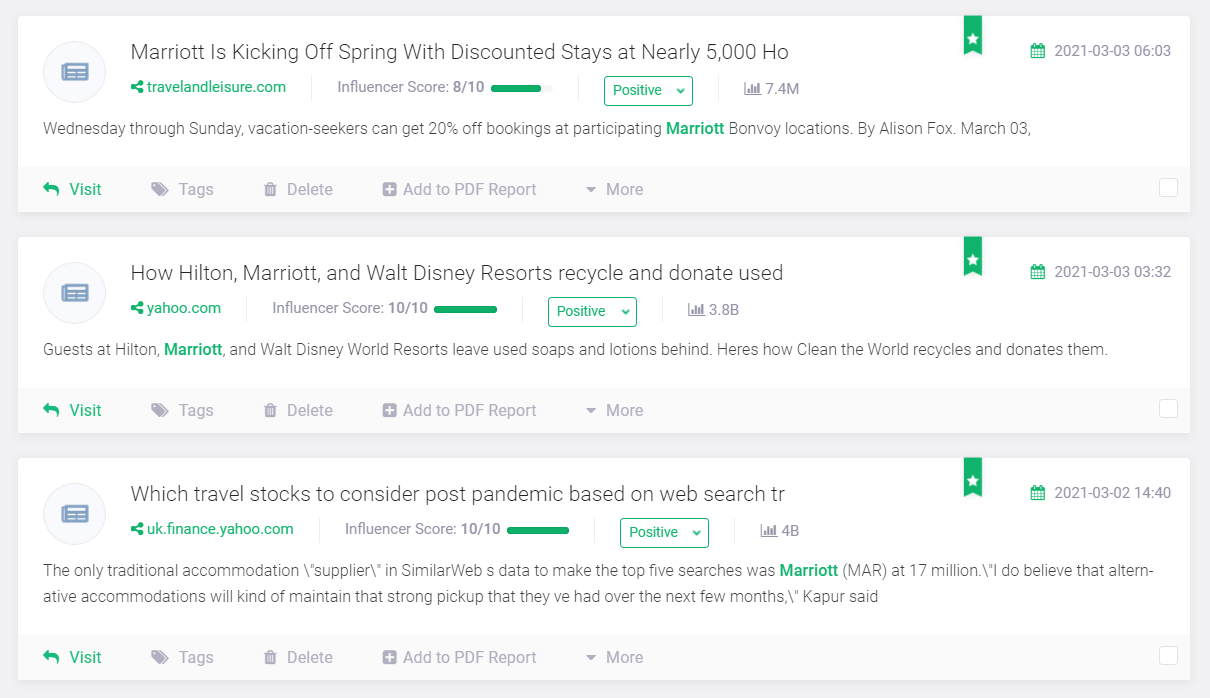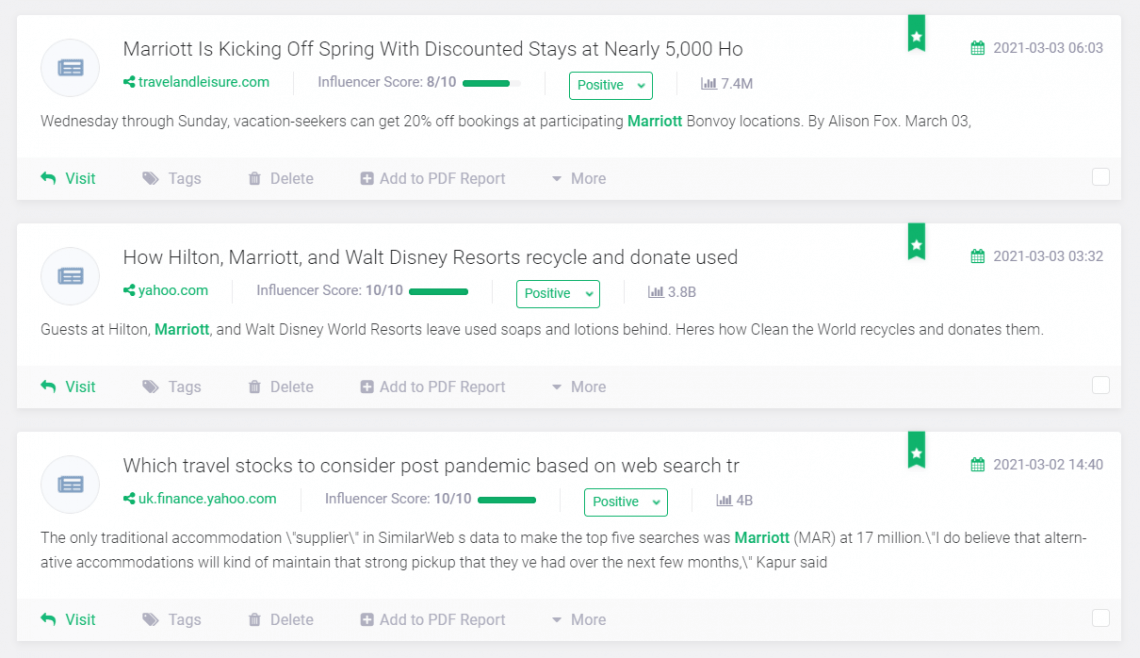 Analysis Tab:
List of trending hashtags
List of top profiles (influencers)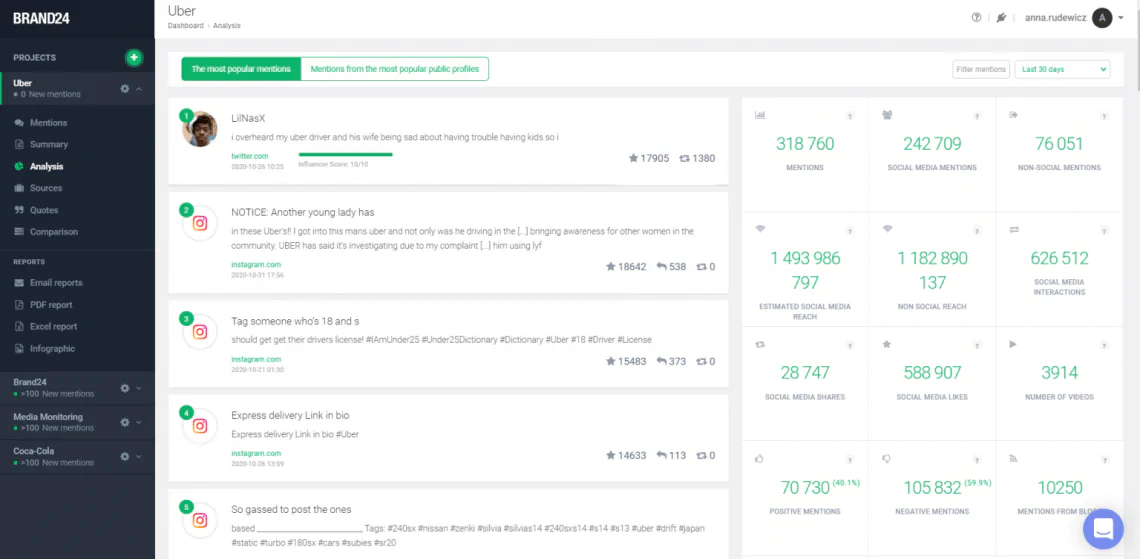 Inside Mediatoolkit's analysis dashboard you'll find:
Sentiment analysis
Impressions
Social media engagement
Influencer dashboard
Influence score
Discussion volume charts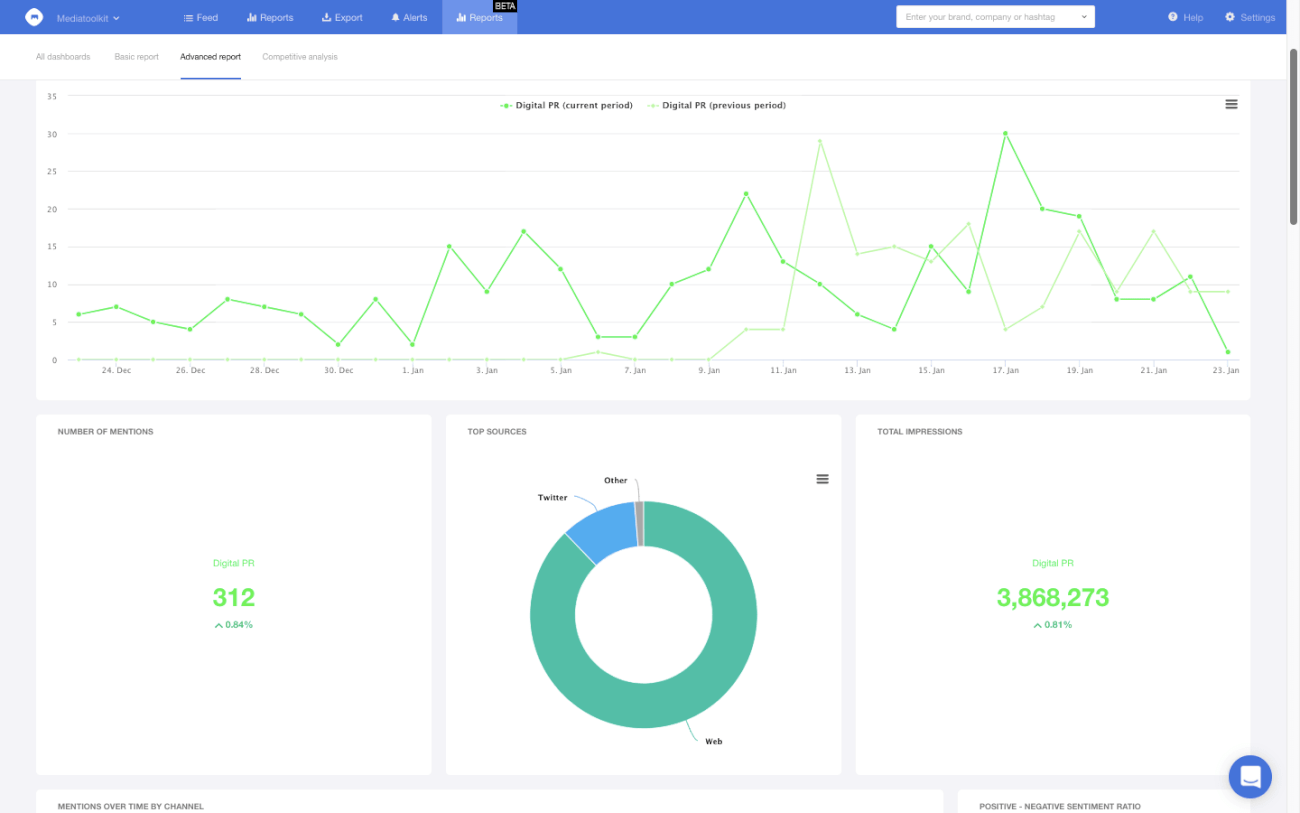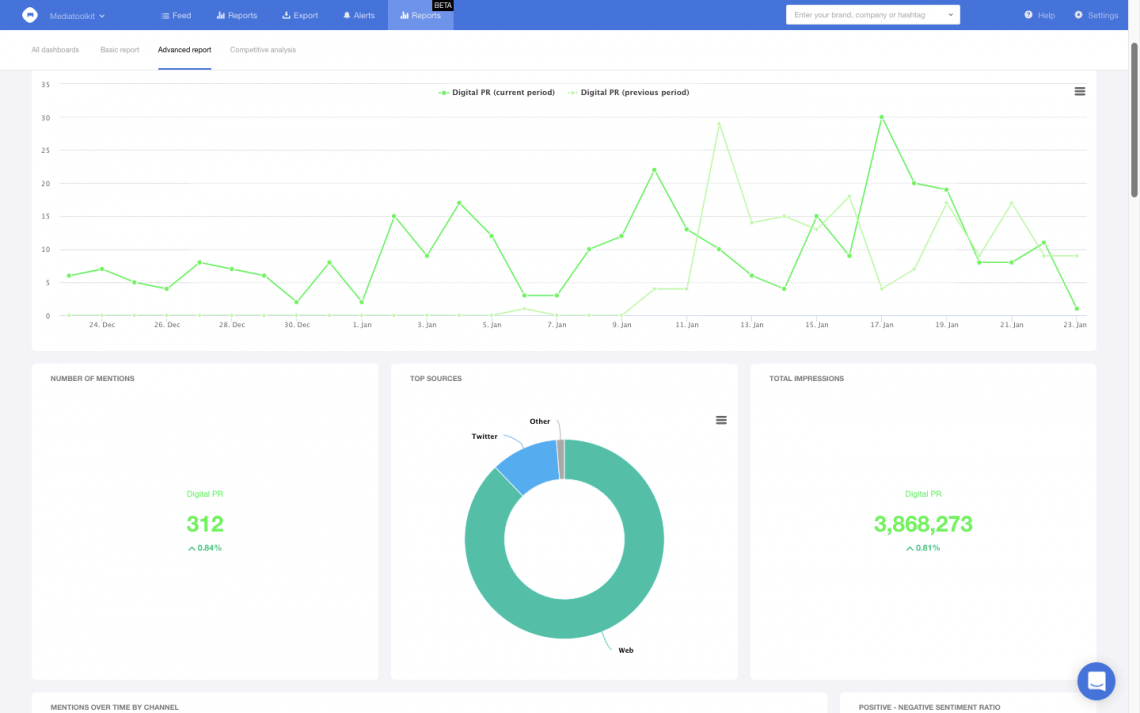 Filters
Brand24 and Mediatoolkit offer good sets of filters that can help you narrow down results in the dashboard. Both solutions allow you to narrow down your search to monitor mentions from specific sources, countries, or languages.
Both social media monitoring tools give you the possibility to collect mentions based on the sentiment, or influence score of their authors or sources. You can also choose specific domains from which you want to see results.
In addition, Brand24 can help you filter the results depending on their importance (based on source reach, influence), date, interactions, etc.
Brand24, in conclusion, offers more filters than Mediatoolkit.
Competitor Analysis
Both tools give you the possibility to easily compare your results to your competitors. I must say, that Mediatoolkit and Brand24 create very functional and user-friendly graphs that make the comparisons and data analysis easier.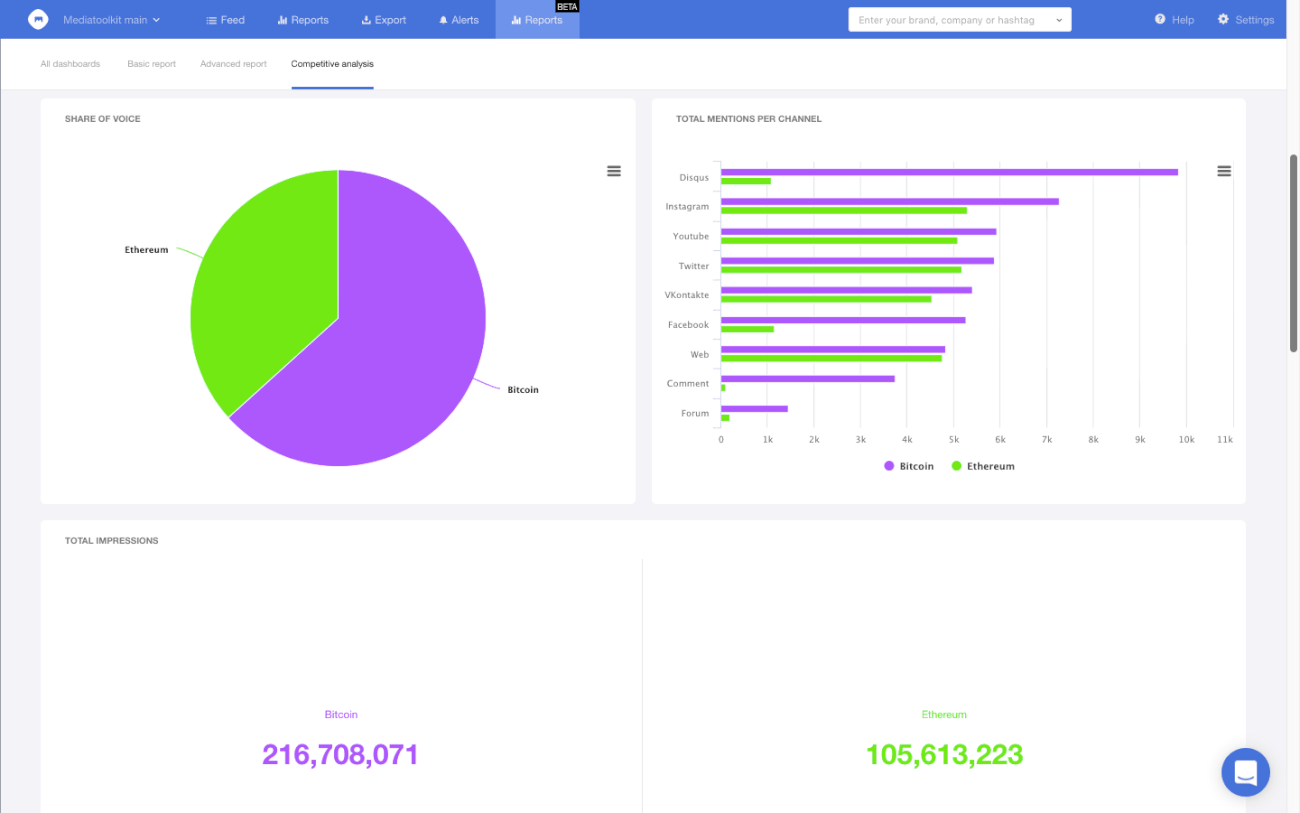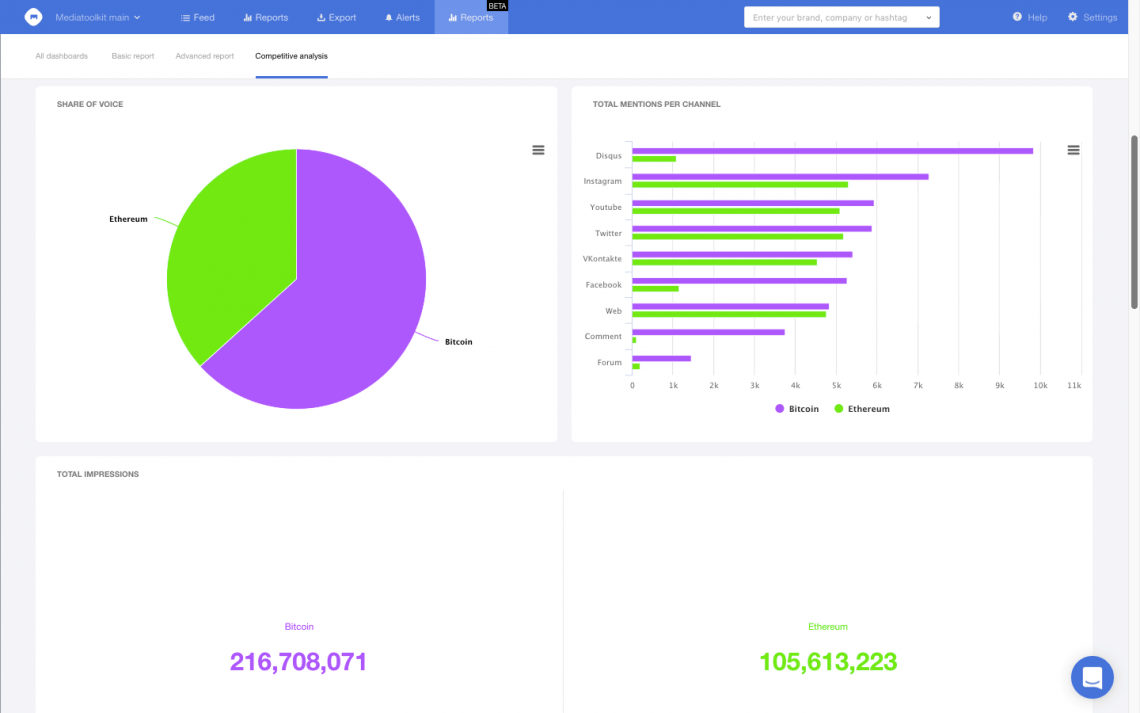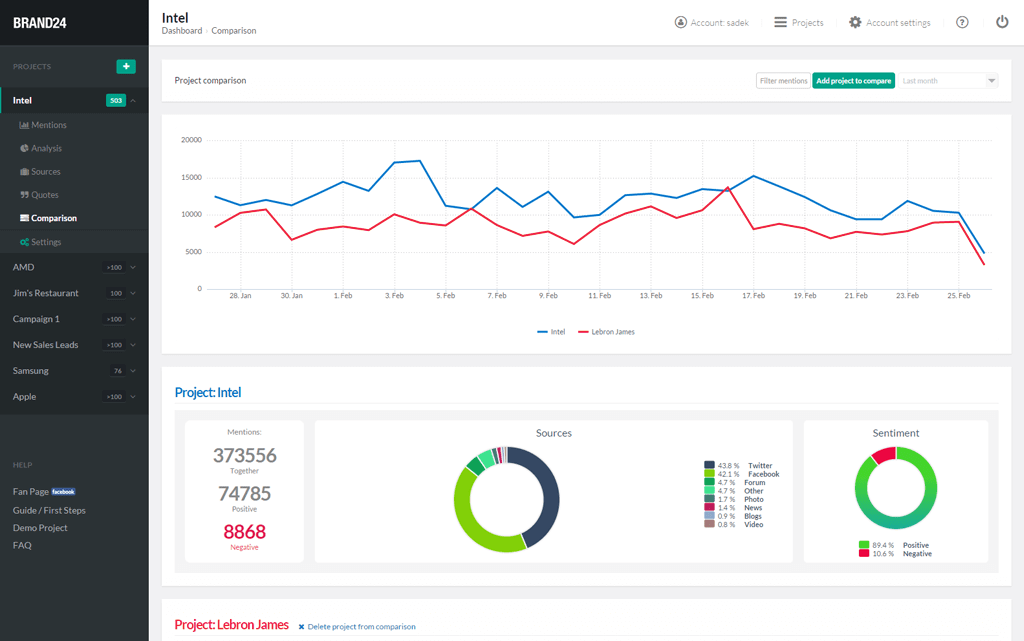 Pricing
Mediatoolkit offers three pricing plans that you can choose from depending on the type of business you run or the amount of budget you can splurge.
Medium Business – 444$ / mo
Optimal – 670$ / mo
Enterprise – 1100$ / mo
There is also a plan for Agencies, its price is calculated individually.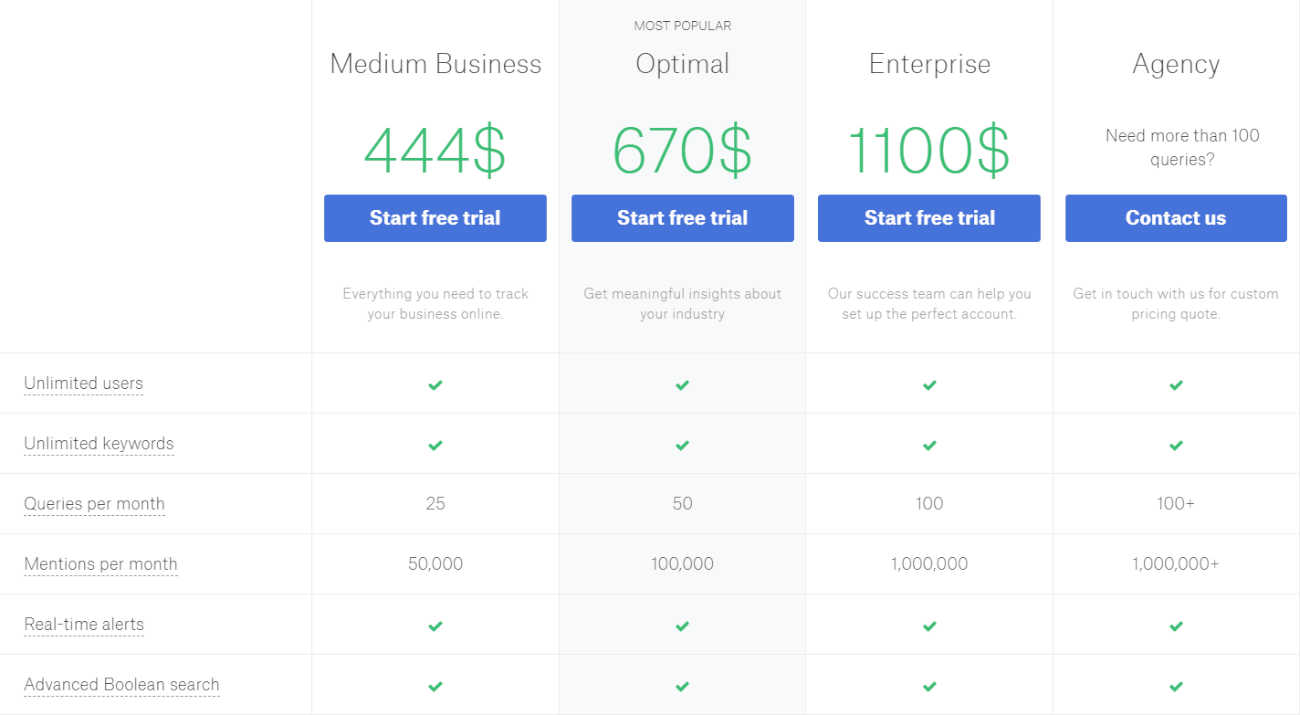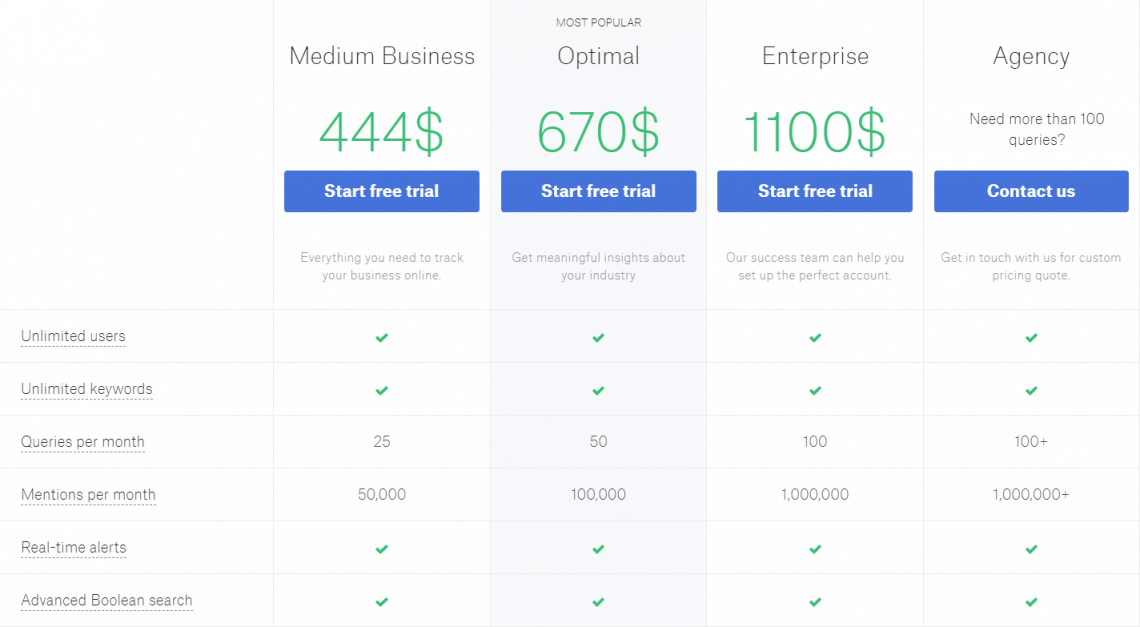 Brand24 offers four, ready-to-go pricing plans that you can choose from depending on your financial resources and needs. The tool is affordable and cheaper than Mediatoolkit, which makes it accessible also for smaller businesses.
Personal Plus $49 / mo
Professional Premium $99 / mo
Professional Business $149 / mo
Professional Max $249 / mo
Brand24 is such a flexible tool, that it can offer you a personalized plan, dedicated to your personal preferences.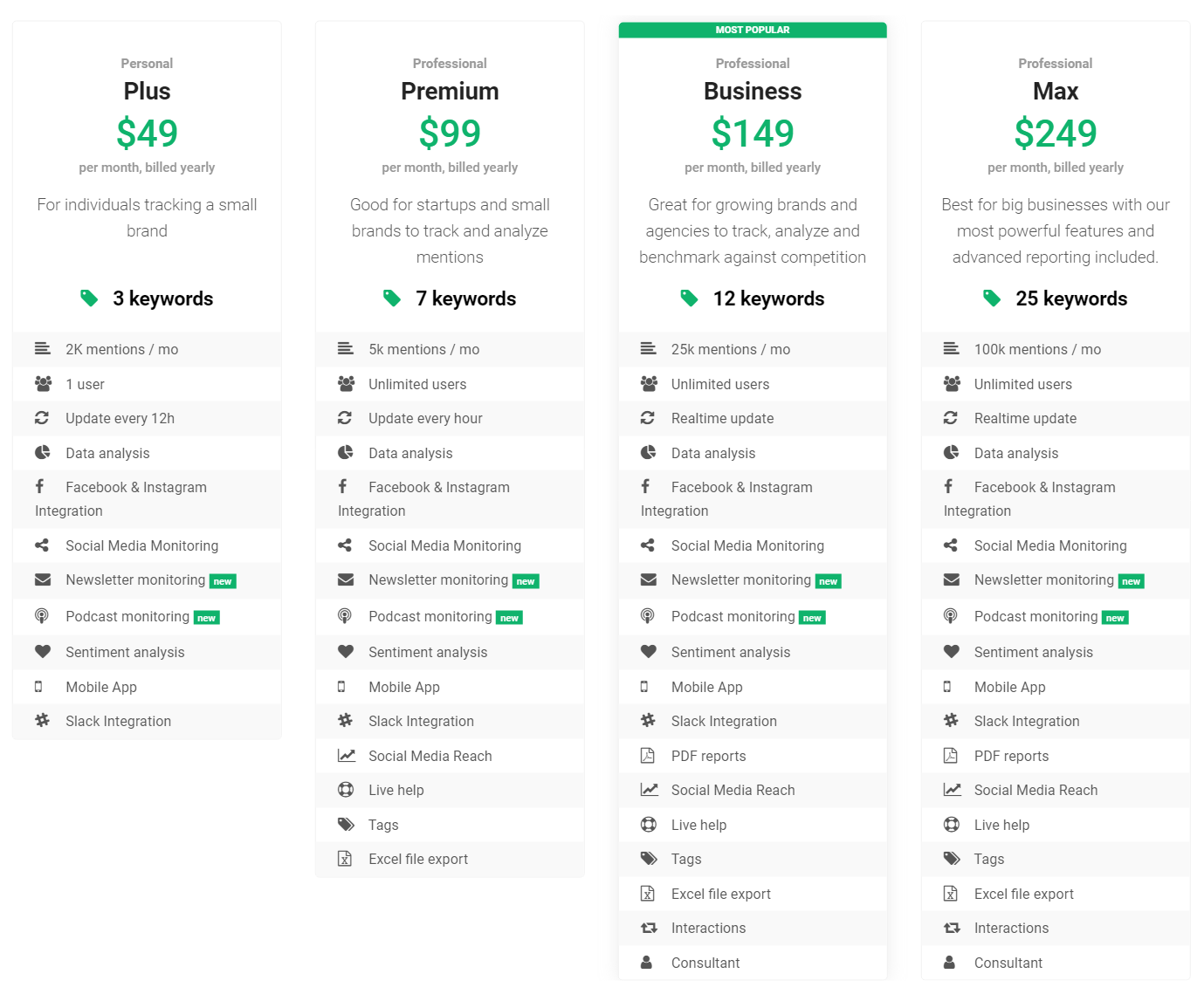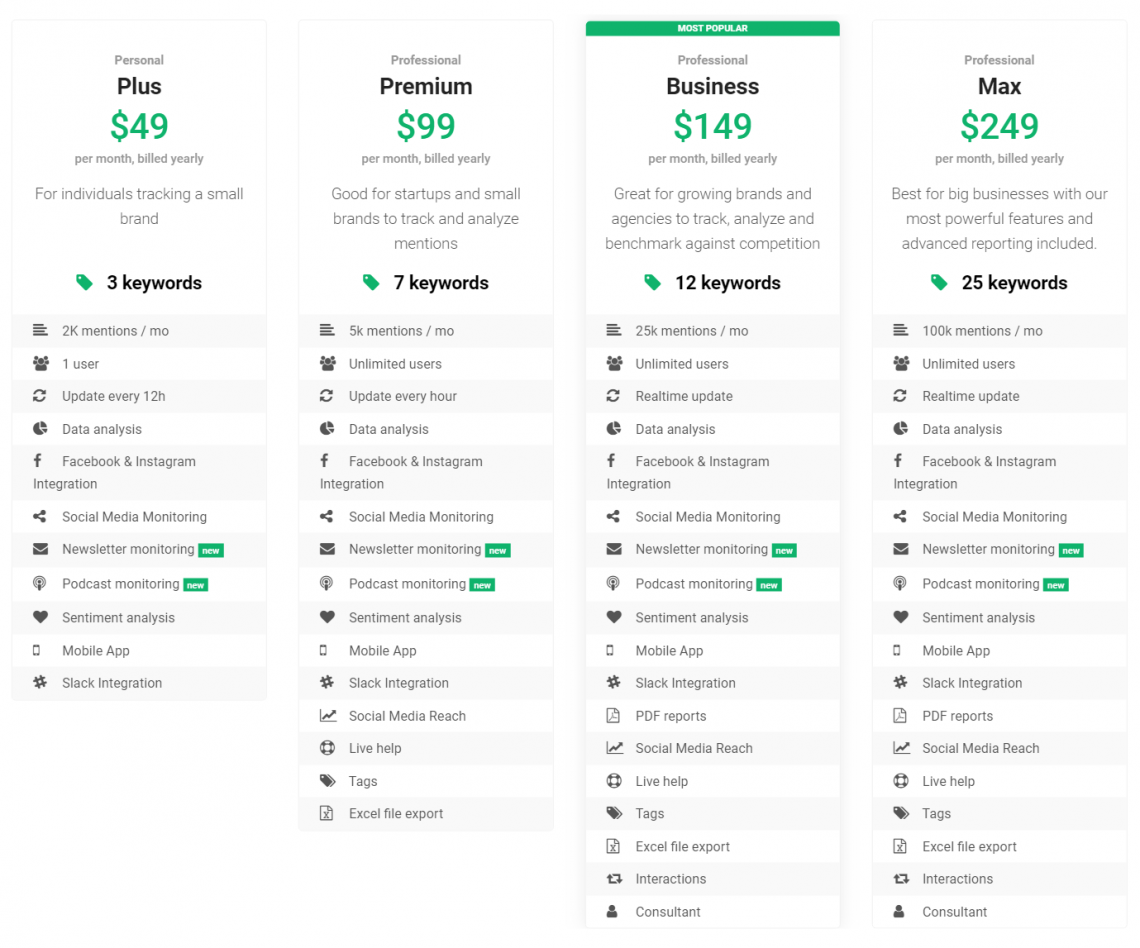 Mediatoolkit is a pricey solution in comparison with Brand24.
| Number of mentions | Brand24 price | Mediatoolkit price |
| --- | --- | --- |
| 100k mentions per month | $99 | $670 |
A comparison of price based on 100k mentions per month
Everything, or even less, you will get in Mediatoolkit for at least $444a month, you will get in Brand24 for a maximum of $199.
Check the Brand24 pricing and plans!
Reviews
Customers' testimonials and reviews can really tell a lot about a certain product or service. We will have a closer look at a couple of review sites to see how Brand2 is performing next to Mediatoolkit, as far as online opinions are concerned.
Clients are unbiased and share their thoughts based on their personal experiences with tools. Reviews can help you find out more about how tools are performing for certain purposes, learn if the interface is user-friendly and if the software is intuitive and easy to use.

Brand24 has great online reviews and most importantly, there are many clients who write opinions about this media monitoring platform. Brand24 is very accessible, thus many different types of businesses use it on a daily basis.
Apart from being affordable, Brand24 is still very advanced compared to other cheap monitoring solutions. It delivers different types of useful data, analysis, and reports.

Mediatoolkit has really good opinions as well, but definitely fewer of them, compared to Brand24. The last reviews available on G2, were posted last year. Nevertheless, the ones that we can read now, claim that Mediatoolkit performs really well, at least for businesses that can afford it.

Comparison of reviews
| | Brand24 | Mediatoolkit |
| --- | --- | --- |
| G2 | 4.6 out of 5 stars / 190 reviews | 4.8 out of 5 stars / 37 reviews |
| Capterra | 4.7 out of 5 stars / 139 reviews | 4.6 out of 5 stars / 11 reviews |
As you can see, Mediatoolkit definitely has fewer online reviews than Brand24 on both of the most popular review sites.
Why should you consider alternatives to Mediatoolkit?
Although Mediatoolkit seems to be a good social listening software, it has limitations. First of all, the number of tracked sources is not impressive. It doesn't track Instagram, TikTok, Twitch, newsletters, and podcasts. Those are valuable channels that I advise you to include in your brand's social media strategy.
Secondly, it doesn't show the sentiment for each mention. It focuses on sentiment analysis only around the topic. It can badly impact your brand's health.
The next reason is that Mediatoolkit doesn't offer enough filter options. And you'll need that. You see, social listening reports can deliver a massive amount of data. It will be challenging to conduct reliable social media analytics without proper filtering.
Using social media monitoring has lots of benefits. It helps to boost your social media presence, conduct the analysis of social media accounts, track marketing campaigns, find influencers, detect user reviews, and in general, present useful insights.
My experience tells me that most of the social monitoring tools are expensive. But you don't have to pay enormous prices to use it. That's why we're looking for the best alternatives to Mediatoolkit.
Try the best Mediatoolkit alternative! Give it a spin during a 14-day trial!
Mediatoolkit vs Brand24. Summary
Summarising the comparison, Brand24 seems like a very good alternative to Mediatoolkit, especially taking its price into consideration.
The cheapest Mediatoolkit plan costs $444 monthly while Brand24 offers a Personal plus plan for $49.
Brand24 has really similar features to Mediatoolkit. After this article, I encourage you to test both of the tools and decide which solution will match your personal needs and budget.
Here are the reasons why I feel like Brand24 is a great Mediatoolkit alternative:
Brand24 monitors more online sources than Mediatoolkit, including newsletters, podcasts.
Brand24 is very advanced, but still more affordable than Mediatoolkit.
Brand24 has more reviews than Mediatoolkit.
Brand24 offers really advanced and valuable features, more filters, and analytics than Mediatoolkit.
Brand24 offers a 14-day free trial and Mediatoolkit a 7-day free trial.
In summary, you can find all Mediatoolkit's key features in an alternative tool such as Brand24. Furthermore, you can save $395 each month.
So why overpay?