5 Simple Ways to Boost Your Brand with Influencer Marketing
March 11, 2016 ・ 6 min read
Have your ever relied on your friend's opinion while making a purchase decision? I bet, you have and…not only once! Well, this is exactly how influencer marketing works. Influencer marketing leverages the power of an influencer's "amplification effect" to share your brand story. It involves connecting to, building and then nurturing a relationship with a well-connected person that is regarded as influential and in-the-know in a given niche – a CEO, a Blogger, a Vlogger, an Opinion Leader, a Trendsetter, a Celebrity, a Journalist, a Decision Maker or any other Expert.
Influencer marketing has a plenty of mutually beneficial advantages such as an increased reach, credibility and new sales leads to name a few. It is comparable to a recommendation from a friend or a family member, in other words,  someone we know well and usually consequently give confidence to. Trust is the fundamental element of influencer marketing, it is also something that paid brand ads and paid brand placements on social media platforms can not guarantee any longer (if they ever have). Here is why you should get serious about integrating Influencer Marketing into your social strategy and, most importantly, how to do it.
Why Is Influencer Marketing So Important?
Influencer Marketing is definitely THE marketing of the future as it is quickly becoming a powerful tool for brands to effectively engage audiences. In fact "On average, marketers who implemented an Influencer Marketing program in 2014 received $6.85 in earned media value for every $1.00 of paid media" says – BurstMedia Influencer Marketing Report. Why? People by nature are less willing to trust social platforms as such and more vulnerable to the social influence of their peers, friends, and family. Social is to get social and not to be sold to, right? A majority of respondents in a Gullap survey said that social media marketing had no influence on their buying decision. With 94% stating that they use social media primarily to connect with friends and family (bingo!).
If you want to get an even deeper understanding of the topic, here's a great read about what is influencer marketing.
How to get the social influencers to share your brand story and impact your audience? Well, this is why we are here to help! Ladies and gentlemen you are being served with the 6 Delicious and Must-try Tactics to Leverage the Power of Influencer Marketing to Grow Your Business.
5 Simple Ways to Boost Your Brand with Influencer Marketing
1. Mention Them
This tactic is so obvious that it is easy to be forgotten. We have partly covered it while discussing the application of social listening tools in content distribution, in particular in finding the right influencer for your brand. In short, all you need to do here, after identifying the right influencers, is either:
A. Create awesome content around them (ideally something that is helpful, inspiring, and relevant to their audience).
B. Ask in advance to see if they would be willing to share their point of view on your story.
C. Pull your expert's opinion from an article or interview they have done somewhere else and cite the source in your post.
In either case, do not forget to let them now about your publication going live, for example by mentioning their Twitter handle in your update. This is how SocialMediaToday.com intended to capture the attention of a digital marketer, Jay Baer, in a hope to earn his potential retweet.
2. Co-create a product campaign
This tactic works particularly well with "visual products" such as beauty, fashion, interior design, lifestyle. The key here is to find the right influencer willing to try your product and promote the partnership. Depending what your offering, costs, and budget are you might want to take a step further and develop a personalised version of your product to celebrate and seal this partnership. Here an example of a clever nail brand Formula X that teamed up with lifestyle blogger Emily Schuman of Cupcakes and Cashmere to curate their limited-edition collection of Formula X nail polish shades: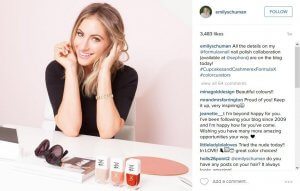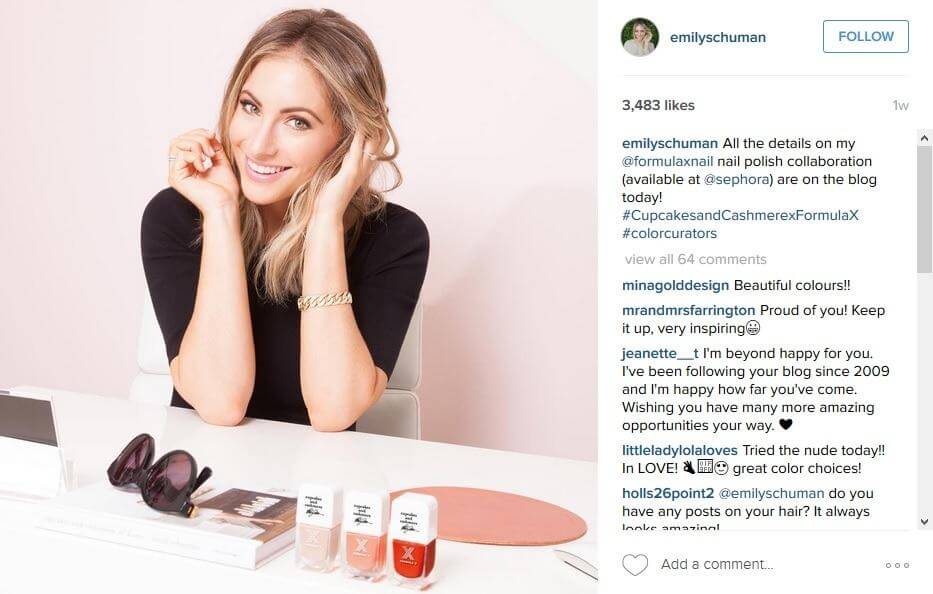 The campaign got the well-deserved coverage on the Formula X YouTube channel, retailer website SEFORA and both Instagram accounts, with a dedicated link promoted in the brand's Instagram bio: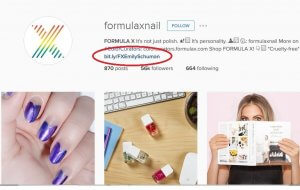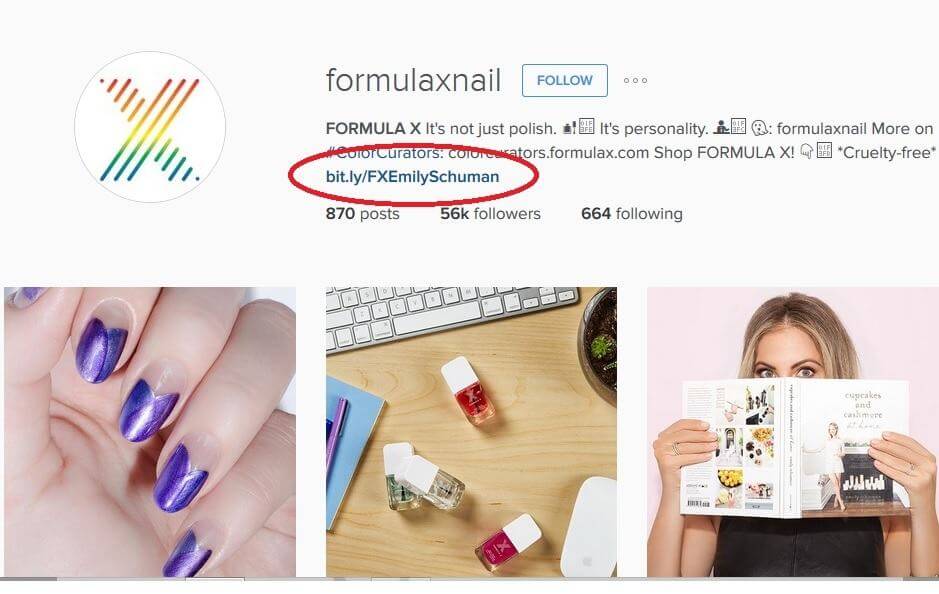 One photo, 3,483 likes and potentially 344k new beauty-obsessed followers to reach. A pretty nice result, isn't it?
This tactic is an amazing tool to inject some expertise and authority "vitamins" into your brand's circulatory system. Either in a form of a Twitter chat or a regular session on a Q&A platform like AMAReddit, engaging with experts in a given field and letting them answer your community's questions can significantly grow your audience and brand awareness in practically no time. All you need here is a great influencing profile, a good promotion plan, and some strong hashtags. Here is how Oceana, an environmental organization, partnered up with Alexandra Cousteau, an Explorer, Filmmaker and Water Advocate to let their followers learn more about the ocean from the expert herself. Great cause, great tactic and, as we can assume, great results too as the topic was relevant to both of their audience.
I can't truly find a downside of this powerful tactic. Get your influencer to contribute to your Blog and you will see the results yourself. This can take a form of either a guest post or (to make it easier for the guest) an interview. Why not go even further and try a video interview? In an effort to provide their audience with content they will love (and the one you don't have to write yourself), Link Human, a London-based Social Media and Content Agency run a SoundCloud channel called Social Media Know-How to feature interviews with the most prominent social media profiles. They provide a summary and a link to the interview in the regular section on their blog too. Here is an example of an outstanding interview with a social media consultant and strategies Scott Monty.
5.
Include them in a curated list
Everyone likes to be acknowledged, no lies. Why not play with these cards and create a curated list to mention your influencers? Easy and powerful way to grab their attention and win potential shares. An excellent example of this tactic's full potential in practice is our article  on 10 Twitter Profiles Every Digital Marketer Should Follow. An upgraded version of this strategy would be to include your experts' commentary or quotes in the list such as Stephanie Walden from Mashable did. Stephanie's article on The road to CMO: 7 marketing experts on how they reached the C-suite won 3.3K shares. (no extra comments needed here). Hey! and don't forget to tweet your gurus once the post with your list it ready!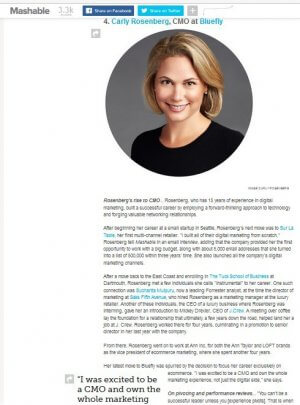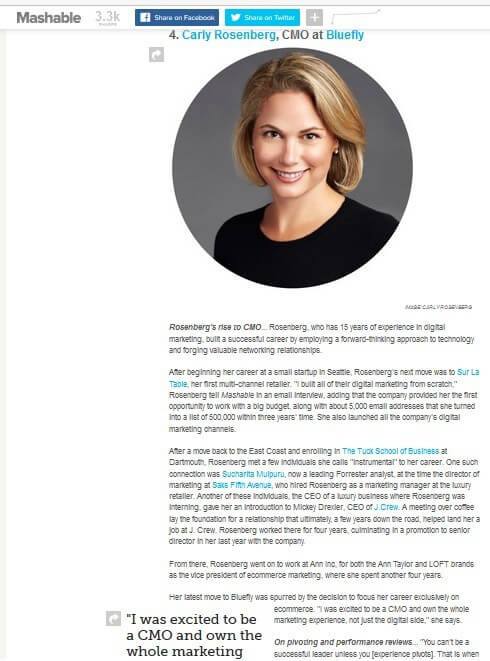 Not sure how to target top players in the industry? Spend a while to look up for already existing lists or use a social listening tool such as Brand24 to get real-time data on who is the star in your niche now.
Before you Tap
If your want to get Influencers to share your brand story, you must think like the influencers themselves. Is your content interesting and relevant for their public? What can You offer for this partnership to flourish? Focus on their benefits first to make them fall in love with you!
Social listening tools can make your life easier when looking for a right influencer to partner up with.
Check you potential influencers profile thoroughly. Do their profiles fit your brand image? Do their audience target demographic match yours?
Don't forget to let your expert know about your asset they are featured in.
…and do leave us a comment sharing your view on this post!