3 Mention Alternatives You Need to Check [2023]
June 29, 2023 ・ 7 min read
I tested Mention. I think it's not bad, but you can find a more powerful media monitoring tool. In this article, I will introduce you to some exciting alternatives to Mention.
These tools will change the way you keep an eye on mentions across the internet.
With easy-to-use interfaces and powerful features, they will help you stay ahead of your competition, connect with your audience, and boost your social media presence.
Before we explore the alternative tools, let's first take a quick look at Mention.
Mention is a media monitoring and social media management platform that will help you:
Monitor online mentions across Web, News, Blogs, Forums, Videos, Twitter, Instagram, Facebook, TikTok, YouTube, Pinterest, and LinkedIn,
Schedule social media posts,
Find the most influential influencers,
Analyze the sentiment and source of mentions,
Create custom reports.
In my opinion, Mention has a few notable disadvantages, such as:
The absence of filters in the Feed tab,
A limited number of social media metrics,
Missing some important features, such as share of voice and topic analysis,
An unfriendly dashboard for users,
A lack of analytics features in the cheapest plan.
The best Mention alternatives:
01 Brand24
Free 14-day trial. Personal plus plan for $69.
Brand24 is an advanced media monitoring tool that tracks mentions across Facebook, Instagram, Twitter, News, Blogs, Forums, Reddit, LinkedIn, Medium, Quora, Youtube, TikTok, Reviews, Twitch, Newsletters, and Podcasts.
Thanks to analytics, you can:
Monitor mentions and sort them by sources, sentiment, importance, domain, and time range,
Track social media reach and non-social media reach,
Conduct AI-powered sentiment analysis,
Discover the top and most active public profiles,
Discover trending hashtags and links,
Measure Presence and Reputation Score,
Detect the context of a discussion,
Conduct competitor analysis,
Compare monitoring projects,
Set up AI-powered reports with actionable insights.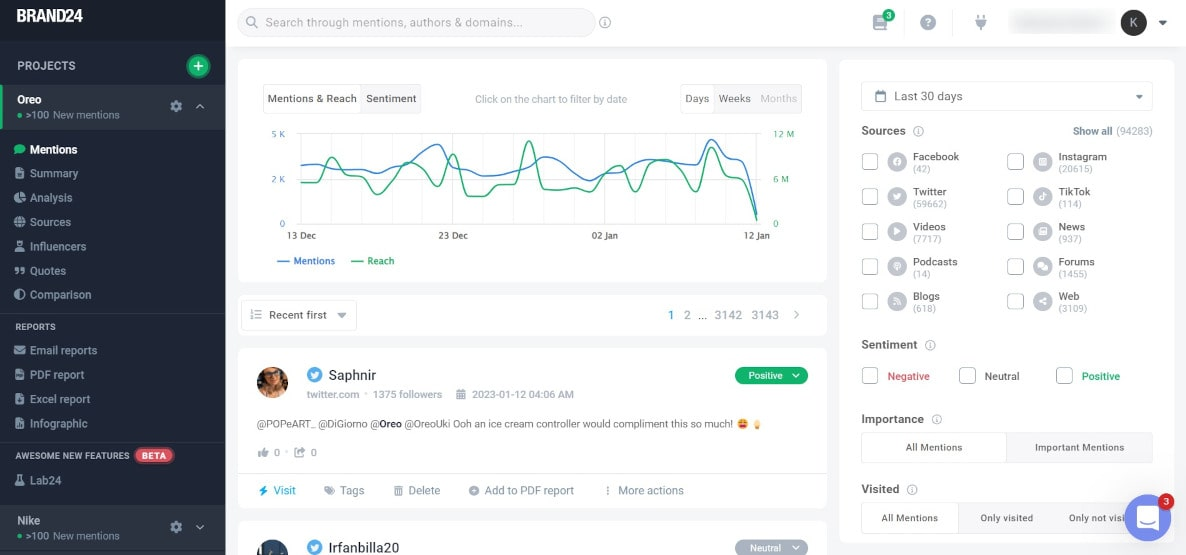 Try the Brand24 tool! Start advanced social media monitoring!
Brand24 vs. Mention
Now, let's take a close look at the differences between Brand24 and Mention.
Brand24 strongly focuses on mention monitoring. Our team has been focusing heavily on developing our tool. For example, recently, we implemented AI-powered e-mail reports that deliver insights, trends, and recommendations.
Despite monitoring features, Mention also allows scheduling Twitter, Facebook, Instagram, and LinkedIn posts and responding to audiences from its dashboard. That's all when it comes to social media management features.
Monitored sources
Brand24 monitors the same sources as Mention and even more! With Brand24, you can also track podcasts, newsletters, Quora, Twitch, Medium, and reviews.
Mentions feed
Let's compare the mentions feeds of both tools. How do they differ?
In the Brand24 dashboard, there is a list of useful filters on the right side that can help you sort data and detect valuable online conversations and mentions.
Additionally, there is a chart that displays the volume of mentions, reach, and sentiment.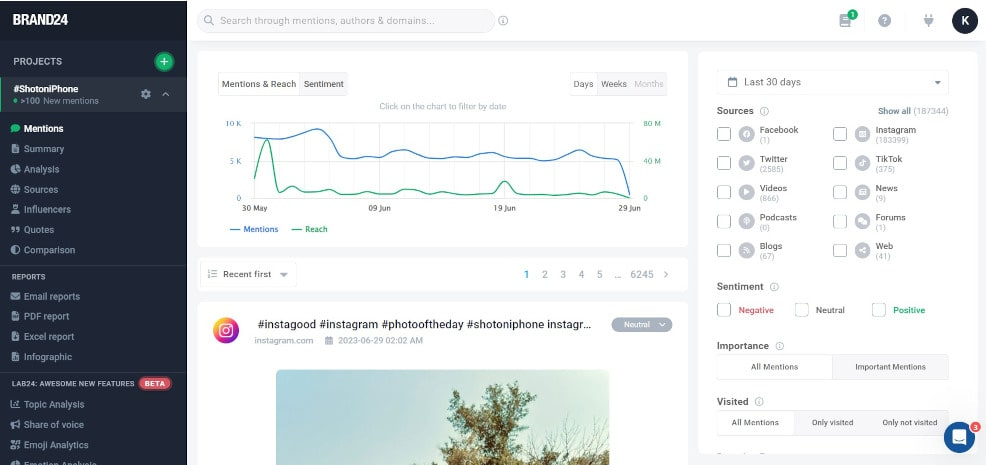 The mentions feed implemented in Mention is much less advanced. You can't filter data.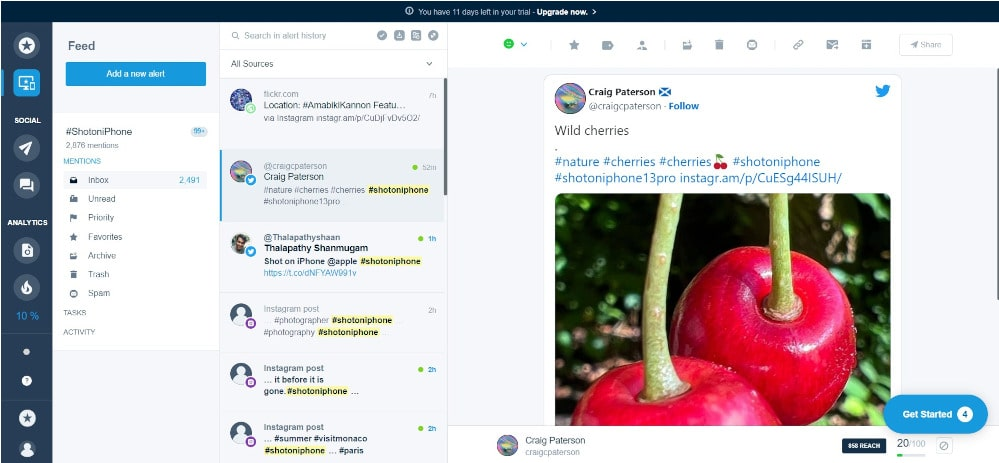 Try Brand24! Track mentions across social media, news, blogs, and more!
Analysis tab
A good monitoring tool needs to have advanced analytics features. Both tools have their Analysis tabs, but which one is a better analytics tool?
Thanks to brand24's Analysis tab, you will discover the most popular mentions, mentions by category, Presence and Reputation score, trending hashtags and links, top public profiles, and most active sites.
Also, the tool measures helpful metrics: the volume of mentions, social media mentions, non-social mentions, estimated social media reach, non-social reach, social media interactions, user-generated content, social media likes, videos, positive and negative mentions, and AVE.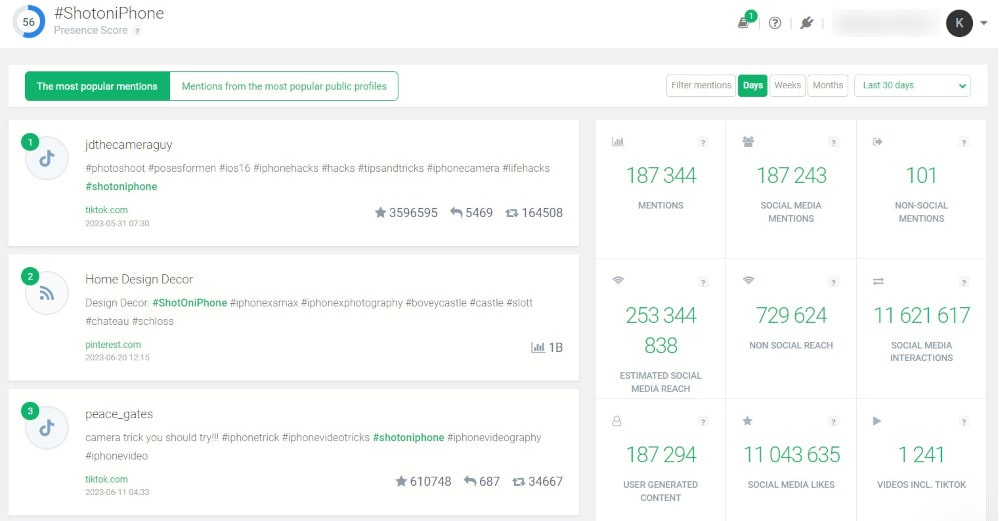 With Mention, you can analyze the data by volume, sources, languages, countries, sentiment, reach, influence, time, and days of activity. However, I find it difficult to understand and interpret the charts as they are not very intuitive.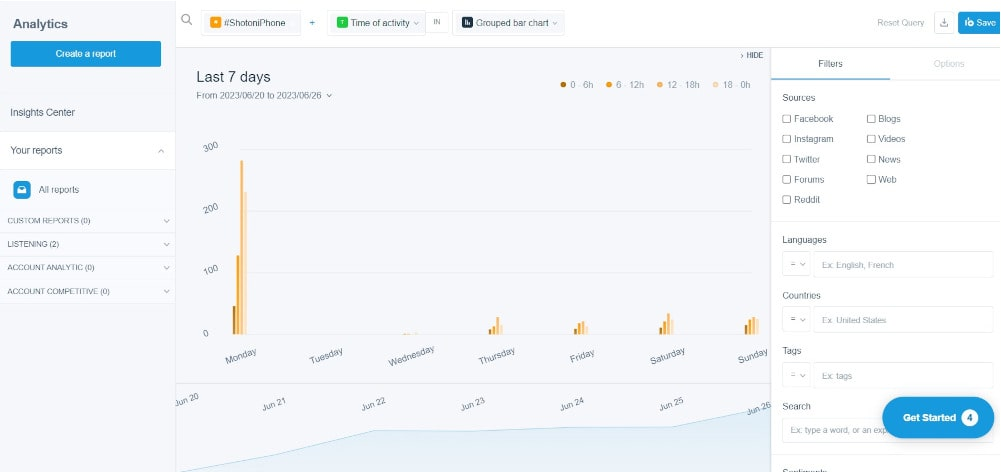 Topic cloud
Both tools will help you discover topics related to monitored keywords. Yet Mention again is less advanced in this area.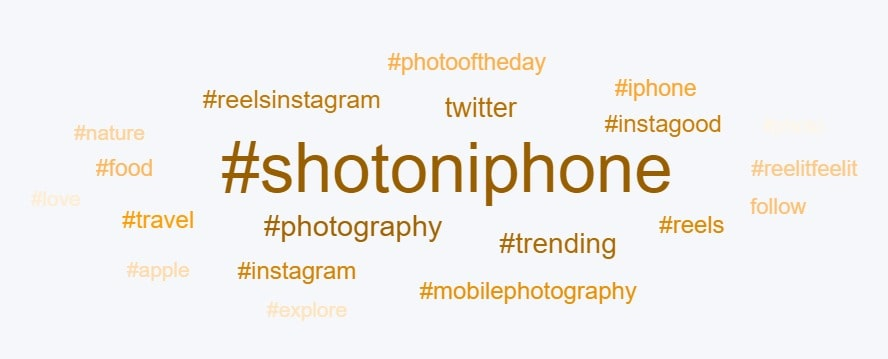 Brand24 offers the context of a discussion feature that detects the sentiment of keywords.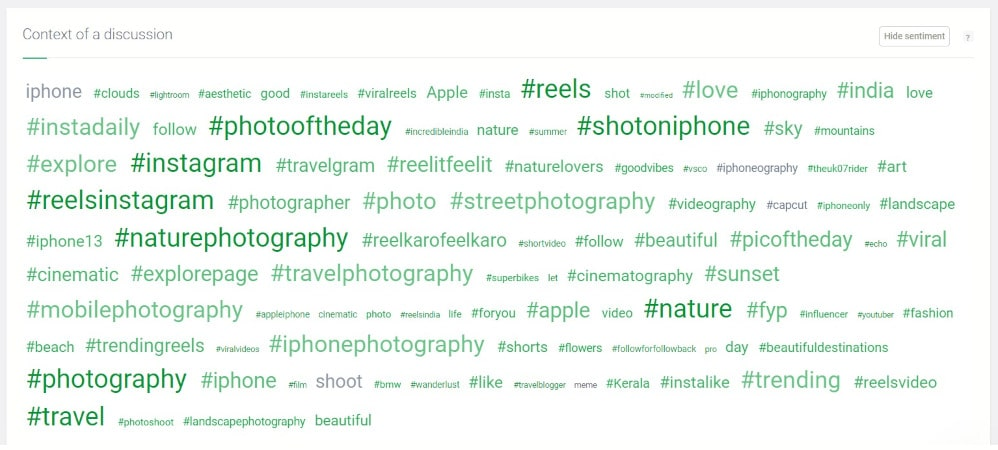 Influencers
Both tools will help you detect influencers that match your business niche.
Brand24 detects Twitter, TikTok, Facebook, and YouTube influencers.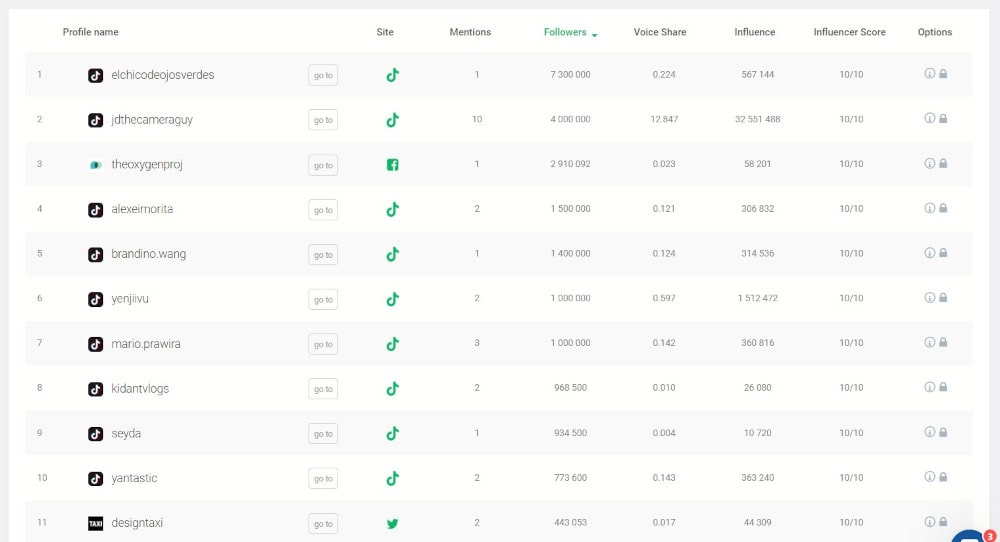 Mention detects influencers only from two sources, Twitter and Web.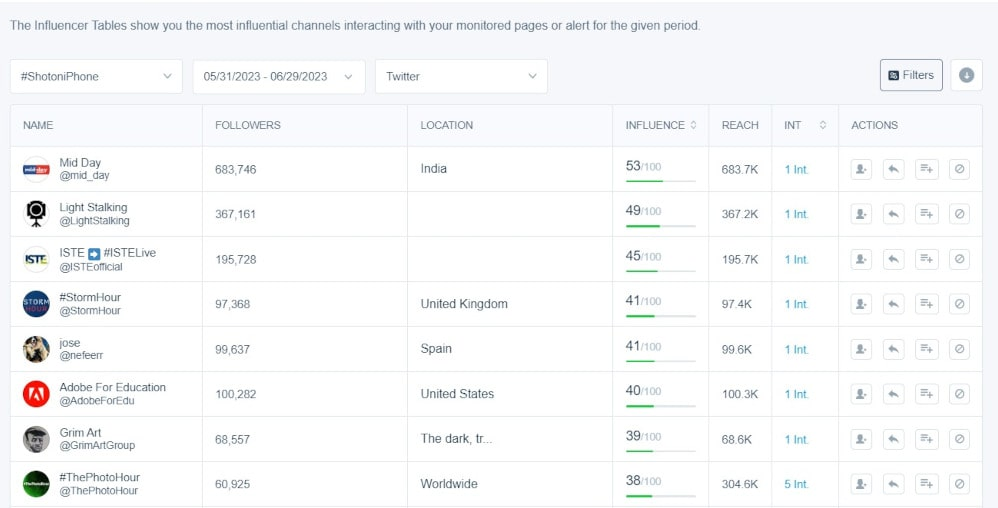 Reports
Recently, Brand24 launched AI-powered e-mail reports that present insights, trends, and recommendations. You can also set up e-mail alerts and generate custom PDF and Excel reports.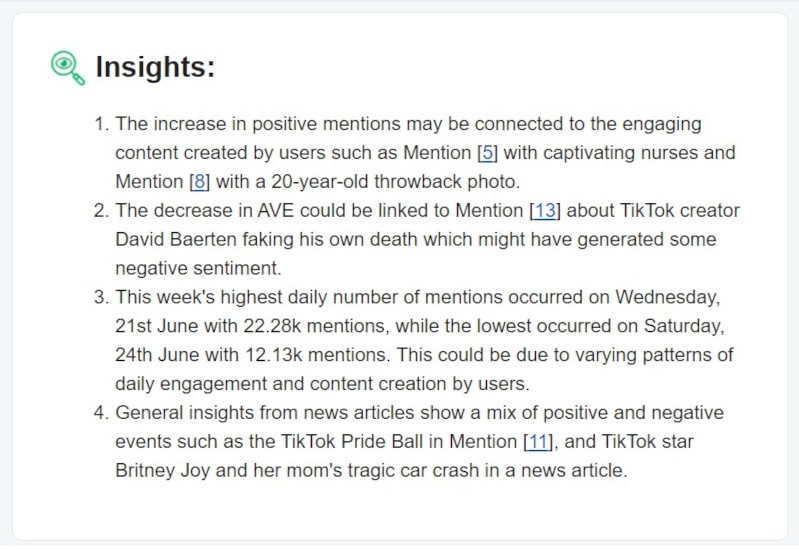 With the Mention tool, you can generate reports by selecting from pre-made templates.

Actually, these are the features you can expect to find in the Mention tool. Brand24 offers more exciting features, such as:
Topic analysis – the tool automatically detects topics related to your monitored keywords,
Share of voice – participation of positively and negatively speaking authors,
Quotes – a list of positive and negative quotes posted by the audience,
Comparison – you can compare your monitoring projects,
and new AI-powered features are coming.
Try Brand24! Track mentions across social media, news, blogs, and more!
02 Sprout Social
Free 30-day trial. The standard plan for $249.
Sprout Social is a social listening and social media management software. The tool supports the most important social media platforms like Twitter, Facebook, Instagram, YouTube, and LinkedIn.
It offers a range of features that allow you to monitor online conversations, track brand mentions, and analyze sentiment, as well as schedule and publish posts, engage with your audience, and measure the performance of your efforts.
Sprout Social strongly focuses on social media management. That's why it's a great tool for each social media manager aiming to boost social channels.
Key features:
Social media engagement
Publishing and scheduling
Analytics
Listening
Employee advocacy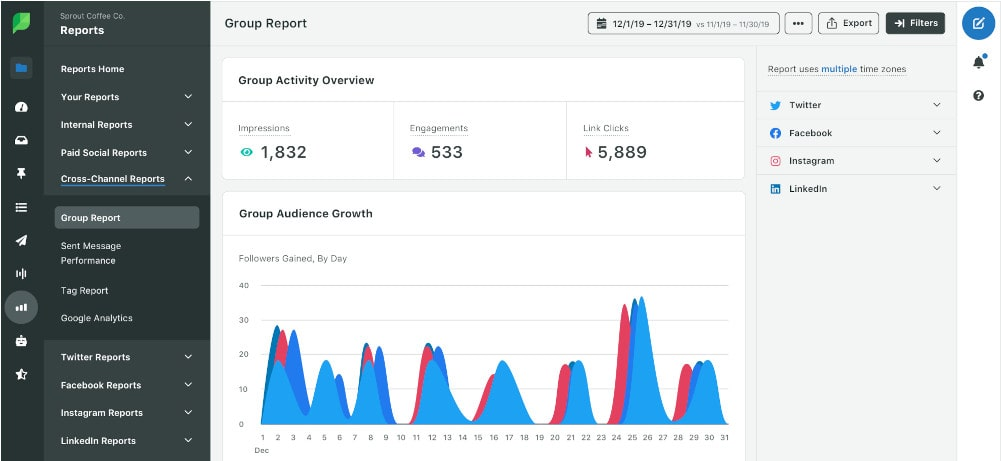 Check: Sprout Social alternatives
03 Meltwater
Custom plan.
Meltwater is an advanced tool that can support you with social listening, social media management, and analytics, influencer marketing, customer and sales intelligence.
With this social media management software, you can schedule posts, run a content calendar, manage social accounts and communities, and analyze your performance. It's much more powerful than Mention.
Also, you can monitor online news, podcasts, blogs, Facebook, Instagram, Twitter, YouTube, Reddit, LinkedIn, Twitch, and Pinterest. With Meltwater, you can track mentions, customer conversations, and any industry-related keywords.
Key features:
Social media management
Listening
Analytics
Sales and customer intelligence
Media Relations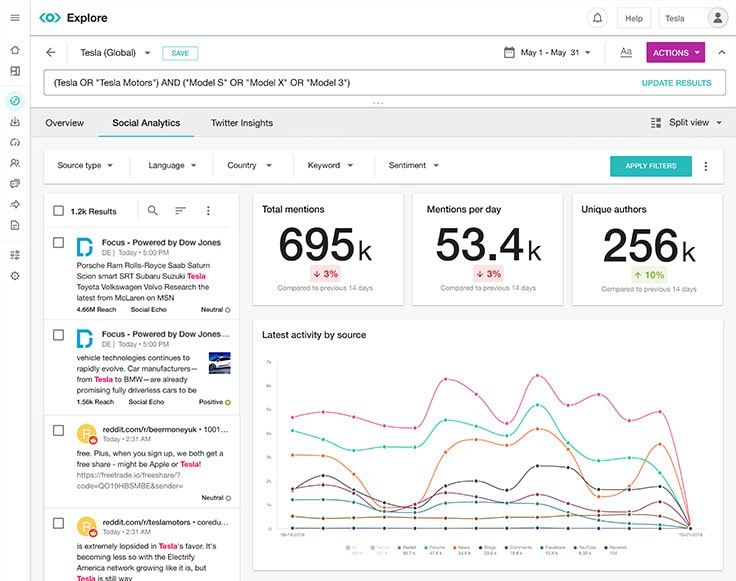 Check: Meltwater alternatives
Try Brand24! Track mentions across social media, news, blogs, and more!
Which Mention alternative to choose?
While choosing the best tool, you should compare its capability to price. Each tool presented allows you to track and analyze online conversations.
To fully benefit from Mention, you need to pick the custom plan that costs over $149. Otherwise, you can not monitor TikTok, YouTube, and LinkedIn.
In comparison, Brand24 enables tracking all social media platforms in a Team plan that costs $129. So, if you care about social media monitoring, I think this is a cost-effective option.
Both Sprout Social and Meltwater are focusing on social media marketing. The monitoring feature is an add-on rather than a core component.
If you need an advanced media monitoring tool that is continuously developing, give Brand24 a try for free!